5 Awesome Bathroom & Kitchen Room Makeovers Before and After
Ready to see the best room makeover before and after transformations? These are some of my absolute favorites.
Over the course of the last three years, I have transformed two dated bathrooms for under $400 total, turned my dark red 90s kitchen into a dream without a major renovation, and helped two friends create their dream kitchens on a serious budget. These projects are some of my most favorite room makeover before and afters. Let's check them out!
Disclaimer: This post does include affiliate links for your convenience. This is at NO additional cost to you but earns me a small commission. To read more, check out our disclosure policy. As an Amazon associate, I earn from qualifying purchases.
50s Retro to Modern Classic Room Makeover Before and After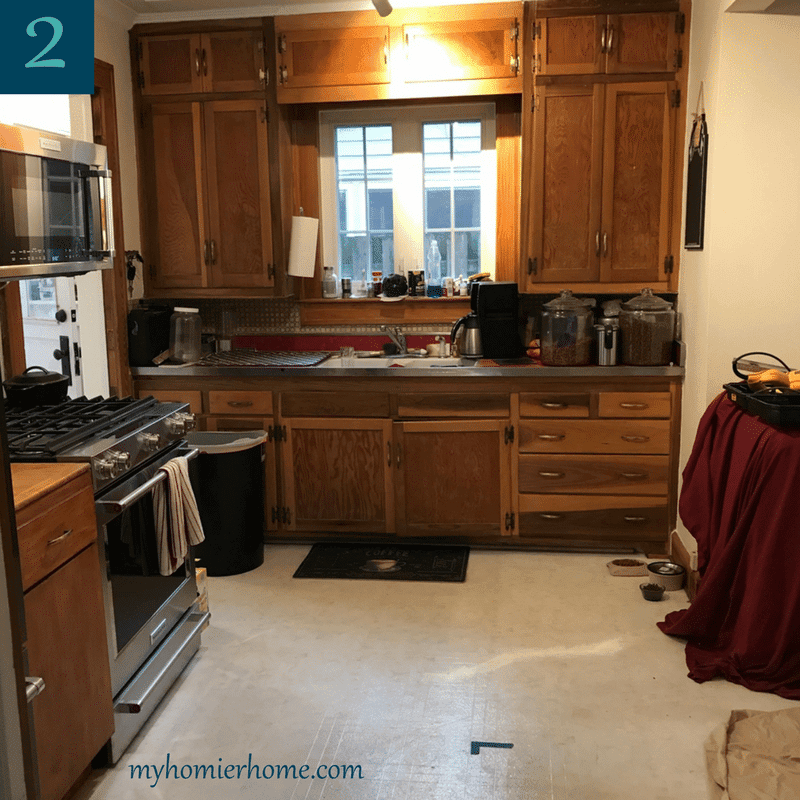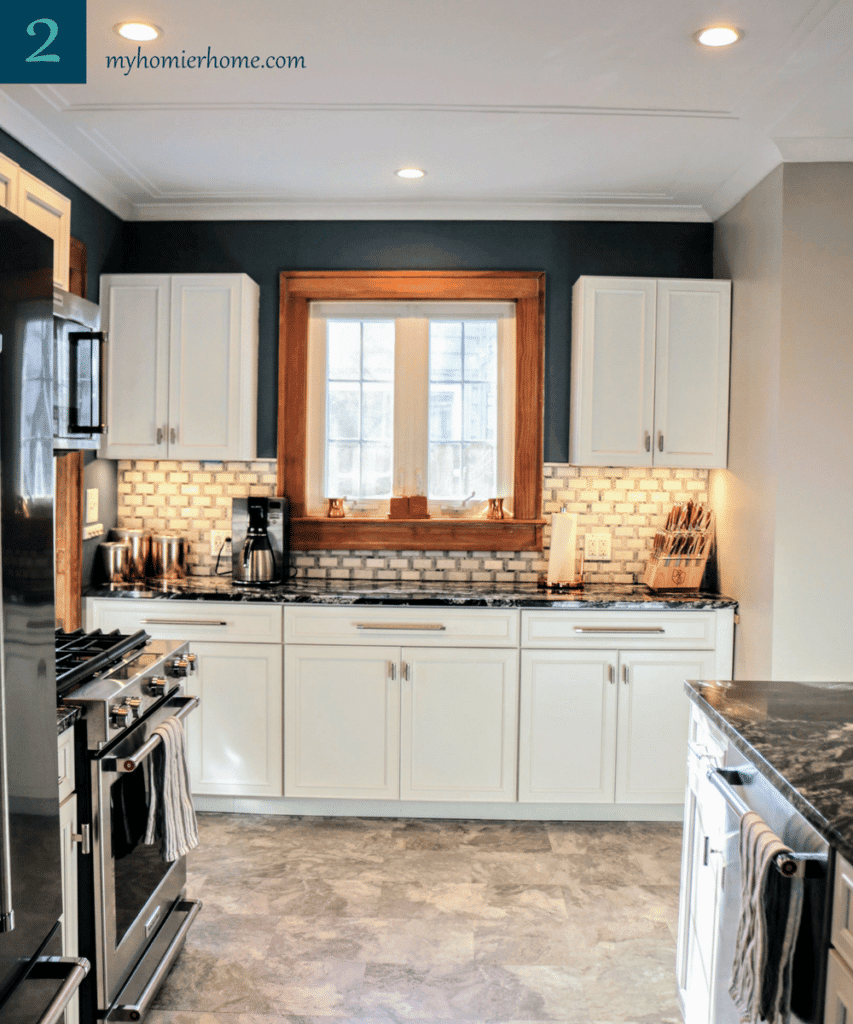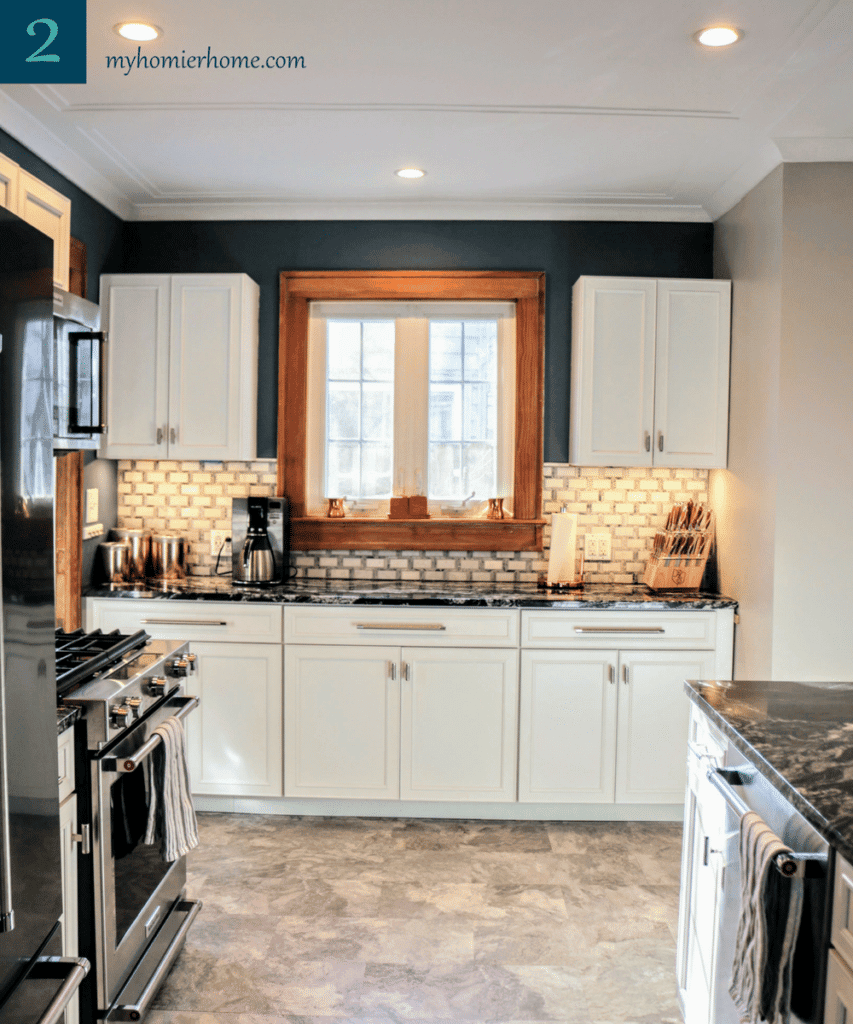 (click on any of the images to shop the products)
This kitchen was one of my first ever design projects. A friend of mine from work was planning to do all the reno herself. She tore everything down to the studs and created a masterpiece for under $10K!
She hired me to help her get a cohesive look and make sure all the different pieces fit together. It was such a fun project!
One of my favorite things to do is work along side home-lovin' ladies to make their dream kitchen's a reality. As a self-taught interior decorator, I like to approach the design as more like you calling your design-lovin' friend to talk to rather than a super formal-type convo to keep it fun and productive.
You can check out the all the before and after photos in the 10 Steps to a Kitchen Remodel post.
Builder-Grade to Timeless Perfection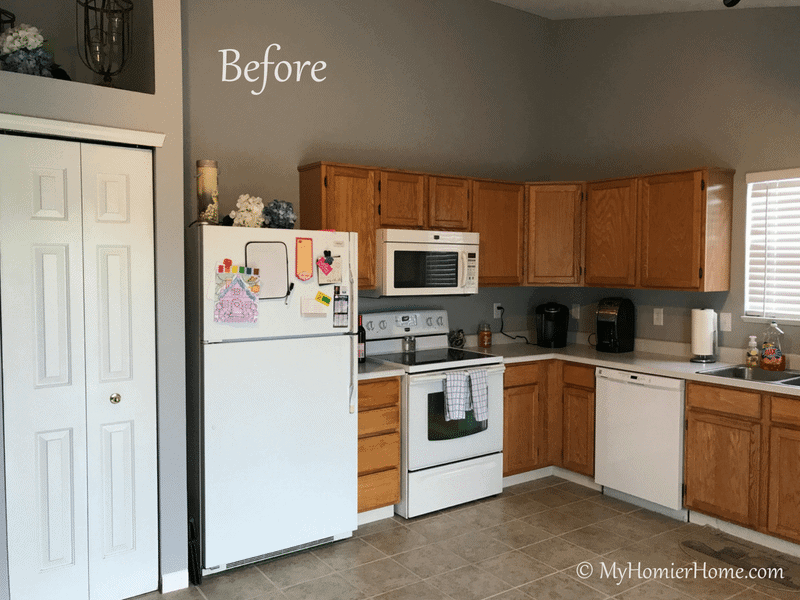 (click on any of the images to shop the products)
How crazy is this room makeover before and after kitchen? The best part? These are not new cabinets. She painted them with Java Gel Stain!! You can see all her tips for using Java gel stain here.
It's just amazing what some paint, new appliances, and some new counters can do for a space. She saved so much money going the DIY route. She hired me to help her decide on everything.
We had a blast brainstorming ways to keep the cost down, but maximize the aesthetic upgrade. I think we did a pretty good job if I say so myself lol.
You can read all about her tips for renovating your kitchen on a budget.
90s Red Dream to Modern Rustic Beauty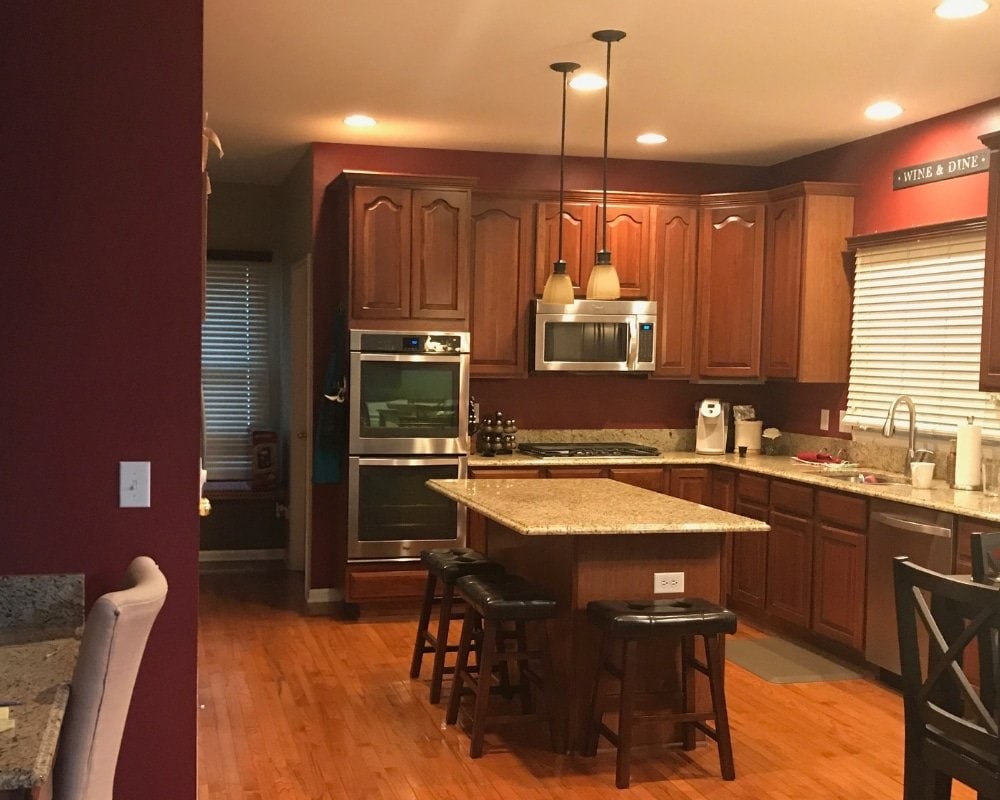 (click on any of the images to shop the products)
This kitchen… It's got a great layout and tons of cabinets, but it is not my style, or wasn't my style I should say.
We tackled this kitchen in small increments while working with what we had. The cabinets are timeless, but the countertops will definitely be part of phase 8 when I get the go ahead from Mr. Ciz.
However, by changing the lighting, painting the walls a lighter, more neutral color, and adding a backsplash, this kitchen is now something I feel comfortable photographing and sharing with others lol… that's my ultimate test.
You can check out all the kitchen room makeovers before and after, including the crimson and cream edition photos from before we bought it. Good times.
Striped Madness to Patterned Masterpiece

(click on any of the images to shop the products)
I literally don't know why I waited four years to paint this bathroom, but talk about a transformation!
If you're thinking, "Wow, that's great wallpaper," it's actually paint and a stencil!
I did a bunch of things the hard way, so you can read all my tips for stenciling a bathroom, but it was soooo worth it!
The best part? This entire transformation, including the acrylic gallery wall, DIY shelves, paint, and mirror all cost me under $400… with the mirror being more than half of that! lol
You can check out the full $100 portion of the reveal for this room makeovers before and after.
Boring & Lack-Luster to Inviting & Updated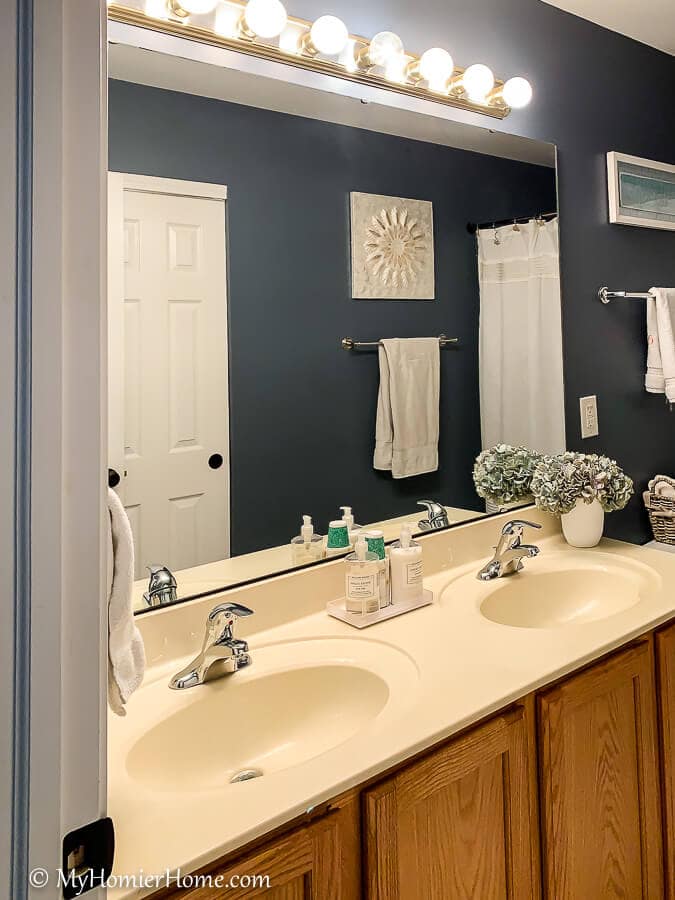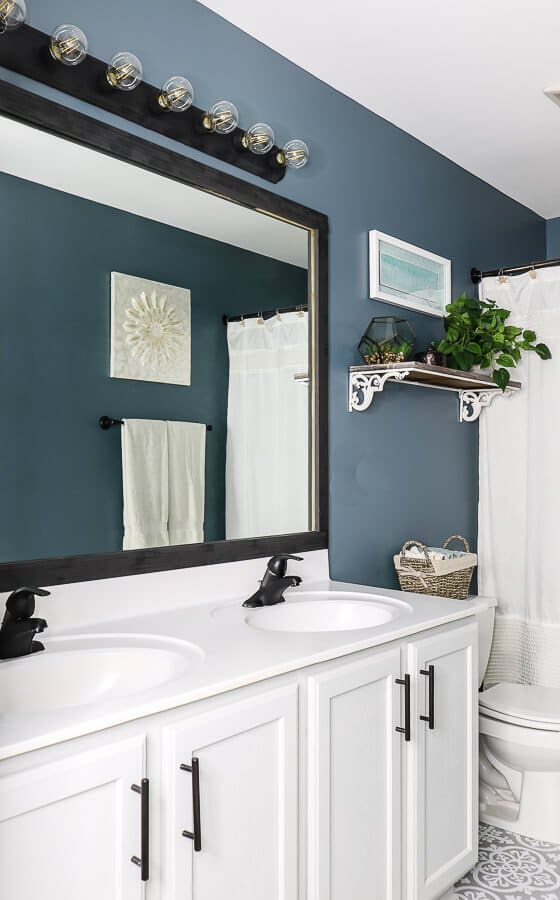 (click on any of the images to shop the products)
And last, but not least, my $100 guest bathroom room makeovers before and after!
Yes, this cost me less than $100 to complete.
How did I do it? I spray painted the countertops, spray painted to faucets and accessories, laid peel and stick floor tile, spray painted the light fixture, and painted molding and added 3M picture holders to create a mirror surround.
You can read all about the process of how I stayed on budget for the $100 guest bathroom makeover here.