My Modern Vintage Christmas Home Tour
Who's ready to take a tour of our modern vintage Christmas home? With a blue, green, and neutral theme, you'll want to come in and see it for real!
Today is the day! I'm revealing my modern vintage Christmas home!
If you were around last year for my 2020 Christmas home tour, you will see that I definitely went bigger and more grand this year.
I can't wait to take you on the tour!
Let's get started!
You can also find my Spring home tour here and my Fall home tour here.
Disclaimer: This post does include affiliate links for your convenience. This is at NO additional cost to you but earns me a small commission. To read more, check out our disclosure policy. As an Amazon associate, I earn from qualifying purchases.
My Christmas-Inspired Color Palette
Before I get to the rooms, all of my decor was inspired by these colors you see above.
Navy is one of my favorite colors to decorate with because it is not as harsh as black, but still gives the drama and warmth I'm after without being too wild.
Add in some green, gold, and cream colors and you have my Christmas inspired color pallette!
I started my Christmas color scheme research back in October and I think it really paid off in creating a cohesive look throughout the whole house.

Christmas Inspiration by Room
Since I decorated a few more rooms this year and added a few more trees, we'll start with the area we spend the most time in and work our way out.
Living Room
We have six trees up this year with one more still to come in the basement.
These two are my favorite!
This is the first year I added ribbon to my skinny tree and let me tell you it was way easier than I thought and definitely brings the wow factor up a lot.
This mantel always gives me decorating trouble, but this year I decided to swap out our regular framed art for a light up wreath I found at Home Goods.
In fact everything you see on this mantel is from Home Goods.
The key is to get in there early.
I'm pretty sure I hit up their Christmas stash towards the end of October/early November.
Big fan of the height of this decor because it brings the wreath into size without it looking too small.
You might recognize these snow shoes from last years mantel.
Since I went a different direction on the mantel this year, I decided to use some nails to hang them here.
Just don't touch them… they'll fall lol.
Done is better than perfect people.
We loved our living room Christmas decor this year that we decided to take our family photos in this room.
I think these two little babies enjoyed hanging in their own crib this year.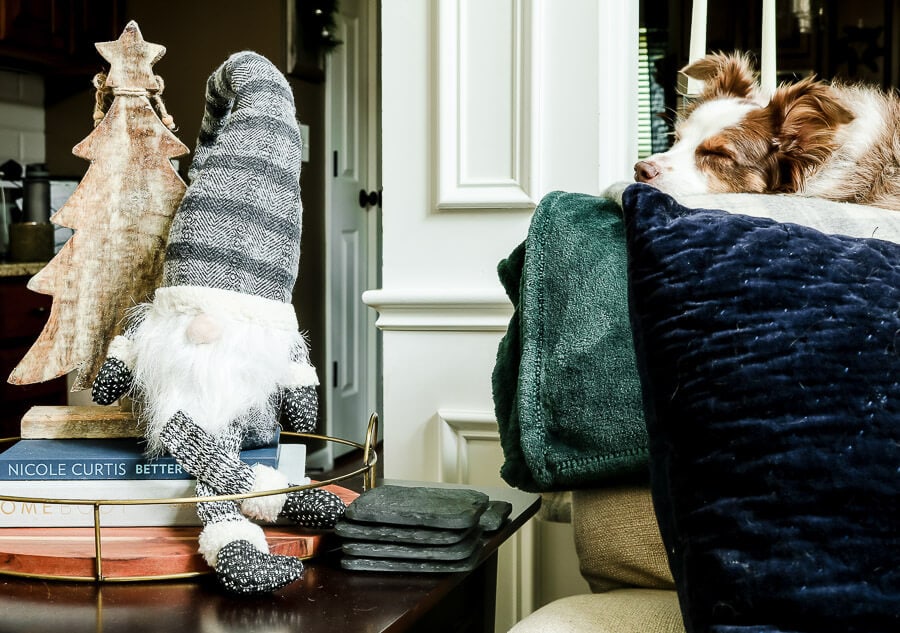 Last year I had pops of red, but I've since moved the red into the front room, which I'll show in a bit.
The neutrals and green fit my calm vibe a lot more this year.

I wasn't sure how I was going to make this console table work, but creating a little tree farm from Home Good's finds really did the trick.
The hanging lights are remote and battery operated and are literally the best invention ever to bring up the level of your Christmas decor.
Last year, I kept worrying the Amish ski's would fall on my little baby, so this year I propped them behind the table that usually sits next to our leather chair where the tree is now.
Another new addition to the living room is this garland up on the railing.
It lights up at night and definitely brings the cozy factor up a ton.
My favorite antique door got it's usual wreath this year, but I added more of those battery operated remote controlled lights!
If you were to twirl around in the middle of the living room, you would be able to see all 3 trees we have on the main floor.
It's glorious.
This owl tree was actually decorated at a specialty decor shop and I bought it as is.
Every year, I just leave all the decorations on it and slip it into the storage closet lol… but shh… don't give away my secrets.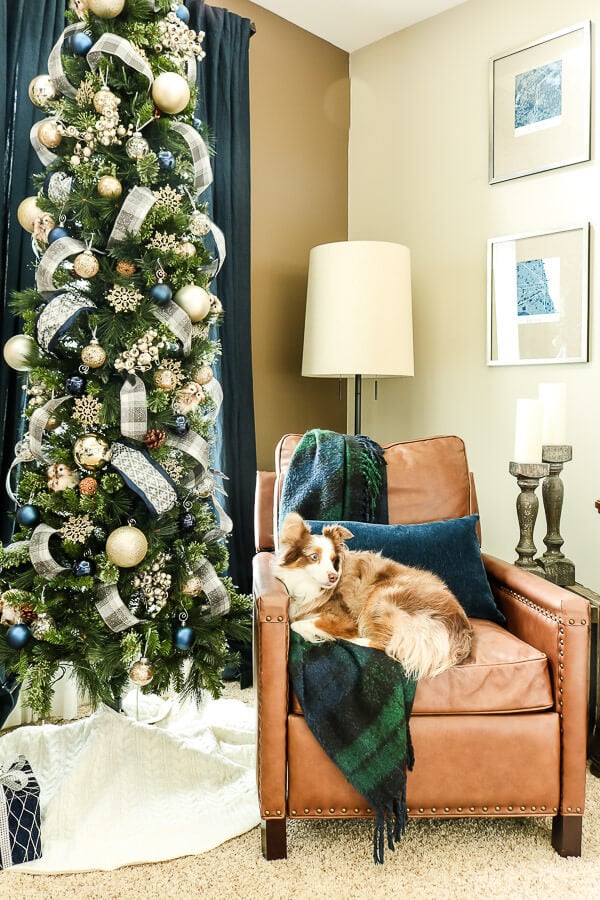 And one more close up of my favorite skinny tree before we move onto the next room.
Winter wonderland for sure! And it's even better at night!
On to the next room…
Kitchen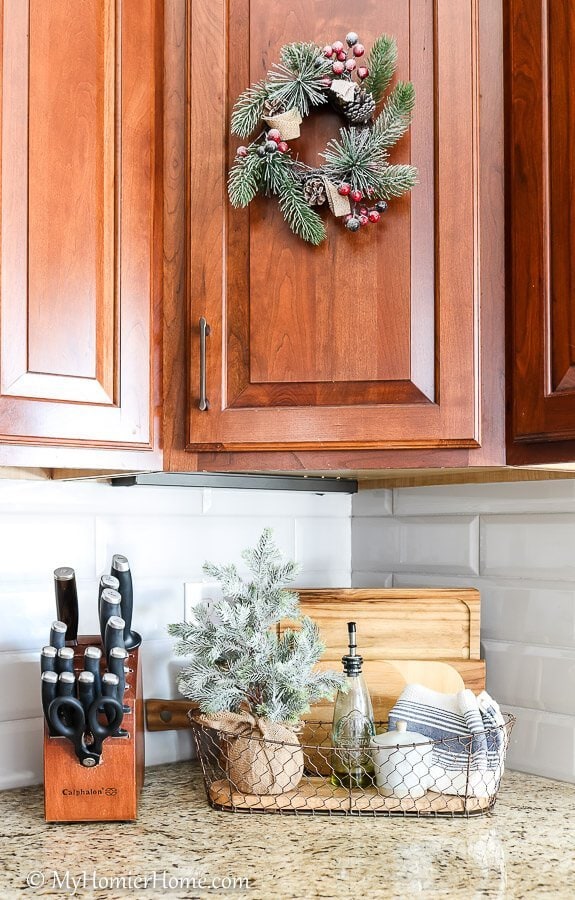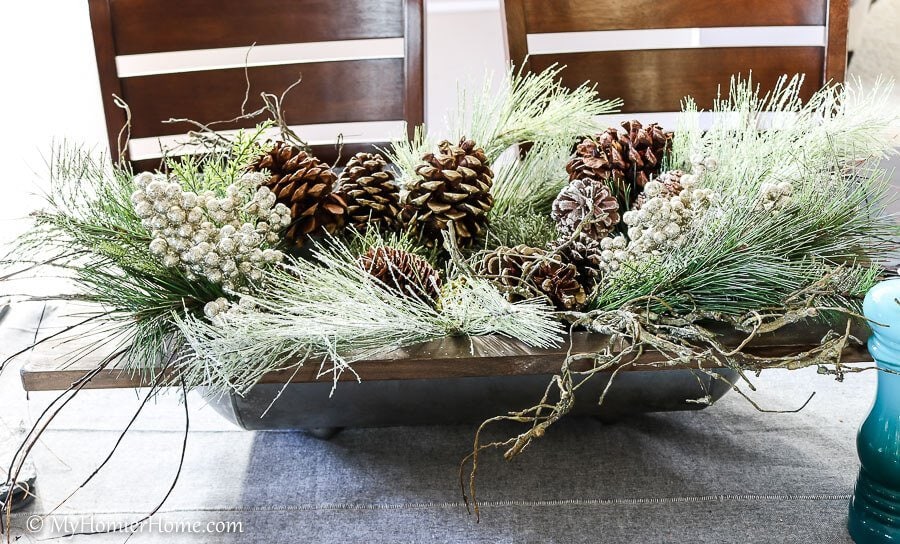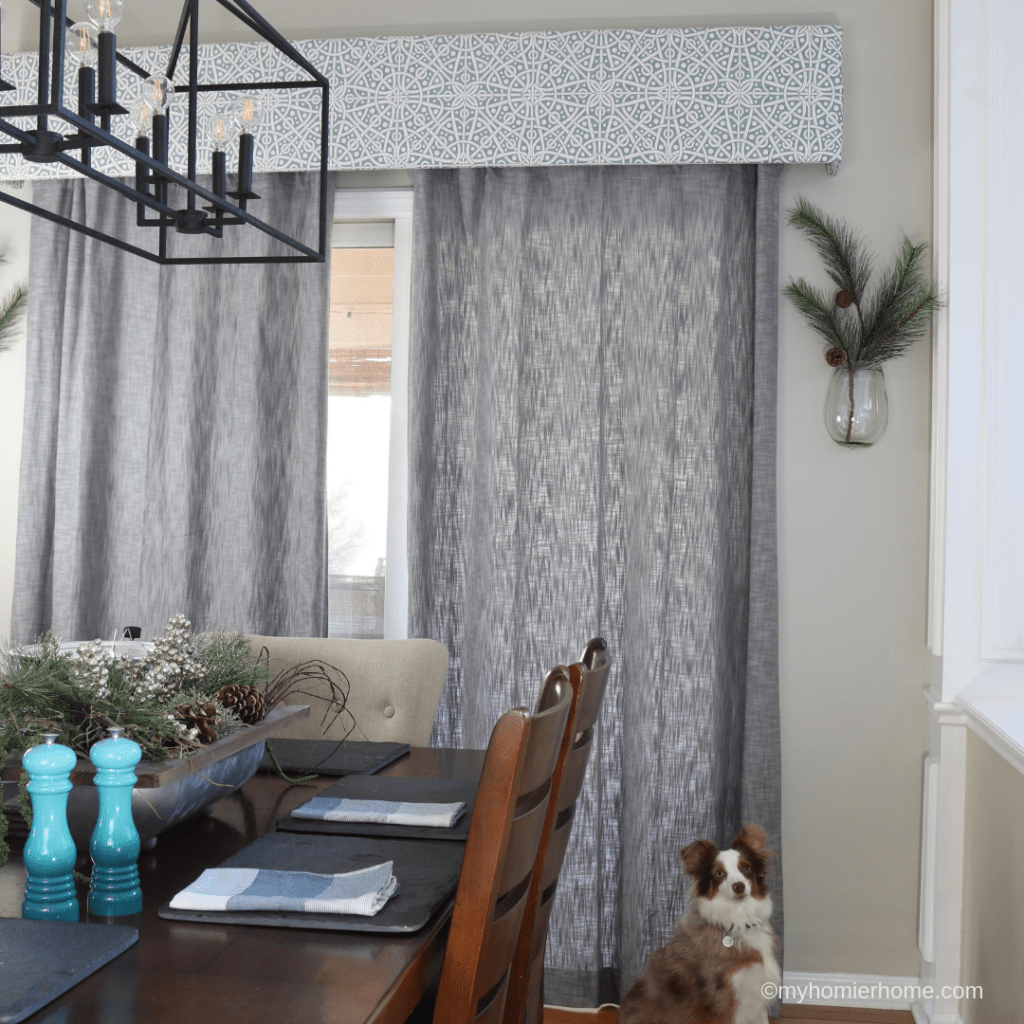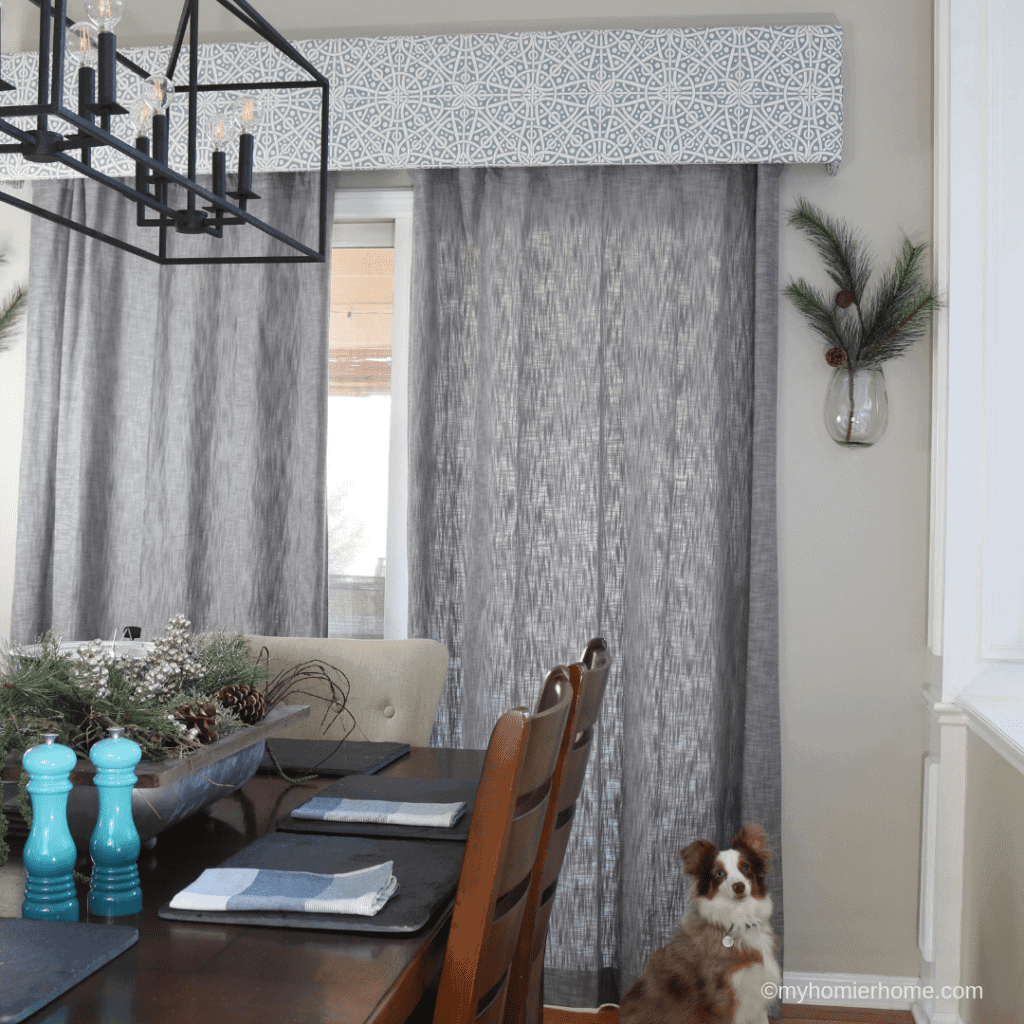 Nothing super crazy happened in the kitchen this year.
I decorated it the same way I always do every year, but I didn't want to leave it out considering it's a home tour and all.
Dining Room
On to my newest favorite addition to the winter wonderland…
The apple cider bar!!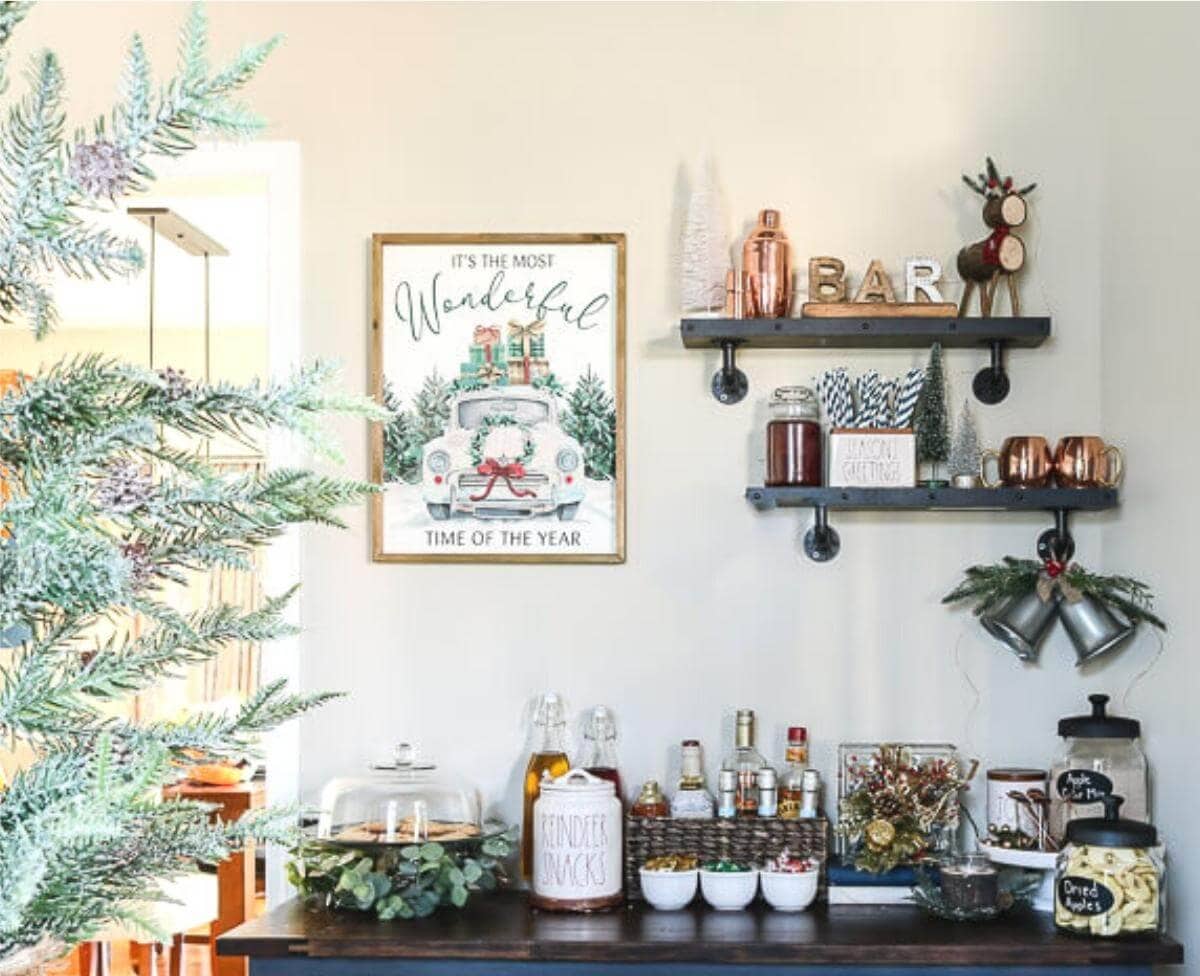 You can see more of this area lit up with close ups in my how to make an apple cider bar post.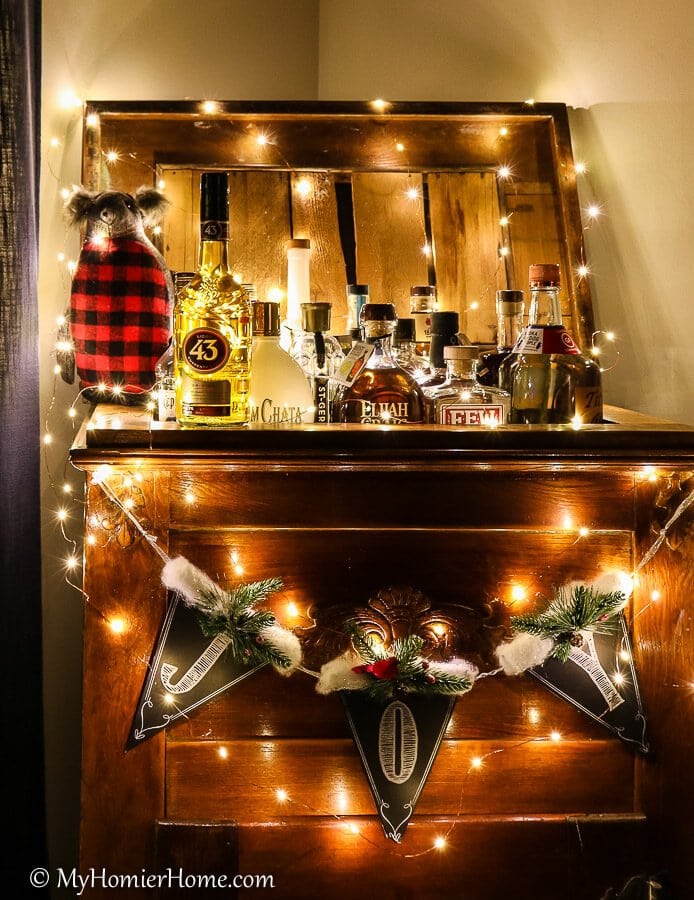 And the only other area in the dining room that's decorated is our vintage bar cart.
Last year, I shared our favorite holiday after dinner cocktail you'll have to try!
Now on to the entry…

Entry Way
In case you're not sure where we are, we basically started in the living room, went left to the kitchen, walked through the dining room doors, and out to the front entry.
Other than moving my nativity scene to the table this year, most of this is the same as last year.
I always like to add garland to the banister, but what I noticed this year is I need more twinkle lights up here for nighttime.
Put it on the list!
This is a view of where we started… went in a big circle!
Front room
Now for the room that rarely gets photographed.
It's actually a really awesome room that is always a crowd favorite because of its vintage cocktail lounge vibes, but it doesn't have the Christin stamp on it yet, so I usually avoid photographing it.
This year in the spirit of the holidays, I'm taking you through.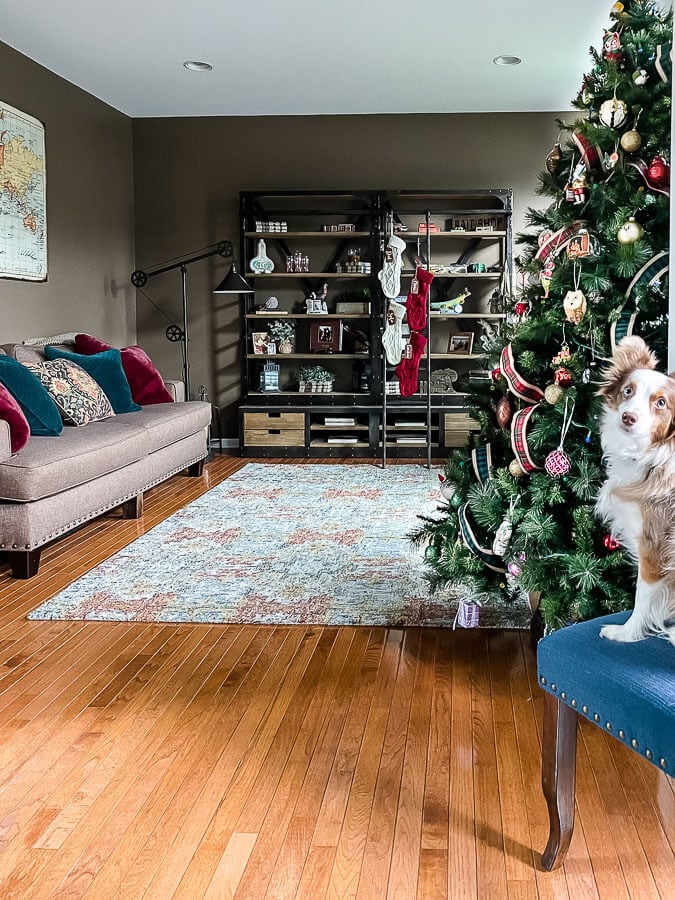 You can see I reserve any red additions for this room since it helps bring a little life and color to the neutral palette.
My husband loved the ribbon so much on the other tree, we grabbed some for this tree too.
I think little Lambeau is looking for some attention lol.
Here's where the pillows landed from the living room last year.
Much better.
Don't mind the map that's hung too high… it's on my list of fixes.
Bathroom
And as always, my DIY bathroom shelves with my stenciled walls got a little festive flare too.
Guest Bedroom
The latest addition to the Christmas decor is this half tree for the newly redecorated guest bedroom.
It literally is only half of a tree!
This is the first year I've explored the half tree, but it definitely works really well in here.
We have hosting our in-laws coming for Christmas week, so I'm excited to have them stay in this updated and now festive room!
I do have another small tree in our bonus room and our master bedroom, but those won't make it to the tour this year… maybe next year!
Now don't forget you can shop all my Christmas finds in the section below.
Happy holidays!
Disclaimer: This post does include affiliate links for your convenience. This is at NO additional cost to you but earns me a small commission. To read more, check out our disclosure policy. As an Amazon associate, I earn from qualifying purchases.
Shop My Christmas Home
(click on any of the images to shop the products)