5 Outdoor Living Room Ideas to Level Up the Summer
Want to add more living space to your home? These outdoor living room ideas will help you take full advantage of the summer. Read more.
I am so excited to share with you my outdoor living room ideas today as part of the Spring into Summer Home Tour! There are so many talented bloggers participating this year, so you'll have to check them out with the links at the end of this post.
I'll be sharing how we turned our screen porch into an additional living room in our home. It's been a total game changer.
Let's get started!
Disclaimer: This post does include affiliate links for your convenience. This is at NO additional cost to you but earns me a small commission. To read more, check out our disclosure policy. As an Amazon associate, I earn from qualifying purchases.
Before Photos
Just to give you a little context, here is what we were working with before we painted… talk about drab!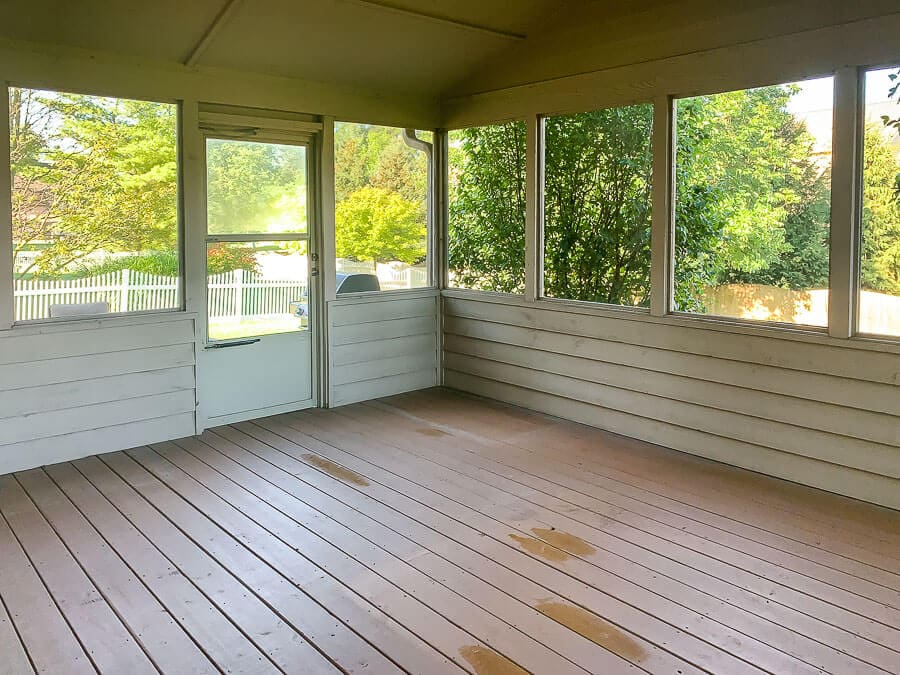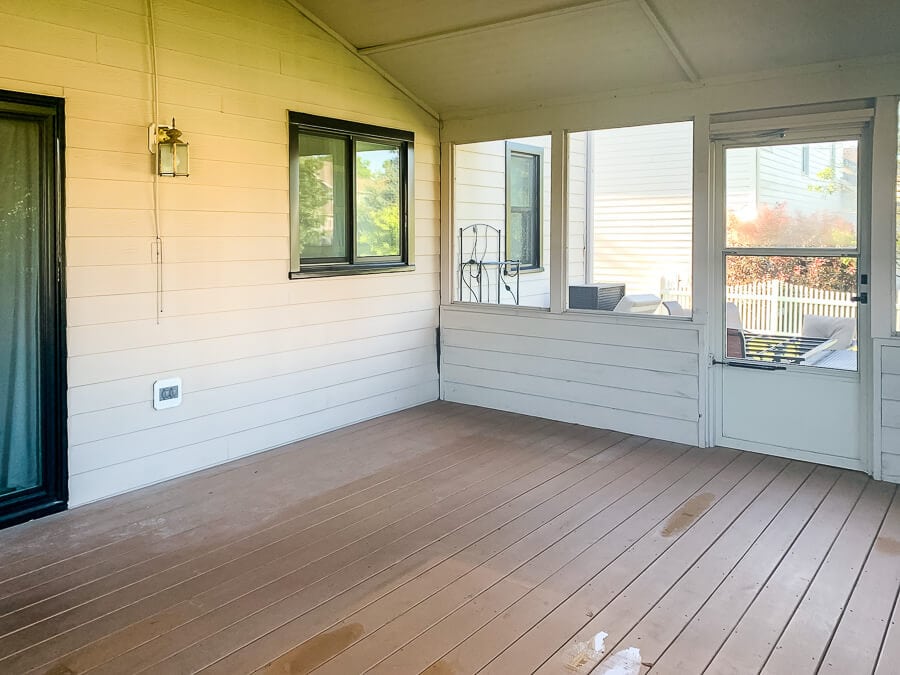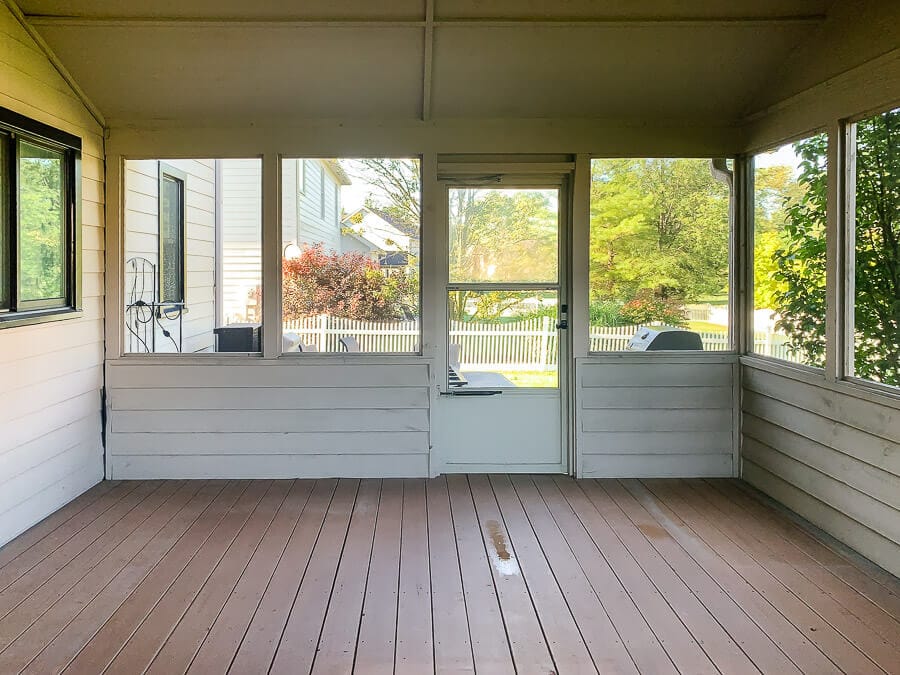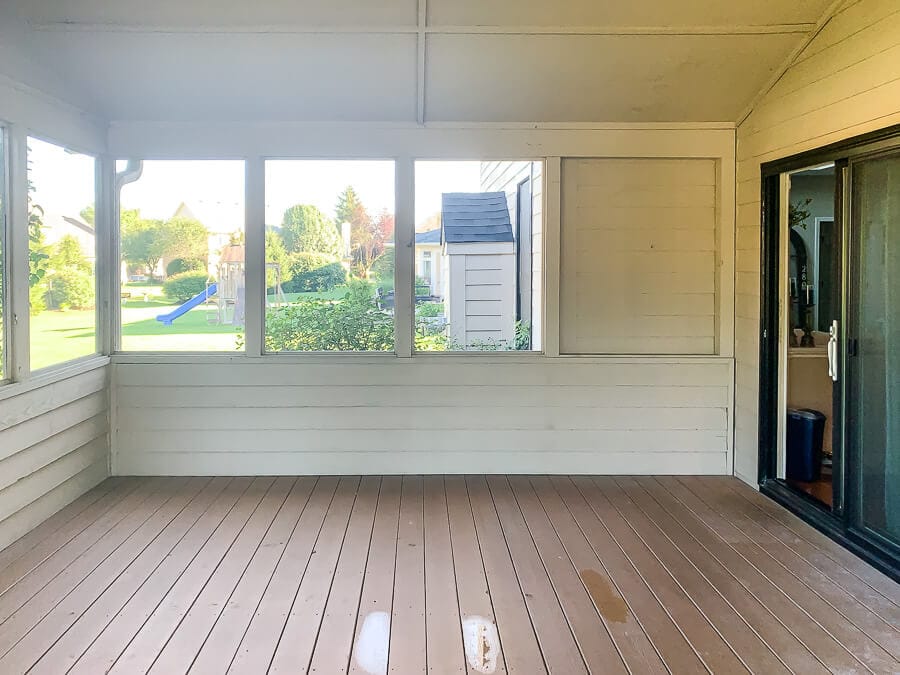 Then last summer, we had the room painted to at least get going on the updates…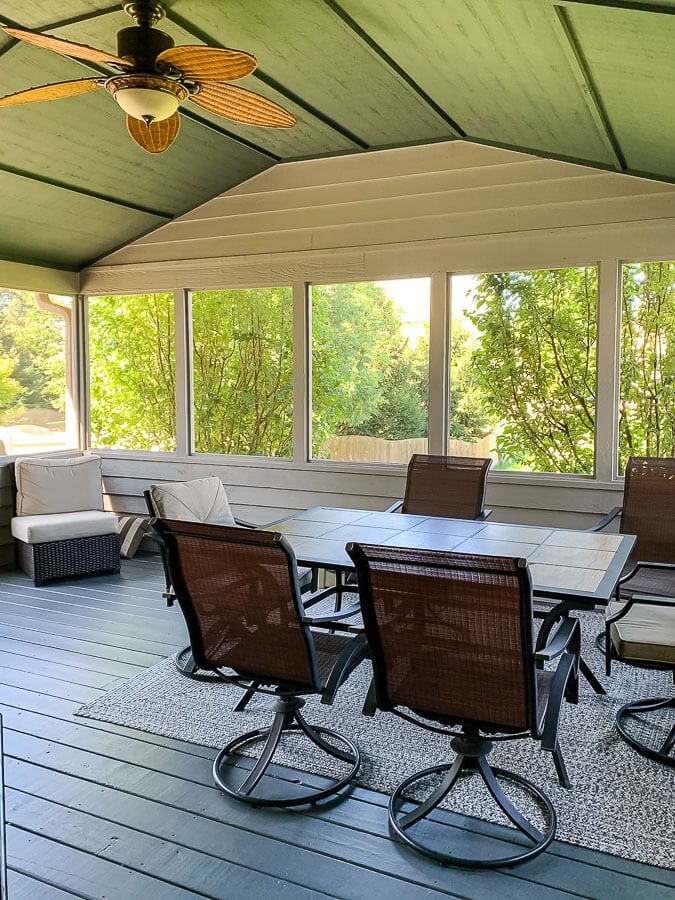 The rug was nice, but didn't create a cohesive space and the extra piece of our sectional in the corner did not scream, "Come sit here."
So, we followed these 5 things to totally change the feeling of this room. Here's how we did it…
1. Think cozy first.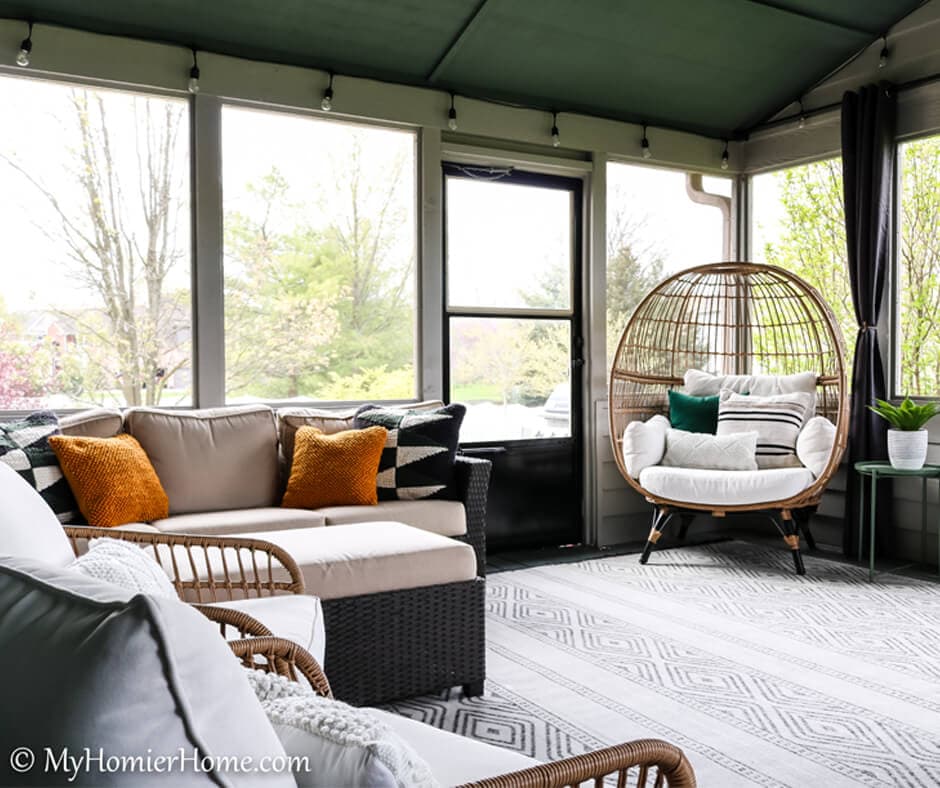 I'm all about cozy over here, so my first purchase was this beautiful egg chair from Target. It truly makes this room feel more inviting.
And it is so cozy, I've already taken many a nap out there on it lol.
So, adding a cozy spot to curl up in is idea number one!
The next thing to add to your outdoor living room is some stylish yet comfortable pillows to the outdoor couch. Both sets of pillows are from CB2 (you can find the mustard ones here and the green/beige/black ones here).
They truly make the space feel more like a real living room. The rest of the pillows in the room are from Target.
If you need more info on how to choose the right pillows, you can read my ultimate guide to choosing throw pillow sizes.
The other game changing item is the outdoor area rug.
This is a pretty big space, so finding a rug to fit the whole room added more to my search, but it was sooo worth it.
I highly recommend finding a rug that can fit your whole space to give it that real outdoor living room feel.
2. Create conversation areas.
As we started to have more company come over and hang out on the porch, it was clear we needed to include multiple places to sit.
I was originally going to put a bar cart over here, but made a switch and bought these chairs to go with my egg chair.
They are also super comfy and stylish while adding to the conversational space.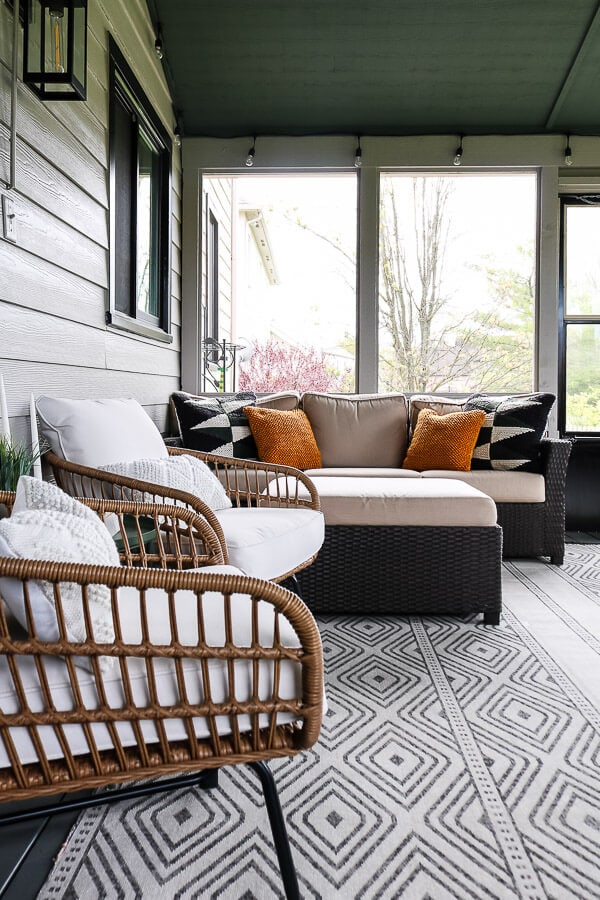 This corner of the room works for having company and also give a solid view of the outdoor television for when we are gathered to watch something on tv.
3. Include a place for outdoor dining.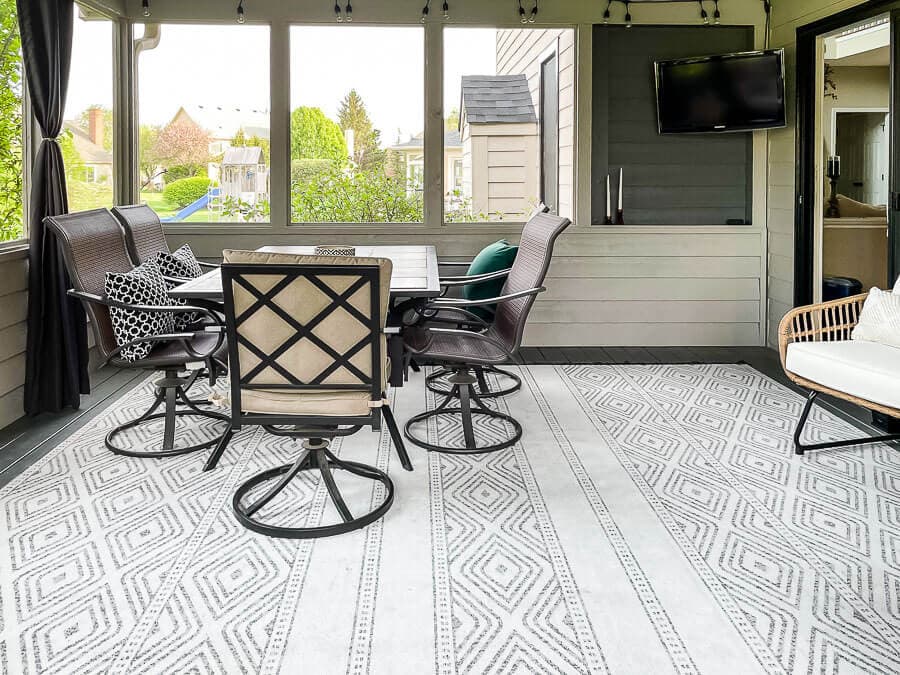 We kept the dining table in here because this is our only outdoor space and we love to eat outside in the spring and summer.
I still have plans to spray paint these outdoor chairs and the table as well, so I'll add links back to those posts once they are live.
I'm also waiting on a server buffet for under the television that'll house our blankets and give us a space to keep snacks and such.
4. Decorate like you would inside.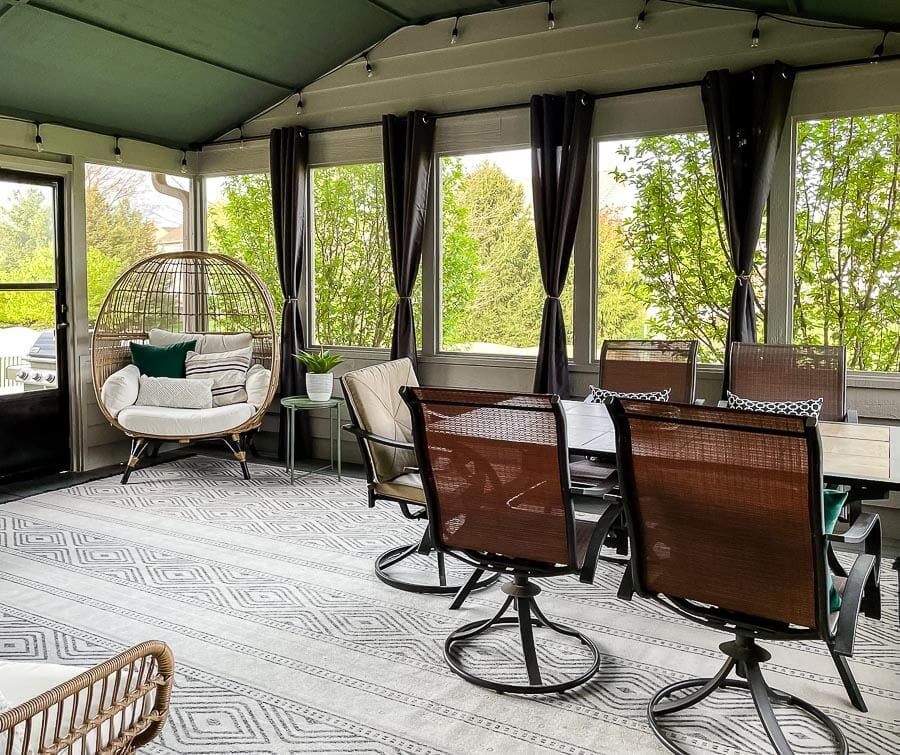 Another game changing element are these curtains!
I actually ordered another set because I want to add them to the corners as well, but they are perfect!
To keep them from flying around, I'm going to make some bead clasps that attach to the wall, so I'll link those here when they're done!
You can read all about my favorite outdoor curtains too!
And to top it off, we added some mood lighting with these outdoor string lights.
Don't forget about the decor too! I added decor just like I would if this was our indoor living room.
Now if I could only figure how to get the tapered candles to stand up straight lol.
The two tray tables are from Wayfair and have a removable tray on top in case you need something to server your drinks!
5. Add some tech!
Our outdoor television and added echo dot are perfect for playing music, watching the game, or even just chilling on the porch for weeknight Wheel of Fortune!
Either way, don't forget the tech for your outdoor living room… Now to convince my husband we need a bigger television out here haha… I'm all about the big TV!
Other Amazing Bloggers On the Spring into Summer Home Tours
Now don't forget, there are so many more spring into summer home tours to check out!
They are separated by room type along with some fun recipes to try too!
I'm thrilled to be joining in today as 29 talented bloggers bring you the best of all things home! Please continue along this inspiring Spring Into Summer tour, and visit the other participants in each of the following categories.
Shop my Outdoor Living Room
Disclaimer: This post does include affiliate links for your convenience. This is at NO additional cost to you but earns me a small commission. To read more, check out our disclosure policy.
(click on any of the images to shop the products)