21 Christmas Gift Ideas for Women
Looking for ideas for the ladies in your life? These Christmas gift ideas for women will make her feel special this holiday!
Welcome back to another week of the Weekend Wishlist!
We're continuing our early Christmas preparation with gift ideas for the women in your life, but first let's recap the week!
1. I shared my 5 Christmas color schemes I'm looking at to totally up-level my decor this year.
I even included over 30 examples to help you visualize how it'll look in your house!
2. We cleared out the nursery completely.
It actually took less time than I thought, but that's because it's organized chaos in the other guest bedroom now lol.
We are painting this weekend, so next week will have a much better update.
Don't forget to follow along with our progress over on Instagram.
3. In other fun news, tomorrow is our 6th wedding anniversary! Woot woot!
Seems like such a low number since we've basically know each other for over 20 years, but we are ready to celebrate with a nice dinner out tonight!
Now on to this week's inspiration and weekend wishlist!

This Week's Weekend Wishlist Episode
As always, you can catch my full commentary on the items in this week's wishlist or scroll to the next section to get right to shopping the goods.
Don't forget to subscribe to my YouTube channel to get alerted any time I post a new video.
Enjoy!
Shop the Weekend Wishlist
Disclaimer: This post does include affiliate links for your convenience. This is at NO additional cost to you but earns me a small commission. To read more, check out our disclosure policy. As an Amazon associate, I earn from qualifying purchases.
All the items listed in this week's episode of The Weekend Wishlist can be found below.
The only thing you won't find in the photos below are my favorite candles.
You can find all the scents and vessels from my favorite shop here.
(click on any of the images to shop the products)

Happy shopping!
And before I go, here's a little throwback from the archives…
Top Pin This Week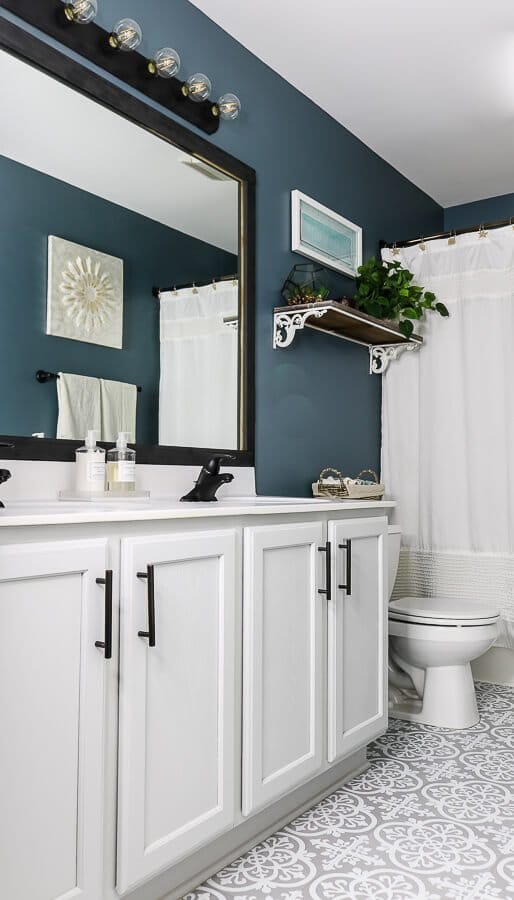 This week's top pin on Pinterest is from my Blue, Gray and White $100 Guest Bathroom refresh.
This is definitely one to save for later… so many great DIY projects that saved me a ton of money!
Click the photo to pin it for later.