If you're anything like me, your house is your most prized possession.
It's a place where you spend time with your family, host your favorite friends and loved ones, and your go-to spot to snuggle up in your favorite should-have-gotten-rid-of-this-years-ago t-shirt. Your home is a place where you and your family find comfort when life gets to be a little too much to handle. Similar to the forts you made as a kid, this is a place of your own creation, but now you have more space… and you can keep it up all year round! Aww yeah!
Creating a homier home can be a daunting task. We all want to achieve those specific "feels" for our own family and guests to experience upon their arrival. But, how do we get feelings to translate to spaces?
Well, we think we've got you covered there…
Our mission at My Homier Home is to help busy moms like you who are passionate about their home use the little time they have to create a home they can enjoy now – not when the kids are grown.
The heart of your family lives at home and shifting focus to the purpose your home serves for your family can open the doors to ensuring you get those feels you so desire. Creating a homier home will be the best thing you ever did for your family, but also for yourself… and we're going to help you get there!
You may be asking yourself… Who are you and how did My Homier Home begin…
Well, I'm glad you asked! Hi! I'm Christin! I am married to my main squeeze, Chris, of whom I've known since I was 14. We just had our first child, baby girl, and we have a fur baby, Lambeau, who loves to pose for all my pictures (photos of all of us here).
As a high school math teacher by day and a home & decor lover by night, I have the unique opportunity to combine my passions here with My Homier Home.
We moved to the Indianapolis area from the Chicago 'burbs in 2015 when my husband was promoted. Our new home was double the size of our old one and not "done" by any means, so I decided to document our progress through this blog! In turn, I hope to help you find ways to achieve your own homier home by saving you time and energy as you work through the process.
You can see my obsession to make this home unique to us based on these before photos…
---
---
Before Photos
---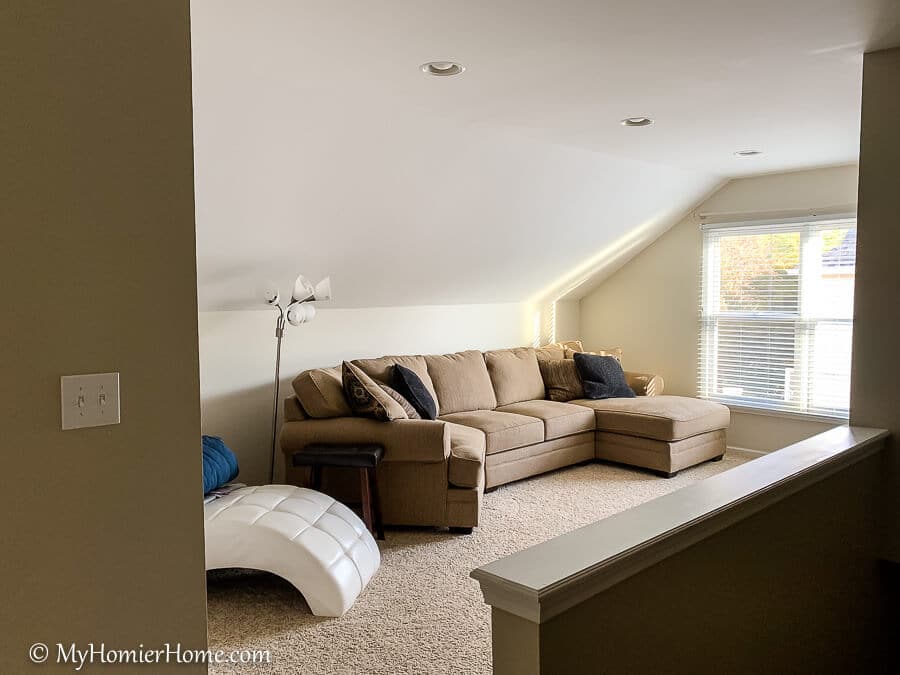 Pretty rough, right? There were either boring paint color choices or an overbearing amount of color. Either way, I knew I had a lot of work to do.
---
---
After Photos
Slowly, but surely though, we have worked through these major rooms and have come up with some really amazing after photos that fit our style a lot more and function, too! (Check out the full home tour here)
Every time I complete a project in my home, I share everything I learned with you here in hopes to save you time and frustration. But, don't take my word for it… check out the full scope of all the after photos:
We are no where near done, but with a lot of reflecting and focusing on the right work, I have finally reached a place where my home has those feels… and you can, too!
Welcome Home!