5 Perfect Christmas Color Schemes for your Holiday Decor
Picking a color scheme will completely up-level your holiday decor. These perfect Christmas color schemes will get the creative juices flowing plus I included 33 examples to help you visualize the possibilities!
Once you get the pieces in place and finally have a room you love, it always has such a fulfilling, long term effect on yours and your family's daily mood.
If you don't have that yet, My Homier Home is definitely the place for you.
The decorating process is not much different for holidays than it is for every day living in the fact that you want to consider your general plan first – especially in terms of a color scheme.
That's why today I'm taking you with me on my journey to make this Christmas bigger and better than last year… starting with choosing our Christmas color schemes.
I'll share at the end which one I'm planning to go with, so stick around for all the amazing visual inspiration to help you choose your own Christmas color scheme.

Traditional Christmas Color Schemes
Let's start with the safest Christmas color scheme of them all… the Traditional palette.
Including hints of red with your greenery with white and gold accents is a perfect way to get those nostalgic feels from way back when.
I especially love the idea of red plaid wrapping paper to really bring the color scheme all the way through to the presents.
Even though I'm not a fan of red in my every day decor, there is something lively and festive about adding red into your Christmas color schemes.

For a traditional color scheme, don't feel like you have to go entirely on the red side, you can also focus more on the green with hints of red like the living room above.
And can I just say, #goals… do people still say that?… to have a fully decorated Christmas bedroom would signal I've finally arrived lol.
I love all the subtle accents in this traditional-inspired bedroom decor above. From the mantel to the various layers of bedding… I'm in love!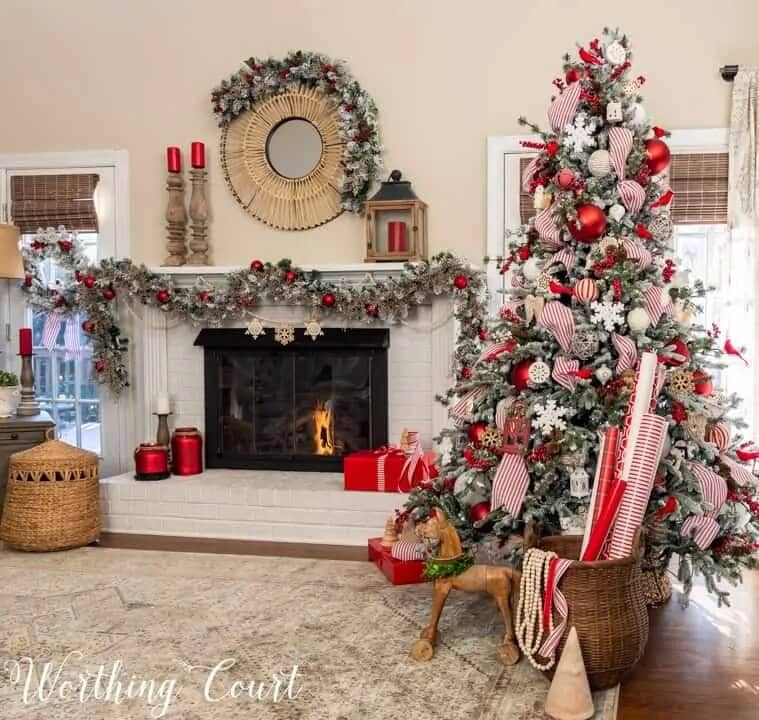 Whatever ratio of red to green, the traditional Christmas color scheme is the most nostalgic option of the bunch.
But, what if you don't want traditional…
Cozy Plaid Christmas Color Schemes
Since I don't like to change too many elements of my normal decor (i.e. the curtains, rugs, etc.), I'm looking for a Christmas color scheme that goes with navy.
This green and blue cozy plaid color scheme is right up my alley.

You can switch up the shades of green and blue, but I think it's the perfect pairing for an super cozy Christmas color scheme.
From everything I was researching, it looks like adding in the plaid in either green and blue for the ribbon on your Christmas tree and/or neutral plaid in pillows and throw blankets is the way to get the cohesive look. Plus bringing in the plaid for your Christmas wrapping paper and bows!
I just love the coziness of this color scheme.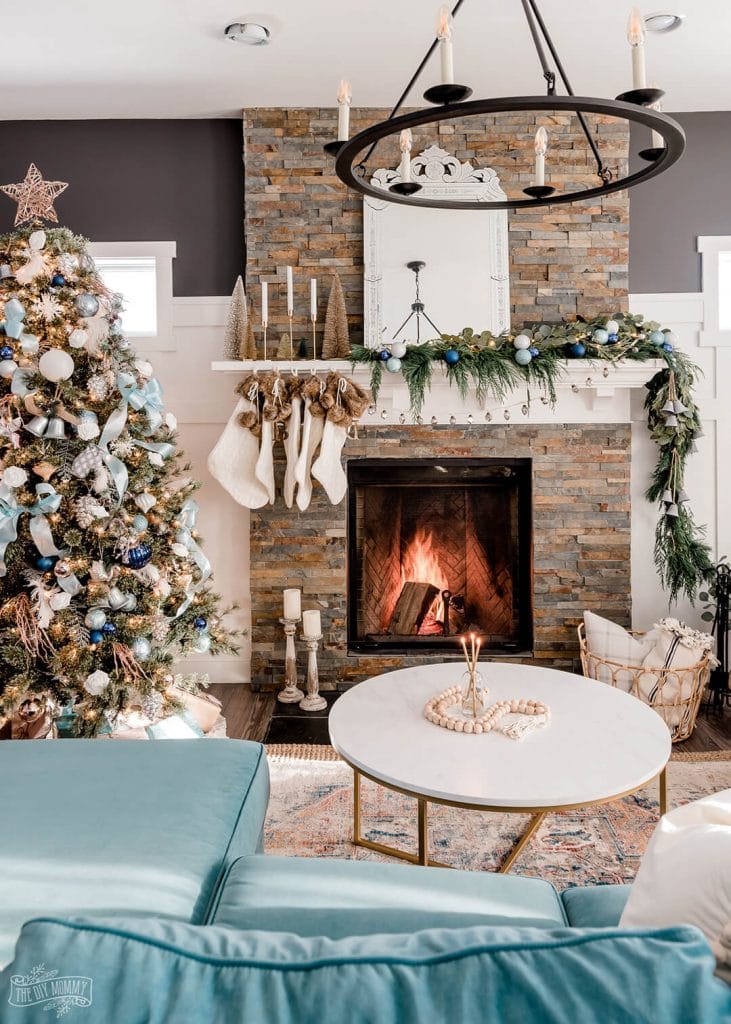 If you want to go more of a teal or aqua type of green with your blue, the photo above is a great option.
Or maybe more bring and festive like the photo above.
Either way, cozy plaid in blue and green is a great Christmas color scheme option.
Snowy Night Christmas Color Schemes
If you're looking for a more elegant color scheme, grabbing inspiration from nature's snowy night could be just the thing.
A blue, white, and silver Christmas color scheme is such a beautiful way to outfit a Christmas tree this year.
Focusing more on the blue and white versus the red and green brings a whole different vibe to your holiday decor that totally ups the elegant factor.

Plus there are so many gorgeous options to really bring it to life.
Adding in touches of gold and a flocked Christmas tree are great ways to bring the snowy night vibes inside.
Plus there are so many levels of blue you can use to bring depth and balance to your existing decor.

And I just love the shades of blue for the gift wrapping too!
Wintery Forest Christmas Color Schemes
Another one of my favorites is also inspired by nature.
The woodsy forest color scheme of green, white, and wood is the perfect Christmas color scheme to bring in some color while also bringing in a rustic vibe.
I just love how beautiful green pairs with cream colors.
And the picture above has more plaid! Can you tell I'm diggin' the plaid this year?

The best place to bring in these rustic vibes is around the fireplace.
The bells in the photo above on the mantel garland are awesome.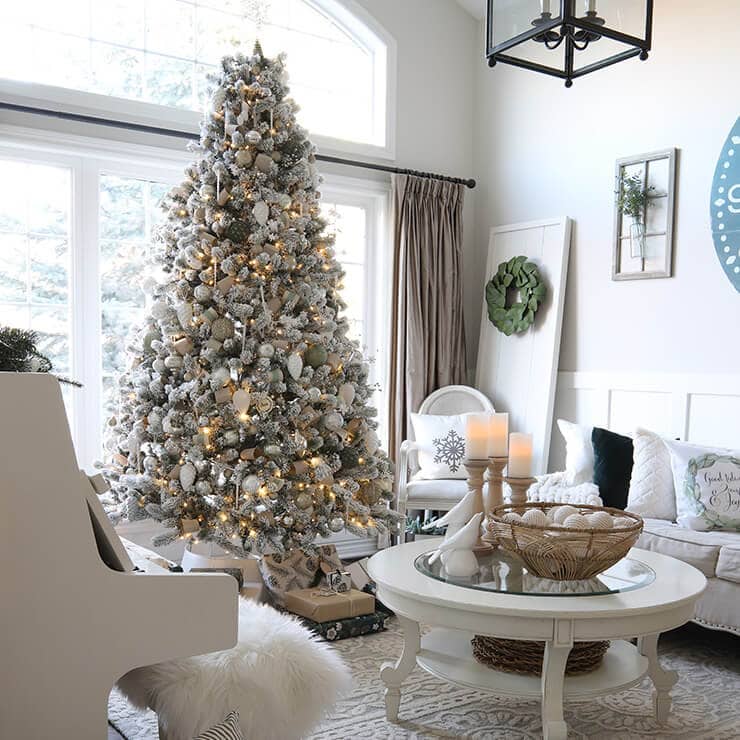 The possibilities for this color scheme are endless, but I just love how it can sway rustic or elegant depending on how you do it.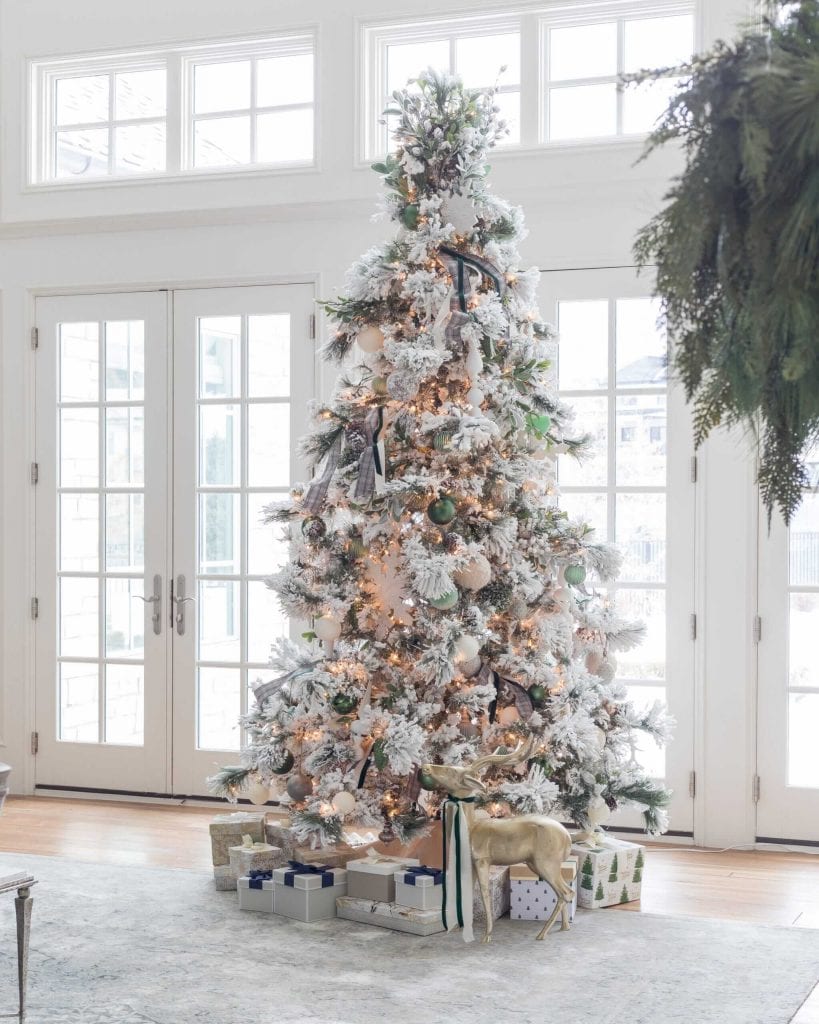 Remember all shades of green are available for this green, white, and wood woodsy Christmas color scheme.
Neutral Elegance Christmas Color Schemes
Last, but not least, is the neutral Christmas color scheme.
Neutral definitely does not need to be boring.
Bringing in various textures and tones can really bring the wow factor.
There is definitely more of an adult, elegant vibe with a neutral color scheme, but it is so beautiful!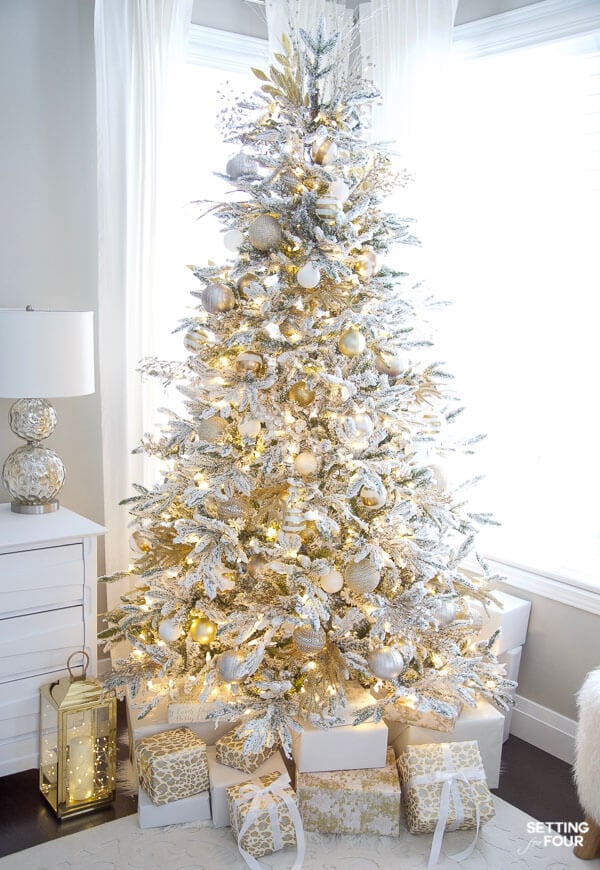 If you have a particular room that you want to put an additional Christmas tree in that has a more neutral palette, this scheme would be perfect for that.
Or if you already have colorful elements in a room, you can off set it with a neutral color scheme for your holiday decor.

Whatever version of neutral you take, you can't go wrong with these beautiful neutral Christmas color scheme options.
Bonus Christmas Color Scheme Ideas
Now for some bonus ideas!
How about this beautiful dusty pink, green, and cream Christmas color scheme?
How gorgeous is this?!
If you're looking for something more romantic, this is the way go.

Or maybe you're looking for something more fun and vibrant.
This multi-color Christmas color scheme will definitely brighten your day!
Or maybe you want to ditch the red and green for some red and blue.
Whatever you decide, your Christmas decorating will be so much easier and more put together if you choose a Christmas color scheme first.
Which one am I going to choose?
Well, after consulting with the hubs, I'm going with the cozy blue and green plaid this year!
Woot woot!!
Stay tuned for more Christmas planning and prep each week and join our Christmas Decorating Weekly Finds and Inspiration Facebook group in the meantime.
Be sure to enter all the info in the questions to join, so I can send you all my latest Christmas decorating tips, tricks, and finds.
Happy prepping!