My Top 3 Benjamin Moore Paint Colors for Any Space
Picking paint colors can be a daunting task. These three gray-ish Benjamin Moore paint colors are my favorite.
Picking paint colors can be a daunting task.
Not only do you have to get the motivation to stop procrastinating and go to the paint store, but when you get there it is full of decisions, decisions, decisions. T
here are so many paint colors! What will look good? What won't?
Last thing you want to do is waste your time and money painting to find out you don't like the color or it wasn't a good fit for your room.
This post was created for people just like you and me who would much rather have someone hand us a shortcut. And if you need more info on choosing paint colors, check out my color series.
I love a good shortcut, so here is a list that will help you eliminate all those wrong colors and finally land on the right one.
My Top 3 Benjamin Moore Bathroom Paint Colors (The Gray-ish List)
Last week, we shared with you what we learned from creating a basement bathroom from scratch.
When we got to the point of picking the paint color, I was feeling pretty good. I was certain that because I had a good grasp on my plan, I would be fine… but then I began to panic.
What if I make the wrong decision? What if I hate it? I hate painting! What a waste it would be to pay for someone to paint just to turn around and paint again ourselves.
As many of us do, I had already spent some time procrastinating when our contractor asked us to pick out a paint color.
My husband and I both agreed it would be better to see everything in the bathroom first before making our final decision.
And, I am glad we waited to see the whole thing put together, but I would highly recommend creating a list of your top 3 to 5 paint colors before making any final decisions or being forced to make a decision at the last minute… Or, just use this one!
Why I prefer Benjamin Moore paint in my bathrooms…
We have used many paint brands over the years and there is a short list of great brands, but what I learned over the course of our homeownership adventure so far is that even though Benjamin Moore tends to be a few bucks more per gallon, it is worth every penny.
I was adamant about the bathrooms in our home being painted with Benjamin Moore because it is incredibly durable.
Since these are such high traffic areas, I wanted to make sure we weren't constantly needing to "touch up" various spots.
Also, it goes on super smooth (like butta) that you almost always can get away with one coat.
I highly recommend, especially if you are painting yourself, to spare the extra couple bucks for your own sanity.
You can read more about my other favorite paint color brand here.
(Note: This is not an affiliate post nor am I getting any royalties for saying this… I really just love BM paint!)
---
My Fav Colors…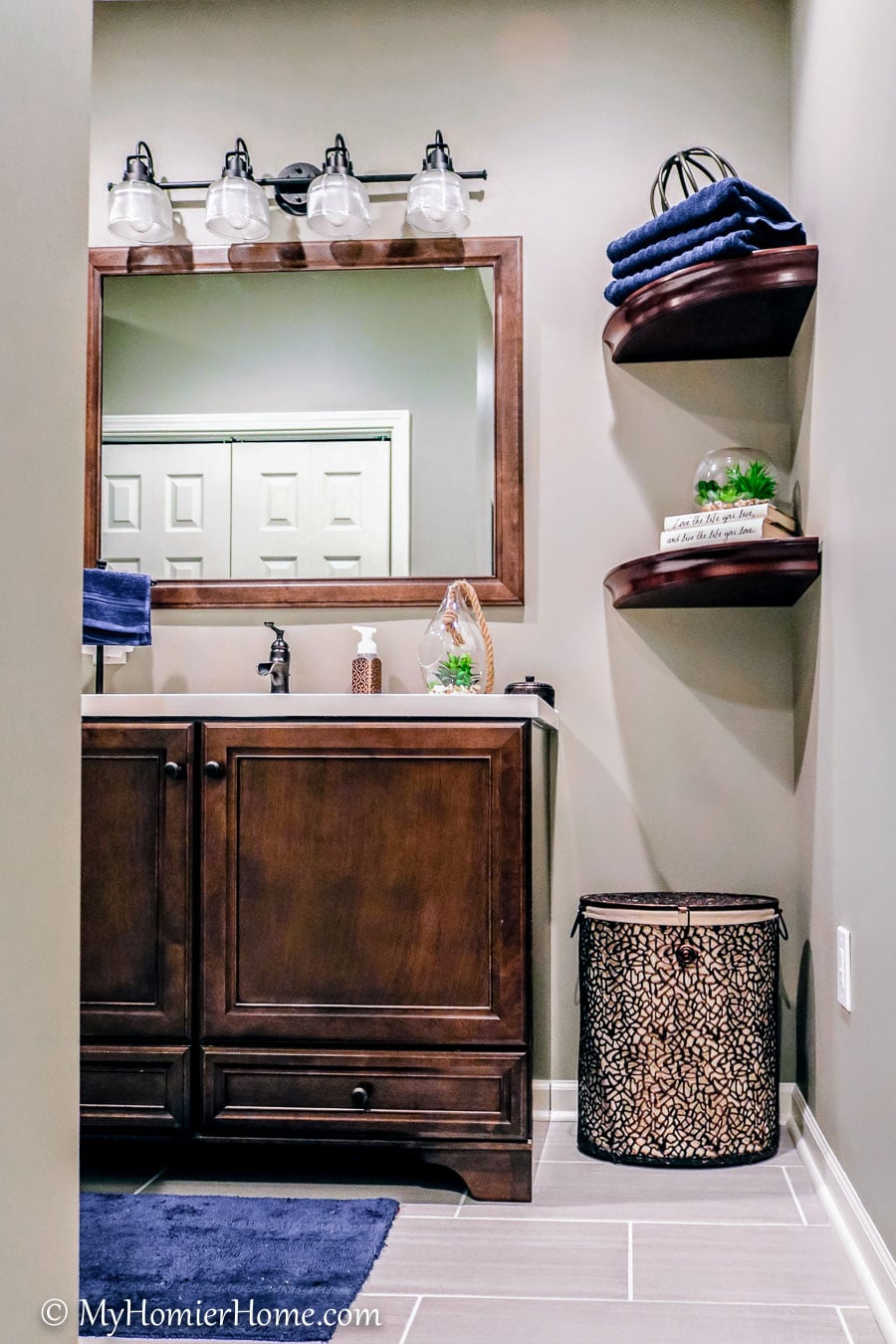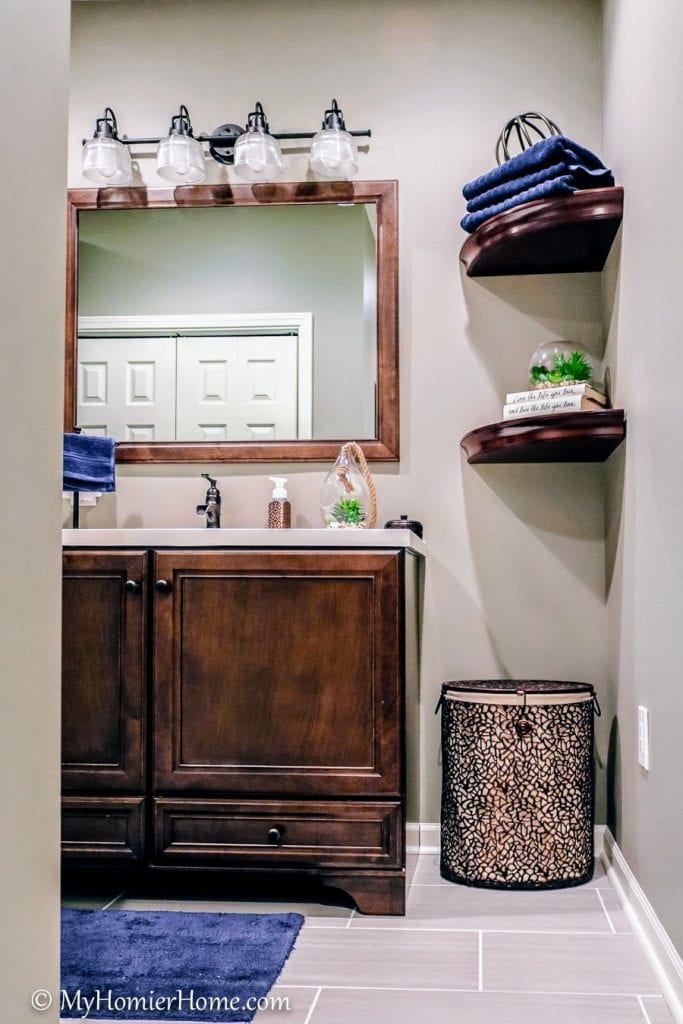 Love, love, love, love, love! This color is fantastic.
The surprising thing about Rockport Gray is it is darker than most, but when we painted our basement bathroom, that has no windows, it made the room feel open and bright.
This color has a subtle green undertone which allows it to show up very neutral when paired with wood tones and other light gray materials, such as our flooring and shower tile.
I stumbled upon this color in my BM fan deck (my rolodex-o-paint-chips).
I was looking for a warm, gray-toned color that would not give me a stark, lifeless, basement feel. I'm super pleased that I chose this one.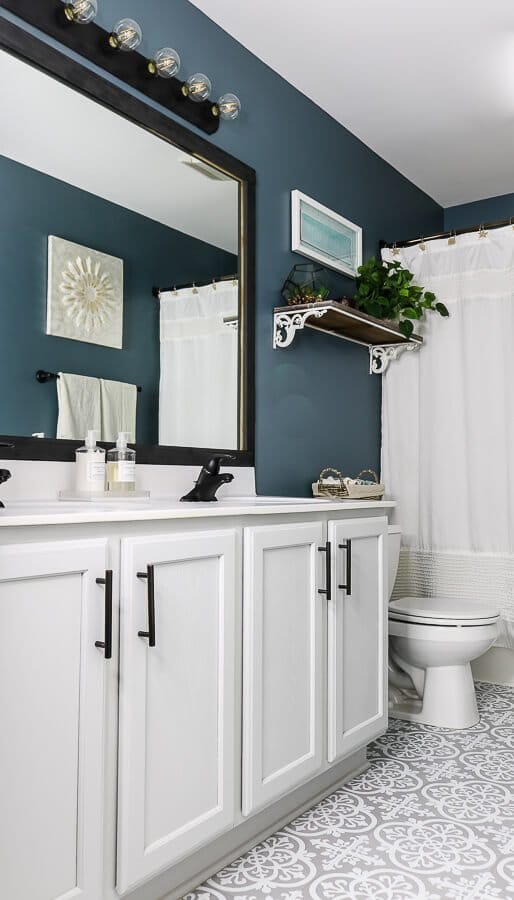 Charlotte Slate is the perfect muted gray-blue.
I love it because it gives my upstairs bathroom some color without limiting me.
I love when non-neutral colors act as a neutral in my home because it allows me to keep my rooms from looking washed out.
Our guest bathroom is not the most glamorous room in the house (yet), but the quick update of paint really made it seem more homey and inviting.
There is so much left to be done in the guest bathroom, but I promise to release the current-state photos if you so request…
---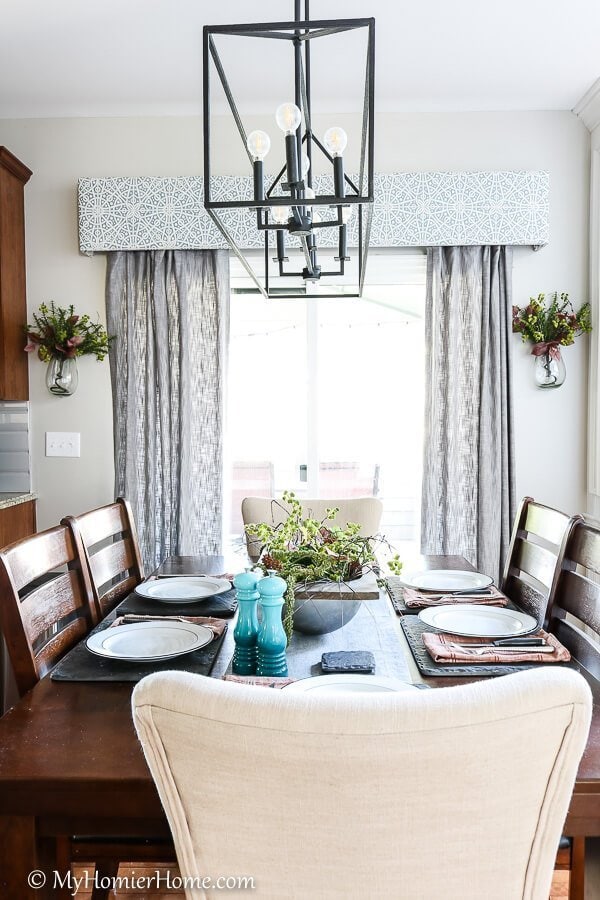 Ahh, Revere Pewter… I'm sure you have seen this one mentioned in other home-lover's posts, but this color is the perfect neutral.
It has a slight grayness to it, but also a very warm, shifting color depending on what you pair it with.
Usually, a shape-shifting color is not the most desired, but this one always lands on the best neutral background no matter what you put in front of it. 
I actually don't have this color in a bathroom in my home, but we tried it out in the basement bathroom before deciding we wanted something in a deeper tone.
But, my kitchen is actually painted in Revere Pewter.
Our kitchen does not get a lot of pure, natural light because of our screened-in porch, so we needed something that would stay warm in shadows, but not get too beige and dull.
Revere Pewter is definitely one of my favorite greige colors for any space (and my whole home color, grant beige, but that's for another post :)). 
---
Tips if These Three Colors Aren't Right for You…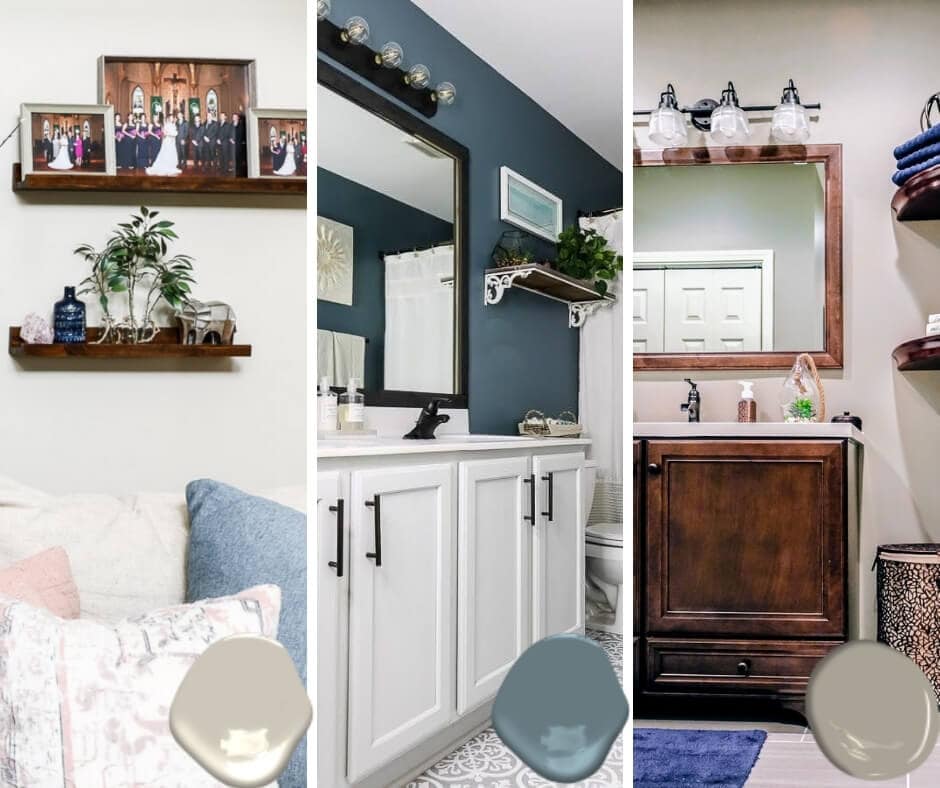 Benjamin Moore collections are a great way to ensure your colors flow nicely, especially if you are needing to pick multiple wall colors. My favorite collections are the historical collection and the American color collection. Find the paint colors here.
I am also ridiculously obssessed with Clare paint because they have great descriptions and they make picking paint super easy.
Sherwin Williams, my other favorite brand, also has a great list of collections based on stores I love, such as Pottery Barn, West Elm, and even an HGTV collection. Find the paint colors here. And their Color Snap tool is great for "trying the color on" before you actually paint it.
Or check out my Pinterest Paint Colors Board. I have spent hours and hours scouring Pinterest to round up all the best paint colors. It's the perfect place to find full color palettes and articles on other's favorite color round-ups.
Do you have a favorite paint color or brand? Leave your comments below.