6 Month Nursery Review | The Real Must Haves
In today's post, you will get our real life nursery "must have" list from exactly what worked and what didn't in our nursery after six months of use so you can get it right the first time.
It has been a little over six months since little miss thang was born. Our baby girl nursery reveal was a big hit and as far as decor goes, we are still loving the serene, safari-theme so much.
Being first time parents, we knew there were going to be some decisions we made that may work really well and others we would find out needed to be tweaked based on real life experience. Here is the real life of review of how our nursery has functioned over the last six months.
---
---
Disclaimer: This post does include affiliate links for your convenience. This is at NO additional cost to you, but earns me a small commission. To read more, check out our disclosure policy.
Disclosure: This post is sponsored by Boll & Branch.
The Real Must-Haves (WHAT WE DID RIGHT)
Floor-to-Ceiling Blackout Curtains with a Wrap-Around Rod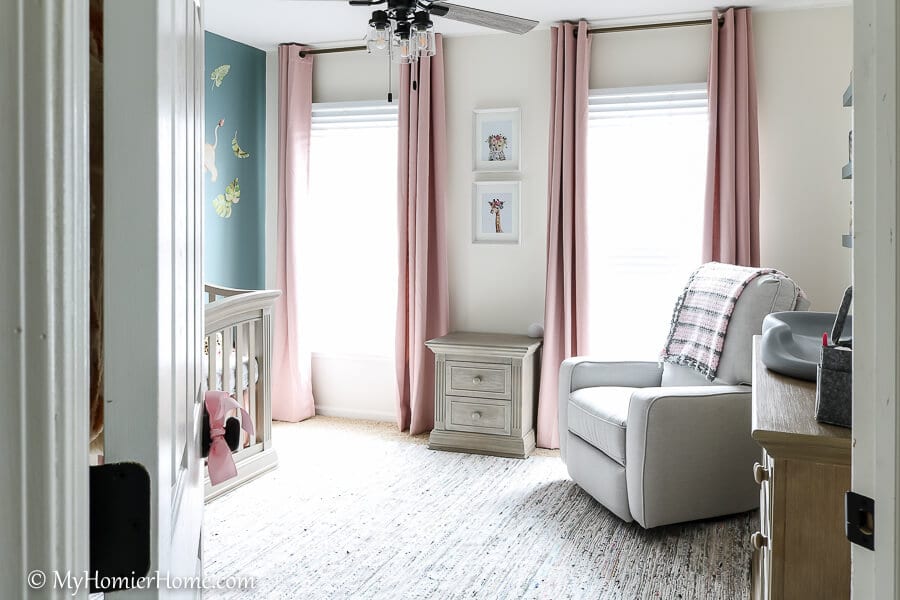 (click on any of the images to shop the products)
Little miss has a room in the front of the house, so it gets some serious morning sunshine. One thing we did right was making sure our black out curtains went floor to ceiling on a wrap around curtain rod.
Not only does this help keep the light out from all angles and all sides, but it looks really good, if I do say so myself. The curtains we have are only a mid-level black out, so they do give the room a pink glow, but it seems like baby girl actually finds this to be calming.
Pretty sure we either won the lottery with our first child being so easy-going or its the curtain setup lol.
---
Including a Mirror in the Room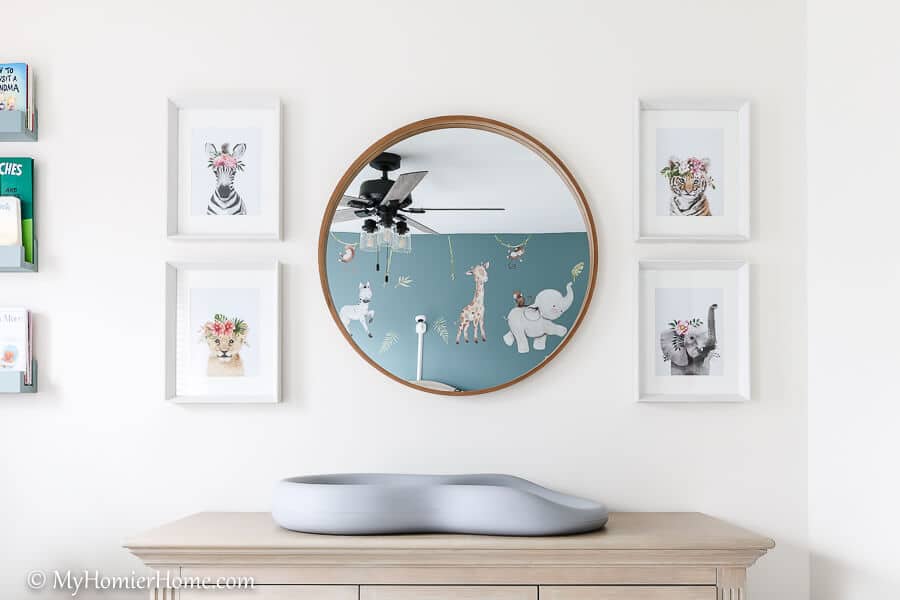 (click on any of the images to shop the products)
I went back and forth on what to do over the dresser when I was designing the room. I really didn't know if I wanted a mirror in there.
Turns out, having a mirror is the best form of entertainment for a little one, so any kind of mirror hung where you can entertain your baby is a definite must have.
---
A Keekaroo Changer… not a changing table
This was a little bit of an upfront expense, but it came so highly recommended by so many of my friends.
The reason the Keekaroo changer is an absolute must-have is because there's not changing covers to wash, it is super comfortable for babies to lay on, and it wipes clean in a literal instant.
The other great thing is it just sits on top of the dresser, so no need for a bulky extra on top of your dresser. Definitely worth the price.
---
Big, Comfy Rocker Recliner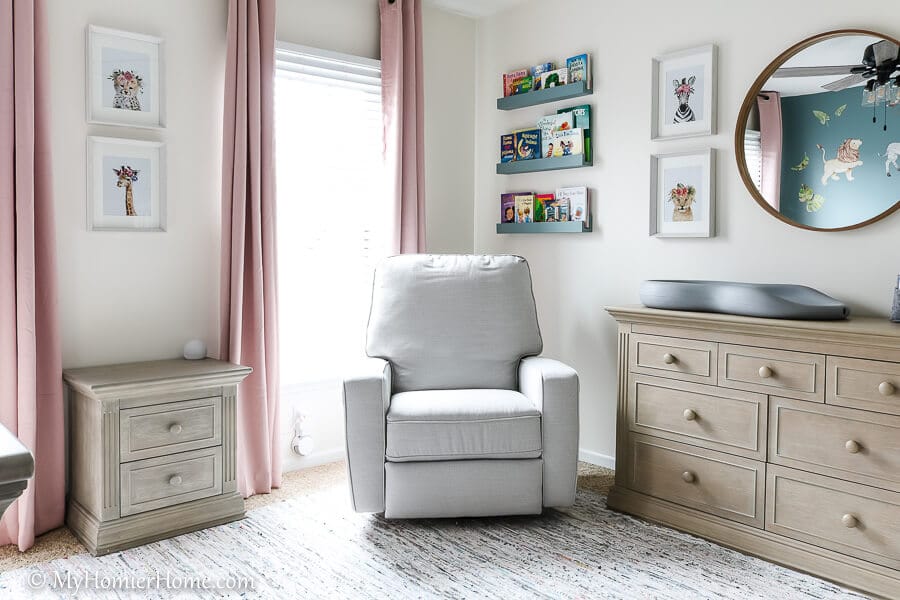 (click on any of the images to shop the products)
When I say big, comfy chair, I mean it has to have a tall enough back for you to rest your head naturally and be cozy enough to sit in for prolonged periods of time.
This chair is amazing. It is so comfortable and does all the things… swivels, reclines, and rocks.
I'm so obsessed with this chair, I'm actually purposefully not buying a chair for our master bedroom because I want to move this one in there when she gets to be too old for it (I might deem her too old for this chair sooner than later).
---
A Ceiling Fan
In the world of home decor and making pretty spaces, the ceiling fan gets a bad rap.
Personally, I need a ceiling fan to sleep. At our first house, we didn't have one and it was awful.
When it was time to design baby girls nursery, I was torn on whether or not I keep the ceiling fan or get a cute chandelier like you see everyone doing.
I am so glad that I went with my gut and chose to just update her ceiling fan. Because we never really used her room before she was born, I had no idea how warm the room got during the summer months.
Given there is only one vent, the ceiling fan really helps circulate the cool air to make sure she has ideal sleeping temps.
If I were to give anyone real advice, the chandeliers look pretty in pictures, but the ceiling fan is the most functional piece of equipment we have in the nursery.
---
Open Closet System + Uniform Hangers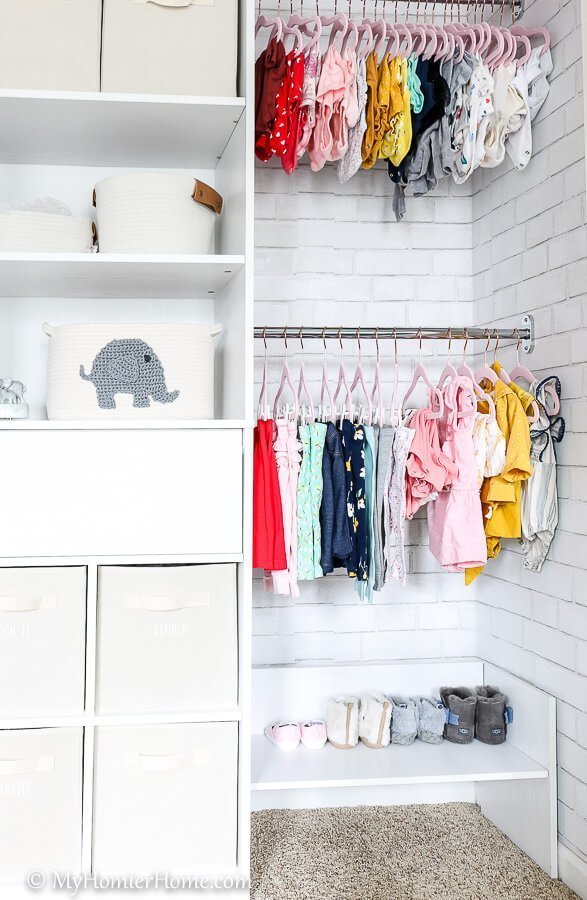 (click on any of the images to shop the products)
I was a little nervous about opening up the closet, but it has made the room so much bigger. And after six months of use, I'm so glad I don't have to worry about sliding doors open and shut every time I want to grab something.
This closet system has worked so well for us in keeping everything organized and locating all the things in a flash.
Because this closet is all open, having uniform hangers is a serious must.
No way I would like looking at a giant mess every day, which leads me to my "what we did wrong" with the closet in the next section.
---
Drawer Dividers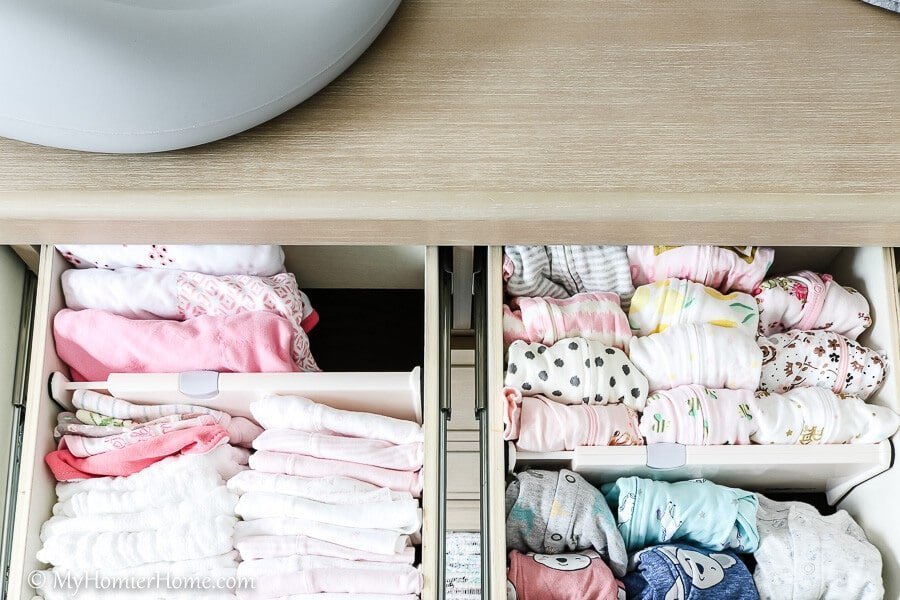 In the picture above you can see how nicely everything was put away the first time.
Big surprise, but in the hustle and bustle of babyland, nothing gets folded any more.
This is why the drawer dividers are such an important piece to keeping the drawers organized. I'll talk a little more in what we did wrong with the drawers in the next section, too.
---
The Must-Haves We Wish We'd Had

(WHAT WE DID WRONG)
Organizing the Open Closet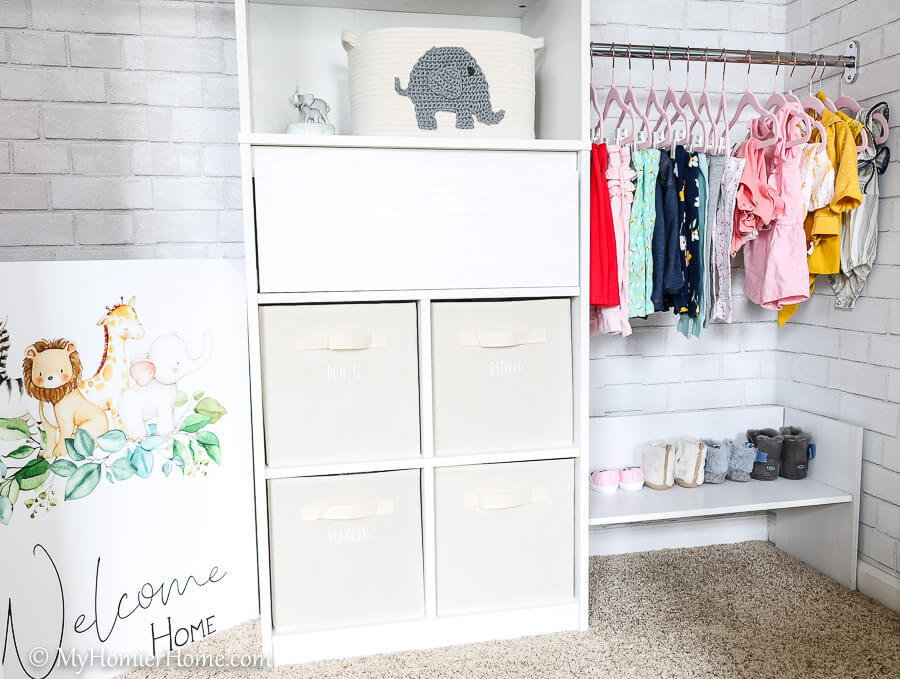 So I mentioned in the section above about how much I love the closet organization system. And I really really do. The thing I wish we did was organize it better.
I put everything away in a left to right order. Newborn and 0-3 month clothes on the top left, 3-6 month and 6-9 month clothes on the bottom left.
The problem with this is the way the closet is angled. It makes way more sense to have everything on the right because it allows it to be way more accessible.
So the best way I found to organize the closet is to have the next size clothes ready and waiting on the left, but the clothes we are currently using on both racks on the right.
The takeaway? Consider how you are going to use it and maybe do some mock trials lol… pretend the baby is on the changing table and you need a quick outfit, go!
You may not get it right the first time, but it would have been a lot more helpful to think through how we were going to use it before setting everything up.
---
Organizing the Drawers
Here's another area I ended up rearranging. There are a few things we use often while standing at the dresser: drool bibs, pajamas, and socks along with diapers and burp clothes.
As many people say, you can never have enough burp clothes, which is 100% accurate, but that also means you'll need a bigger drawer to house them.
The tiny drawer at the top of the dresser became overrun, so I had to move the burp clothes to their own bigger drawer.
I also had to rearrange which things went in which drawer.Burp clothes made more sense to be in a drawer closest to the chair for when I was feeding her.
Socks were always put on while standing, so they could be further away from the chair.
The bibs made more sense to have closer to the chair, too, so I could grab them quickly if I forgot to grab one before feeding her.
And the last big drawer we use houses all the diapers (we just store extra sheets and what not in the bottom two drawers).
We were constantly running to the other closet to get reserve diapers and since we weren't using all the drawers, a diaper drawer was born. This is where the dividers really come in handy.
---
Not Enough Pajamas… and Baby Jeans… and Pacifiers
We live in pajamas over here, so I literally cannot have enough pajamas – especially during the introduction of food and the diaper size transition time.
My absolute favorite pajamas don't have snaps (curses to snaps) and have either a double zipper or a bottom only zipper.
We only started putting real clothes on her when I went back to work and she had to go to daycare.
For wearing real clothes, I find myself constantly searching for baby jeans to go with all the cute onesie tops.
And as far as effective use of time, running around your house trying to find one of three binkys/pacifiers on your way out the door is ridiculous.
More binks and have them everywhere. These are little miss thang's favorite pacifiers.
---
Not Enough Drool Bibs

(click on any of the images to shop the products)
Can we say drool-a-thon?
Drool bibs are a serious must and the one thing I have bought multiple times. Let me tell you, you can never have enough drool bibs.
Not only were we tearing through multiple bibs a day with spit up, but then she started teething and they'd be soaked before we got to lunch.
I have found two brands I absolutely love for their softness and ease of use, these Boll & Branch bibs and these Burt's Bees bibs.
Getting the extra soft bibs and having a ton of them on hand is definitely necessary.
---
Not Enough Sheets

(click on any of the images to shop the products)
Same goes for sheets. I bought two sets of sheets thinking I would just rotate them out.
I don't know about you, but I am the worst guy to be in charge of laundry. Not only do I hate it because it's the longest process ever, but I forget until it's too late.
So when she spits up or has an accident and your last set of sheets is in the laundry? Ya, not a great scenario.
More sheets people! Here are my favorite sheets for the crib. They are ultra soft and so pretty.
---
Not Bath Towels

(click on any of the images to shop the products)
We figured we'd give her a bath every other day totaling about 3-4 baths per week. So, naturally, I have about that many hooded towels.
Did I mention I'm terrible at doing laundry on time every week?
Oh ya, so my tip is to have at least 5-6 hooded towels and more if you plan to give baths more often.
Here are my favorite bath towels for their serious coziness factor.
For all my favorite organic baby items, you can checkout the whole Boll & Branch baby collection.
So cozy… I love them so much because they take extra care to make sure their product is the best, but more importantly that the farmers and factory workers get paid what they deserve – my kind of company.
So far, this about sums up the last six months in a nutshell lol. If you're a veteran mom, what else would you add to this list?
---
---
---