Non-Boring Gender Neutral Nursery Ideas to Steal
Waiting to find out the gender of your new baby? You can still set up a non-boring gender neutral nursery. You'll find all my gender neutral nursery ideas in today's post.
It's that time of year again!
It's One Room Challenge time baby!!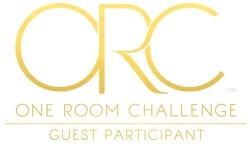 This is not my first One Room Challenge rodeo, but it has been awhile.
My first ever was my cozy, rustic living room refresh.
Followed by my home office meets craft room reveal and then the adult & kid-friendly bonus room upgrade.
This year, I'm tackling our non-boring, gender neutral nursery!
For those of you who don't know, the One Room Challenge is a blogger and Instagramer event where we all choose one room to complete from start to finish in 8-weeks.
This week, we're all sharing our design plans, but for the next 6-weeks we will be documenting the progress of what it takes to complete a room in 8-weeks with the final reveal on the last week… hence the challenge.
This is the best week to checkout all the participants and see which ones you want to follow along with.
There is always so much great inspiration! You can find all of the week one participants here.
Now it's time to talk about my gender neutral nursery ideas… woot woot!! Let's go!!
Disclaimer: This post does include affiliate links for your convenience. This is at NO additional cost to you but earns me a small commission. To read more, check out our disclosure policy. As an Amazon associate, I earn from qualifying purchases.
Before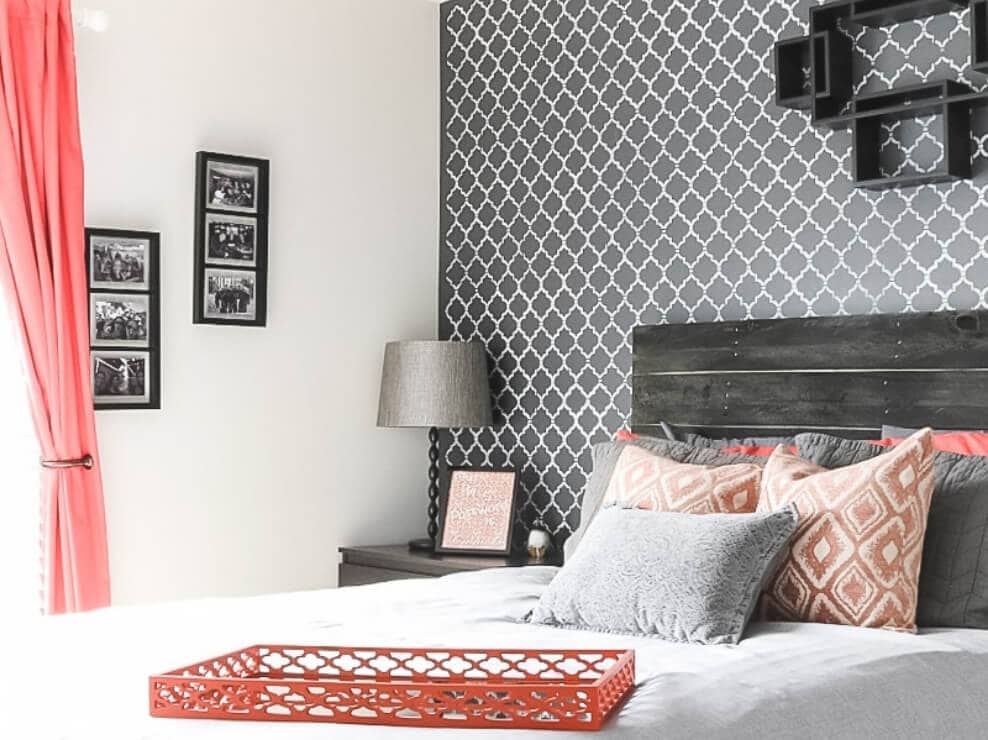 A long, long time ago… in a galaxy far, far away… I picked the first room to transform in our home.
Yep, it was this beautiful guest bedroom.
I stenciled my first accent wall… Created my first gallery wall… Built a pallet headboard…
Life was grand.
Little did I know, this room was going to be the spark I needed to dive into this DIY and decorating business.
This room created My Homier Home… cue the water works.
But, as we all know, nothing lasts forever… especially decor, so…
This bad boy is being converted into our new gender neutral nursery!
(Side note… we do have another guest bedroom that I just updated if you want to check out my modern vintage guest bedroom makeover ideas and a sneak peak of the reveal)
The Gender Neutral Design Plan
I don't know if you know anyone who's pregnant and beginning their nursery adventure, but the pickin's are slim out there!
I had to drive 45 minutes away to secure this crib and its dresser counterpart.
This design was one of 4 available.
Thank goodness we liked it!!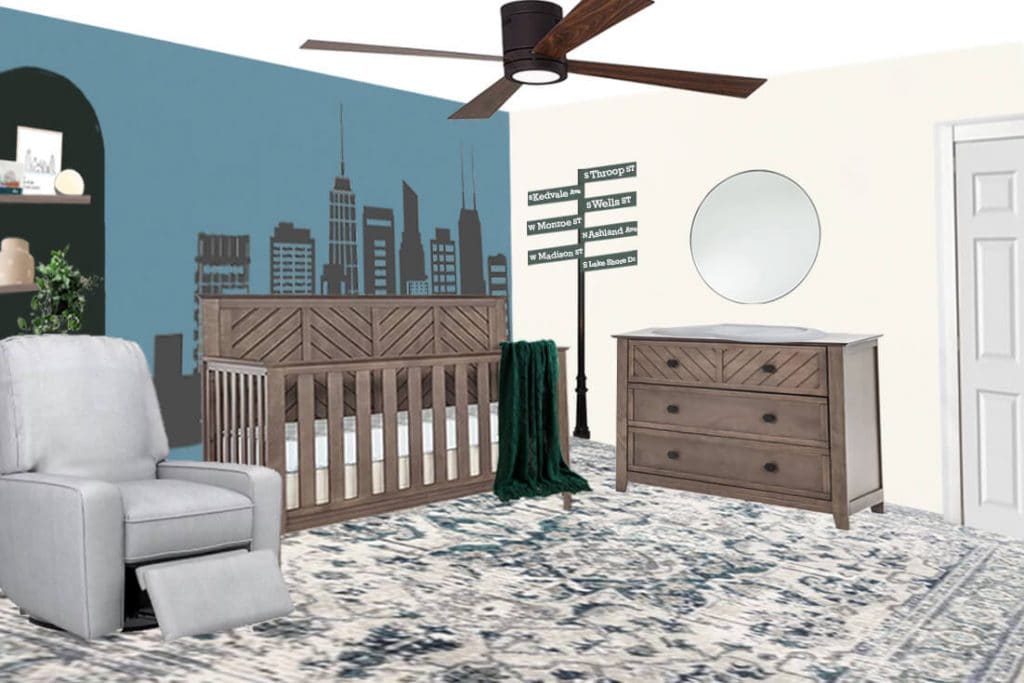 Any who, so let me talk through these gender neutral nursery ideas.
For those of you who are new to My Homier Home, I am a proud Chicago-native living in the suburbs of Indianapolis.
My husband and I both grew up on the southside of Chicago, went to high school together in a 'burb just outside the city, and bought our first house in another one of dem 'burbs.
Most of our family and friends still live there, but we've been MIA in Indy for about six years now.
Nothing beats the tax advantage crossing the border this way, I tell ya.
Why am I going on and on about Chicago?
Well our gender neutral nursery is going to be Chicago themed!!
So all the artwork, decals, and signage you see is all related to our beloved first city.
Not only did I find some really cute artwork, but I gathered up all the significant streets between me and my husband over the years and will be painting them on the wall!
See all those tiny street signs back there?
Each of those has a distinct meaning in mine and my husband's lives.
I grew up on Kedvale. He grew up on Throop.
Before we moved, my hubs worked on Wells and Monroe.
Ashland and Madison are two streets that signal you're close to one of our favorite sporting teams (i.e. the White Sox and the Blackhawks).
And Lake Shore Drive is where we've spent many a day and night livin' it up in the city.
What better way to celebrate baby number two than an homage to our roots.
I don't know if I mentioned this, but this is not our first nursery.
We actually put together a safari-themed girl nursery for my daughter a couple years ago.
She loves it so much… full on artwork-specific animal noises daily… so we decided just to create another one for the new baby.
(another side note… I created these design boards in PhotoShop and I offer this as a service if you're ever looking to get a better visual on your space before you actually buy anything… learn more here)
You might be wondering, if you found out the gender of your first, why not the second?
Well, that's a funny story actually.
We had planned to do a gender reveal around 20 weeks like we did for my daughter.
Prior to that, we had genetic testing done and asked for the gender to be in there too, but told them we wanted it to be in a sealed envelope like we did last time.
Then… technology.
I get an alert on my phone that the genetic test results are ready to review.
Not thinking… hello pregnancy brain… I opened it up.
And there it was…
We were having another girl!
I couldn't believe it. Not only did I totally ruin the surprise by accident, but I could have sworn it was a boy!
So, I did what any good wife does and called my husband to reveal that I now know the gender.
I offered to keep it a secret, but he wanted to know too.
Four weeks went by and I get a call…
It's the doc saying all this stuff about how I was high risk.
I thought this was so weird because the report said low risk.
Fast forward, I'm talking to a genetic counselor and I ask why the discrepancy…
Oh, ma'am, that's because you were looking at a report from 2019… that's from your first child.
LOL!!
Yep. So boy? girl?
We have no clue… and we told everyone it was a girl too.
So… my husband took it as a sign that we should not find out the gender until the baby is born.
Hence, the non-boring gender neutral nursery ideas at your fingertips today.
I do have one secret idea though in case it is a girl…
Adding in some pink curtains to the mix!
These are actually the same curtains in my daughter's room and I can't get enough.
But, again, this is just an in-case addition.
The Source List
Disclaimer: This post does include affiliate links for your convenience. This is at NO additional cost to you but earns me a small commission. To read more, check out our disclosure policy. As an Amazon associate, I earn from qualifying purchases.
As always, I included the full source list of everything you see in my gender neutral design board plans above in case you'd like to recreate this non-boring gender neutral nursery.
(click on any of the images to shop the products)

The To-Do List
The to-do list for the next 8-weeks is hefty, but I'm ready!
Here's the long and short of it…
Clean out the room (head over to my Instagram stories to check out what that really means… not ideal)
Clean out the closet
Sell all the things in that room
Paint the walls
Paint the accent arch
Assemble the furniture
Paint the street sign mural
Switch out the ceiling fan
Hang the curtain rod and curtains
Hang the shelves and mirror
Style the shelves
Deconstruct the closet wire system
Install peel and stick wallpaper to the closet
Install a new closet system (we are going to have an open closet again like we did for my daughter)
Figure out what should go on the wall to the left of the closet that isn't on these design boards
Take a seat and put my feet up before the baby comes… phew!!
What's Next?
Next up on the to do list is all about cleaning out the clutter from that room so that we can get to painting.
Stay tuned each week to see how it's going!
You can get a free gift too and alerts of new posts by joining the VIP list below.
Talk soon!