How to Choose a Kitchen Backsplash | 5 Steps for Success
Ready to finally get a kitchen backsplash upgrade? Here are 5 tips to help you choose the right backsplash for your kitchen.
It's time! You finally have the green light to update your kitchen backsplash.
Now what?
**Instant sweating**
When we moved into our house, there was a laundry list of things I wanted to upgrade.
Our house was built in 1999 and had that bright red theme going on in every room… including the kitchen.
Because kitchens are usually so expensive to remodel, we completed our kitchen makeover in 7 stages, with one of them being the backsplash.
I learned a lot in the process, so I wanted to be sure to share some tips to begin choosing the right backsplash for your kitchen.
Disclaimer: This post does include affiliate links for your convenience. This is at NO additional cost to you but earns me a small commission. To read more, check out our disclosure policy. As an Amazon associate, I earn from qualifying purchases.
Do Your Research
This may come as a no-brainer, but when you don't know where to start… this is where to start.
In my opinion, until you are fully immersed in a specific decision in a project, you don't know what you don't know.
First thing I would do is start a Pinterest board for backsplashes only.
This way you can get a feel for what others have done.
Then, when you are searching for pins, search the type of cabinets you have or are going to have (i.e. mahogany cabinets kitchen backsplash). You could even do this in a google search as well.
This will bring up similar kitchen styles and you can start to get an idea of what other people have done with the same type of cabinets.
Once you get an idea of what goes with your kitchen, start searching for specific types of backsplashes (i.e. unique subway tile backsplash).Only pin/save the things you could picture working in your own kitchen.
Once you have gathered enough images, take a look at them overall.
Consider if you are more drawn to subdued patterns/colors or if you are leaning towards something with more pizzazz… or maybe a bit of both.
Is there a specific style you know for sure you want to avoid?
Is there a specific grout color you like or don't like?
Do you prefer a more geometric pattern or clean lines?
Do you want the backsplash to be a focal point or compliment the other parts of your kitchen?
Do you like the idea of an accent pattern behind your stove top?
Do you want a clean or rough edge where the backsplash ends? (Here is a website that explains the different things you can do to finish the edge of your backsplash)
These are all questions to get your mind in the right space.
Hopefully, after going through this exercise, you will be able to confidently go into a store, share your thoughts, and save yourself some time getting sidetracked by all the pretty tiles.
In addition to the questions above, determine what overall feel you want from your kitchen.
If you haven't gone through the feels and functions stage of my Pursuing a Homier Home series, this would be the time to go back and work through that exercise for your kitchen.
If you can describe what you want the kitchen to feel like, a designer or sales associate at any store will be able to help you narrow in on that vibe amongst all the tile choices.
Before going into the store, I would suggest writing down some notes to help keep you focused. You can find my printable worksheet below to help you gather all your thoughts in one place for this very purpose.
Also, I would bring with you a picture of the cabinets and countertops that will be paired with your backsplash. If you don't know what the cabinets or countertops are yet, you should choose those first.
Do the Legwork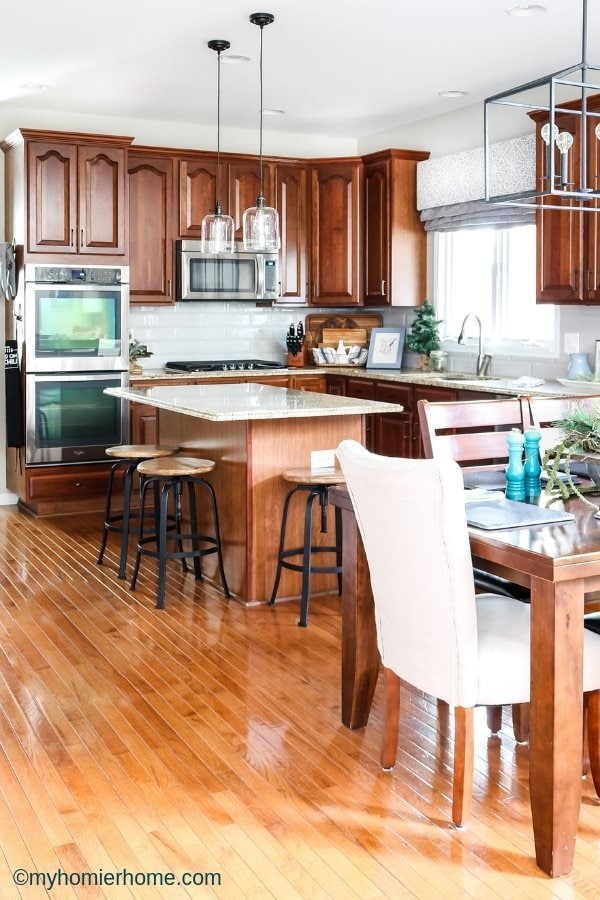 Once you have an idea of what general types of backsplashes you like and you've written it down, it's time to schedule some time to go visit some stores.
Before heading out to your local Home Depot or Lowes, do a quick google search for local tile stores, too.
We have this awesome tile shop near us called Architectural Brick and Tile as well as an Emser Tile showroom.
They have some really unique options that you won't find at many other places, so it will be worth it to pop in.
While you are at each store, talk to a designer or sales person.
I know most people try to avoid these interactions, but they live in the tile world every day.
The likelihood of you describing what you're looking for and the person being able to sort through 1000 tile options in minutes is way likely.
At the very least, if they are showing you things you don't like, at least now you know more of what you don't want.
When you are in the selection process, don't be afraid to bring home some samples that are a little out of your comfort zone.
When we started this process, I brought home all kinds of samples.
I prefer the places that allow you to take the giant boards that have the backsplash already grouted, but tiles alone will do the trick, too.
As you will read in my next couple tips, narrowing down options requires you to get it in your space, so bring home as many as they will let you.
Give Each Sample Time in your Kitchen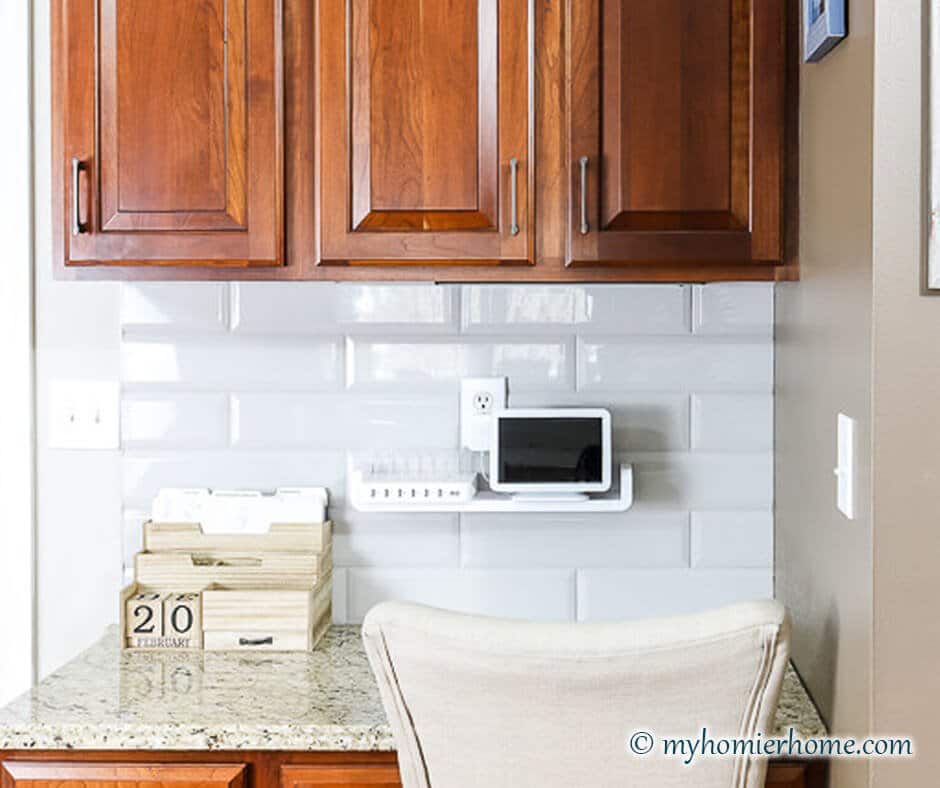 I think it is super important to take the time to set up the samples in your kitchen.
I would recommend leaving the samples on display for at least one full cycle of the day (morning, noon, and night).
You will be shocked at some options you love at night totally transform into something you don't like when you come down the stairs in the morning.
If you can, I would try each one on individually and take note at how the light effects the tile at each time of day or at least the times you tend to be in the kitchen the most.
I would say that if it is a no at any point of the day, it's a no overall.
Think of this process as the tiles putting their best foot forward and interviewing for your kitchen.
If they don't say the things you want them to say, then don't hire them.
When choosing our backsplash, I had so many samples I would trade in and out day over day.
The more I did this, the easier it was to hone in on what I was trying to achieve, so it was for sure a win-win.
Even bad options will give you some insight into what to try next. Dive head first and trust your gut.
Get Multiple Opinions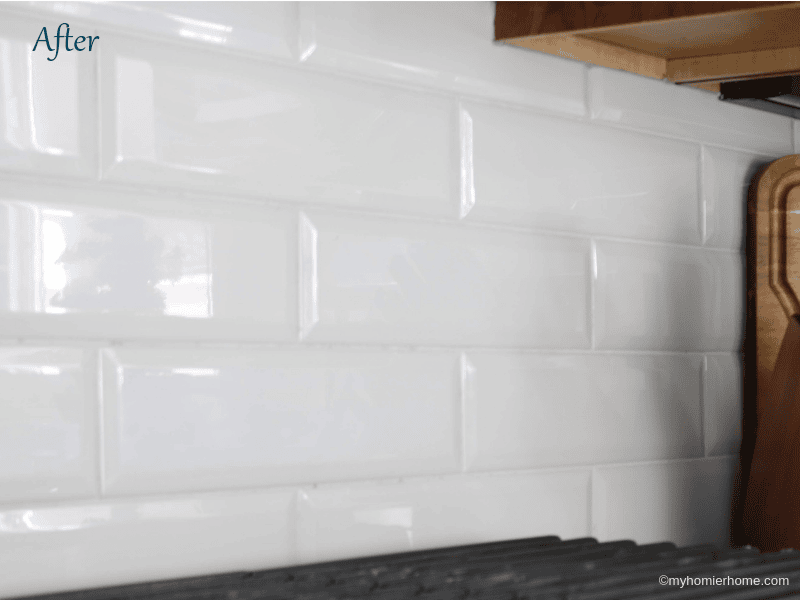 When you are trying on these samples, get as many eyes on them as you can.
Make sure everyone that lives in your home gets a chance to state favorites and say why.
Every time I ask for my husband's opinion, I have learned now to preface with saying, "I may not go with it, but I need some fresh eyes and reasons to help me narrow it down."
That way, he is less likely to get offended when if I choose a different option.
Don't be afraid to phone a friend, too. I have some decor-loving buddies that I know will always shoot me straight if one option is a definite no.
I like to get my friends involved who's houses I love because I know I trust their eye for beautifying their home.
Keep in mind, the opinions need a why from the source to help you consider why you may or may not want that in your house for a long while.
My favorite way to gather advice is to ask a professional designer.
I am lucky enough to know an interior designer who lives in our neighborhood that is super helpful.
If you don't know someone, jump on your neighborhood Facebook group, if you have one, and ask around.
In my experience, if a designer lives in the neighborhood, they are usually more than happy to stop by and give you some quick, neighborly advice.
And, as always, you can share your options on Our Cozy Corner Facebook group and we can help you, too!
Pick the Right Installer
My last tip is to make sure you feel comfortable about who is installing your backsplash.
I originally had a handyman quote me a great price to remove our 4" backsplash and replace it with our beveled subway tiles.
I'm not sure what it was, but I kept getting the feeling he was overselling his tiling abilities.
I continued to ask him questions, but never quite felt like it was going to go as planned.
So my tip is if it doesn't feel right, keep looking.
Because of my experience, I would suggest to absolutely ask for photos of work they have done before.
Before I realized I should have done this, I had been referred by someone else who had tons of pictures of the installers work.
Turns out tile was all they did, so the price was just as good as if I had my handyman do it.
Therefore, I would also recommend going with someone who only does tile installs.
It doesn't have to be that way, but if you want something done quickly and efficiently, they know what's up.
All in all, try your best to make the process of choosing a backsplash fun.
If you follow my tips and go with your gut, you will end up with a beautiful backsplash for your kitchen.
And don't forget, if you need my help, I'm here for you!
Happy backsplashing!