The Best Nature Inspired Garage Paint Colors
Want to breath some life into your garage with a renewed, nature-inspired color scheme? I have the perfect paint color pairing for you in today's post.
This post is sponsored by Dunn-Edwards DURA. All content and opinions expressed here are my own.
Welcome back friend! We are on week three of the One Room Challenge and I am SOOO excited to share with you my new favorite paint line!
Before we dive in, if you haven't checked up on all the others participating in the challenge, go check them out. So many great projects.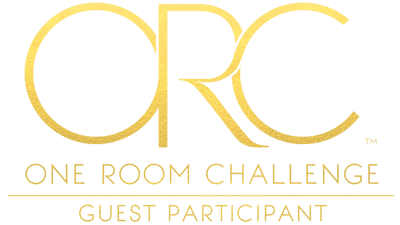 Now this week, I'm revealing… Drumroll please!
The biggest upgrade so far in our garage that I can't believe we waited this long to do… the garage has been fully painted!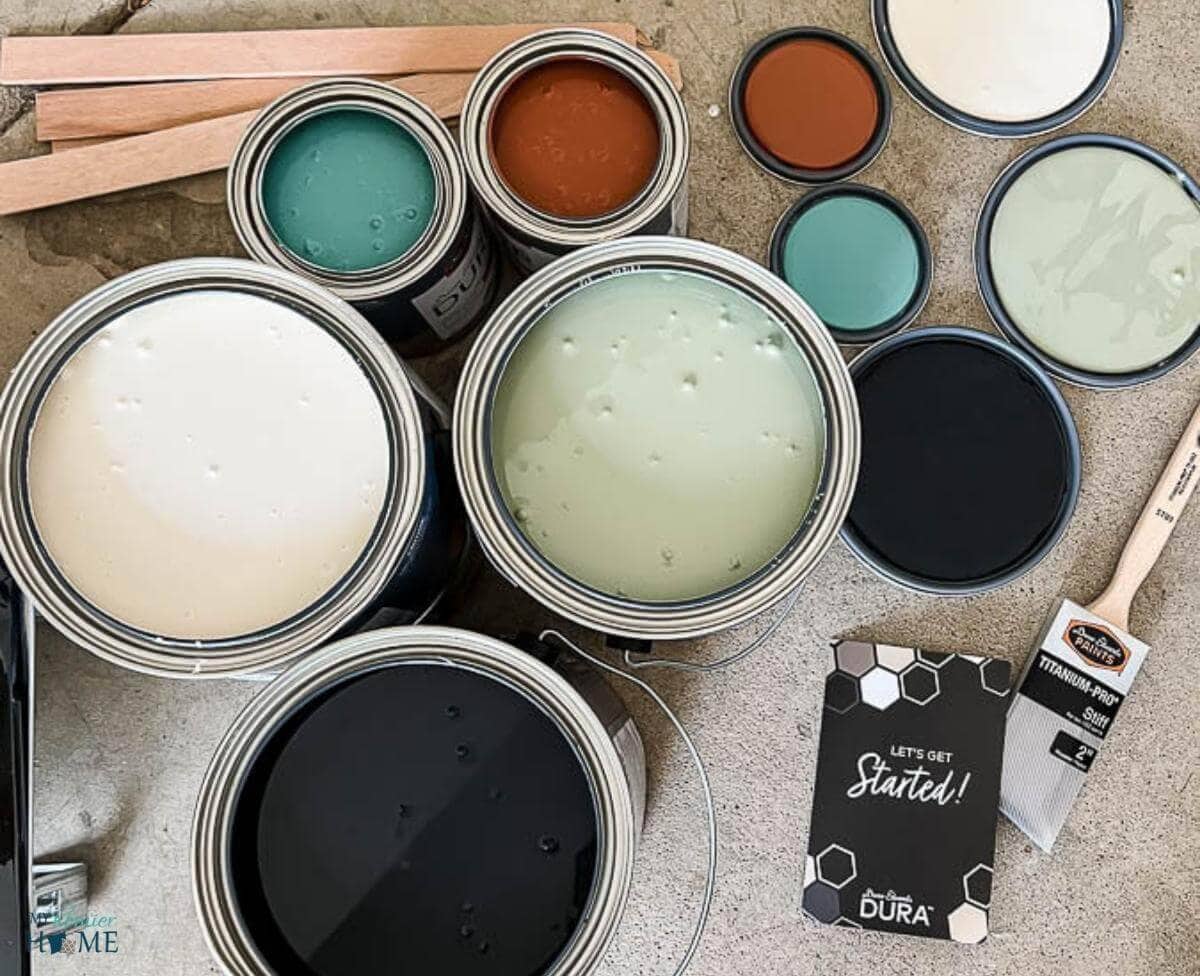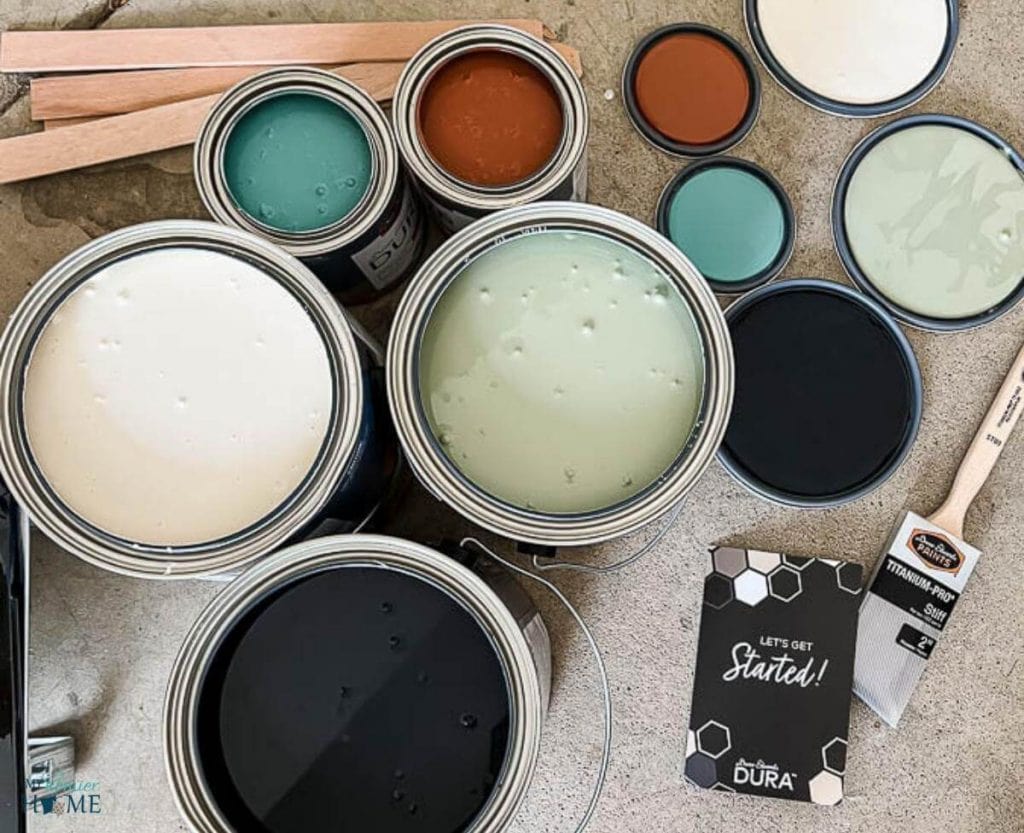 Not only has it been painted, but it has character and feels brand new. I'm so in love with the gargae paint colors I can barely contain my excitement!!
Even better yet, the company I worked with, Dunn-Edwards DURA, is new on the scene to help DIYers simplify the process of picking paint colors.
They have actually created the first ever consumer-friendly paint system that has the color expertise you need built right in.
And let me tell you…
It was an absolute joy to work with them and know without a doubt that my garage paint color choices were the right ones.
So not only am I going to share with you some progress updates on what the garage looks like painted, but I'm also going to tell you all the reasons you have to give this new paint company a try!
Disclaimer: This post does include affiliate links for your convenience. This is at NO additional cost to you but earns me a small commission. To read more, check out our disclosure policy. As an Amazon associate, I earn from qualifying purchases.
Choosing Color Made Easy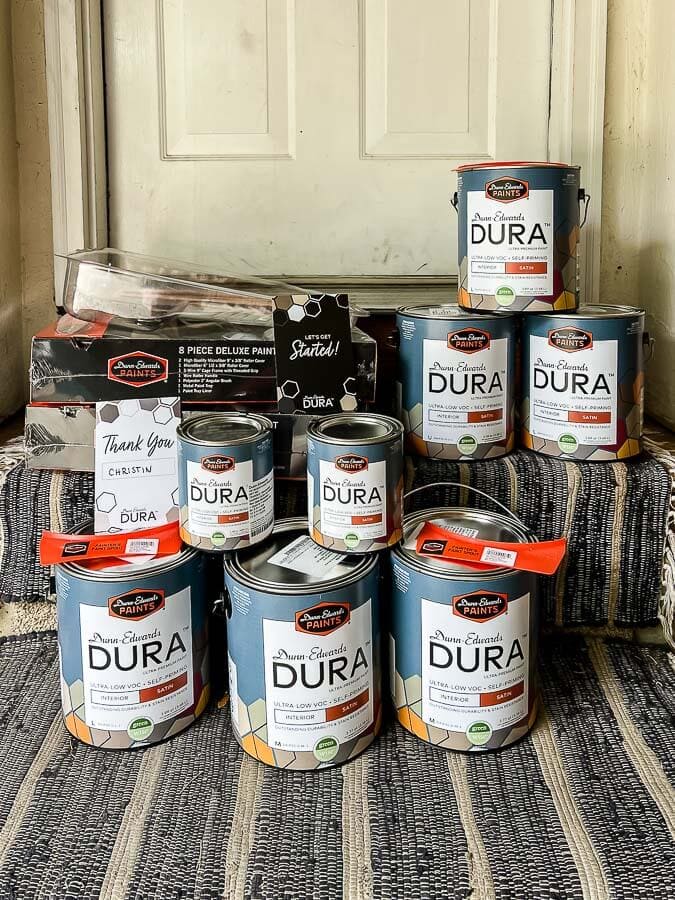 In case you have never heard of this company before, Dunn-Edwards Corporation is one of the nation's largest manufacturers and distributors of architectural, industrial and high performance paints and paint supplies.
They've been in business since 1925 and have been dedicated to providing  professionals and quality-conscious consumers throughout the Southwest with a complete line of the highest-quality, best-value architectural and industrial coatings, painting supplies and equipment plus amazing service.
Now because they were mostly focused on larger companies, they set out to create a more DIY customer friendly version of their highly sought after paint.
This new brand is called Dunn Edwards DURA.
Dunn-Edwards DURA's whole focus is to help you, the DIYer, feel confident and have an amazing paint color experience.
Their fantastic color expertise provides us DIYers with all the info, personalized support, product recommendations, and even project recommendations we need to be 100% successful in our paint color choices.  
Online Color Services
I met with Isabella after filling out a color questionnaire and she was top-notch!
I felt like I was talking to a friend, but one that new everything and anything there is to know about color lol.
The cool part is when we were done with our call, she sent me a color report with all her recommendations and the recap of what I said I wanted.
She was also readily available for online and/or phone support when I was debating what color to paint the entry door from the garage to my house, too.
Mock-Up of Color Choices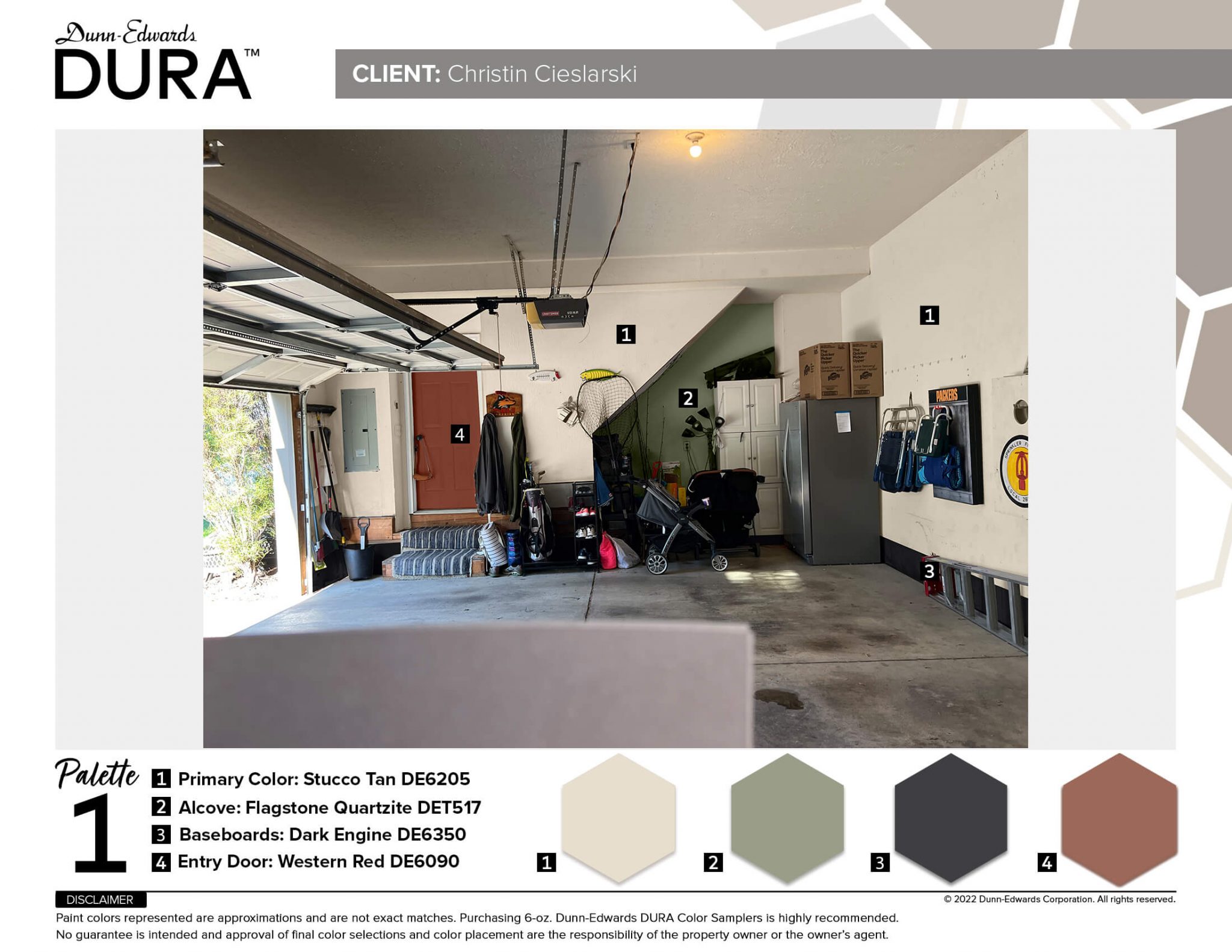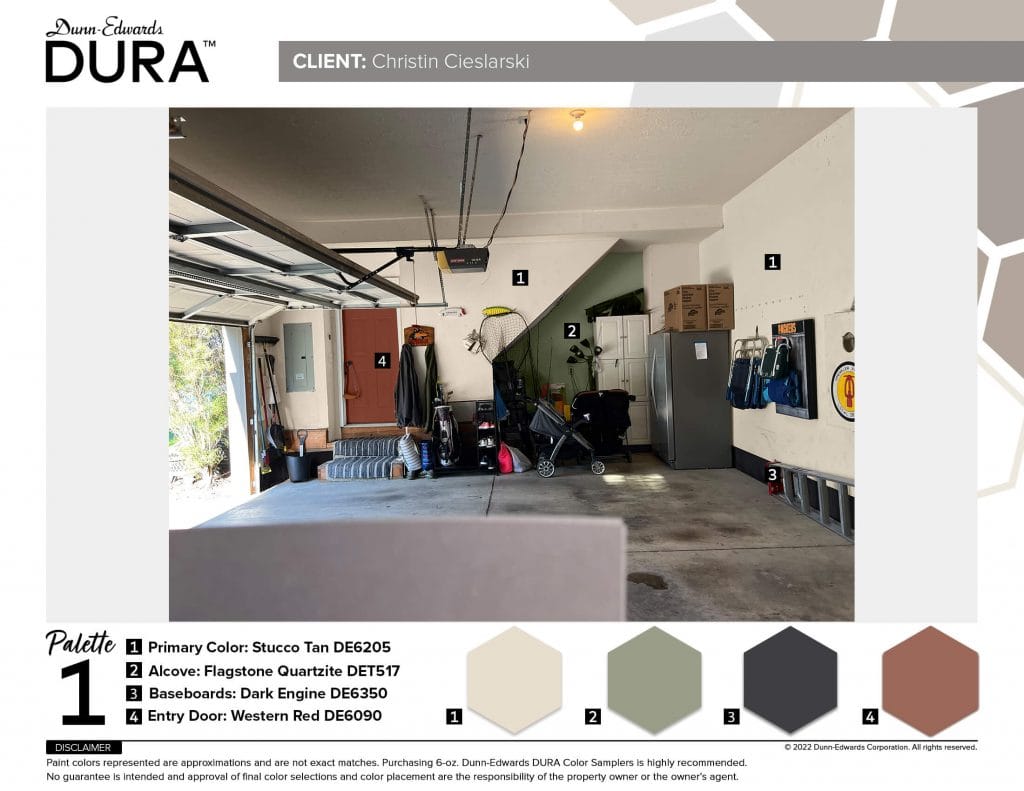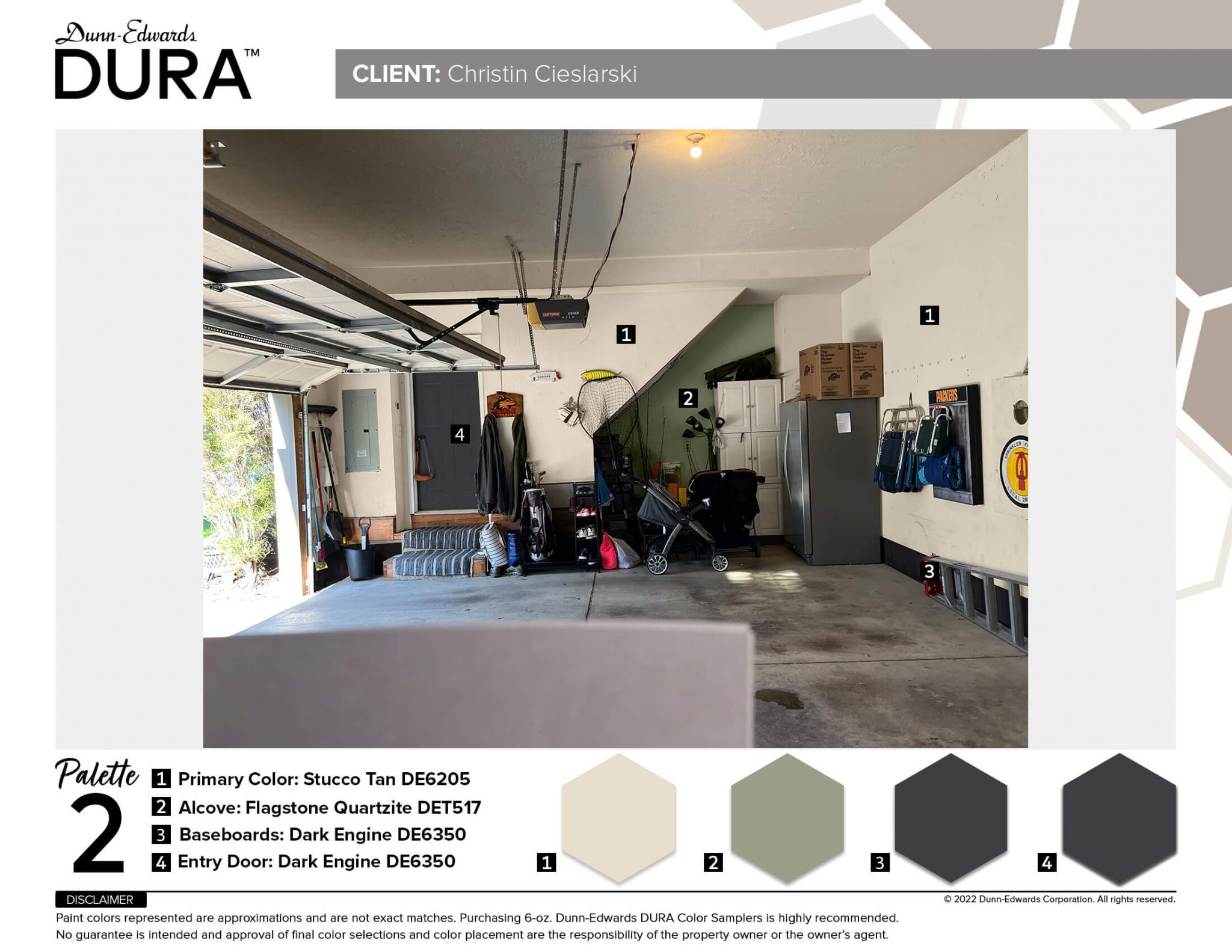 She provided me with this awesome set of mock-ups that showed exactly what the paint colors are going to look like to help me make my decision.
Now as you know, I do mock-ups and design boards like this all the time, but not only did this save me sooo much time, but for those of you who don't know how to do this yourself, it was a no-brainer!
Peel and Stick Color Samples in the Exact Finish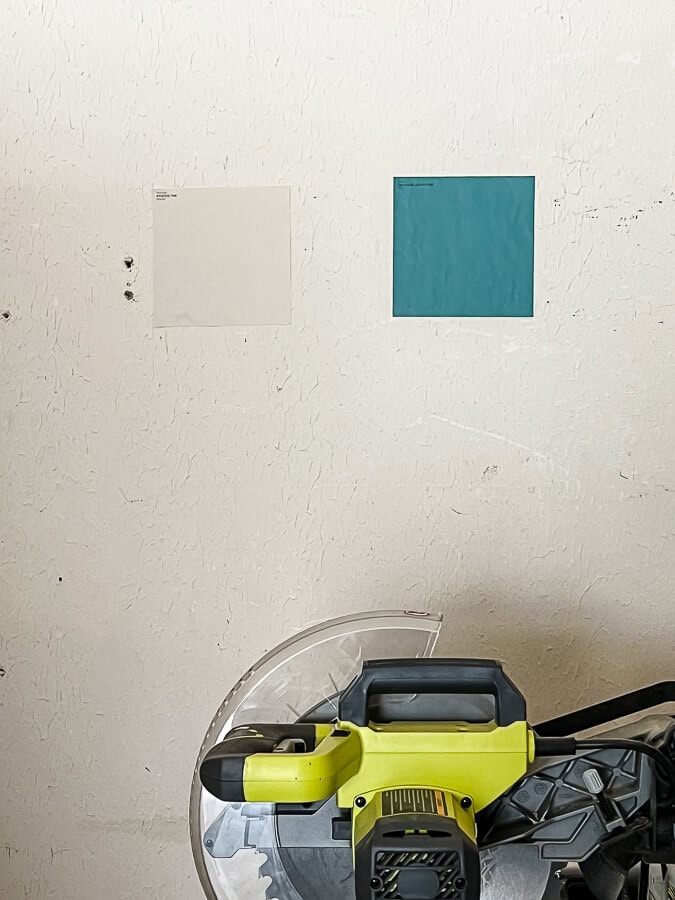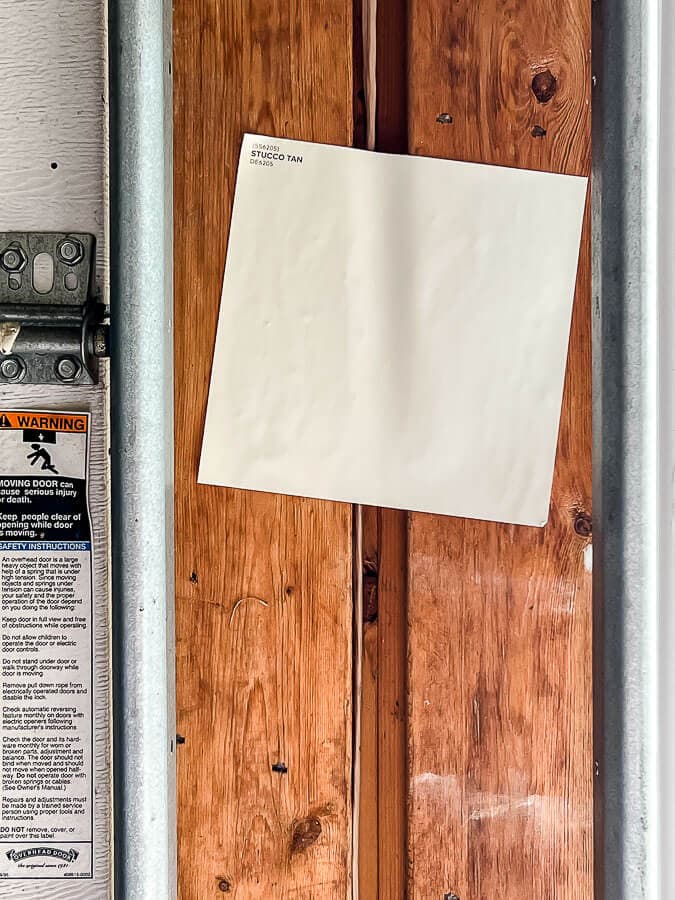 The Dunn-Edwards DURA line has 210 colors that are all amazing, but once I narrowed it down to a few paint colors for the garage, I wanted to make sure they looked how I wanted them to in my actual space.
Of course, since clearly they've thought of everything, Isabella instantly sent me some peel-and-stick samples in the exact finish she had recommended for the garage (satin).
This way, I could see how the light reflected and changed the paint color in real time. #genius
My Garage Paint Colors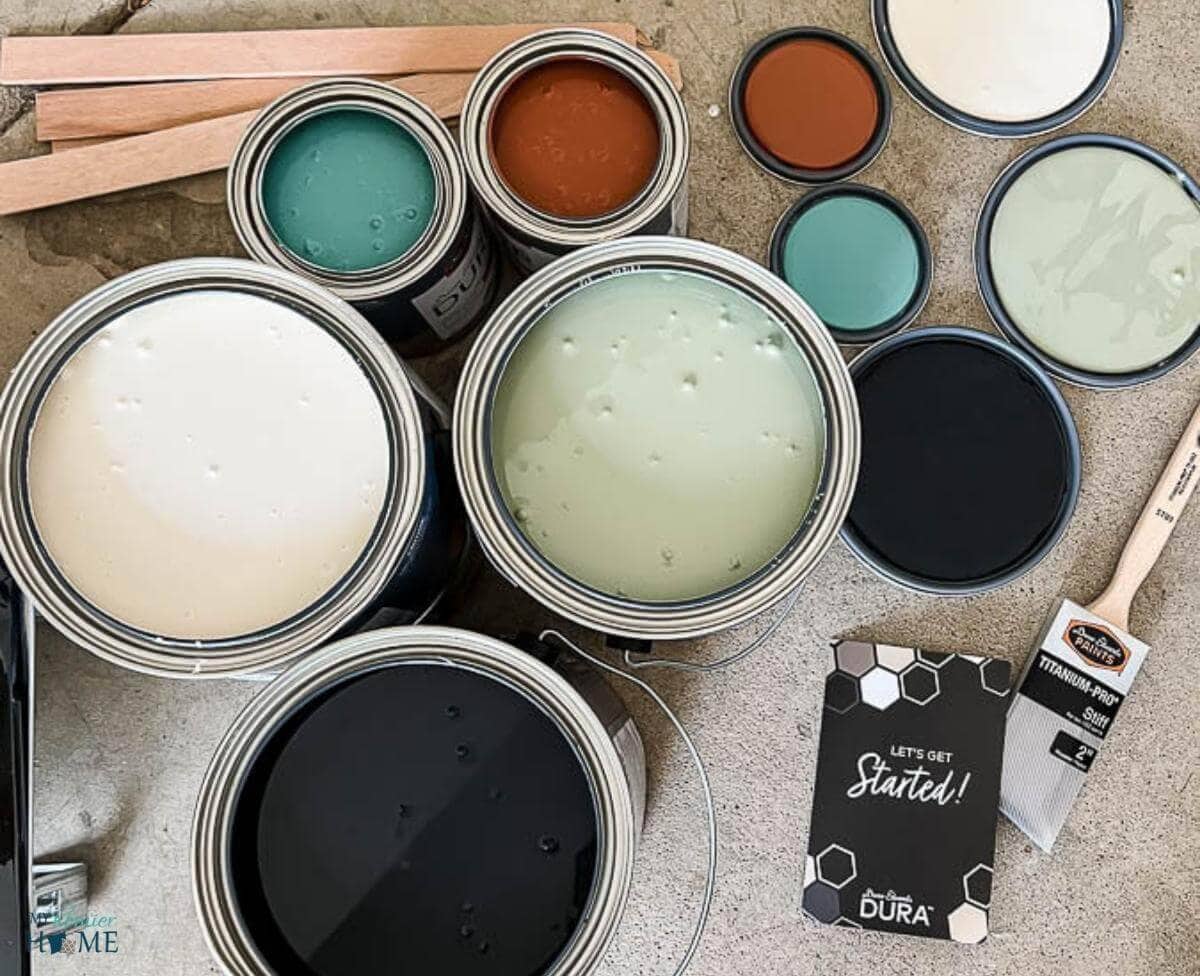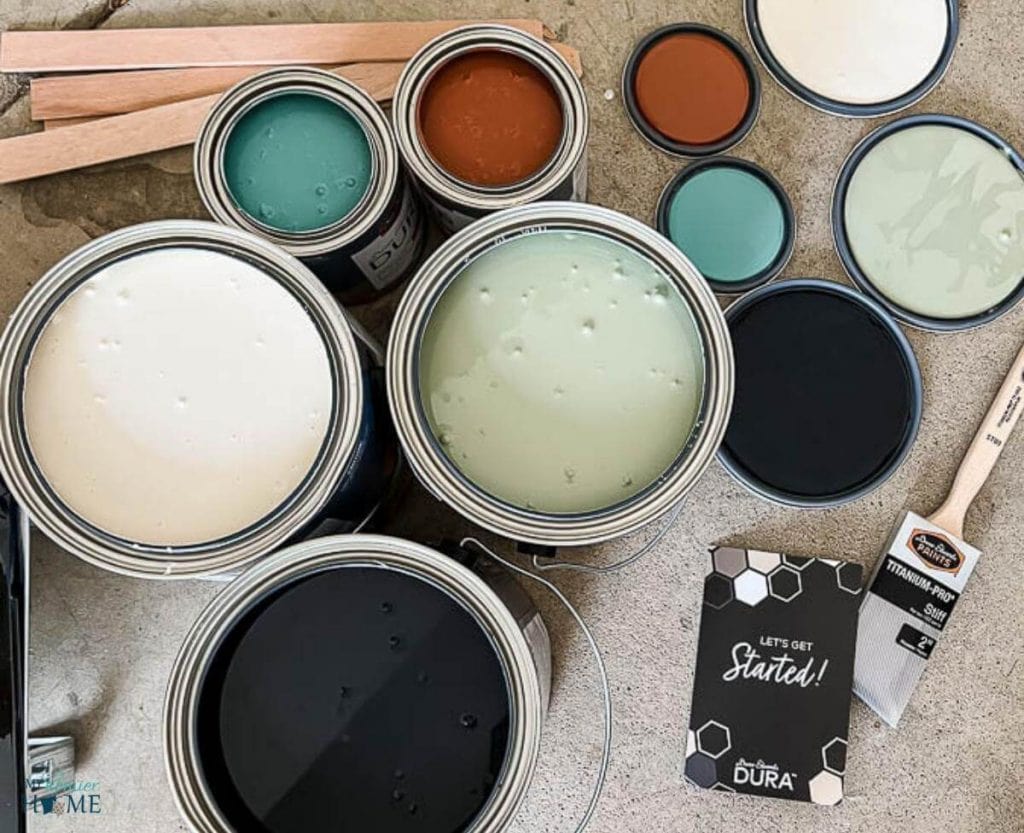 Now for the inside scoop on what garage paint colors I ended up choosing…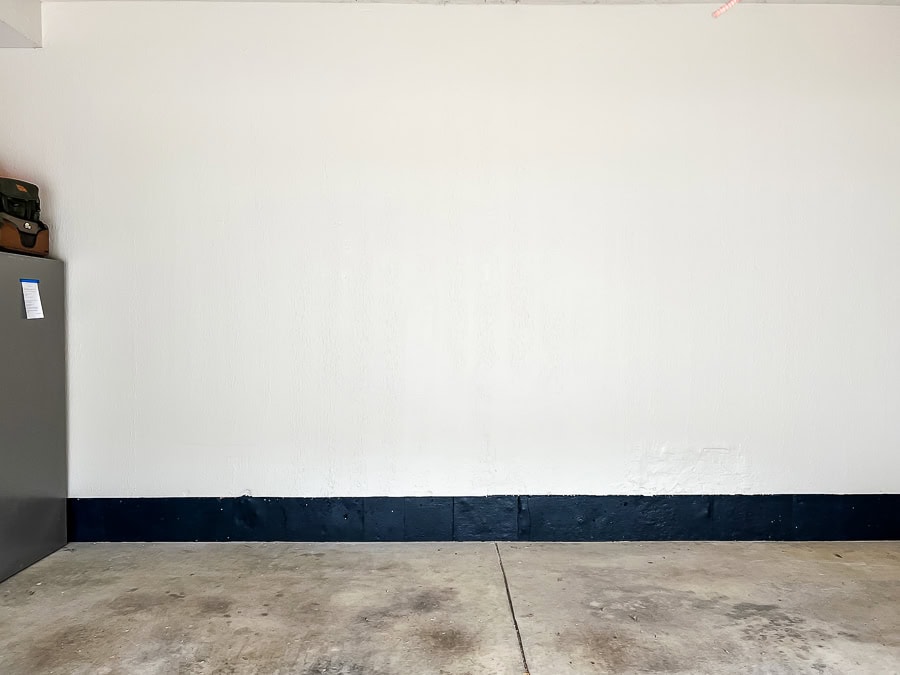 For the main garage paint color on all the main walls, I chose Stucco Tan.
This color is absolutely beautiful.
It's just creamy enough to add a little bit of warmth and depth, but doesn't pull super beige which makes it the perfect neutral.
I have a close up of the color a few pictures down.
The accent wall paint color for the fishing nook and the workshop side of the garage, I chose Flagstone Quartzite.
This soft green color is absolutely beautiful.
I could literally stare at it all day.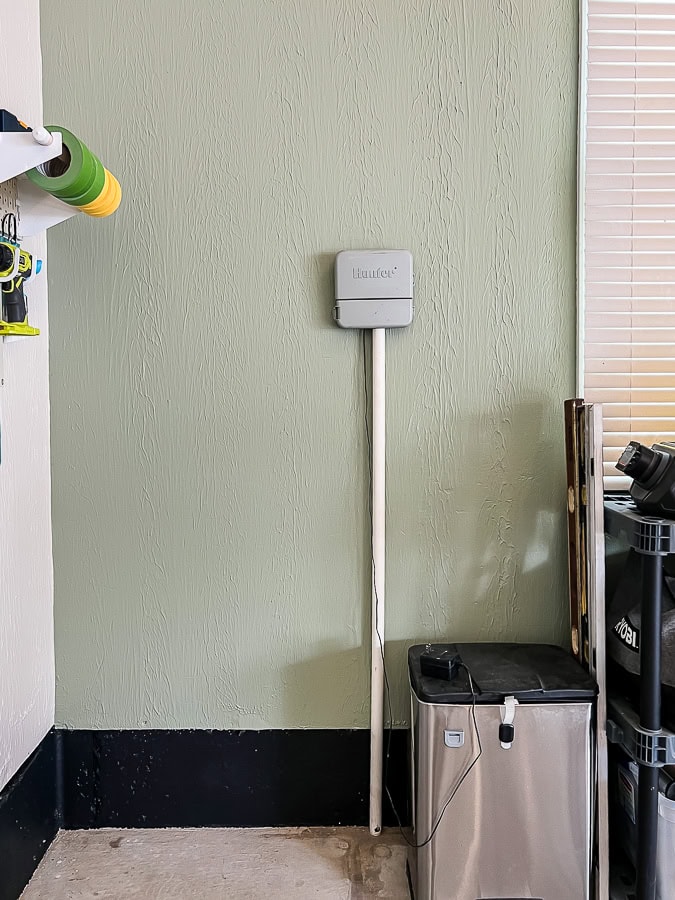 For my faux baseboards, which was actually a 12-inch high cement section of the wall, I chose Dark Engine.
I think this deep slightly off black color is perfect to ground this big ole room.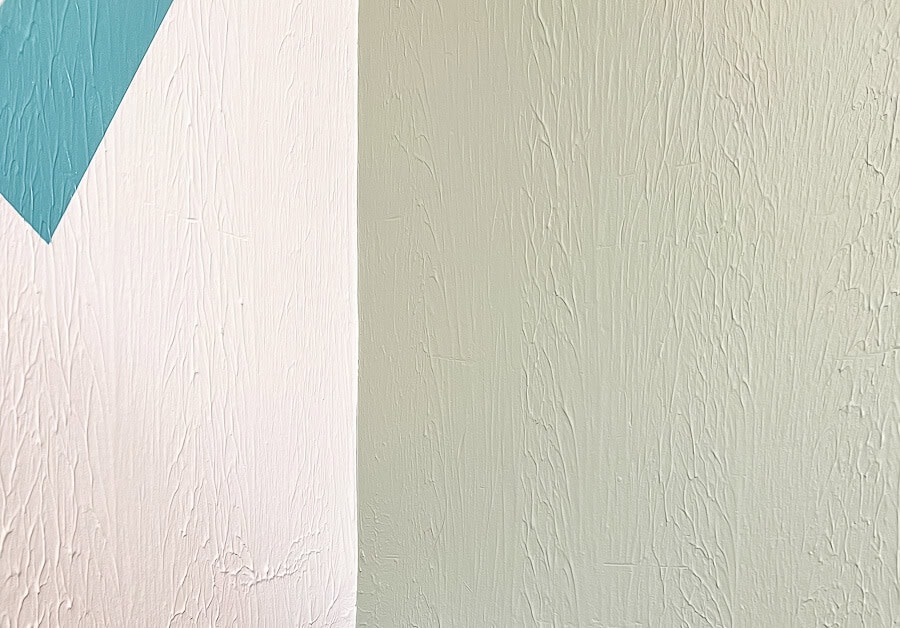 For the accent behind the tool wall, I chose Tranquil Seashore, which you can see a little glimpse of in the above picture.
I can't reveal the full tool wall until next week, but man oh man, is it one of the most beautiful shades of teal I have ever seen!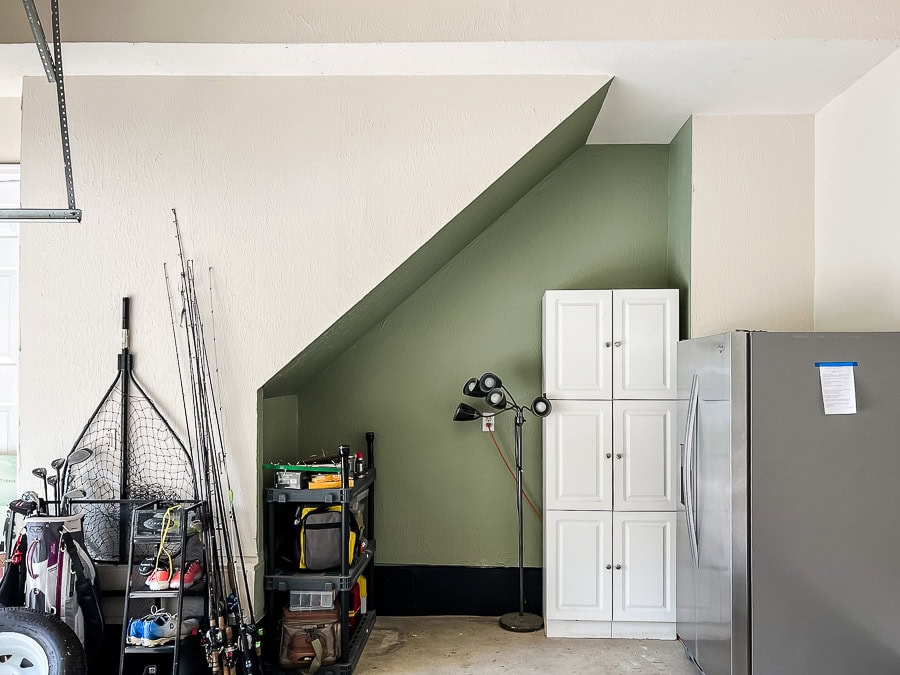 The subtle red color I chose from the picture at the top of this section is called Western Red.
I haven't decided if I'm going to paint the entry door that color yet or not.
I love the way that paint color fits seamlessly in with this color palette, so if I don't use it on the door, I will have to find another spot to incorporate it because it's just too good!
This whole color palette is inspired by those natural, Arizona vibes and I canNOT wait to give you the full reveal when I'm done in a few weeks.
Let's talk about the quality of this paint before I go though.
Paint Quality Review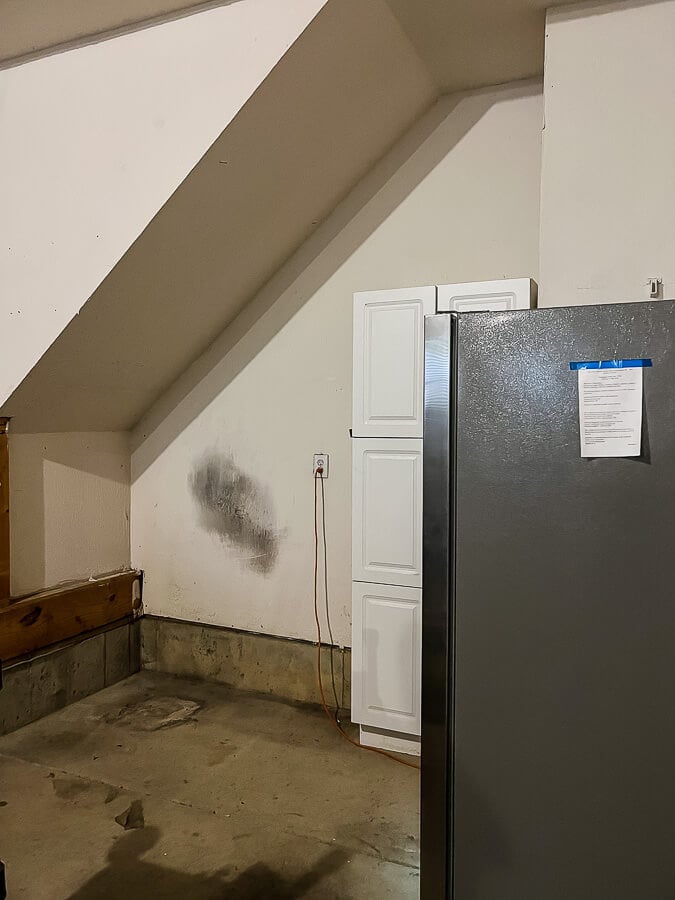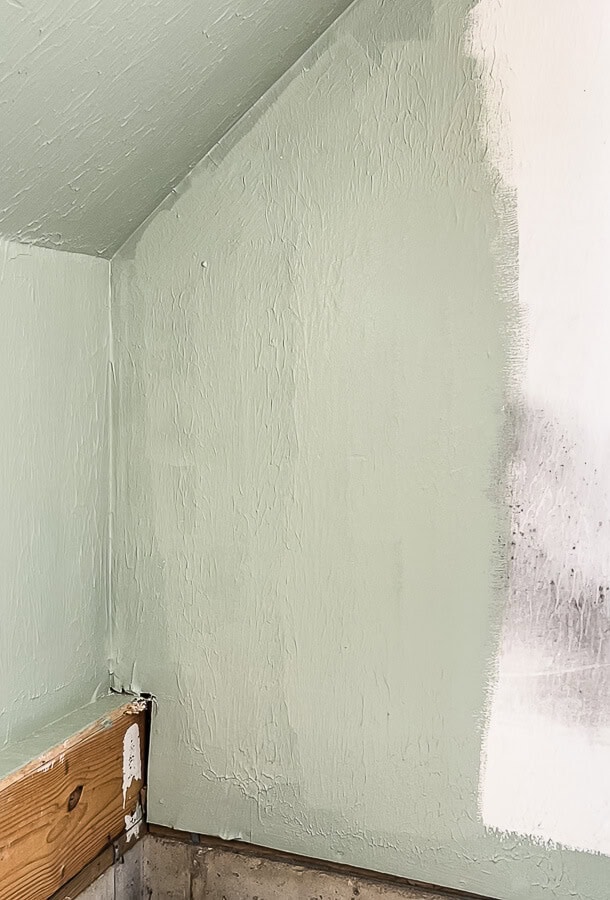 Ok, just take a look at the before photo of this giant stain on the wall.
Like what even is that?!
Regardless, one coat of the Dunn Edwards DURA paint covered this hideous blob with ease.
It was so easy to apply and I could not get over the amazing coverage.
The other part I love about this paint is it is washable and scuff-proof!
No more mystery blobs here!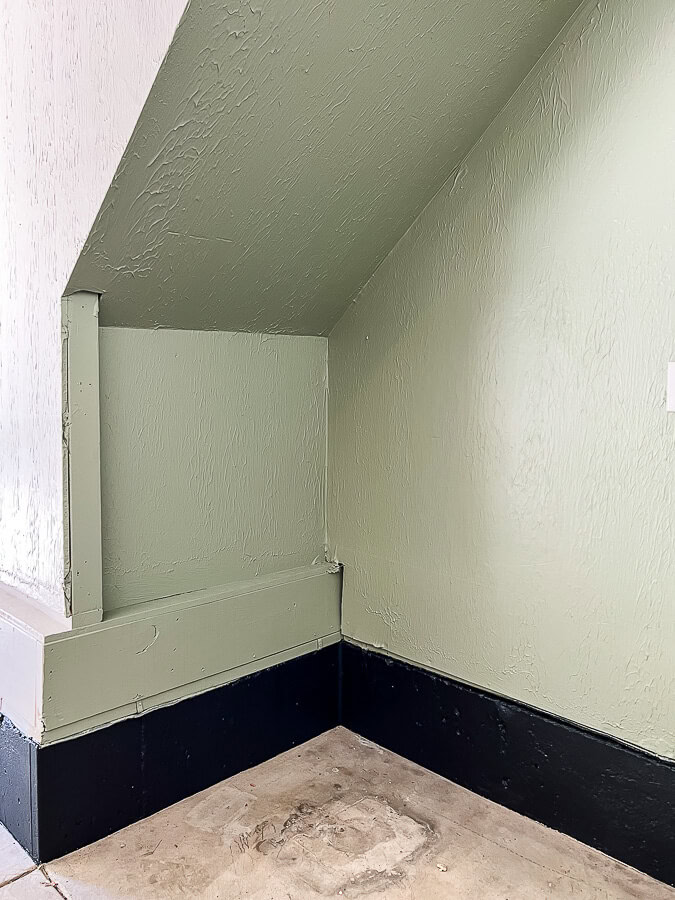 Even with all these random nooks and crannies on our walls, it went on so perfectly.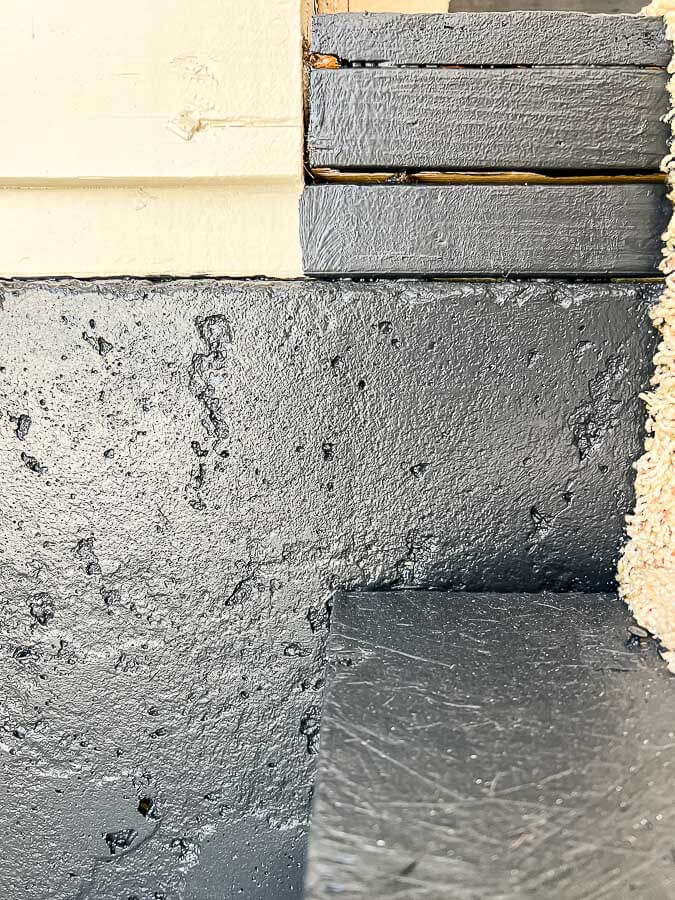 And the most shocking part was it went on SOOOO GOOD on the cement!
With no primer!
I couldn't believe the coverage here.
Everything we did was two coats, but since the walls had never been painted ever, we did add a primer coat to the very back wall that we painted in Stucco Tan.
To-Do List
Are you a believer yet?!
As an avid DIYer, I'm telling you, this process was seamless and the end result was even better.
Be sure to go check out the Dunn-Edwards DURA website so you can start gathering your color inspiration and schedule your color consultation.
It'll be the best paint color decision you make.
And now I get to cross more things off my list!
Paint the room
Paint the tool accent wall
Hang the tool peg board
Hang the slat wall
Hang shelving
Hang ceiling storage
Paint other accents
Organize lawn care area
Organize fishing nook area
Hang lighting
Build mobile workbench
Update the flooring over the concrete
Clean blinds
Figure out how to hide the electrical box
Hang the TV
Stay tuned from now until mid-November to see how I tackle this list and FINALLY get the garage of my dreams.


Pin any of the photos above for later too by hovering over the image and clicking the Pinterest logo.