Garage Design Plans + Before Photos
From dreary and unorganized to a renewed extension of our home, check out the before photos in today's post and what my garage design plans are to transform this space.
I can barely contain my excitement! Today begins the Fall One Room Challenge, which will be my fourth time participating.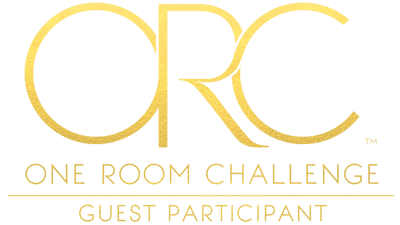 My first ever ORC was way back when I finally updated my living room for good after years of trial and error.
Then came my home office update and then our Chicago-themed nursery.
If you have never heard of the One Room Challenge, it is a bi-annual, eight-week event where designers from all over challenge themselves to transform one room from start to finish by the end of those eight weeks.
It is such a great motivator and I cannot wait to let you in on my design plans for this enormous 3-car garage that has been in need of an overhaul for awhile now.
I will be posting an update weekly for these next couple of months, so be sure to join my VIP list below so you don't miss an update.
So without further ado, let's get to the before photos and the plan!
Disclaimer: This post does include affiliate links for your convenience. This is at NO additional cost to you but earns me a small commission. To read more, check out our disclosure policy. As an Amazon associate, I earn from qualifying purchases.
Before Photos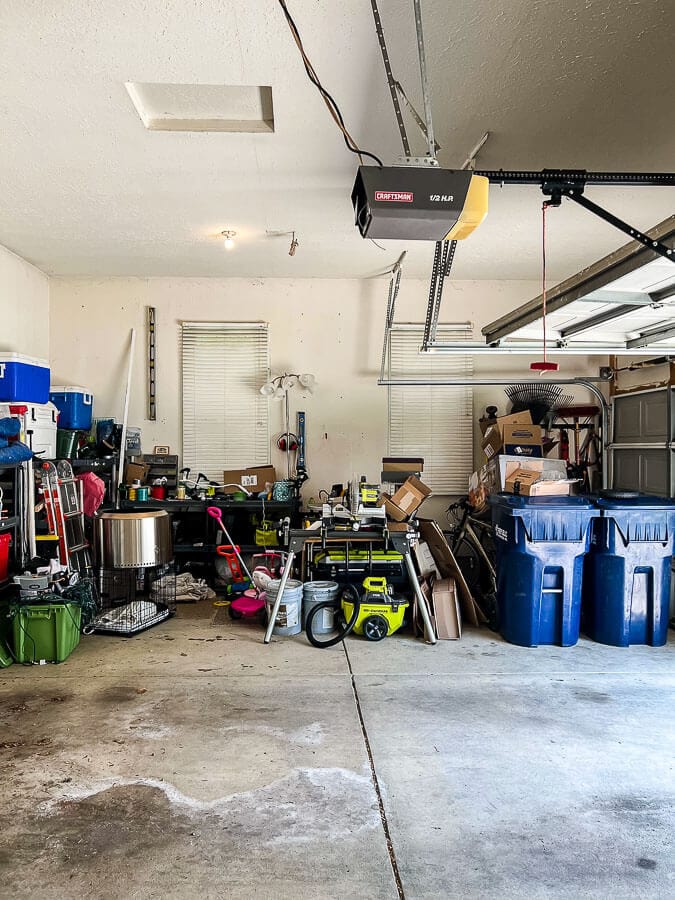 Look at this chaos.
Now I know a lot of people have a ton more mess than this, but I refuse to have a garage that doesn't house the cars, so I like to keep it accessible.
Regardless, none of this is functional and it is extremely taxing to have this be our view every day when we leave and come home.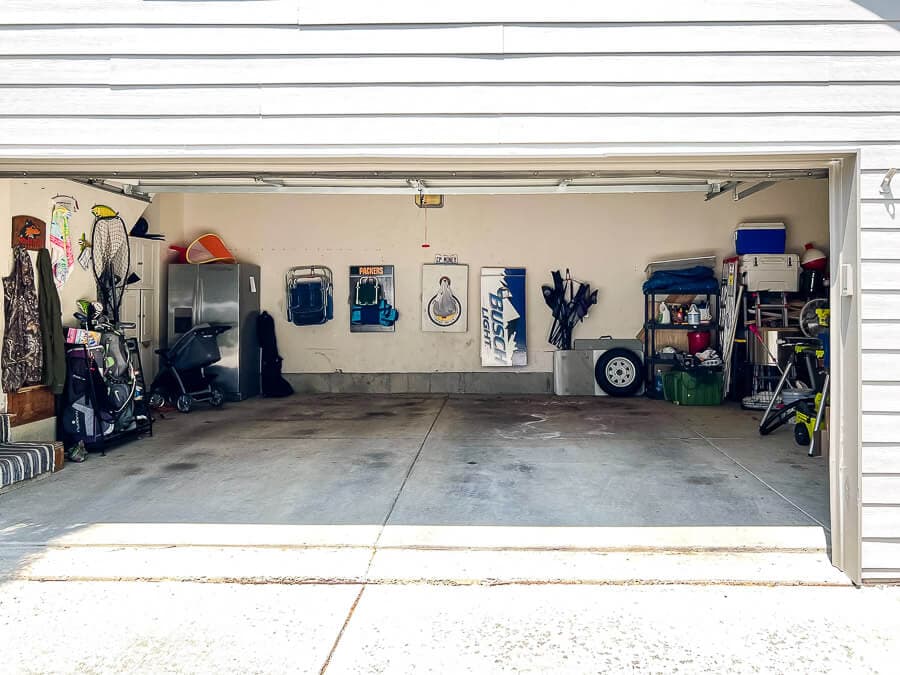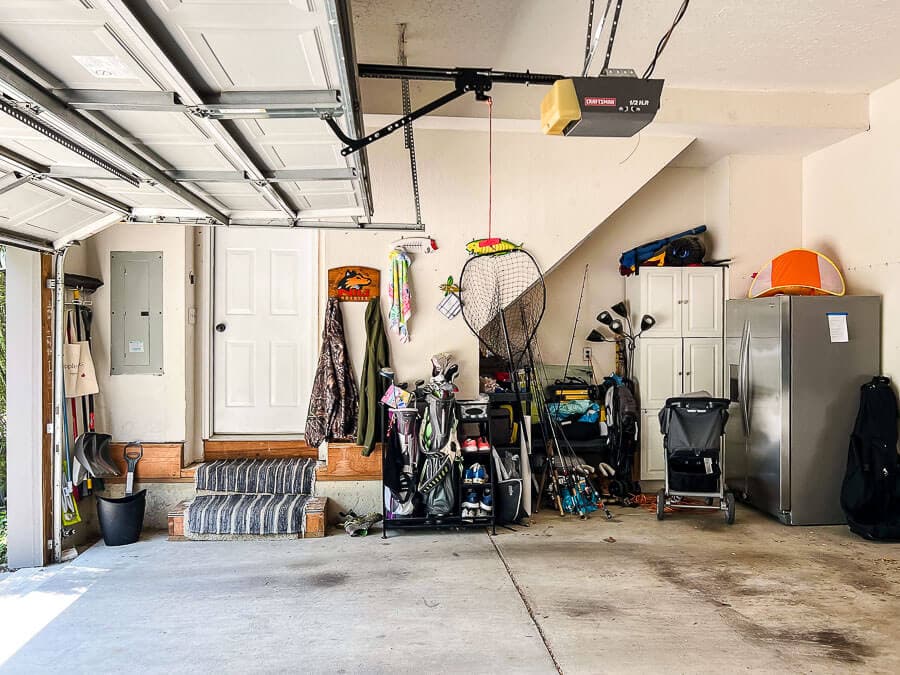 As some of you may already know, I am originally from Chicago, but moved to a suburb of Indianapolis about 7 years ago for my husbands job.
One thing I wish I could have brought with me was the idea that your garage is an extension of your home.
Some of my fondest memories as a kid involve hanging in the garage.
My whole extended family and my immediate family took so much pride in creating a clean, organized garage that acted as an outdoor living room to invite the neighbors in.
Any given weekend night, I could ride past one of my aunt or uncles homes and the garage door would be open wide ready and waiting for pop-in visitors.
I want to bring that idea to reality here too. So with that in mind, here's my garage design plans for a fresh, functional, and inviting space.
Garage Design Plans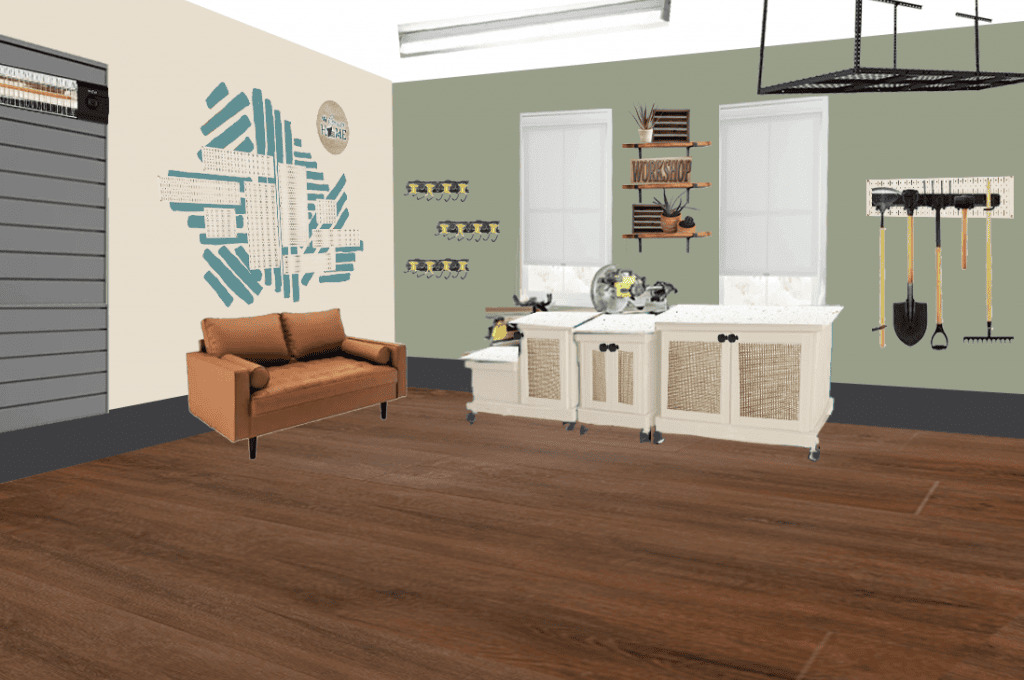 This may be one of my favorite design plans I've created.
Anything that merges function and pretty vibes, I'm all in on!
You might be thinking, why the heck do you have a couch in your garage?
Well, this is purely a concept of what I hope to happen, but I want a couch that I put castor wheels on to offer seating for watching the game or what not.
The slat wall and shelving is going to hopefully look organized and beautiful.
Same with the tool wall with the accent design behind it.
We are also going to add ceiling storage above the garage doors too.
The one thing that is still up in there is the flooring.
I really, really, really want it to be LVP to look like, one, a real room of our house, but two, give that showroom feel like what you see in garages that have the real fancy cars.
Of course, our Tahoe and Accord will have to be fancy enough, lol, but man oh man, I would love to finish this space with some wood looking flooring.
I'm also thinking of adding some of the teal color to the fishing nook side of the room to bring it all together too.
Now on to alllll the things on the to-do list for this 600 square foot space.
To-Do List
Paint the room
Paint the tool accent wall
Hang the tool peg board
Hang the slat wall
Hang shelving
Hang ceiling storage
Paint other accents
Organize lawn care area
Organize fishing nook area
Hang lighting
Build mobile workbench
Update the flooring over the concrete
Clean blinds
Figure out how to hide the electrical box
Hang the TV
Stay tuned from now until mid-November to see how I tackle this list and FINALLY get the garage of my dreams.


Pin any of the photos above for later too by hovering over the image and clicking the Pinterest logo.