Our Non-Boring Gender Neutral Nursery Reveal
Looking for inspiration on how to create a non-boring gender neutral nursery? These before and after photos of our Chicago-themed gender neutral nursery will do just the trick.
Today is the day!! It's finally reveal day for our non-boring gender neutral nursery!
It's been eight tumultuous weeks between trying to get this done mostly on the weekends while also navigating chronic ear infections with our first born.
I suppose this is all getting us prepared for dealing with two under two come end of January.
Send prayers.
Regardless of my mental state, I'm feeling absolutely great about the nursery being 95% completed.
We didn't get to the street sign mural yet and we are still waiting on a custom set of bookshelves to arrive, but I will post an update here once those last couple projects are complete.
In case you're just jumping in, here are the links to the recaps of what we accomplished each week…
OTHER AMAZING ROOMS
Also, don't forget to check out all the guest participants' One Room Challenge projects, too!
There are over a hundred before and after photos in one place for your inspiration and, let me tell you, they are pretty amazing!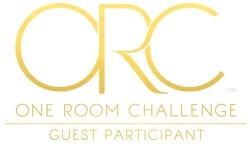 jump to…
Disclaimer: This post does include affiliate links for your convenience. This is at NO additional cost to you but earns me a small commission. To read more, check out our disclosure policy. As an Amazon associate, I earn from qualifying purchases.
Before
Just to remind you where I started, here are a few of the before photos again of our guest bedroom we overhauled…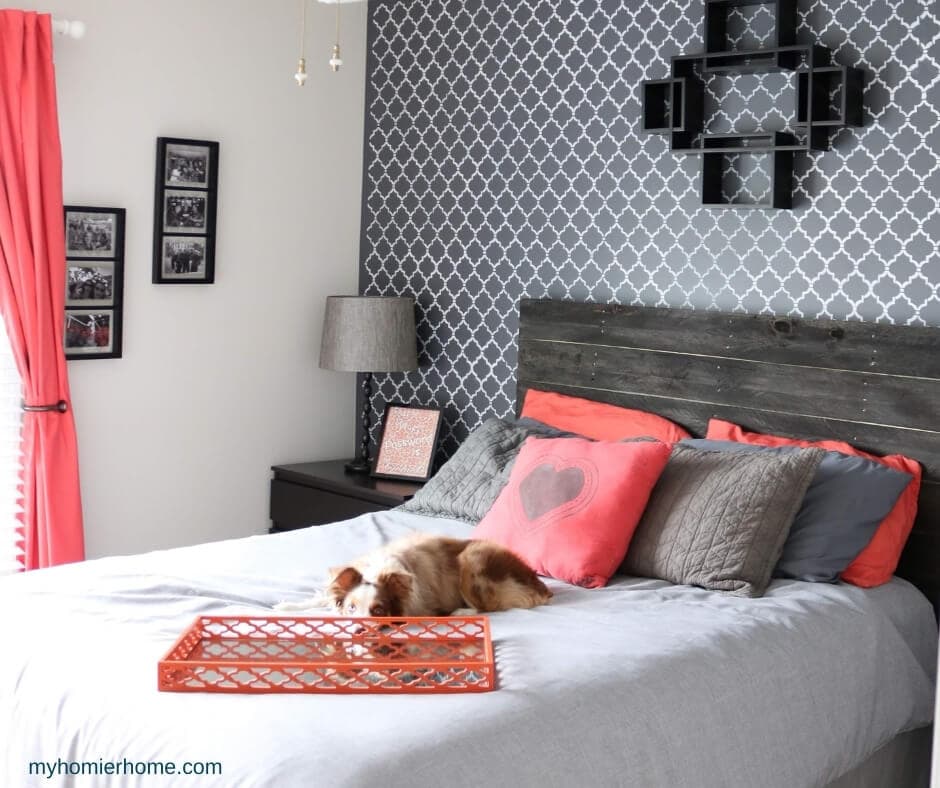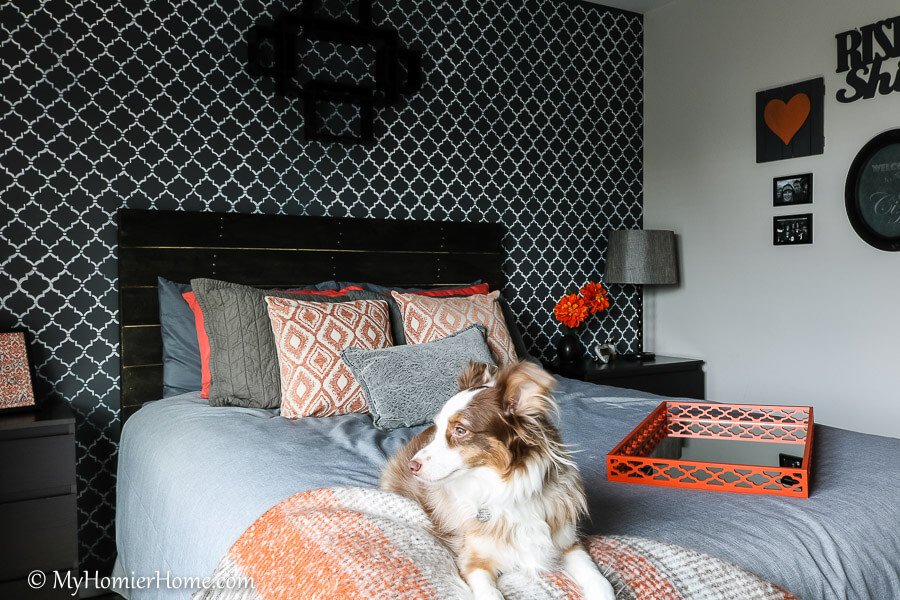 I was pretty sad to see this room go, but I think you'll agree that it was worth it.
On to the afters!
After
Welcome to our non-boring gender neutral nursery reveal!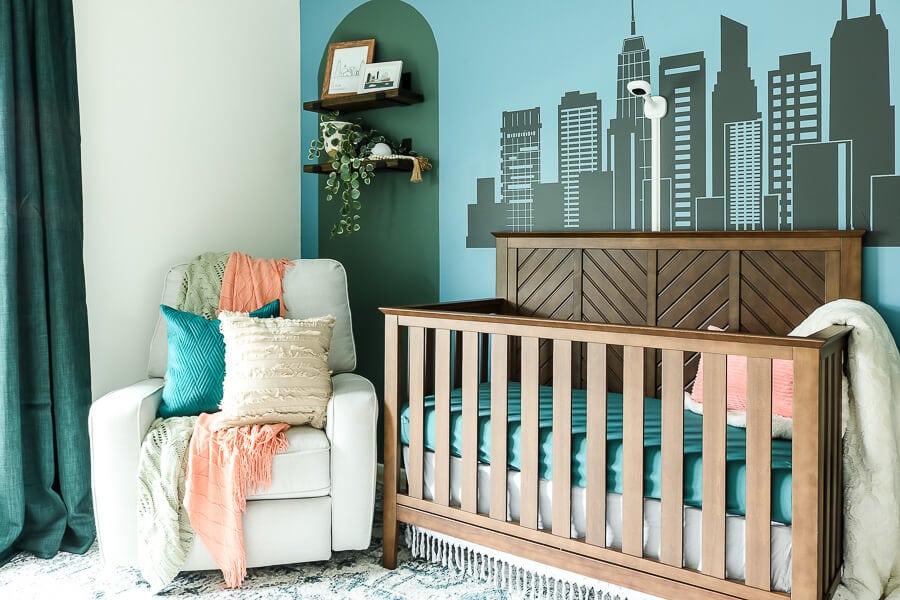 Contrary to what my mother-in-law says, we really have no clue what the gender of this baby is going to be.
I also love surprises and can't keep fun secrets a secret very long, so if I knew, we'd all know lol.
Even though I went with deeper colors, I have pink curtains on retainer ready to be tagged in if needed and I added a hint of corral to keep it bright.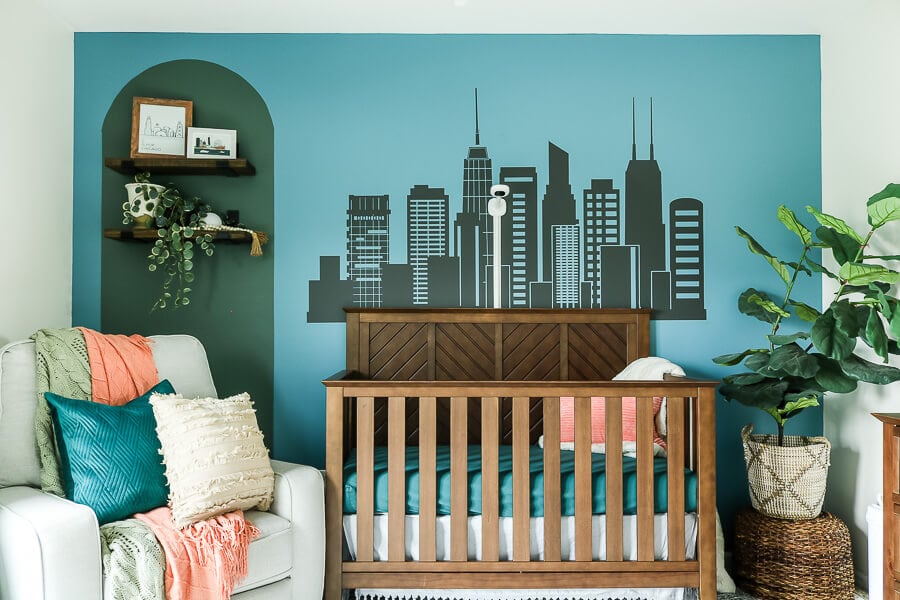 I'm obsessed with these paint colors, too!
The paint is from one of my favorite paint companies… Clare paint!
The three colors are Blue Ivy on the accent wall, Timeless for the other three walls, and Current Mood for the arch.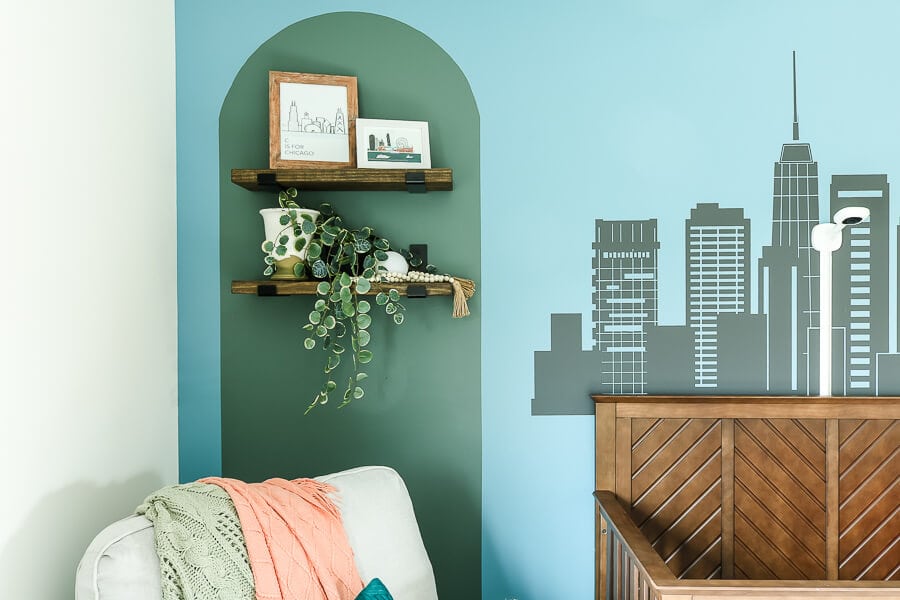 The arch was actually surprisingly easy and quick to complete.
I'll have a tutorial on that soon.
We are still waiting for bookshelves that will go on the left wall you see here, but they did not ship in time for the One Room Challenge.
I will definitely update this post when they do though because I've got a fun idea for them!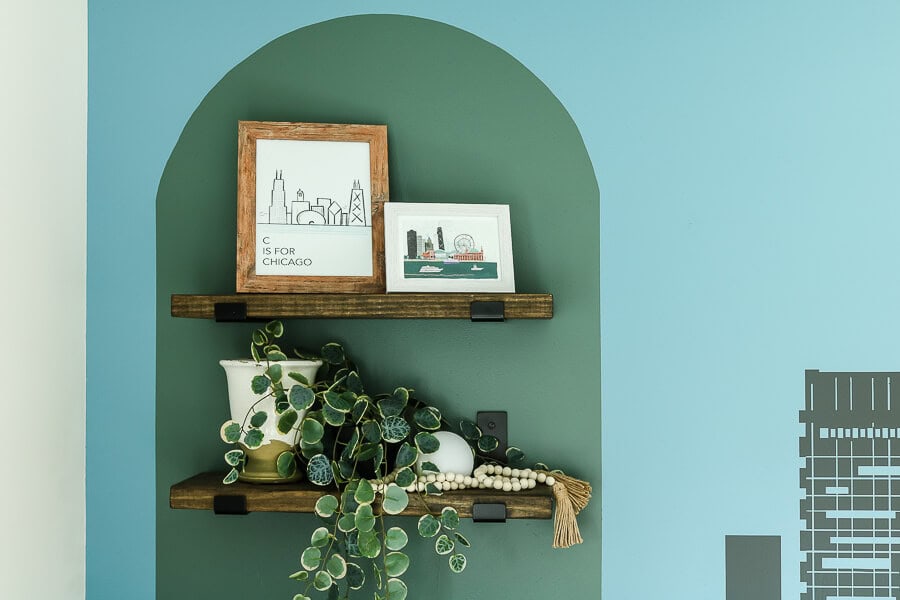 All the Chicago-themed artwork, decal, and shelves are from Etsy and I linked them at the end of this post.
I'm in love with the character this little archway brings the room!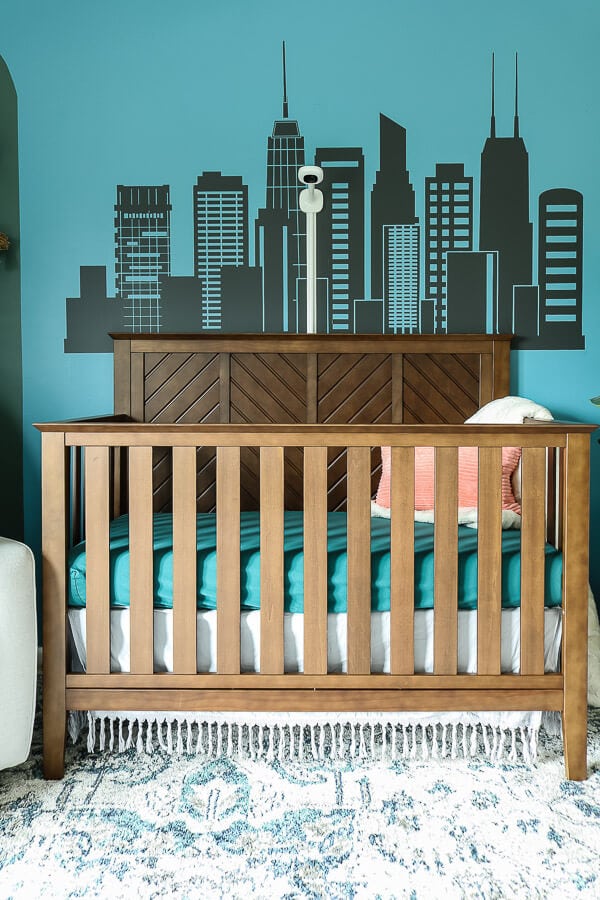 The crib and dresser are from Buy Buy Baby and I love the look of them, however, the crib seemed to get scratched easily, so I'm hoping it withstands the test of time.
How about this decal though?
It's seriously huge and was a little cumbersome to put up… definitely needed more than one person… but it totally brings the Chicago vibes I was after!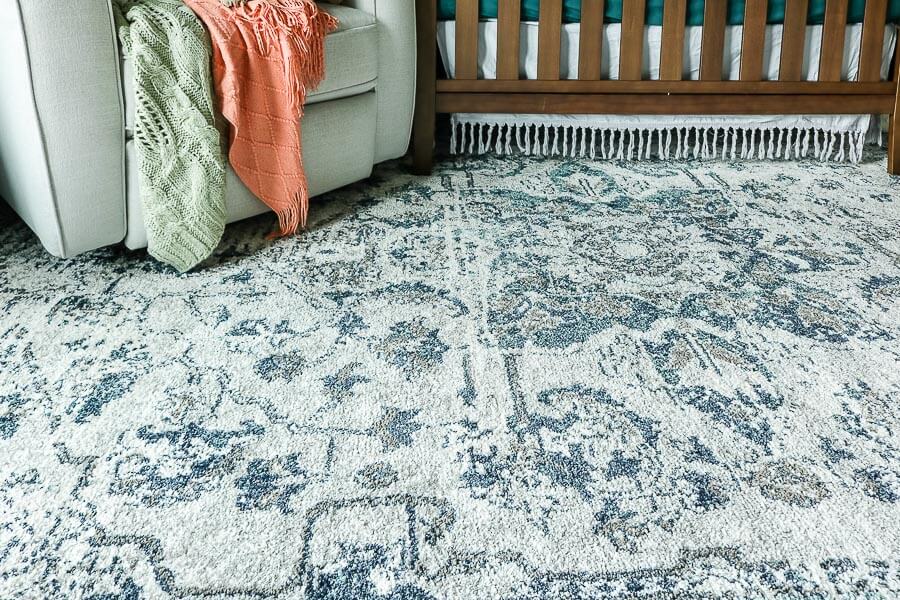 And this rug from Loloi rugs!
It literally is the icing on the cake to pull this design together.
The subtle greens and blues are absolutely perfect!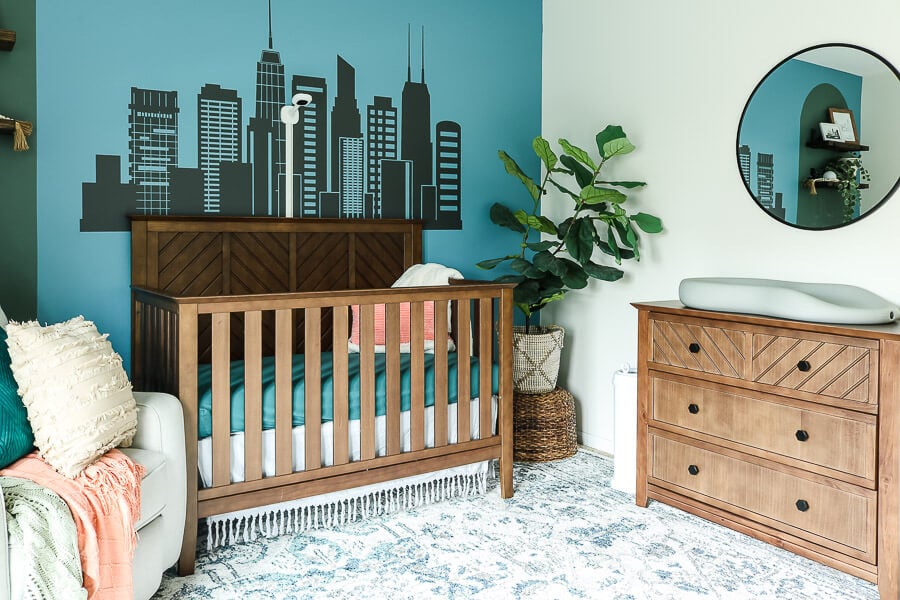 This plant in the corner is just being borrowed until I get my street sign mural up on the wall.
Hopefully that happens this week, so I'll update that here, too, once it is complete.
My husband said his only complaint about this room is that it's very adult lol… like he could stay in this room and be totally good with it.
I thought that was so funny, but maybe the street sign mural will bring more child-vibes for him.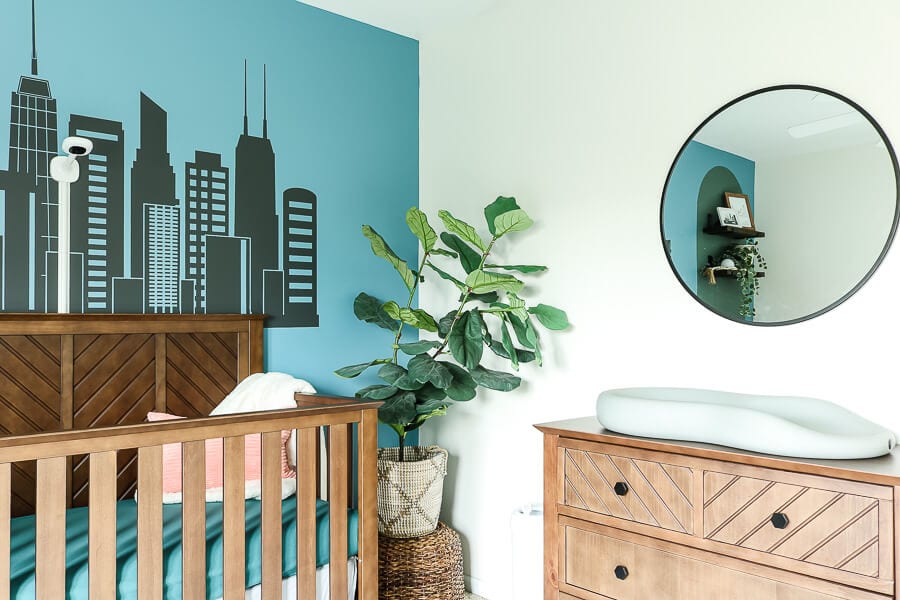 This is a better view of all the paint colors in natural light.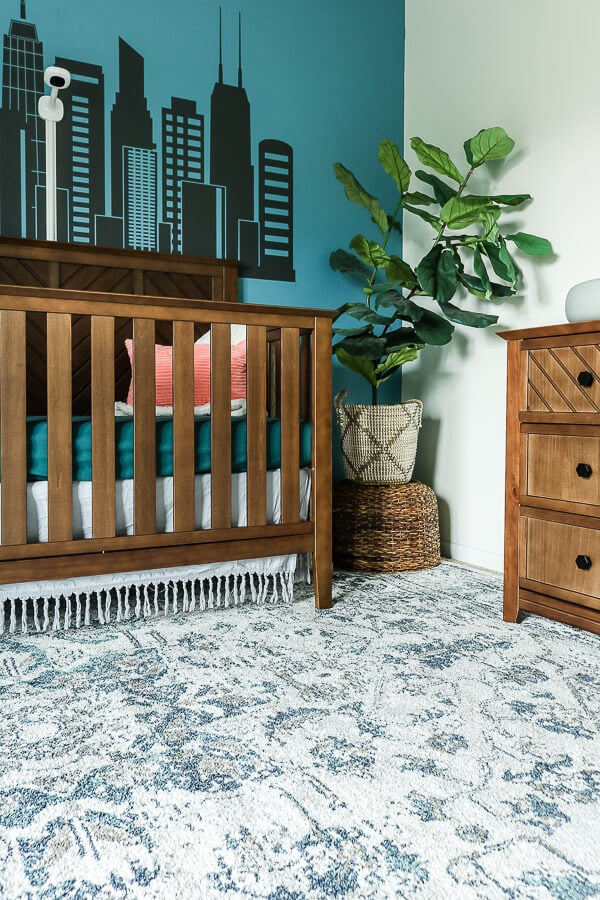 And a better view of the rug in natural light too!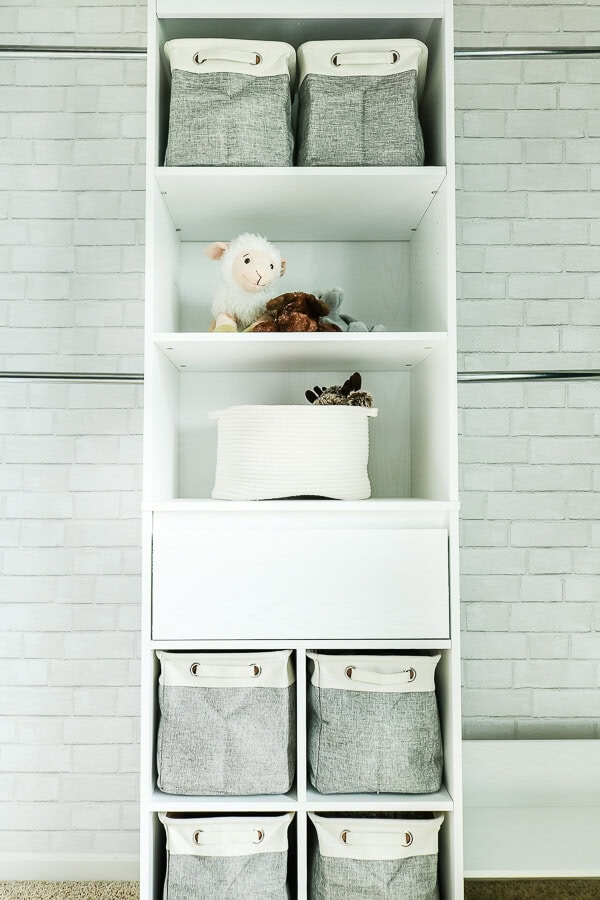 And I don't have a great view of the closet at the moment because there is nothing in it, but I did get the peel and stick wallpaper up, which is the same wallpaper I have in my daughter's open closet.
This closet organizer is also the same one I built for my daughter's safari-themed nursery too.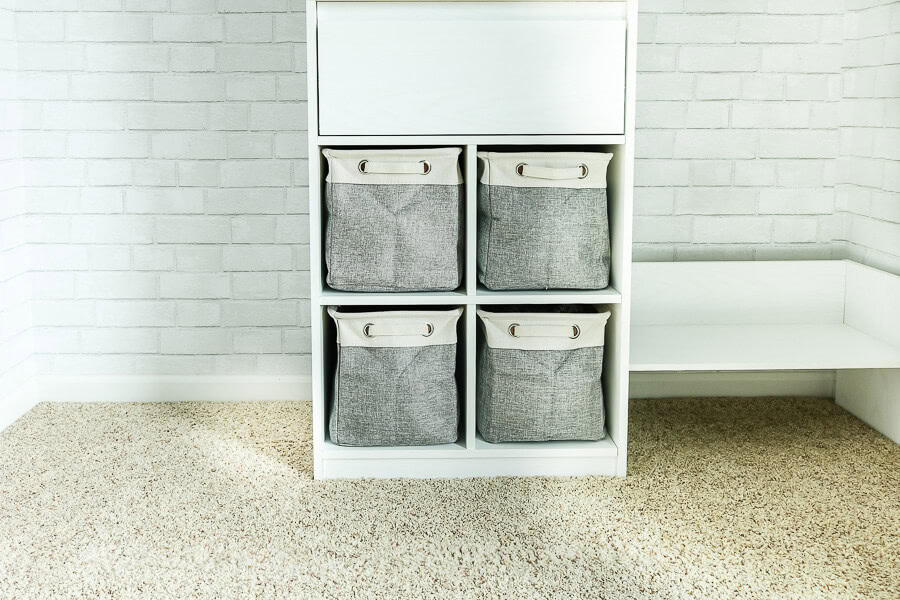 My peel and stick wallpaper tutorial is still one of my most popular posts and I am happy to say, it really does make the process easy!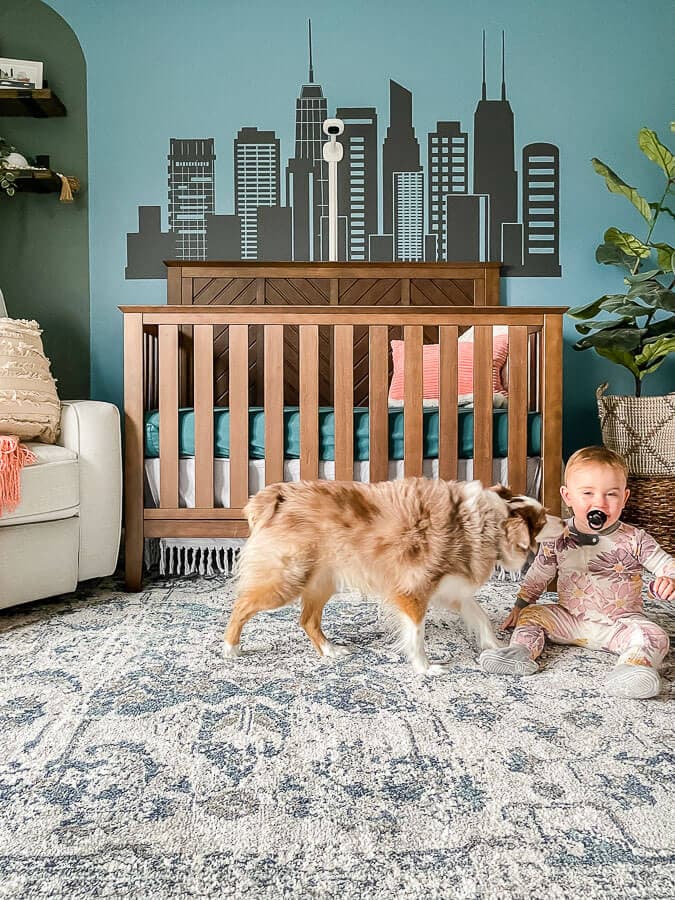 Well I think it's safe to say that my other two babies approve of this room for our next baby to arrive.
Can't wait to finish up these last two sections and be ready to bring this baby home!
Now for the fun part… shop everything you see in this reveal in the section below!
Shop the room

Disclaimer: This post does include affiliate links for your convenience. This is at NO additional cost to you but earns me a small commission. To read more, check out our disclosure policy.

(click on any of the images to shop the products)
So, what do you think?!?
Feel free to leave a comment below and let me know your favorite part!!