Home Office Craft Room Reveal with Before and Afters
Looking for inspiration for your home office craft room? Come check out what I did in this home office craft room reveal, including a new light fixture, a statement ceiling, and all kinds of organization!
Today is the day!! My Home Office Meets Craft Room is finally ready to welcome one and all!
This project was definitely a labor of love.
Not only did I have surgery in the middle of this challenge, but I decided to add a statement ceiling 6 days before the end!
I may be a glutton for punishment, but it was all worth it!
If you are just joining me, you can catch up on the weekly progress through the links below:
OTHER AMAZING ROOMS
Also, don't forget to check out all the guest participants' One Room Challenge projects, too!
There are over a hundred before and after photos in one place for your inspiration and, let me tell you, they are pretty amazing!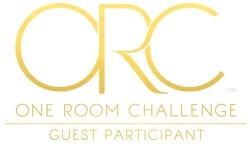 Before I show you all the lovely pictures of my space, my takeaways from this project are…
Lighting changes everything,
Having a place for everything is the only way to ensure function,
And no matter how much space you have in your room, you can work wonders with some strategy and thought to your project!
Table of contents
Disclaimer: This post does include affiliate links for your convenience. This is at NO additional cost to you but earns me a small commission. To read more, check out our disclosure policy. As an Amazon associate, I earn from qualifying purchases.
Before
Just to remind you where I started, here are a few of the before photos again…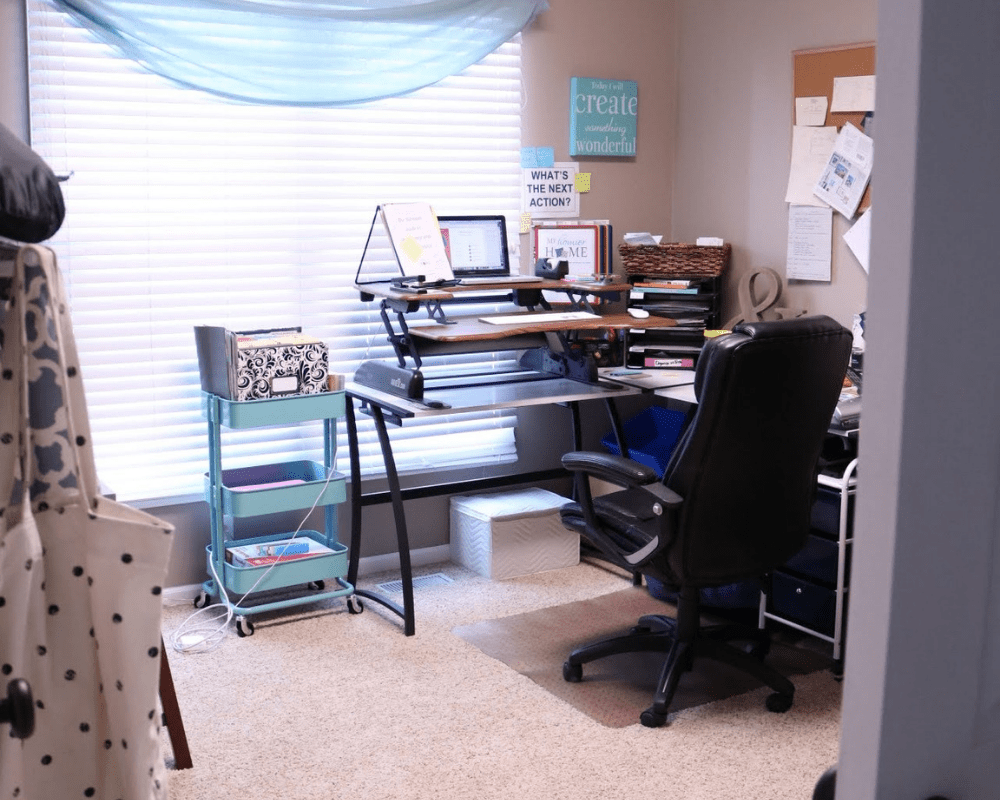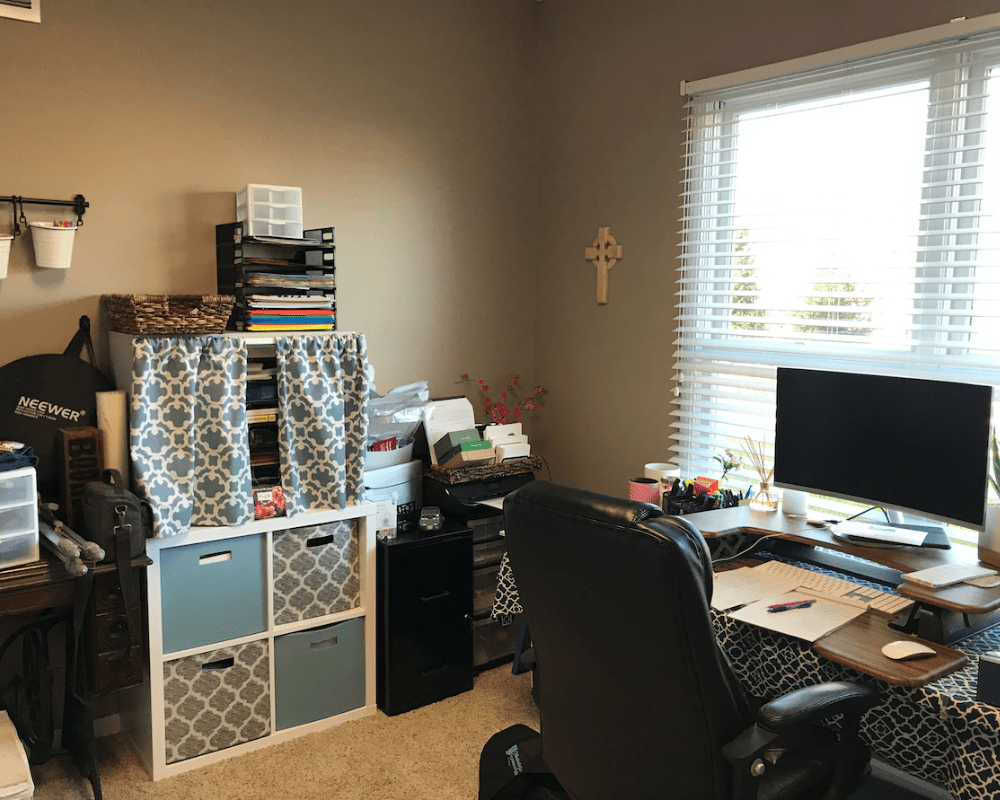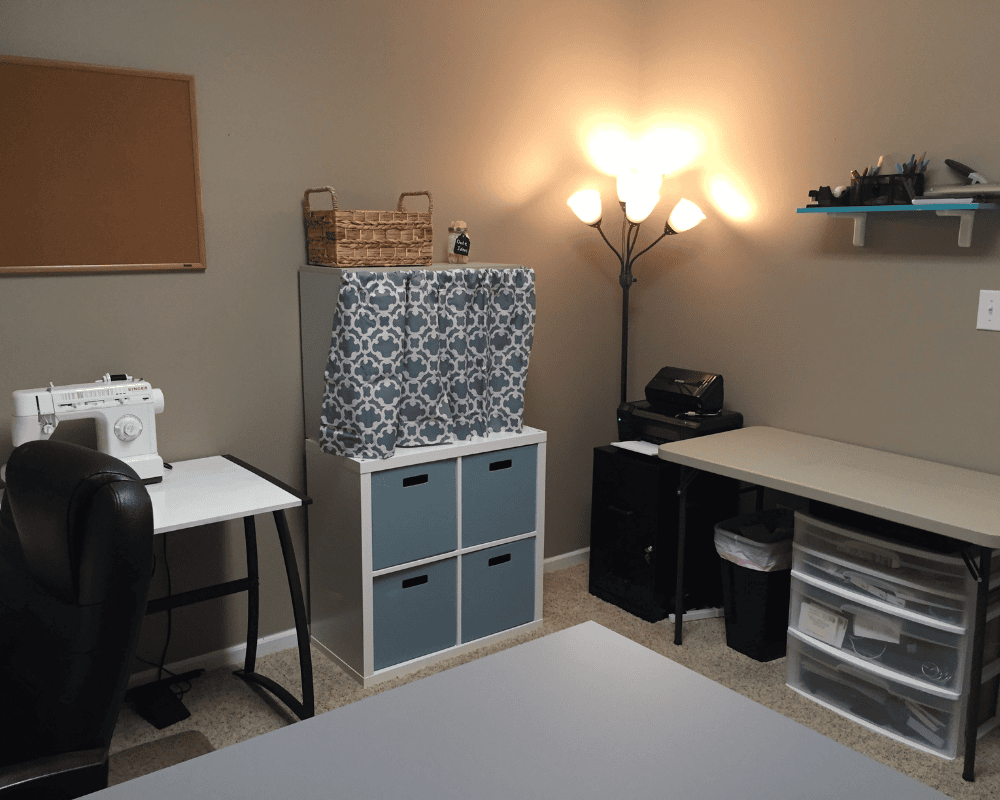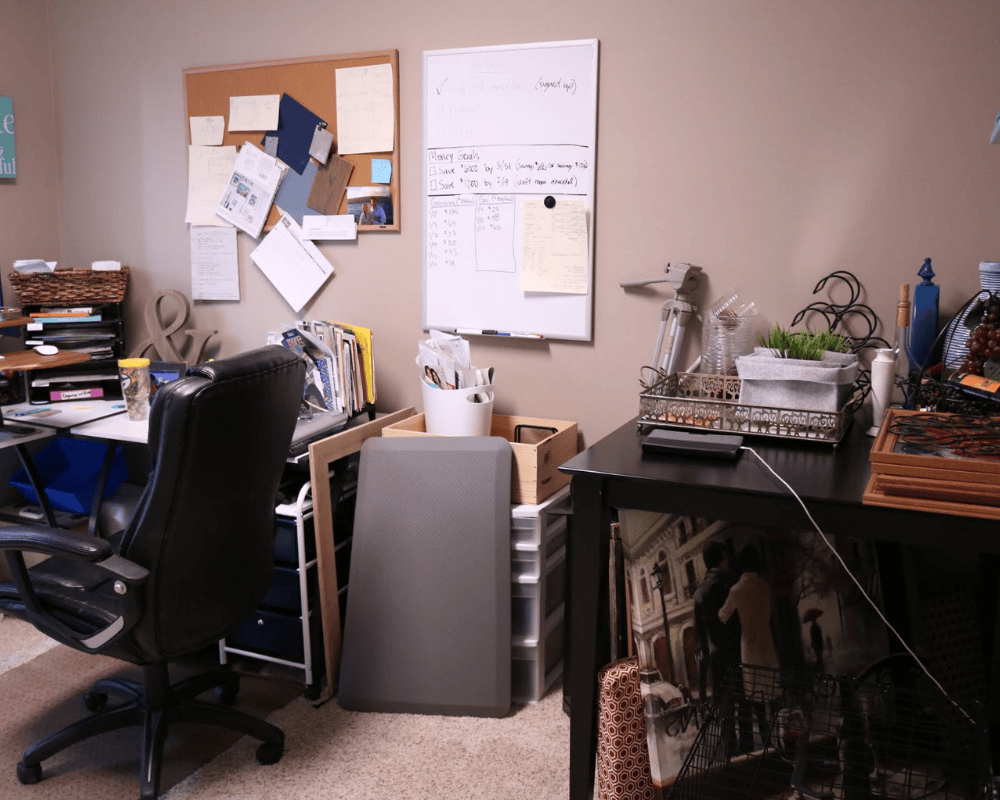 In short, it was a fricken disaster!!
But, not any more!!! *** DRUM ROLL PLEASE ***

After
Welcome to my new and improved HOME OFFICE CRAFT ROOM!!!!!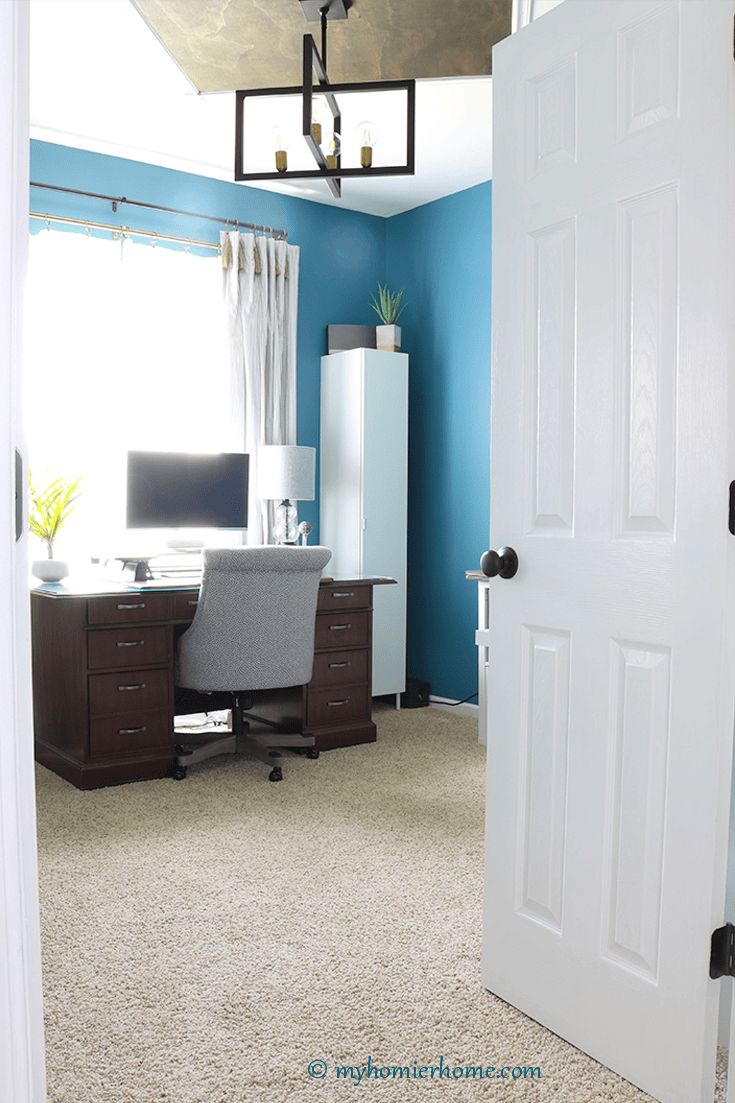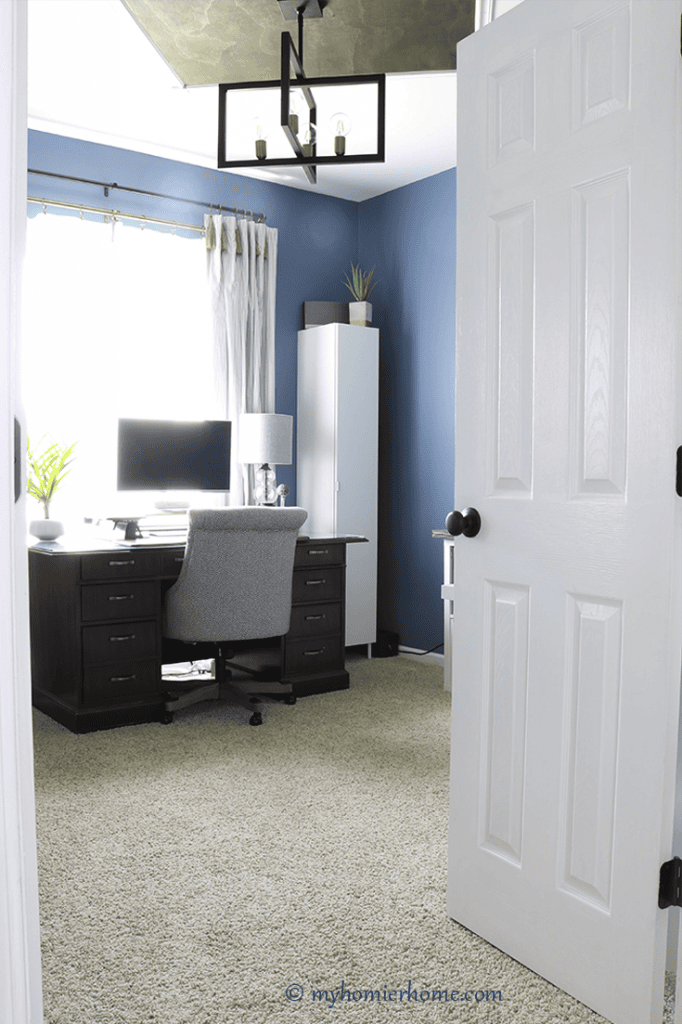 This room is fun because we have double doors and everyone who uses the powder room has to walk by it.
I can finally leave the doors open when we have company!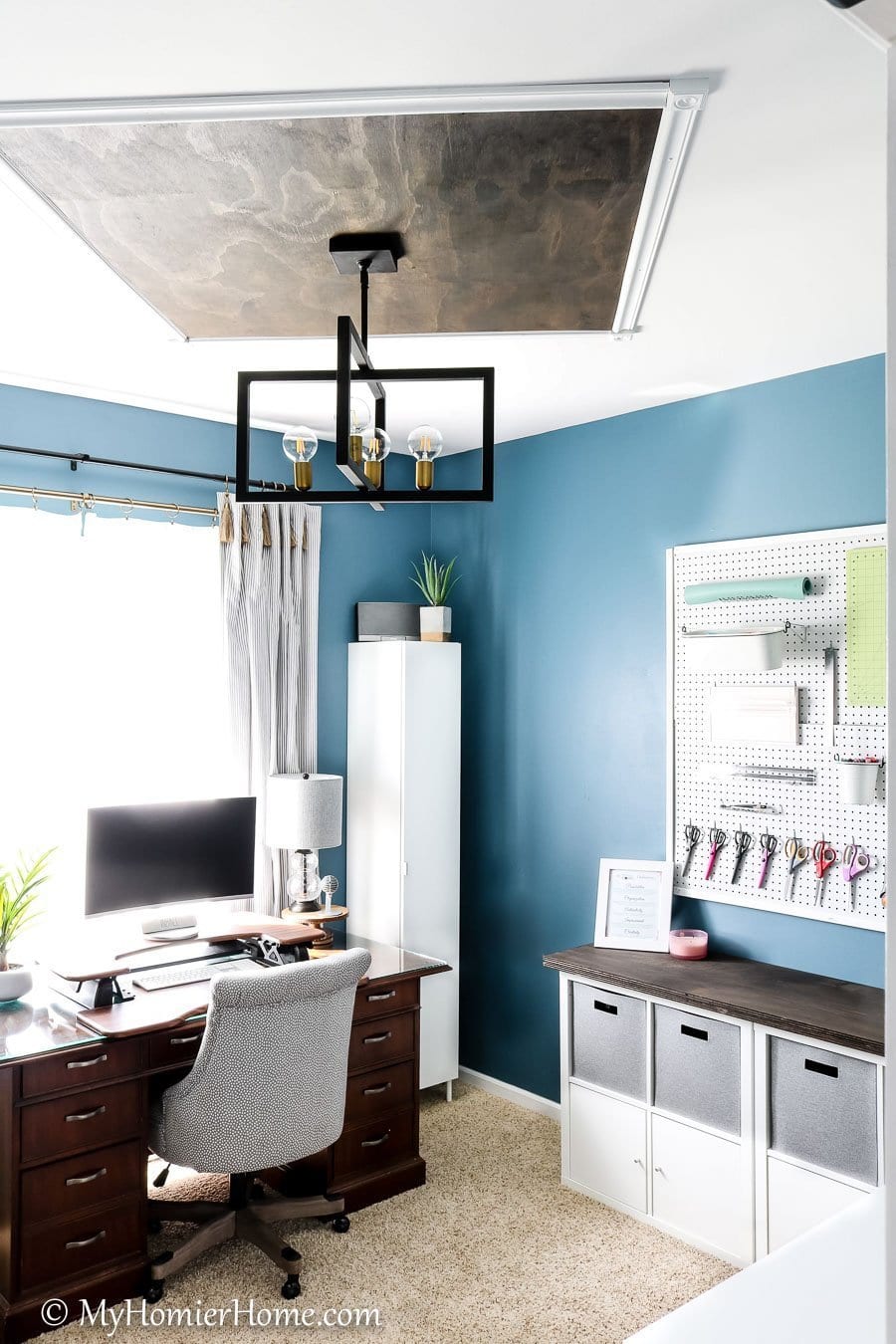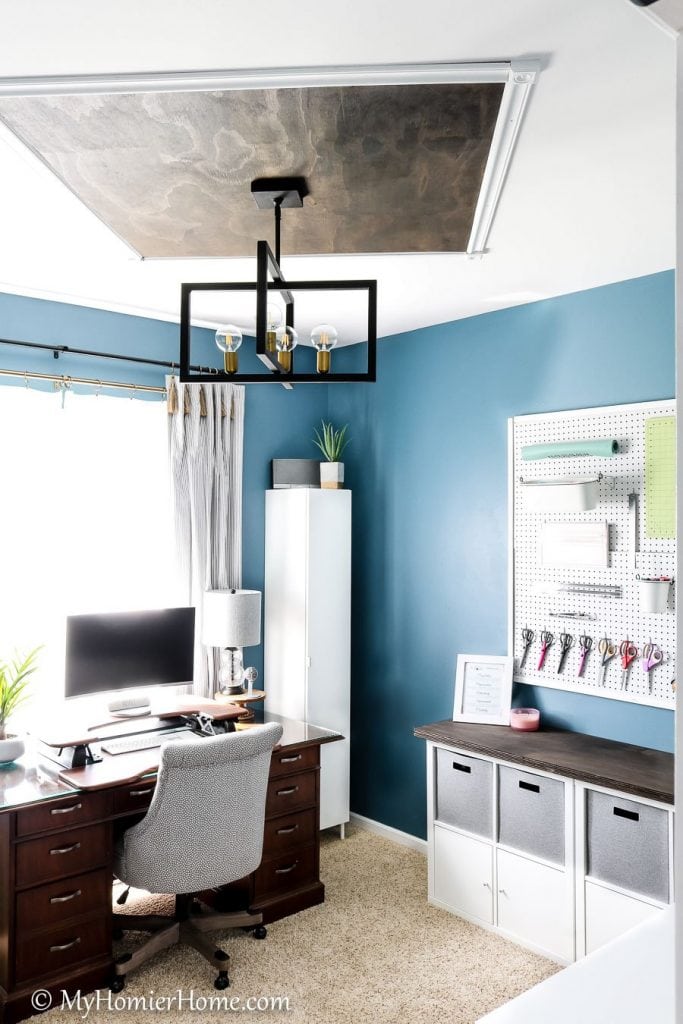 This statement ceiling was a last minute addition!
It took us a total of 7 hours, beginning to end over the course of a few days, but only cost me less than $70!!
I will be writing up a tutorial on how we did it soon!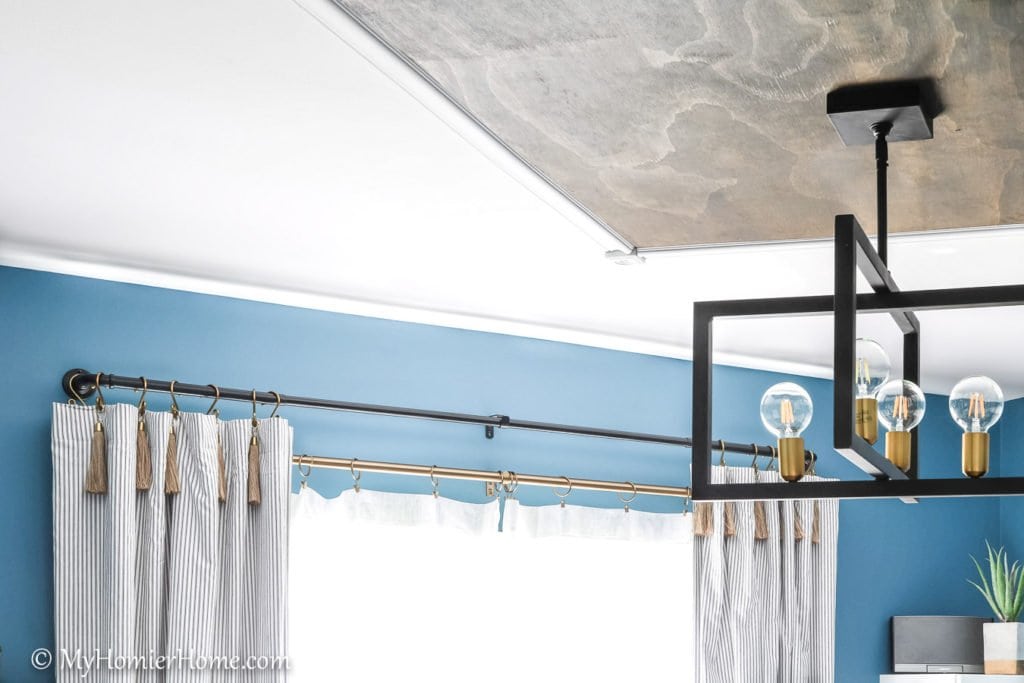 This lamp was an online purchase through Clarkson Lighting and I absolutely love it!
It gives off a ton of light and goes perfectly with my mix 'n match curtain rods.
I originally bought the oil rubbed bronze rod from Wayfair and realized I needed another when I decided to go sheers instead of blinds.
The soft gold one is from Amazon! (all sources at the end of the post)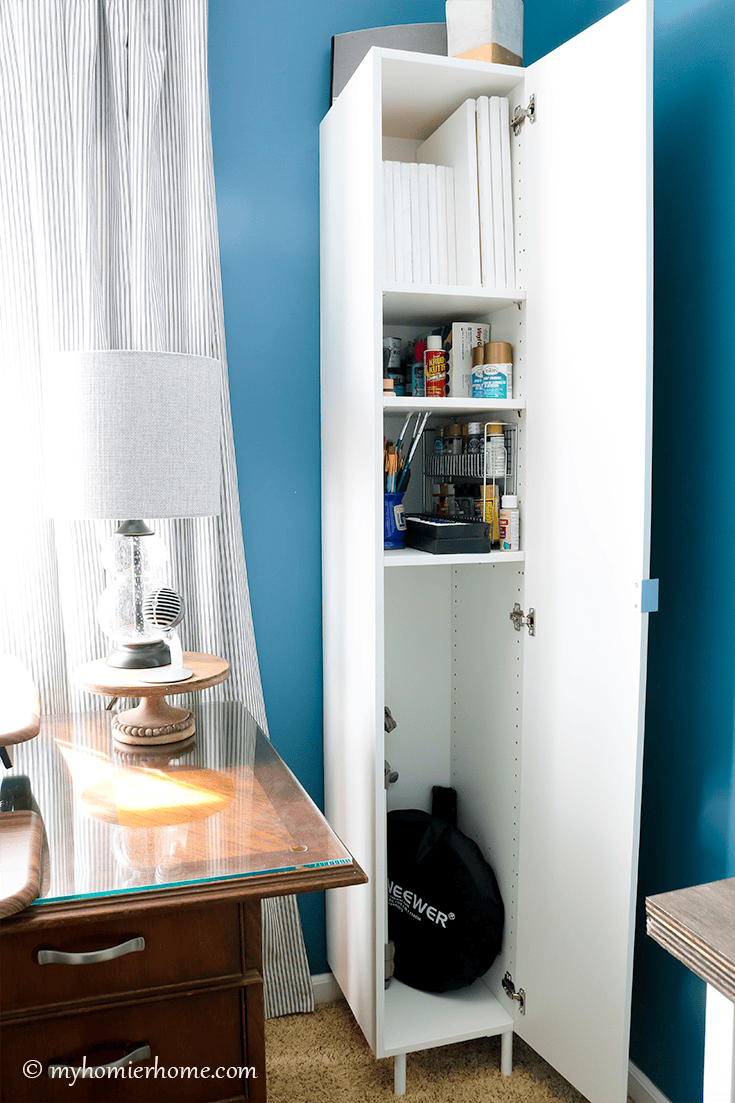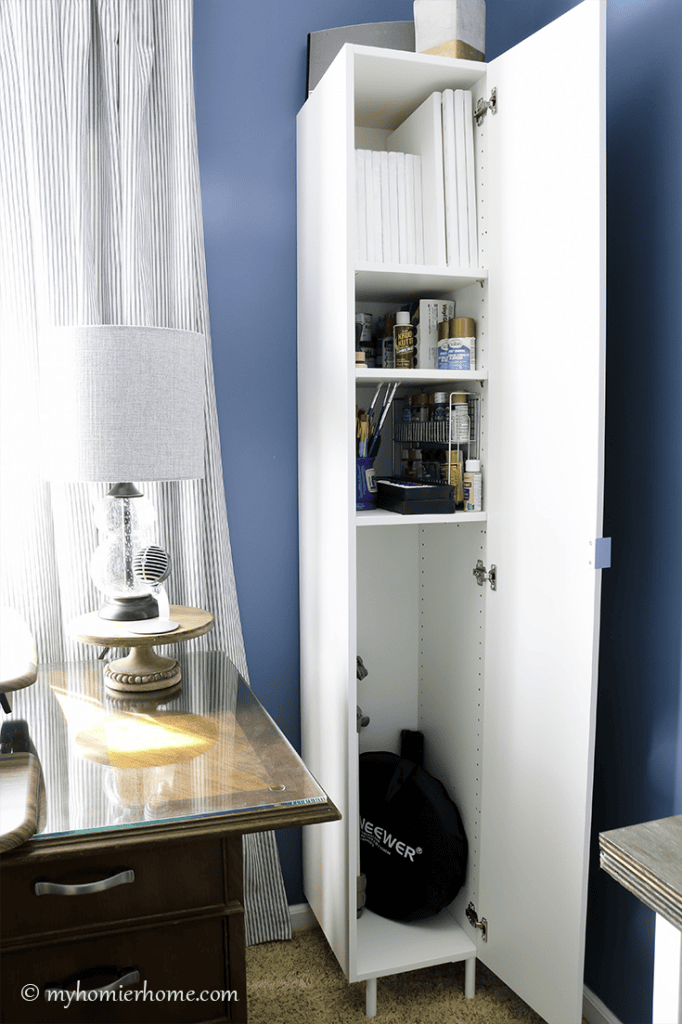 I need a spot to house all my photography equipment and painting supplies, so this locker-like item from IKEA did the trick!
It even has hooks on the right side for me to hang the more delicate things that didn't go in the cabinet.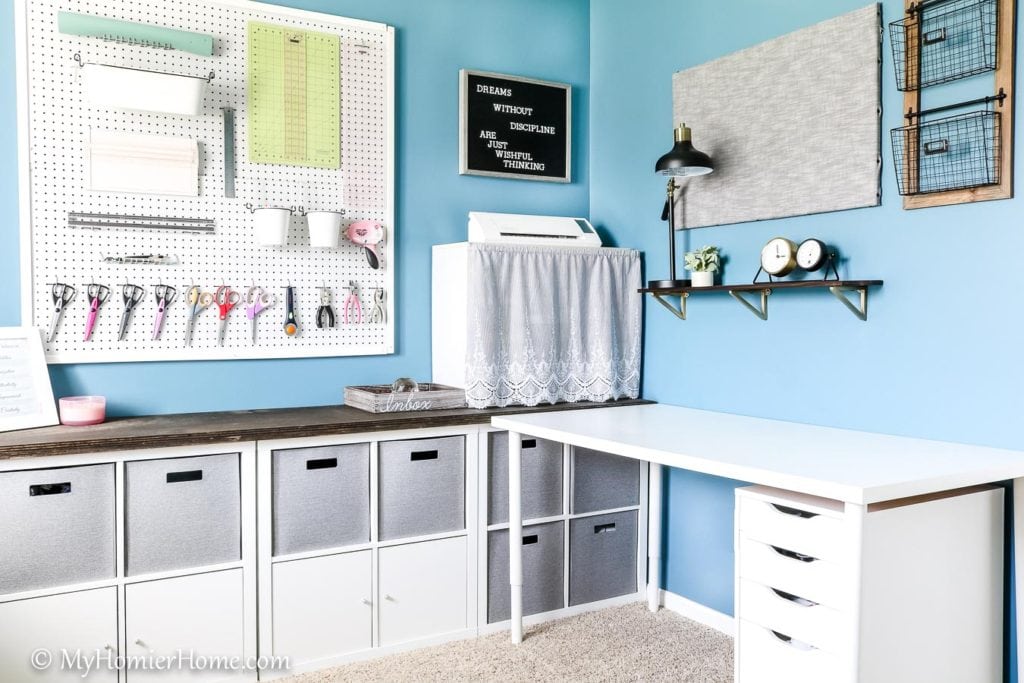 Ahh, yes. Breathe it in!
Finally, some legit organization!
I had the peg board in my first attempt at the office and it really worked to have all my tools so handy, so I decided to keep it as part of the new design plan.
I also added a ton of work space, so I'm never at a shortage!
All of the bins on the bottom or housing all kinds of miscellaneous items, such as binders, wall paint supplies, my toolbox, and a ton of other random items.
The set of drawers from IKEA on the right has all my sewing stuff in it for easy access.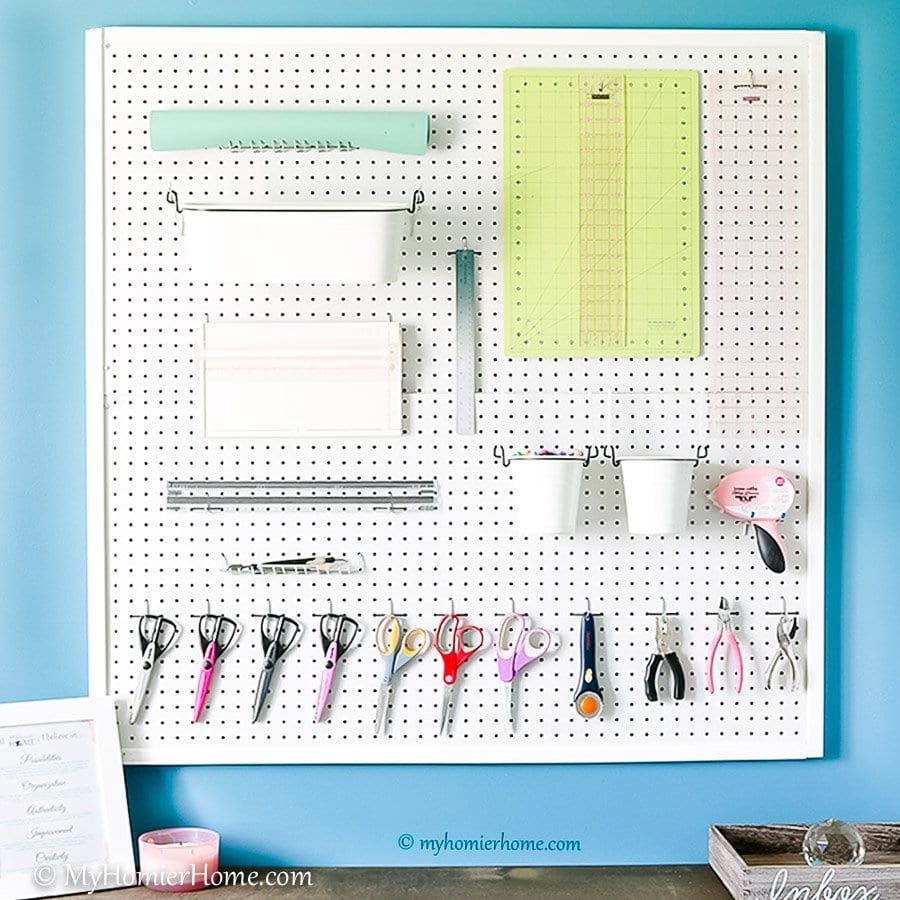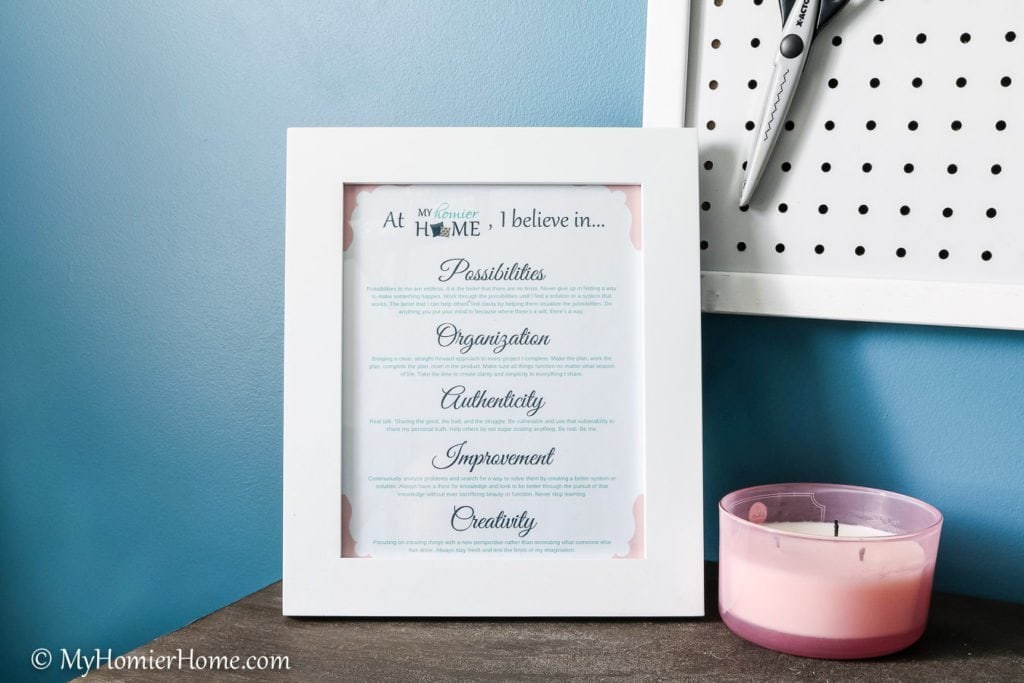 I recently went through a course on determining your values and beliefs.
I feel so empowered knowing exactly what I stand for in my business, so I wanted to remind myself every day when I'm in my office.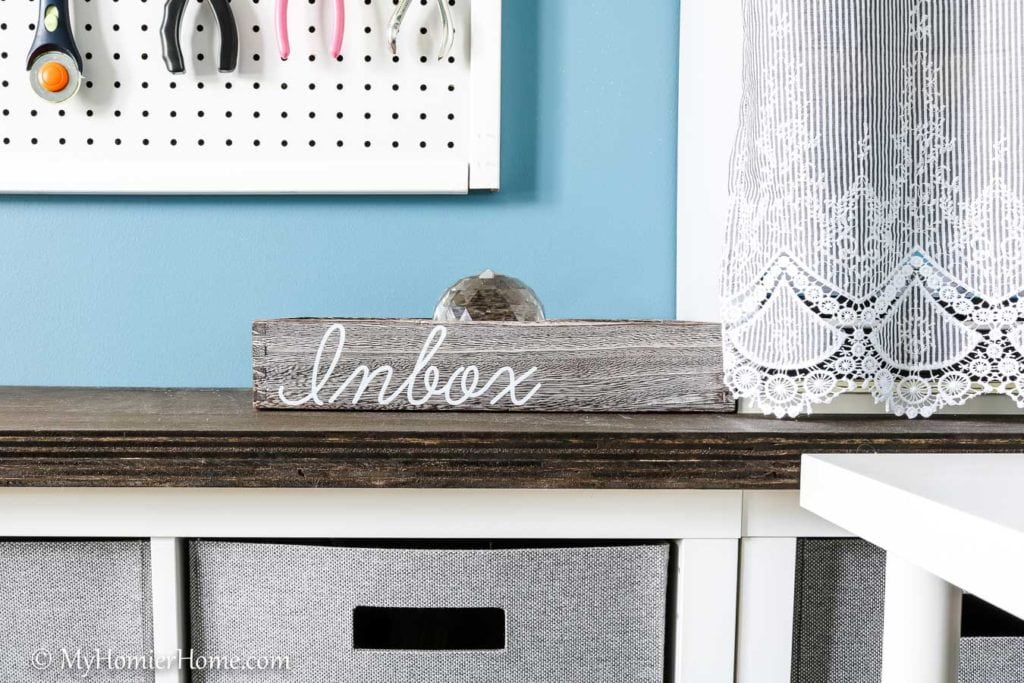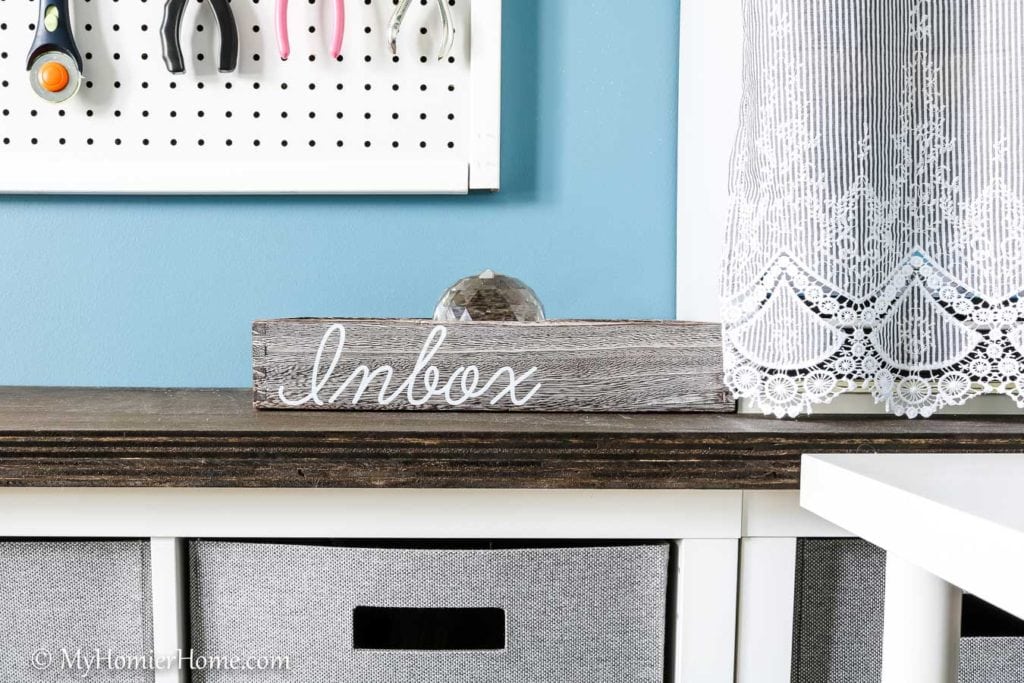 Oh yes, the necessary spot to keep all those items that come in throughout the day.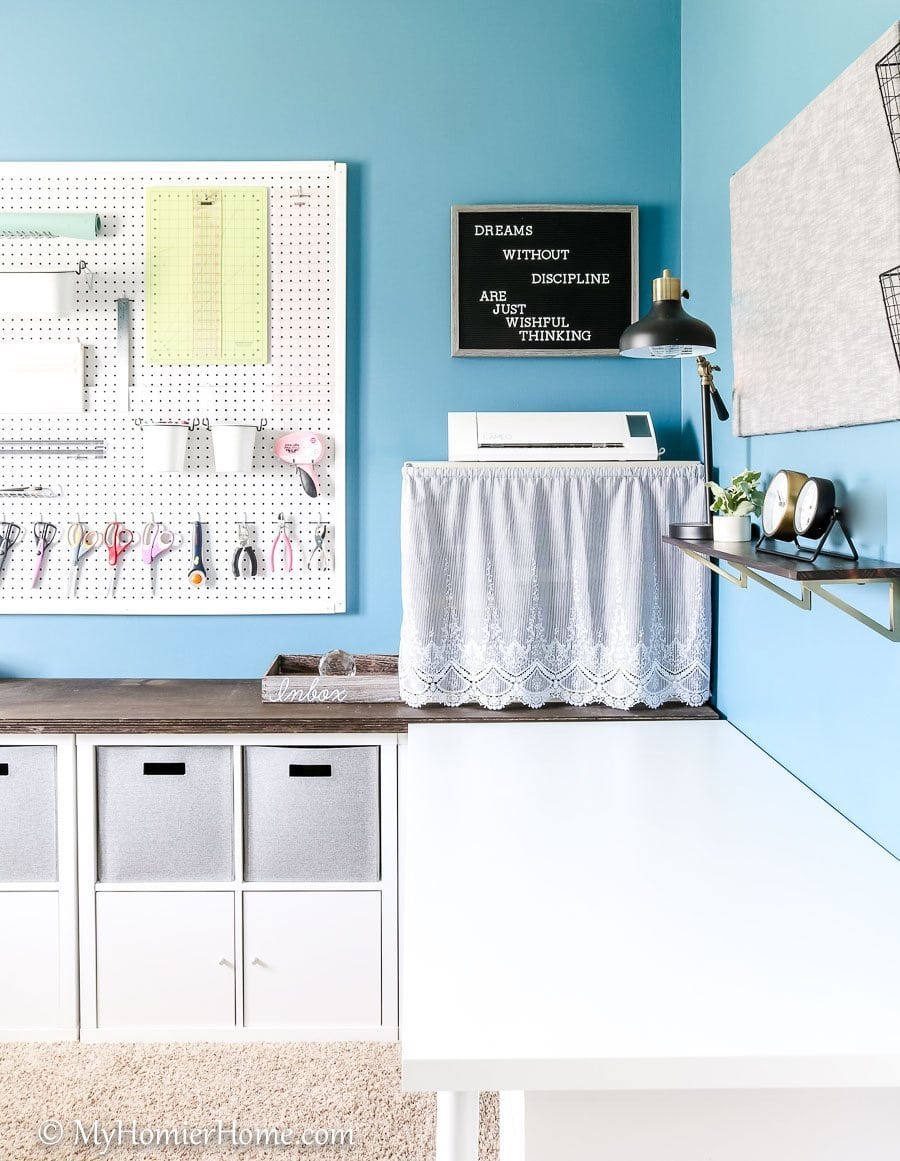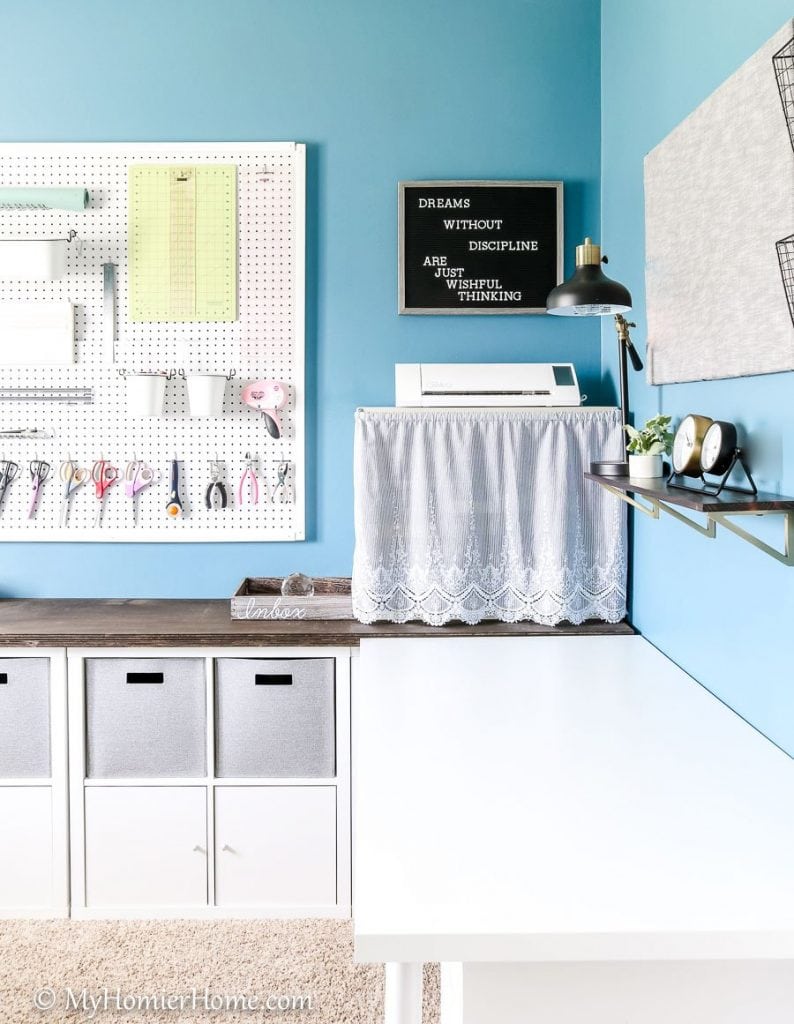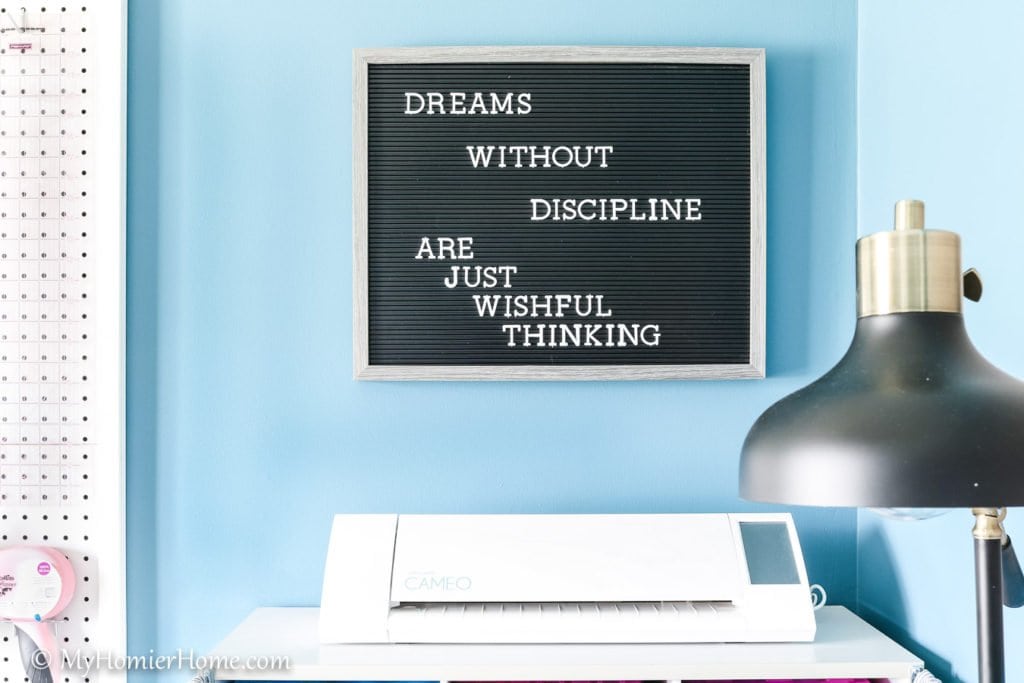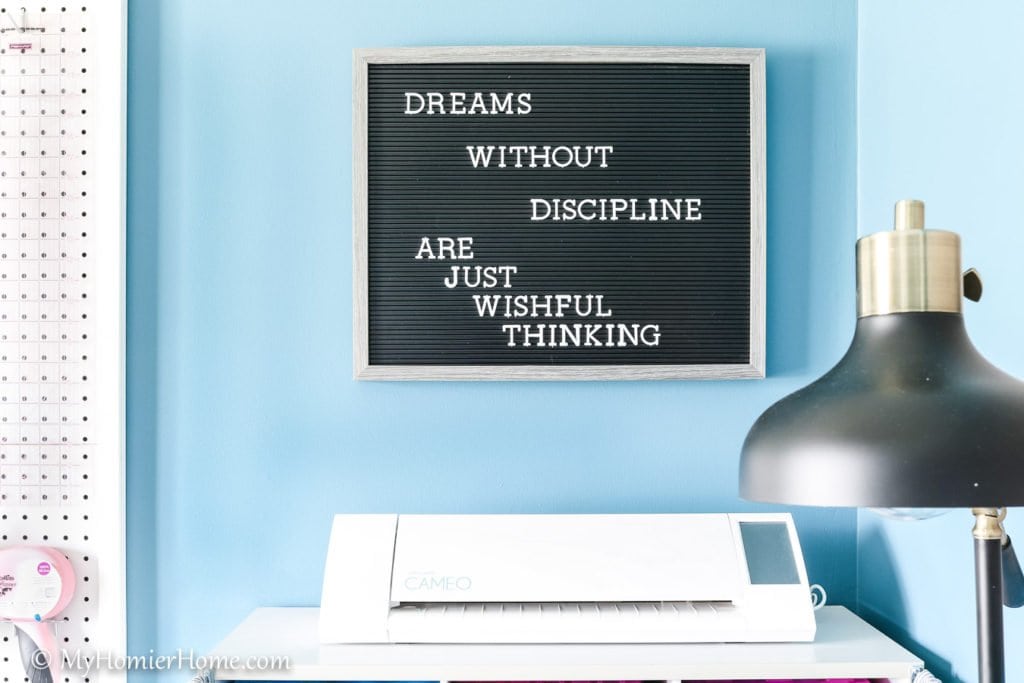 This year was the first year I picked a "word of the year" and it was discipline.
I feel like having a guiding word has really made a difference.
I found this quote somewhere online and it really reminds me of why I chose this word.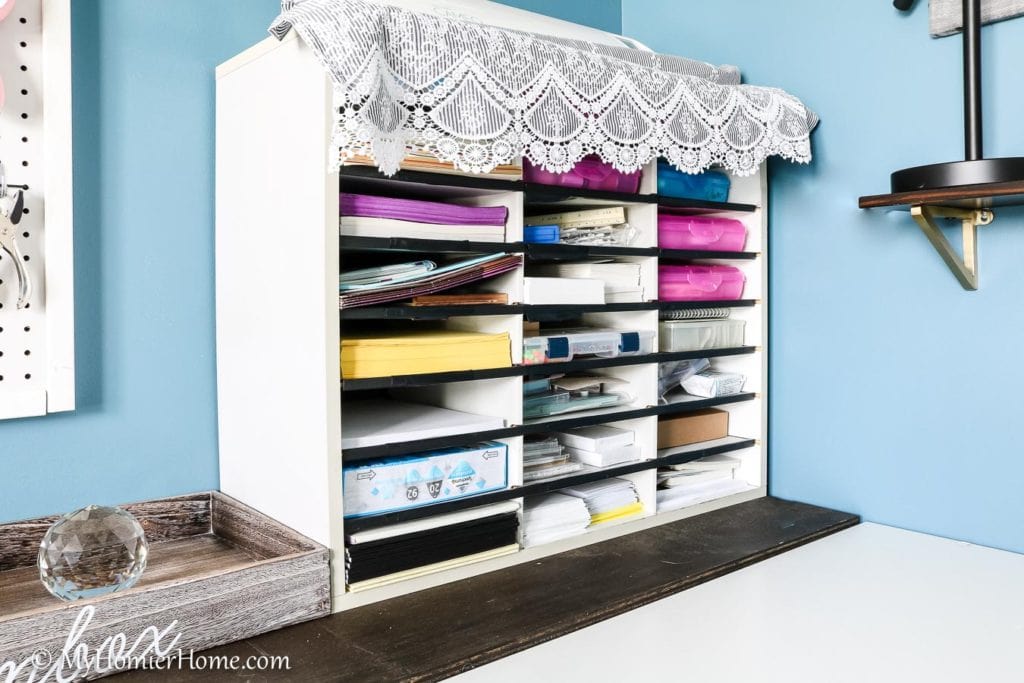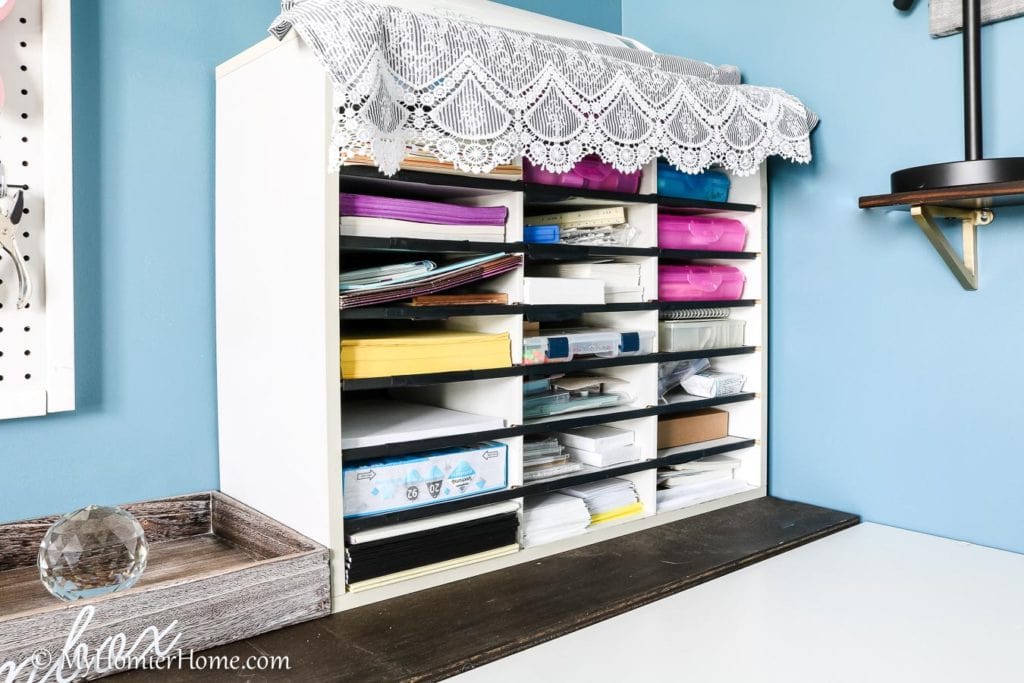 And, behind the curtain… all the ugly, miscellaneous, yet necessary items like computer paper, batteries, fishing lure making equipment (for the hubs), envelopes, and more! lol.
I'm just glad it's organized and not visible!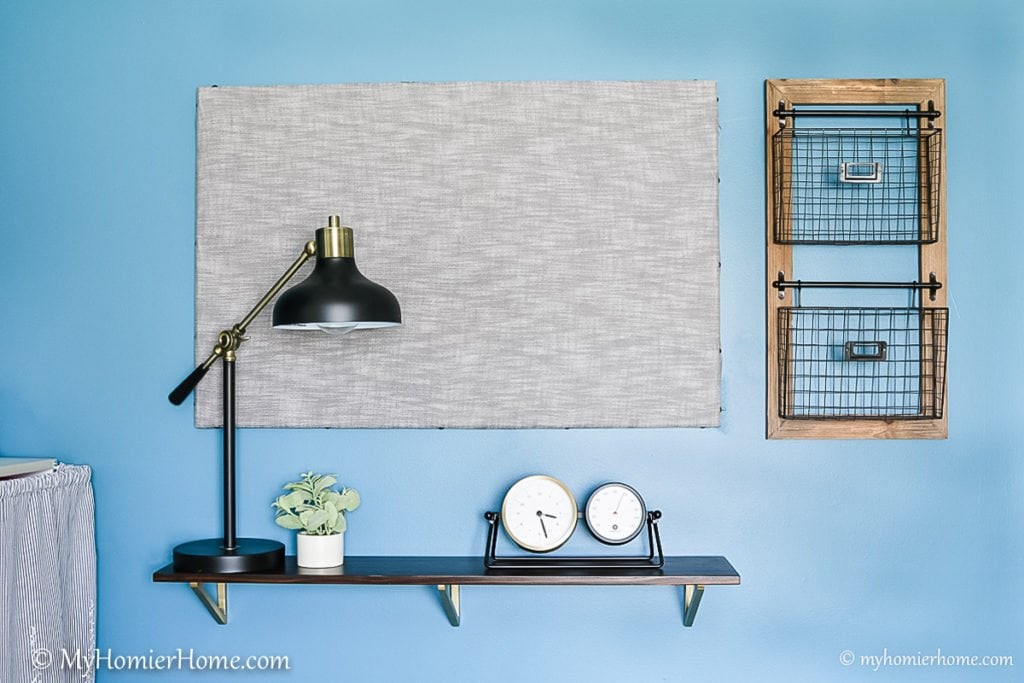 My DIY pin board from week 4!
I plan to use this for all my vision board and/or important items.
When I really don't want to lose something, the pin board is always my best bet.
The lamp, clock/temperature gauge, flower, and shelf are all Target finds! I'm obsessed!
They look so good and tie everything in with the gold accents.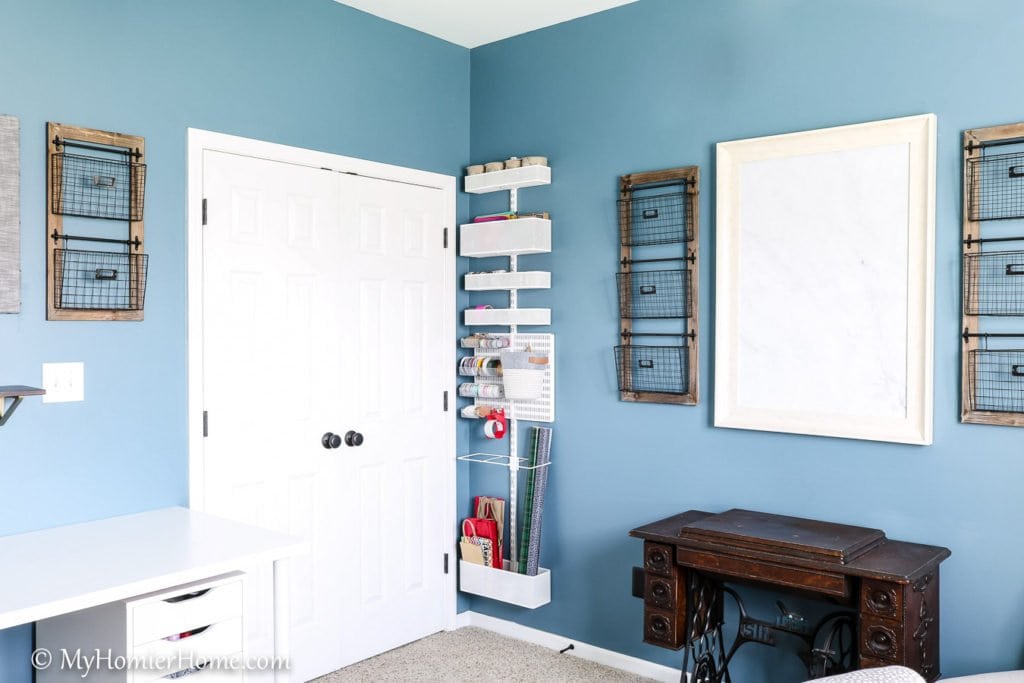 All the wire baskets on the wall are from Home Goods.
They perfectly fit a file folder which will make for keeping track of client items and things I'm working on much easier.
Gotta keep that clutter at bay!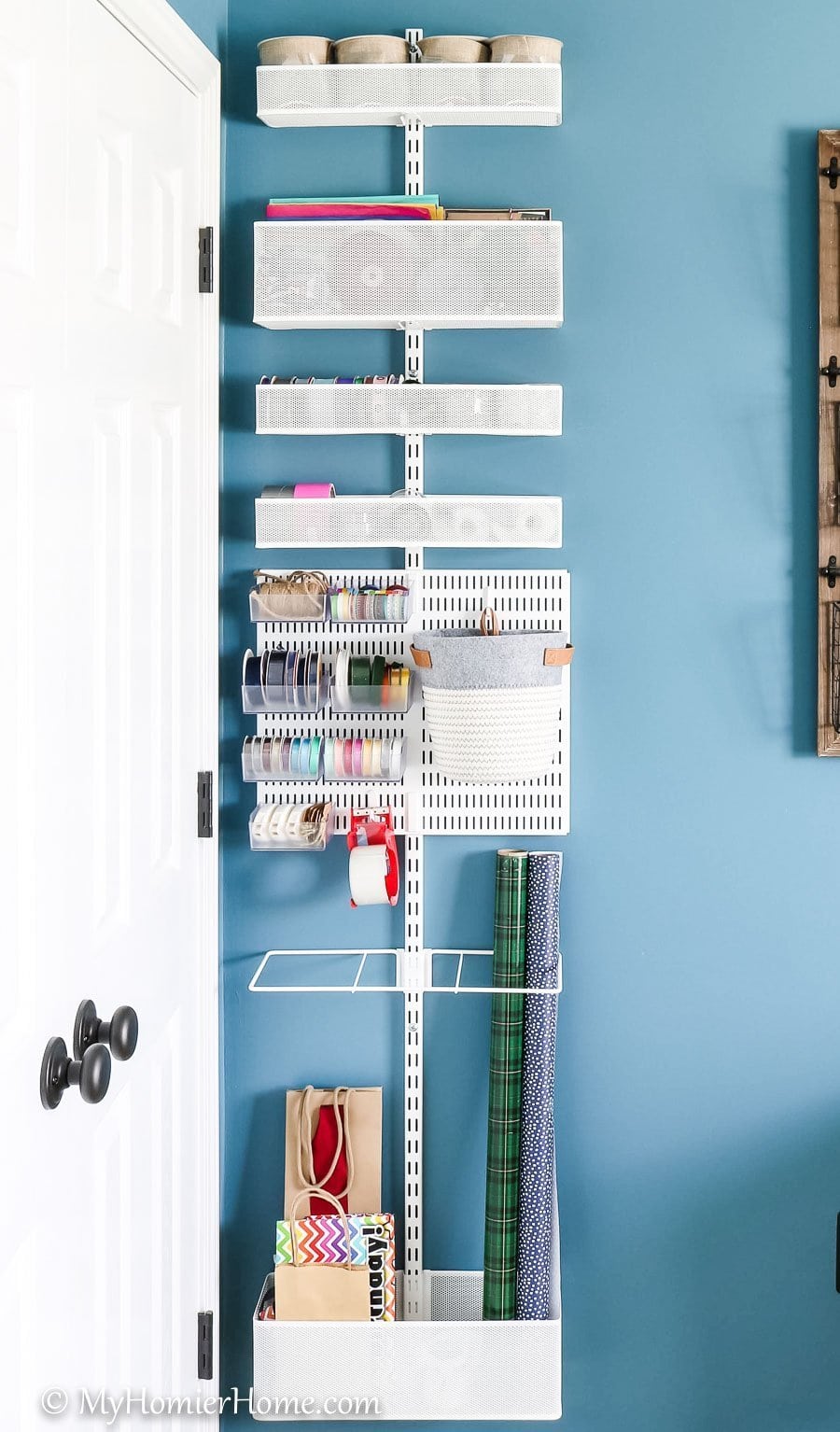 I have been trying to figure out how to organize all my ribbon, paper, bags, and tape for FOR.EV.ER!
This Elfa gift wrapping organizer is the best thing ever!
The little cloth basket in the center is full of all my scrapbook glue, mod podge, and glue dots.
I originally had this on the peg board, but it seemed better to keep the tape and glue all together.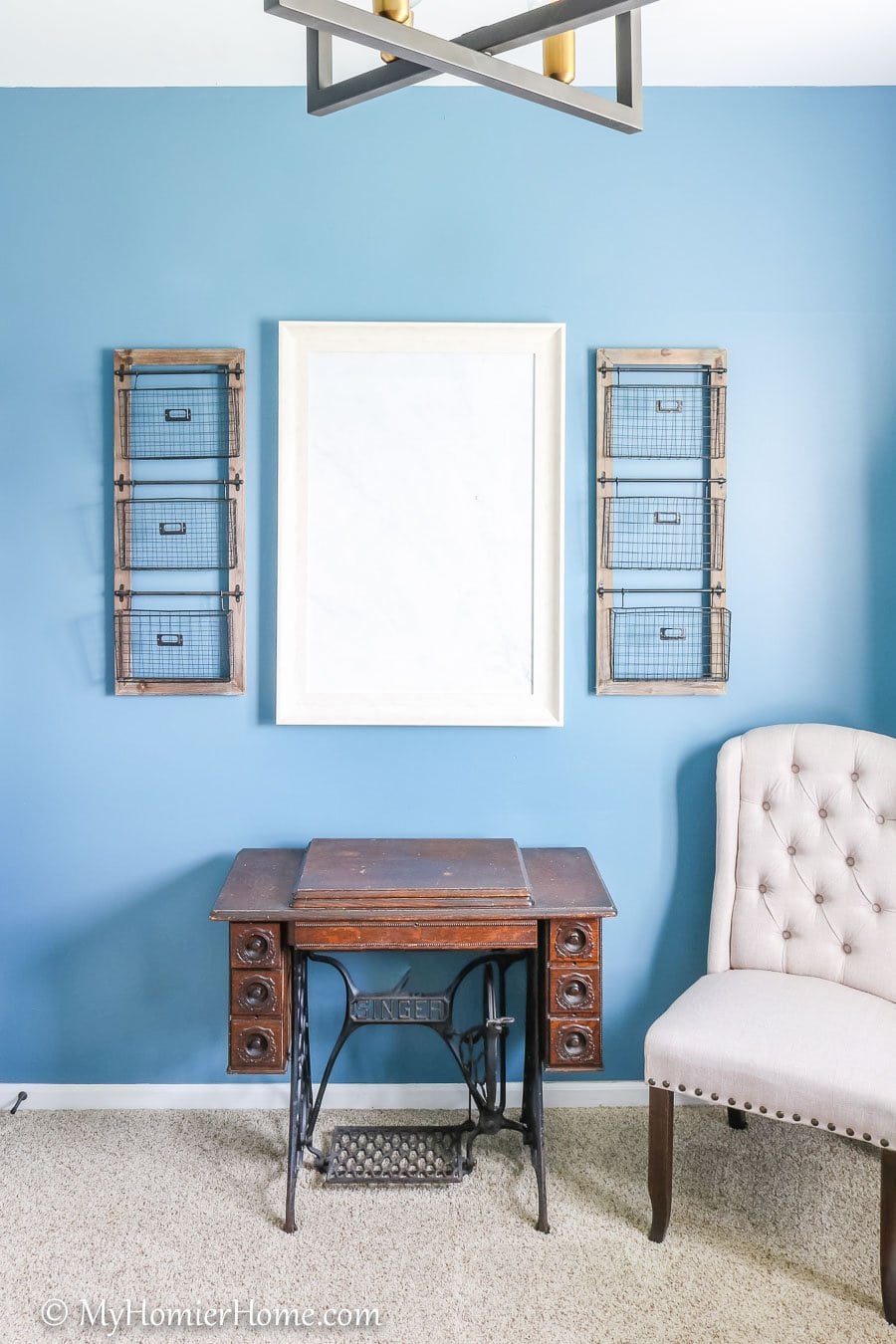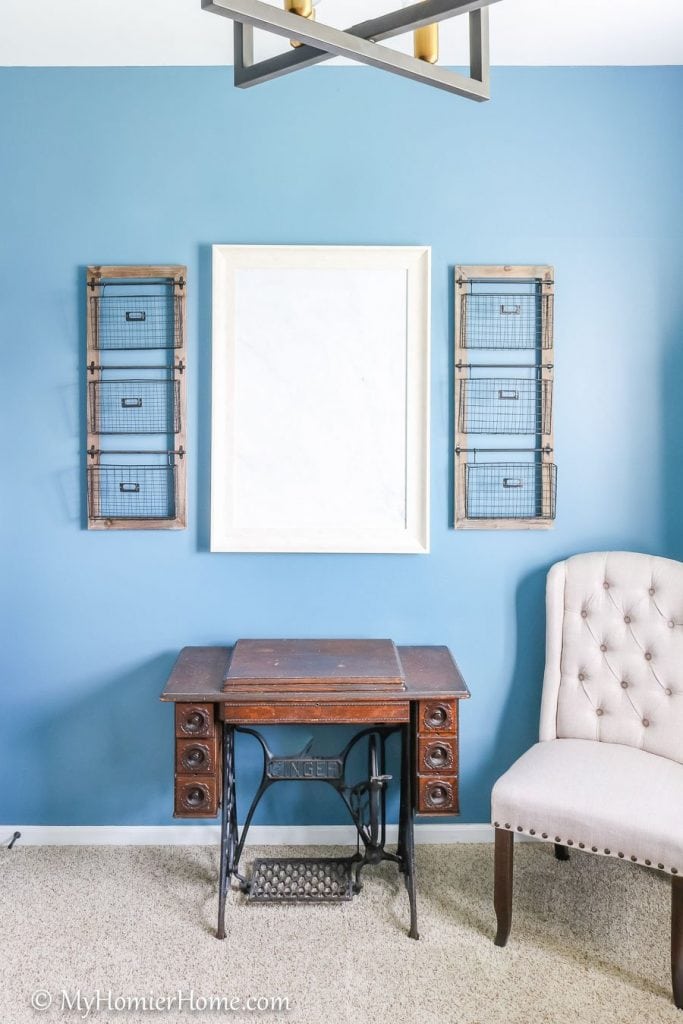 My antique sewing table is making sewing projects a lot easier.
I can spread out or close it up to use as a table, too!
It looks a little small in this picture, but it's definitely the right size for the space without overcrowding it.
The marble background dry erase board was another Home Goods find.
I love the ability to write notes, brainstorm, and doodle as I see fit lol.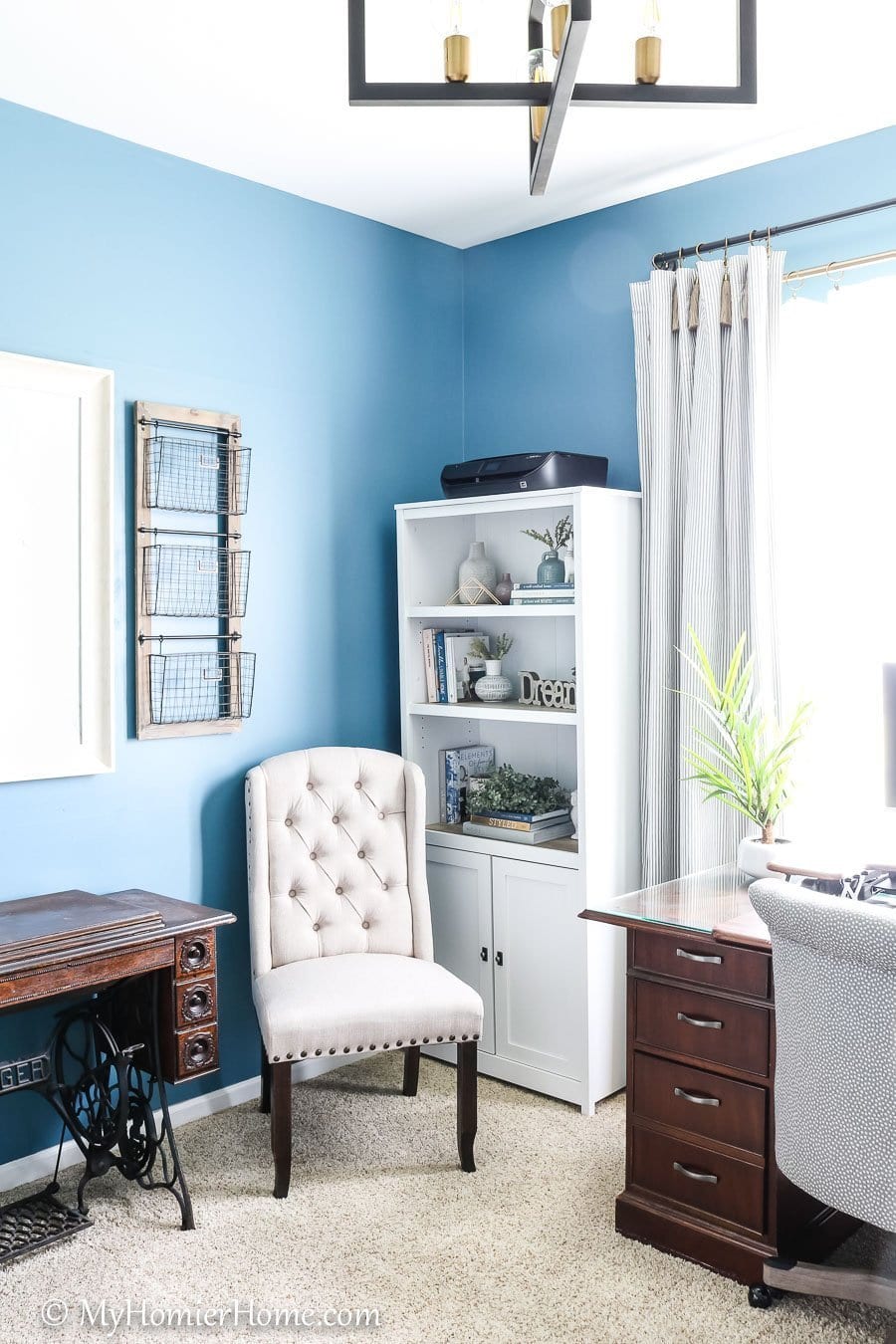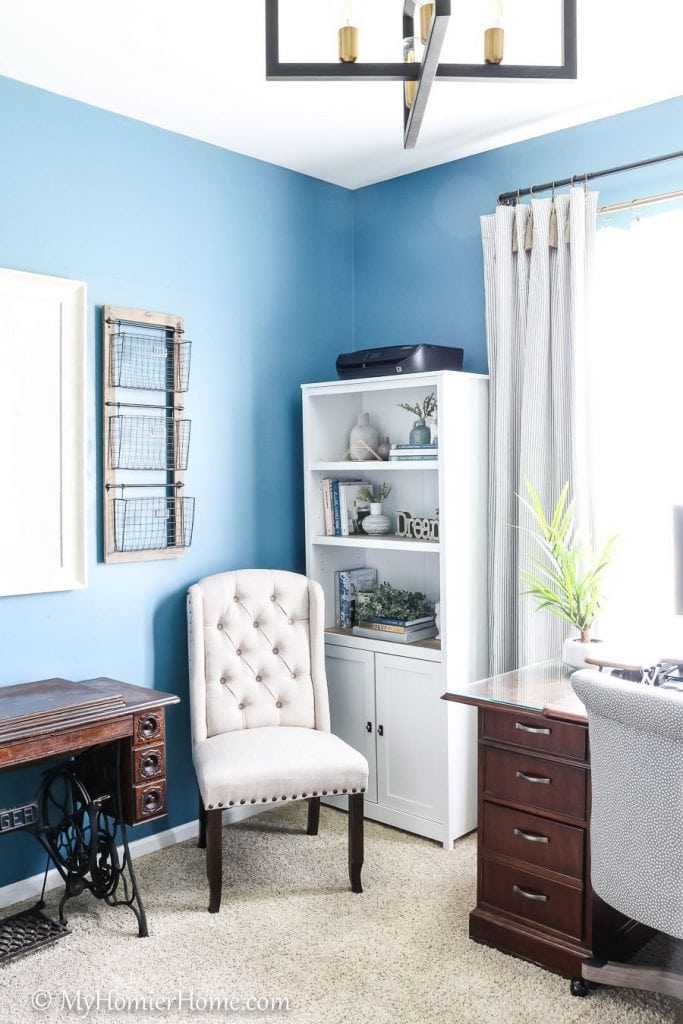 This chair from At Home has a soft pink hue to it depending on the lighting, which I absolutely love.
I was hoping for it to be a bit more pink as it was in the store, but it seems to be a chameleon… in all the right ways.
I needed an additional chair in there to be able to have people get comfortable when they come to see a design or just to talk.
It's nice to have the printer out of eye shot, too.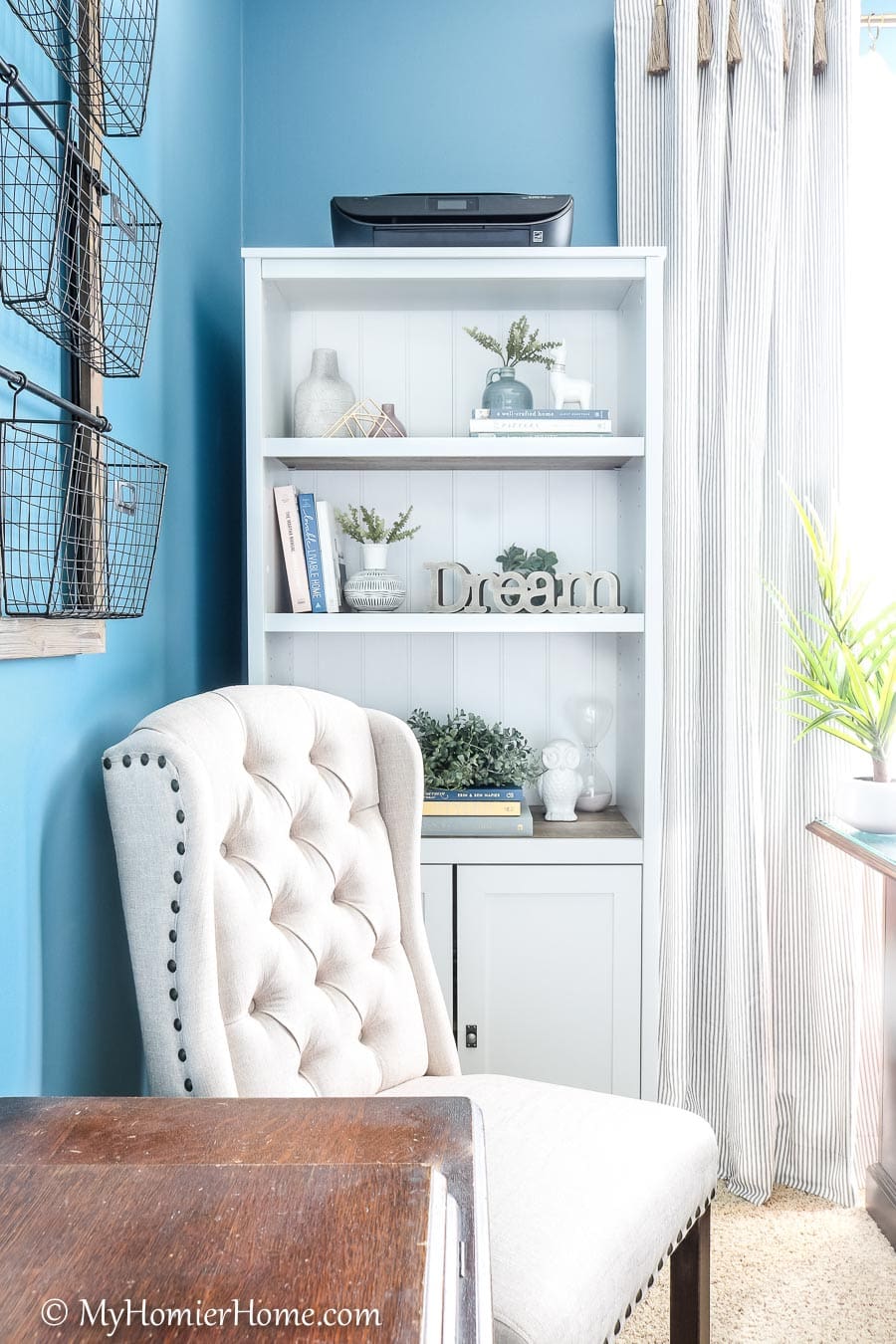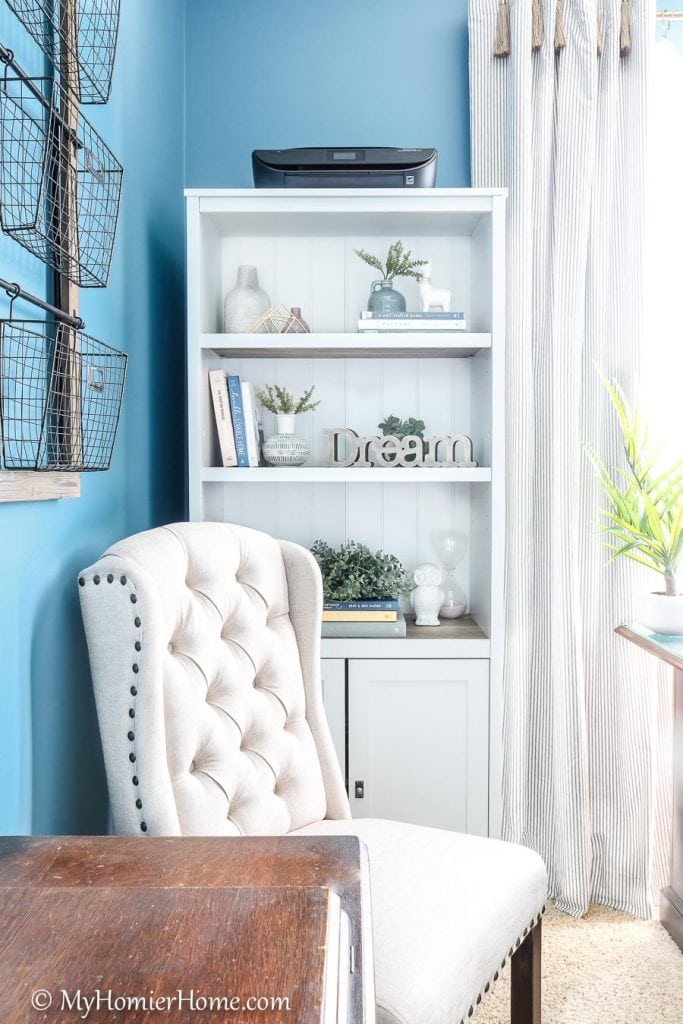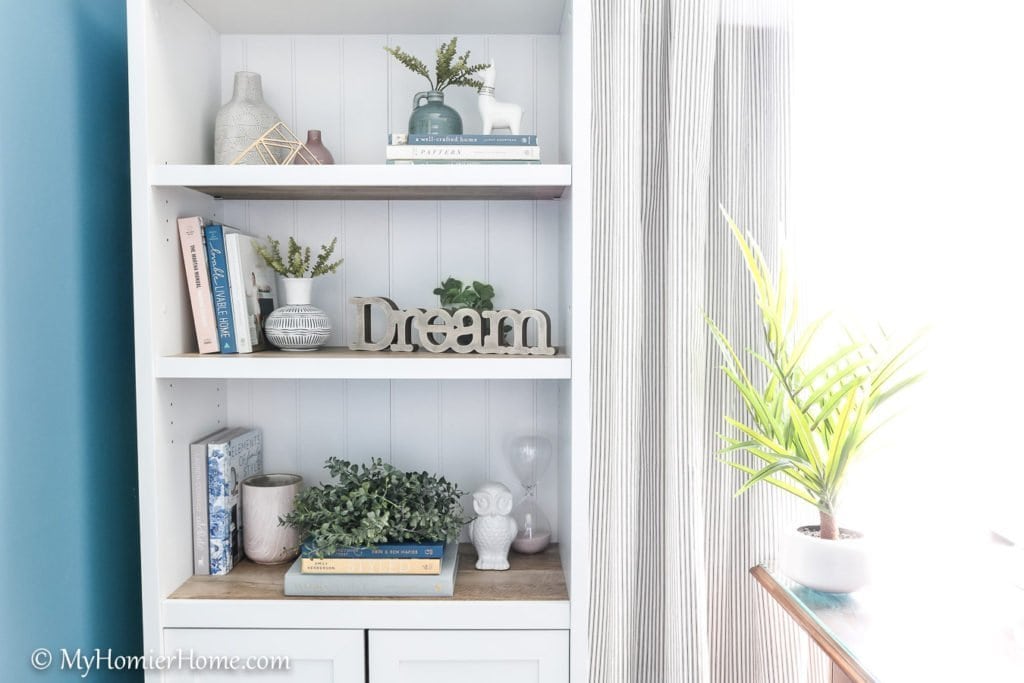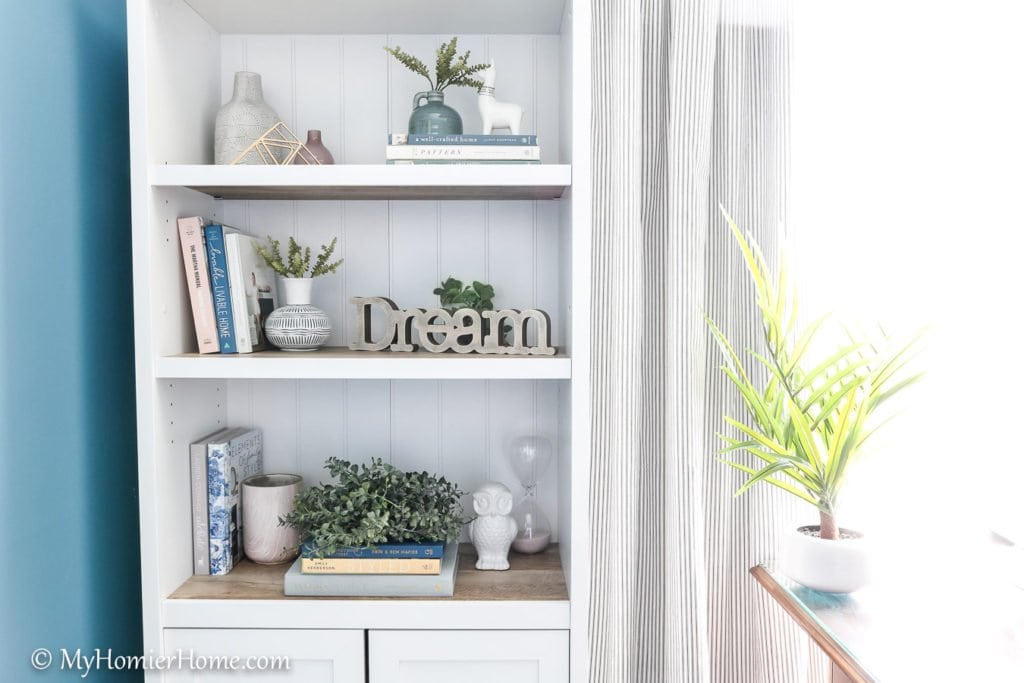 The book shelf was a great addition to display some of my favorite decor books and other cute accessories.
It was hard to take the photos into the window, but I feel like this picture does the bookshelf justice!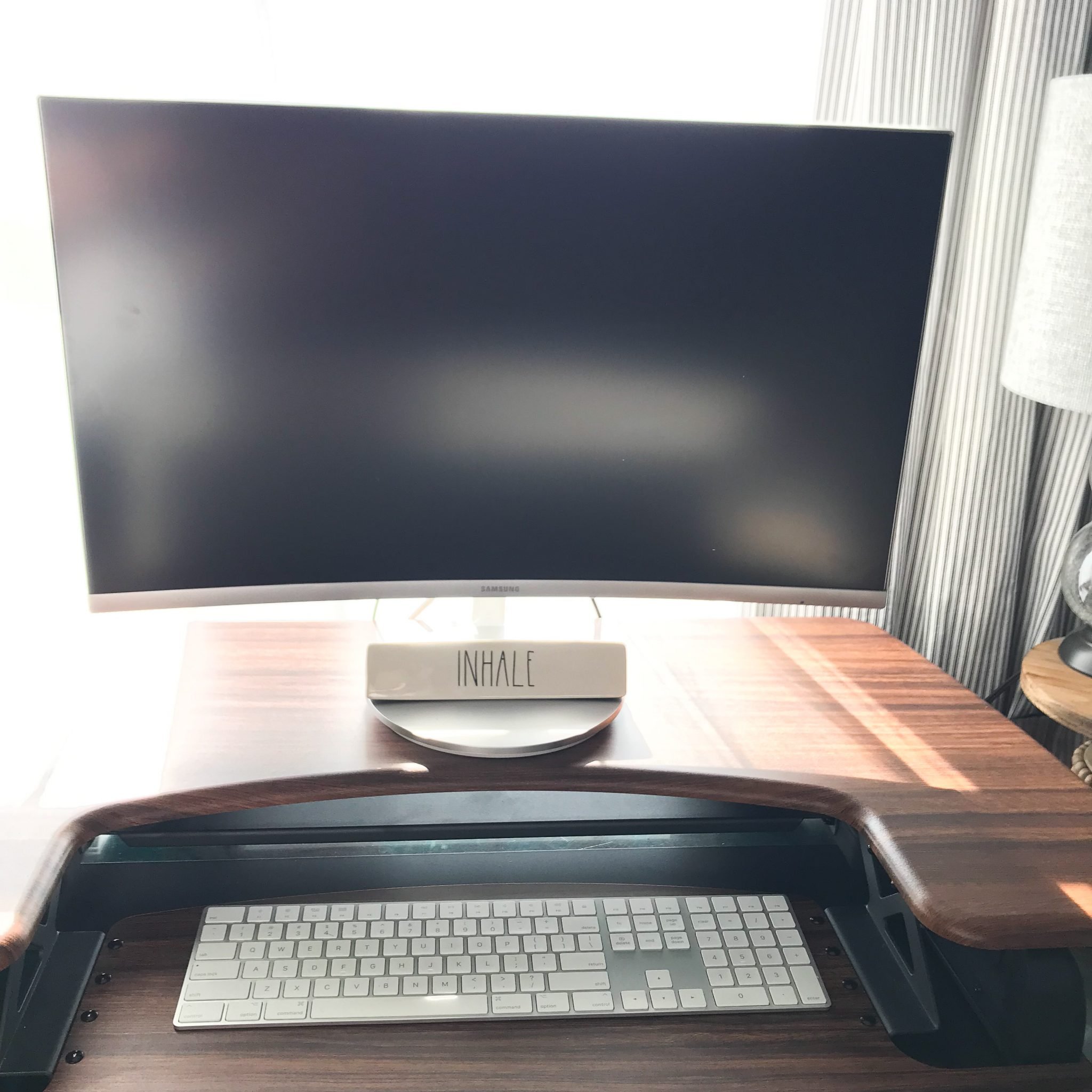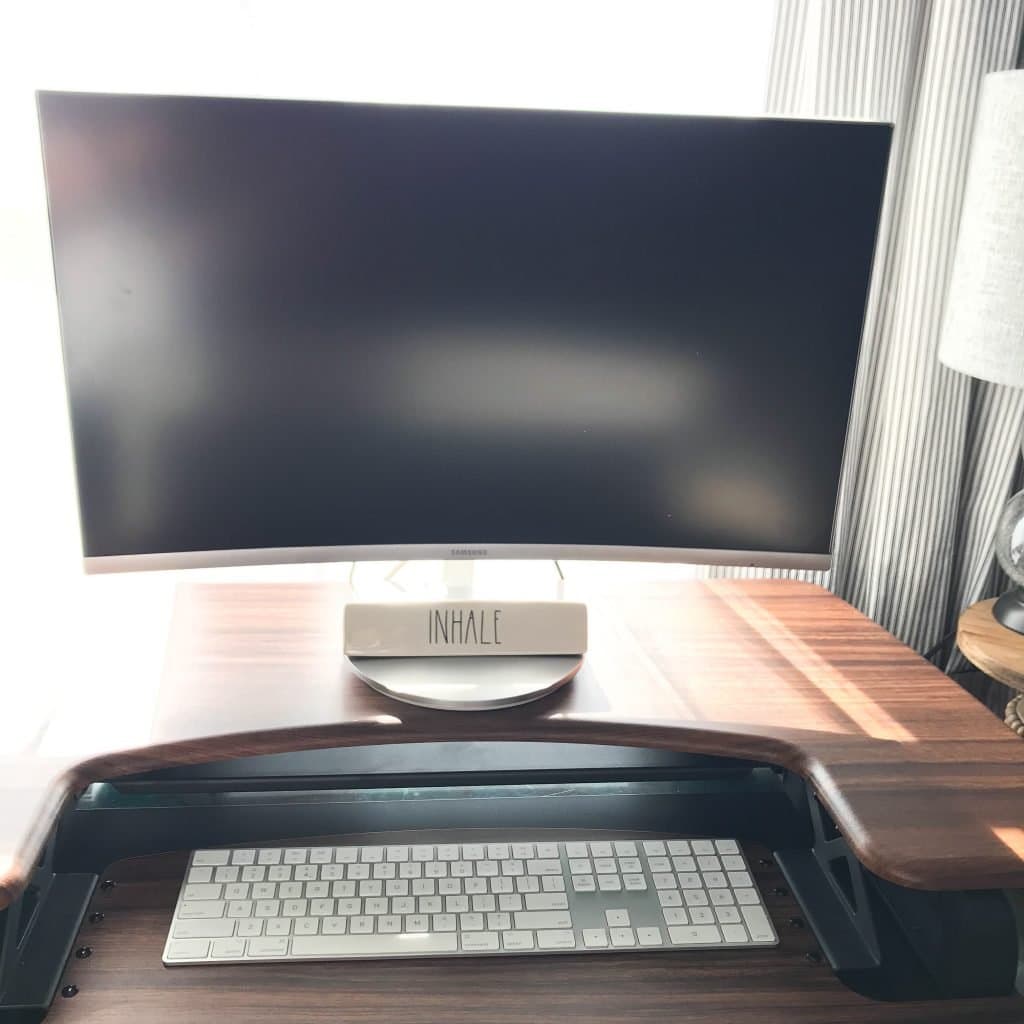 One of my favorite, yet tiniest, addition to this room is the Rae Dunn sign I found at Home Goods.
One side says "inhale" and the other "exhale."
Depending on how I'm feeling that day, I've been turning it to suit which reminder I need.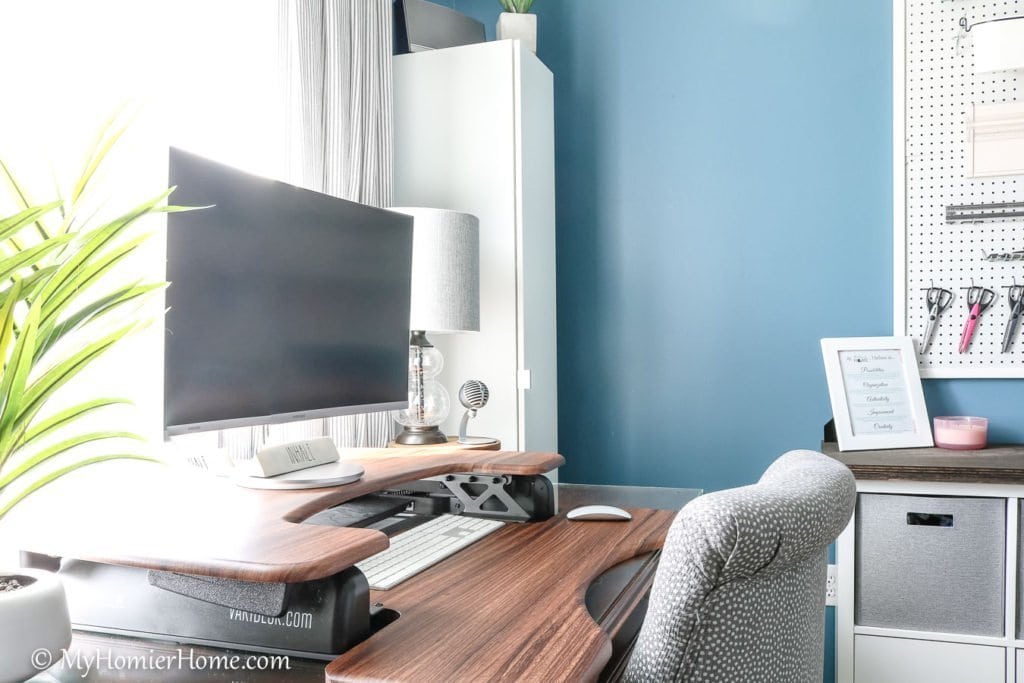 On top of the painting/photography locker/cabinet, I have my Bose speaker as well as an Echo Dot, so I can just talk to Alexa to turn on music or sync my phone.
Gotta have tunes, right?

Shop the room

Disclaimer: This post does include affiliate links for your convenience. This is at NO additional cost to you but earns me a small commission. To read more, check out our disclosure policy.

(click on any of the images to shop the products)
Items not shown above:
So, what do you think?!?
Feel free to leave a comment below and let me know your favorite part!!
I'm in heaven! Also, most of the room sources are below for your convenience.
Some of the items from Home Goods were not able to be linked, but I tried to pick a close match if I could.
Ahh!!! I can't wait to hear what you think! Talk soon!