Home Office Meets Craft Room: The Plan & Before Photos
Looking for home office craft room inspiration? Check out my plans for my home office makeover along with before photos!
Oh my gosh! It's One Room Challenge time!!
The Spring 2019 One Room Challenge starts today!
This is my favorite time of the Fall & Spring seasons!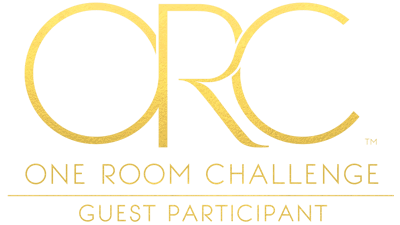 If you haven't heard of the One Room Challenge, it is a 6 week challenge where featured designers and bloggers alike join together to cheer each other on in finishing their one room.
It's always exciting, but at the same time a little nerve racking.
This is only my second time participating, but I will say the time crunch makes you really zero in on your plan and make it a reality.
I cannot wait to show you the beast of a room I'm attacking…. Ekkk!!!
Before I show you the phases of this room, I want to remind you of an episode of Friends.
Remember the one where Chandler tries to break into Monica's locked closet?
When he gets in, it's junk floor to ceiling… Well, this is my Monica's closet.
I have very few places like this particular space in my home, but man oh man, this one's a doozy.
So, in the spirit of vulnerability, I want to bare all secrets…. dun dun dunnnnnnnnn!
Before Part 1: The First Try
This was the second room I tackled in our home when we first moved in (the first was our laundry room).
Back in our first house, I stored all my craft supplies in a closet in our "home office." It was such a small room that I could never find the space to actually do any of my projects.
Therefore, I would constantly bring all my stuff out to the dining room in order to spread out. 
As my fellow crafters know, a good project never gets finished in a day.
After a week or so of all my stuff sprawled out, my husband would get tired of the mess and I would put it all back in its rightful spot, project done or not.
When we moved into our new house, there was a dedicated room the previous owners had used for their home office.
It had an adjoining closet outside of the room and made a perfect space to set up my crafting shop.
Many of the items shown in the before picture below where directly transferred from our first house to this one.
My home office/craft room started as pretty hodge-podge, but it worked for a little while.
I had a dedicated craft table, a place to display my crafting tools, and a separate desk to do any computer work. I was so proud of myself!
Of course, rooms need to be lived in… Here's what it looked like when I first finished it way back in 2015.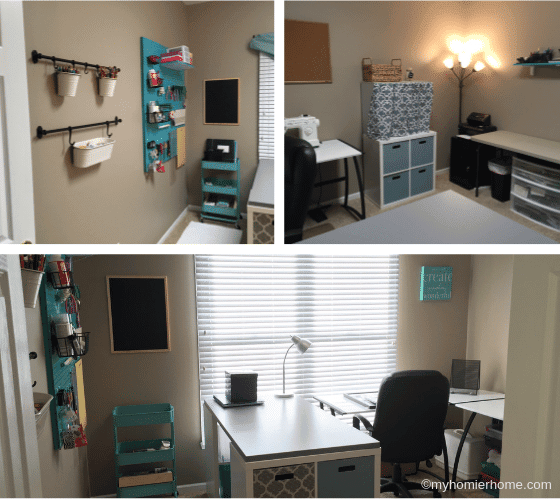 Before Part 2: The Lived in Version
Learning from failure is a common theme at the school I teach, which I believe is a great way to improve yourself in all facets.
Simply put, my first craft room attempt did not stand the test of time… super failure.  
As my life and blog started to grow, the simple home office/craft room did not seem to cut it. Below are some pictures of the same set up as above, but actually lived in. #nojudgement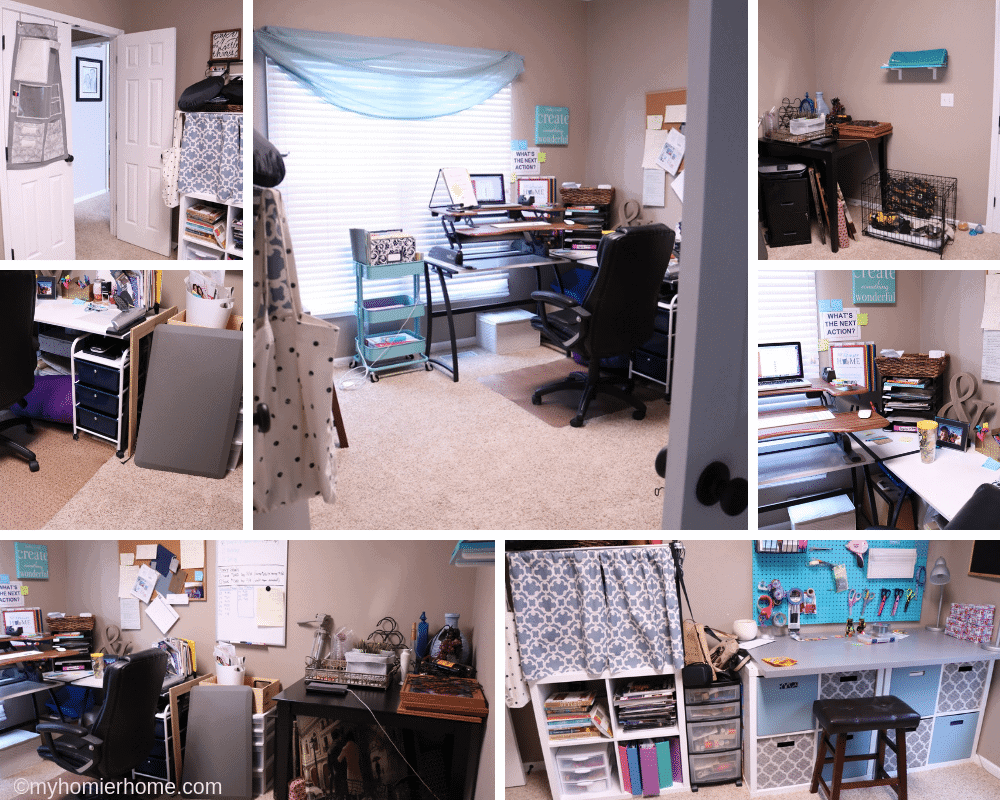 Please note, I'm feeling a bit vulnerable sharing these photos with you, but I think it makes it abundantly clear that this room needs to be dealt with. I know it can be soooooo much better.
A while back, I decided on a weekend to declutter the whole room you saw above.
It was a Saturday morning and it was time to clear it out to see what I had.
The goal was to put everything in to similar piles and then get rid of what I didn't need.
Then, I would figure out what kind of organization I needed to make this room function properly.
Easier said than done… Who knew this small room housed so much stuff!!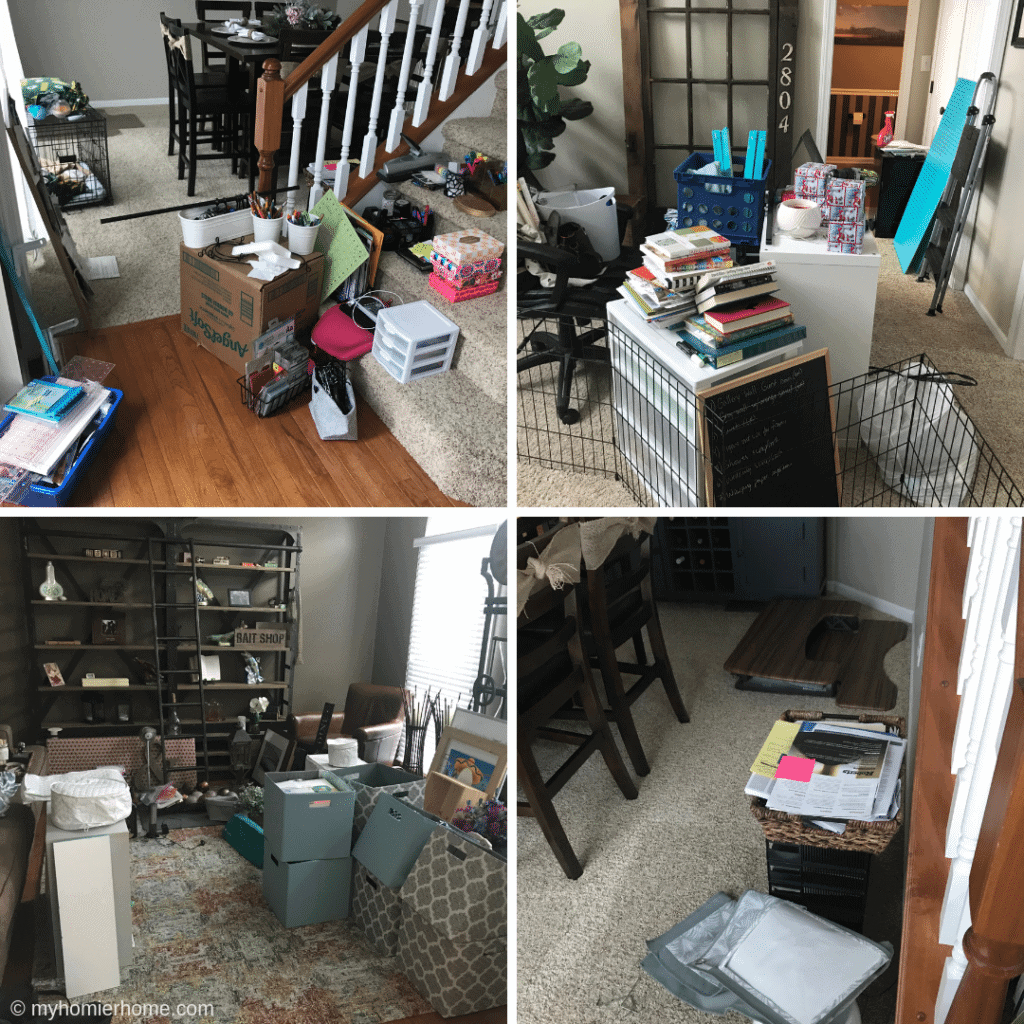 When I had taken everything out, I felt defeated because it was already late in the day and I had no more energy.
Not only had I just made a mess in four other rooms of my home, but I had no idea where to even begin.
I had random decor, loose craft tools, papers upon papers, and lot's of weird junk I collected over the years.
I'm pretty sure their were tears involved, but nonetheless, I attempted to declutter.
I think I got rid of about three garbage bags full of stuff.
Once I felt there was nothing more to throw away or put somewhere else, I started putting things back in and ended up putting it wherever it made sense to get me through until I was ready again. 
It definitely decluttered a lot of the items, but it was obvious it wasn't going to function properly… and it was still hideous!
Even though I ended up with the pictures below, I feel like I've learned so much in the process that I'm certain this round will be that much better.
I'm not sure you can tell from the above pictures, but we decided to get rid of the original desk because I knew I wanted to get a new one.
This was definitely a mistake because I left myself without a desk.
I didn't have money to buy one, but I needed one… Enter the folding table with a table cover… Good times.
My Plan to Create Beauty & Function​
Up until a few weeks ago, I had no idea which room I was going to attempt for the One Room Challenge.
Then, I got lucky!
I found an executive desk on our neighborhood Facebook marketplace for $150!!
This desk was the perfect size, color, and price!
I've been dreaming of all the ways to make this room better and now I'm excited to present to you my long awaited Home Office Meets Craft Room Makeover Plan!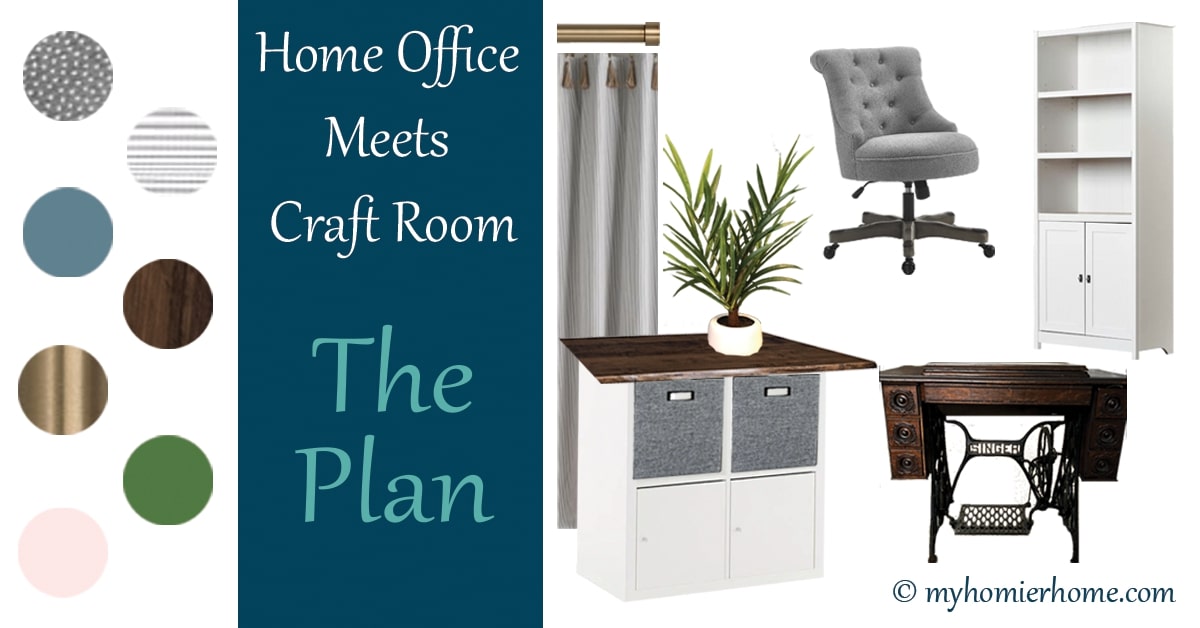 Vision for the room
I want this room to be an organized workspace that I feel like I can buckle down and get work done.
I want it to be motivating to let my creative juices flow.
I don't want to look at it and see mess or distractions from actually completing my creative work.
I want it to feel productive, quiet, creative, and organized.
Color Scheme
White
Light Gray
Blue
Dark Wood
Greenery
Touch of Pink
Touch of Soft Gold
Room Floor Plan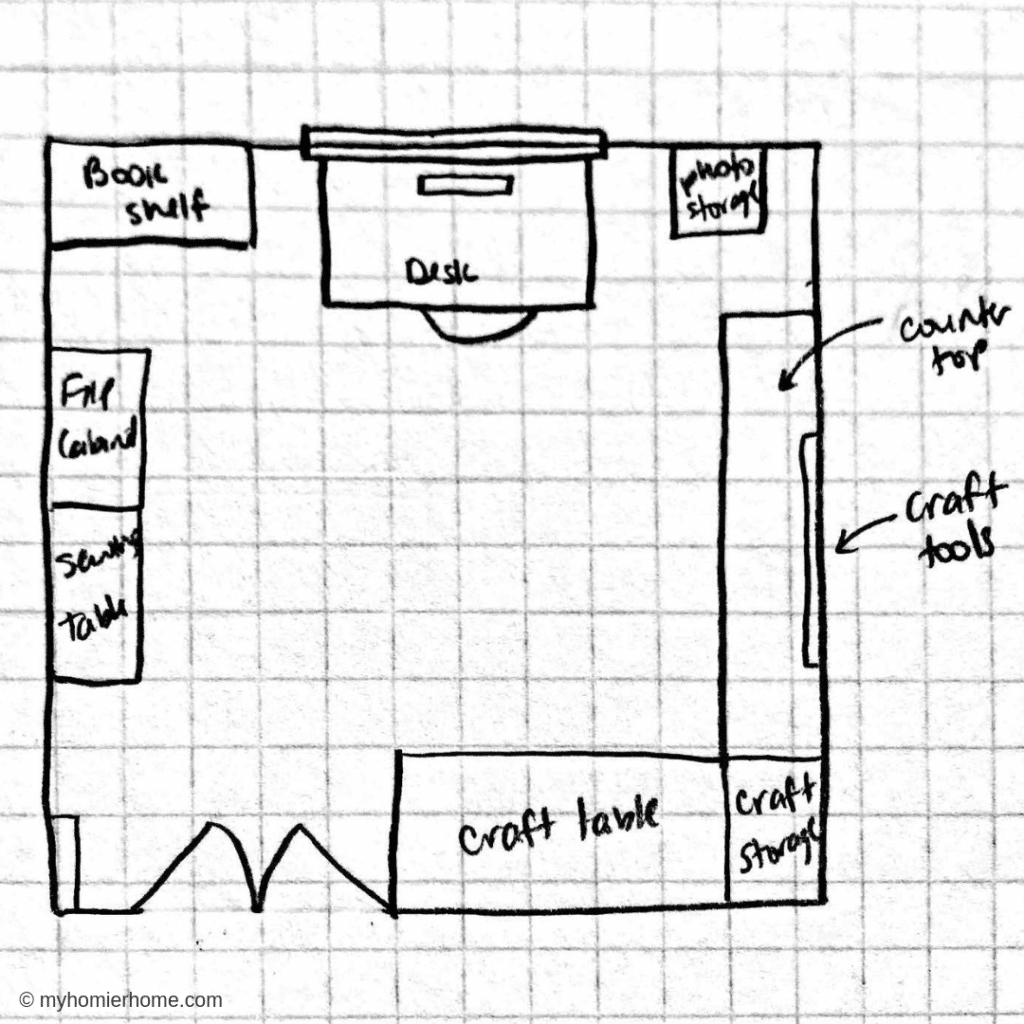 ​Functionality Needed
​

Dedicated space for crafting
Craft tool organization
Hidden miscellaneous storage
Paint supply storage
Photography equipment storage
Binder storage
Book storage
Tools storage
Prettier filing cabinet

​
Sewing table
Sewing storage
Wrapping paper and ribbon storage
Inbox for incoming mail and to-do's
Vision board area
White board area for notes
Place for Chris's lure making kits
Place for the printer, out of the way
To-Do List
Choose Paint
Buy Paint
Clear the room
Paint the room
Research & Purchase IKEA items

Bookshelf with cabinet doors to fit the depth of a binder
Filing cabinet
Photography equipment storage
Legs for craft table
Sewing storage
Countertop to go over my IKEA Kallax shelves
White cabinet doors for IKEA Kallax shelves

Build the IKEA furniture
Buy new canvas drawer cubes for IKEA Kallax shelves
Buy new drapes
Take down blinds
Hang drapes and sheers
Clean up antique sewing table
Buy a bigger garbage can
Research office lighting
Hang new office lighting
Research statement ceilings
Change the ceiling
Cover existing pin board with fabric
Find wall organization
Hang new white board
Organize desk drawers
Buy new desk chair
Buy new lamp
Find organizer for gift wrapping
Purchase accessories for desk and shelf
I'm sure this to-do list will begin to grow as I work through this room, but this is my starting point.
For the next 5 weeks be sure to follow along on my progress on instagram, but more importantly, go check out all the other great plans from my fellow challengers of the One Room Challenge.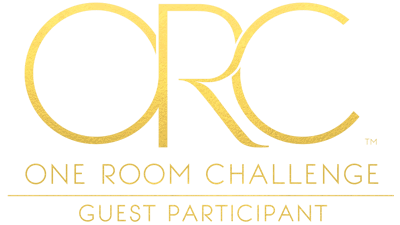 Everyone always has such wonderful ideas and the inspiration is endless.
Have you ever completed a room in 6-weeks or done a home office/craft room makeover? If you have any tips, I would love to hear them! Leave a comment below!