5 Home Office Lighting Tips | How to Choose
With only a week left in the one room challenge, I'm sharing my office lighting tips! Be sure to save this for when you need a new light fixture!
Welcome back to the One Room Challenge Home Office Meets Craft Room Makeover.
It's week 5, the home stretch! If only I could stop coming up with ideas!!
The more I'm in this project, the more fun stuff I want to add in.
I think I finally settled on a client chair (it's this one in a light pink) as well as what to do with my idea for a statement ceiling!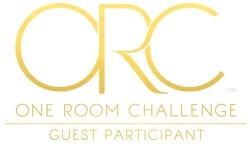 But, before I share any more, stop right now and mark your calendars!
May 9th is when all the guest participants will have their final reveals ready to show you!
If you haven't checked out their current progress, don't forget to do that too!
There is soooo much inspiration ready and waiting for you in one spot!
Below, you will also find links to my weekly updates if you are new to my ORC Makeover!
When starting this project, I knew that changing out the old fluorescent light was going to be monumental in making this room look and feel more professional and inviting.
Look at that lighting before picture below… EWWWW!!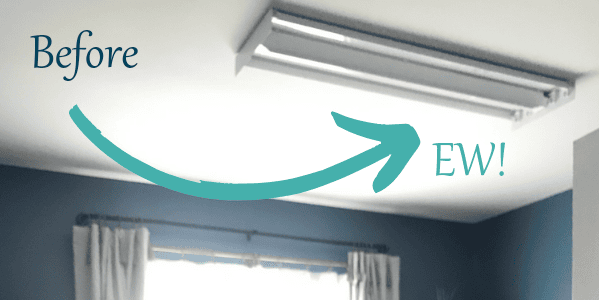 (I kept it blurry, so you can't see the full room effect just yet!
Before deciding which light I wanted to swap this nasty looking thing out for, I needed to narrow down my choices.
Below are the tips I used to help narrow down that search and find the perfect light fixture!
Unfortunately, there is also some fun statement ceiling things in progress, so I can't share with you the picture of the new lighting just yet, but next week is the big reveal! On to the tips…
Disclaimer: This post does include affiliate links for your convenience. This is at NO additional cost to you but earns me a small commission. To read more, check out our disclosure policy. As an Amazon associate, I earn from qualifying purchases.
Tip 1: Decide on the size range needed
Because this light fixture was going to be in the middle of the room, I wanted to make sure that it didn't hang too low, but also that it didn't overwhelm the space.
The best tip I found for determining the diameter of your fixture is to take the length and width of your room, in feet, and add them together.
Then, the amount is the size you need in inches.
For instance, my room is approximately 12′ x 12′, so I was looking for a chandelier around 24″.
As for the hanging length, I wanted to make sure a 6′ tall person, at minimum, could walk under the light.
I have 9′ foot ceilings in this room, so I knew I didn't want anything longer than about 2 feet to be safe.
I also wanted to keep the room feeling bigger, so I tried to focus in on more airy feeling fixtures.
Tip 2: Determine the finish you want
In my search of the size range, there were still too many options.
Deciding on a finish definitely helped me narrow my focus.
Since I chose oil-rubbed bronze finish for one of the curtain rods and soft gold for the other, I wanted to tie both of those finishes into the chandelier.
Determining the finish made a huge difference in gaining some clarity on my decision.
Tip 3: Narrow down your selection by price
This is probably an obvious one, but my eyes go big as the price tag gets bigger.
Therefore, I do not want to even look at anything above my budget.
My goal is always to narrow down the choices as best as I can.
If you get curious and want to check out a bit above your price range, do so after you think you found "the one."
That way, you can compare how different your choice and the more expensive choice actually is.
Tip 4: Narrow down your selection by number of bulbs
This may seem like a strange tip, but when determining the fixture for this home office/craft room I'm working on, I wanted to make sure I had enough light.
Going from a giant fluorescent light with four bright bulbs to something with, let's say, only one bulb didn't really fit for me.
I was able to narrow my search even further by looking at fixtures that had at least three bulbs.
Tip 5: When buying online, read the reviews
The fixture I purchased for this room was from a website without a brick and mortar operation.
Therefore, I really had to trust my gut on my choice, considering I couldn't see it in person first.
The thing that helped ease my mind was reading all the reviews associated with the fixture.
Many people seemed to get into good detail on how they used it and what kind of light it gave off, etc.
Taking a few minutes to read through the reviews was definitely worth it.
Alright, without giving too much away, you can check out the office lighting I chose here.
I absolutely love it!!
I'm so giddy I can't wait to show you how it looks with the full room next week!
Before I can show you the big reveal though, check out what I have left to accomplish below and don't forget to check out the other ORC guest participants' projects, too!
Wish me luck!
MY TO-DO LIST
Choose Paint
Buy Paint
Clear the room
Paint the room
Research & Purchase IKEA items
Bookshelf with cabinet doors to fit the depth of a binder
Filing cabinet
Photography equipment storage
Legs for craft table
Sewing storage
Countertop to go over my IKEA Kallax shelves – *DIY'd*
White cabinet doors for IKEA Kallax shelves
Build the IKEA furniture
Buy new canvas drawer cubes for IKEA Kallax shelves
Buy new drapes
Take down blinds
Hang drapes and sheers
Clean up antique sewing table
Buy a bigger garbage can
Research office lighting
Hang new office lighting – absolute must
Research statement ceilings (not sure if i'll have time for this)
Change the ceiling (I am going for it! Hopefully it works as planned)
Cover existing pin board with fabric
Hang pin board
Find wall organization
Hang wall organization
Hang new white board
Organize desk drawers
Buy new desk chair
Buy new lamp(s)
Find organizer for gift wrapping
Purchase accessories for desk and shelf
Hang shelf above craft table (the shelf I thought didn't work, so I have to find another one too)
Find different fabric to cover miscellaneous crafting supplies (I found fabric, but now I don't know if I like it lol… may need to go look again)
Possibly hang curtain rod and lightweight curtains to cover craft tool organization (I think I may end up skipping this)