The Ultimate Guide to Throw Pillow Sizes & Arrangements for the Couch
Want to arrange throw pillows like a pro for the couches in your living room? Today I'll teach you the exact formula I use to pick throw pillow sizes and arrange them for a perfectly styled look. This is the ultimate guide you've been looking for.
Today we're talking all about pillow sizes and arrangements. I have had this post on the docket for a while now and I'm so excited to be finally sharing this with you.
Throw pillows are one of those things that can totally transform a room or cause it to fall flat. What I'll show you today are the tried-and-true formulas that have worked for me and will help you keep it simple.
This truly is the ultimate guide for all things couch pillows. Let's get started!
Disclaimer: This post does include affiliate links for your convenience. This is at NO additional cost to you but earns me a small commission. To read more, check out our disclosure policy. As an Amazon associate, I earn from qualifying purchases.
Throw Pillow Sizes to Use on your Couch
Depending on the size of your couch, this will only vary slightly. The thing to keep in mind is always start with the bigger pillow size in the back and work your way smaller as you move to the front.
I love deeper couches, so I always go bigger with the back pillows, such as a 24″ or even a 26″ sometimes if I really want a pillow-filled arrangement, but the most common larger size is 24″.
If your couch is not as deep, I would suggest making your largest pillow a 22″.
When I say depth of the couch, I mean if when you're sitting on it with your feet touching the ground, how far is your back from the back of the couch? This is my non-technical way to decide how many layers of pillows I want.
The goal is to look pretty yes, but also be functional.
If you ask my husband, he'll tell you we have way too many pillows on the couch. But truthfully, I use them all! Every layer. So, it really just is personal preference.
The bigger the back pillow and the more layers you add, the more you'll have to move them out of the way to cozy up or the more cozied in you'll be. You can decide this for you, but I'll point out my favorites below.
Throw Pillow Sizes & Arrangements Option 1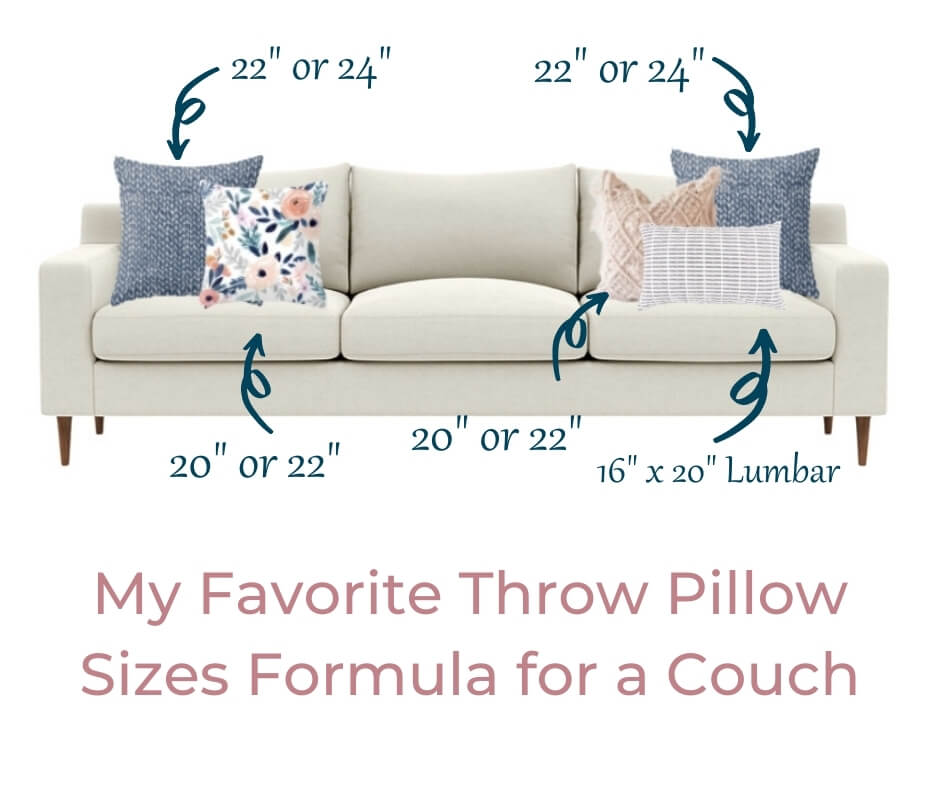 The first formula you see above is what I use on my standard-sized couch that has a deeper seat depth.
I really like this setup because it gives you options.
For someone like me, I gravitate towards the three pillow area to squish all in and get cozy. My husband, however, prefers the two pillow side.
Therefore, this arrangement is ideal if we're both sitting on this one couch.
When choosing the throw pillow sizes, I like to keep my increments every 2 inches (i.e. 24″, then 22″, then 20″ etc.).
Again, if your couch is shallower, I would start with a 22″ or even a 20″ if you think it'll get crowded fast.
Throw Pillow Sizes & Arrangements Option 2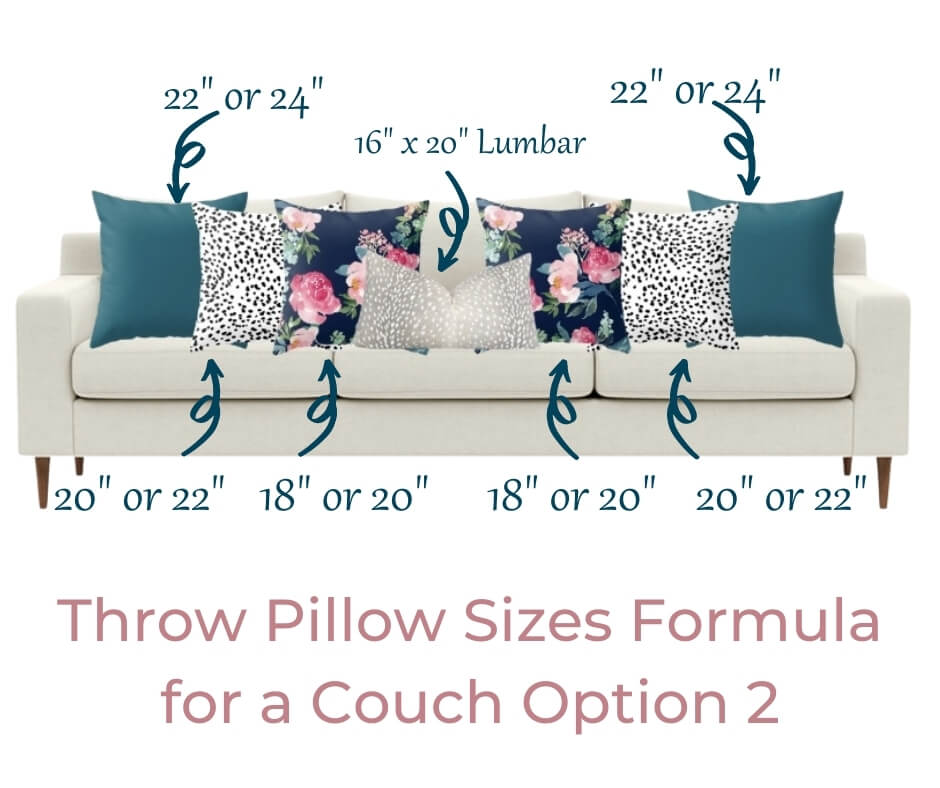 This option is all about beauty. My pillow sizing in this photo doesn't necessarily depict the larger to smaller pillows from back to front, but the measurements I wrote will help you more so.
I like this formula because it's perfect for that couch in your frunch room (i.e. front room) that you only use every so often.
I'm a pillow-a-holic, so I say have this combo ready and waiting for your next party, but use option 1 with the same pillows to create your every day look.
Never too many throw pillows in my opinion.
Throw Pillow Sizes & Arrangements Option 3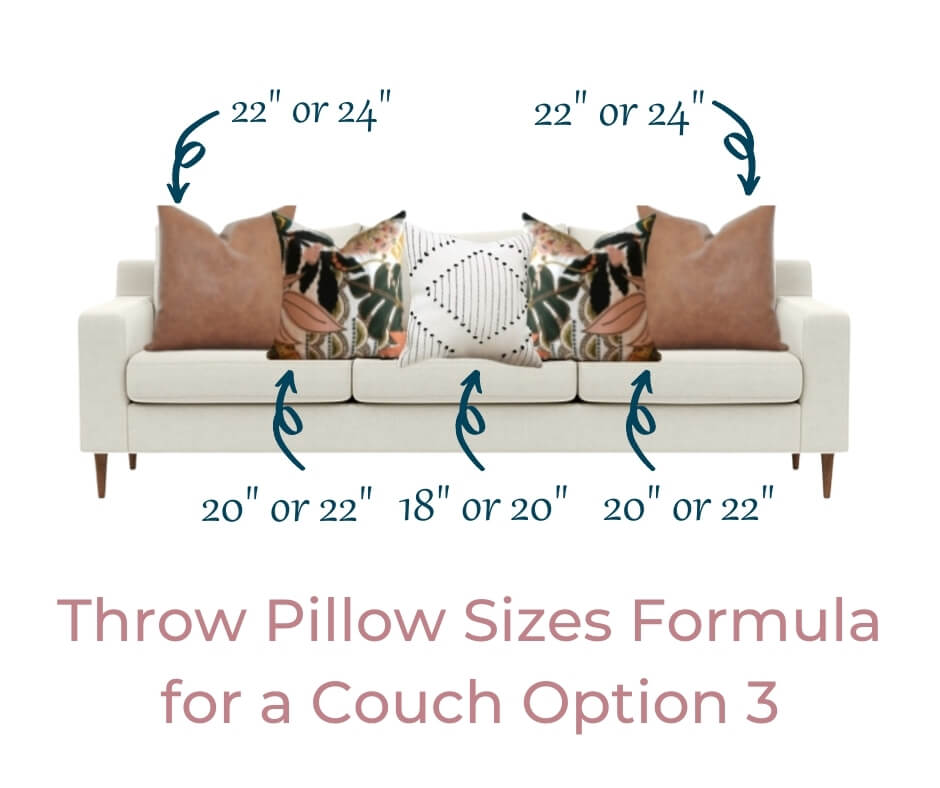 This is another really good pillow sizing formula because you could easily go from this to option 1 and back depending on how you want to use this couch.
Like I said earlier, determine your starting pillow size based on how deep your couch is, but never make the back pillow smaller than 20″.
I would say 20″ is the smallest I would go for the back layer.

Throw Pillow Sizes to Use on your Loveseat
You can do a google search for throw pillow sizes and arrangements for loveseats and not have much luck, so I decided it was important to add this into our couch throw pillow discussion.
Here are some options I would recommend for the ole' two-seater couch.
Throw Pillow Sizes & Arrangements Option 1
With the right patterns, this one is one of my favorites because it's simple, functional, and easily adapted to any sitting/decor situation.
On my loveseat in my living room (shown in the "where to buy throw pillows" section of this post), I utilize this formula with 24″ pillows in the back and two- 20″ pillows for the front two in different patterns/textures.
Throw Pillow Sizes & Arrangements Option 2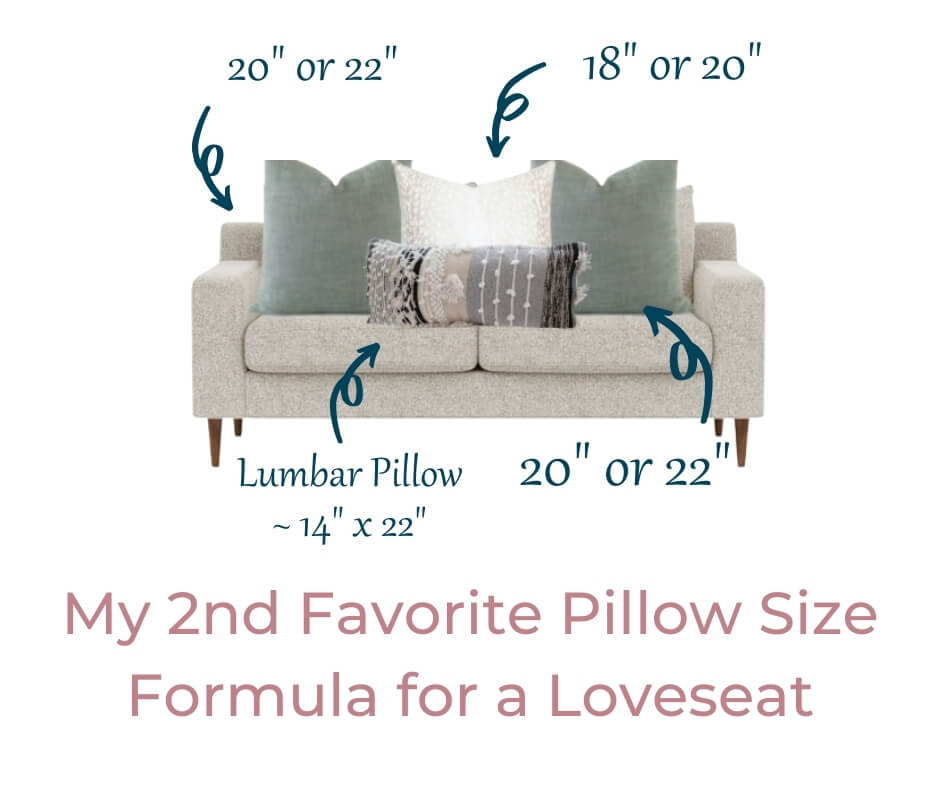 My second favorite formula is this one.
There's something about symmetry that always makes me feel happy, even though I like to break the mold sometimes.
I think one of the most underutilized pillows is the lumbar pillow. The lumbar pillow does a great job of breaking up the square monotony to give you some visual interest.
Common lumbar pillow sizes are 16″ x 20″, 14″ x 22″. and 12″ x 20″ for the couch. They also will sell 16″ x 24″ and 12″ x 16″ if you need something a little bigger or smaller.
Throw Pillow Sizes & Arrangements Option 3
This option is a relaxed, not-so-pillowy, pillow option. This formula will give you a little jazz, but not be overly cumbersome.
I would suggest this formula if you don't want to be moving pillows all the time, but still want to keep it cute.
Throw Pillow Sizes & Arrangements Option 4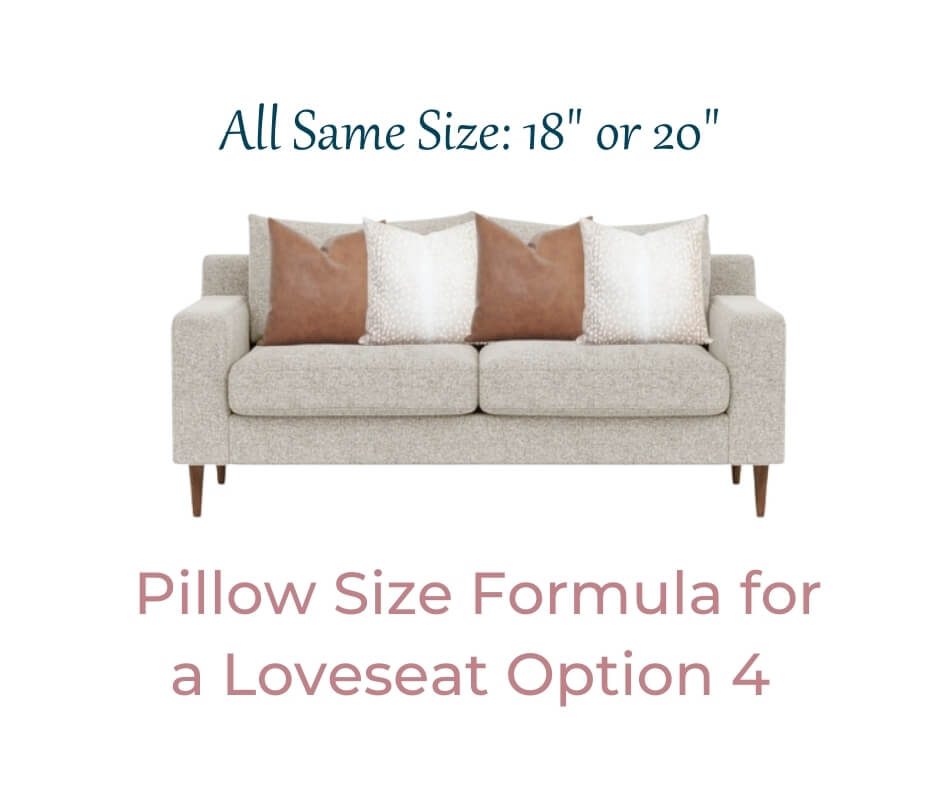 This is another simple formula that gives you the looks without too much added jazz.
If you have a hard time finding pillows you love, one, I shared my favorite Amazon throw pillows and my favorite decorative throw pillows on Etsy, but two, this formula will keep it super simple and easy because you'll just need two types.

Throw Pillow Sizes to Use on your Sectional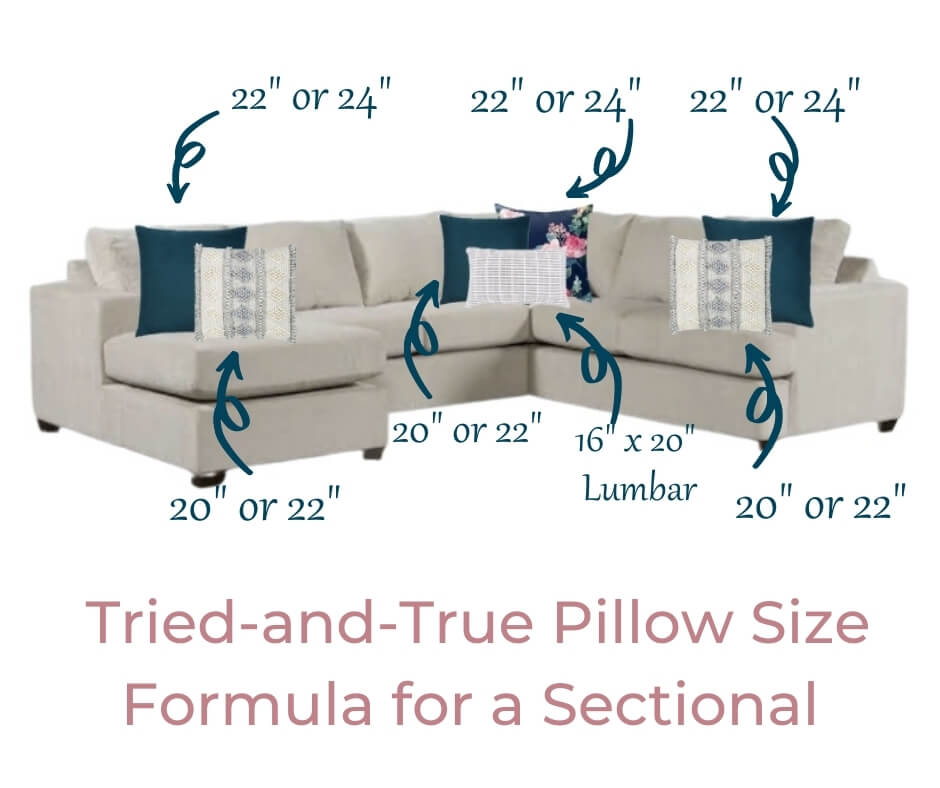 Sectionals are always tricky, but this is a tried-and-true formula that I see in so many decor bloggers homes.
It's perfectly simple, but gives you exactly what you need to balance the amount and the style.
I'll talk more about the pillow pattern formulas in a later post, but this size grouping should work well if you have a sectional sofa.
Throw Pillow Insert Sizes & Types to Buy

(click on any of the images to shop the products)
If you're like me, you end up having tons of pillows that come with inserts.
However, I want to take a second to talk about inserts because not all inserts are created equal and if you can up your insert game, you can purchase pillow covers instead of having to swap out full pillows every season.
And just because a pillow comes with an insert, doesn't mean it's the best one for your comfy, cozy needs.
The four pillow inserts I have in the scroll above are down and some with faux down in case you have allergies.
The general rule of thumb, unless otherwise stated in the shop, is to buy one size bigger of a pillow for your insert. For instance, you would buy a 24″ insert for a 22″ pillow cover.
The only time I wouldn't do that is if you're purchasing from an Etsy shop and they say the cover is actually smaller than the pillow.
I've only seen this on a couple shops, but I would look for what they recommend if you see that listed in their pillow description.
If you don't see what I'm talking about, then assume their pillow covers are true to size and order up on the insert.
If you have more pillow insert sizing questions, drop them in the comments or hit me up on facebook or instagram and I'll get those answered for you asap!

Rules for How Many Throw Pillows
The rules for how many throw pillows is pretty simple:
Stick with odd numbers.
There are some exceptions that you can see in my examples above, but as a general rule, have at least 3 and at most 7 depending on the size and depth of your couch.
How to Fluff the Perfect Throw Pillow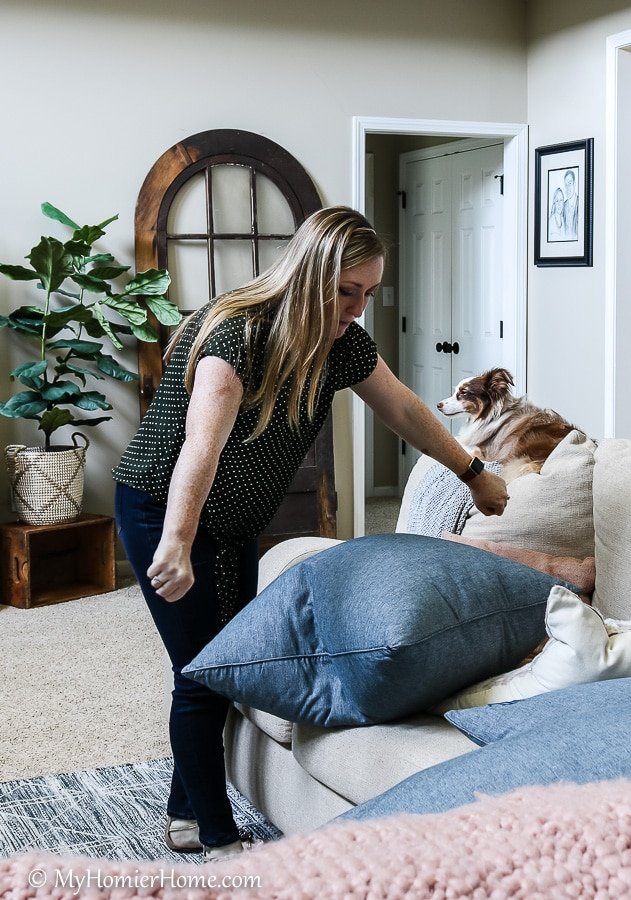 Did you know I have a pillow fluffing song?
Oh ya, baby!
I am by no means a singer, but I created a perfect pillow fluffing tutorial where I sing for you in my beautiful voice, as my mom used to call it lol.
You can check out the full video below and be sure to subscribe to my channel while you're there so you never miss another amazing DIY or decorating tutorial… I may just sing again, or not, depending on if you like it haha.
And just in case you are of a reader, you can check out my tutorial post on how to fluff the perfect pillow too.
Where to Buy Throw Pillows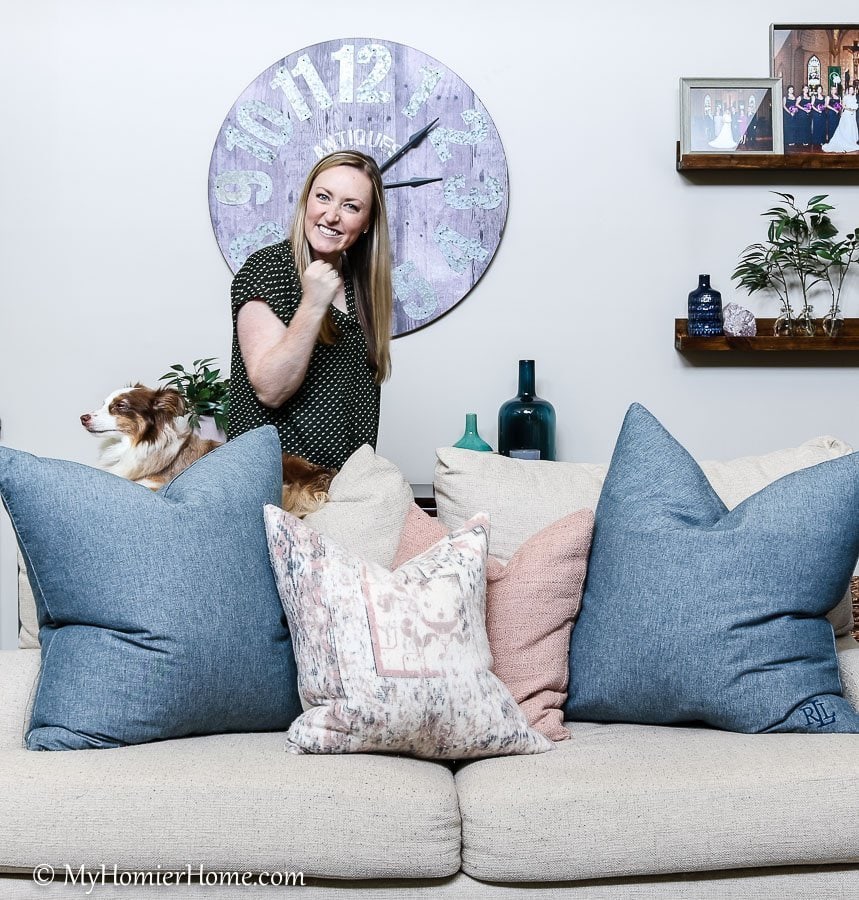 There are so many great places to buy throw pillows and I am planning two posts in the next week to share with you my favorite finds from Amazon and Etsy, but here is a list of places I love to purchase pillows from:

How to Mix Throw Pillow Patterns
Mixing throw pillow patterns is the other half of this throw pillow battle, so I dedicated an entire post to talking through how to mix and match throw pillow patterns and my formula for getting it right no matter your style.
Be sure to join the VIP list below so you'll get notified when more home decorating goodness arrives. Talk soon!