How to Fluff a Pillow Perfectly Every Time
Breathe some life into flat pillows with my favorite pillow fluffing technique! While you fluff the perfect pillow, you'll be singing this song all day!
I don't know about you, but I love me some pillows!
To me, the coziness I'm after is completely tied to my pillows and throw blankets that are readily available on my couch.
Now I'm all for comfort, but when my pillows start to look like death warmed over (as shown below), I know it's time to get to fluffing.
Table of contents
Disclaimer: This post does include affiliate links for your convenience. This is at NO additional cost to you but earns me a small commission. To read more, check out our disclosure policy. As an Amazon associate, I earn from qualifying purchases.
Before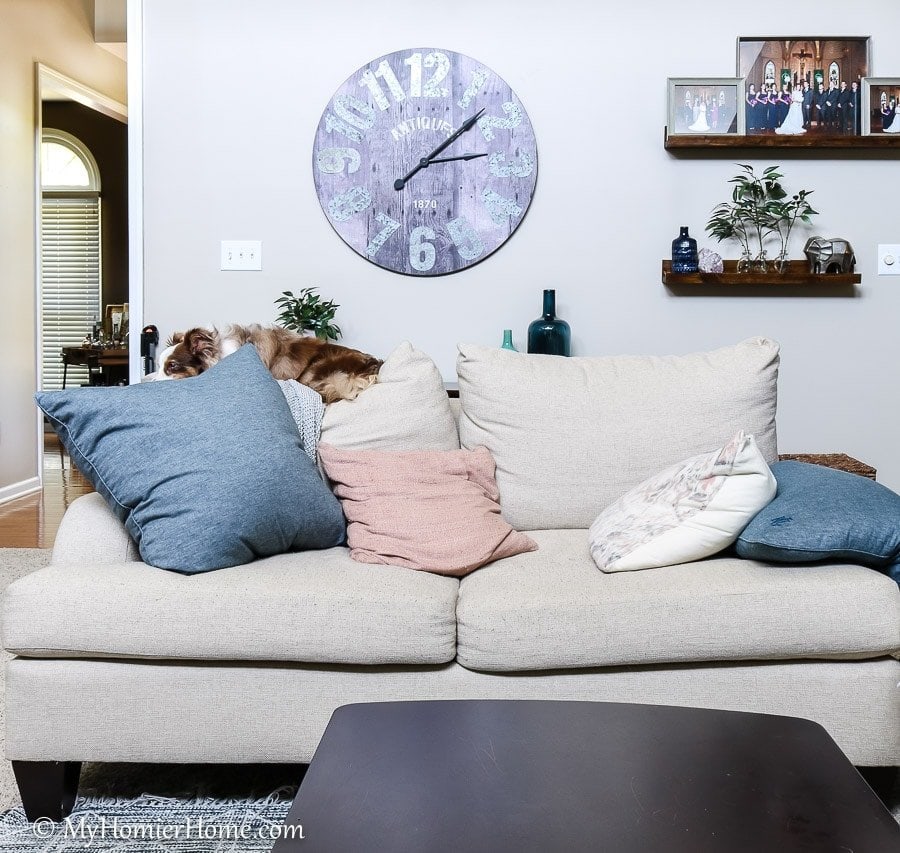 After completing my living room last year in the one room challenge, I played around with the best and quickest way to breath life into my pillows.
I'm finally ready to share it with you! I'm so excited because I made a song!!
Oh ya, oh ya!
Don't mind some of the blurry parts of the pictures, but I was really getting into this fluffing session. 
Are you ready??
You'll be singing this in your head all day…
And don't forget to check out the video I made of me actually giving my rendition of this jam at the end of this post… on to the song!
First you gotta…
DROP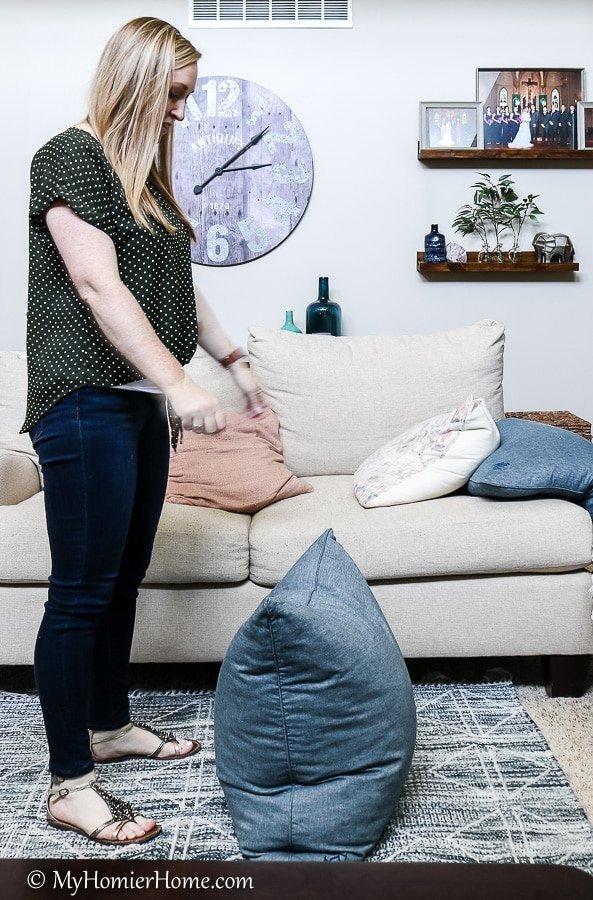 Dropping the pillow allows the air to get in and puff it out.
This works especially well on big pillows like the one shown above.
Next, you will…
HAMMER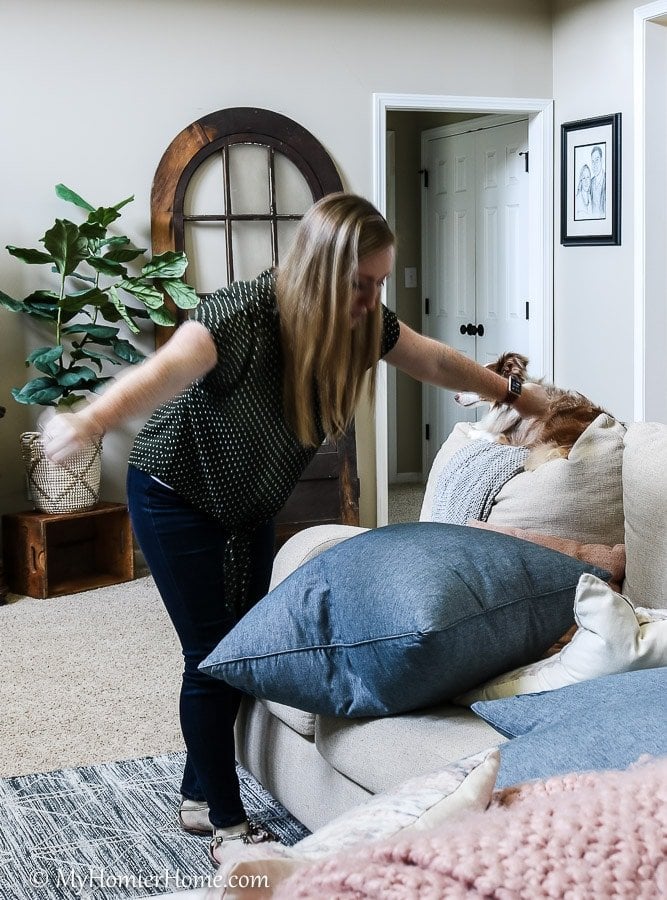 Hammering really yells a big WAKE UP to the little fuzz balls in the pillow we are trying to fluff… and it's therapeutic to wail on a pillow, ya na-what I mean?
After hammering one side, you will turn the pillow clockwise (or counterclockwise if you're a rebel) and… 
HAMMER AGAIN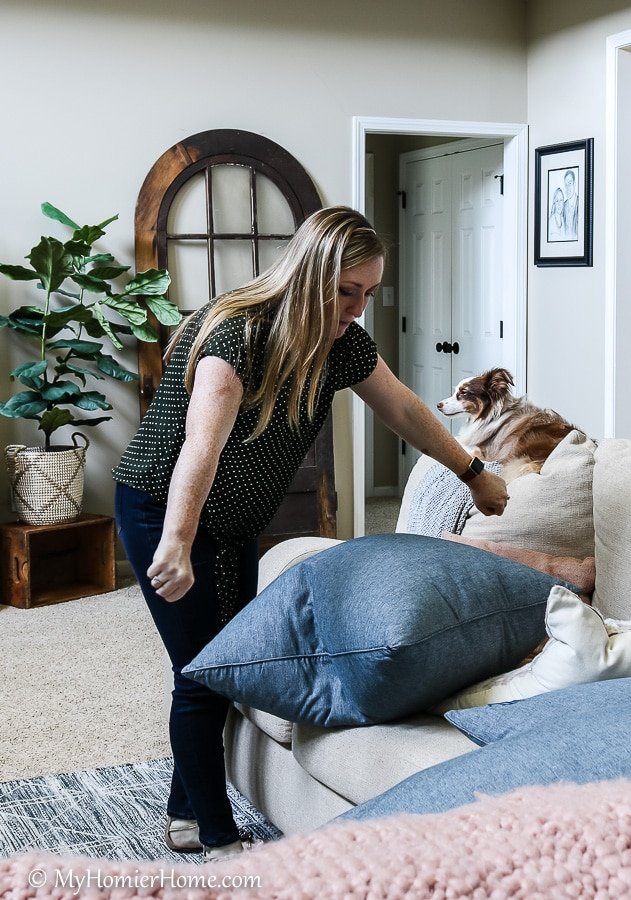 You can see how big the pillow is starting to get… get fluffed!
And lastly, to really top off your hard work, you will give it a big ole'…
CHOP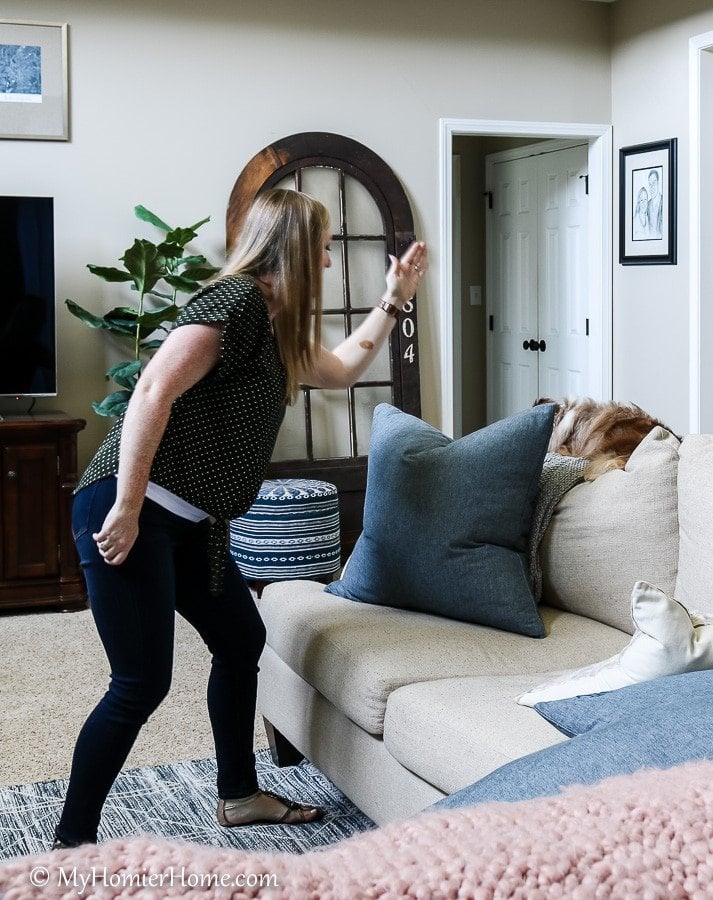 SING, FLUFF, REPEAT…
Sing it with me now…
Drop, Hammer Hammer Chop… Hey! Drop, Hammer Hammer Chop… Oh ya! Drop, Hammer Hammer Chop… You got it!
Keep singing and fluff the next pillow… 

Lambeau may not be into my singing, but these pillows are lookin' FIIIIINNNNNEEEEE!
After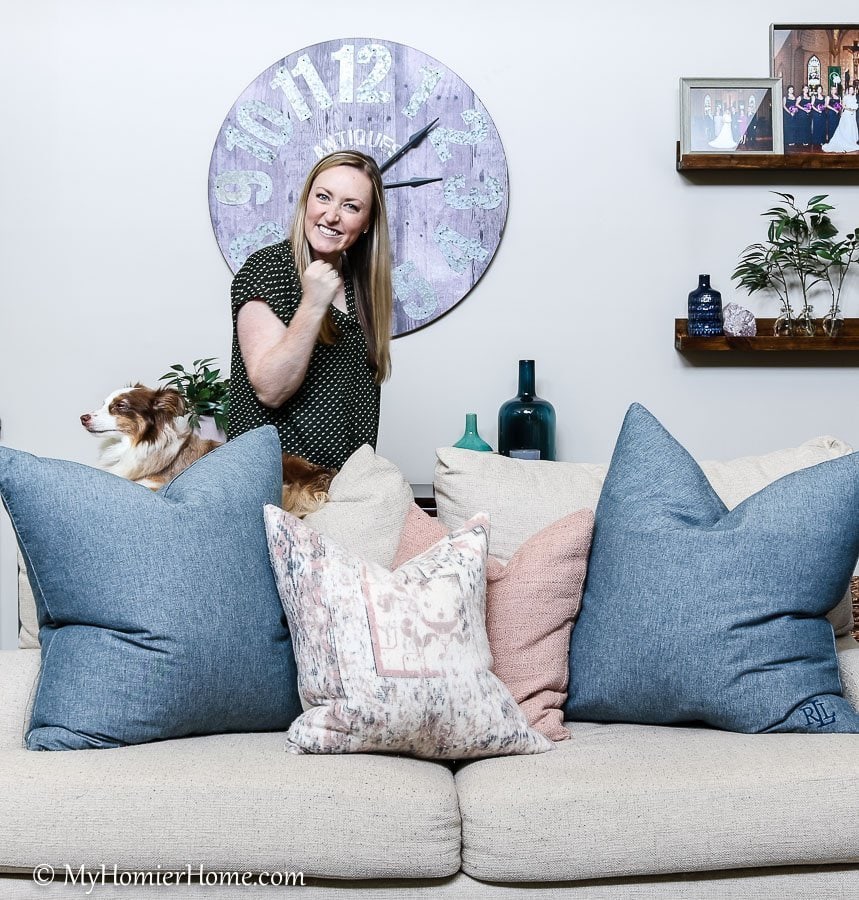 YAAAAASSSSSSSS!
The perfectly fluffed pillow!
Check out the video below to get the real version of me singing my song… I don't have the greatest voice, but I guarantee you won't forget how to fluff the perfect pillow!
I want to see (and hear) your version!
Tag me @myhomierhome on Instagram when you give it try. Be sure to tell all your friends so they can get the perfect pillow too!
Have fun!