My Secret to Buying Affordable Throw Pillows
Looking to freshen up your room on a small budget? Start with my best secret on buying some beautiful and affordable throw pillows.
If you are throw pillow obsessed, raise your hand?
*Both hands up*
Given that it is week 5 of the One Room Challenge and I'm working on the finishing touches to creating this kid & adult friendly bonus room, I wanted to share with you my pillow secrets.
But first, if you missed any of the previous week's progress be sure to check them out through the links below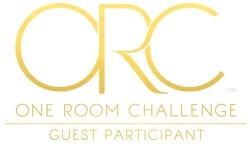 A good set of throw pillows can make an entire room come together.
The hard part is you can easily spend an arm and a leg at some of your favorite decor stores.
Today, I'm going to fill you in on a few of my secrets I used for my bonus room makeover, so you can get the look you want for an affordable price.
Disclaimer: This post does include affiliate links for your convenience. This is at NO additional cost to you but earns me a small commission. To read more, check out our disclosure policy. As an Amazon associate, I earn from qualifying purchases.
Secret #1: Start your hunt at Home Goods
Many of my throw pillows have been found on a Home Goods run.
I love that I can pick almost any pillow for under $25.
I also like that I can arrange them in real time right in the store and what I doesn't work when I get home can be returned without having to do any mailing.
So, if you are just building your stock of great throw pillows, this is a perfect place to start.
But, what if you are starting to get overrun by your pillow collection?
Enter secret #2…
Secret #2: What you can't find at Home Goods, search for on Amazon
As if Amazon didn't already have everything you need at a push of button, they also have super affordable throw pillow covers!
Since I was getting a little overwhelmed with my plethora of Home Goods pillows for all the seasons as well as the cushions that came with both of our couches, I needed to find something that allowed me to upgrade my pillows without adding to the chaos.
The best part is not only are so many awesome pillow covers well-made and fit for the size pillow you need, but they are so affordable!
I found a few deals for my bonus room makeover where I spent $16 for 2 pillow covers.
They also have such great variety to fit any room and style.
Secret #3: Reuse your favorite pillow inserts
My third and final secret to buying cheap throw pillows is to reuse your pillow inserts season to season or even room to room.
For my bonus room makeover, we had throw pillows that came with the couch, but they were hideous.
Using what I found Amazon along with a few spare couch throw pillows from another couch, I was able to complete the reading nook and the couch for under $50.
Reusing inserts not only saves on storage space, but it also allows you to skip the research stage of looking for the best pillow inserts.
However, if you are in need of a few great pillow inserts, check out these or these will get the job done nicely.
You can also pick up clearance pillows at Home Goods that have a nice insert and just toss the cover, too!
When choosing an insert, I always like to go about 2″ over what the cover is supposed to fit in order to make a nice full pillow.
One Room Challenge Week 5 Updates
This last week was a whirlwind of procrastination.
I was feeling pretty good around week 3 and then the whole tired, lazy, sleepy pregnant woman syndrome hit.
To move off the couch was the hardest thing to do, but I'm feeling more energized with each day.
With this new found energy, I have been able to knock out the last few details, including building my IKEA Kallax shelf (it only took me 3 tries), hanging the drapes (or drape because I accidentally ordered one panel instead of two), and hanging the last couple sconces.
All that's left is to mount the TV and add my finishing touches to the closet and main room.
I do still have to purchase a mini fridge, but I don't think that's going to make it into the final week.
Below is a recap of my to-do list from the beginning. Wish me luck on the final stretch!
TO-DO LIST
MAIN ROOM
Paint the room
Purchase Stikwood
Hang Stikwood wall
DIY behind-the-sofa table & side table
Call electrician to move cable box hook up & plug (coming Saturday)
Build IKEA and Target furniture
Paint touch-ups ​​​​
Install Mount & TV
Finishing Touches
Hang Drapes
Buy new:

Rug
Drapes
Curtain rod
TV & mount
IKEA storage
Artwork for entry
Throw pillows & blanket
READING NOOK
Paint nook
Make cushion
Buy new:

Step to get into nook
Light fixture(s)
Book holders for wall
Cushion/Fabric for seat
Pillows
CLOSET
Remove closet doors
Paint inside of closet
Stain and install DIY countertop
Stain and install shelving
Paint & cut to size the pegboard
Buy new:

Mini Fridge
Storage cubbies for underneath counter
Lighting