How to Create a Great Experience for Overnight Guests
Hosting overnight guests soon? This checklist will help you make sure you provide the best experience for your guests.
When I was a little kid, we lived in the city of Chicago while my grandparents lived in a large suburban home about an hour away.
Many times we would end up staying there instead of taking the long journey back.
Every morning when we would wake up, my grandparents would be in the kitchen cooking up a huge breakfast platter with pancakes, eggs, bacon, biscuits, etc.
Without a doubt, there would always be a bowl full of Sunkist oranges in the center of the table.
One of my favorite things as a kid was to take vacations to hotels and stay in the really cool rooms.
So, naturally, I would pretend that my grandparents' house was a hotel… the Sunkist Hotel to be exact.
I would make signs for the door and pretend my uncle was the bellhop. It was a blast.
Fast forward 25 years or so and I still love taking vacations to hotels, but the Sunkist Hotel is no longer in operation.
However, Casa de Ciz is in its prime. I love having guests and since we have moved into our home here in Indy, we have had a ton of overnighters.
Since we are about 3 hours away from majority of our family back in Illinois, we kind of expected that.
My husband tried to tell me early on that our home wasn't a hotel, but after a little convincing, I think he now understands my desire to host and creating my own mini-hotel runs way back to my childhood.
My number one priority is to make sure that my guests are comfortable, so here is a little checklist to help give your guests a 5-Star experience.
1. Clean Linens
I'm sure this goes without saying, but I put it on the checklist because it's one of those things you could easily forget to do in the hurry to prepare for overnight guests.
There's nothing worse than someone else's drool on your guests' pillow. Yuck.
One of the habits I have tried to create is washing all the linens as soon as the last guest leaves.
That way, I won't need to worry about it when the next guest arrives.
2. Extra Blankets
I keep a basket of blankets in each of our guest rooms as well as some spare blankets in our guest bathroom linen closet.
The worst is when you are freezing in the middle of the night and can't locate some extra blankets.
3. Pillow Choices
I like to layer the pillows on the guest beds for prettiness any way, but it's always nice to give your guests a choice of the type of pillow.
Some people prefer super fluffy while some prefer flat pillows. If they are the type of person who normally sleeps with more than one pillow, you are covered there too.
4. Towels on the Bed
I think having the towels folded on the bed when guests arrive is a nice touch.
Then, they won't have to worry about asking you or sifting through your linen closet when they want to take a shower. I keep extra wash clothes in a bin next to the shower, so those can be easily accessible too.
Depending on how many nights they are staying and how many people are staying, you may even want to let them know where the towels go when they are dirty and where to find more.
5. Water and Late Night Snacks
I don't know about you, but I always end up going to bed at someone's house and realizing I should have asked for a water before bed.
If I forgot to ask and they have already gone to bed, I'm now rummaging around their kitchen in hopes to silently retrieve water.
As for late night snacks, I'm not usually in need of a snack before bed myself, but I know so many of my family members love a little crunchiness before they slumber.
And it's perfect for when you have guests who arrive late and end up going right to their rooms after traveling all day.
6. Luggage Rack
This is one of my favorite things for our guest rooms.
The luggage rack is two-fold in my opinion.
One, it allows guests to have a designated spot for their belongings, but two, it keeps their items off the floor and therefore out of the mouth of our little puppy man.
Win-win.
7. Wi-Fi Password
In this day and age, I'm certain this is one of the most asked questions when you arrive at someone's home.
Having the wi-fi password already displayed in their room will ensure they can gain access instantly upon arriving.
8. Mirror in the Guest Room
When we have multiple guests over, they usually have to share the same guest bathroom.
When we are all trying to get ready, it's nice to have a place to apply makeup or do your hair that isn't in the community space.
I like to keep an extra blow dryer in the guest rooms too in case multiple people need it at once.
9. Blackout Curtains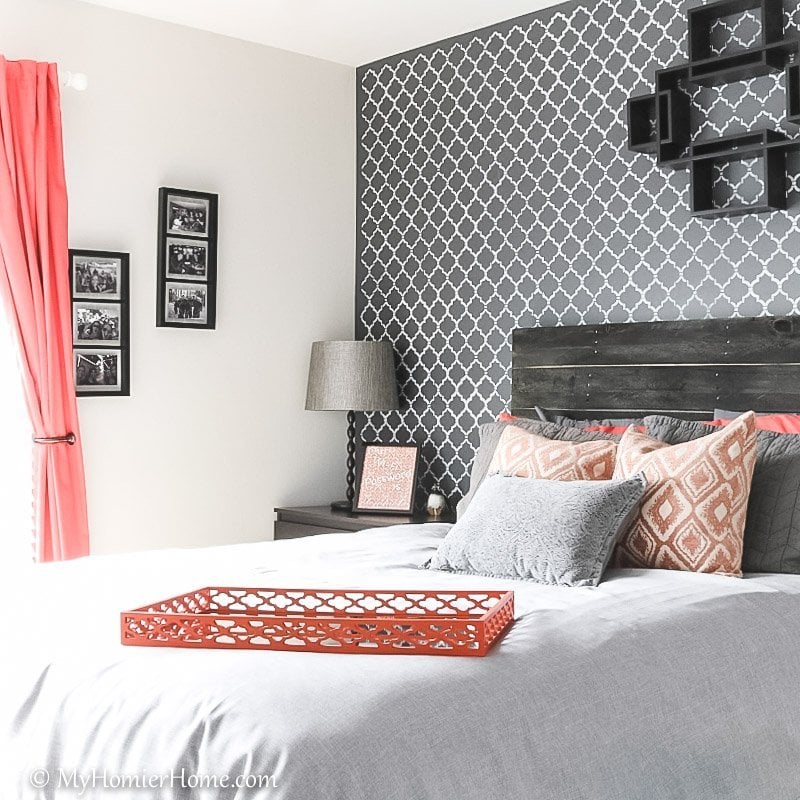 Every room we added curtains to required blackout curtains in my opinion.
There's nothing worse than accidently waking your guests up at dawn because they can't sleep through the amount of light pouring in through the windows.
Blackout Curtains = Happy Guests.
10. Accessibility to a Plug
In one of our guest rooms, the plug is actually hidden behind the headboard.
Rather than have guests crawl around looking to plug their chargers in, I have a power strip plugged in that allows the plugs to be visible right next to the bed.
I also keep an extra phone charger there in case anyone forgets theirs.
11. Kleenex
Seems like a silly one, but I personally love when people have Kleenex accessible in their guest space because I always have to blow my nose before going to bed… TMI?…
In either case it is a nice thing to have around especially if your guests have allergies.
12. Extra Toiletries
Without a doubt, there is always something we forget when traveling (unless you heed my advice from when I organized under my bathroom sink).
Therefore, I make sure to have things like hairspray, extra tooth brushes, toothpaste, shower stuff, a straightener and/or curling iron, makeup remover wipes, facewash, a hair dryer, contact solution, toilet paper, little plastic cups, and Q-tips on hand in the guest bathroom just in case.
13. Room Spray or Fresh Flowers
I love the smell of fresh flowers, but I don't always have the time to create a mini-floral arrangement for my guests.
However, having a clean, fresh room spray on hand will work just as well when used before guests arrive.
It's always nice to get a whiff of clean when you walk in to any guest room.
14. Coffe & Tea Accoutrements
Everyone has their coffee specifics, so I like to ask ahead of time what kind of cream, sugar, and/or coffee they would prefer.
Depending on what grocer you go to, you could always get the little individual creamers in varying flavors for your guests.
These tend to keep longer if you are a non-creamer gal like me. Another thing to gather before guests arrive is whether or not they prefer tea instead of coffee.
I don't normally have tea on hand, but when my mother-in-law is in town I grab a few k-cups of the tea variety because she is not a coffee drinker.
15. Full Services Breakfast Items
Breakfast is the cheapest and easiest meal to provide for your guests.
Having things like fruit, eggs, bacon, sausage, pancakes, etc. are great to have on hand. The smell of fresh breakfast cooking can double as a way to get your guests out of bed and moving, too.
Around Christmas time, my husband's favorite thing to do is a make-your-own omelet bar. He has all the items cut up the night before and gives everyone a bowl to put everything they want in their bowl.
Then, he cooks everybody's omelet one by one.
Now, when I'm in charge of breakfast for guests, I whip up a casserole that I can just throw in the oven in the morning or, one of my favorite go-to's, Pillsbury cinnamon buns.
Breakfast is the perfect place for guests to reconvene in the morning and enjoy each other's company.
Preparing before guests arrive will ensure you and your guests have an awesome time, 5-stars in fact!
When the goal is to enjoy each other's company, having these fifteen items thought through ahead of time will allow everyone to have the best mini-hotel experience.
What are your favorite things to do to ensure your guests comfortability?
---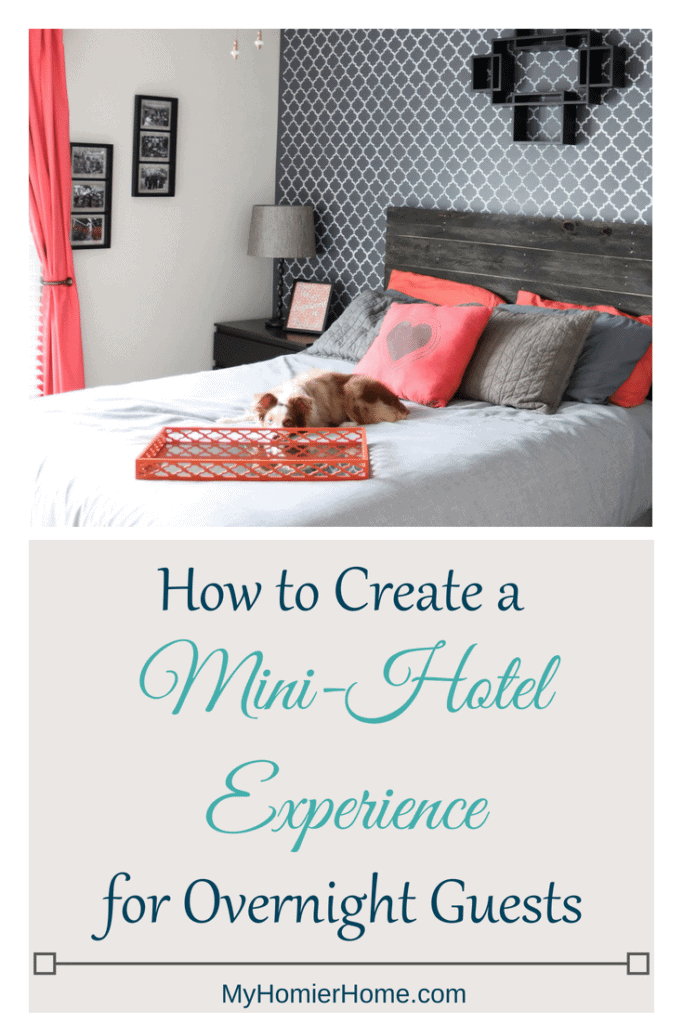 ---