3 Types of Lighting Every Room in your Home Needs
Do you have the right lighting in your room? Learn what types of lighting you need for every room in your home.
Lighting can totally make or break a room.
Don't think so?
Consider what it's like walking into a classroom or a hospital… bright, very white lights turn up the brain juice and make you stand at attention.
Now picture yourself in a restaurant or on the patio under the stars.
A much different vibe.
When you are completing any room makeover, one of the things you have to take into account is lighting and how you want it to contribute to your design plan.
But first, you have to know what kind of lighting you have to work with.
In today's post I'm sharing with you the different types of lighting and how they are used in various rooms of your home.
Table of contents
Disclaimer: This post does include affiliate links for your convenience. This is at NO additional cost to you but earns me a small commission. To read more, check out our disclosure policy. As an Amazon associate, I earn from qualifying purchases.
Ambient Lighting
Ambient lighting is also known as general lighting.
It's most of the main switches in your home that attach to…
Recessed lighting
Chandeliers
Ceiling fixtures
Floor lamps
Table lamps
Let's take the kitchen for instance.
In general, you want some recessed lighting to make sure the whole room can be lit while you work and eat.
In my kitchen above, I have recessed lighting as well as a chandelier over our table.
In our living room, we have an overhead light and a few lamps to brighten up the corners when we are watching television at night and don't want the overhead light on.
In most bedrooms, you either have a ceiling fan with light or a chandelier.
I'm a big proponent of modern ceiling fans due to the fact that I'm a super hot sleeper.
A little tip when considering ambient lighting in your room makeover…
Use a dimmer wherever possible.
I love having dimmers to help regulate the kind of ambient light I need at any given time.
If you don't already have one on a light, they are not very difficult to install, but you do want to make sure you have dimmable light bulbs when you make the switch.
Task Lighting
The second type of lighting you want to consider is task lighting.
This one is self explanatory, but it is lighting specifically setup to help you with certain tasks, such as cooking, writing, reading, etc.
Any task that you'll be completing in various rooms of your home may require direct lighting over those areas.
For instance, the kitchen typically has pendant lights over the island to help with food prep.
Same goes for under cabinet lighting in the kitchen to illuminate your countertops more directly.
Here is another example of task lighting in my home office/craft room.
This swing arm lamp helps illuminate my craft table better so when my back is to the overhead light, I don't have to worry about shadows.
When planning your room makeover, consider areas of your room that will need their own task lighting to ensure you don't strain your eyes.
For smaller bathrooms, typically you have one overhead light above the sink that illuminates the room.
However a better bet, if you can make it work in any bathroom makeover is to mount sconces.
Fun fact…
Mounted bathroom sconces are most optimal 66-inches off the floor and with 75-watt warm white light bulbs.
In our basement bathroom we put in, I didn't consider how much better it would be to have mounted sconces, but we do have both ambient and task lighting in this bathroom.
There is recessed lighting and also the fixture above the sink.
When it comes to bedrooms, you definitely need ambient light, but as for task lighting, your best bet is to include lights near your nightstand.
The best nightstand lights can swivel to provide better lighting for reading in bed.
Dimmers are also a good idea for these to help control the amount of light you need.
When choosing the types of bulbs that go in either your ambient lighting or task lighting, stick to bulbs between 2700 to 3000 Kelvin for warm white lighting.
With my hospital and classroom example in the beginning of this post, you want to save the daylight bulbs for areas where aesthetics aren't really a concern, such as in garages, laundry rooms, and other utility spaces.
You can find more great tips by room here.
Accent Lighting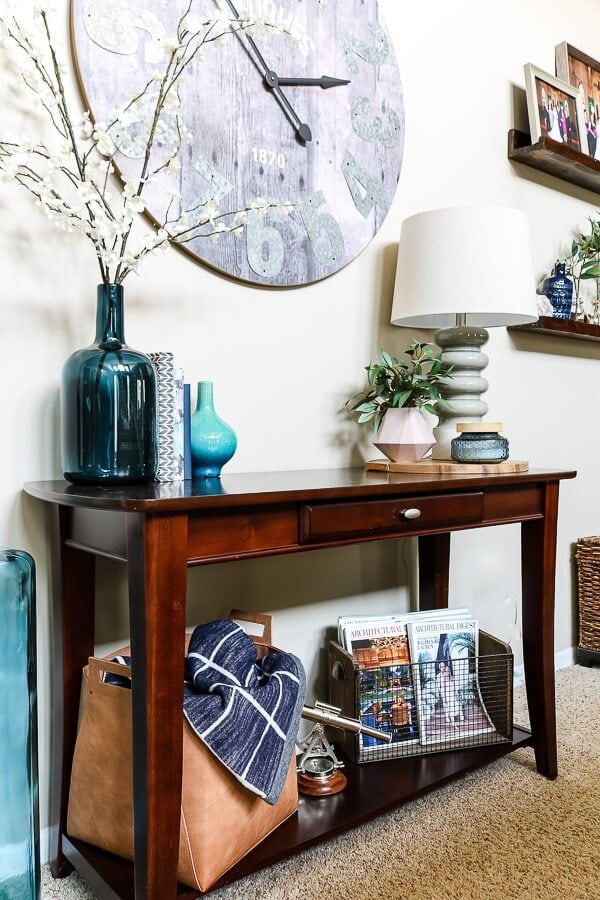 Last, but not least, you want to consider accent lighting in your room makeover.
Accent lighting is the perfect way to create atmosphere in various rooms of your home.
Accent lighting is typically used in areas that you aren't necessarily needing to do any particular task and don't really light up the whole room, but are there to provide the good feels.
Some accent lighting examples are…
Decorative sconces
Picture lights
Candlelight
In my living room photo above, this table lamp is an example of accent lighting because it is not a true necessity, but provides an ambience within this large room.
And there you have it!
The three types of lighting you need to consider to make your next room makeover your best one yet.
Don't forget to download my quick-start checklist through the form below as a gift from me to you for joining the homier home squad.
Happy room rescuing, my friend!


Other Posts You May Like: