What is the Best Rug Placement in a Bedroom?
Looking to find the best rug placement for your bedroom? This is the post for you. All your options are right here.
This post is sponsored by Boutique Rugs. All opinions are my own.
Today we're keeping it simple when it comes to rug placement in bedrooms.
You could literally spend hours researching the various rug placement options for all types of rooms, but for bedrooms, one of three options should do the trick for you.
Be sure to stick around for the tips section to help navigate your particular bedroom.
AND I even have a coupon code for one of my favorite online rug stores at the end, too!
These three options below will be a great starting point to determining the rug placement in your bedroom.
Let's get to it!
Disclaimer: This post does include affiliate links for your convenience. This is at NO additional cost to you but earns me a small commission. To read more, check out our disclosure policy. As an Amazon associate, I earn from qualifying purchases.
Option 1: Place rug Under the nightstands and the bed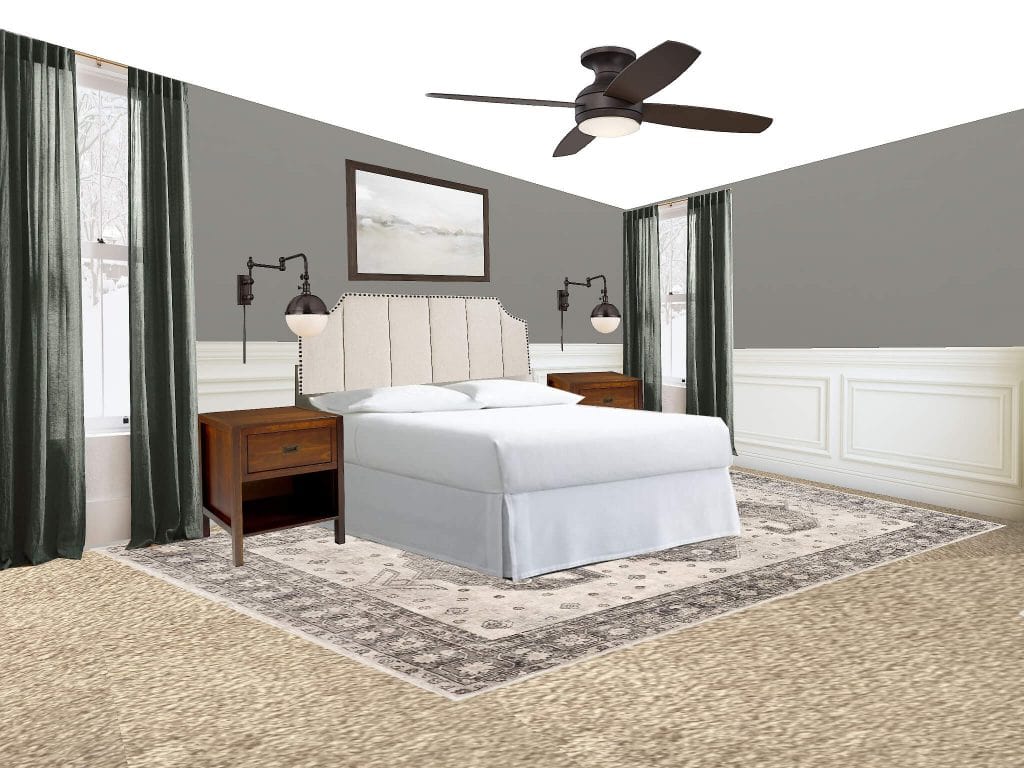 The first option is the biggest rug option on this list.
The idea for this option is you want to have your bed and the nightstands completely on the rug.
Depending on the size of your bed, you can get away with a couple different sizes.
For king beds, this would leave you between an 8'x10′ rug or a 9'x12′ rug.
Deciding between the two will be determined on how big your room is and if you can fit the bigger version.
For queen bed rug placement, you probably want to stick with an 8'x10′ to accomplish this goal.
Surprisingly, the same will be true about your rug placement for bedrooms with a full size and twin size bed.
Option 2: Place rug under the bed In front of the nightstands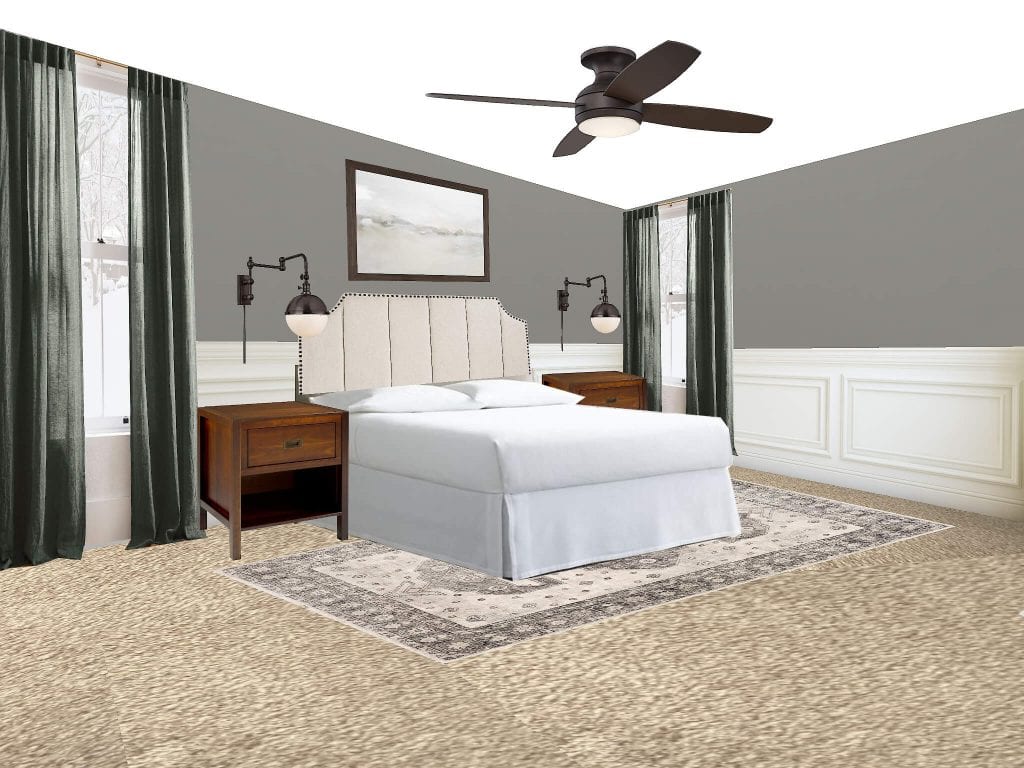 The next option is a popular one because it saves you a little dough, but still gives you the look you're after.
Option two has the rug under the bed, but slightly in front of the nightstands.
For king, queen, and full sized beds, the rug placement size would be a 6'x9′.
For twin beds, you could either go with a 6'x9′ or a 5'x8′ depending on the size of your room.
Option 3: Place two rugs on either side of bed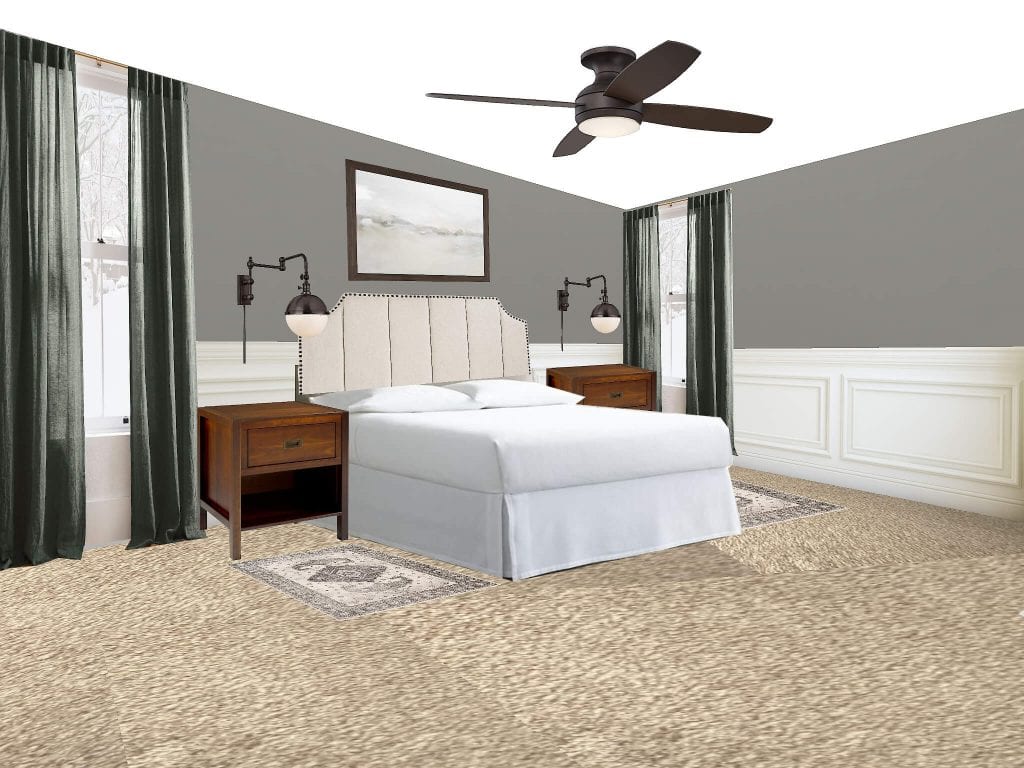 The last option in this list is for when you really want to add a rug, but you are short on dough.
This option allows you to put two 3'x5′ area rugs on either side of the bed.
It doesn't matter whether or not you have a king, queen, full, or twin sized bed for sizing.
Tips for Rug Placement in a Bedroom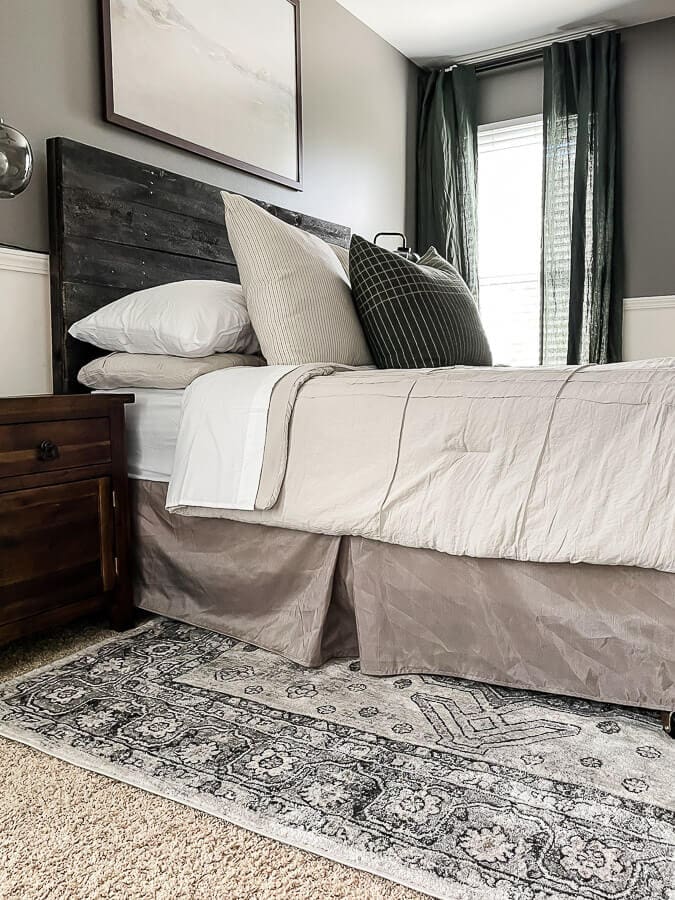 These quick and simple rules are great, but you do still have to make sure the rug is actually going to not only fit, but look the way you want it to.
In order to double check before ordering, follow these tips:
The bigger the room, the bigger the rug can be. When you're in between what size to get, consider the size of your bedroom first. And then follow the next tip.
Measure where the rug will go first and if you're still unsure, lay painter's tape down on the floor to mimic the size of the rug. This way you can be sure you like how it looks before ordering.
The general rule is you want the rug to sit under at least two-thirds of the bed for rug placement options one and two. Keep this in mind when finalizing the rug size.
If you have a pretty large room, you can usually get away with an 8'x10′ rug or larger.
In small bedrooms, try to fill up as much of the room as you can in order to not make the rug looked dwarfed and keep everything cohesive. But be aware of the next tip.
You don't want a rug to push up too close to other pieces of large furniture, like dressers. The guideline is to either have the rug completely under the dresser (or larger piece of furniture) or leave 2-3 inches in front of the dresser.
My Rug Placement in the Guest Bedroom
Disclaimer: This post does include affiliate links for your convenience. This is at NO additional cost to you but earns me a small commission. To read more, check out our disclosure policy. As an Amazon associate, I earn from qualifying purchases.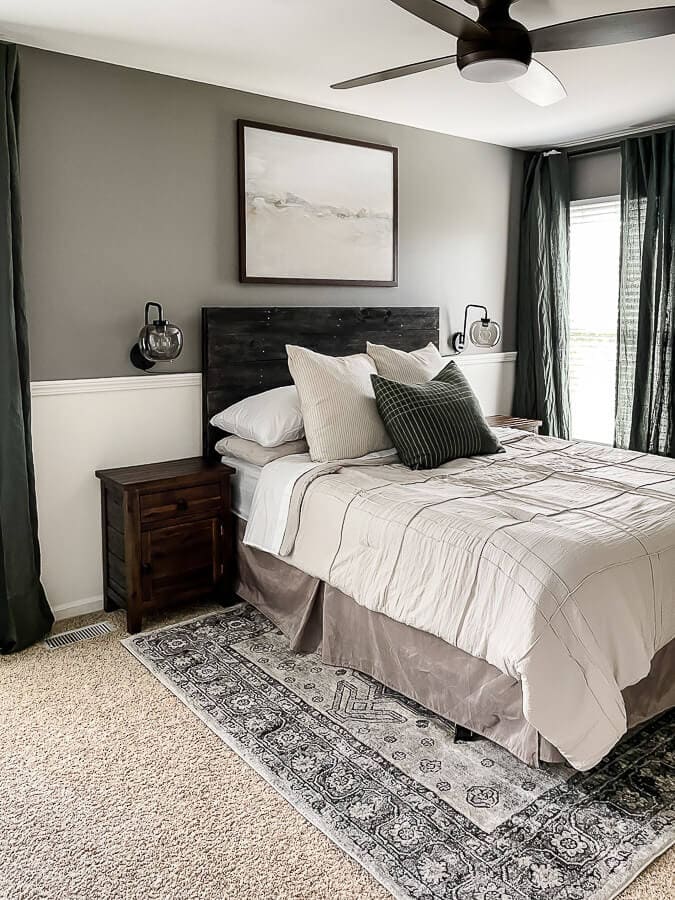 For our guest bedroom, I chose option two and went with a 6'x9′ rug.
I chose this rug placement for the bedroom because it followed all the guidelines above and the larger size wouldn't have worked as well because of the shallow width of the room.
Also, it was nice to be able to go with a smaller rug to save some money, too!
This rug I found at Boutique Rugs is incredibly gorgeous.
Honestly, I figured it wasn't that expensive, so I should prepare for sub-par quality, but boy was I wrong.
It is so incredibly soft with the most beautiful pattern.
I was in total awe when I unrolled it.
And in even more fun news, Boutique Rugs gave me a coupon code to give to you guys!
Now you can earn 60% off any of your Boutique Rugs purchase any time of year.
Be sure to enter coupon code: HOMIERHOME60 at checkout.
If there are other coupon codes available, be sure to clear them and use this one to indicate you're a My Homier Home reader.
Woot woot!!
Favorite Place to Buy Vintage-Inspired Rugs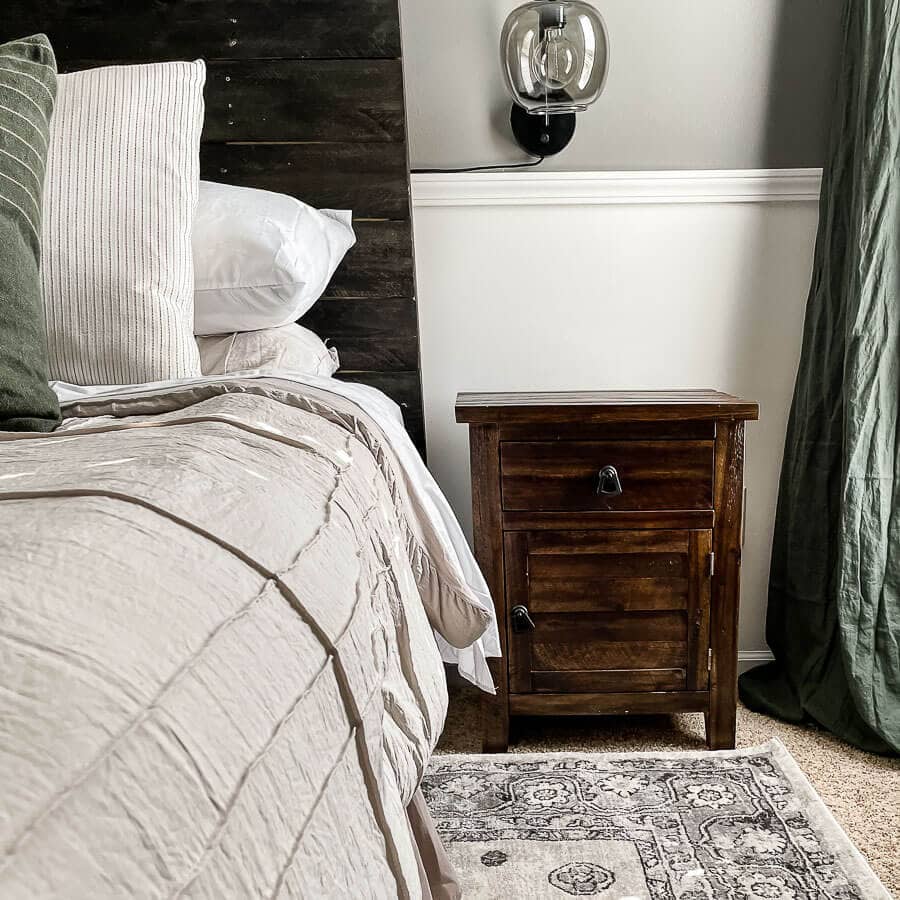 Now if you haven't figure it out yet, one of my favorite places to buy vintage-inspired rugs at great cost without sacrificing quality is Boutique Rugs.
They have so many gorgeous rugs in all kinds of size options with new releases all the time.
I included some of my favorite finds from their collection below.
And if you're looking for sources for any of the other items in guest bedroom, you can find those sources here.
Happy shopping!

(click on any of the images to shop the products)