How to Choose a Rug Size for Any Room in your Home
Don't make this common decorating mistake. Learn how to choose a rug size for any room in your home here.
Let's talk about one of the most common decorating mistakes that has been documented by many, many an interior designer in their day.
A room with the wrong rug size.
It's so common that you could google search rug sizes and get a million articles on what not to do.
We all know the reason this is the most common decorating mistake…
Cash-money.
Rugs can be expensive and they get more expensive the bigger they are.
However, let me tell you, it's not worth skimping on the rug because it will bother you for years and years and you won't know why… until now.
So today, we're going to talk about how to get this rug situation dialed in based on the room you are in.
Let's get started.
Disclaimer: This post does include affiliate links for your convenience. This is at NO additional cost to you but earns me a small commission. To read more, check out our disclosure policy. As an Amazon associate, I earn from qualifying purchases.
Living Room Rugs
Living rooms are probably the most common areas in your home to introduce an area rug.
I in fact have an area rug in all four living room/seating areas in my home, including the bonus room/toy room you see in the above picture.
Not only that, but every design client I've worked with a living room focus almost always is in need of a new area rug to complete the room.
Typically, the living room rug size will most likely stay within an 8'x10′ or a 9'x12′.
However, the rule of thumb is to make sure your rug is at least 6″ wider (8″ is ideal) than your sofa on both sides.
At minimum, you want it to run the rug the length of the sofa you will be putting on it and attempt to have at least the front legs of all the furniture on the actual rug.
Another rule of thumb to consider when adding rugs to the living room where there you are more likely to have larger furniture pieces is to give yourself between 30″ to 36″ of a walkway between each furniture pieces.
If your living room doesn't allow for that, make sure your walkways are at least 18″-24″.
Use these general rules to help you determine exactly what size you need for your living room area rug.
Dining Room/Kitchen Rugs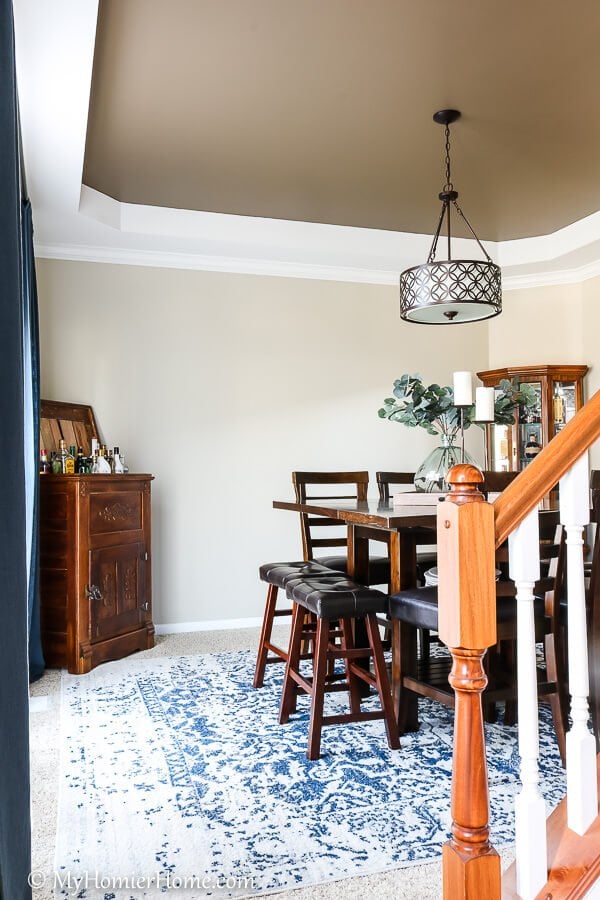 Now let's talk about rug sizes for dining room and/or kitchen tables.
Currently I don't have an area rug under my kitchen table, but that is only because I have two little babies that are the messiest of them all.
However, I do have a rug under my dining room table.
I rarely show my dining room because it doesn't have the Christin stamp of decorating approval on it just yet with our hand-me-down table and blank walls, but the rug is still one of my favorite parts of this room.
In general, when choosing a rug size for your dining or kitchen table, keep the rug the same shape as the table.
The only exception here is if you are going to lay an area rug to cover majority of the room and a table just happens to sit upon it, like in my dining room.
Because you are going to be moving chairs in and out unlike the living room, you want to make sure to choose a low pile or flat-weave rug to make sure your chairs can move easily back and forth.
Another great tip is to choose a rug pad if you are adding a rug over wood or tile flooring.
This will help keep the rug in place and stop it from getting flipped around when the chairs are moving in and out.
As for the actual rug size, add 24-30 inches to each side of the table length to accommodate chairs when pulled out.
You want the chairs to still be on the rug when they are fully pushed away from the table.
Bedroom Rugs
And last, but not least, let's talk about area rugs under in a bedroom.
This is probably not a prominent space in your home you think about adding area rugs, but let me tell you…
It's my new favorite thing!
Not only does it add so much character, but it really feels like the room is complete with a subtle pattern to bring it all together.
Even though we have carpeted floors, I'm obsessed with adding rugs to the bedrooms, especially our two nurseries.
But, to get the details on what rug size to choose for your bedroom, you'll have to visit my post on What is the best rug placement for a bedroom? post since I put together an entire post already on just this topic.
Where's your next area rug going in your home?