How to Easily Paint an Arch on your Wall
Add character to any room by learning how to paint an arch on your wall the easy way.
Have you seen this trend popping up?
I usually could careless about most trends, but this one I am highly on board with.
Not only is it super easy, but it will add so much for very little effort.
So, without further ado, let me share with you why your room needs a painted arch and exactly how to do it simply.
Let's do it!
Why your room needs a painted arch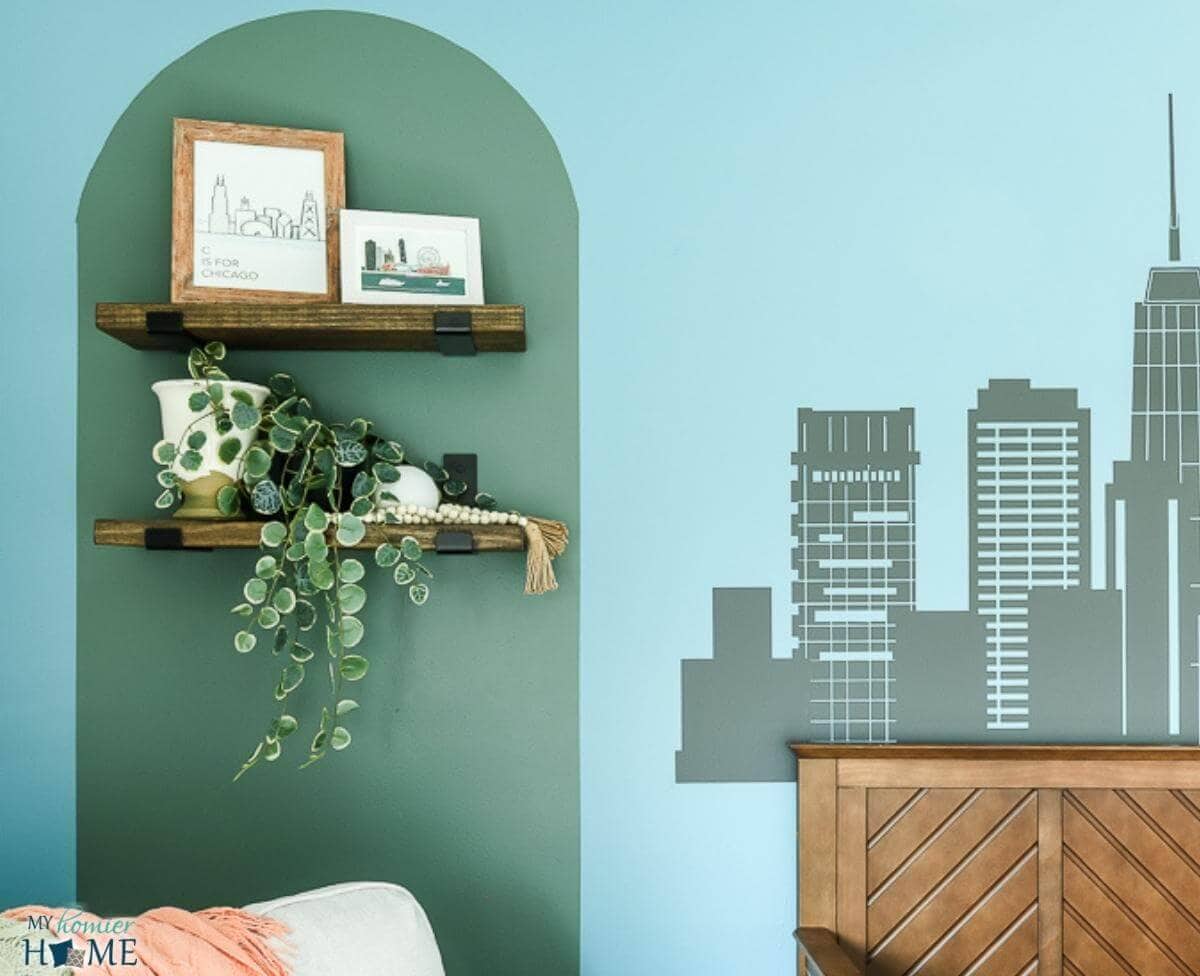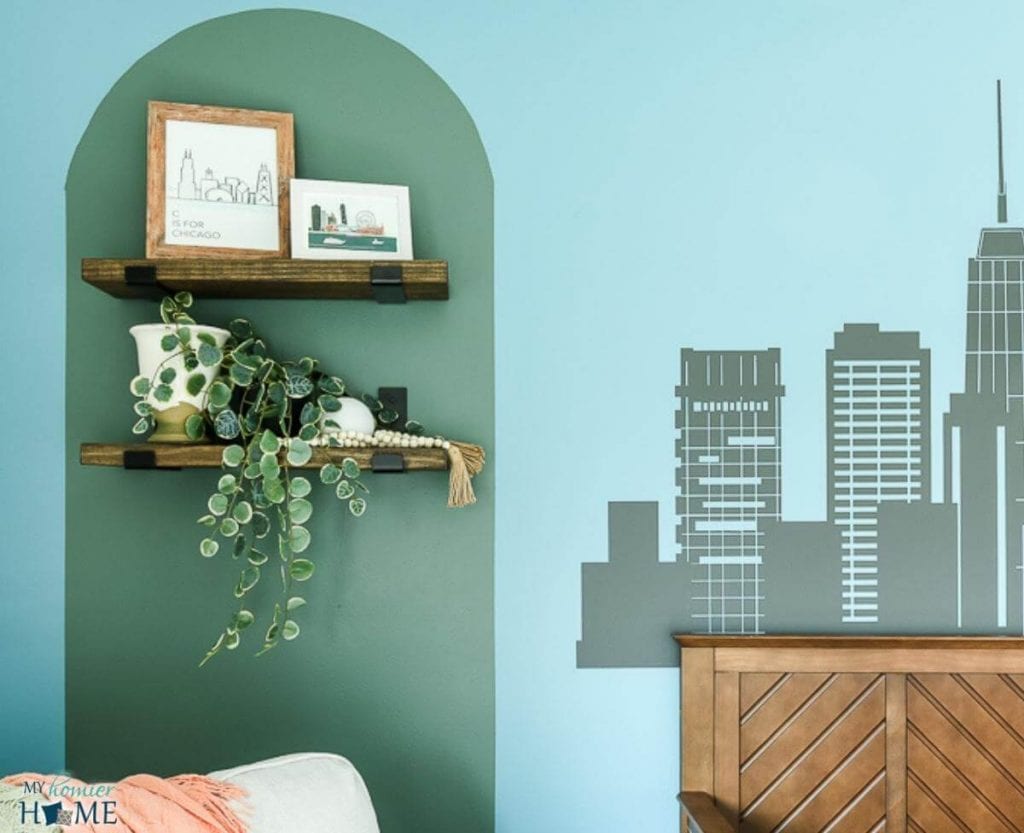 Fist of all, I want to take a second to share with you why you should consider this trend.
Not only are curves totally in right now, but they are timeless.
If you were to research arches on the goog's, you'd find them in so many iconic places in history.
Granted, most of these historical arches are actual architectural structures, but we're new age, baby!
We can take an old idea and reinvent it just like that.
Also, I found that painting an arch on your wall gives awesome dimension and creates interest in your room design.
For our gender neutral nursery, I wanted to break up the wall into sections without it being too busy or overpowering considering it is such a small room.
Enter the painted arch!
This was the perfect solution to creating a pseudo reading nook in a room that barely has room for a bed and a chair.
In addition to everything I just mentioned, my absolute favorite part of adding a painted arch?
It's ridiculously easy and super quick to complete with a whole lot of impact – especially when paired with floating shelves.
Disclaimer: This post does include affiliate links for your convenience. This is at NO additional cost to you but earns me a small commission. To read more, check out our disclosure policy. As an Amazon associate, I earn from qualifying purchases.
Materials List
Now that I've convinced you to add a painted arch to your room, let's gather our materials.
To complete this painted arch, you'll need…
Tape measure
Laser level
Pencil (for lighter walls) or Chalk (for darker walls)
Thick string (you could use old gift wrap string, hemp, or anything that can stay taut)
Push pin
Frogtape
Plastic credit card
Your Paint of Choice
Angled paint brush
Paint roller
(click on any of the images to shop the products)
How to Paint an Arch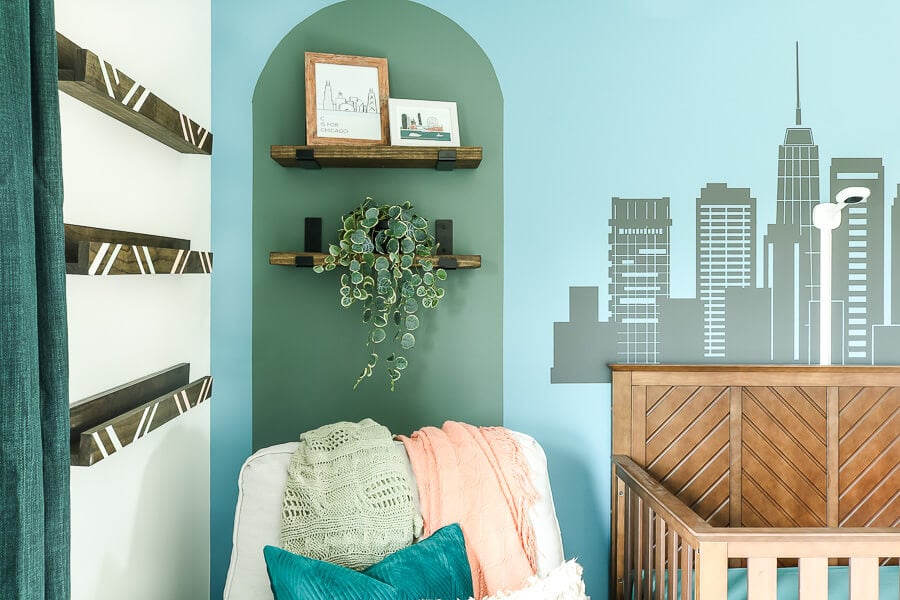 Now that we have all of our materials ready to go, let's talk about how exactly to set up this arch before painting.
1. Measure where your arch will go.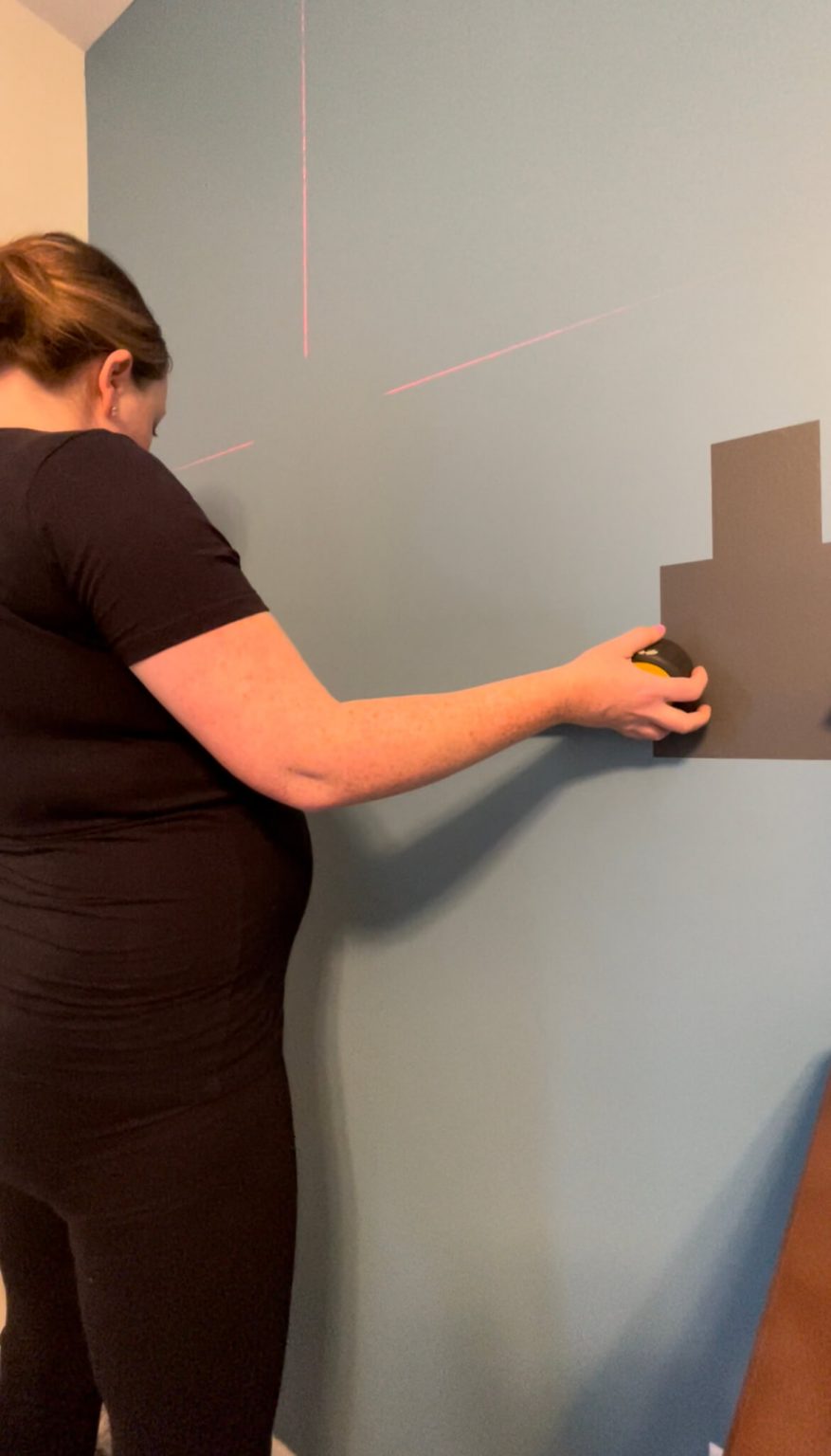 You want to start by measuring where the straight edges of your archway will go.
When you measure, consider how far you want to leave blank on either side of the straight edges as well as how high you want the straight edges to go before starting the curved part of the arch.
Once you get the width of your archway, cut it in half.
This will be the radius (or the length of string) you'll use to draw your arch.
Move your laser level to the center of your archway (which is this half way measurement you just found).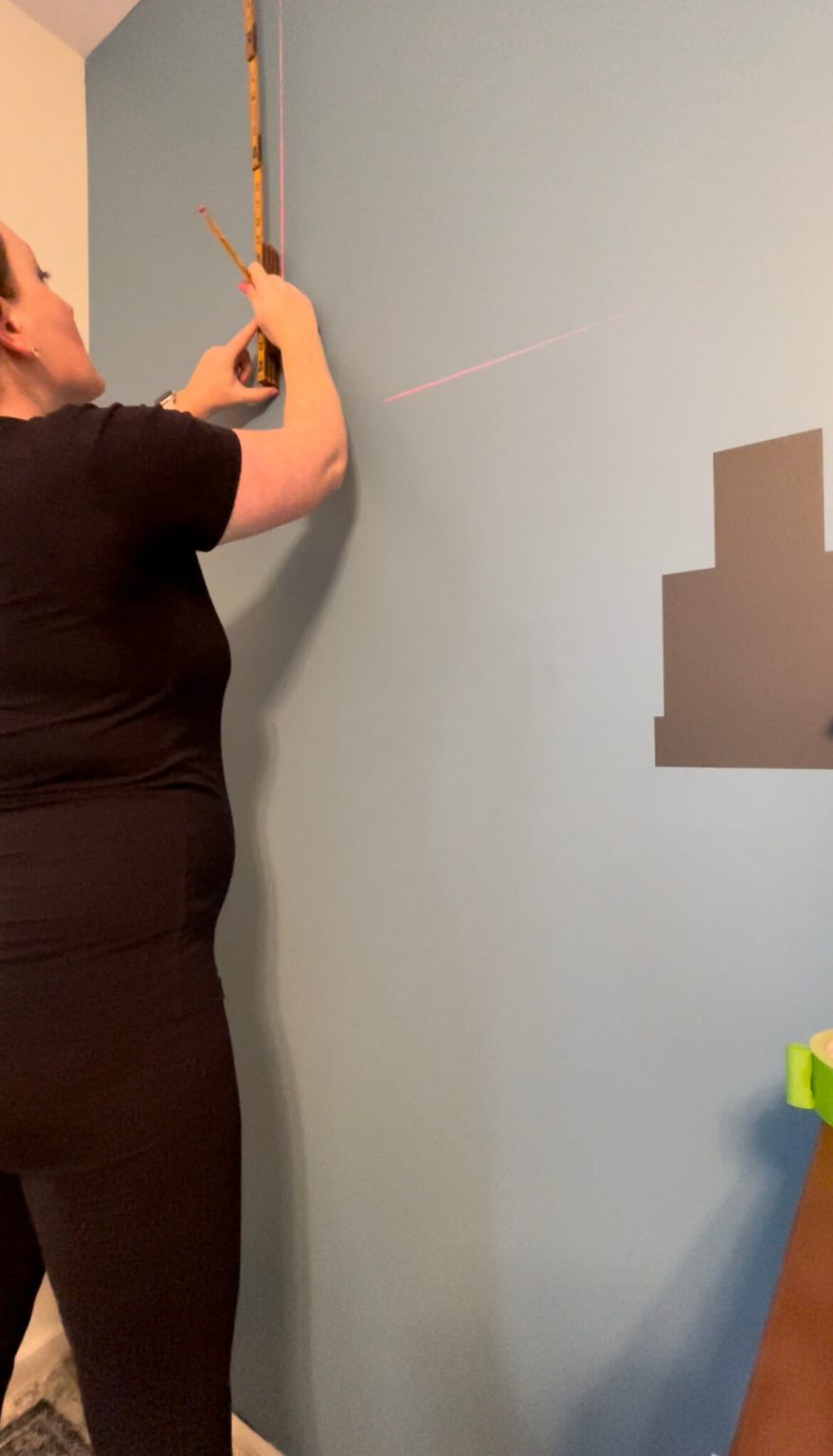 Next, you want to determine the height of actual curved portion of the arch.
Don't forget to take into account that the measurement of your half-width (the radius) is also how tall the curved portion of the arch will be.
So, be careful not to position the start of your arch too high.
If you're a numbers person, measure how much space you want from the ceiling to the top of the arch and add it to the radius measurement.
This will tell you how far down to put your push pin to start drawing your arch.
2. Draw your arch.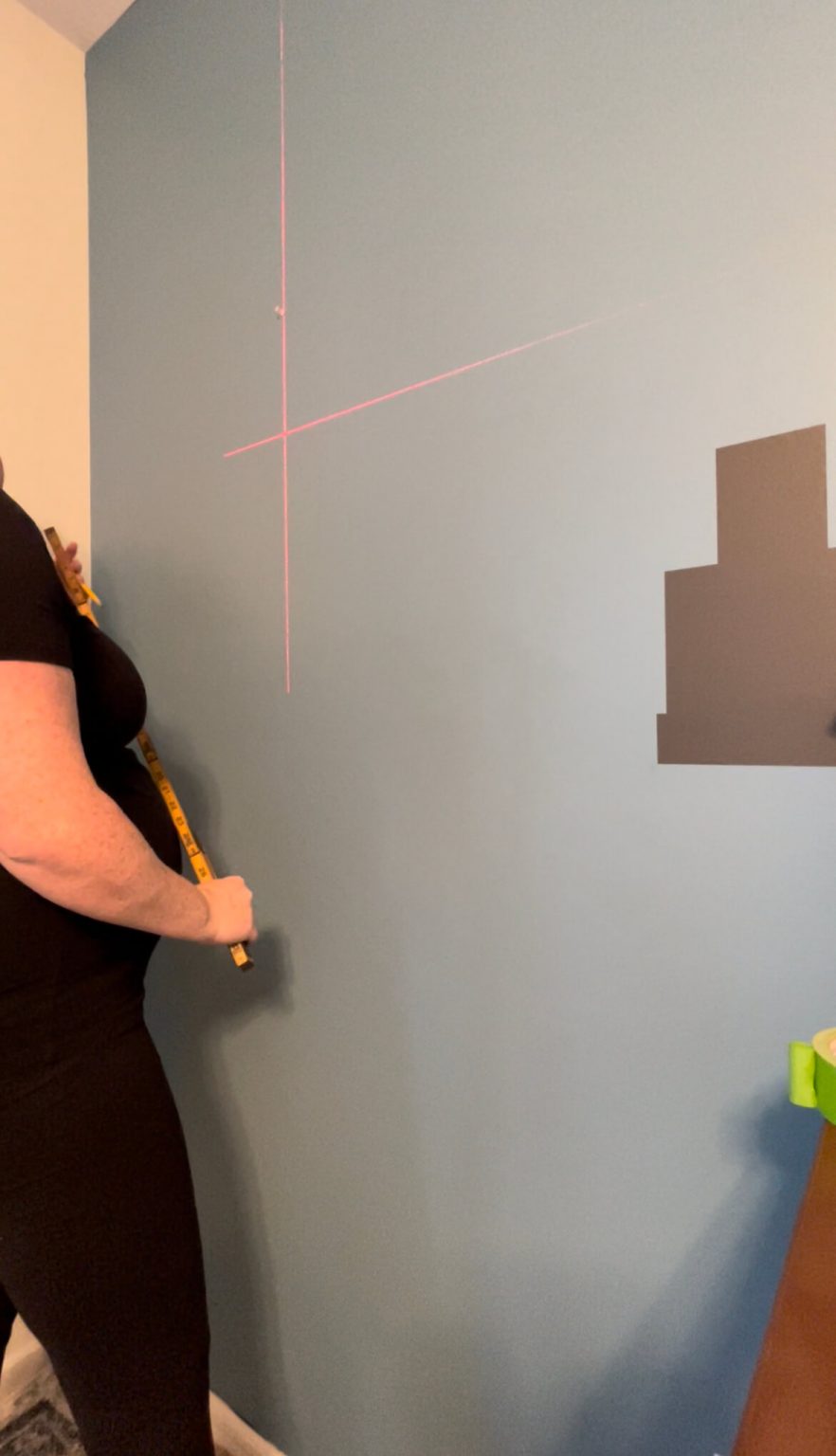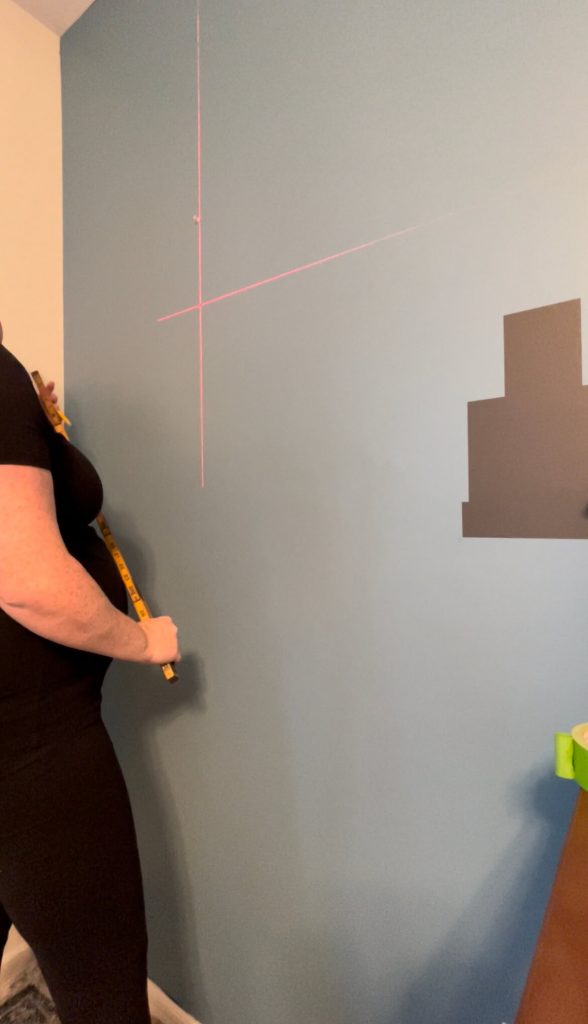 Once you've determined where the curved part of the arch will start, add your push pin at the center at this measurement.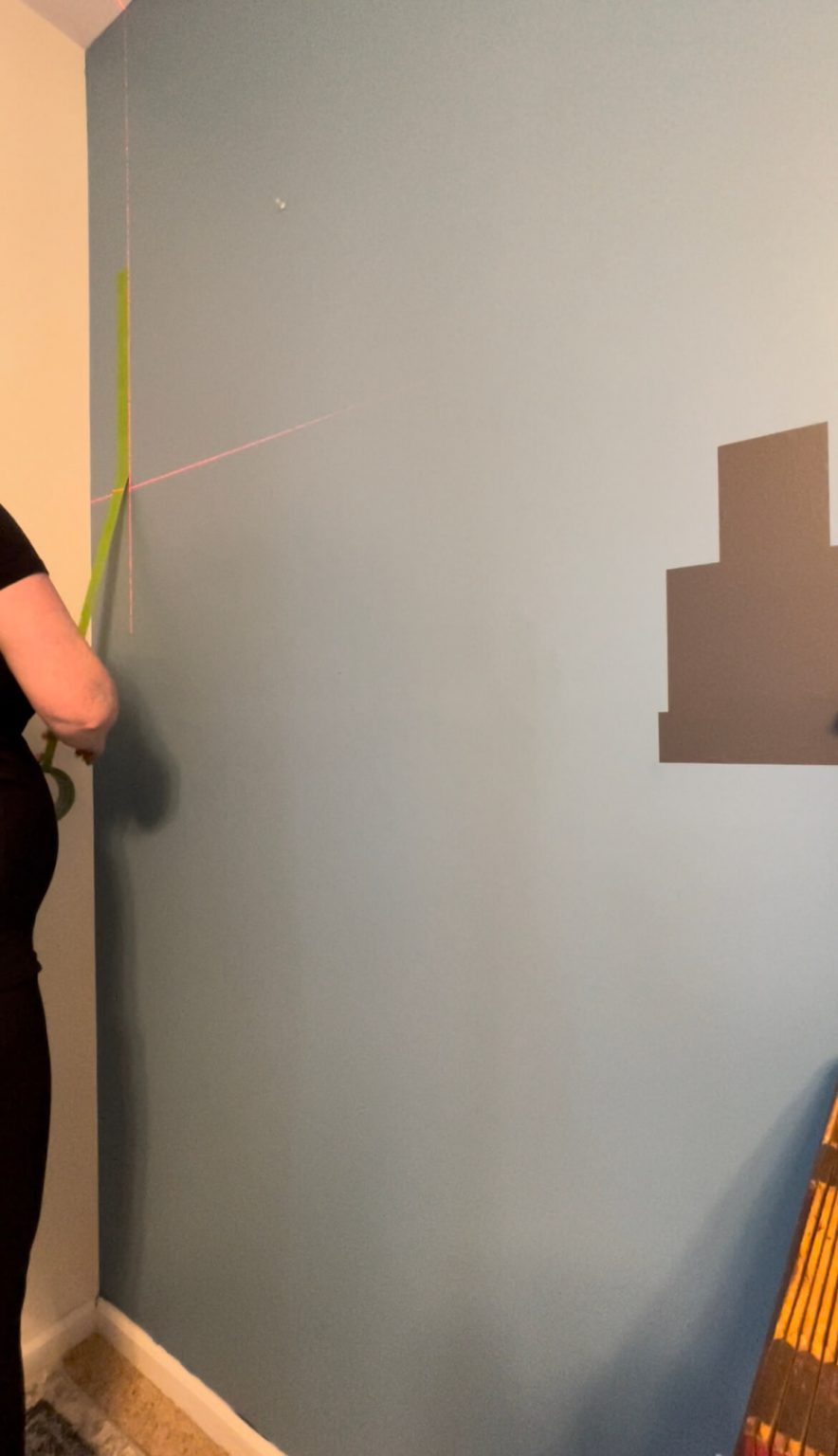 Next, you'll want to move your laser level to one side of the archway and add your Frogtape straight down.
Repeat on the other side of the arch.
This will be your boundaries for the straight areas of the archway.
Use your plastic credit card to run over the top of the tape to make sure it adheres fully.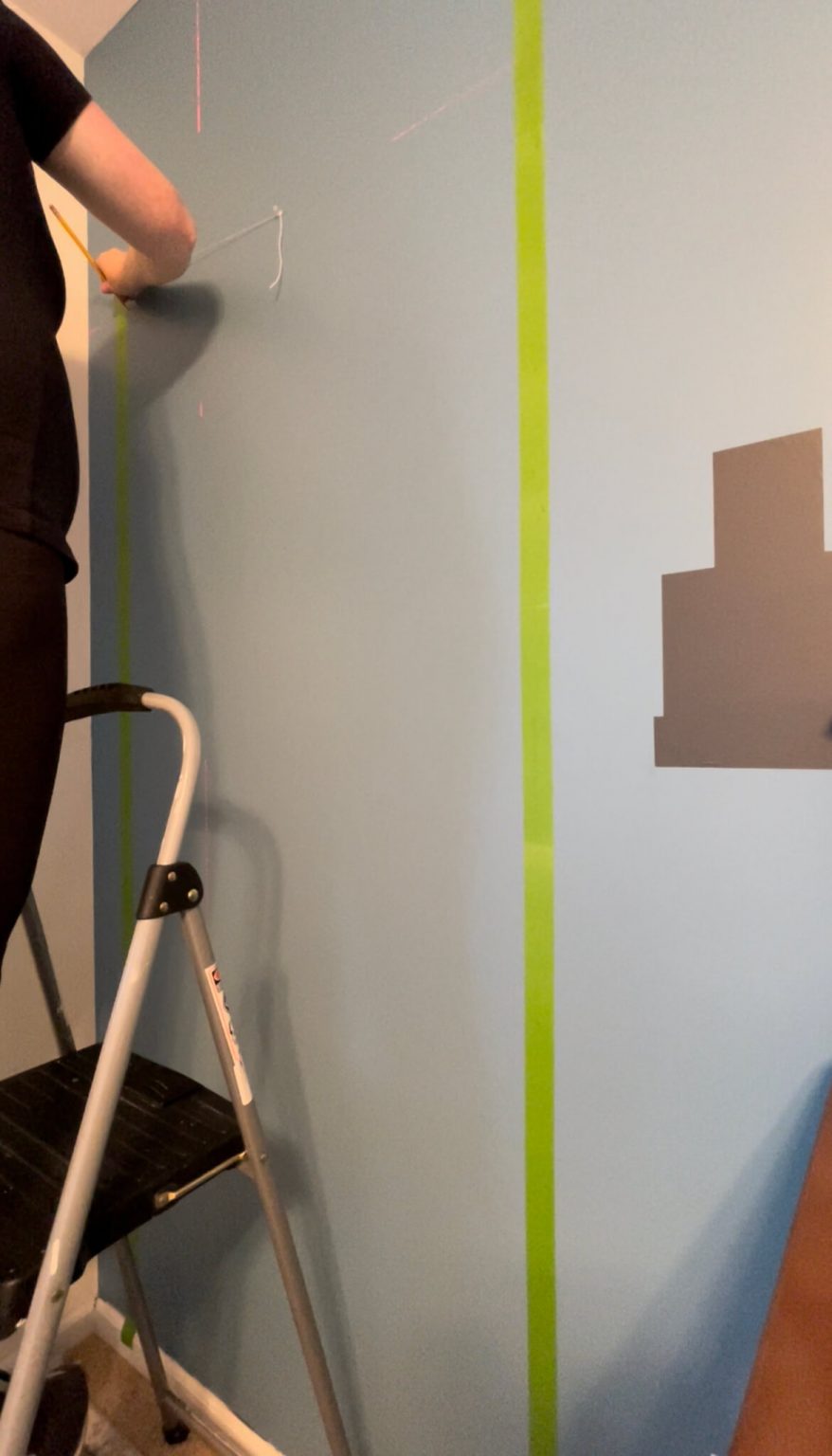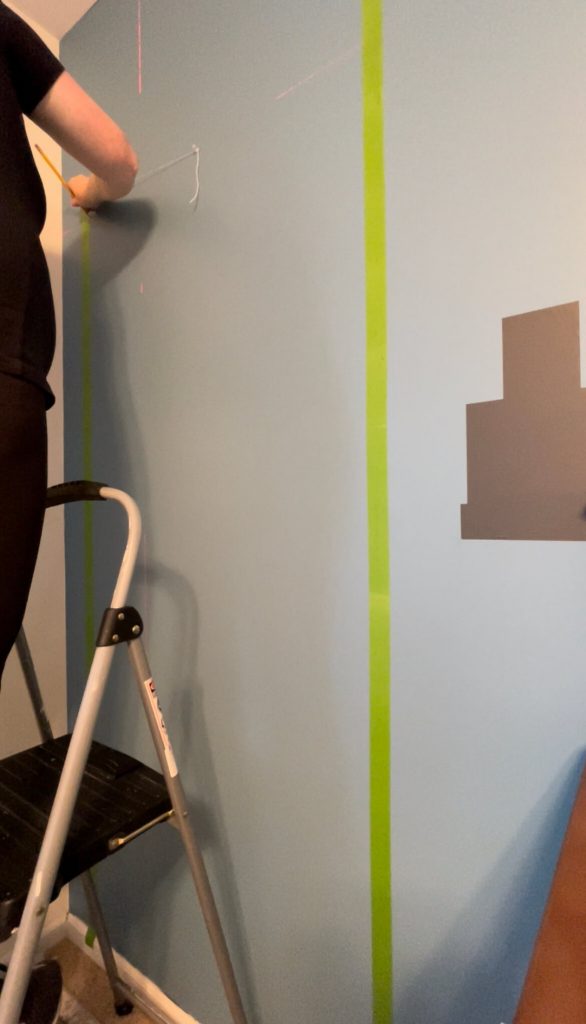 Now it's time to draw the arch.
Tie a string to your push pin and attach a pencil (or chalk) to the other end of the string the same distance of your radius.
Align your laser level with the push pin so you know where to start and stop the arch.
Be sure to begin the arch where the wall meets the tape to make the straight edge and the circular part of the arch seamless.
Don't forget that you want the string to be pulled taut and the pencil (or chalk) to stay in the same position as you draw your half circle.
You can see in the pictures above that I'm simply using the push pin, the string, and the pencil to draw my perfect arch.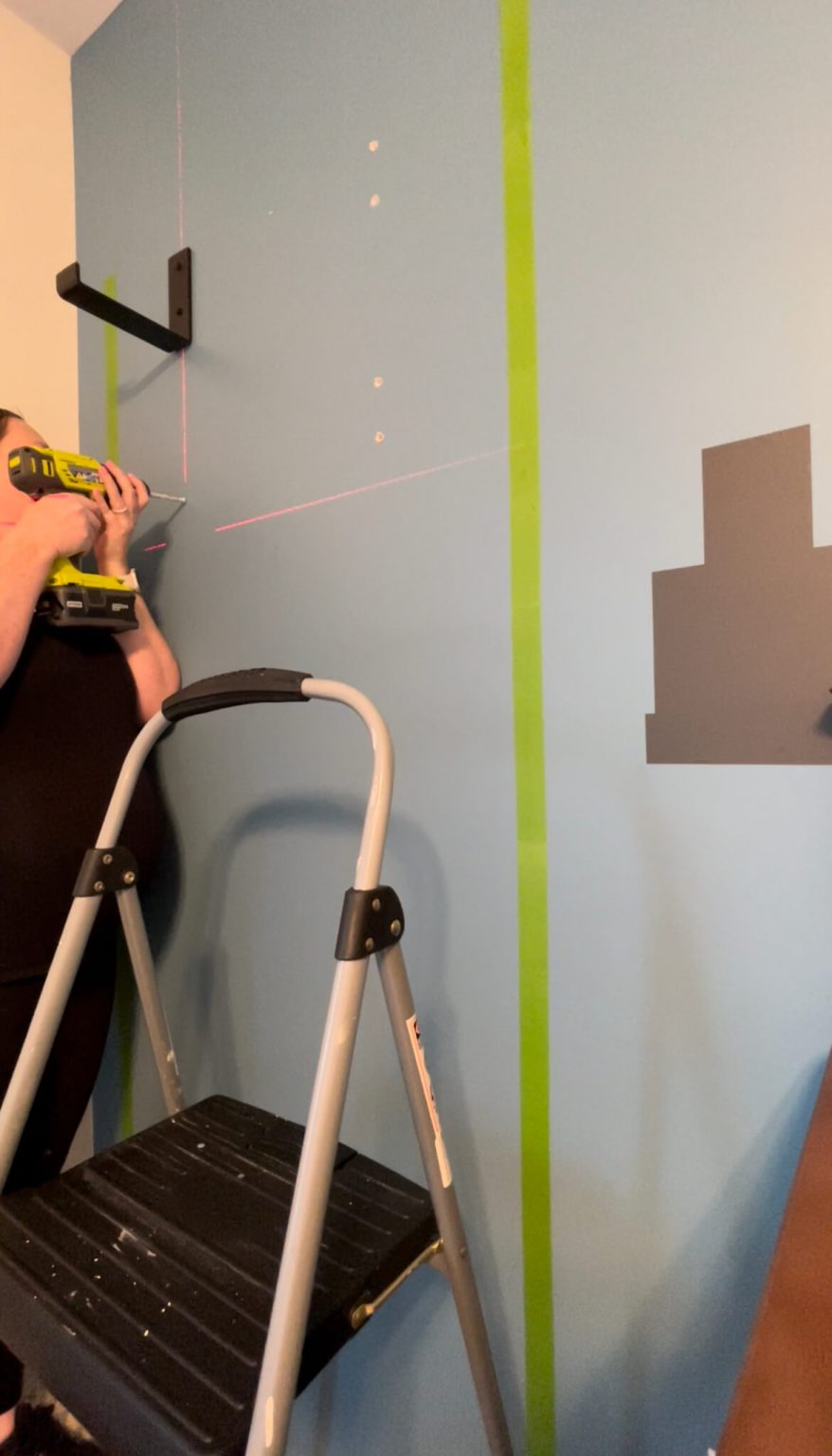 Before you get to the painting portion of this tutorial, if you have shelves to hang or anything that requires drilling, I suggest doing that before you paint.
You don't have to, but it will save you time and not mess up your newly painted surface when you go to attach the shelves or whatever else you're hanging.
3. Paint inside the lines.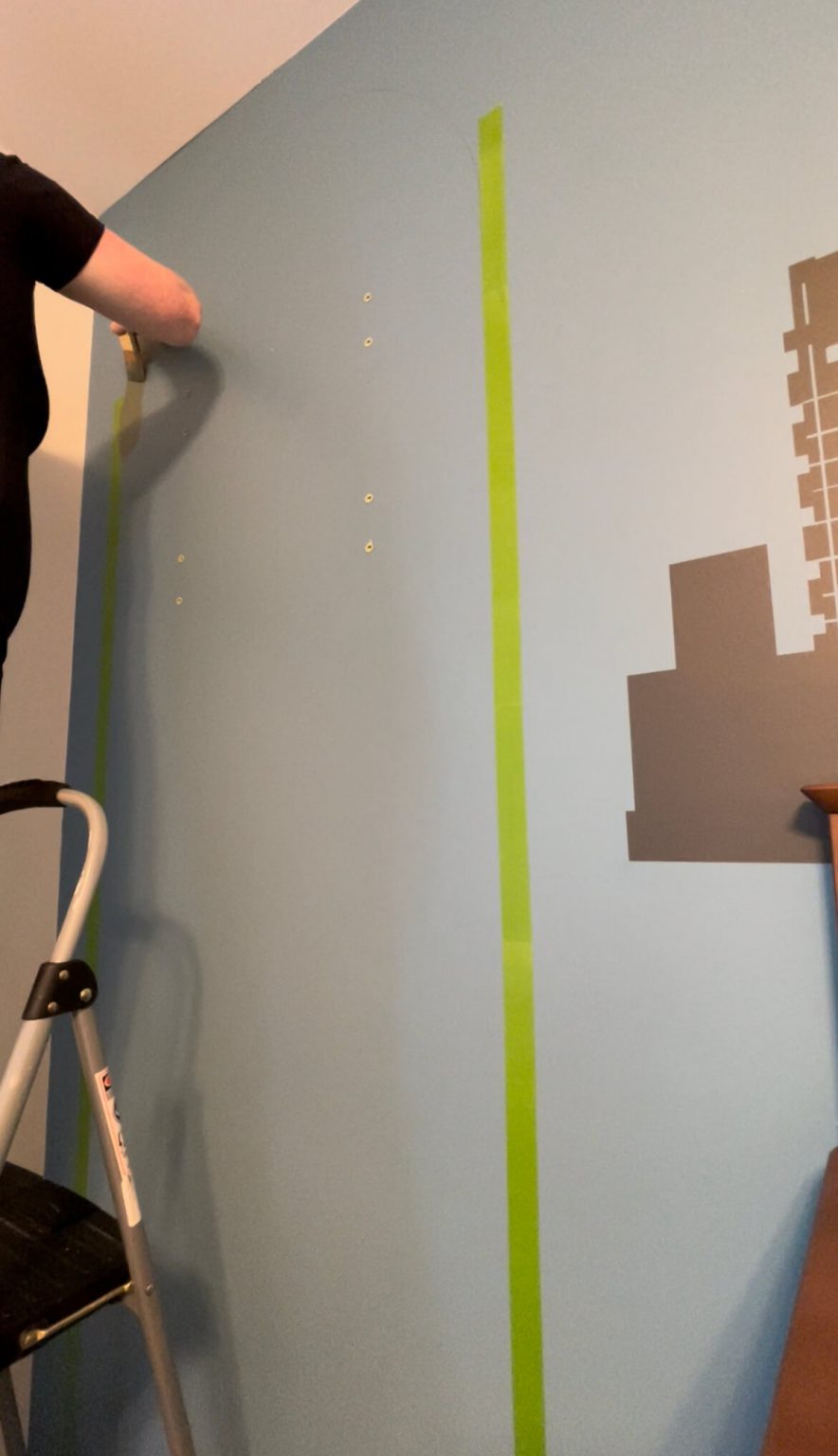 The last step in this process is to grab your paint and angled paint brush to begin painting inside the lines.
Follow the markings you made to paint the outline of the curve first.
Once you have the outline of the arch, use your roller to paint the rest of the arch.
For super crisp lines, roller over the Frogtape. The wetness of the paint helps the tape lock in.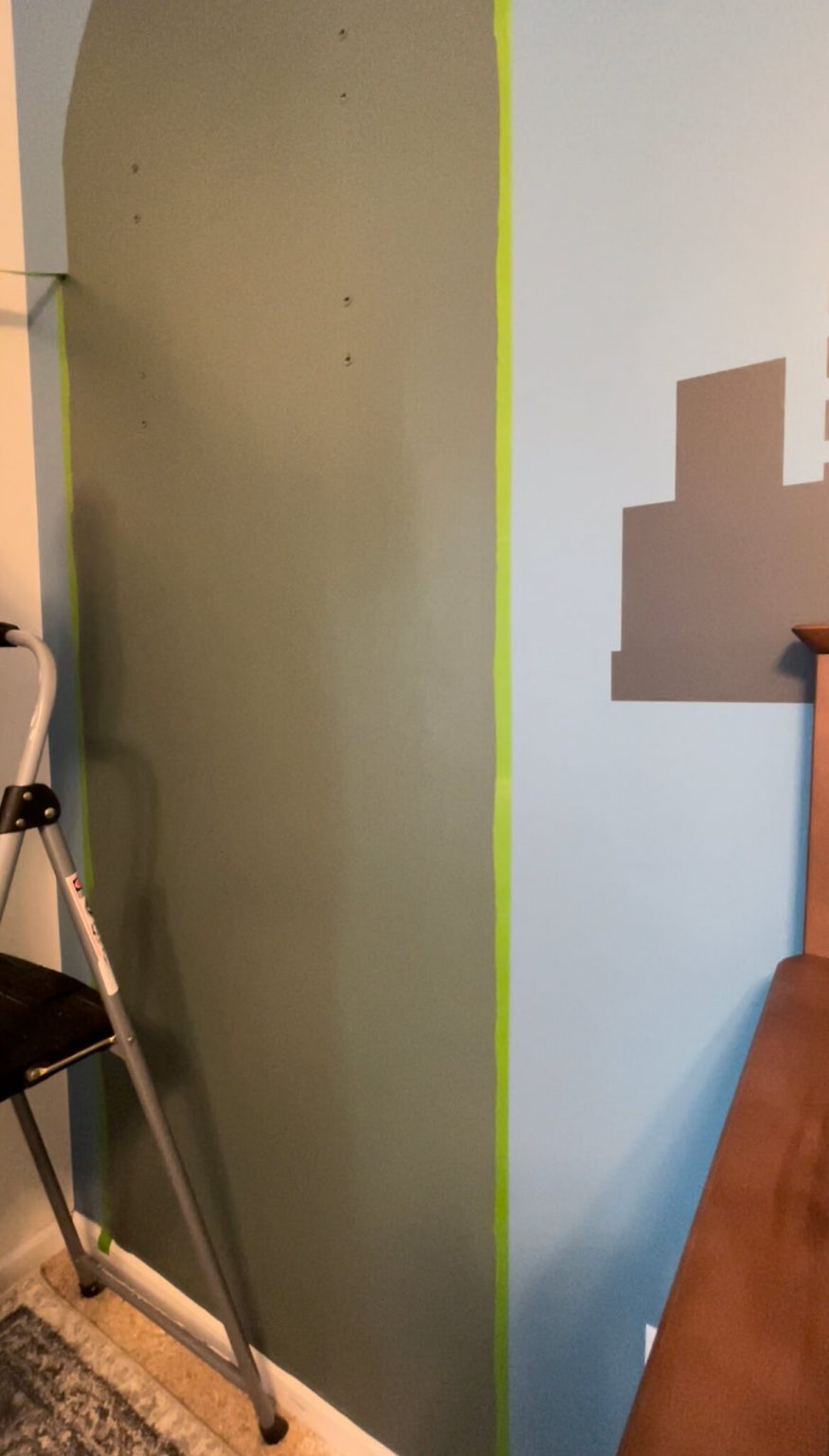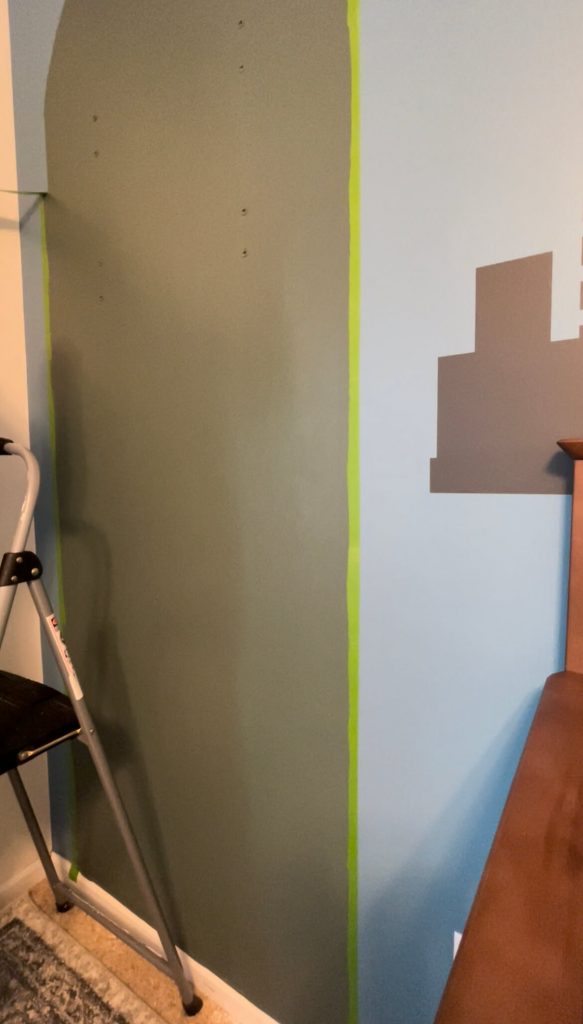 While the paint is still wet, remove your tape.
4. Add accent pieces and enjoy!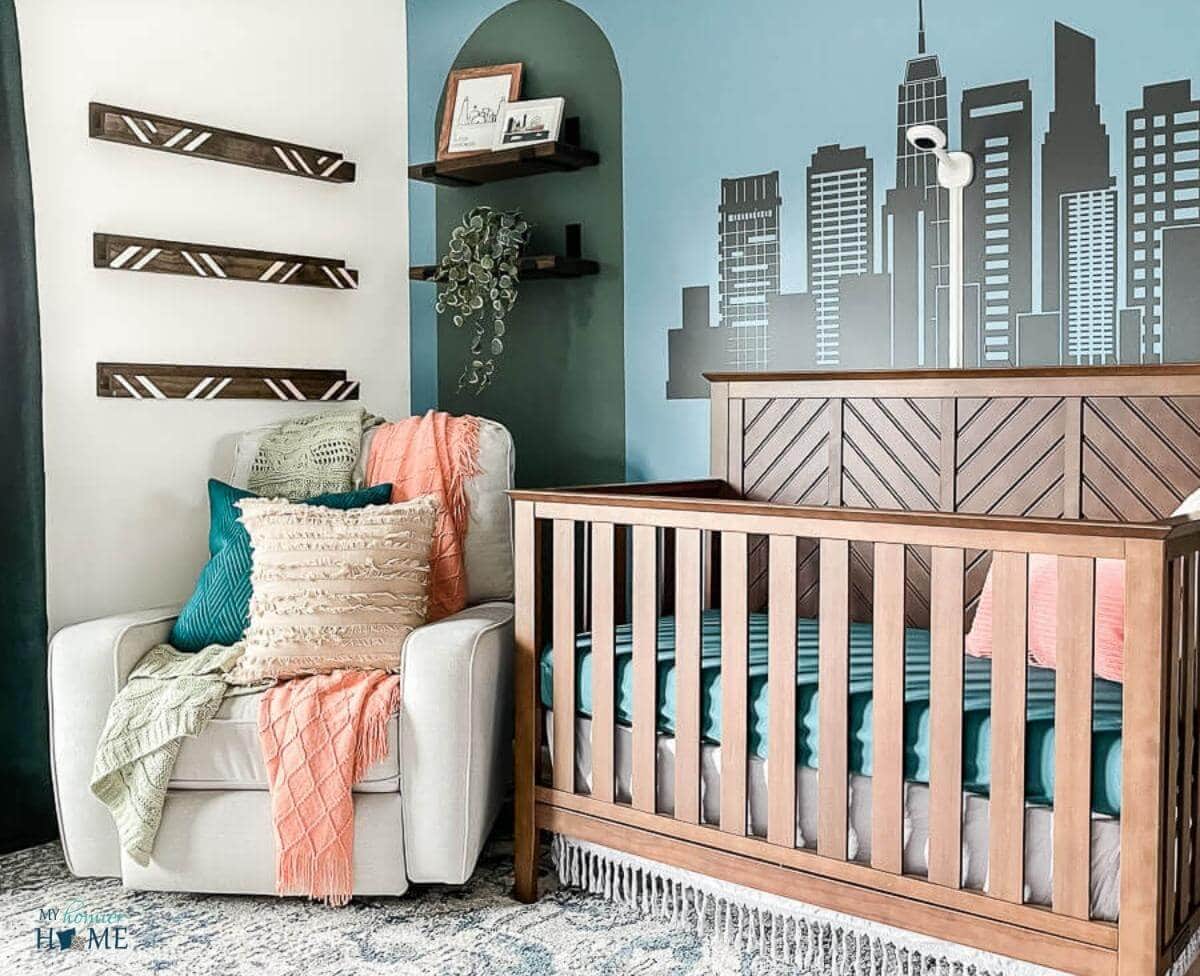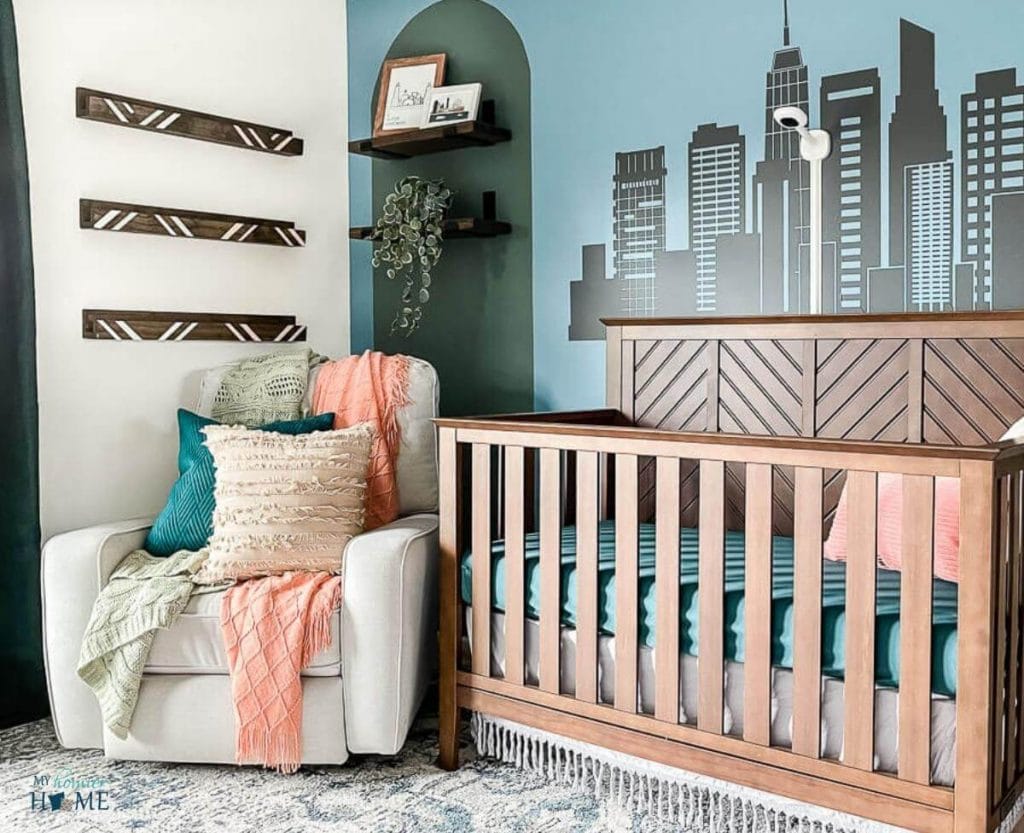 We added more floating shelves to this area of the nursery.
In hindsight, I would have hung these shelves a little lower so they sat more in the base of the arch and were in between the gaps of the other shelves to the left.
But all in all, I love the added character this arch brings for little to no effort.
What do you think?
Be sure to tag me @myhomierhome on socials with your painted arch project.
Happy painting!
Want to watch the video for this post?
You're in luck!
I put together a video tutorial to add to this post, so you can see the full scope in real time!
Check it out below and while you're there, be sure to hit the subscribe button and turn on the bell notifications to make sure you never miss a new My Homier Home video!