How to Hide an Unlevel Ceiling with Wood
Want to add visual interest to your room, but your ceiling isn't cooperating? This tutorial will teach you the quick method to hide an unlevel ceiling when working with wood.
Did you catch my DIY archway project from last week?
This project has been so fun and has really made a huge difference in the DIY reading nook. But, I had one more piece to the puzzle I wanted to share with you.
We created this arch and we're so excited about how it came out, but when we went to hang it, there was a huge gap from an unlevel ceiling as you can see below.
Ugh!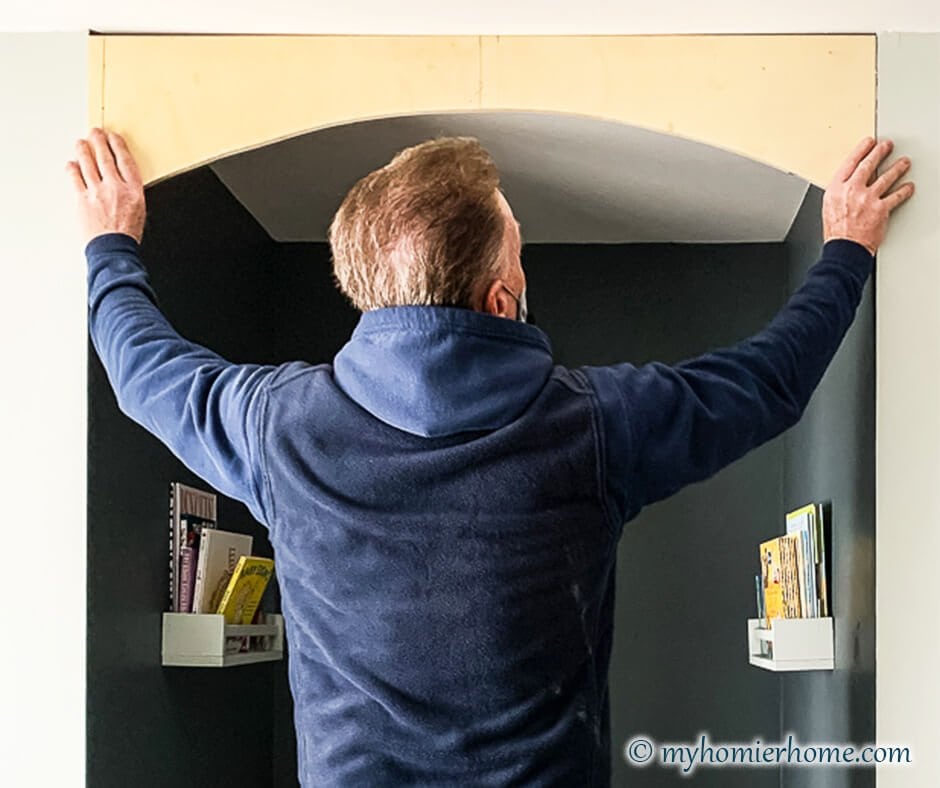 Disclaimer: This post does include affiliate links for your convenience. This is at NO additional cost to you but earns me a small commission. To read more, check out our disclosure policy. As an Amazon associate, I earn from qualifying purchases.
So, I did what any good DIYer does and I headed to Home Depot and asked my resident expert, Monte.
This guy is my favorite over there because he is a wealth of knowledge. I talked about him in my stories when I was there, so this is the tip he gave me in action.
Let's get started!
Choose a flat item the size of the largest gap of the unlevel ceiling
The largest gap we were dealing with was on the left side.
It just so happened that a block of wood from the DIY archway was the perfect size of the gap.
If that's not the case for you, no worries. You just need to find something flat, like a pad of paper, the size of your gap.
This is how you are going to transfer the slope of the unlevel ceiling unto your wood, the arch in my case.

Lay flat item and pencil on the unlevel ceiling
Next step is to place your pencil flat against the item you chose with the tip resting on the wood (arch) board.
The best way to do this is to use a carpenter's pencil because it is already flat.
Slide the piece and pencil across the unlevel ceiling.
Holding everything flat to the ceiling and flat to the wood piece, slide this mechanism across the unlevel ceiling.
Your goal is to transfer the slope of the ceiling on to the wood so you can cut it in the next step.
Use your jigsaw to cut the line you drew from the unlevel ceiling
Last, but not least, you want to use your Ryobi Jigsaw to cut on the line you drew from the unlevel ceiling.
I love this tool because it allows you the ability to cut any kind of line, including this curved line.

Check your work to hide the unlevel ceiling
Just to make sure, you want to check your work.
If you find there are still gaps, repeat the steps above.
For ours, it only took one shot. Winners!!
See the difference?
Moral of the story: Never let an unlevel ceiling get you down – just hide it with these handy dandy tips above.
Happy DIYing!
Want to watch the video for this post?
You're in luck!
I put together a video tutorial to add to this post, so you can see the full scope in real time!
Check it out below and while you're there, be sure to hit the subscribe button and turn on the bell notifications to make sure you never miss a new My Homier Home video!


Other Posts You May Like: