Modern Vintage Guest Bedroom Design Board
Looking to create a perfectly modern vintage bedroom? Here is my entire design board along with links to all the items for how I turned our lack-luster guest bedroom into a modern vintage beauty.
Raise your hand if you know you want to redesign your guest bedroom, love the modern meets vintage vibe, but can't quite articulate your vision.
Most people I talk to have an idea in their head, but struggle to visualize to make sure it's going to work. Well, if a modern vintage guest bedroom is what you desire, keep on readin'!
Disclaimer: This post does include affiliate links for your convenience. This is at NO additional cost to you but earns me a small commission. To read more, check out our disclosure policy. As an Amazon associate, I earn from qualifying purchases.
The Before
Once upon a time, long before I got into the decorating biz, I had a bold idea to bring in some color to this room.
I wouldn't say this is horrible, but for a place where people are trying to wind down and sleep, it was a lot. Not to mention, these nightstands don't fit the vibe.
Enter the new and improved version…
The Design Board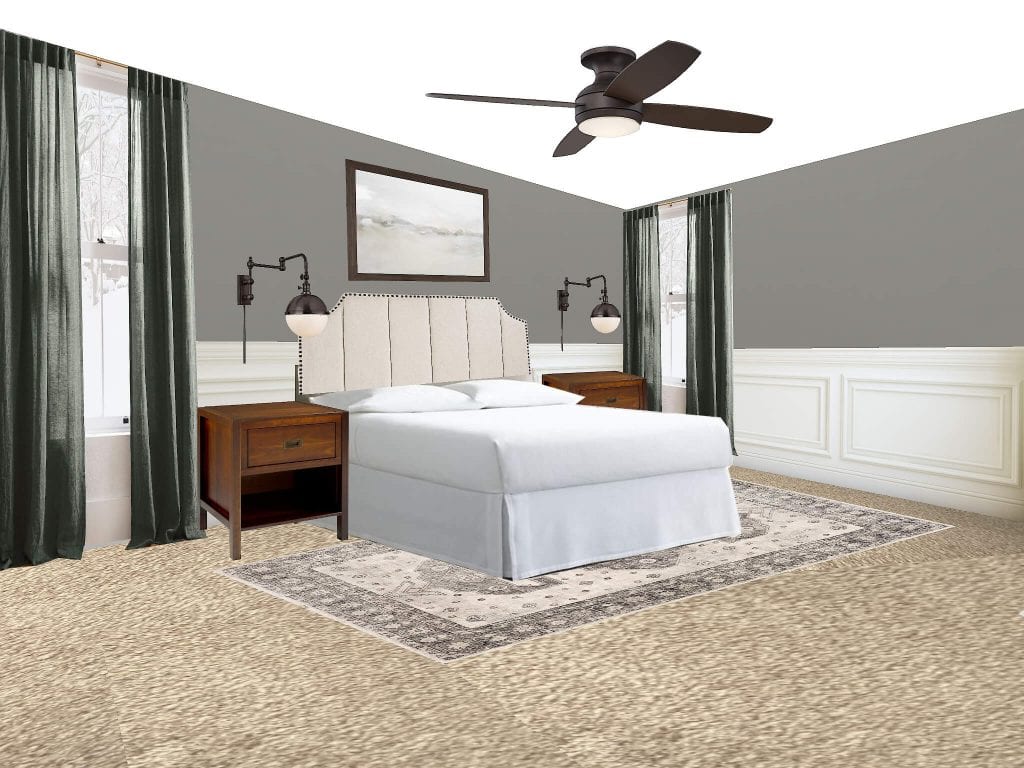 It doesn't take much to completely transform a room, but in this case it requires, first and foremost, a change in paint color.
The paint colors you see here are Shade by Clare Paint (my favorite paint company – read more here) and Whipped by Clare Paint.
Another important way to really dress up a room is to find statement curtains. I prefer to stick with textured or linen curtains in a solid color versus patterns because I think they are more timeless. The ones you see here I found on West Elm's Black Friday sale. They are flax linen in the color olive.
Every room does need a bit of pattern to keep it interesting, so I usually opt to bring a pattern in with the rug I choose and the artwork I choose.
The rug above is so beautiful from Boutique Rugs (Congress Area Rug). The artwork you see is from Collection Prints (Horizon) and the frame is from Frame It Easy (Dayton in Cocoa).
Updating the nightstands will help the aesthetic a lot, too. These are from Home Depot (Welwick Designs in Walnut) of all places.
Last, but not least, updating the lighting will make a big impact on this room's vibe. I chose these plug in sconces for the bedside and this updated fan to bring the modern vibe.
What makes this a modern vintage bedroom is the color scheme, the rug, and the types of furniture. Even though none of these items are technically vintage, the vibe is still there.
Click any image below to shop it directly!
If you see any items you like, I've attached an item grid below. You can click on any of the pictures to shop that item directly! Pretty cool, right?

(click on any of the images to shop the products)
I'll be sharing the different phases of this reveal soon, so be sure to join my homier home community by entering your info below. Talk soon!