My Spring Home Tour Including Florals and Good Vibes
Welcome to my spring home tour! Let me show you how I breath a little life into our home to ring in the new season with style!
Welcome to the spring home tour!
There is so much inspiration to be had today because I am sharing this tour with some of my favorite decor-loving bloggers.
At the end of the post, there are links to all of their spring home tours as well, so be sure to check them all out!
I have a couple key areas of my home in which I switch up the decor for the seasons.
When my dining room is complete, that'll be another room, but for now, I focus on the front entry, living room, and kitchen.
There is something so powerful about changing the decor with the seasons because it breaths new life into your space.
Just the small act of switching out some greenery already has me feeling motivated and ready for sunshine.
You can check out all the other rooms in my home in my full home tour here.
Hopefully, you find some inspiration below to breath new life into your home for the spring season! You'll be glad you did.
Table of contents
Disclaimer: This post does include affiliate links for your convenience. This is at NO additional cost to you but earns me a small commission. To read more, check out our disclosure policy. As an Amazon associate, I earn from qualifying purchases.
Spring Front Entry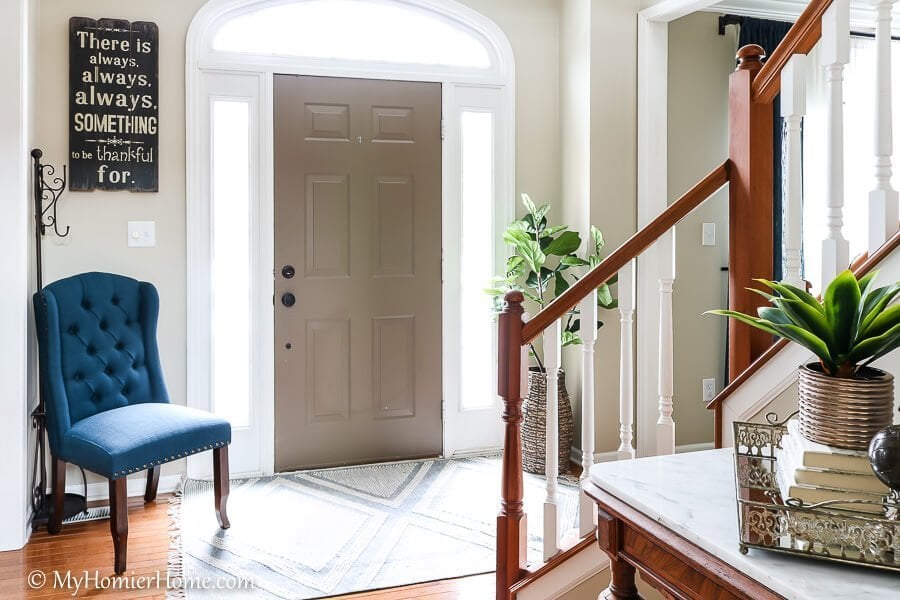 The larger plant in the right corner changes for spring/summer and fall/winter. This space needed a little pick me up because it seemed very bare without offsetting the chair with something pleasing to the eye.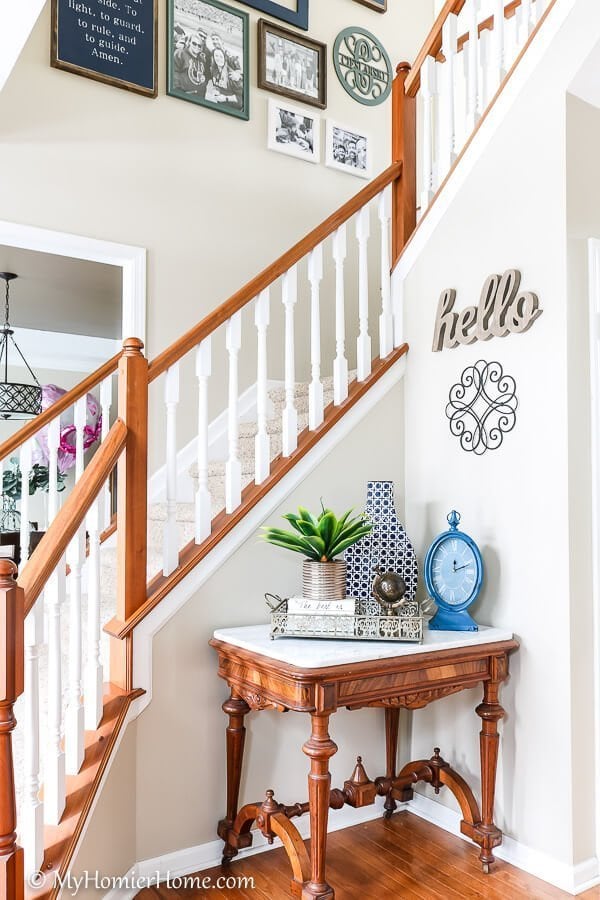 This is my favorite table to switch in and out for the seasons because it is one of the first things guest see when they arrive.
I like to think of it as a welcome table to share the vibes of my home.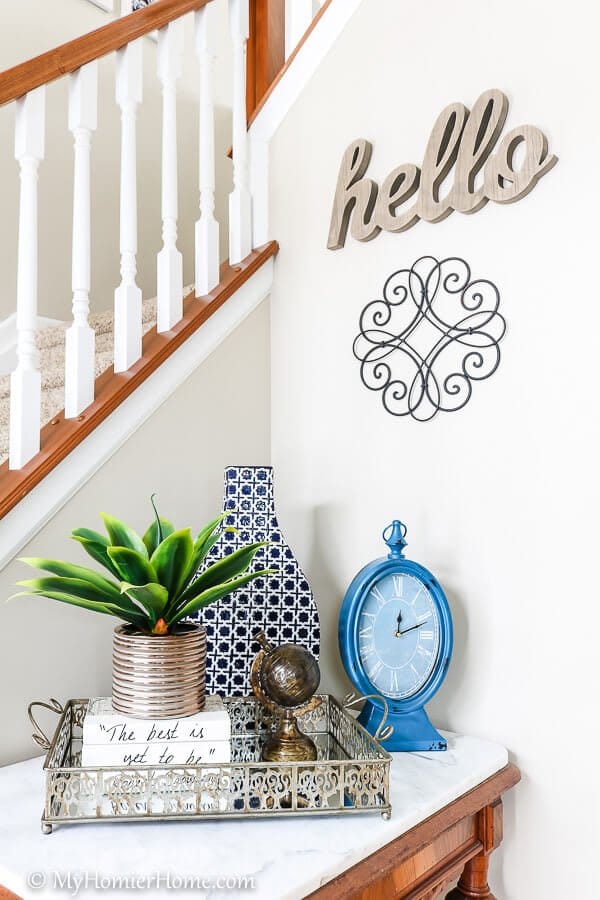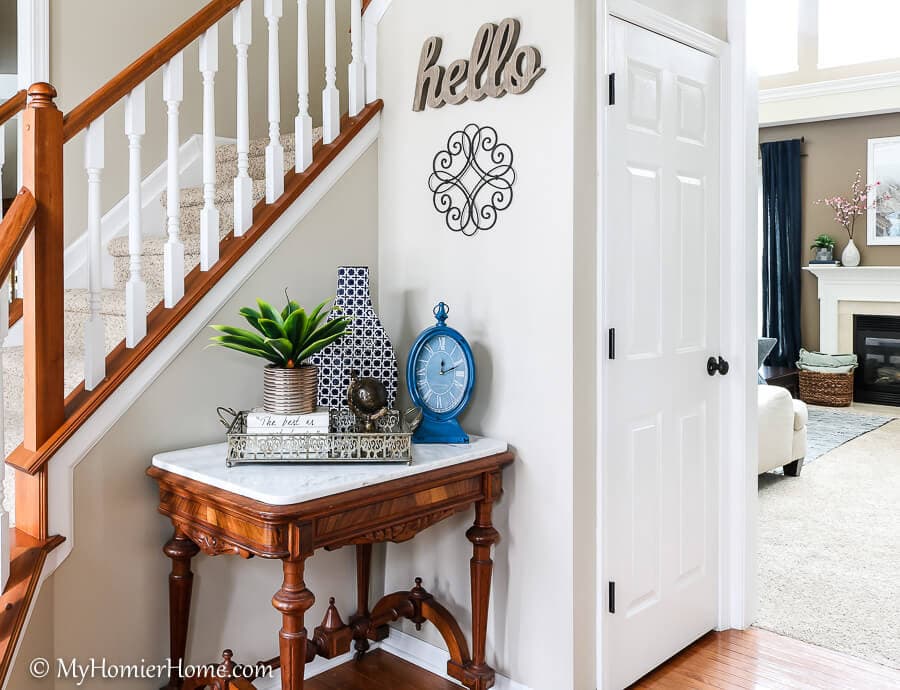 Spring Family Room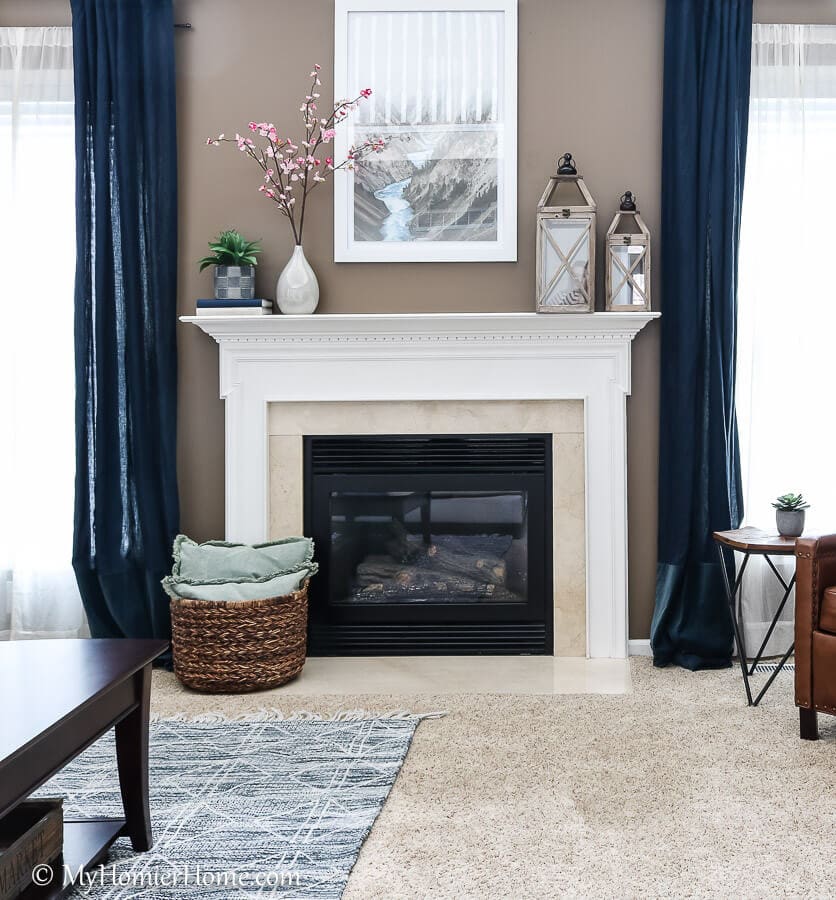 The fireplace mantel and hearth are always good spots for seasonal switches.
This space has been one of my arch enemies in the past because it is not deep at all.
If I had money to spare, I would redo this whole fireplace setup, but it is not in the cards any time soon.
Therefore, sprucing it up with some spring-inspired decor makes me like this little vignette just a little bit more.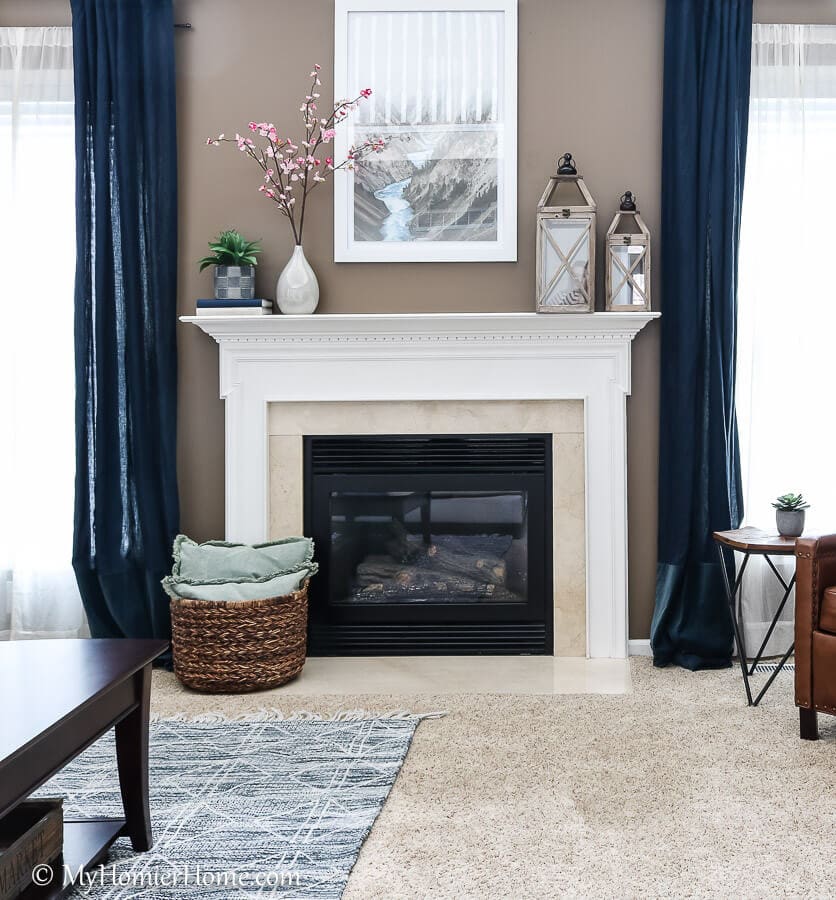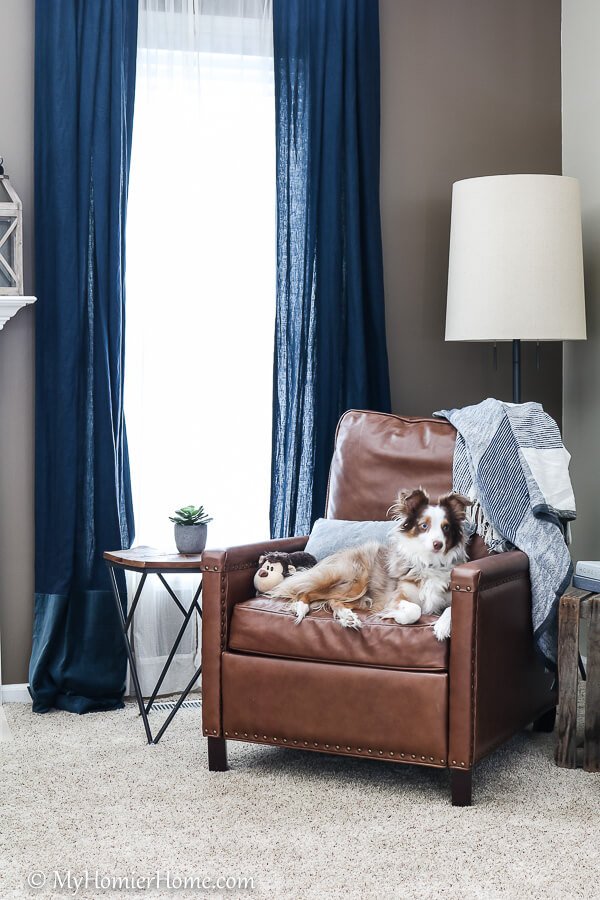 One of my favorite tricks for easy seasonal changes is to swap out the blankets and pillows.
In this corner, I switched the darker blanket, pillow, and plant on the side table to make this corner a little lighter and brighter.
I think this little guy approves with his monkey snuggles.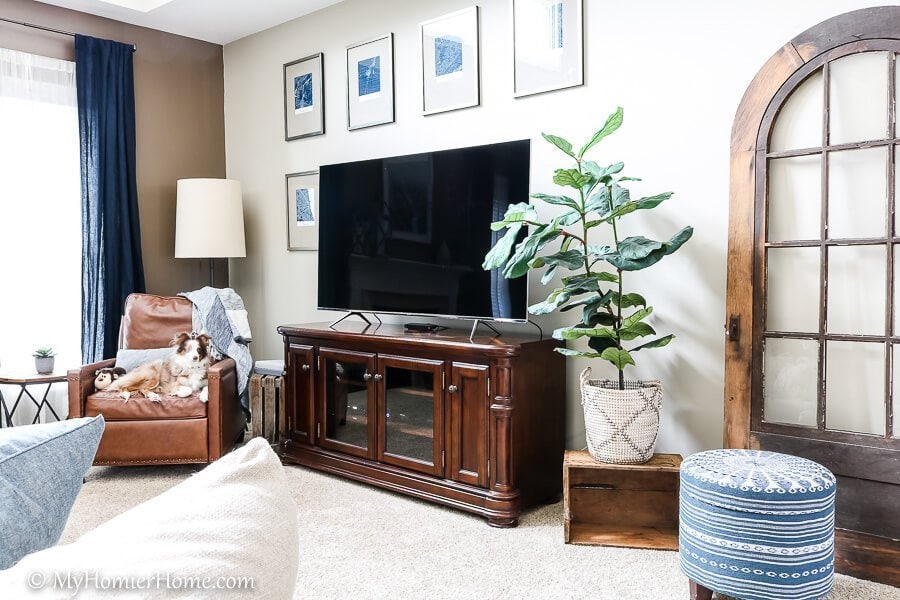 The tree next to the television gets swapped out for my favorite owl tree in the winter time.
This living room was one of my one room challenge projects a couple years ago.
I'm inspired by decor that has meaning and shares the story of you and your home. This is what brought me to the pictures around the television.
Televisions are not always the most appealing piece of furniture to look at or decorate around, so I wanted to draw the eye to something meaningful.
The five frames are maps of every city my husband and I have lived in together.
We both grew up on the Southside of Chicago, moved to the same suburban town when we were in grade school, and met in high school.
We then spent four years at Northern Illinois University in DeKalb, IL, and bought our first home in another Chi-town suburb.
And last, but not least, we currently reside in the 'burbs of Indianapolis with our little mini Aussie, Lambeau, and a baby girl due in April. 
I love having conversation pieces scattered throughout our home that tell our story and these maps are my favorite.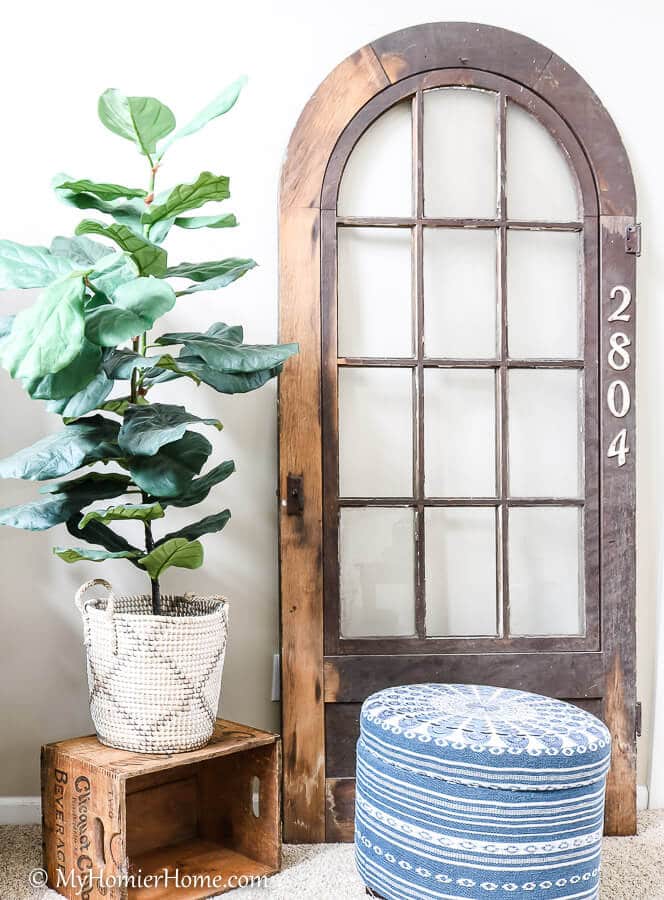 The hubs and I love scouring antique shops for neat pieces to add to our home decor and this door is still one of my favorite finds.
Have you ever had just one of those walls that really made you scratch your head?
This wall was so big that I could barely fill it. The addition of this antique door really made it all come together.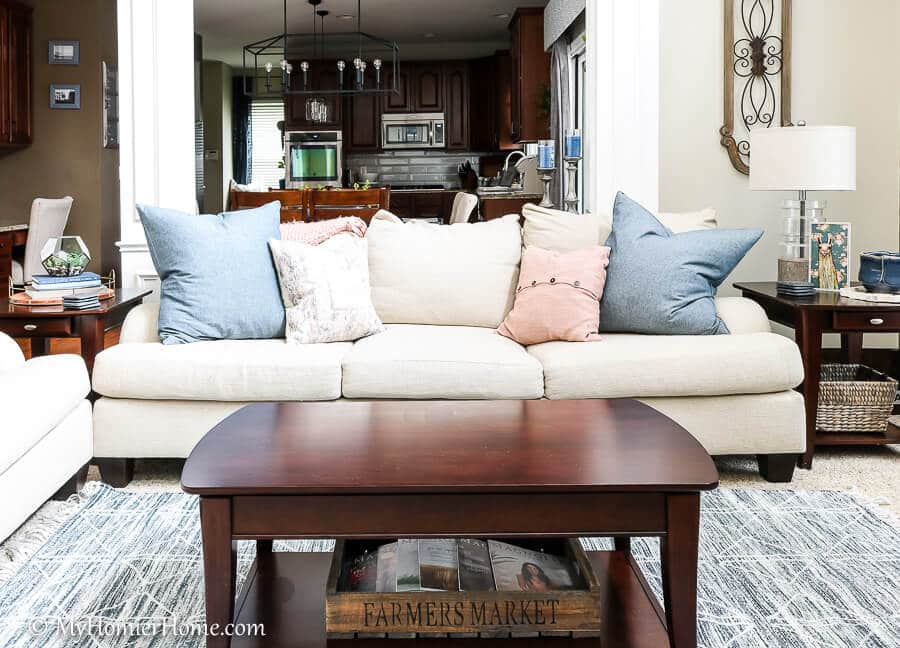 If you ask my husband, I am pillow obsessed, but who doesn't love a good pillow refresh, amiright?
Switching out pillows is a great way to brighten up any space.
If you want to know my fun and fool-proof way to fluff the perfect pillow, I did a whole video tutorial… I may even sing a catchy tune, so you'll never forget. 
If you struggle to mix patterns and textures, you can read up on my throw pillow patterns tips or how to arrange pillows on a couch and choose throw pillow sizes, too.
How cute is this little llama art?
He brings a boost of color and fun to the mix.
When I chose the color scheme for the living room and came across this llama art, I knew he'd be perfect to tie everything together.
And, doesn't he make you want to smile?
Subtle changes from winter to spring make a huge a difference.
I changed out the books on the left of the table for ones with a bigger pop of color and some upgraded plants to liven up this walk way.
I also have changed the bottom shelf on the right to add more spring plants and a colorful rock instead of my acorns I keep there for the fall/winter.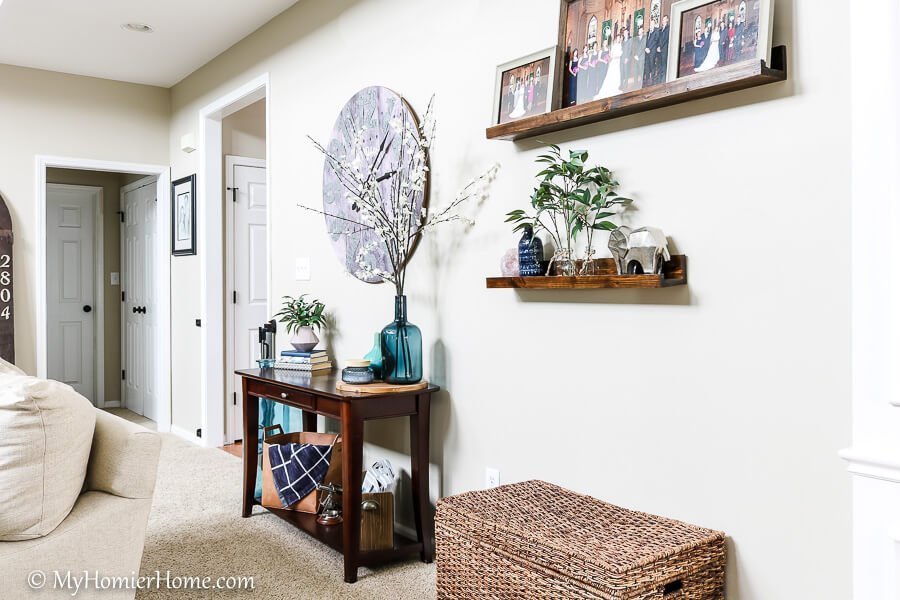 Spring Kitchen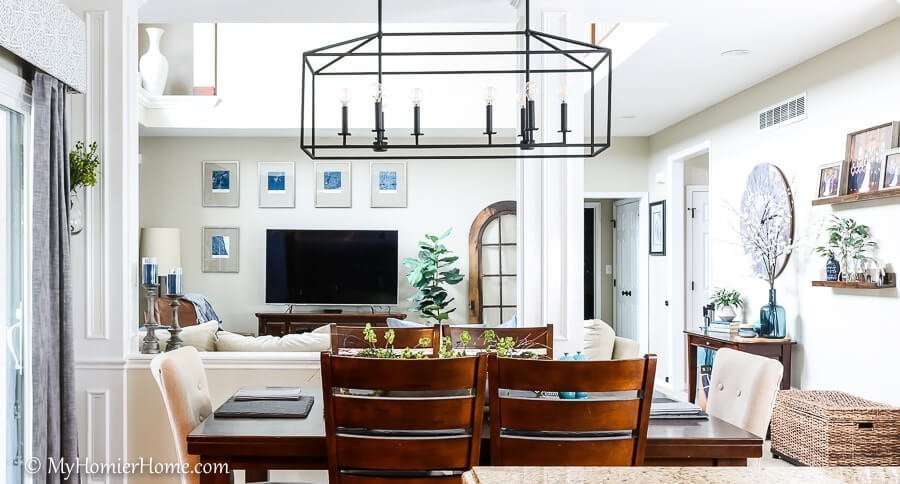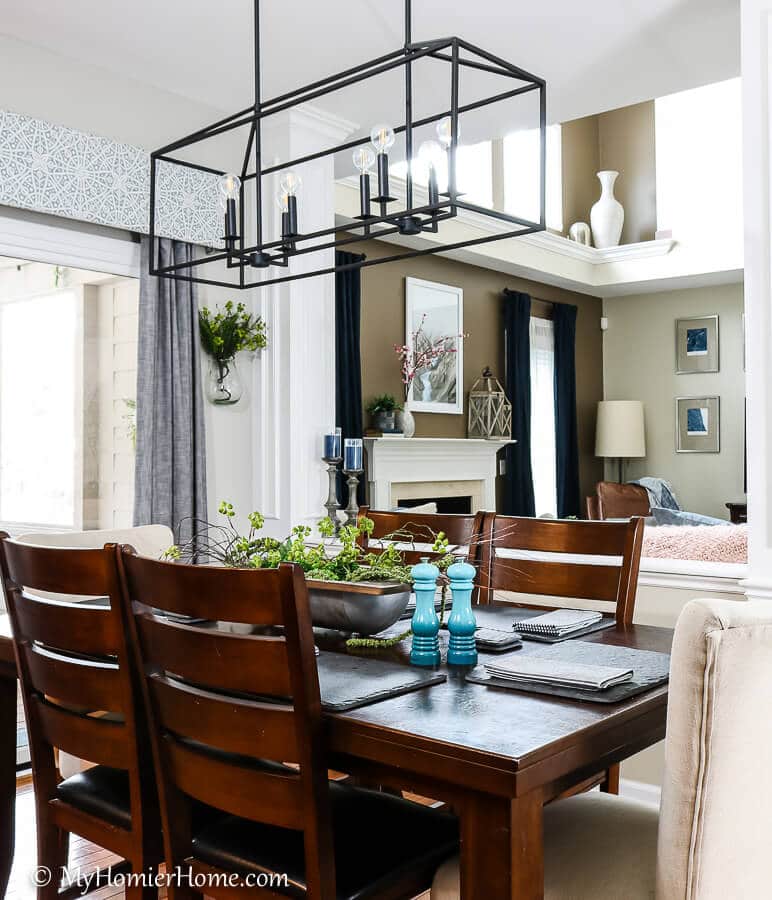 In our open concept living room/kitchen area, I like to keep the seasonal vibes going.
All my kitchen tweaks are very subtle, such as changing out the centerpiece for more fun stems and greenery.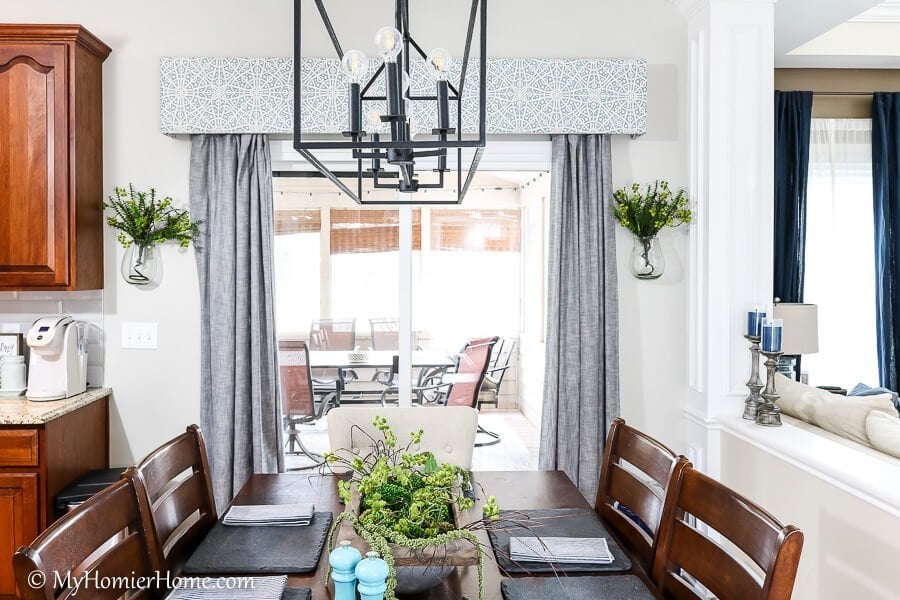 And, the plants in the vases on the side of the sliding door get a pick me up too!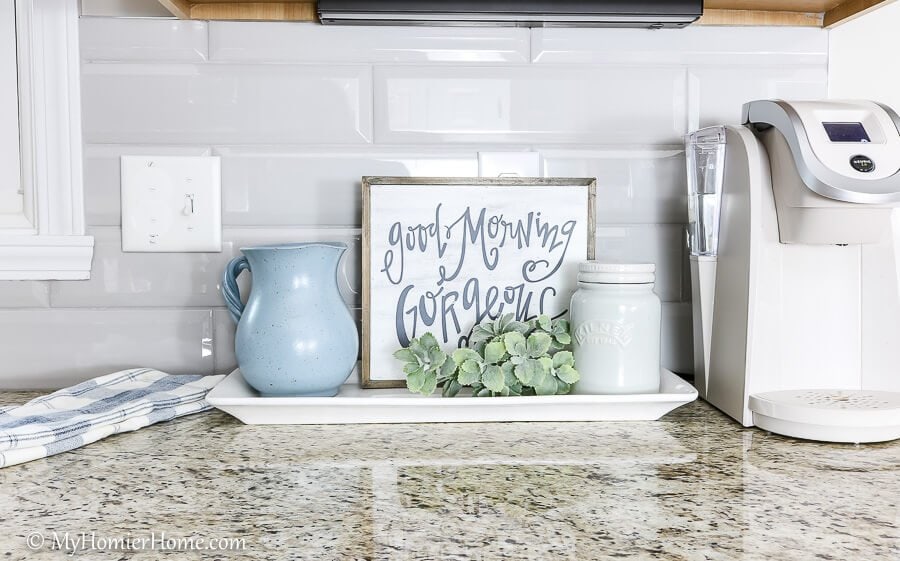 Of course, the coffee station has to get a little sprig of spring, too!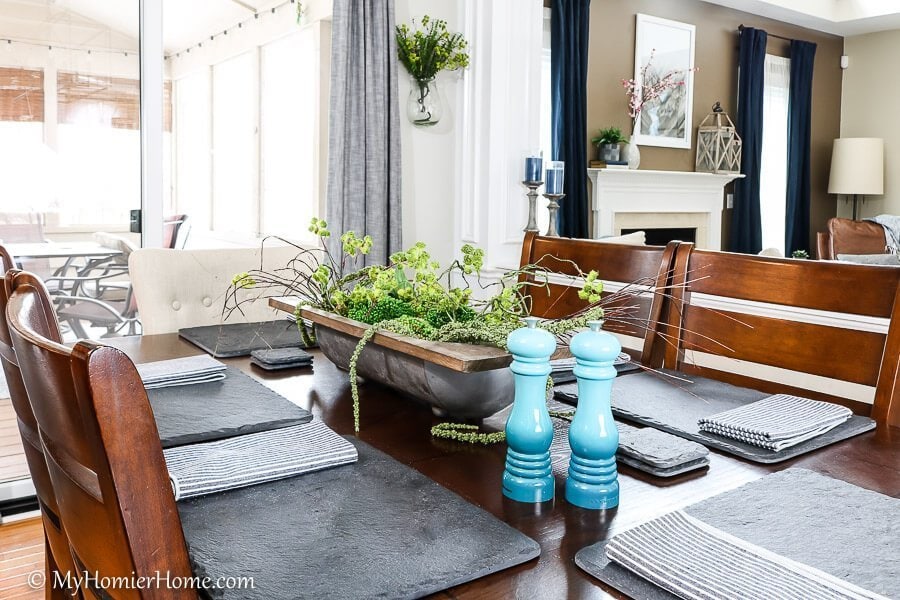 Lambeau is all ready for spring to take walks with his new baby sister and snuggle up on the couch with some new fluffy pillows.
Don't forget to check out all the inspiration from the spring home tours below.
Get those feel-good, spring vibes a'flowin'!
More Spring Home Tour Inspiration
I'm thrilled to be joining in today as 28 talented bloggers bring you the best of spring for all throughout the home! Please continue along this inspiring tour, and visit the other participants in each of the following categories.