How to Decorate your Home for Christmas | Part 1
Follow these tips on how to decorate your home for Christmas including decorating guidelines and the perfect room hierarchy.
It's that time of year where the weeks are going to move fast and the joy is going to spread like wildfire!
Up until a couple years ago, I struggled to get ahead on all the Christmas prep.
I had so many grand ideas to make the holiday incredibly memorable, but I was always scrambling at the end and forgoing a lot of things I know would have been great.
I'm happy to say that I have come up with a solid plan to stay stress-free and actually enjoy the holidays and I can't wait to share it with you!!
Before I dive into the Christmas decorating tips and guidelines, I wanted to make sure I mentioned that we only have a few more days to take advantage of the Holidays at Home Bundle deal.
This bundle is a curated collection from the best bloggers in the home decorating biz to help you prepare for the holidays in a way that makes this year even more memorable than the last.
And my entire Christmas Prep Library is part of it!
You can read all about what's included and the deal savings here, but it ends Sunday, so don't delay!
Alright, on to today's tips…
Disclaimer: This post does include affiliate links for your convenience. This is at NO additional cost to you but earns me a small commission. To read more, check out our disclosure policy. As an Amazon associate, I earn from qualifying purchases.
Phase 1: The Prep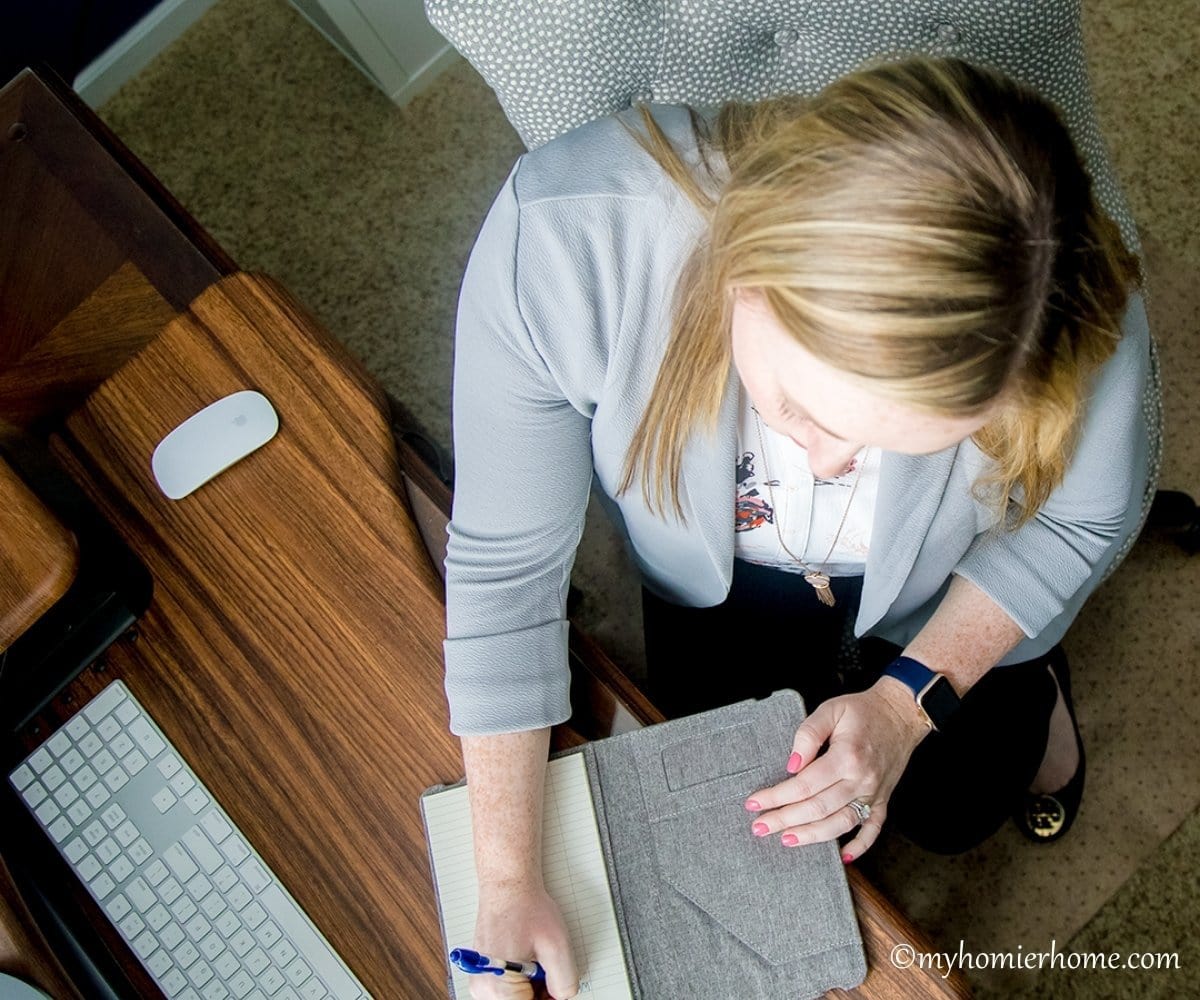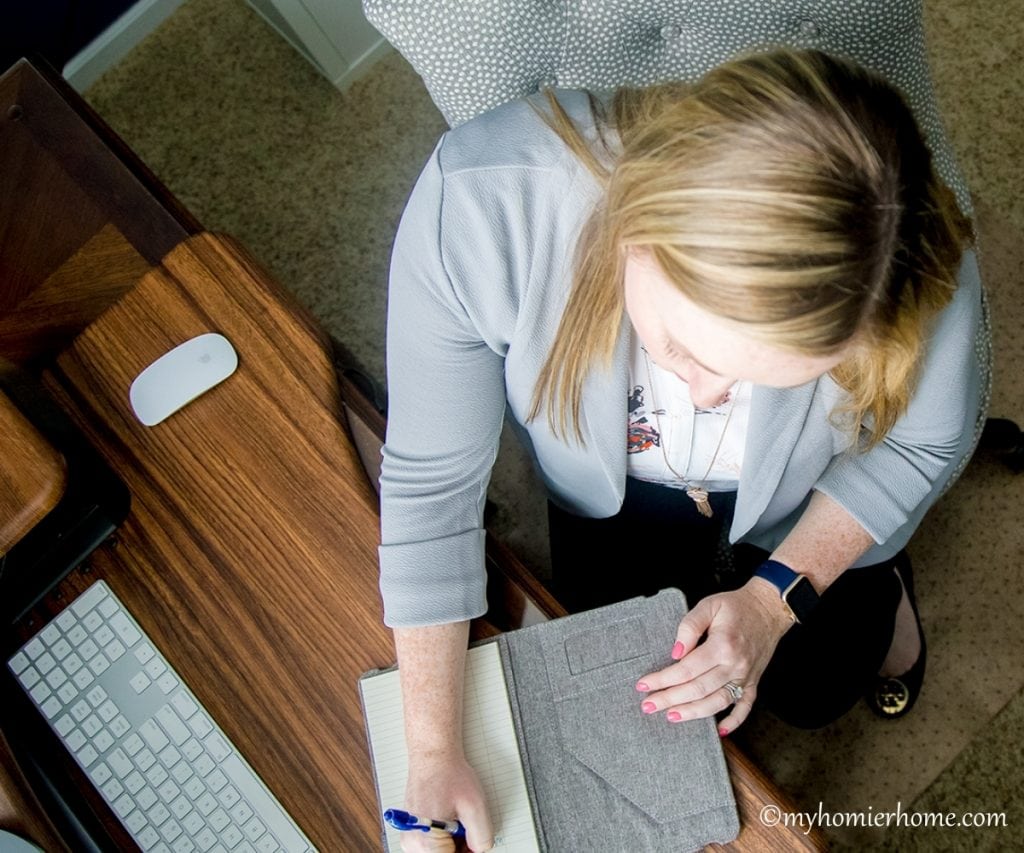 Taking sometime to think through your Christmas decorating before just diving in will allow you to make sure you not only don't forget something, but that it's cohesive with your existing decor and your vibes.
Here are the steps I go through to prep…
Choose a Christmas Color scheme
I wrote a whole post dedicated to helping you choose a Christmas color scheme, but this is one of those steps I would for sure take a few moments to consider.
Knowing your Christmas color scheme will make all the rest of the decisions you make that much easier because if it doesn't fit your scheme, then you know to pass on it this year.
List the Areas you Want to Decorate
You may already know which areas you like to decorate, but it never hurts to write it down.
Especially if you are just starting out or are decorating for the first time in a new home.
This list also helps me decide what I still need to purchase and where it will need to go.
You can use my list of room hierarchy to help prioritize your rooms and stay focused.
Main Rooms

Living Room
Front Entry
Dining Room (if hosting)

Secondary Rooms

Kitchen
Bathrooms
Bedrooms

Other Important Areas

Front Yard
Front Porch
Basement (if you plan to spend time down there)
Review the Stash
If you've decorated your home before, chances are you have a plethora of Christmas decor waiting to show its joyousness.
I like to take a look at my stash and make sure I still like the quality of the items I put up last year and sort through what doesn't fit my color scheme or vibe this year.
My secret to all the random Christmas decor you have at the end of your decorating that you don't end up putting out is to put it all in a dark trash bag in your storage area.
Then next year after you decorate, if you can't remember what's in it or didn't use it again, donate it.
This step helps with the prep for next year's decorating, too!
Make a Master Decorating Plan
Next week I'm going to share with you part two of the Christmas home decorating tips and share with you how I plan out my Christmas home decor.
I have a system I go through each year to make sure I purchase with focus and don't just create more work and clutter for myself.
Stay tuned for more on that next week, but in the meantime you can snag my 6-week Countdown to Christmas checklist to get ahead start!
Phase 2: Getting Started
Once you've made a solid plan, it's time to get to work!
Here are the steps I take to get all the Christmas decorations ready for their shining moment…
Put Away Fall Decorations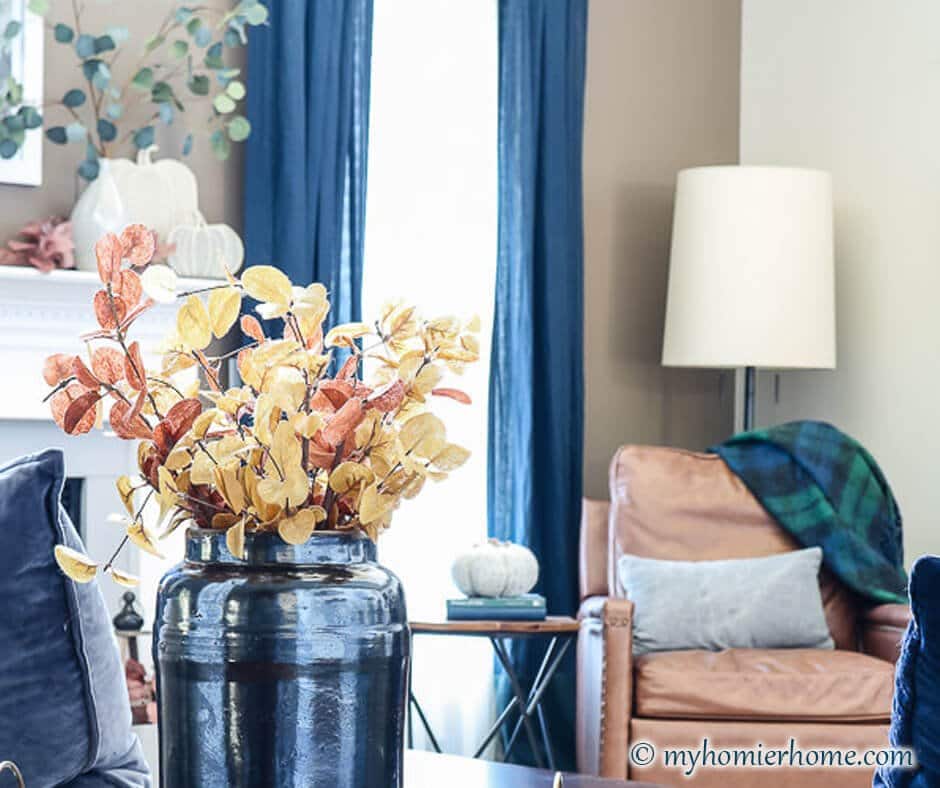 First things first, I like to gather all my Fall-specific home decor.
Things like pumpkins, Fall leaves, and anything else that isn't a cross-over item.
I have a ton of seasonal cross-over items that are basically items I can keep up as I transition season to season.
For instance, the green and blue books you see on the back table and the green and blue blanket on the chair stay from Fall into Winter as a cross-over item.
Set Up and Decorate the Tree(s)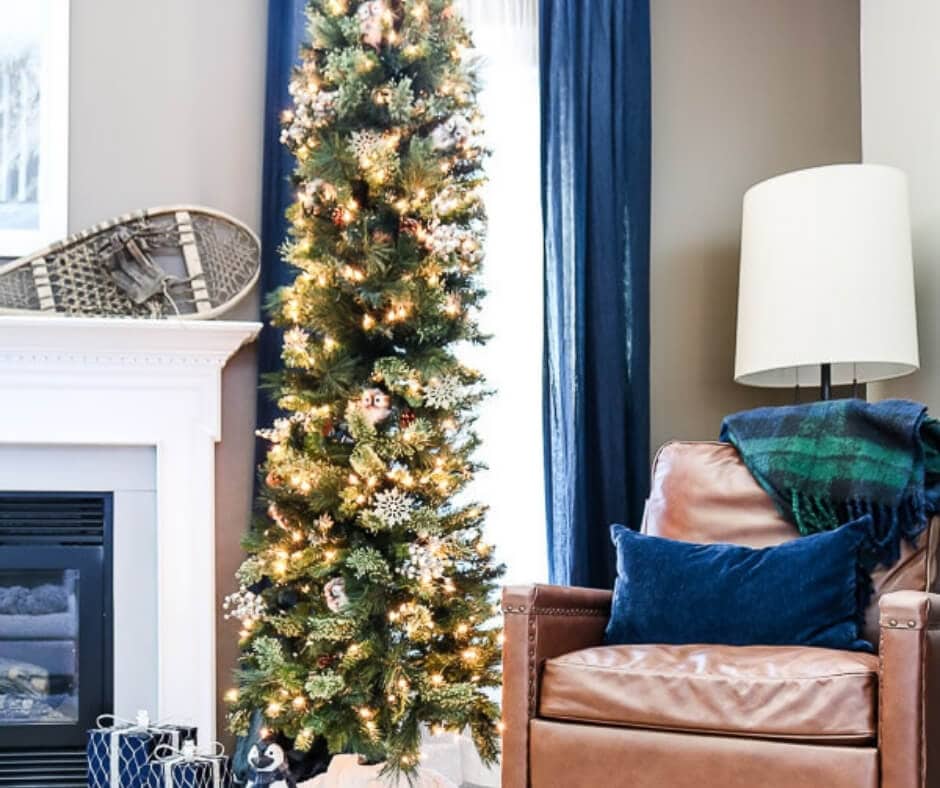 How many Christmas trees do you have?
We use to have one main tree in our front room that we decorate as a family each year – no theme, just pure old-school ornaments and lights.
As the years have gone by, I have added in theme trees to our repertoire.
Now?
We have seven different trees lol.
We have the tree I just mentioned in our front room, two trees in our main living room, one in our bedroom, one in the bonus room, one in our basement, and this year I added one to the guest bedroom.
Each has it's own unique color and theme that fit my overall Christmas color scheme.
I love having multi trees because it lets us transition room to room and still feel all the Christmas vibes.
In the next couple weeks, I'll be sharing my Christmas tree decorating tips, too!
Create Holiday vignettes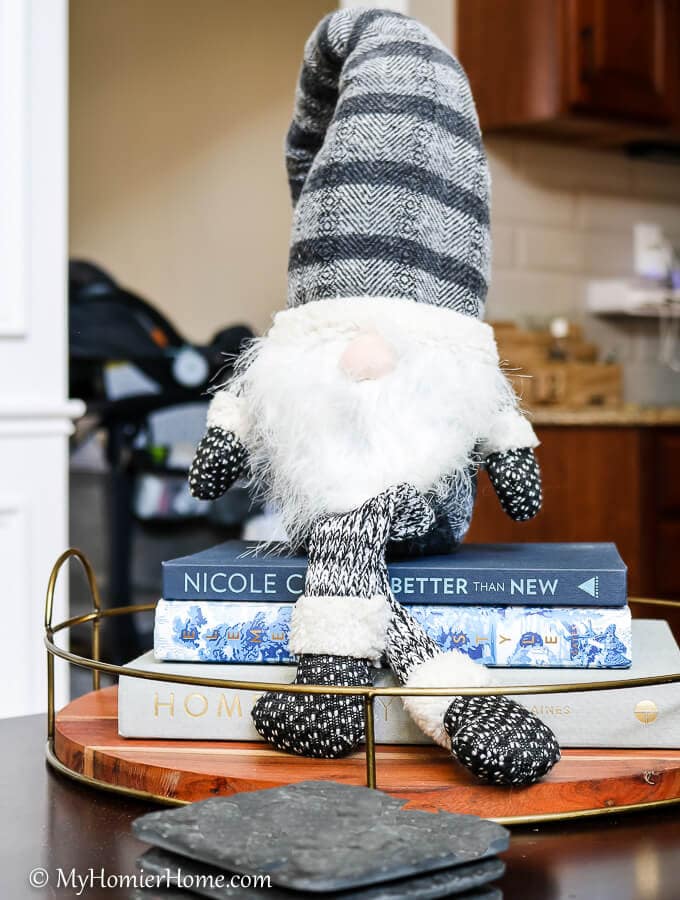 Holiday vignettes are the bread and butter of the whole Christmas home decorating bonanza.
I like to make a list of these as well when I go through the list of areas I want to decorate in the prep section above.
Areas like…
End tables
Coffee tables
Console tables
Fireplace mantel
Entryway table
Kitchen counter corners
are a few of the vignettes I focus on each year.
My suggestion is to make a list of these areas and then once you get all your Christmas decor out, write a list of what you need to complete each vignette.
Complete DIY Projects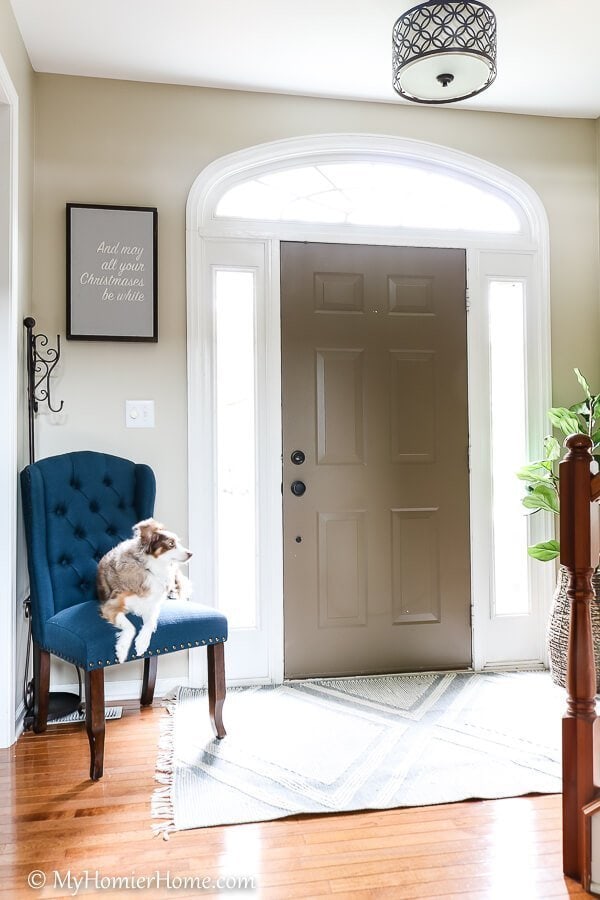 Once you get all your decor out, you'll find there are areas that need a little more.
At this point, you'll be able to decide if you'd rather make something DIY-style, like me snowy white DIY Christmas wood sign, or go on the hunt to shop for it.
I don't always do DIYs around Christmas, but I have done a few over the years, including a DIY Christmas Eve box.
Decorate the Exterior Front Entry
And last, but not least, don't forget about the exterior of your home!
Fun areas to decorate are obviously your house's peaks, trees, and front porch.
I also put lights around the windows from the inside to give it some extra glow.
My favorite are blow up figurines because they are an easy way to bring the spirit.
I wrote a whole post on my favorite essential Christmas decorations, so be sure to check that out for more inspo too!
Phase 3: The Details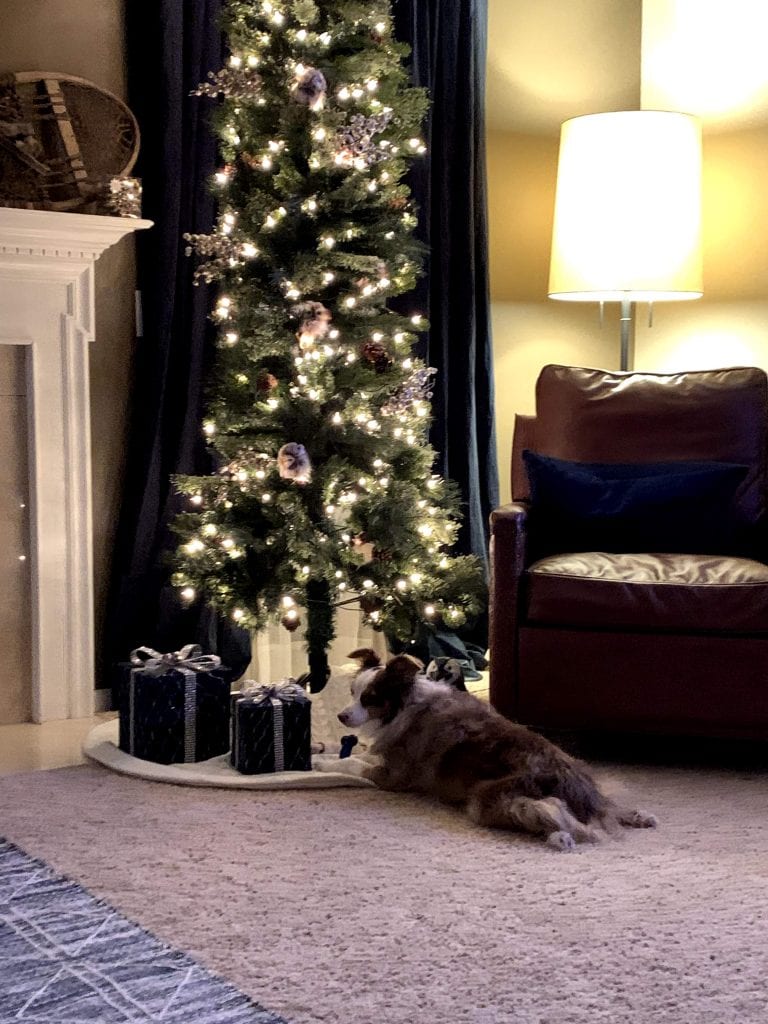 Once you get all your Christmas decor out, it's time to assess the scene.
Before calling it done, there are few things left to make sure your Christmas decorations are in tip-top shape.
Here's what I like to do to assess what lasting details I need…
Decide what needs final touches for your vignettes
Create your tablescapes by updating the table linens
Purchase any remaining decorations you need, such as lights that have gone out or items for your vignettes
Consider purchasing fresh wreaths and/or garland (do this within 2 weeks of Christmas for maximum freshness)
Decide on your gift wrapping theme and purchase your gift wrap
Setup a hot cocoa bar
And, always take an after photo once it's the way you like it and save it to a folder on your phone so you don't forget what you did when you go to decorate next year.
That's it for part one of my How to Decorate your Home for Christmas series!
Next week, I'll be sharing part two where I take you through how I go about creating a master plan for my Christmas decorating adventure.
Until next time, happy prepping!