7 Tips for How to Clean Outdoor Cushions
Forget to take your outdoor cushions inside this winter? I'm sharing my best tips for how to clean outdoor cushions.
Summer is in full swing and that means plenty of time spent outdoors! If you're like me, you've probably been enjoying the warm weather by relaxing on your patio furniture. But what happens when your outdoor cushions start to look a little…less than fresh?
Don't worry, we're here to help! In this blog post, we will show you how to clean outdoor cushions using simple and easy-to-follow steps. So sit back, relax, and let me show you how it's done!
Disclaimer: This post does include affiliate links for your convenience. This is at NO additional cost to you but earns me a small commission. To read more, check out our disclosure policy. As an Amazon associate, I earn from qualifying purchases.
1. Don't let your kids blow bubbles near them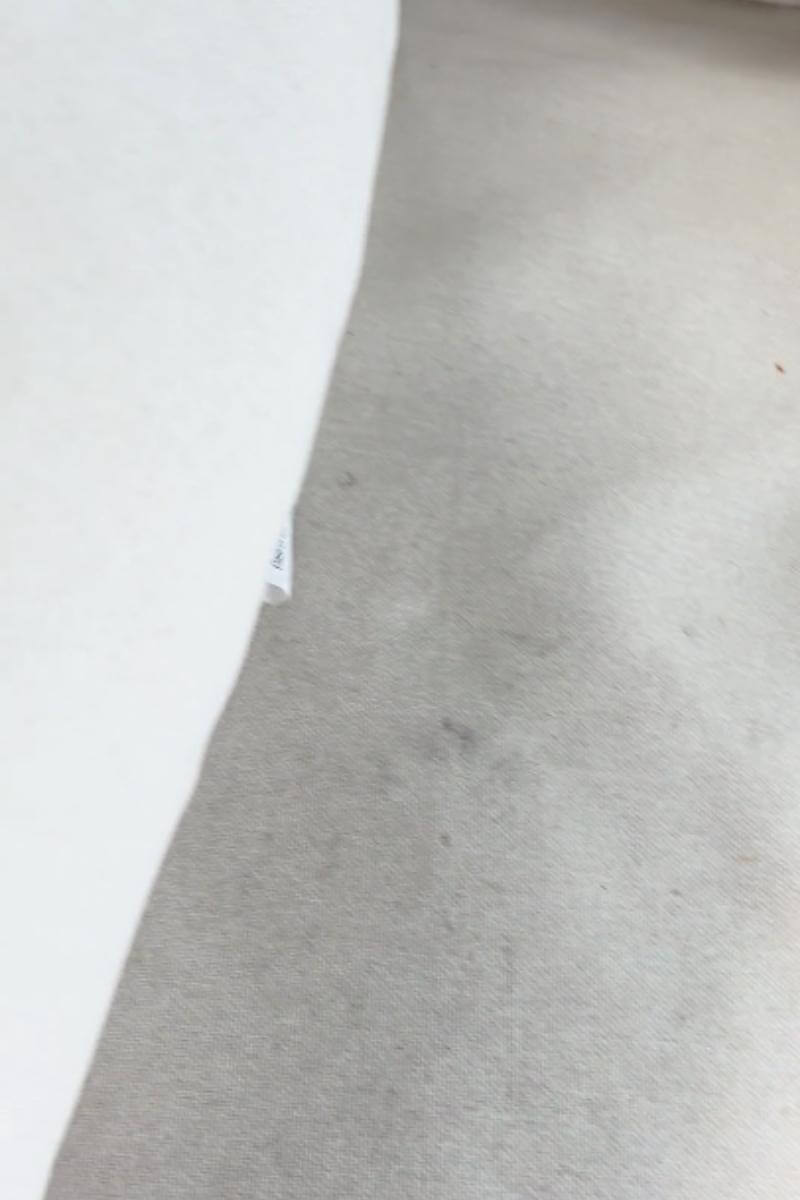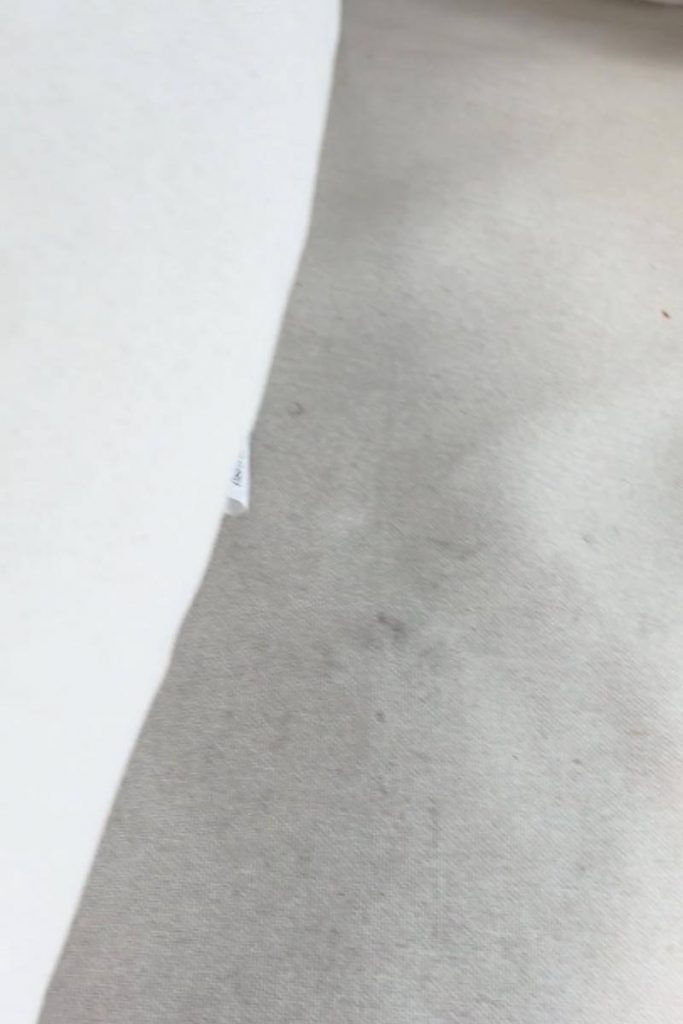 We all know that kids love to blow bubbles, but did you know that those same bubbles can actually ruin your outdoor cushions?
If the bubble solution gets on your cushions, it will leave behind a sticky residue that is very difficult to remove.
So if you want to keep your cushions looking clean and new, make sure to keep the bubbles away!
2. Get your station setup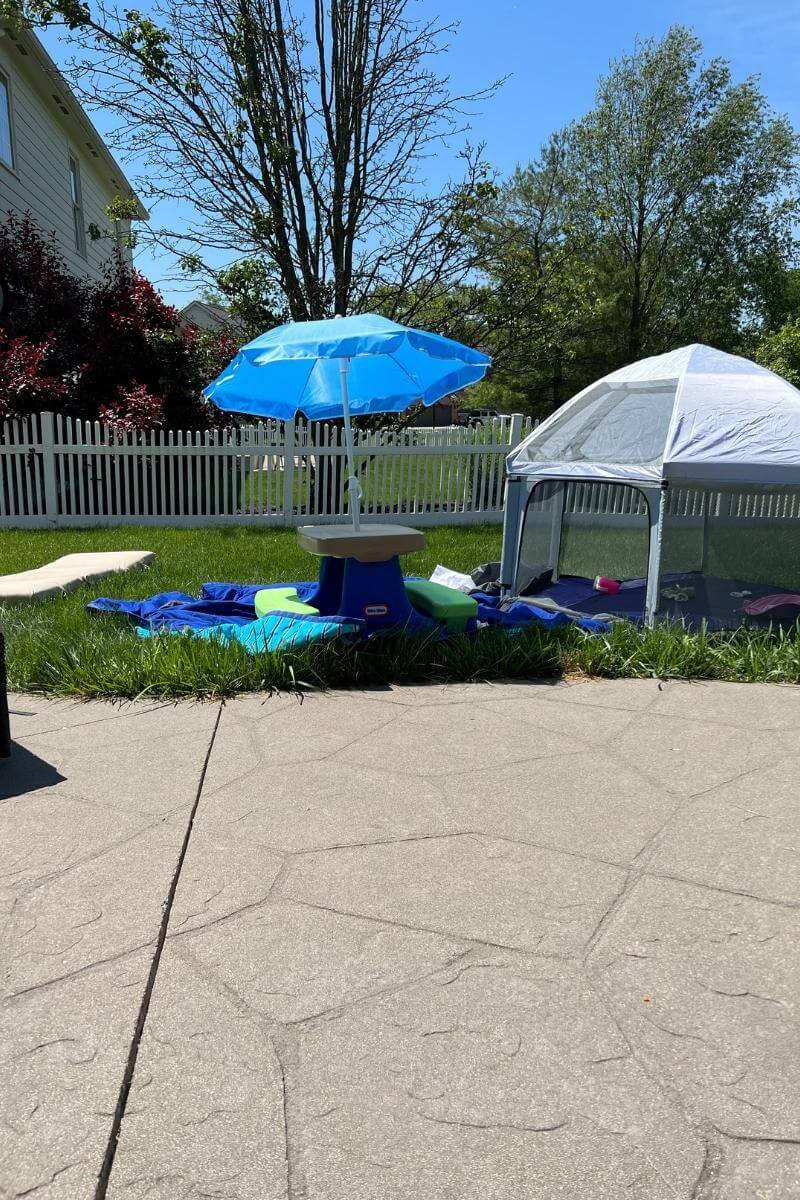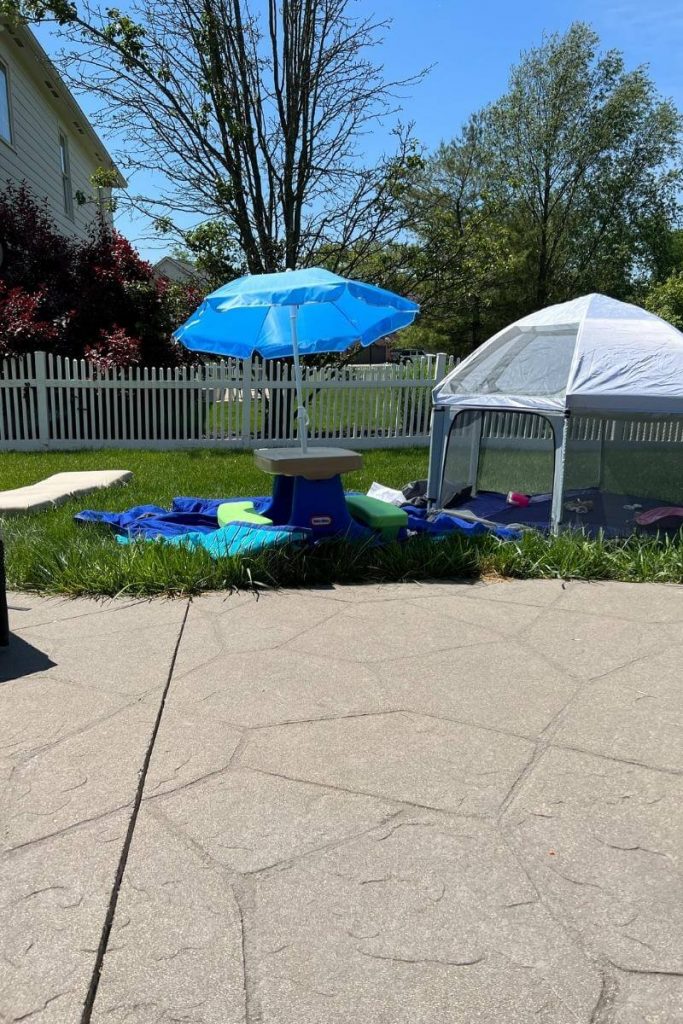 You will need:
A large bucket
Mild dish soap
Borax
Soft bristle brush with handle
Garden hose with a spray nozzle
A make-shift drying rack
I do recommend finding a clean spot on your driveway instead of the grass because it was a little difficult to keep the grass off the wet cushions after rinsing. It still worked, but would have been better on a clean surface.
Here are some links to the products I used for this project…
3. Create your cleaning mixture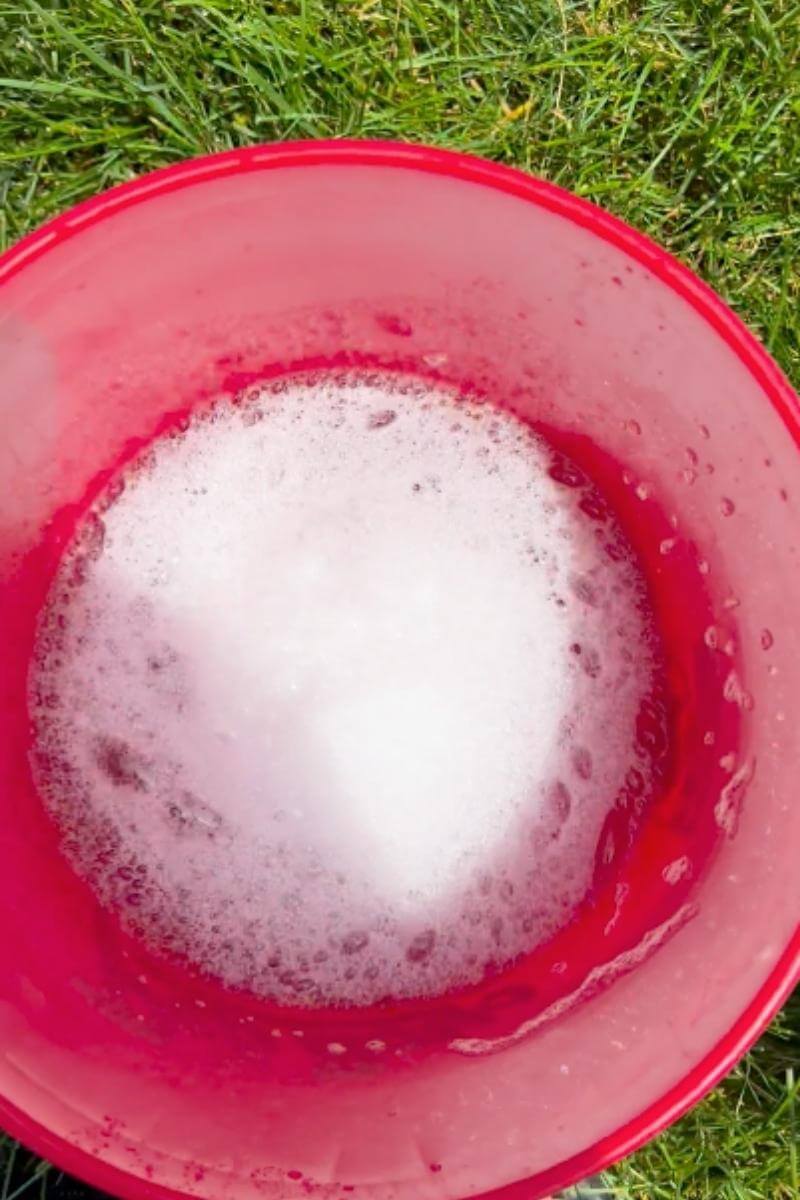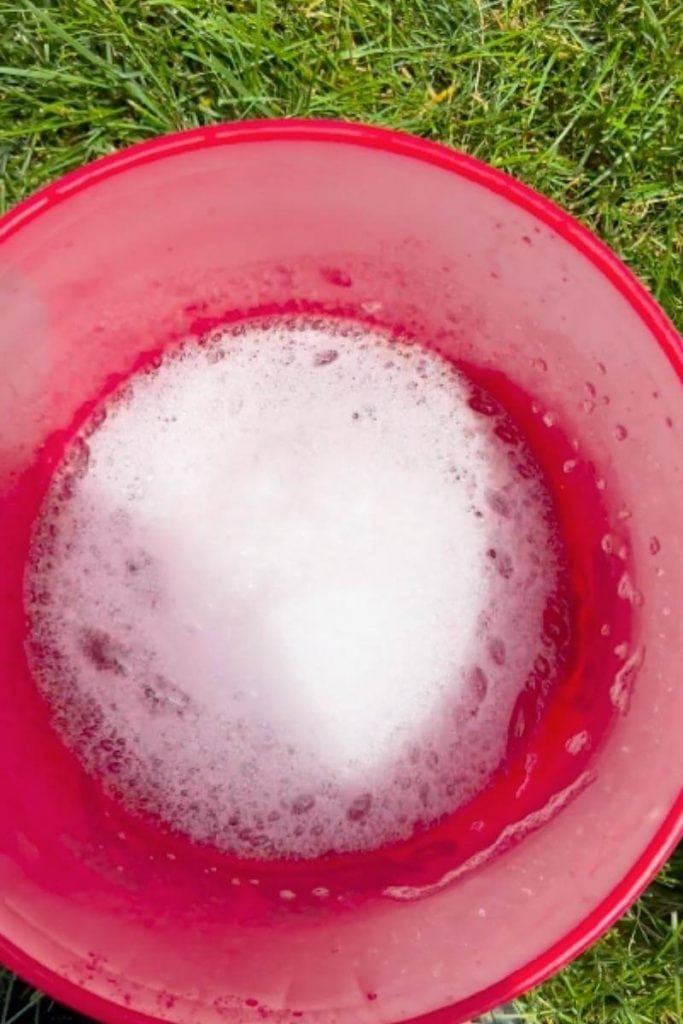 First, fill your bucket or tub with water from the hose and add a squirt of mild dish soap along with about one-quarter cup of Borax.
Mix it around until the soap is dissolved and then submerge your sponge or brush in the soapy water.
4. Use a nice big bristle brush with a handle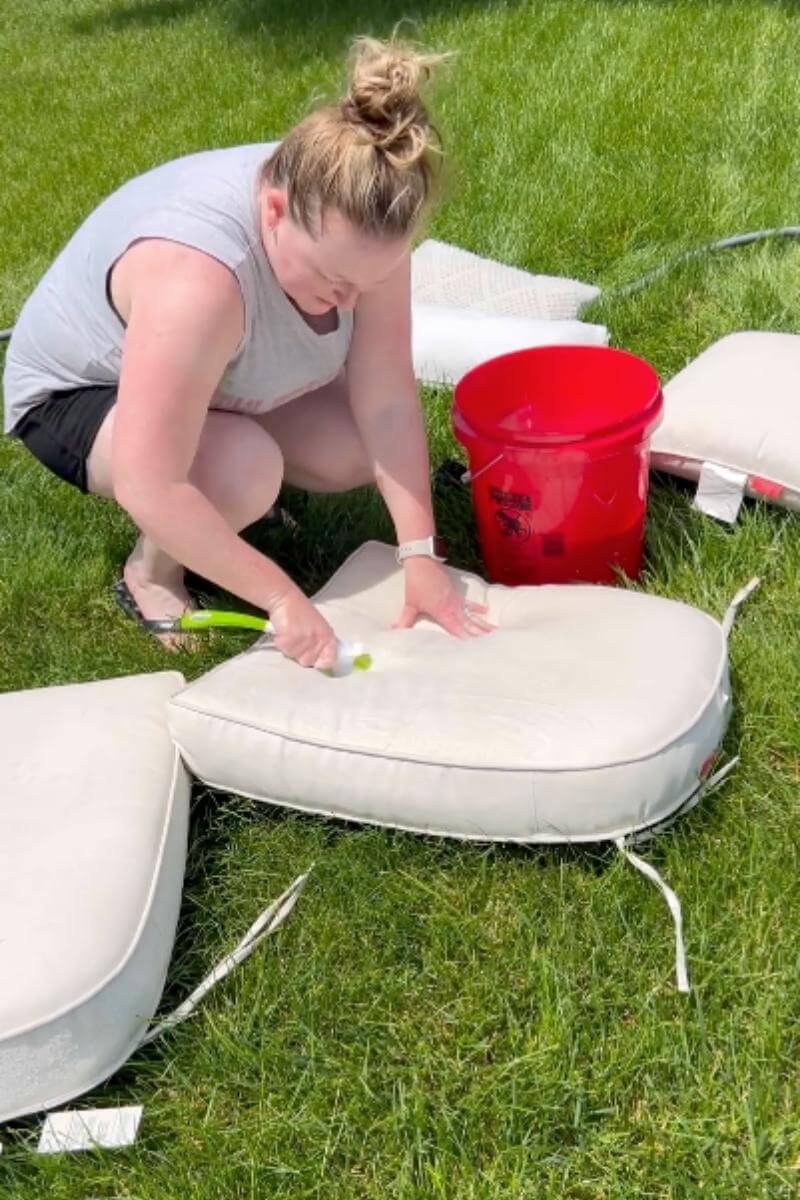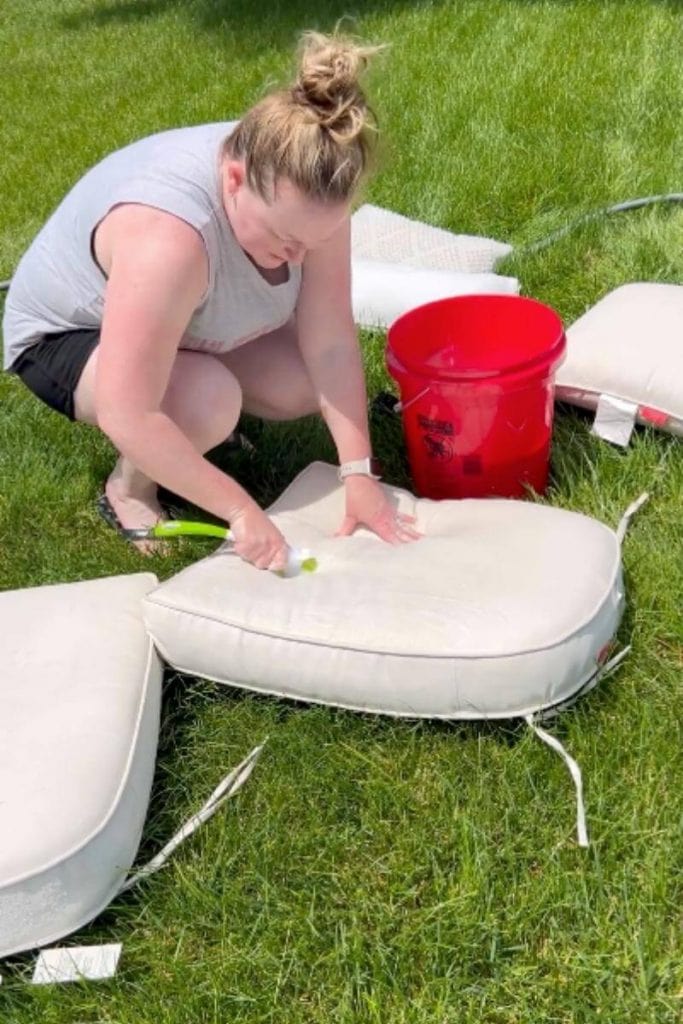 Next, take your sponge or brush and gently scrub each cushion in a circular motion.
You'll definitely want something bigger like what I have linked below versus what I am using in this picture.
Be sure to pay extra attention to any areas that seem particularly dirty or stained.
I dipped my brush into the suds and got as many suds on the dirtier areas as I could before scrubbing.
5. Rinse with the hose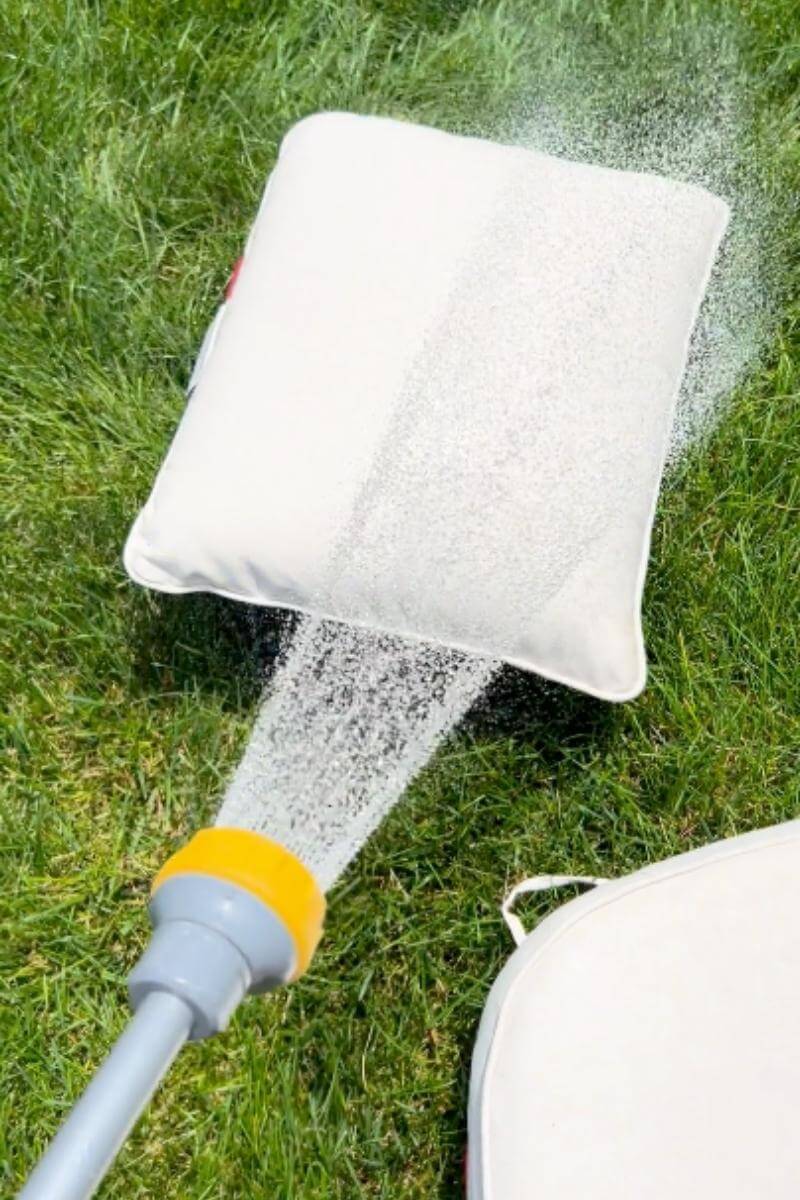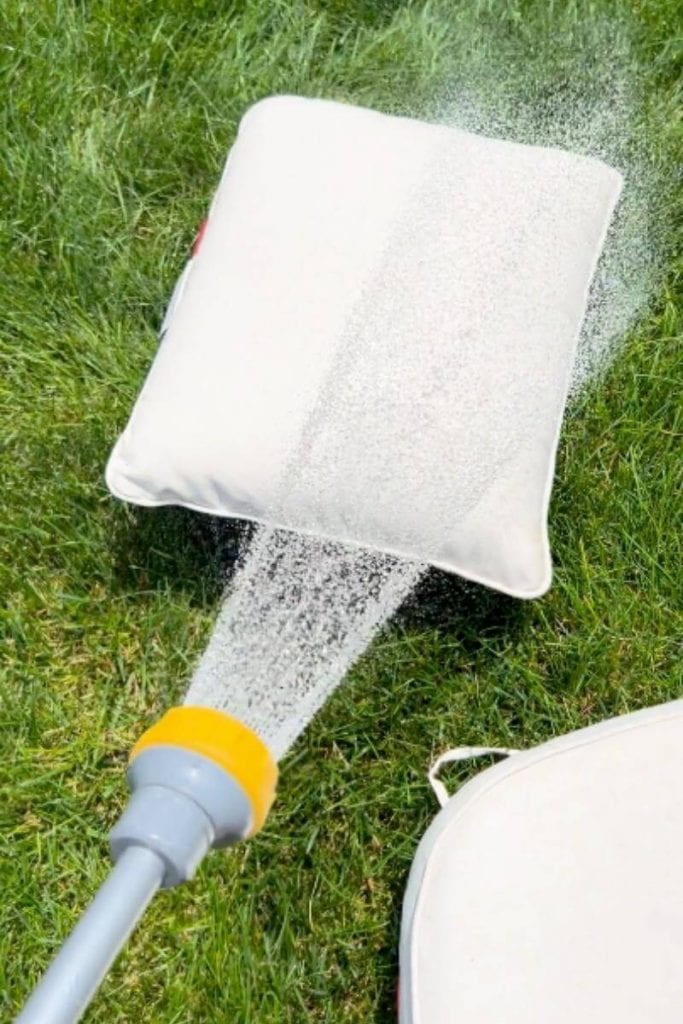 Once you've scrubbed all of the cushions, rinse them off with your garden hose.
For throw pillows or cushions with removal covers, I might try to rinse them on their own for faster dry time, but I did not do this.
Mostly because I didn't think of it, but if I were to go back, I might consider removing the covers for just the throw pillows.
6. Create a Pseudo drying rack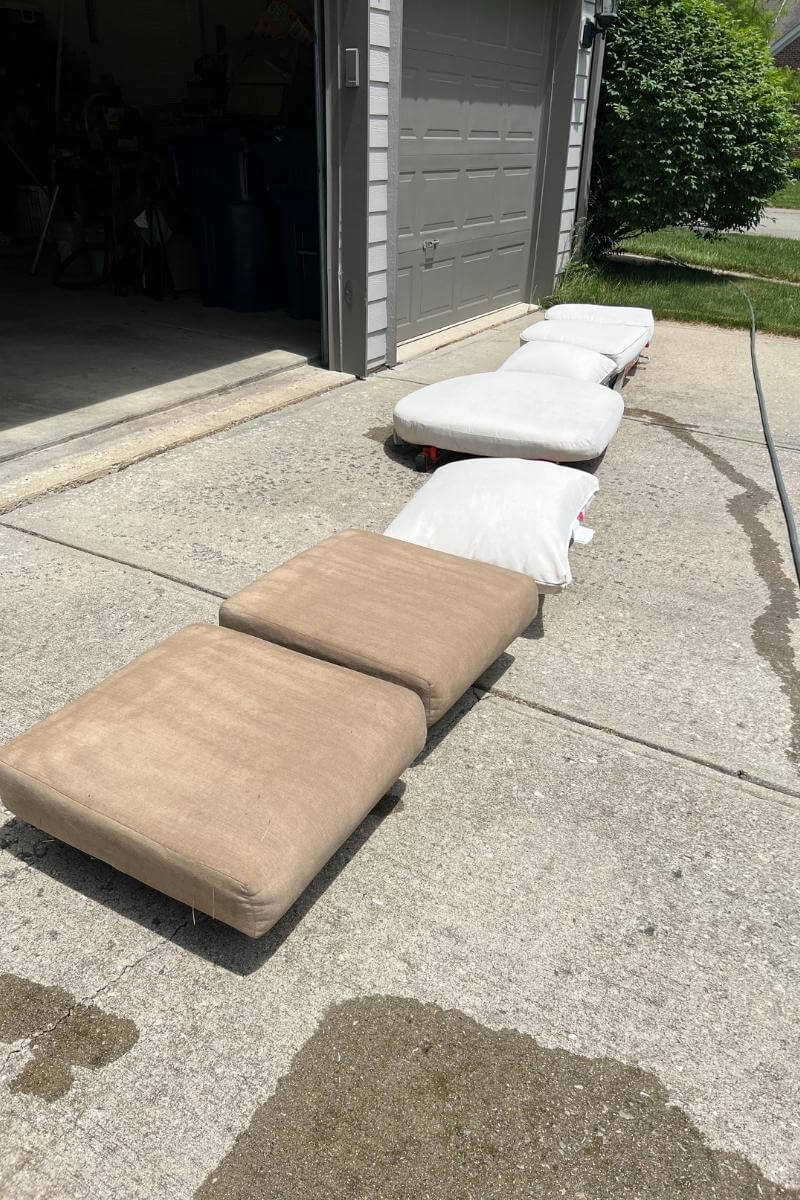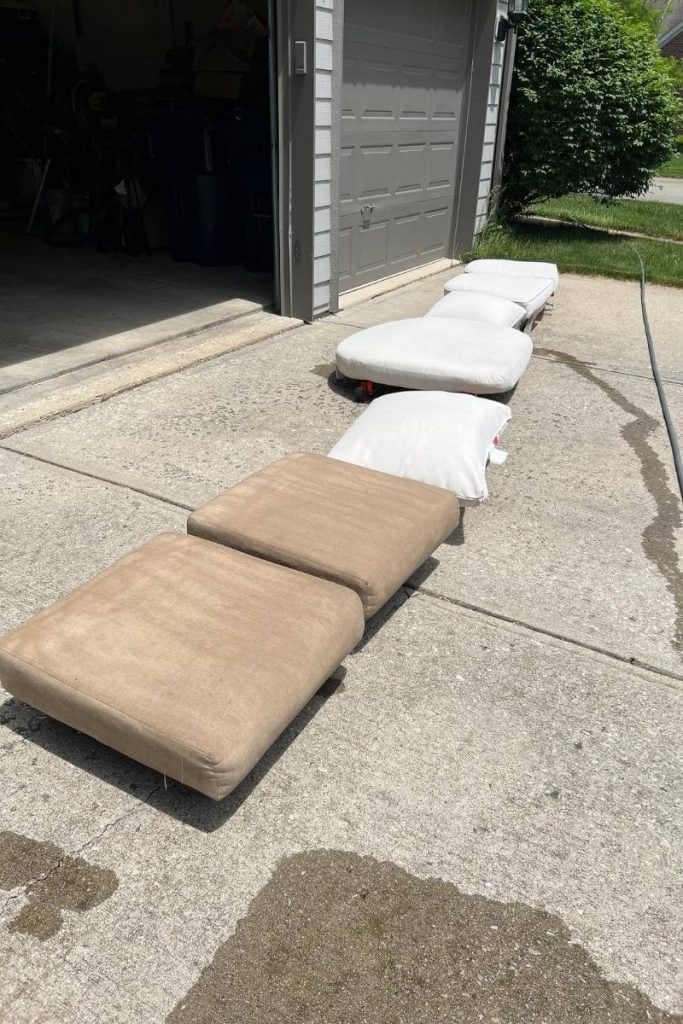 We used an extension ladder because we had one readily available, but you could also lay them out over 2X4s or use a patio table.
If you're using a the patio table, make sure to put something down first so the cushions don't get dirty while they're drying.
7. Plan to never do this again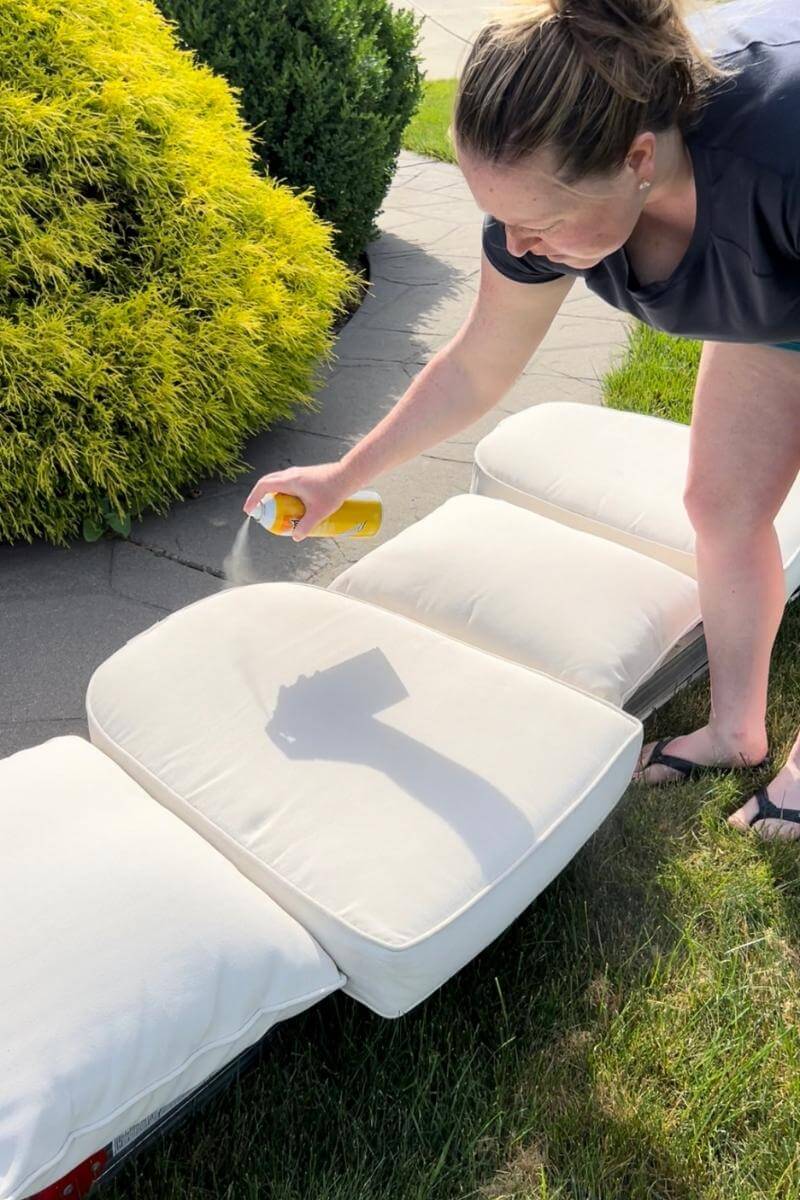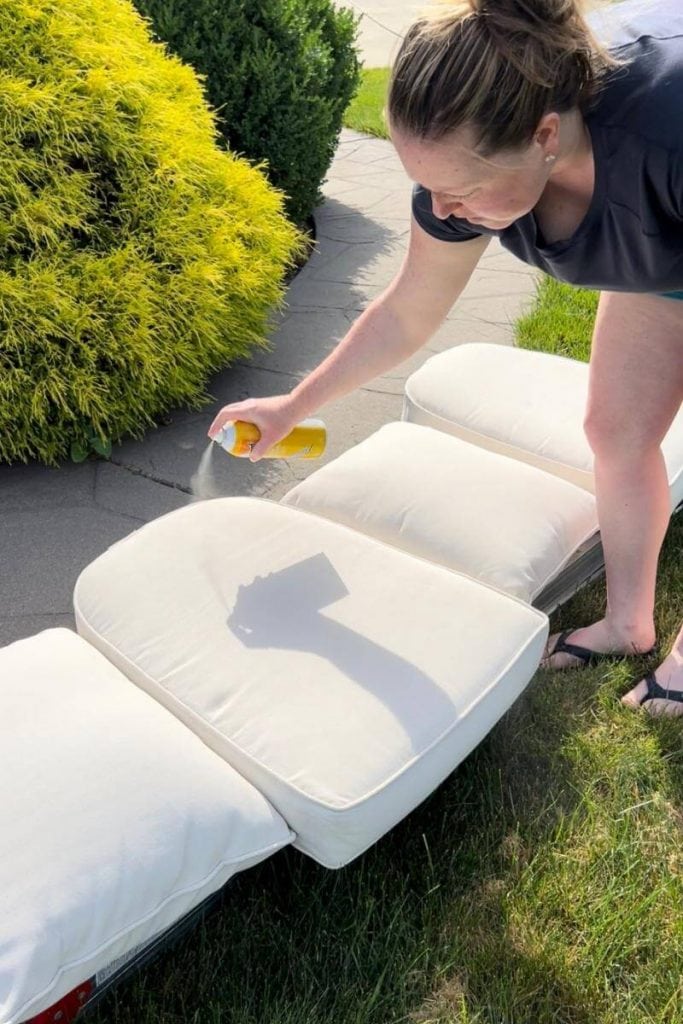 As a preventative measure, I would suggest spraying your cushions with Scotchguard once a year to keep them looking like new and resistant to the elements.
If you're on the fence about which fabric protector to choose, I highly recommend checking out this post from Bloom in the Black on the best fabric protectors for outdoor cushions.
Also, I haven't done it yet, but investing in patio furniture covers would help a lot during patio season.
Then for the winter, I would suggest storing the cushions inside somewhere safe from the elements like your basement.
Want to watch the video for this post?
Come join me for this and other fun videos over on Instagram. You can find this one here.