7 Cozy Fall Living Room Decor Ideas to Steal
Looking to cozy up your living room this fall? You won't want to miss these fall living room decor ideas you can steal plus so much more fall inspiration from around the web.
It's that time of year again! All the fall feels are starting to emerge and I couldn't be happier.
Today I'm joining 29 other amazing bloggers to bring you the Harvest Home Tour!
Not only will you get my tried and true cozy favorites for decorating your living room for fall, but you'll also get inspiration for your entryway, outdoor spaces, fireplace mantel, tablescapes, more living room inspo, and even some delicious recipes.
Be sure to stay until the end for the links on where to go next.
On to my fall living room decor!
Disclaimer: This post does include affiliate links for your convenience. This is at NO additional cost to you but earns me a small commission. To read more, check out our disclosure policy. As an Amazon associate, I earn from qualifying purchases.
All the Fall-Inspired Leaves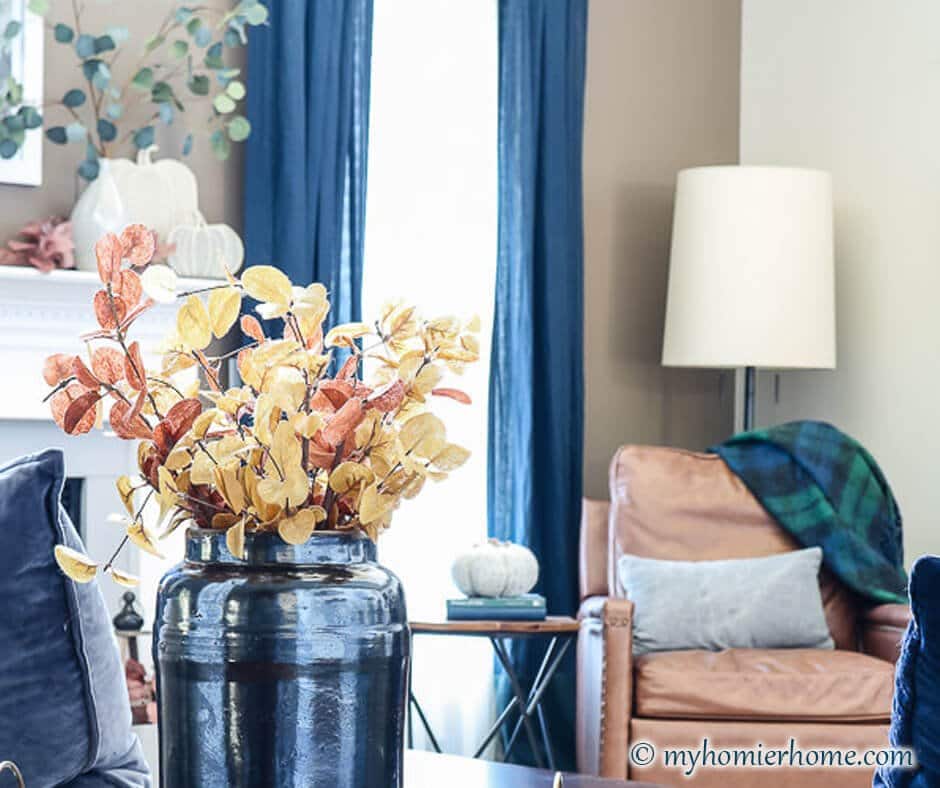 My numero uno, top dog fall decor pieces include fall-inspired leaves and stems.
It is absolutely amazing how much they warm up the room and bring in the serious cozy factor.
My fall color scheme consists of golden yellows, burnt reds, and touches of greenery just like what you see in the midwest as the seasons are changing.
I linked all my favorite stems below.
(click on any of the images to shop the products)

Colorful, Cozy Pillows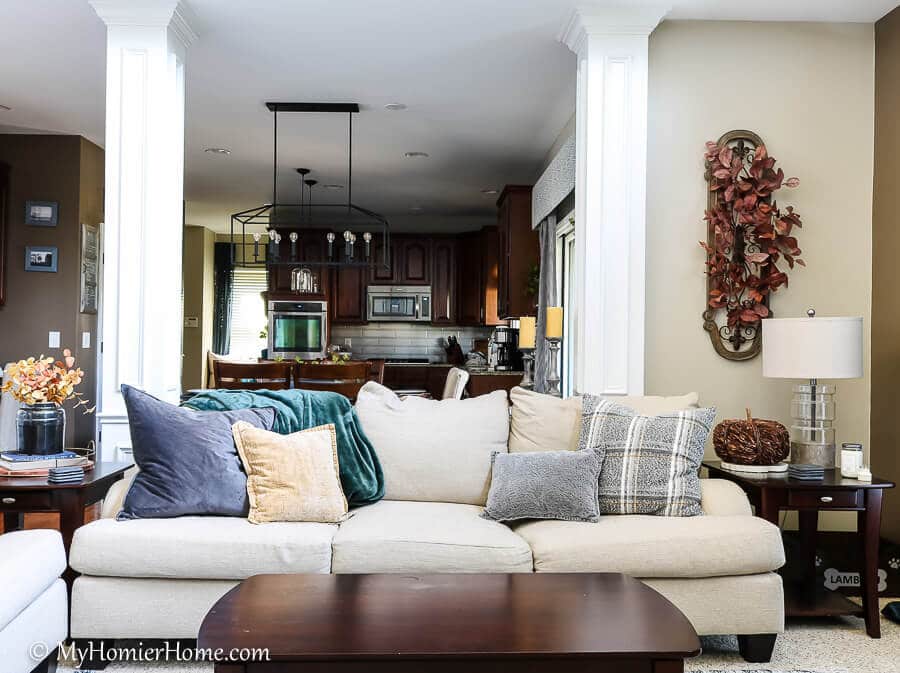 My next favorite items for fall decorating are my pillow collection.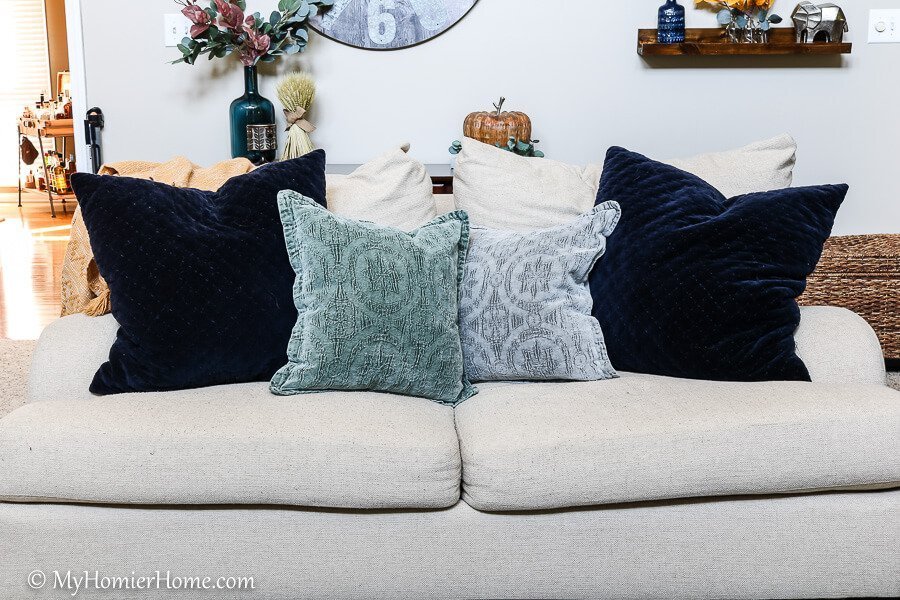 Switching out the spring/summer pillows for deeper, more textured patterns make everything come together.
All my favorites are clickable below, too!

(click on any of the images to shop the products)
Now for the complementary additions…
Soft and Warm Throws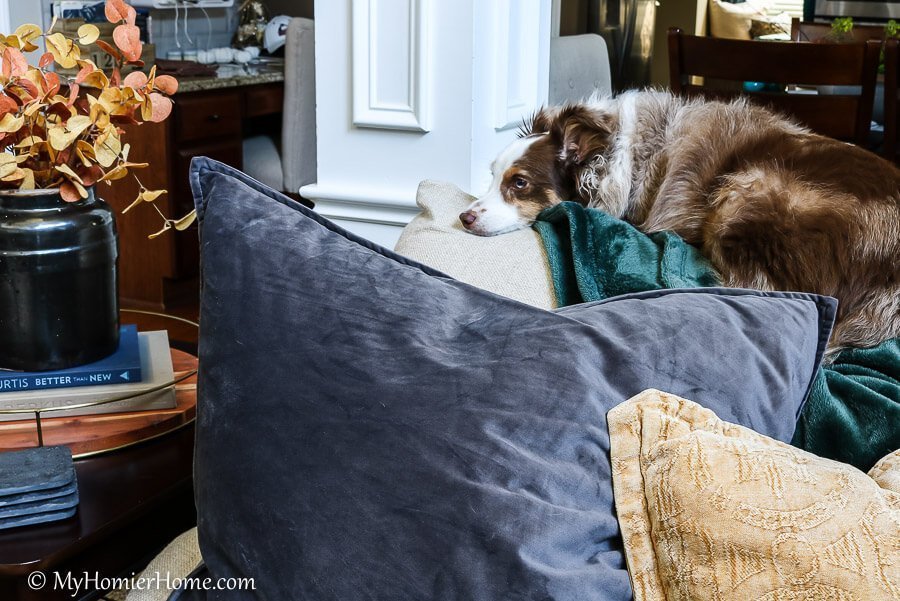 Next up is to switch out your throw blankets.
Choose blankets that are a little softer and a bit heavier to snuggle up with.
Cable knit, fleece, and woven blankets are best in your favorite fall colors.

(click on any of the images to shop the products)
Some of my fall throw blankets will carry into my winter decor, so there will be less to do in the next season change!
Pumpkins Galore
Pumpkin decor is essential in my opinion because it totally screams… IT'S FALL!
There are so many great little pumpkin decorations when you peruse any of the stores for fall, so embrace it.
My post on my favorite Target fall decor finds have all kinds of pumpkin goodness to checkout.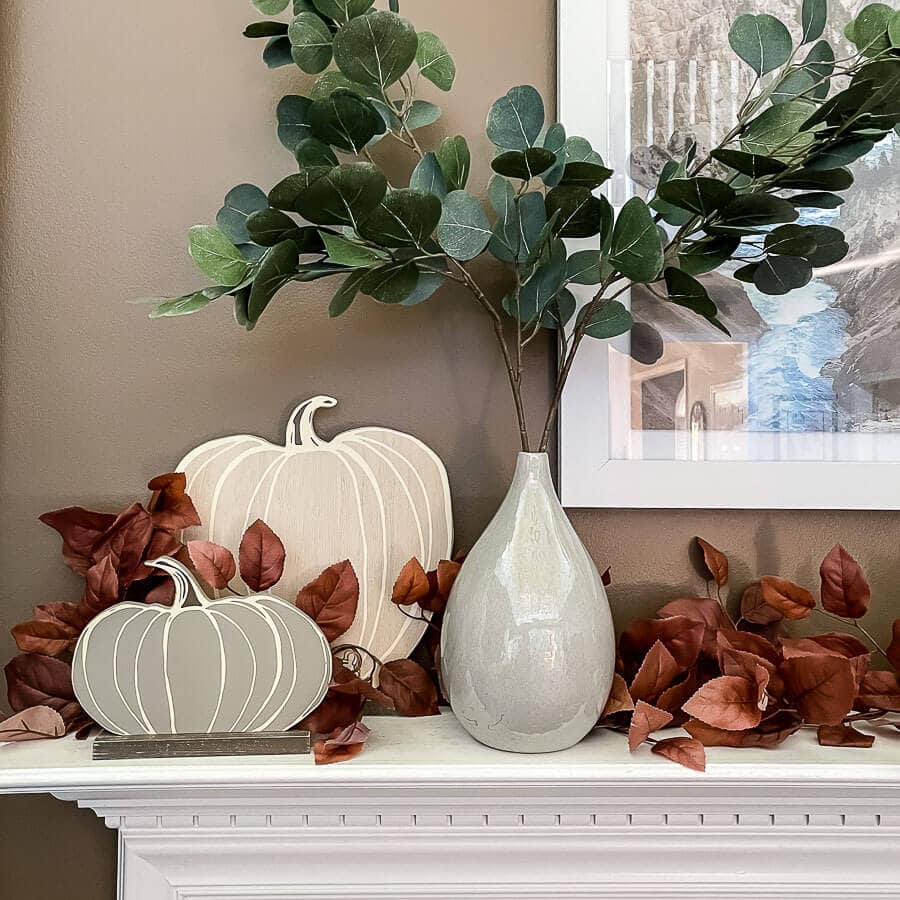 When it comes to your fall mantel decor, that has its own special place on the decorating list, but it is a great place for adding all the pumpkins, too.

(click on any of the images to shop the products)
Making sure you add some leaves to your pumpkins will help keep them more "alive" in your decor.
Fall Scented Candles
What good is all this decor without the fall smells, amiright?!
My absolute favorite scented candles are from my friend Kristin's shop at HenroCompany. She has the most beautiful vessels and the scents are amazing.
You definitely have to check out her shop if you want beautiful, handmade small batch scents in decor enhancing bowls and jars.
The only other Fall scents I love are a few from Bath & Body works, most noteably the scent "Leaves."
Cute Owl Decor
For a few more subtle enhancements to your fall living room decor, don't forget about good old owls.
They make the perfect addition when you need just a little something-something.
I couldn't find this exact set of perched owls, but I found some comparable ones linked in the pictures below.
(click on any of the images to shop the products)

Fall-Inspired Artwork
And last, but not least, look for ways to switch out your prints for fall.
I'm still deciding which one I want, but I linked my favorite ones that I'm debating between below.
The Autumn collection from Collected Prints is hands down my favorite.
(click on any of the images to shop the products)

The Full List of Harvest Home Tour Participants
Now its time to continue the inspiration train to more fall inspiration on the Harvest Home Tour!
Click the links of any of the posts under the corresponding picture to go straight to that inspo.
I'm thrilled to be joining in today as 30 talented bloggers bring you the best of all things home! Please continue along this inspiring Harvest Home tour, and visit the other participants in each of the following categories.
Frequently Asked Questions
Where is the best place to shop for fall living room decor?
I love Target for leaves, stems, and throw pillows. Home Goods is great for throws and accent pieces, and small shops for unique, fall-inspired finds.
What other rooms do you decorate for fall?
The only other rooms I decorate for fall are the shelves in my main floor powder room, my entry way table, and I update a few plants with fall stems in my kitchen. Other than those rooms, the front porch gets a dose of hay and pumpkins too.