Cozy Home Decor for the Changing Seasons for All the 5 Senses
Get inspired to cozy up your home decor this winter and maybe even find some unique gift ideas.
Being a midwestern girl my whole life, the change in seasons is one of the many things I love. Even though we are entering into the cooler months, the cozy factor is about to go up. In the spirit of embracing the chance of season, here are some simple ways to incorporate all five senses and get those cozy vibes you're after this year.
Disclaimer: This post does include affiliate links for your convenience. This is at NO additional cost to you but earns me a small commission. To read more, check out our disclosure policy. As an Amazon associate, I earn from qualifying purchases.
Cozy decor for your sense of smell
One of my all time favorite ways to add coziness to my home is with great winter scents. One of my favorite small businesses to get wonderful small batch candles is Henro Company.
I met the owner of this company, Kristin, at a conference a couple of summers ago. She is so funny and an amazing business owner (definitely follow her stories on instagram). And her products are carefully chosen and sourced.
My favorite winter candle scents are Blue Spruce, Christmas Cabin, and Christmas Tree. If you want to keep the fall vibe going, I also love Autumn Orchard and Fall Harvest. She also has the cutest vessels if you're looking for a candle with some swag to add to your decor, too.

(click on any of the images to shop the products)
Cozy decor for your sense of Touch
When it comes to coziness you can touch, my absolute favorite items are cozy blankets. One in particular is one I won't share with anyone – even if they want to snuggle lol.
I bought this faux fur blanket from Pottery Barn last year and it was by far the best purchase of the season. It's so cozy and has a little weight to it. I got the bigger size and it literally wraps you up in coziness so well.
Regardless of which cozy blanket you go with it, definitely add a large, soft throw to not only look good, but also feel good to the touch.

(click on any of the images to shop the products)
Cozy decor for your sense of Taste
When you hear cozy, your first reaction is not cozy food or drink, right?! lol
However, I challenge you to close your eyes and picture what it would be like to have the wonderful smells of winter pines while you're wrapped in a cozy throw.
An accompanying cup of apple cider or hot chocolate is a total must! Here are some fun tasty items to try for your next curl-up-on-the-couch moment, including fun drink bombs in hot chocolate and pumpkin spice… and of course, my favorite, apple cider!

(click on any of the images to shop the products)
Cozy decor for your sense of Sight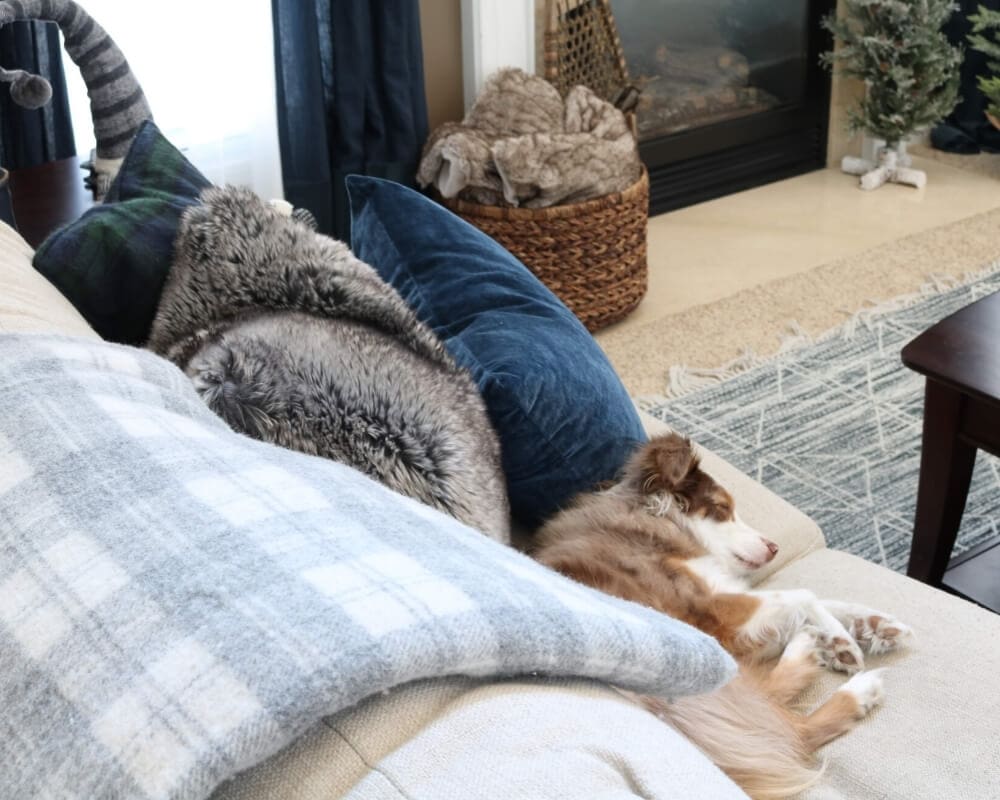 When you are going for cozy, there are so many things that can give you all the feels that you can look at. My favorite ways to add cozy is through pillows and throws. But, you'll definitely need a fun mug for your cozy drinks above, too! I'm a big fan of oversized mugs, here are some of my favorites:

(click on any of the images to shop the products)
Cozy decor for your sense of Sound
Last, but not least. To complete the five senses of cozy winter home decor, we have to include some cozy sounds! My dad's favorite is to play the old school DVD of the crackling fire on the television, but you can also look that up digitally… cuz it is the 21st century! lol
Another great way to get the crackling fire sound is through a skill on Amazon's Alexa devices. Sound of crackling fire on Alexa. I love the echo show so much… we actually have 2 of them throughout the house. They are perfect for adding a little ambiance.

(click on any of the images to shop the products)
Cozy gift Ideas
In my search of all things cozy, I came across some fun gifts that I know I would like to add to my cozy factor. Because who doesn't love some coziness as a present, right? And if you need to create a wrapping station this year, check out my gift wrapping organizer. Here are the fun things I found this week:

(click on any of the images to shop the products)
What are you must excited for this upcoming winter?