Looking for spring decor ideas for your home this season? Here are my favorite ways to easily fill your home with spring vibes.
Since today marks the official first day of Spring, I figured it would be fitting to share a spring home tour to hopefully spark some spring decor ideas for your home!
I switched the decor to Spring earlier than usual this year because I was itching for brighter colors and a fresh space to cozy up in.
Here are some of my tried and true tips to get your house filled with those spring vibes. Let's get started!
Disclaimer: This post does include affiliate links for your convenience. This is at NO additional cost to you but earns me a small commission. To read more, check out our disclosure policy.
1) Lighten up the colors.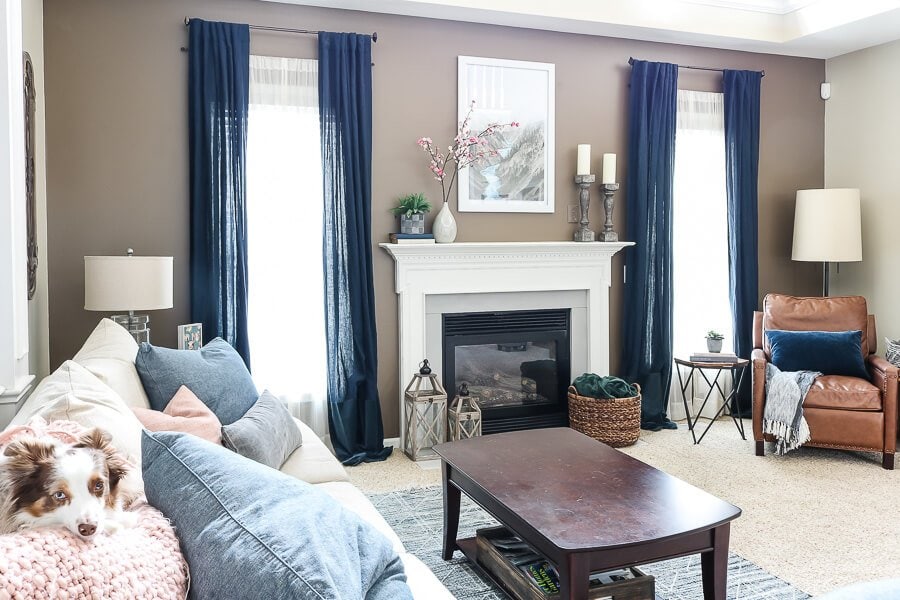 First thing I always do when switching seasonal decor is to assess my color scheme.
For the past few years now, I have been loving the blush and blue palette, but this year I introduced a little more green into the mix.
When I finish my screen porch refresh coming up here, I'll be able to show you more of my green palette come to life, too.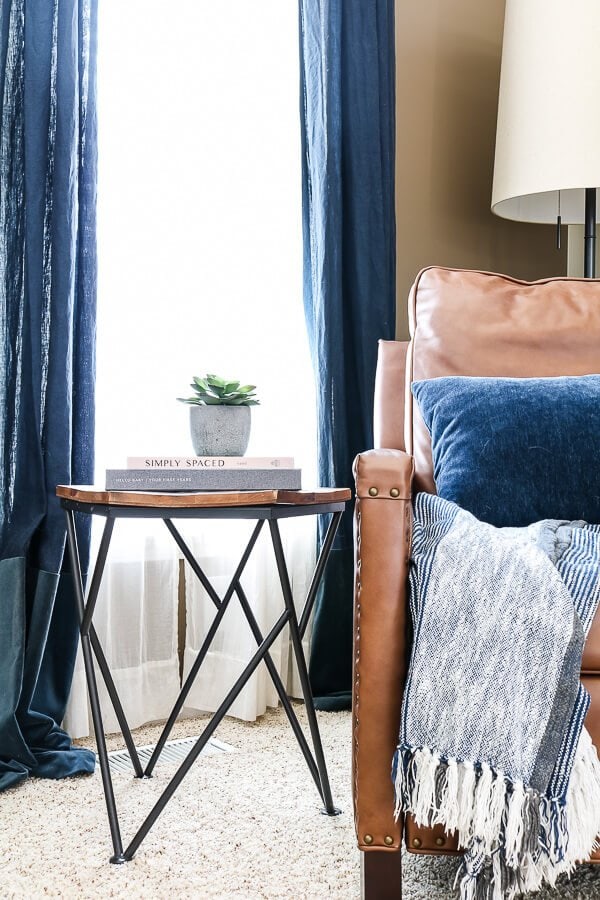 Once you figure out your Spring color scheme, be sure to balance the colors around the room.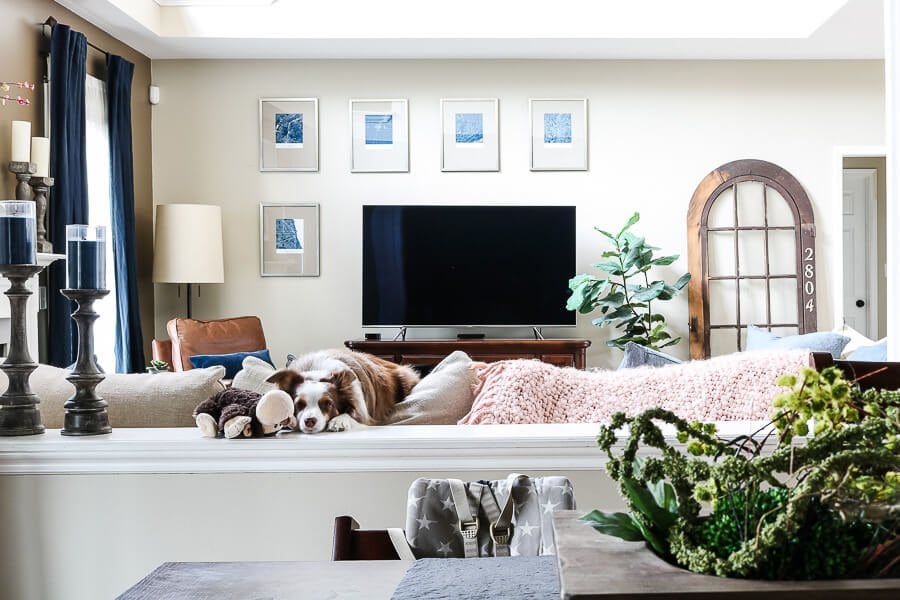 Have you heard of the 60-30-10 rule?
If you choose a dominant color, 60% of your room should have this color present.
Then, you should pick two more colors and disperse them throughout your room with 30% as one accent color and 10% of another.
It doesn't have to be exact and you can switch it up if you want to add an additional color like I did, too.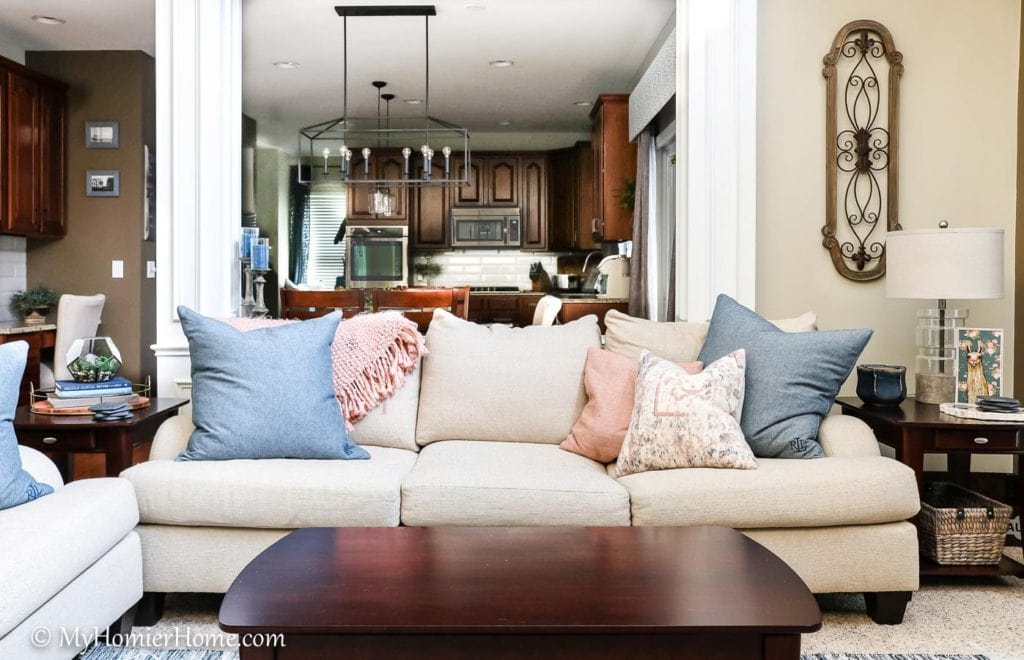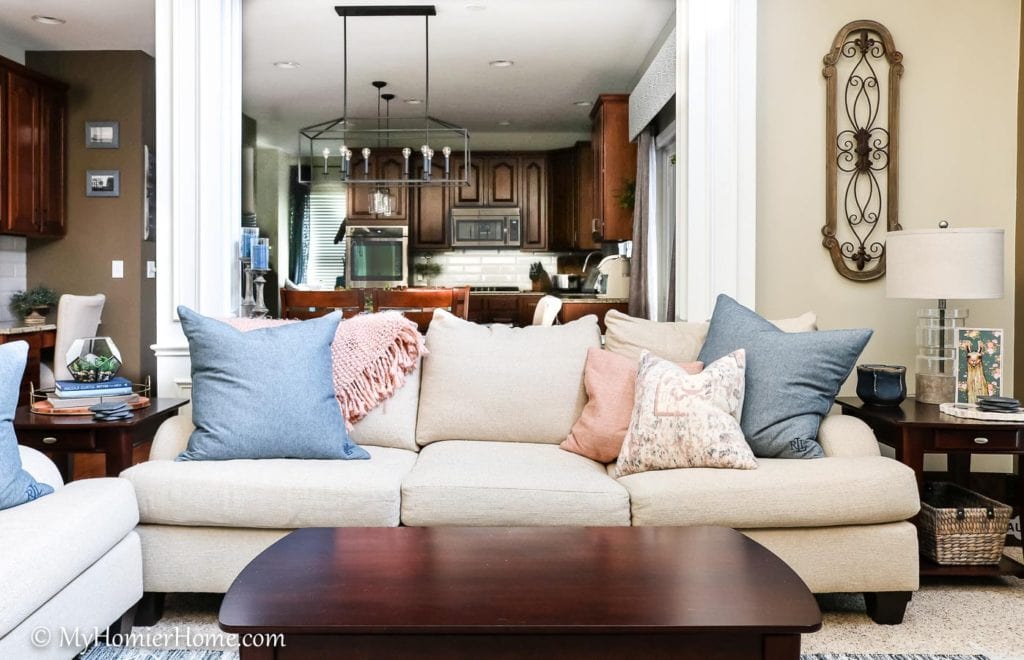 In my color palette, I have my neutral as my 60%, shades of blue as my 20% and then did 10% blush and 10% green… or maybe more like a 15% – 5%, but you get the idea.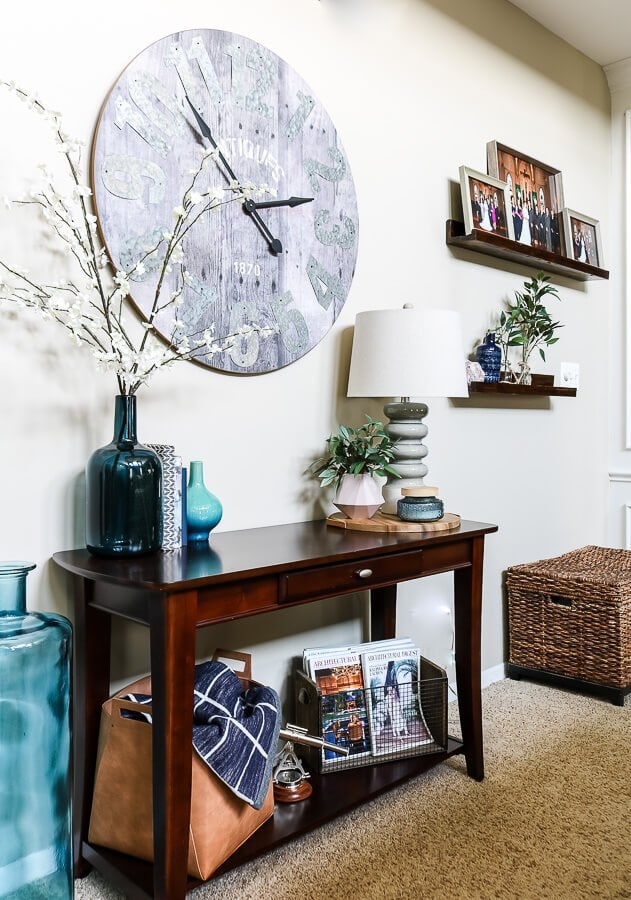 You can have other colors interspersed, but you want to stick to these as your main color balances.
2) Add greenery or florals in all the places.
I'm a sucker for greenery and florals to liven up the house.
My biggest issue?
They all have to be fake because I've killed way too many plants in this place.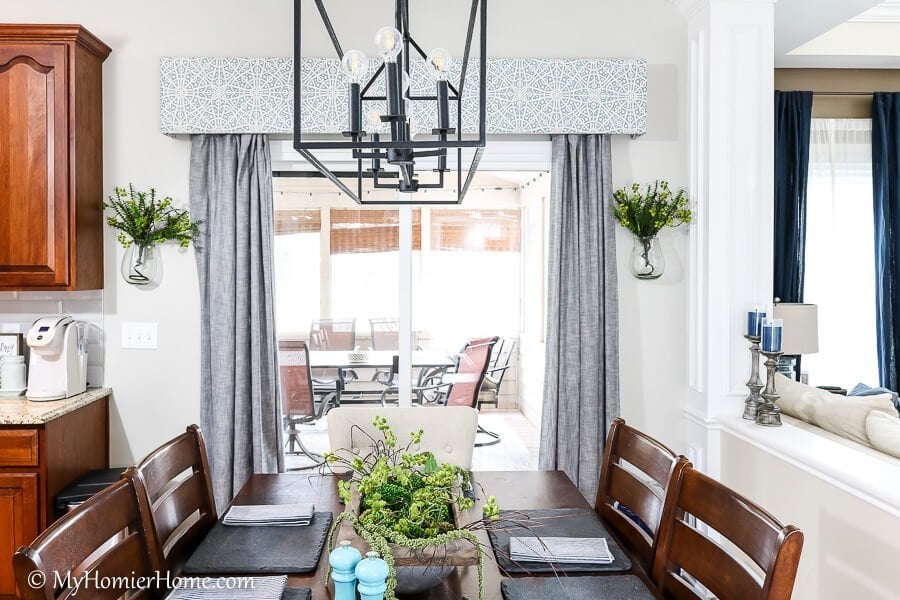 The way I see it, if you vary the levels and types of greenery, you can never have too much… okay maybe you could, but you'd have to try really hard.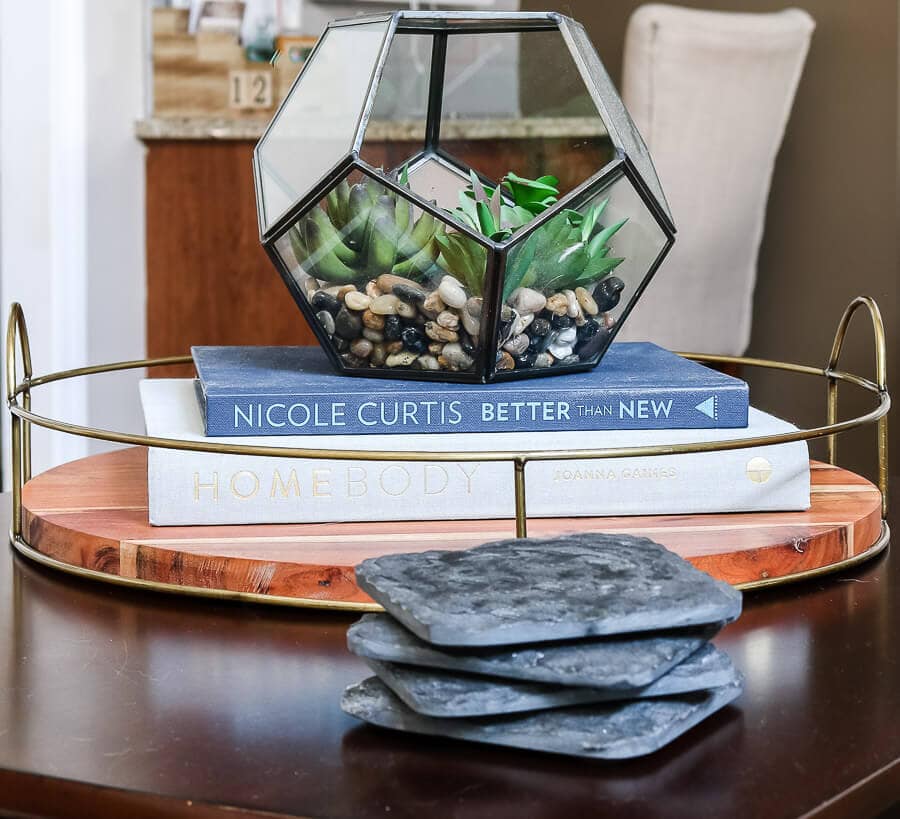 Stacking with trays and books with your greenery is also a nice way to create a more visually interesting space.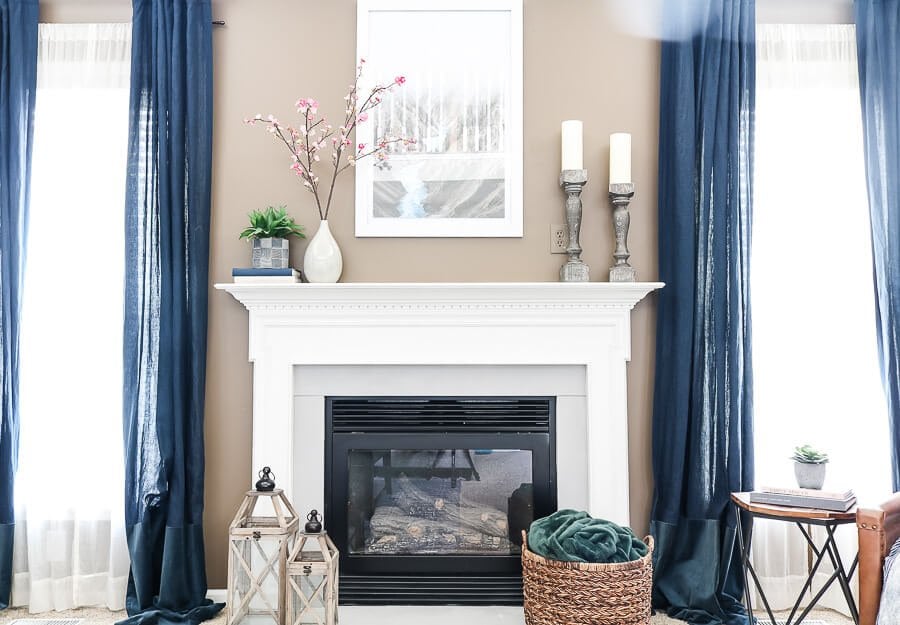 I go through phases of love and hate with this mantel, but for now, a little greenery, some florals, and my mantel staples and we'll just call this puppy a wrap for right now lol.
Don't sleep on the bigger greenery, too. I have this to tie in the other greenery in the room with this wall that is mostly neutral.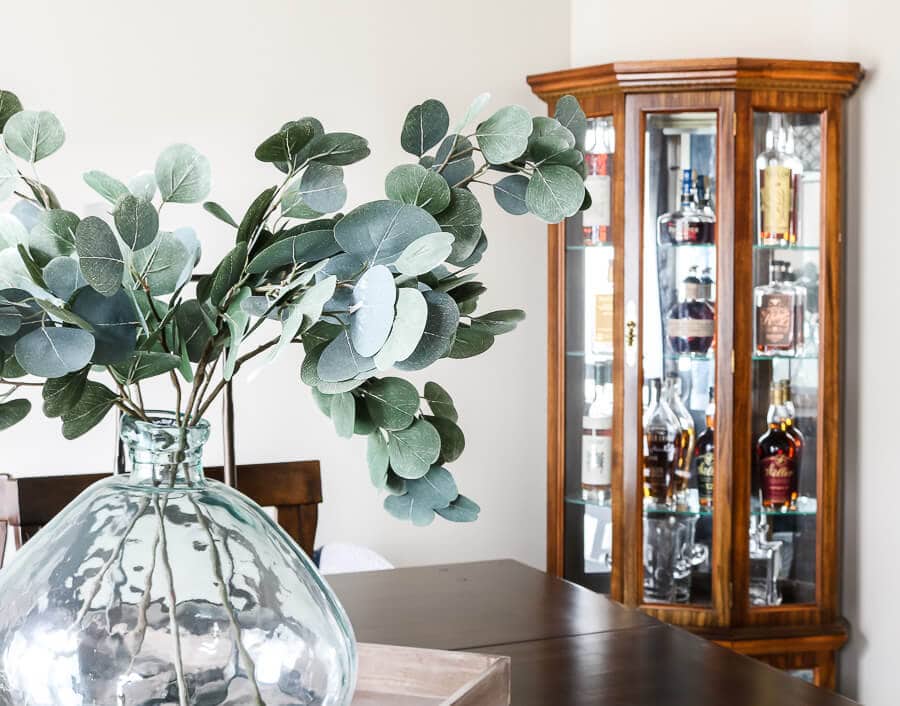 Do you have a booze cabinet?
This is all my husband's fine bourbon… when little miss thang is older, we'll definitely have to figure out what to do with the non-cabineted items.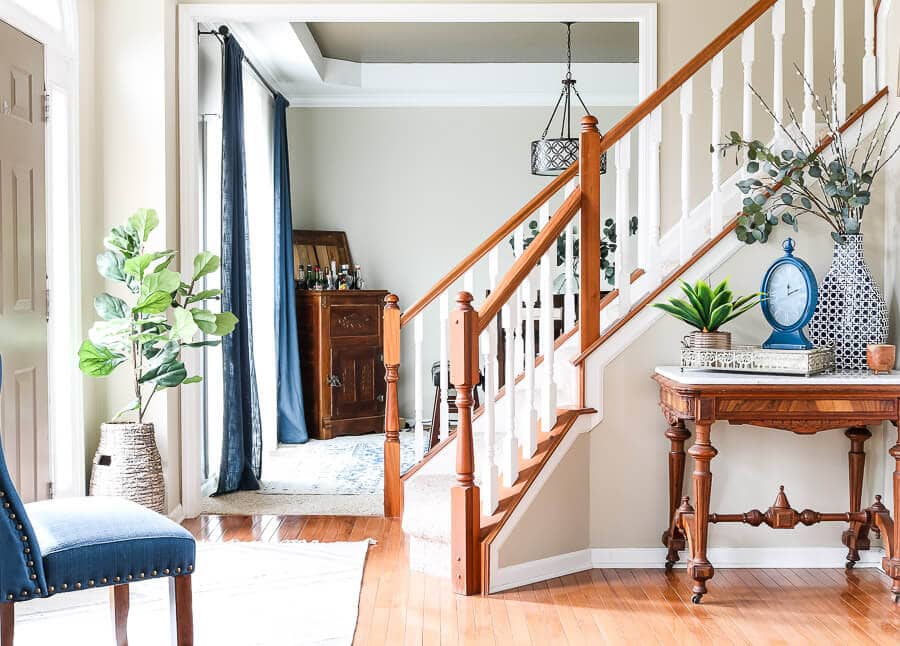 Don't forget about adding greenery to your front entry as well. You can check out my whole decorating process for my Spring front entry on my Instagram highlight.

3) Switch out the pillows.
If you've been following me for awhile, you know how obsessed with pillows I am.
I'm still on the hunt for the perfect ones for my living room, but the ones I have definitely get the job done.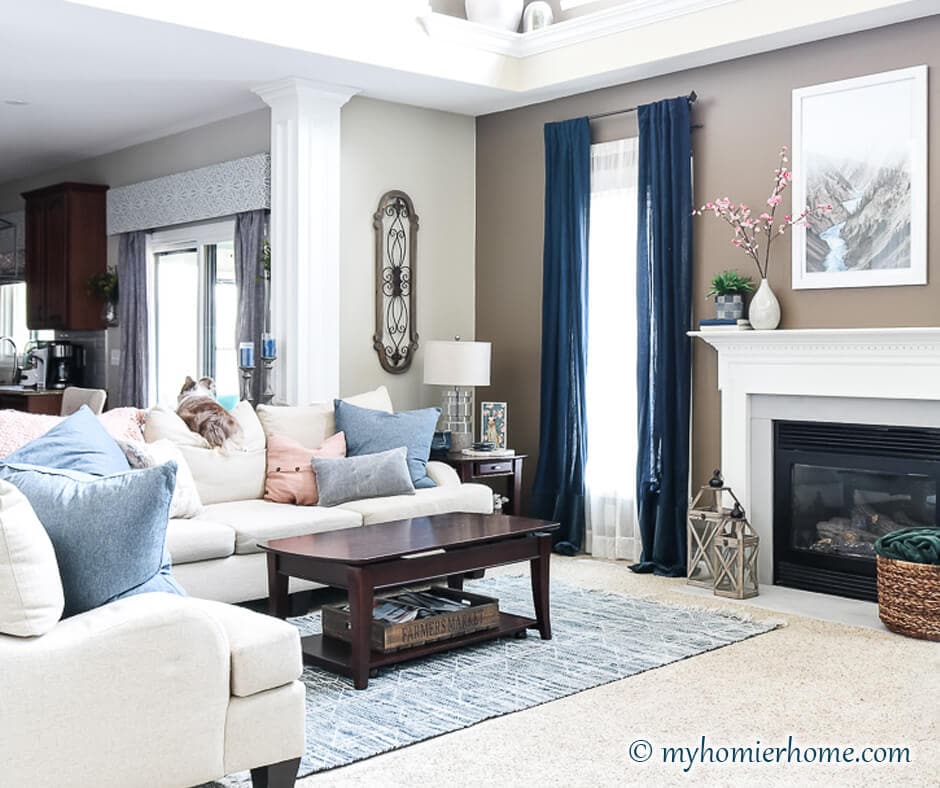 Lately I want to add in more pattern to my pillows, so I'll be on the lookout for that.
I share all my tips for choosing throw pillow sizes plus my favorite arrangements and how to mix and match throw pillow patterns.
And since I have spent so much time scouring the internet for great pillows, you can find my favorite Amazon throw pillows and the best places to buy decorative throw pillows, too.
4) Add more vibrant patterns.
A room without some kind of pattern tends to fall flat.
You don't have to go crazy and cover a whole wall, but try to introduce pattern in various places around the room.
I go into a whole thing on how to do this and which ones to choose in the Decorator's Playbook, but definitely add some kind of pattern to your Spring decor.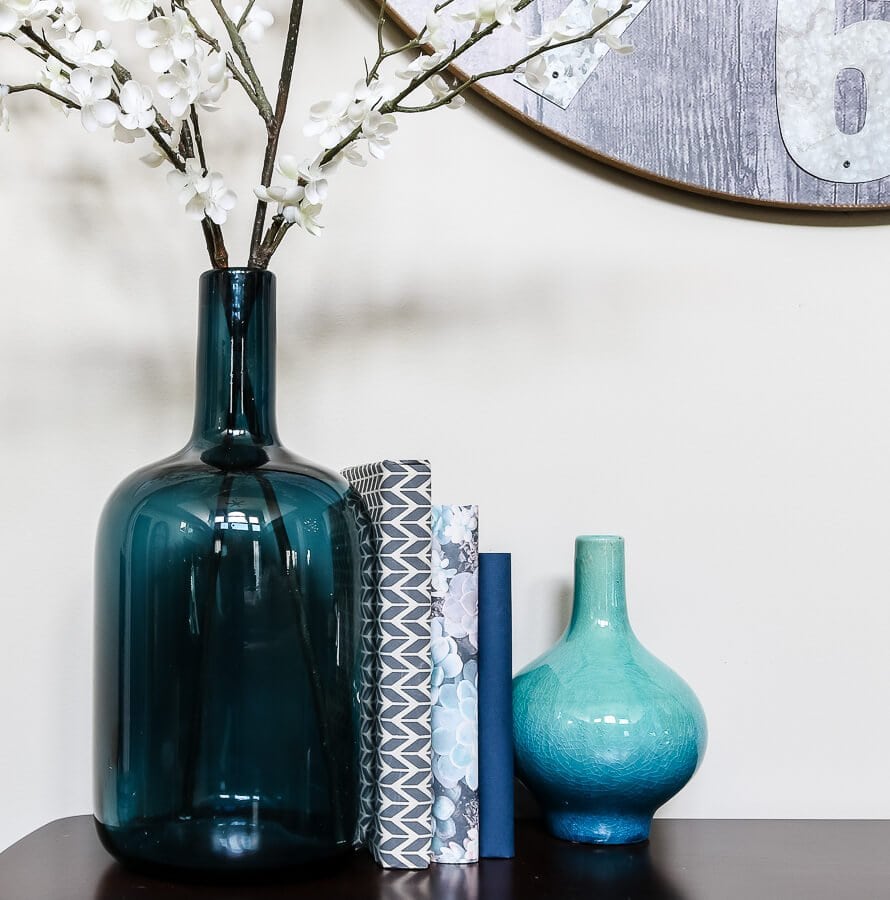 You can add it simply by creating book covers in your favorite patterned paper.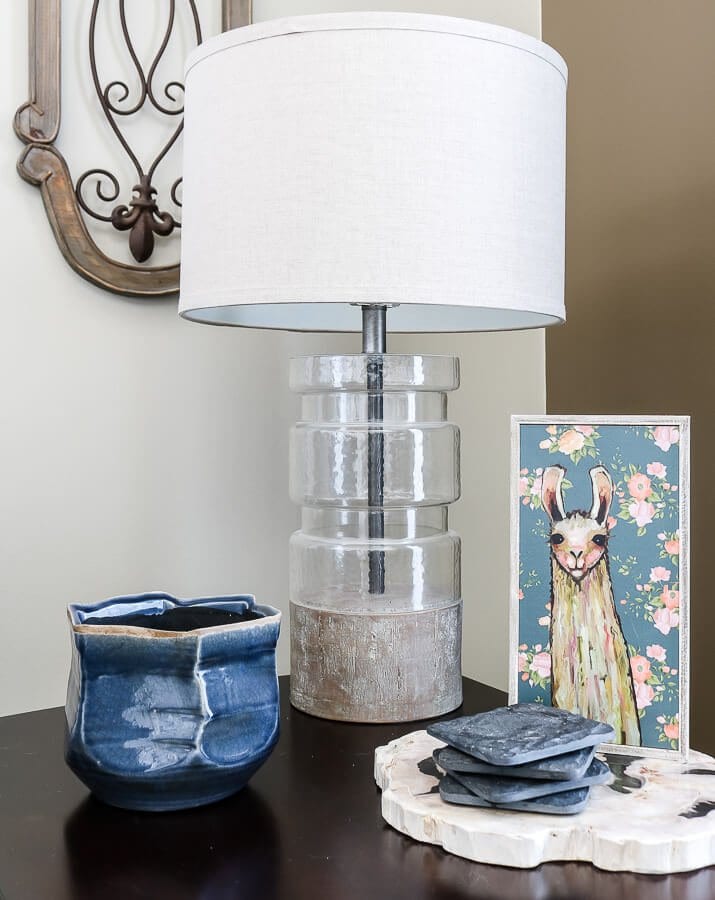 Or even choose artwork that has some design or pattern to it.

5) Don't forget to spruce these areas.
Don't forget the kitchen could always use some touches of Spring vibes.
Obviously, the front entryway, too, which I shared a little about in the last section.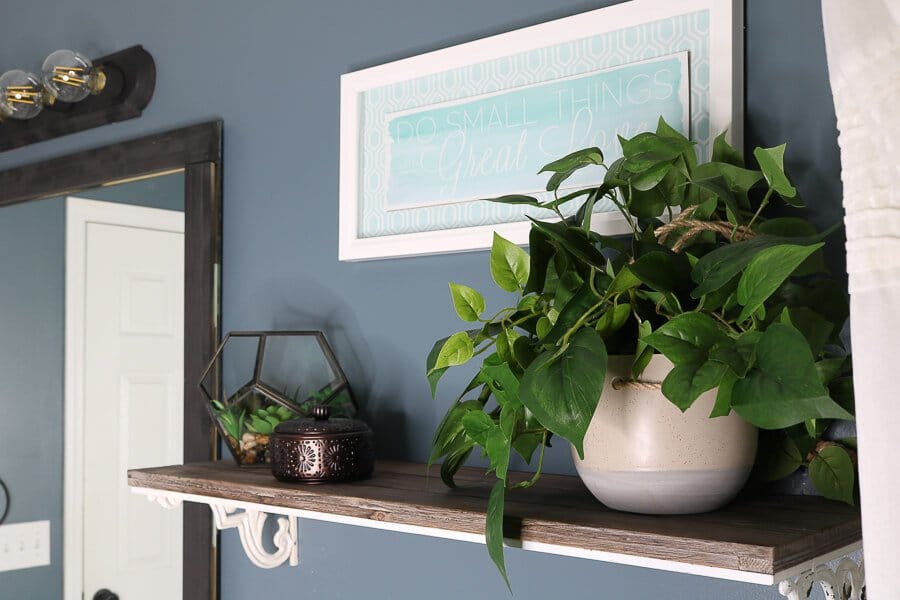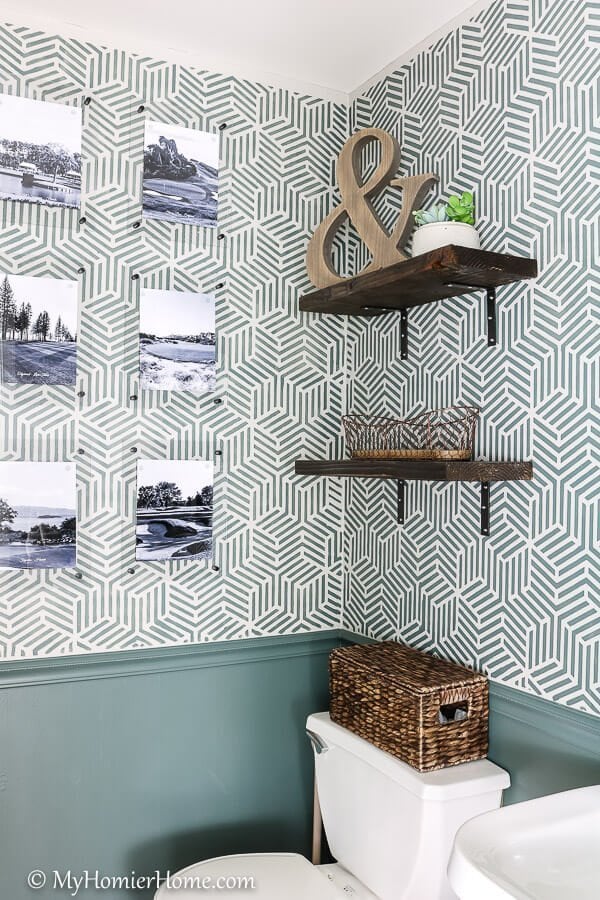 And don't sleep on adding some spring decor to your bathrooms as well.
You spend a lot of time in there lol, so why not make it have all those wonderful Spring vibes as well!
If you found anything you love in any of the spring decor pictures above, you can shop the items by clicking the picture below.
Happy Spring!
Shop My Spring Decor Ideas
Disclaimer: This post does include affiliate links for your convenience. This is at NO additional cost to you but earns me a small commission. To read more, check out our disclosure policy.
(click on any of the images to shop the products)