5 Must Have Fall Mantel Decor Items for your Fireplace
Looking for inspiration to spruce up your fireplace for Fall? These Fall mantel decor items are a definite must have. Plus I'm sharing 9 other bloggers' Fall inspiration as well.
Even though it's still in the 90s over here, I'm so ready to get the Fall vibes flowing. What better way to start than with a round up of amazing Fall inspiration.
I'm starting it off with my 5 must have Fall mantel decor items, but stick around to the end of the post to checkout all the other inspo posts from the Fall Delights Blog Hop.
And when you're done checking out my 5 must haves, you'll want these great tips for using your new fall fireplace decor for an easy transition.
Let's get to it!
Disclaimer: This post does include affiliate links for your convenience. This is at NO additional cost to you but earns me a small commission. To read more, check out our disclosure policy. As an Amazon associate, I earn from qualifying purchases.
Fall Stems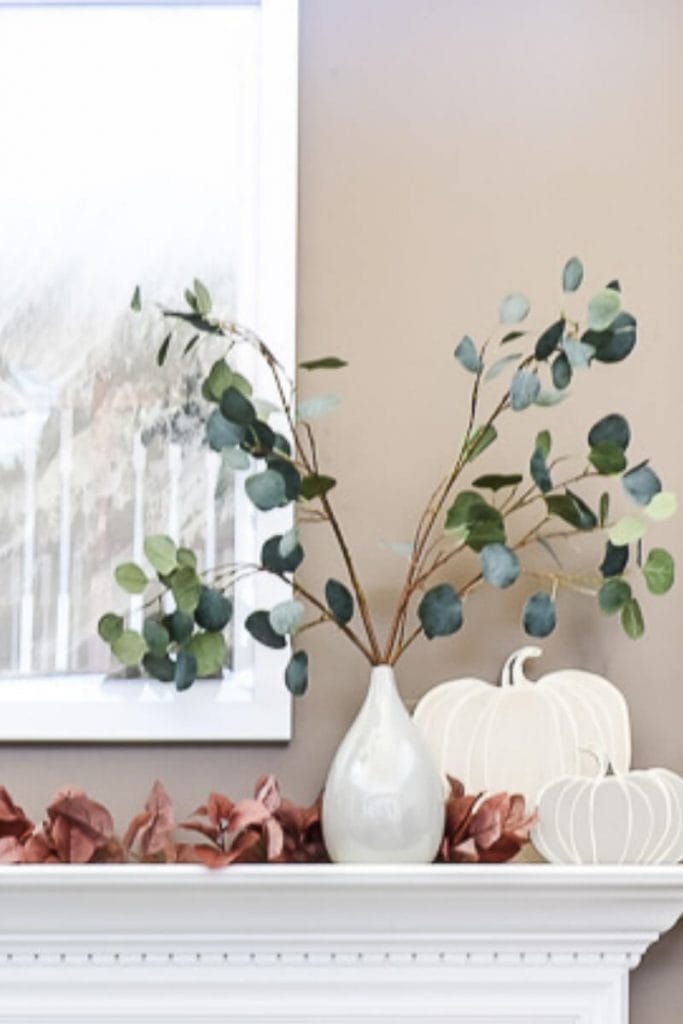 My favorite way to spruce up my mantel decor for Fall is to switch out the stems.
Depending on your Fall color scheme, you can change your stems to be a deeper green with more Fall leaves or stems that signal the changing colors.
Either way, adding beautiful Fall stems to your mantel will bring the Fall vibes to life.

(click on any of the images to shop the products)
Autumn Garland
Next on my list is beautiful Fall garland.
I love bringing in as much of the Fall leaves as I can and leaf garland makes it super easy.
It also connects the elements on my mantel to bring the Fall decor together.

(click on any of the images to shop the products)
Candlesticks and Faux Candles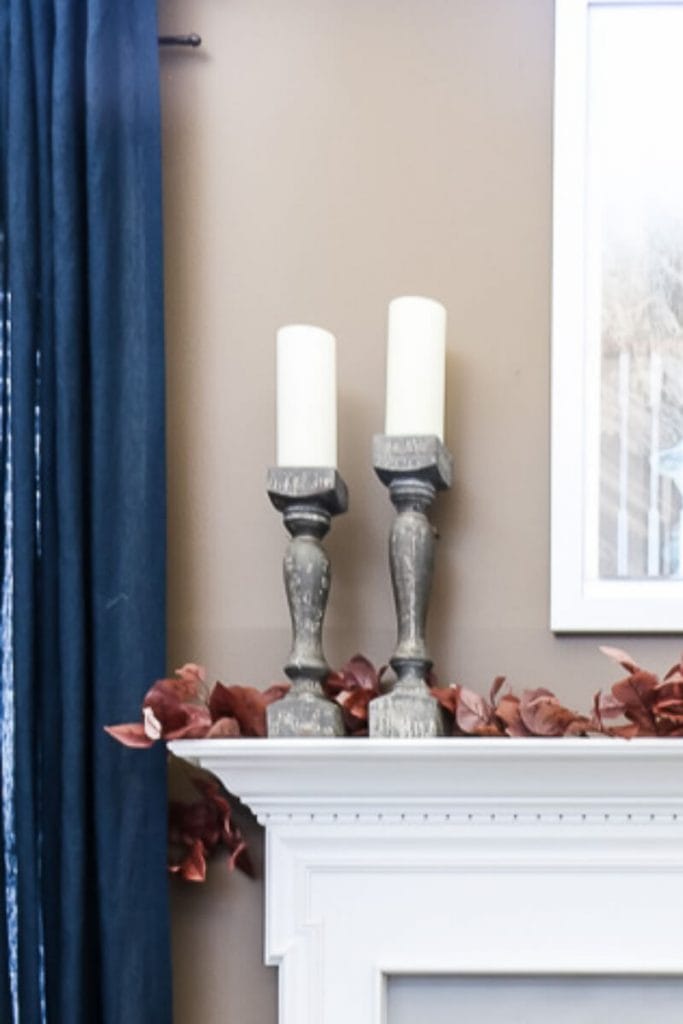 Because you don't want your Fall mantel decor to fall flat (pun intended), you want to make sure you vary the height along with the texture.
Since I have all my leaves covered, I like to add in something more smooth and tall to balance the height of my stems on the other side.
Enter candlesticks!
Now no candlestick is complete without a candle to go with, but you definitely don't want to be lighting real candles so close to the wall.
Therefore, you'll want some super realistic faux candles.
My favorite place to grab great faux candles is at lights.com.
They have such a wide variety and they won't break the bank.
Most of them also come with a handy remote, so you don't have to walk over and fiddle with the candles every day.
I have my favorite ones in the clickable picture below.

(click on any of the images to shop the products)
Cute Pumpkins
What Fall mantel decor is complete without pumpkins??
These particular pumpkins you see in the photo I found at a craft show, but I linked some similar ones you could paint below.
Either way, adding pumpkins to your fall mantel is an absolute must.
Need I say more?

(click on any of the images to shop the products)
Fall Wreath and/or Subtle Artwork
And last, but not least, you want to add a nice piece of artwork or Fall wreath to anchor your mantel.
If you have your television above your mantel, you won't need to worry about this part, but if you don't you'll want either a beautiful Fall wreath and/or subtle piece of artwork to whisk you away into those Fall vibes.
My goal for are artwork eventually is to DIY something that is a little wider with more color, but for now this beautiful landscape from Home Goods will do the trick.

(click on any of the images to shop the products)
I hope you enjoyed my fall mantel decor must have list!
Before you go, don't forget to checkout all the beautiful Fall inspiration from my fellow bloggers participating in the Fall Delights Blog Hop below.
You won't want to miss these creative ladies' spin on Fall.
Shop All My Favorite Fall Mantel Decor Below
(click on any of the images to shop the products)