Tips for Decorating your Fall Fireplace & Mantel
Summer is coming to an end, but the drop in temperature on the horizon has me longing for all the fall feels. What better way to start off the new season than changing your fireplace decor to bring in the fall vibes?
Today I'm going to share with you my styling tips for transitioning your fireplace and mantel into a cozy fall addition to your living room.
Let's get started!
Gather Your Fall Decor
Before you can tackle the Fall fireplace decor overhaul, you'll need to know what you have.
If you don't already have a specific bin for Fall decor, no worries! This would be a great time to start one.
We will talk about how to fill in the gaps in a minute, but for now, get everything Fall in sight.
Remove All Existing Decor
Now, when I say remove all existing decor, I mean anything that is seasonal specific.
For instance, here is my spring mantel and my fall mantel for comparison.
So, you don't literally need to take everything, but you do want to take seasonal specific items. Also, it's nice to start with a clean slate when switching things over.
Don't feel like you have to use all brand new items either. You can see in the picture that I reuse a lot of the items, just in a different way.
Work From the Center Out
When you put things back on the mantel, no matter what season, it's usually best to start from the center, with your anchor piece, and work your way out.
You can choose to place your anchor piece in the center or off-center depending on if you are a symmetrical person or love an asymmetrical vibe.
Determine What You Still Need
After using what you already have, determine what you still need. I usually start like this…
What old decor can I DIY to make fit better?

What pieces do I still need?

What sizes do I need those pieces to be?
My Go-To Fall Fireplace Decorating Staples
A question I always get asked is, "What kinds of items should I be looking for? Well, I have a go-to list when it comes to fireplace decorating and this one below is Fall Fireplace Decorating specific…
Foliage/Stems

Candlesticks (at least 2)

Pumpkins

Lanterns

Cozy pillows & throws

Basket for said cozy items

Book stacks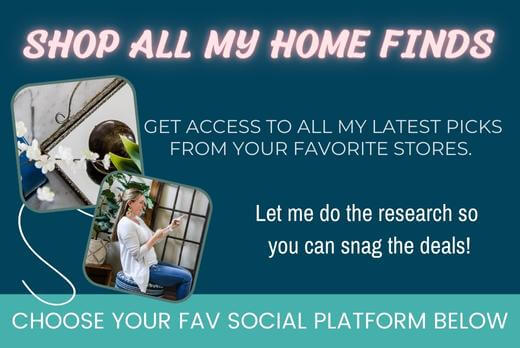 Helpful Rules for Decorating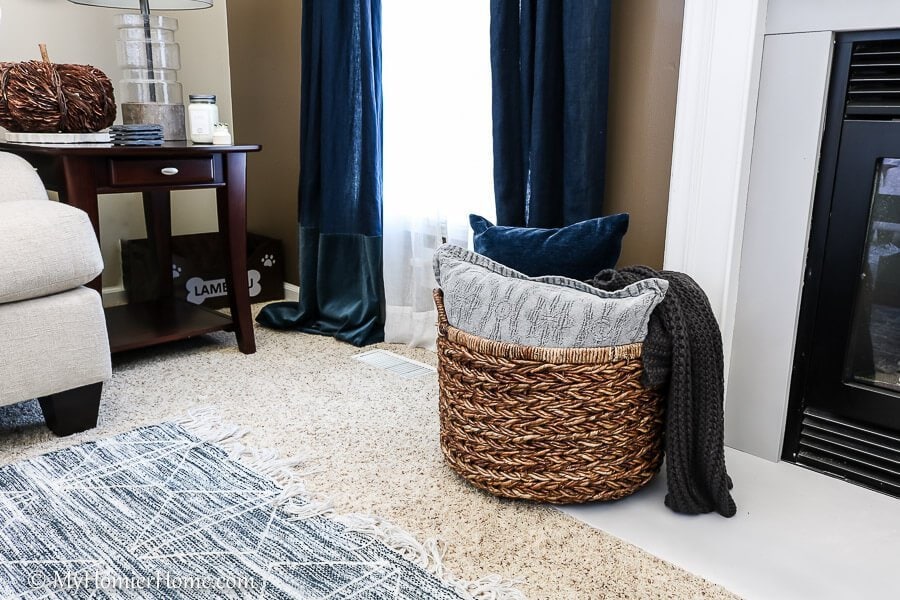 While you are working to make this space beautiful, keep in mind the rules, or rather guidelines, that will help you make a space pleasing to the eye.
Here are my suggestions…
1. Odd number groupings are best.
2. Find an anchor piece you love. Once I find a fall one I like, I plan to change out my framed art seasonally.
3. When you are choosing an anchor piece and decide on a piece of wall art, the wall art should take up about 2/3rds of the space you are trying to fill.
Mine is actually not doing that currently in the pictures above, but it definitely does make everything feel better.
Get creative though because you can take up the space with more than one piece of wall art, too. This rule is just a guideline.
4. Taper your heigh with the tallest item in the center and work your way out.
5. Visual triangles with color and texture are pleasing to the eye.
6. If you are introducing color, make sure it shows up in at least 3 places throughout the room to make the choice intentional versus random.
Don't forget to have fun!
Decorating can be stressful if you are trying to be too perfect or trying to force yourself into a box.
Don't let rules and guidelines trump your creativity. The rules and guidelines are there to give you direction, but some of the most beautiful artwork happens when the rules are broken.
Make the room feel good to you. After all, you're the one living there, amiright?!
But, if you are completely lost or it doesn't seem to be working, always fall back on the rules and guidelines to help bring the visual appeal back to level.
Remember, you got this!… And I'm always here to help!
Until next time, peace out homey