Beautiful and Unique Fall Front Porch Ideas
This round up of beautiful, but unique fall front porch decor ideas will have you swooning. You'll find inspiration for all kinds of look and styles.
Hi there, friend! If you are coming over from Audrey's colorful and modern outdoor fall decor, welcome!
Isn't her style just amazing? I can never get enough of her colorful projects!
I've known Audrey for over a year now and, let me tell you, if you want to incorporate fun colors into your decor, she's the go-to gal for this. So if you don't already, follow her for real!
Oh my gosh you guys, I'm so excited to have you on this tour today because fall is literally the best!
And with all of our unique styles, you'll have endless inspiration to make your fall front porch the cutest one in the neighborhood! Heck yes!
Disclaimer: This post does include affiliate links for your convenience. This is at NO additional cost to you, but earns me a small commission. To read more, check out our disclosure policy.
My Autumn-Inspired Fall Front Porch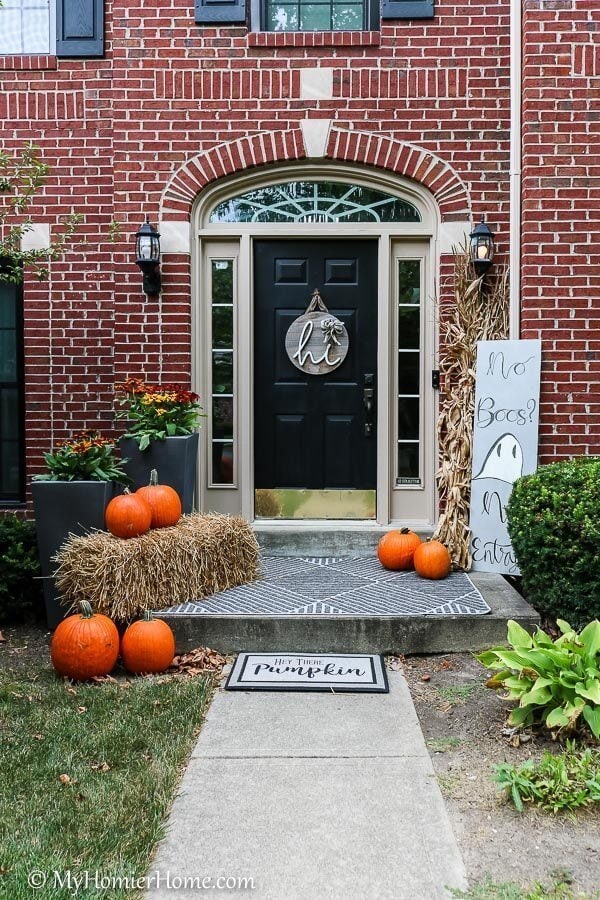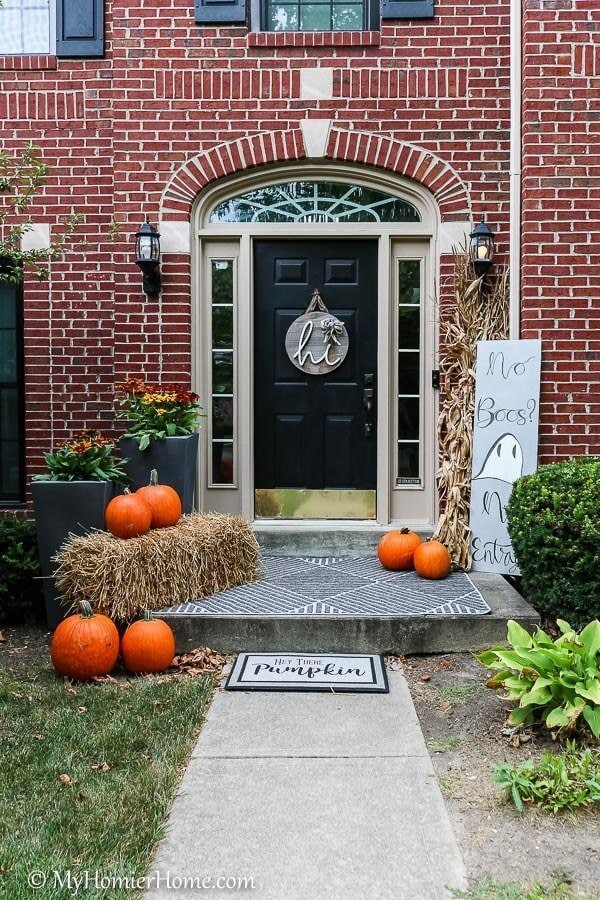 For as long as I have been doing this decorating thing, can you believe I have never decorated my front porch for fall? Maybe a few pumpkins here and there, but I felt like it was time to do it right.
The fun of having some like-minded blog friends who love fall, too, is you get the push you need to give it a little extra.
The Key Ingredients for a Fall Front Porch
Somethings are for certain, to create a fall front porch you need some kind of plants, pumpkins, and a cute rug or door sign – or both!
In addition, keeping with my autumn-inspired theme, I added a bale of hay and some cornstalks (each $4 at the local nursery). And, my favorite part, my DIY porch sign!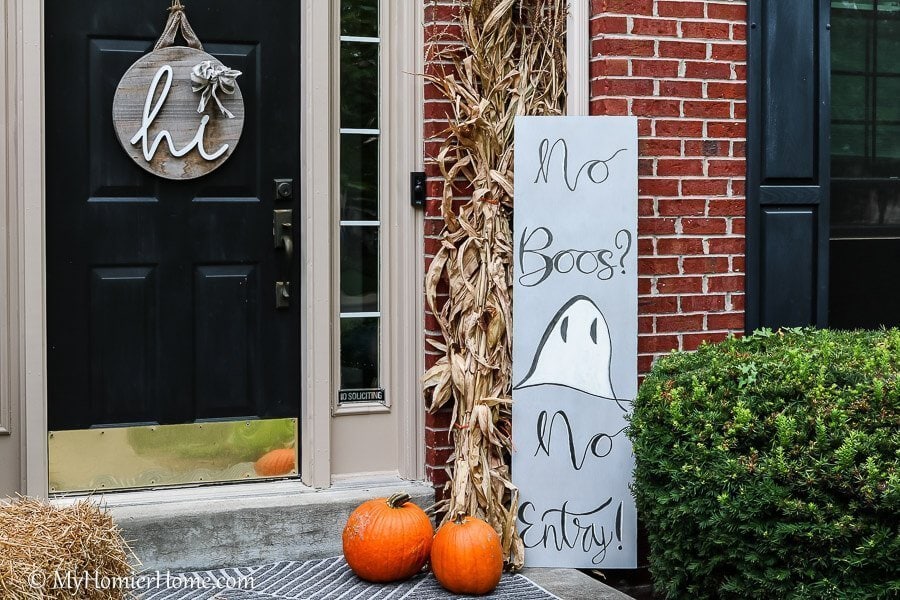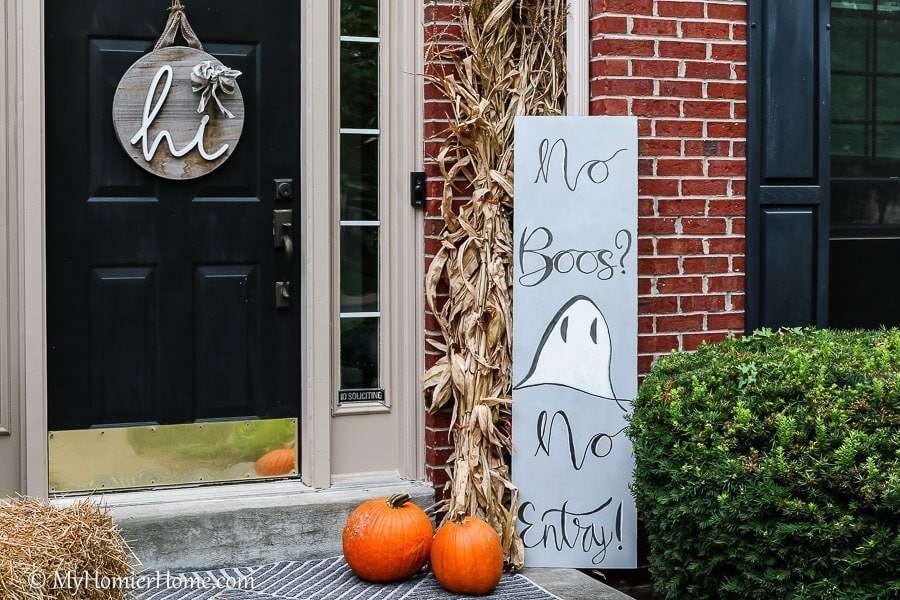 I went to a conference this summer and learned how to do modern calligraphy, so this was my first attempt at utilizing my "skills" – still a work in progress lol.
You can check out my whole tutorial on how I made the DIY porch sign coming soon.
Do you like my pun? Because seriously – No boos? No entry! lol I made this from a scrap piece of wood, spray paint, and paint markers! (Psst… you can click any of the affiliate pictures below to buy the same materials)

More Fall Front Porch Inspiration
There is so much more inspiration to be had!
Your next stop on the tour is Nicole's Mums Galore Fall Front Porch!
She literally has endless ideas when it comes to renovating, DIYing, and decorating. You'll love her style, too! Especially her fall front porch… and she's an Indiana girl like me!
Be sure to hit up the full tour with the my favorite creative masterminds! Fall front porch inspiration here you come!
– Nicole's Mums Galore Fall Front Porch
– Morgan's Classic Fall Porch
– Amy's Monster Party Porch Decor
– Chica & Jo's Rustic Fall Porch Decor Ideas
– Audrey's Colorful & Modern Outdoor Fall Decor
Until next time, peace out!



Want more of My Homier Home's Fall Inspo? Check out the latest…