Our Holiday Hosting Plan & A Christmas Gift for You!
Get a sneak peek of our holiday hosting plan for our overnight guests plus enjoy a little holiday gift from me to you at the end of this post!
Can you believe there is only two weeks left until Christmas!
I have been saying this since November, but it feels like someone hit fast forward and we can't find the remote 😂
In any case, today I wanted to share with you our holiday hosting plan for our overnight guests and give you a little gift too!
If you're a Starbucks fan, you'll want to stick around until the end of this post to get your free gift!
On to the plan…
Disclaimer: This post does include affiliate links for your convenience. This is at NO additional cost to you but earns me a small commission. To read more, check out our disclosure policy. As an Amazon associate, I earn from qualifying purchases.
Our Holiday Hosting Daily Breakdown and Meals
I'm sure you've heard me talk about it before, but I use Trello to organize, well, everything.
I organize my business stuff and my personal stuff, but most notably at this time of year, I organize all our Christmas planning.
The picture above gives you a little insight into some of the pieces of this Trello board from this year, but you can also get the template for this board as part of my Christmas Prep Library.
Regardless of how you organize your planning, here is a rundown of our hosting plan for the 4 days and 3 nights we will have overnight guests.
Pre-Guest Arrival Checklist

Other than the items I listed in my tips for hosting overnight guests, I'll be making sure the following is complete:

Pick up the house one last time
Wash sheets and make the beds
Set out extra linens and bedding for couch sleepers
Switch out all towels for fresh ones
Restock toilet paper in each bathroom
Double check our fridge is stocked, upstairs and down
Bake sweet treats for the apple cider bar

Day One (guests arrive midday)

Have sandwich items ready to go for when they arrive
Set guests up in their rooms/areas
Spend some time catching up
Our dinner plan is always an appetizer round up, which we call the appiteaser schmorgus board, with items including…

Swedish meatballs
Crescent weinies
Chips and dip
Baked ham and cheese sandwiches
Shrimp and cocktail sauce

Finish up the evening with an activity (see below)

Day Two (Christmas Eve)

Start the day with homemade breakfast sandwiches
Relax/Showers/Christmas movies
Attend Christmas Eve mass
Our dinner plan this year is homemade pizzas. Other years we've done a taco bar, too
Finish up the evening with an activity from the list.

Day Three (Christmas)

Open presents!
My husband does a make your own omelette bar for breakfast.

You put what items you want in your omelette in a bowl and then he short order cooks it for you. It's pretty awesome.

Relax/Play with new presents or gadgets/Christmas movies/Showers
For dinner, we usually do a nice dinner in the dining room fully equipped with a holiday feast, including…

Ham
Pierogis
Polish sausage
Veggie Casserole
Sweet potatoes
Rolls

After dinner, we usually post up in the basement and play games

Day Four (guests head home)

Order breakfast rolls

There is this place called the Kolache Factory in Fishers that has the best little goodness-filled breaded amazings that we usually go and pick up.

Help guests pack their car
Do a sweep of the house for forgotten items
Give hugs and see them off
And there you have it!
Our holiday hosting breakdown for overnight guests.
Now for the list of fun activities you can pull from for your holiday extravaganza…

Our List of Activities to Pull From
I usually like to have a list of activities we can do in case things seem like they need an energy boost.
Here is a list of some of the things we have on deck every year to choose from to get you started.
Go out for fun

Bowling
Top Golf
Christmas Lights Tour

Board games

Taboo
Pictionary
Catch Phrase

Card/Dice games

Euchre is our favorite
Left, Right, Center

Horseracing

This game is a crowd favorite betting game.

Bar games
Other random ideas

Christmas cookie decorating
Gingerbread house making
Watch a Christmas movie
And last, but not least, let me share with you how you can snag your free Christmas gift from me!
My Free Christmas Gift to You!
To share in the holiday joy with you, I wanted to give you a little something to brighten your day while simultaneously picking your brain.
To help me better serve you in the coming year, I created a My Homier Home reader survey.
As a thank you for filling it out, I will give you a free Starbucks drink at the end of the survey!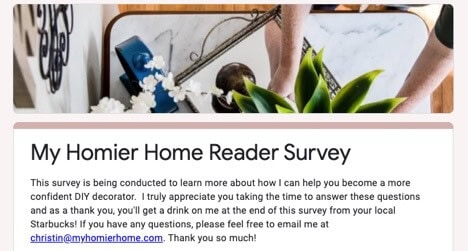 The survey will take you less than 10 minutes and the Starbucks gift will be instantly available once you complete it.
I truly appreciate your feedback and can't wait to hear your thoughts to help me help you become a more CONFIDENT decorator.
You can access the survey through the bright red button below. But hurry, there's only so much gifting to go around!
Happy holidays friend!