Our Exterior Paint Colors that Compliment Red Brick
Check out our exterior paint colors that compliment red brick. These colors will be great for any red brick home.
Ah yes, red brick.
How I love and hate you at the same time.
Red brick can be tough to work with – especially if you're not a fan of red 🙋🏼‍♀️.
However, if you're like me and it wasn't in the cards to get all trendy and paint your brick white, it's time to figure out how to work with the red brick.
In today's post, I'm sharing with you the process we took to ultimately decide on exterior paint colors that not only complimented the red brick, but made me happy and proud every time I pull in the driveway.
Let's get to it…
Disclaimer: This post does include affiliate links for your convenience. This is at NO additional cost to you but earns me a small commission. To read more, check out our disclosure policy. As an Amazon associate, I earn from qualifying purchases.
Exterior Paint Colors We Tested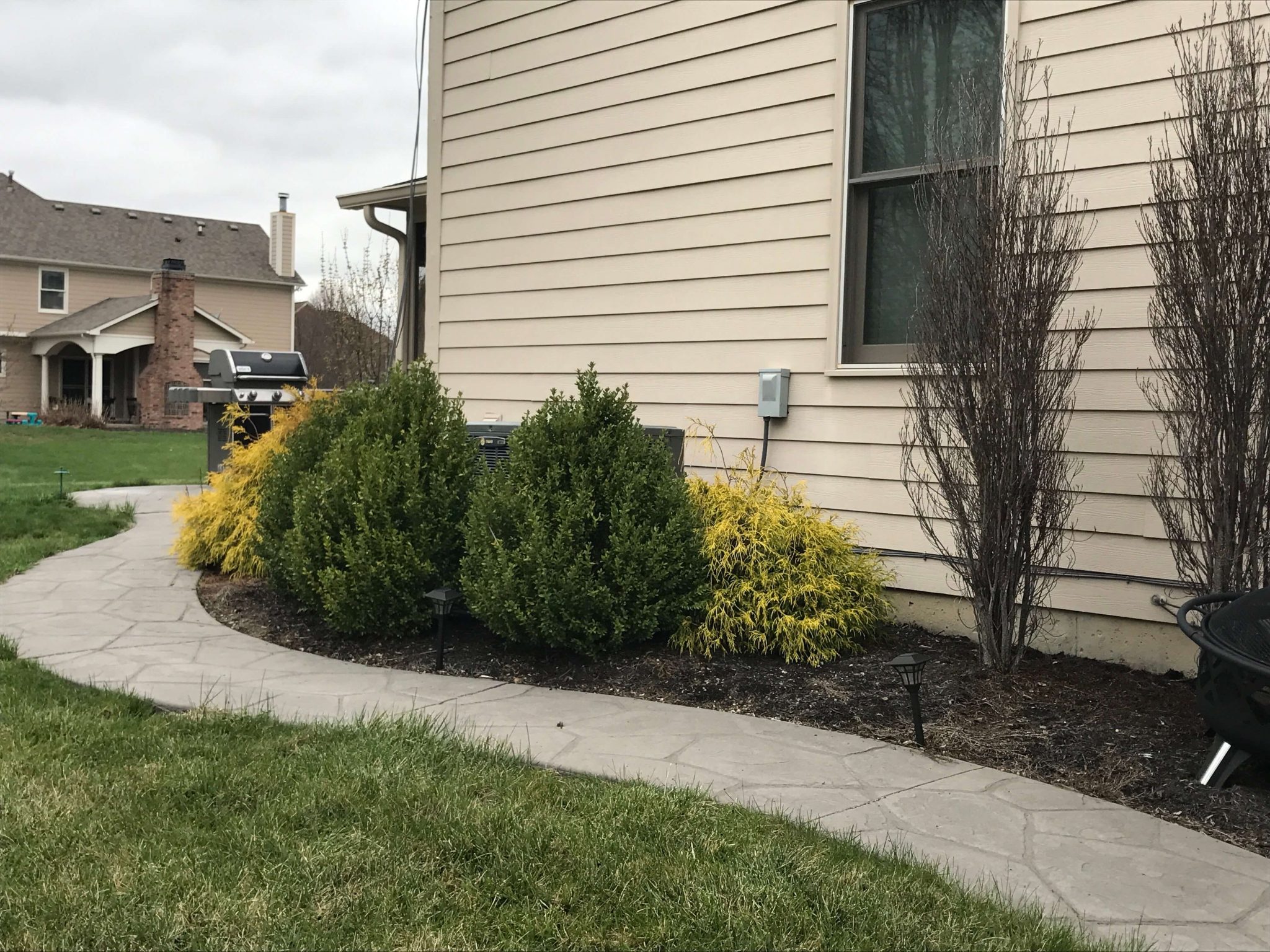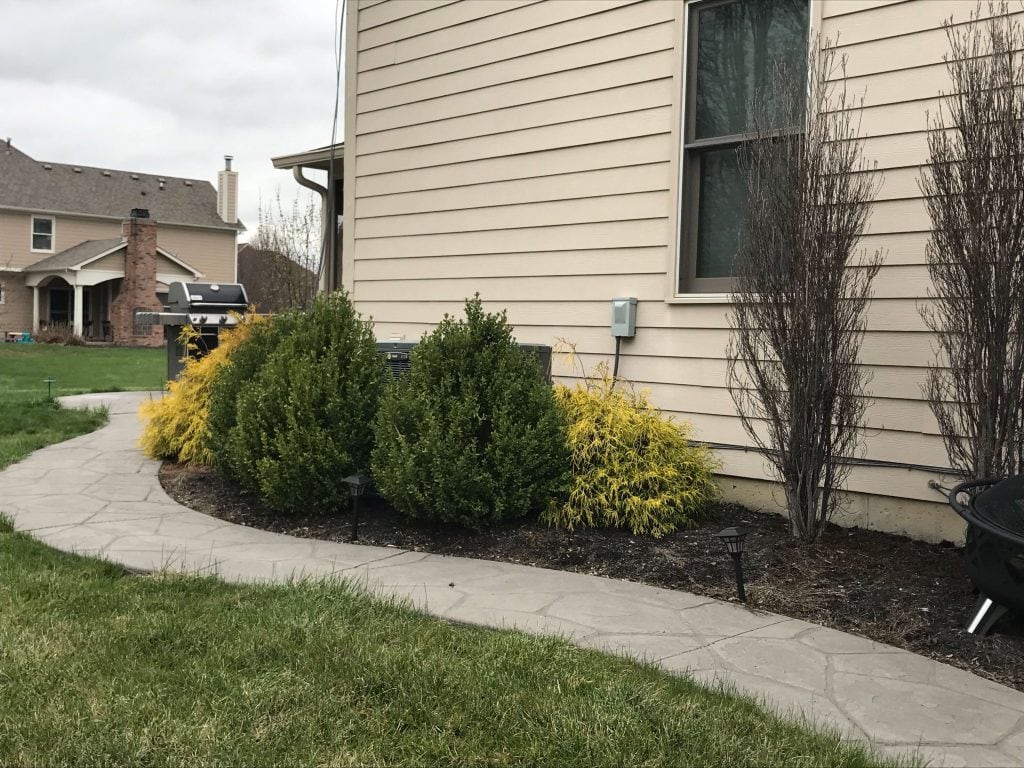 Here is the before photo of the side of our house before we got our new windows and painted the exterior.
The dusty pink is not the only color you can paint your house with red brick.
Nor do you have to go with a version of beige.
The key though to picking an exterior paint color that compliments red brick is to pick a warm gray or greige.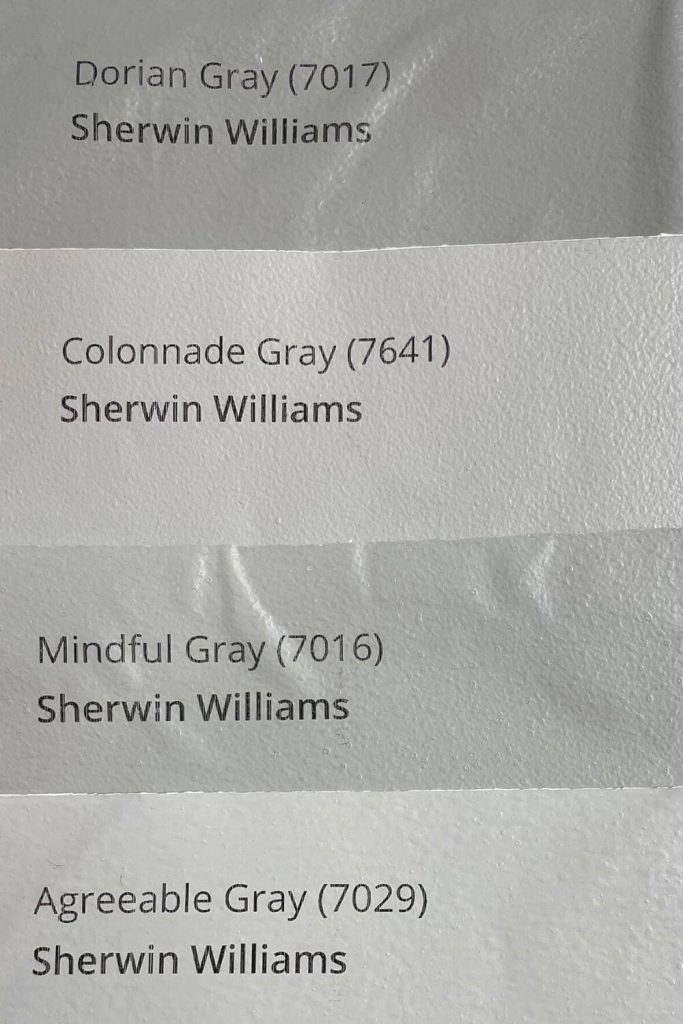 Of course, we all have different tastes when it comes to paint colors, but these four options are a great place to start.
You'll notice this picture is a little odd and not as professional as my photos usually are, but that's because I took this of the actual Samplize color samples I used to test these colors.
If you've never heard of Samplize, you are totally missing out!
Instead of buying paint samples and going through the headache of actually painting swatches on each side of your house, these bad boys are peel and stick!
You can get them in a ton of brands (i.e. Sherwin Williams, Benjamin Moore, etc.) and in any of their colors.
I used them to choose the colors for our outdoor living room too.
For the exterior of our house, I tested Mindful Gray, Colonnade Gray, Dorian Gray, and Agreeable Gray all from Sherwin Williams.
Another thing you have to keep in mind is which direction your house faces (i.e. north, south, east, or west).
This will determine how the color shows up on your individual home.
I did extensive research on our east-facing home and I'll share some of those resources in the sections below.
Here is what I discovered about these four colors…
Mindful gray

Gray and greige undertones with subtle bluish-green undertones

Collonade Gray

Warm greige with brown undertones that can hint a little bluish in north-facing lighting and shift slightly from green to purple depending on the time of day.

Agreeable Gray

Gray with a warm, beige undertone and can lean more beige or gray depending on the amount of light, but it's considered one of the purest greige colors.

Dorian Gray

Gray paint that stays in the warm gray category with subtle purple undertones in certain light. It can also show a little green at times too.
Each of these colors was part of the research I did for the best gray/greige colors for east-facing homes.
Our Exterior Paint Colors that Compliment Red Brick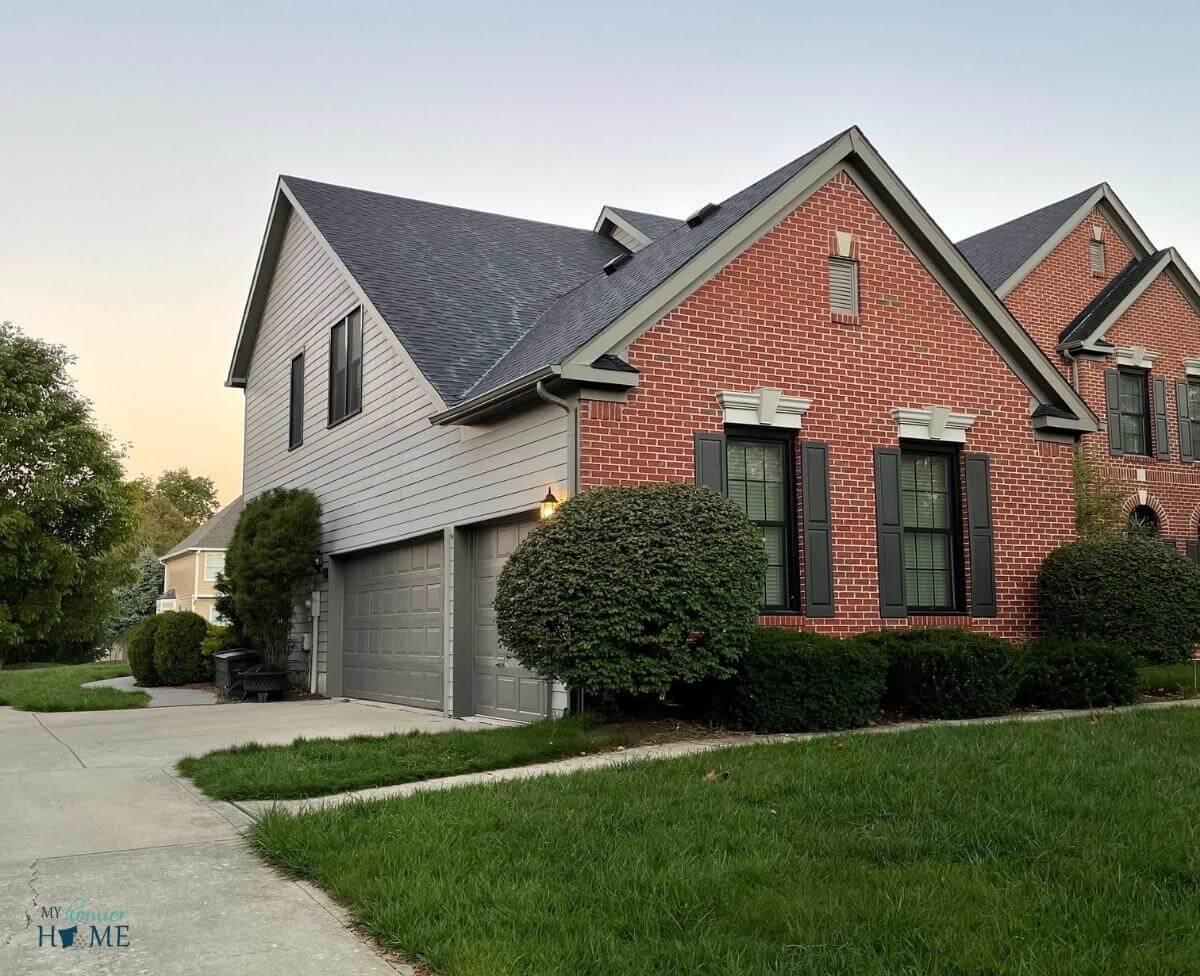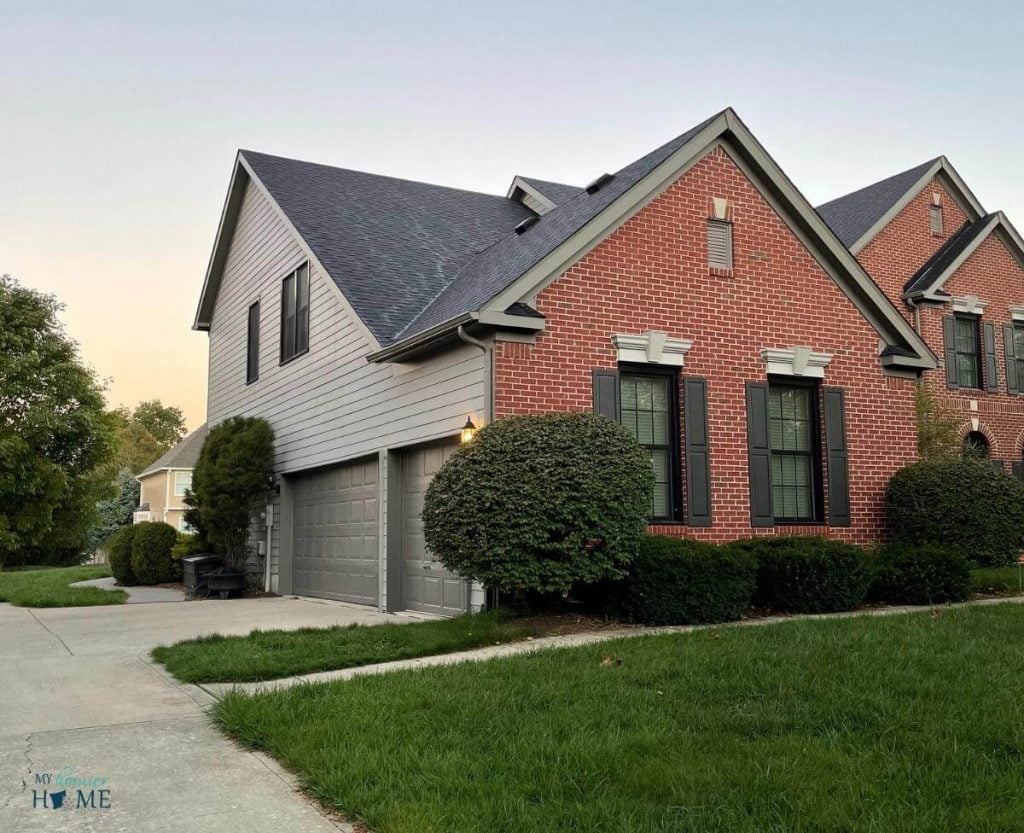 So what did we end up choosing?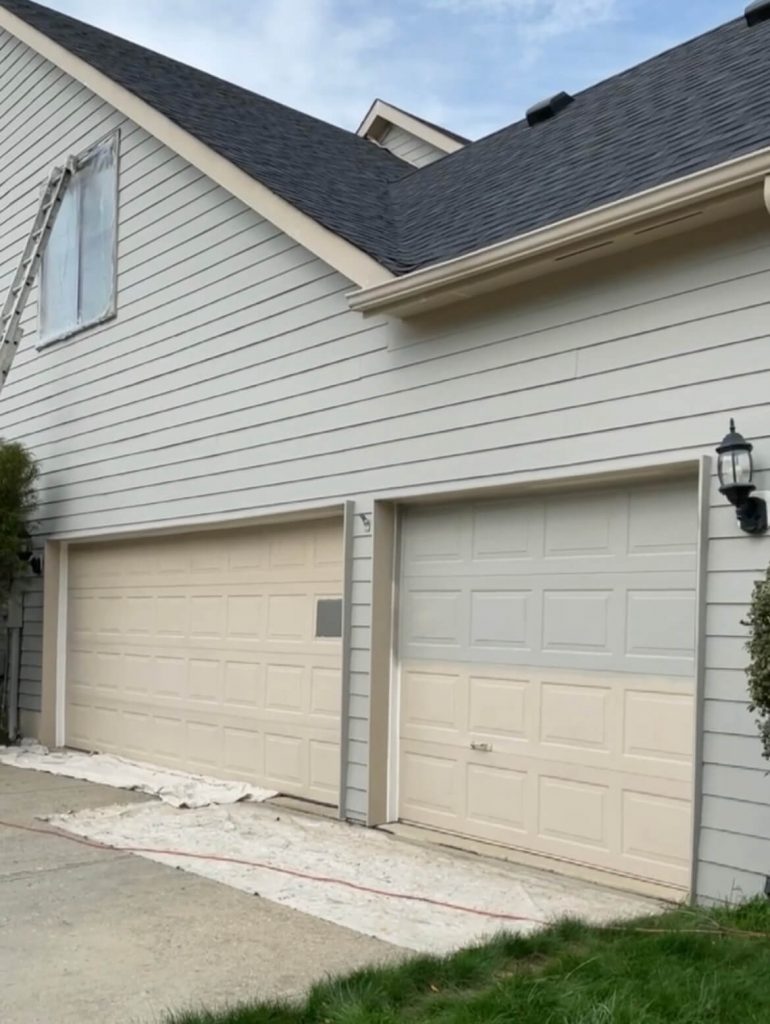 For the main siding color, we ended up going with Dorian Gray.
Look at how much of a difference it is from the sandy beige we had on their before from the previous owners?
Once we determined the main siding color (which was also the same color that I went with in our outdoor patio), it was time to figure out what color trim and accent color to use.
After reading this article on Gauntlet Gray, I knew this was going to be a great trim color.
We painted the easements, garage doors, and gutters in Gauntlet Gray by Sherwin Williams and then chose Iron Ore for the shutters and front door.
You can see the front view of our home in the section below.
Tips for Choosing Exterior Paint Colors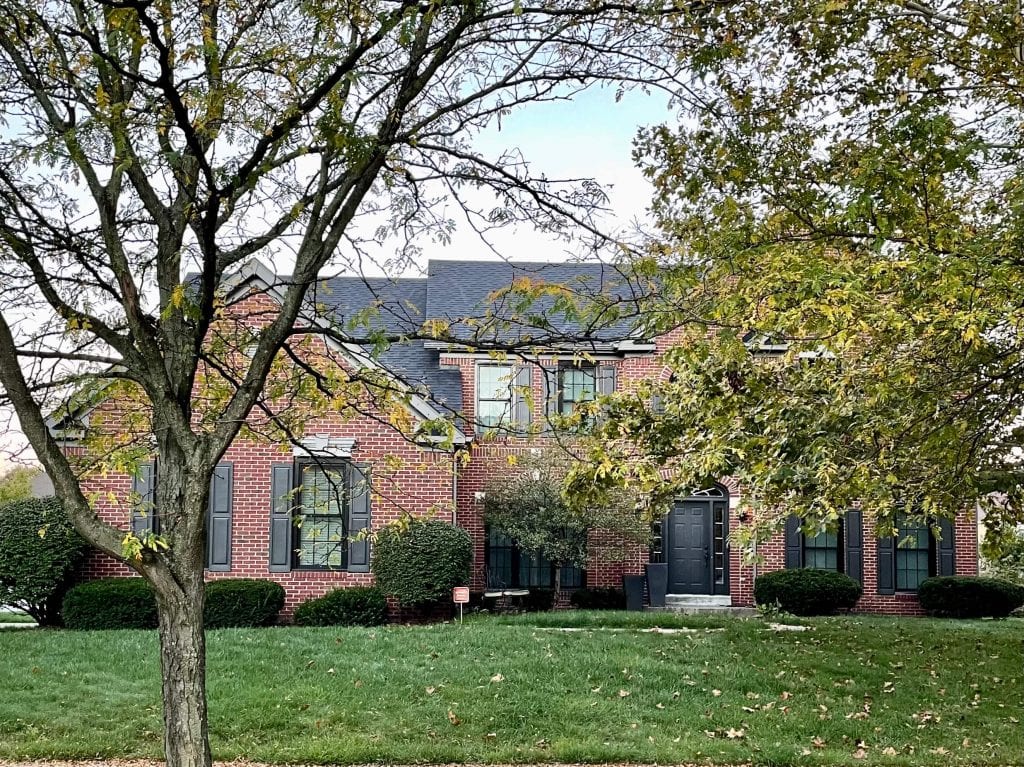 It's a little hard to get the full feel with all the foliage in front of the house, but it is a masterpiece!
These colors definitely compliment our red brick well, but here are some tips I picked up for choosing exterior paint colors that I think you'll find helpful…
Don't judge the color when the paint is still wet.

Totally thought I didn't like it, but its because I was looking at it before it dried.

Don't just pick one color for everything.

Consider a complimentary color for the trim, gutters, shutters, and front door to add dimension to your exterior.

Don't forget to consider the undertones of your roof as well as the brick color and undertones when choosing exterior paint color.
Always test the colors at multiple times of day on different sides of the house using Samplize paint color samples.
Want to watch the video for this post?
You're in luck!
I put together a video tutorial to add to this post, so you can see the full scope in real time!
Check it out below and while you're there, be sure to hit the subscribe button and turn on the bell notifications to make sure you never miss a new My Homier Home video!