---
Disclaimer: This post does include affiliate links for your convenience. This is at NO additional cost to you, but earns me a small commission to help keep my blog up and running. To read more, check out our disclosure policy. Thanks for your support!  
---
Week 1 | Week 2 | Week 3 | Week 4 | Week 5 | Week 6
WAAAHHHHOOOOO!! The day has come my friends! The final reveal! As stressful and as all-consuming as this challenge was, I am beyond ecstatic to finally have a room I'm proud of and one that is complete… for the most part. If you have missed the last 5 weeks, you can catch up with the links above. 
There are still 2 items I'm waiting on to come in and 1 minor to-do item left on the list, but nonetheless, I've got finished-product photos to show you!
I'm still waiting on my Pottery Barn Chair, but you will notice a substitute chair in the pictures today (borrowed from my front room). Also, I'm waiting on the custom maps of the various cities my husband and I have lived in, but I printed a few color versions of one of the proofs to show you what it will look like. My last to-do item is to knock out painting the vents the same color as the wall, but all in all, I'm ready to show you my, for all intents and purposes, the finished product!
This was such a fun adventure and I want to thank my neighbor (shout out Tina!) and the hubby for helping me make decisions and calming me down when I started to freak out/panic/cry/etc. Couldn't have done it without you guys! I'm so gitty!! Let's get to it!!
Let me remind you of how this room started…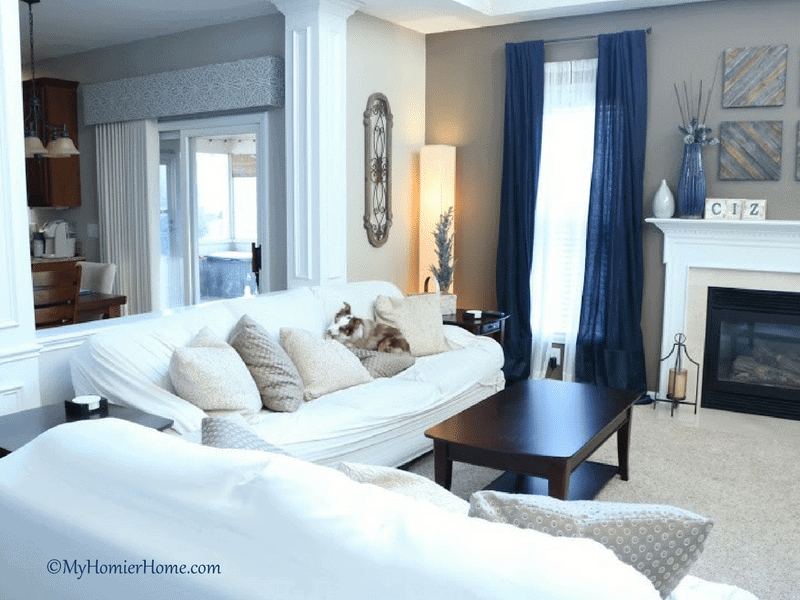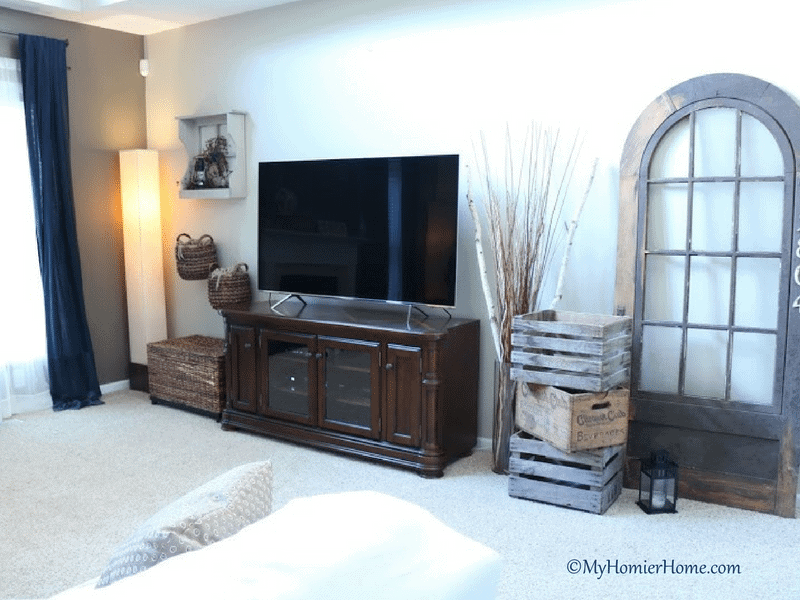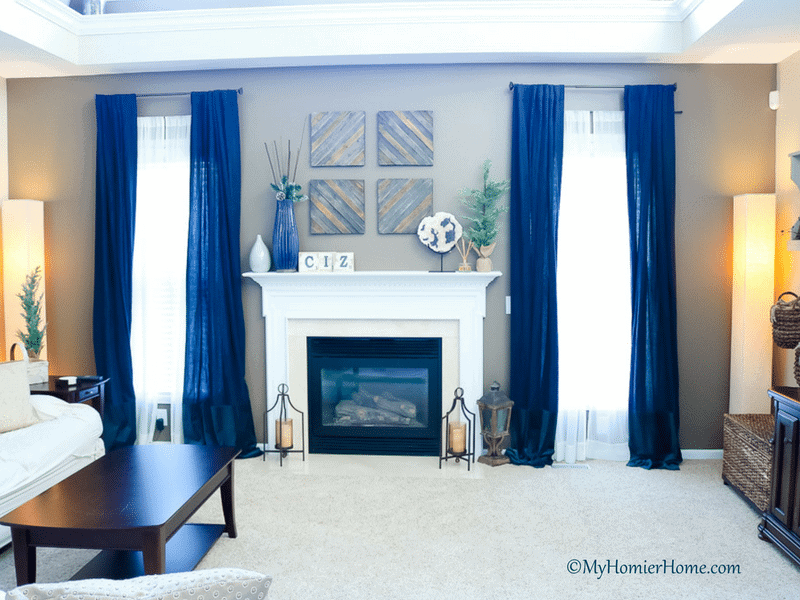 And now… The moment you/I/we have been waiting for over the last 6 weeks…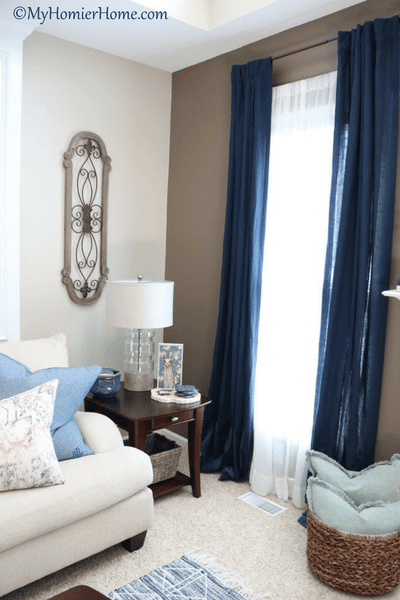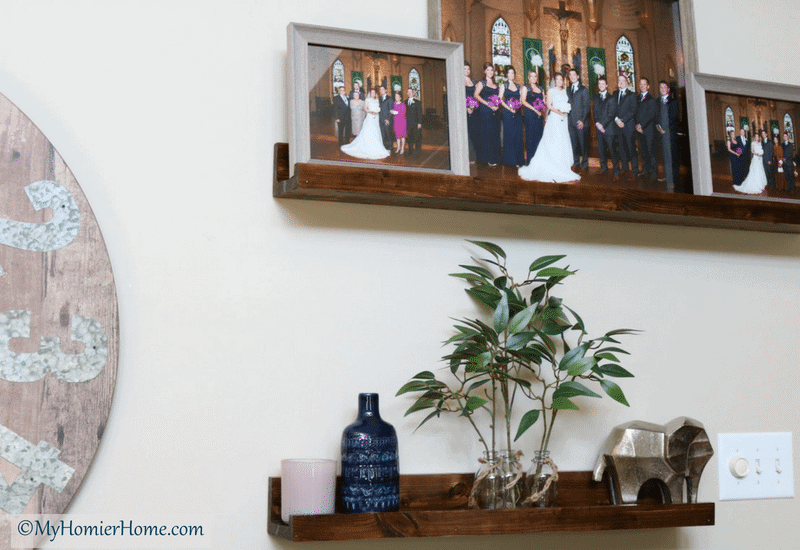 Well, what do you think?? I'm sure you could tell by some of the photos that it is definitely puppy-approved. It feels so good to have beauty surrounding me in this room now. I finally feel like I can cozy-up and relax. With as big as this room is, I'm glad I chose it for the One Room Challenge™ because it forced me to get down to the nitty-gritty and get it done for real. Thanks @oneroomchallenge and @housebeautiful for putting together such an awesome event! 
If you liked the big reveal here, stay connected with us for future room updates by clicking here. Also, don't forget to check out all the other amazing blogger's reveals too! The 16 Featured Designers completed their rooms yesterday (check them out here) and all the other guest blogger reveals can be found here. Gather your inspiration!
---
TV Wall: Silver Antique Frames – West Elm| Custom Maps for Frames – Etsy | Fiddle Leaf Fig – World Market| Tree Basket – Home Goods | Antique Door & Crates – Midland Antiques (Indianapolis) | Floor Lamp – West Elm| Leather Chair in Photos from our Front Room in Molasses – Pottery Barn| Leather Chair (on its way) in Maple – Pottery Barn| TV Stand – Ashley Furniture | Diffuser in Linen – West Elm| Blue Blanket – West Elm| Blush Pattern Pillow – West Elm| Ottoman – Home Goods | End Table – Home Goods | Magazine Holder – Michaels
Fireplace Wall: Navy Drapes – West Elm| Wicker Basket – Target| Green Pillows – Home Goods| Dusty Blush Vase – West Elm| Navy Vase – West Elm (not sold any more)| Gray Vase – West Elm | Mountain Artwork – Home Goods | Navy Patterned Plant – Home Goods
Center of the Room: Ralph Lauren Blue Pillows – Home Goods | Solid Blush Pillows – West Elm | Blush Blanket | Diamond Rug – West Elm | Coffee Table & End Tables – La-Z-Boy | Couches – Darvin Furniture (Orland Park, IL) | Farmer's Market Wood Crate – Home Goods
Window-Side End Table: Table Lamp, Llama Artwork, & Navy Pottery – RG Decor (Zionsville, IN) | Slate Coasters – West Elm | Marble Tray – West Elm | Gray Wicker Basket – Home Goods | Iron Artwork – Hobby Lobby
Other End Table: Wire Basket – Michaels | Gold & Wood Tray – Target | Terrarium – Home Goods | Slate Coasters – West Elm
Wedding Wall: Console Table – La-Z-Boy | Wall Clock – Pier One | Navy Vase – West Elm | Dusty Blush Vase – West Elm | Turquoise Vase – West Elm | Blue Candle – Home Goods | Wood Tray – Target | Blue Floor Vase – Home Goods | Wicker Basket – Target | Leather Storage Box – Target | Plaid Navy Blanket – Target | Magazine Holder – Michaels | Telescope Figurine – Home Goods | Shelves – Etsy| Trinkets & Frames – Home Goods