5 Reasons You Need a Garage Ceiling Storage Lift
If you don't have an electric garage ceiling storage lift, you're gonna want one after today! Check out my 5 reasons you absolutely need one in your garage for maximum functionality and aesthetics.
This post is sponsored by Proslat. All opinions are my own.
Have you ever seen an electric garage ceiling storage lift at work? It is way cool, let me tell you.
When I had the chance to partner with Proslat with their Garage Gator Hoist, I wasn't sure what to expect, but man oh man, I cannot even believe we have gone this long without one.
Here are my top 5 reasons you need one in your garage.
Disclaimer: This post does include affiliate links for your convenience. This is at NO additional cost to you but earns me a small commission. To read more, check out our disclosure policy. As an Amazon associate, I earn from qualifying purchases.
Easy to Install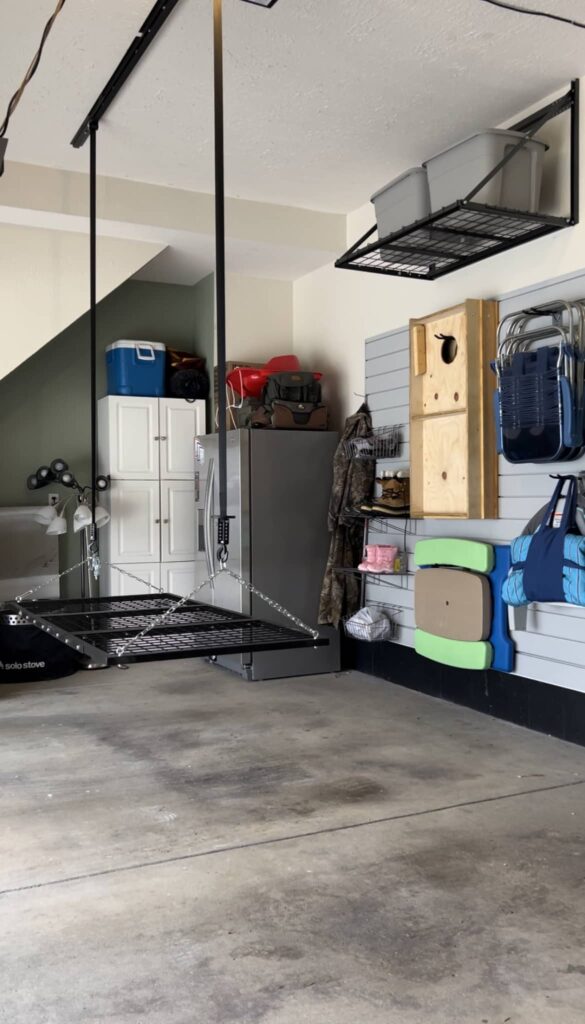 Within a few hours, we had this bad boy hooked up and ready to go.
The hardest part, per usual, was locating the joists in the ceiling. That could very well be a me thing, but once we found them it was easy.
They give a nice template to use so you aren't holding up the heavy lift part trying to locate the holes.
The chains on the side are adjustable which is also really nice depending on how tall you need it above a car.
I was actually pleasantly surprised how quickly this installed with just two people, and 8-foot ladder and a 6-foot ladder.
Gets Awkward Items Up and Out of the Way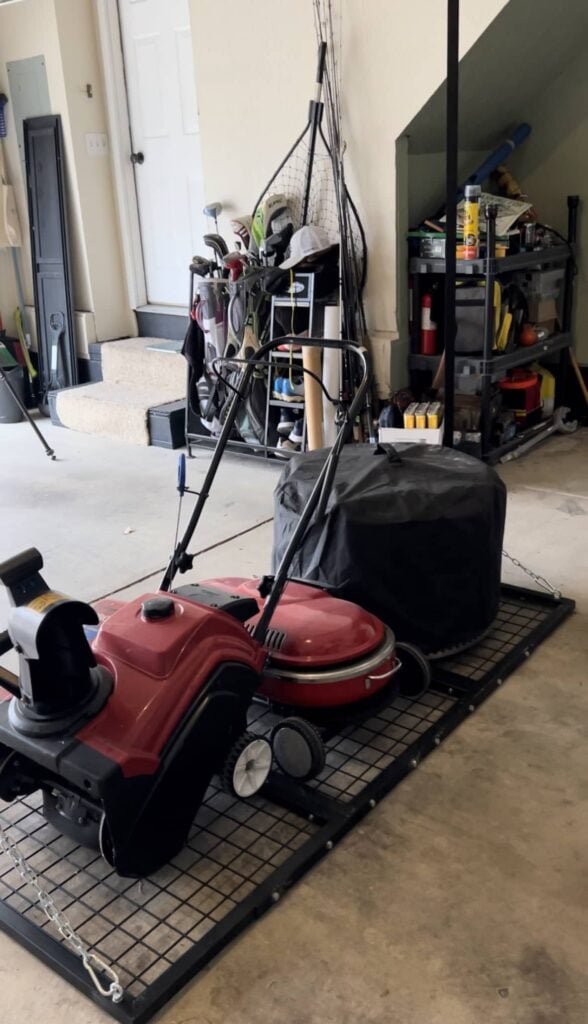 I can't tell you how long these items have been kicking around our garage with no legit spot to put them in.
Not only that, but they are heavy and awkward.
As my husband says though, when you need them, you need them lol.
See that tailgate grill in the middle?
I may or may not have tried to put that on our standard garage ceiling storage platform while standing on an 8 foot ladder by myself.
It's like those gutter commercials… dad, that's dangerous.
Yep. Yes it is.
Not any more! Not sure why I thought that was a good idea anyway, but I sure am glad I can get the functionality of this stuff out of my way and not kill myself in the pursuit.
You Can Lift It With One Finger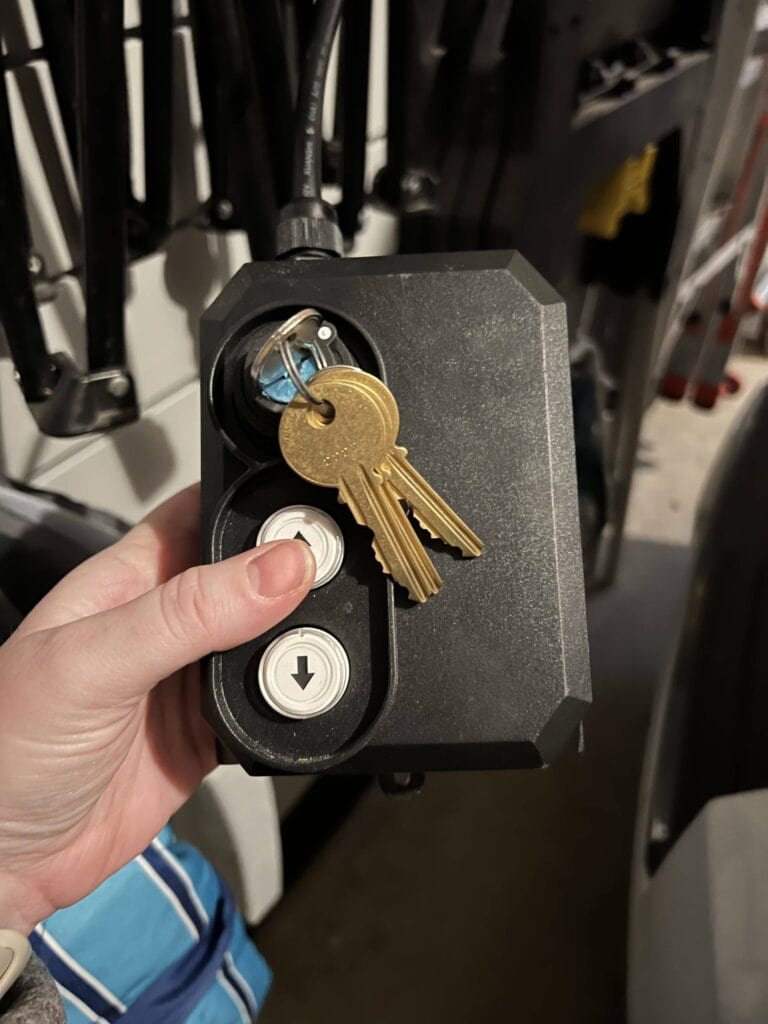 Now this may be my absolute favorite part.
The smoothness of the up and down is fan-freakin-tastic!
One button all the way to the ground. One button all the way to the ceiling.
It's literally epic. Enough said.
No Balancing on a Ladder with Heavy Items Above Your Head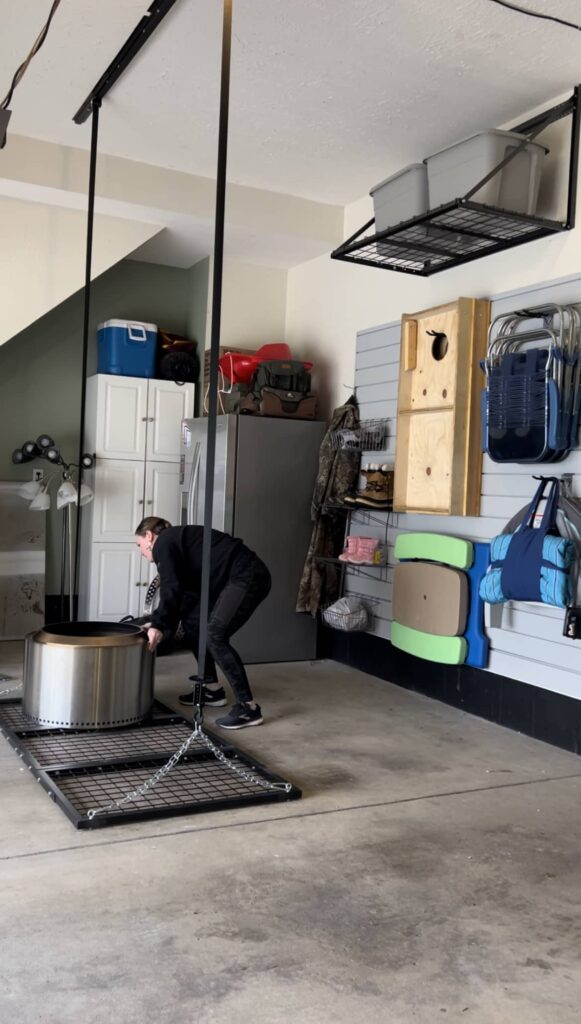 Like I mentioned above, don't try what I did with the grill.
Do this instead.
All by myself without any risk of hurting myself other than maybe pulling a hammy from not working out in years lol.
It's so awesome that it lowers all the way to the ground without any issue to be loaded up with ease.
Love, love, love!
It's Cool and Pretty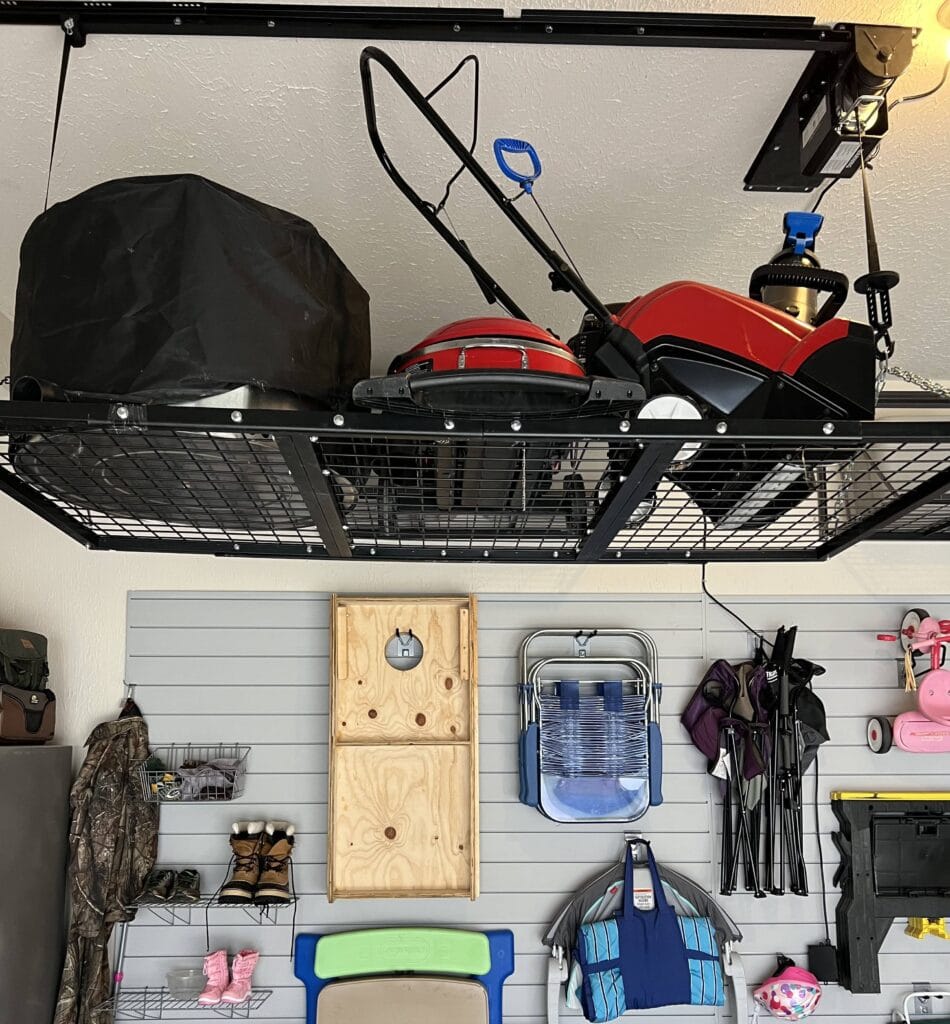 Alright, let's face it.
I'm the talk of the town now because I have THE coolest garage ceiling storage lift.
My next step is to secure that wire better in the back, but I was just too excited to tell you all about it!
The other cool part about this is you can trade out the platform for a bike pole or a kayak holder too!
The possibilities are endless!
If you haven't caught up on all the other garage awesomeness we add this year, start with the garage design plans and then click through the 8 weeks of links at the top to see our progress.
There is still more awesome garage fun to come, so be sure to join our VIP list below so you don't miss a thing. And then head over to Proslat to get your own garage ceiling storage lift (aka the Gator Hoist). Happy organizing!