Small Bathroom Makeover: $100 Room Challenge
This small bathroom is in need of a makeover. $100 room challenge here I come! See how I transform this dated 90s bathroom into a modern beauty.
Have you ever tried to makeover a room for less than $100?
Me either, but my time has come!
This will be my first attempt at this budget-friendly room makeover.
If you are interested on how this challenge got started, you can read more about the $100 Room Challenge here.
The idea is to complete a room makeover in a $100 or less by completing DIY projects and/or other strategies to keeping the cost down.
I'm so excited, nervous, and ready to share with you, from start to finish, my attempt at this challenge.
Don't forget to follow along on all my progress on Instagram.
Bathroom Before Photos
Much like the rest of our house, the 90s has also been running rampant in our main level half bathroom.
For the past 3 years I have been systematically working through every room of our main level.
Besides my arch-nemesis dining room, the small bathroom is my last room on the main level to put a semblance of my stamp on.
Check out where I'm starting this challenge: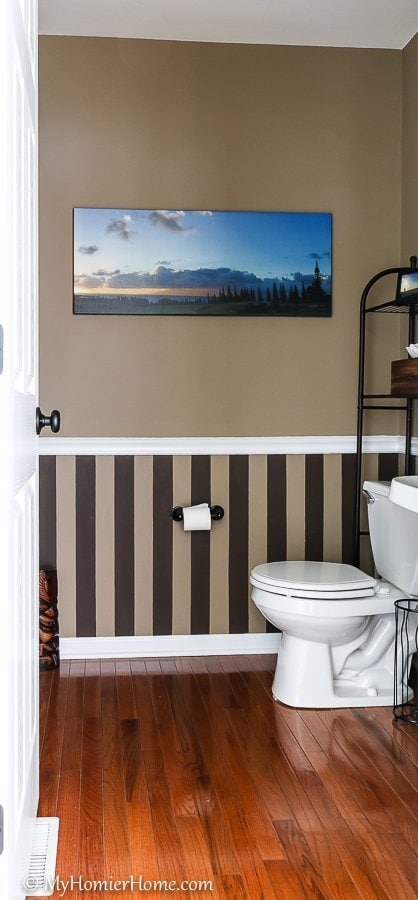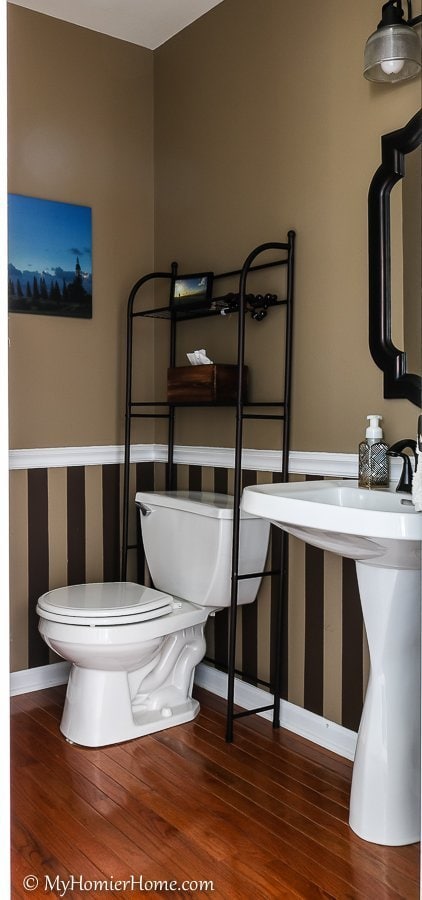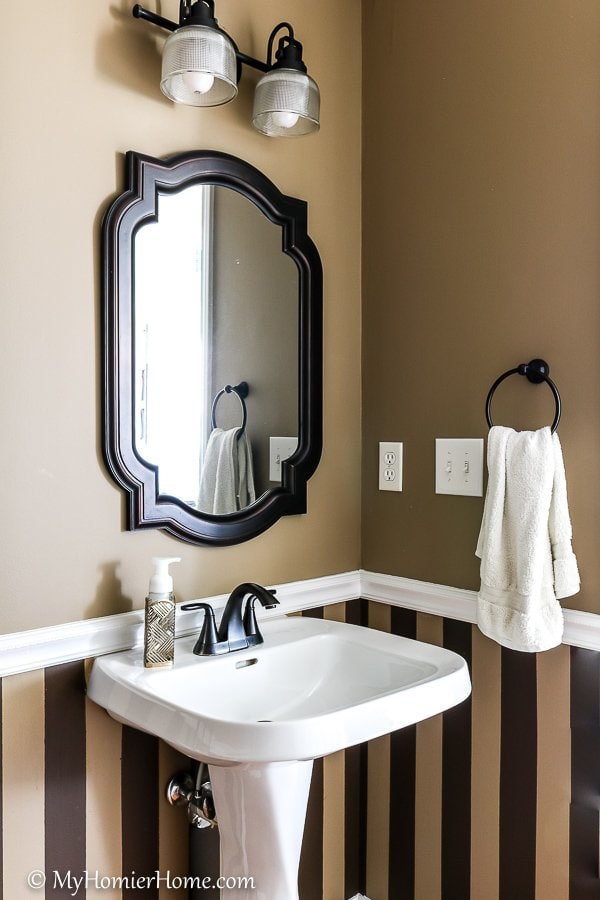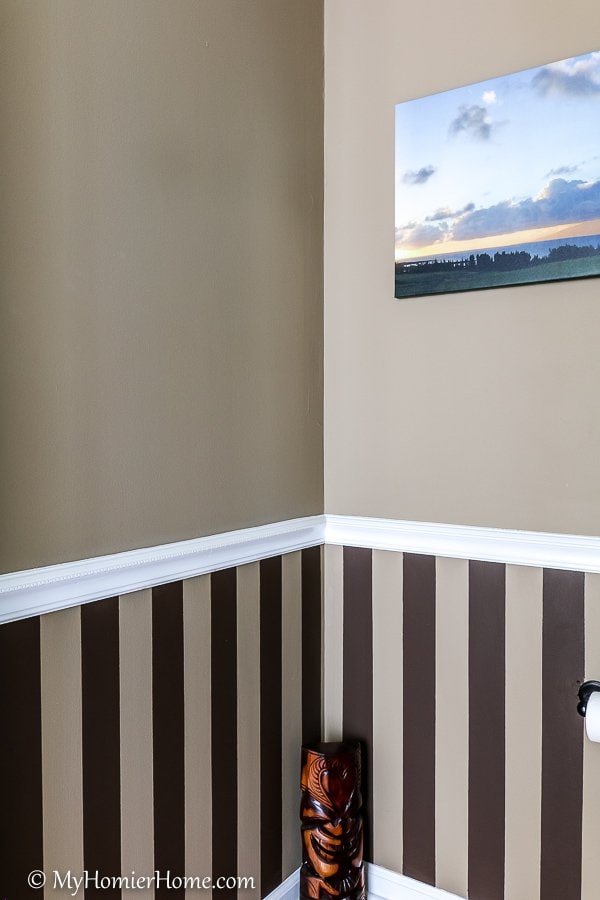 Alright, give it to me straight… Pretty deep in the 90s?
All the items in this bathroom were purchased in hopes to find cohesion with these horrendous stripes, but bad with bad is still bad, amiright? Preach!
I tried to give it a little personality with the Hawaii theme from our honeymoon, but it is just not working.
Needless to say, it's beyond time to whip this small bathroom into shape.
So, let me share with you my plan for phase one of this makeover.
Bathroom Makeover Plans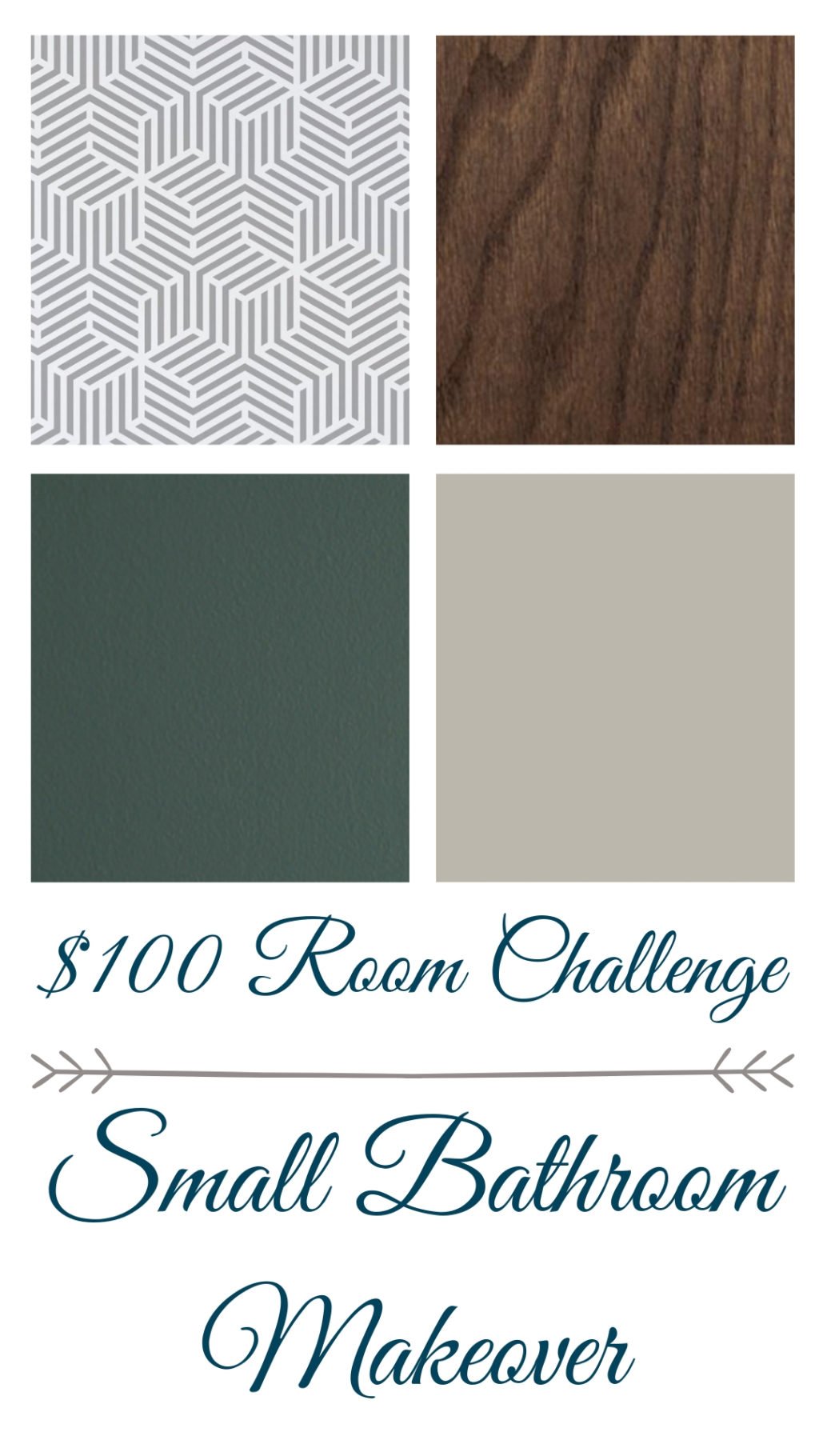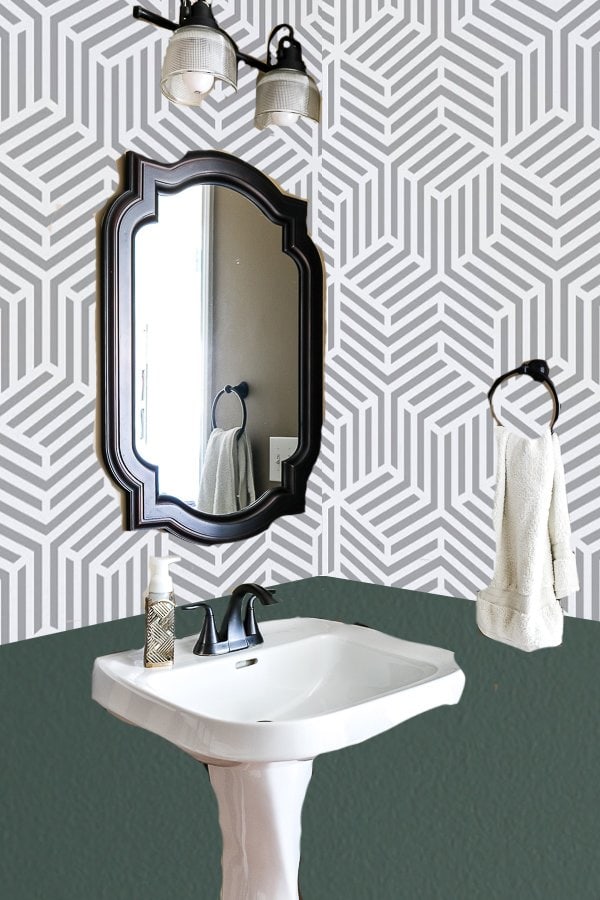 Because of my mock budget before tackling this project, I'm thinking I'm going to have to do this makeover in two phases over the next couple of months.
For the $100 room challenge (phase 1), I will be updating the paint to get rid of the horrendous stripes and adding a fun geometric stencil pattern to the top half.
I'm also going to add some DIY wood shelves above the toilet to give it some warmth and depth.
For phase 2, I think I'll save changing the mirror to a more modern one as well as adding acrylic artwork to the back wall.
Once all of that is finished, this baby will be my new pride-and-joy room.
Here is what I plan to tackle over the next couple of weeks:
To-Do List
Clear out the bathroom
Tape the edges for painting
Buy paint and stencil
Paint the top with Mindful Gray by Sherwin Williams
Paint the bottom with Current Mood by Clare
Stencil the top part with Current Mood by Clare
Get wood pieces cut to size for the shelves at Home Depot
Purchase brackets for the shelves
Stain the shelves (I already have leftover stain in Jacobean)
Spray brackets (I already have oil-rubbed bronze Rust-o-leum spray)
Hang shelves
Wish me luck on keeping with this budget and finding some better painting skills along the way. To follow all the behind the scenes progress, follow me on Instagram. Until next week!