Cozy & Rustic Living Room Refresh | ORC Week 1
Hey!! Today is the day! I'm freakin' out just a little, but I have taken the leap. For the first time, I will be taking part in the One Room Challenge™ Spring edition!
What is the One Room Challenge™?
The ORC is a 6-week home blogger event in which there are 16 featured bloggers that post every Wednesday as well as any guest bloggers, like me, who want to participate and link up every Thursday.
This event runs twice a year and it is one of my favorite things because all the best bloggers are featured in one area.
You're going to love it!
I will keep you updated each week and also link back here as the weeks progress in case you are catching this post later.
Be sure to check back week-to-week, so you can follow me on my progress.
Then, week 6 will be the big reveal… as long as everything goes to plan.
Week 1 | Week 2 | Week 3 | Week 4 | Week 5 | Week 6

My One Room for the Next 6 Weeks – The Living Room
I'm so giddy, but I also feel like I could throw up, so you know it's going to be good. My one room for this challenge is my main living room.
This room is our family hub. The place where we gather after long, stressful days to enjoy each other's company.
However, currently it is a source of frustration. I have had a gazillion ideas, some I have tried, and all of which have failed (except a few of my favs like my curtains and antique door).
I have started working a little bit on a few things, but there is still so much to be done.
Just so you know what I'm working with to start, here are some of the before photos and the many stages I have gone through over the past year trying to identify what I really want the room to look like.
Before Photos
(Plus the most recent phases I've tried with the living room… I think you'll enjoy this)
Phase 1: The past home's red revival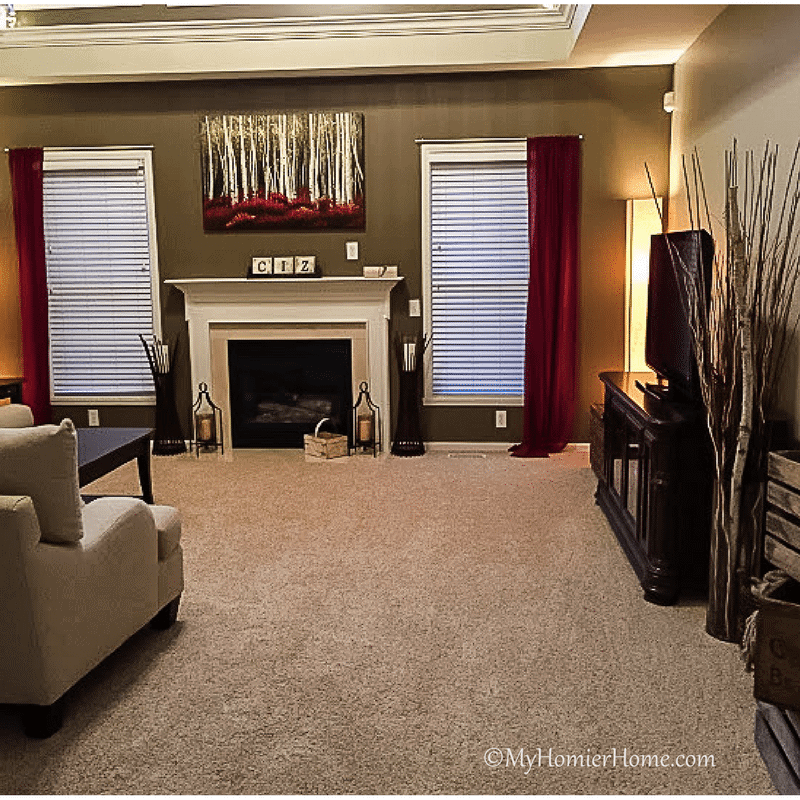 This is the product of moving. In my first house, the red was a perfect contrast and warmed the whole room. In our new house, it made everything seem small and dark.
This worked for the time being when we first moved in because the kitchen was also red, but after being consumed by the red walls the previous owner had left us and the red decor I was chained to, I had to de-redify, so I moved on to these weird options…
Phase 2: The Intermediary Ideas
Ahh yes, the blue drape scenario… notice any themes here with the drapes? I don't remember not being able to afford two full sets of drapes, but looking back on this now, I can't help, but think… What was I thinking?? Good times… But it gets better…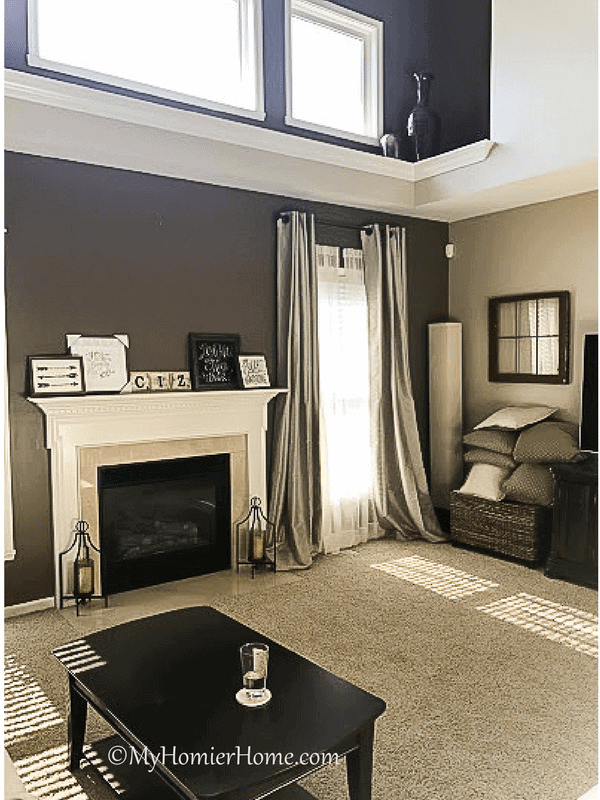 So it dawns on me… two full sets!
And, then I apparently thought creating the second stage for the filming of Casper 2 was the right call…
Are we having fun yet? (insert crying laughing face which just turns into actual crying)
AHHH, HAHAHA… Oh boy… Whew!!
Tell me this didn't make you laugh? This is about the time I realized why everyone always preaches about measuring things before you go shopping. Although, this still gives me a good laugh, so it was worth it.
Picture's worth a thousand words, right? This one is saying, "Way to go, Christin!
You successfully lugged an enormous painting by yourself to and from the store just to realize it makes your living room look like there is a giant fuzzy TV ready to nab anyone who comes near it like in the Poltergeist."
What's with me and the scary movie decor? Lesson learned.
Phase 3: As I researched and honed in on my style, this is where I am at today.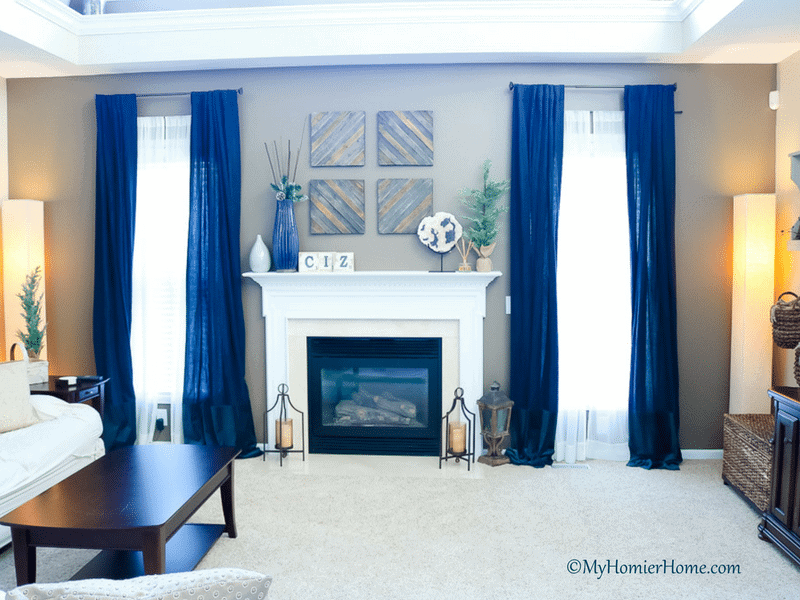 Finally! Something that doesn't look ridiculous.
I found these drapes at West Elm on clearance (the link here is for the gray version-not sure if they still sell the navy), but I absolutely love them.
You can see the leftover greenery from my Christmas decor. I know it's technically spring, but I hate seeing blank walls/mantels, so I left some winter greenery for a minute.
My plan on this wall is to…
Get a better focal piece of art

Cozy up the hearth

Move those light fixtures to the second story shelf because there are plugs up there

Switch up the decor on the end table, shown on the left, to something more pretty with either a table lamp or decor

I'm buying the Pottery Barn recliner shown in the mood board for the right of the fireplace

Get a new standing lamp for the recliner area

Style the mantel once and for all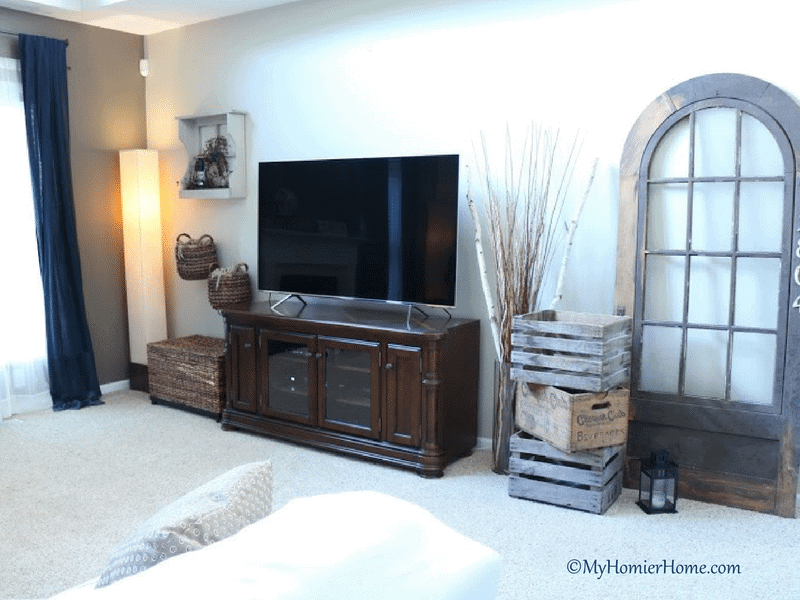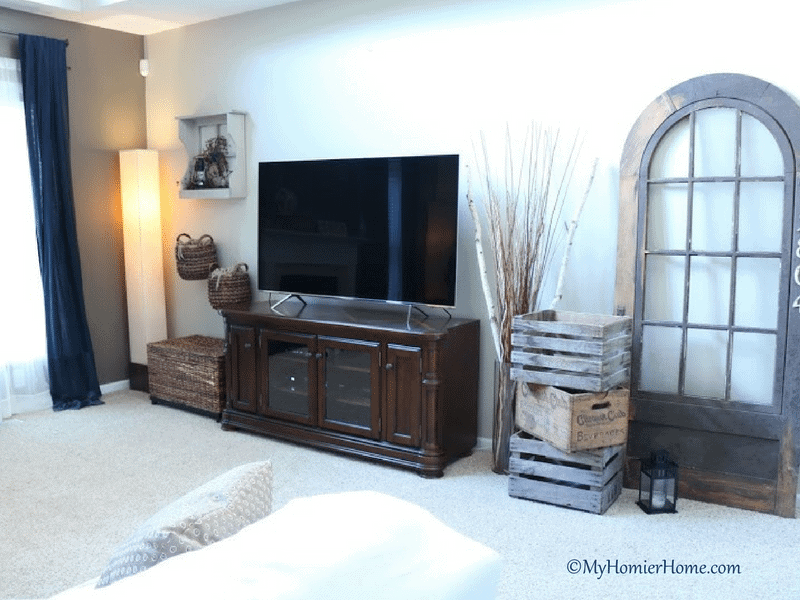 Since this is the wall we stare at every time we watch TV and because it is the first thing you see when you turn the corner coming in through the garage, I need this wall to be legit.
I have a few ideas that include a gallery wall and some freshening up of the antique door area, but we will see if they end up the way. Fingers-crossed that this challenge also brings me inspiration!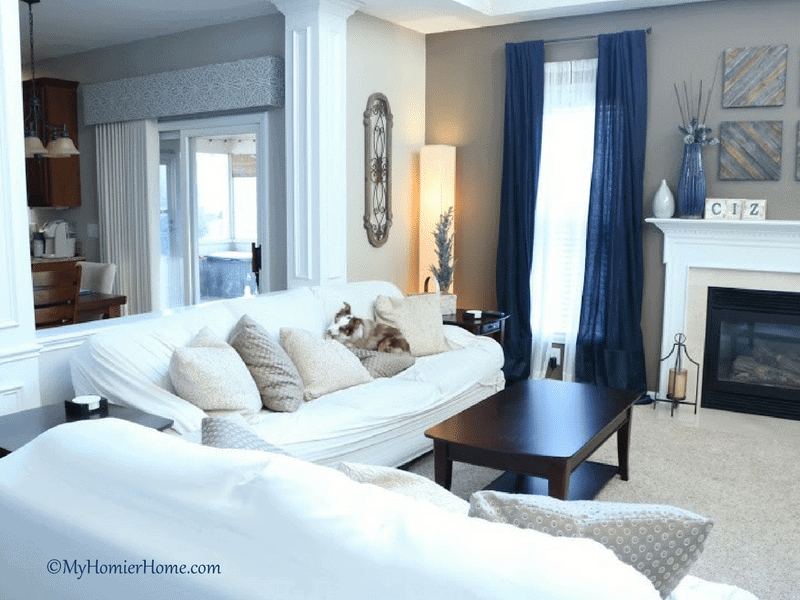 The other end table, the coffee table, and the couch all need to be spruced and styled.
I need color and patterns and places for my decor books and magazines to grab when my husband is watching baseball (only sport I can't watch on TV).
I have been eyeing some stuff at West Elm shown in my mood board, but ideas to reality… the hardest part.
Last, but not least, what I like to call "the wedding wall."
The only reason I call it this is because of the wedding pictures I have on this wall and will probably keep over here.
I've decided to return the accent pillow shown on the love seat here, but the two big blue Ralph Lauren pillows from Home Goods are definitely staying.
The other two pillows came with the couch, so I'm hoping to find something better. For this wall, I am hoping to…
Simplify the console table a bit

Add some fun to the lower part of the console table

Add two floating shelves to rest the wedding photos on and other fun stuff

Hang a potted plant I like

And, paint the air vent thingy because it's an eye sore
The Vision for this Space
My main goal for this room is to create a cozy, rustic, fresh feeling that invites people in to get comfy. For me, that won't be the case unless I can figure out these pesky, giant blank walls.
However, I think I have some kind of a plan… or what feels like a plan.
Heaven help me if I fall victim to any of my previous decor traps. In a nutshell, here is what I am planning over the next 6ish weeks…
The To-Do List
Order leather chair from Pottery Barn

Style tray next to where the chair will go

Hang floating shelves on side wall

Style shelves on side wall

Change out birch sticks for greenery

Create gallery wall of some sort around TV

Find patterned throw pillows

Find cozy throw blankets

Find an area rug to bring the "cozy" area together

Find tall "reading" lamps for the two corners or sconce lighting

Find a console table lamp?

Move existing floor lighting up to the ledge

Hang the focal clock I found at Pier 1 (shown in the mood board)

Hang the valley picture

Possibly find peel and stick backsplash for around the fireplace?

Find patterned fabric to cover books

Find good way to organize decor magazines

Style the mantel

Style the hearth

Style the end tables

Style the console table

Style the coffee table

Miscellaneous perfecting (I need at least an hour + for this step #obsessive)
The Color Scheme & Elements Mood Board
This is the board I will have with me as I go shopping in order to stay focused on the colors and natural elements I'm trying to keep within this room.
I truly lack focus as soon as I step into any decor store, so I'm hoping this will help me because we only have 6 weeks! Well actually 5 weeks because of the reveal… AHHH!
Alright friends, wish me luck! The challenge begins….. NOW!
Check back next week for a progress report… Talk soon!!