3 Tricks to Mixing Metals in your Home Decor
Break the mold and use these tips and tricks breath new life into your home by mixing metals in your home decor. Learn more here.
Today we're talking all about the best ways to mix metals in your home decor.
If you missed my post on how to create a home decorating plan, you'll definitely want to start there.
But, if you're ready to breath a little life into you home by mixing metals, this post will lead you on the right path.
Don't forget the Decorator's Playbook is the best supplemental workbook to creating your home decorating plan and has a specific section to help you with mixing metals.
Let's get started!
Disclaimer: This post does include affiliate links for your convenience. This is at NO additional cost to you but earns me a small commission. To read more, check out our disclosure policy. As an Amazon associate, I earn from qualifying purchases.
Common Metal Finishes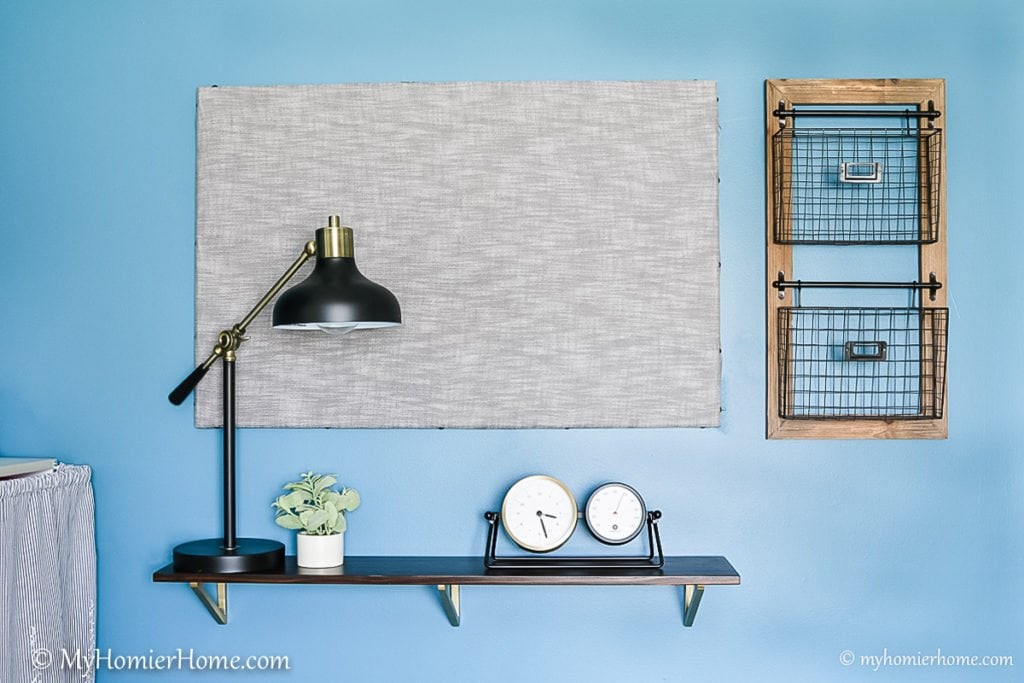 Before you can start mixing metals, it's important to know what your choices are.
And secondly, how they are characterized.
Each metal, much like paint colors and wood tones, has a cool or warm distinction.
Here is a list of the most popular metals you'll find when switching up your home decor.
Metals with Cool Tones
Chrome
Brushed Nickel
Antique Pewter
Matte Black/Wrought Iron
Metals with Warm Tones
Brass
Brushed Gold
Copper
Oil-Rubbed Bronze
Trick 1: Pick a Dominant Metal
When mixing metals in your decor, you first want to decide on your dominant metal finish.
Mine, as you can see above, is oil-rubbed bronze.
I love oil-rubbed bronze because it is just dark enough and warm enough to fit all my navy and neutral whole home color scheme.
Not only do I have majority of our light fixtures in oil-rubbed bronze, but I also have every door knob and hinge in oil-rubbed bronze too.
On the other hand, my mom is very into the beach vibes, so her main metal is brushed nickel.
Whatever you decide, take note of your preferred dominant metal.
Trick 2: Choose a Cool & a Warm Tone
Depending on what your dominant metal is, the next step in successfully mixing metals is to choose a secondary metal that is on the other side of the cool vs. warm spectrum.
Let's just pause for a moment and take in how beautiful this bathroom is above by Kris from Driven by Decor.
She's my decorating idol, but more importantly, check out how well she mixes brushed gold and brushed nickel together.
This is the perfect example of mixing metals by choosing a warm tone and cool tone to balance your decor.
One tip she gives is to stick to two metals maximum and I agree.
In order to keep the intentionality of your mixing efforts, you want to stick to two finishes and use them, well, intentionally throughout the room.
As you can see in my office above, I have oil-rubbed bronze and brushed gold as my two metals where oil-rubbed bronze is my main and brushed gold is my secondary.
Now you may be thinking… whoa, whoa, whoa Christin, you just said that oil-rubbed bronze is a warm tone and brushed gold is a warm tone.
I did.
However, there are always exceptions to the general rule.
The way to do this successfully is if you are picking metals on the same side of the cool vs warm spectrum, make sure they are distinctly different.
For instance, you do NOT want to mix brass with brushed gold, brass with copper, or chrome with brushed nickel.
Ya feel me?
So even though the very best way to mix metals is to pick a warm and a cool tone, you can pick from the same side of the spectrum as long as they are distinctly different.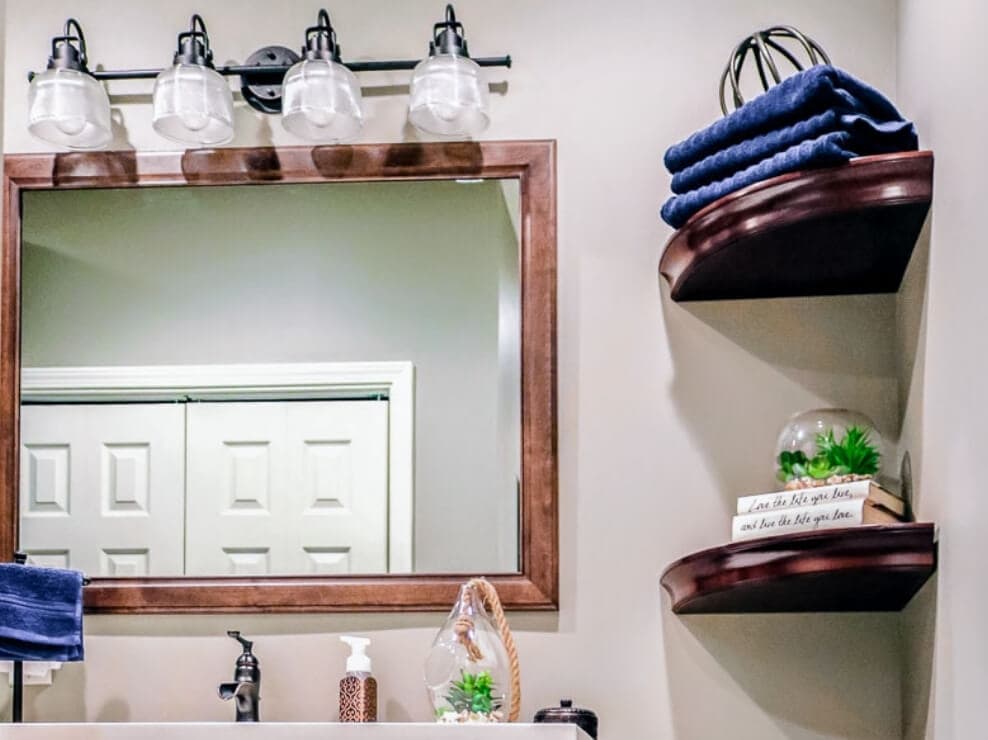 Here is another example of mixing where we are on the same side of the spectrum with oil-rubbed bronze as the main and copper as the secondary.
Trick 3: Matte Black/Wrought Iron is a neutral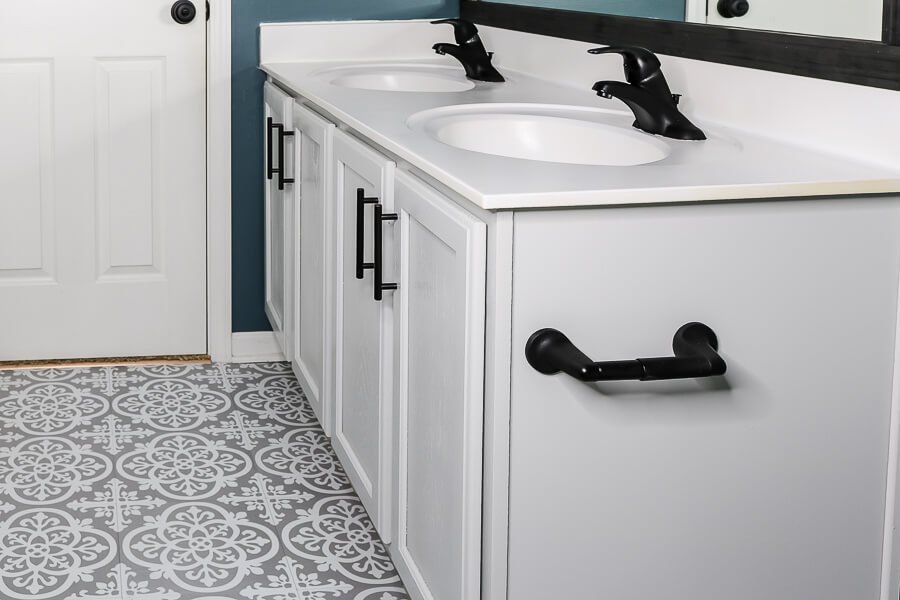 My last tip and/or trick to mixing metals is keeping matte black/wrought iron as a neutral instead of forcing it to be on the cool or warm side.
I labeled it earlier on the cool side, but technically it is in its own category and can be used with literally any metal.
You can see in the $100 bathroom makeover I did above, I am using matte black as my main and the threshold on the door is more of a copper.
But, if I didn't attempt to makeover that bathroom for under $100, I would have changed that accent metal to be antique pewter or a brushed gold to really fit my vibe.
I'll leave you with one thing to remember when mixing metals in your home decor…
You can mix metal finishes as long as they are distinctly different, you stick to two finishes, and you introduce them intentionally throughout the room.