3 Simple Steps to Creating a Home Decorating Plan
Learn how to create a home decorating plan for your whole home in 3 simple steps and why it is the most important step to your home decorating success.
If you've been around My Homier Home for awhile, you know how much I love a good plan.
Especially when it comes to decorating my home.
I've tried the fly-by-the-seat-of-your-pants method of decorating and let me be the first to tell you… it really doesn't work.
You might end up with a few quick wins, but at the end of the day when you start walking room to room, you'll realize it's not cohesive leaving you frustrated and overwhelmed – not to mention the excess money you'll spend trying to fix it.
My philosophy on decorating your home, no matter what stage you're in, is to always look at the big picture first and then make your way room by room.
I have an entire process for prioritizing rooms, but today I want to talk to you about the most important step of your whole home decorating process… what I call your Home Decorating Plan.
And for a limited time, I'm offering my supplementary workbook to accompany this blog post at a discount.
Today's post will walk you through what to do, but the Decorator's Playbook will walk you through how to do it.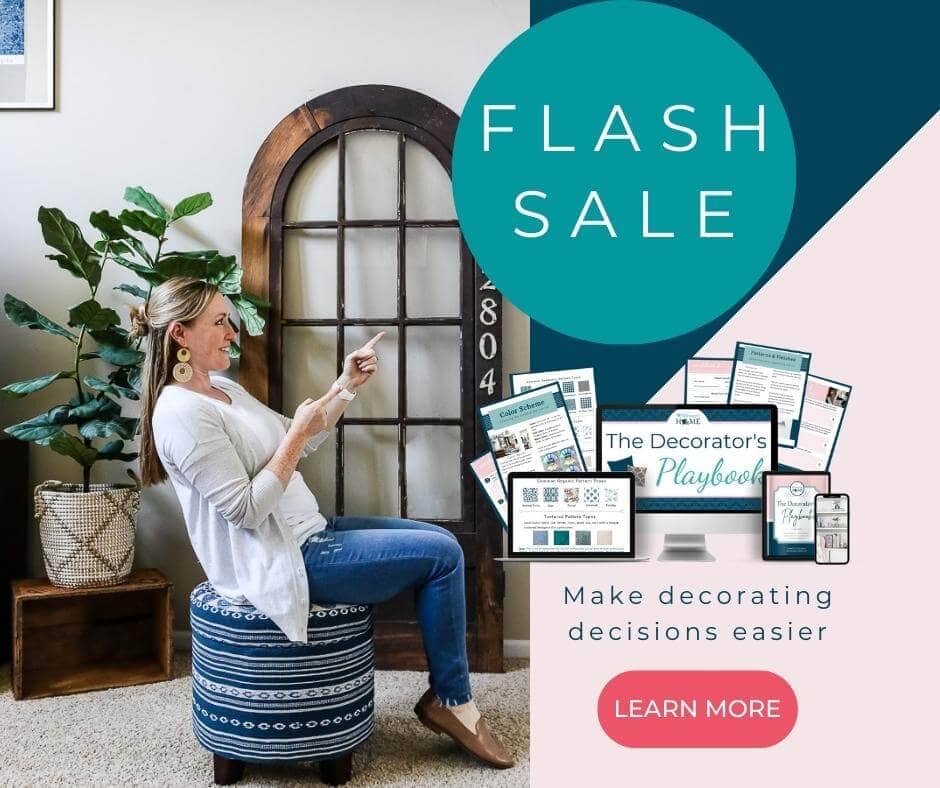 So when you see the picture above throughout the post, feel free to click on it to get more info on the best action steps in an easy to follow workbook.
Alright, let's get to it!
Disclaimer: This post does include affiliate links for your convenience. This is at NO additional cost to you but earns me a small commission. To read more, check out our disclosure policy. As an Amazon associate, I earn from qualifying purchases.
Why you Need a Home Decorating Plan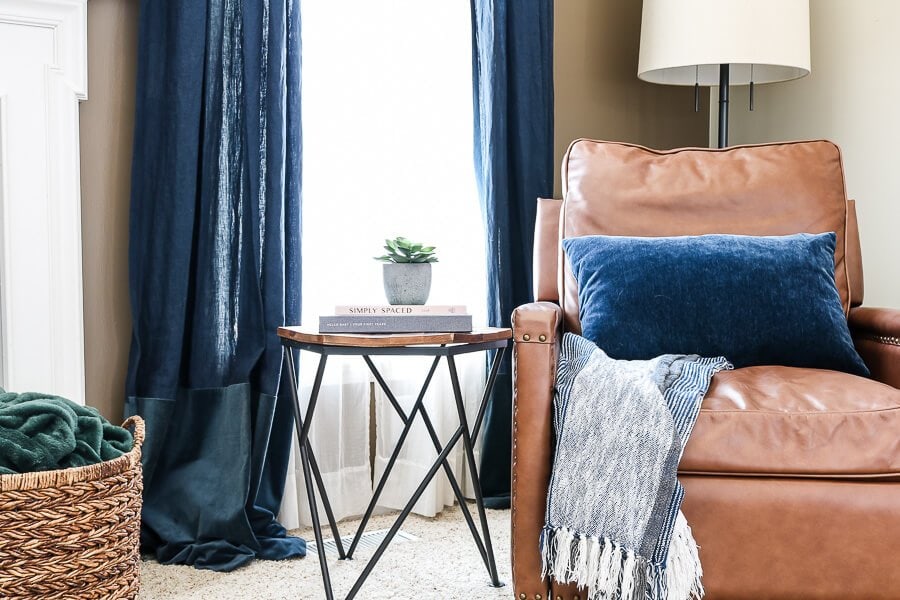 Whether you have an open concept layout or a lot of individual rooms, the most common thing I hear from clients and readers is two fold…
They want their design and decor to be cohesive and flow and they have no idea where to start.
Let me take you on a little journey…
We moved into our home in 2015 and it was more than double the size of our previous home and had the worst paint colors imaginable (bright red and a pink-hued white… every where).
Not knowing any better, I decided to spend my time flitting around store to store, buying all the things I thought were pretty, and bringing them back to play around with.
Here is the living room progression…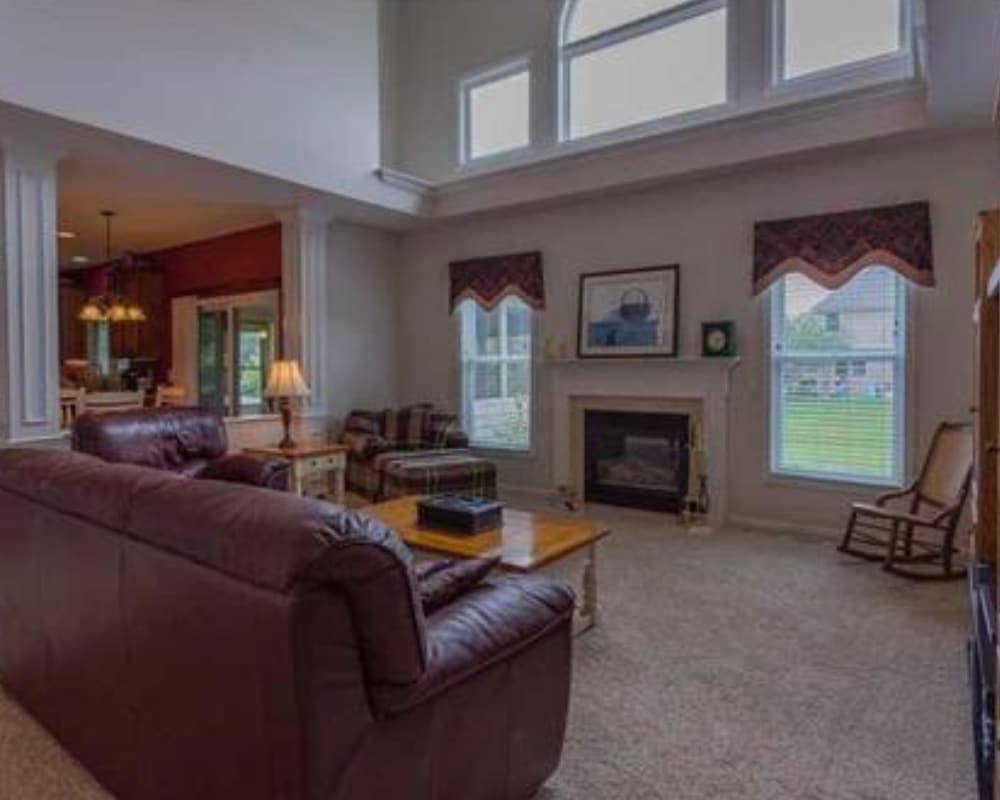 Think about how many versions of trial-and-error decorating it took me to get to that end result.
Way too many!
But this is what happens when you try to decorate with…
No plan.
No rhyme or reason.
Just buying (and later returning) on a whim.
It was literally exhausting.
I kept backing myself into a corner and found myself trying to 'make things work' that really had no business being a part of my decor, as you can tell in the progression photos.
But all this trial and error wasn't for nothing.
Since I went through these stages and came out the other side with some serious insight, I knew it was my duty to share with you exactly what finally helped me achieve the look I wanted.
It wasn't until I stepped back, slowed down, and thought to myself, what do I really want my home to feel like and what do I need to make it function appropriately.
These two simple questions sparked a whole new outlook on my decorating philosophy and, with my teacher background, I was able to break the whole process down into an actual system you could use to help you avoid this trial-and-error madness.
So why do you need a decorating plan?
You need it to…
Save you time.
Save you money.
Keep you focused.
And help you create a cohesive flow one room to the next.
Creating a home decorating plan is not as daunting as it may seem and it is literally the most important step you'll take no matter where you are on the home decorating journey.
My philosophy?
Think broad first. Then, narrow your focus room by room, one room at a time.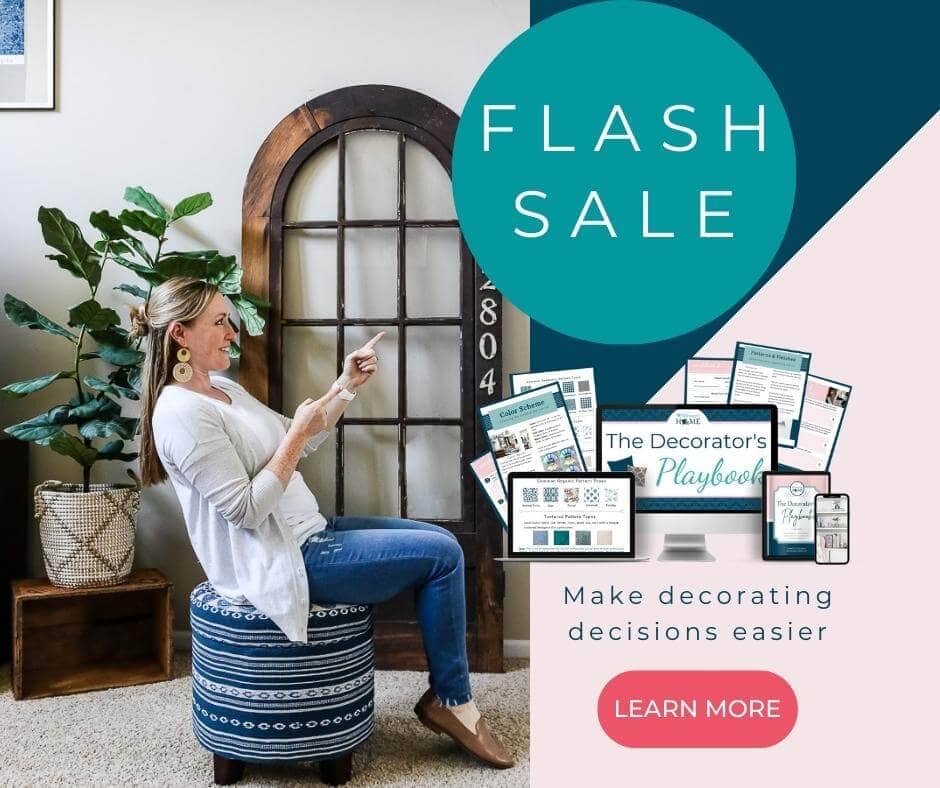 How to Create a Home Decorating Plan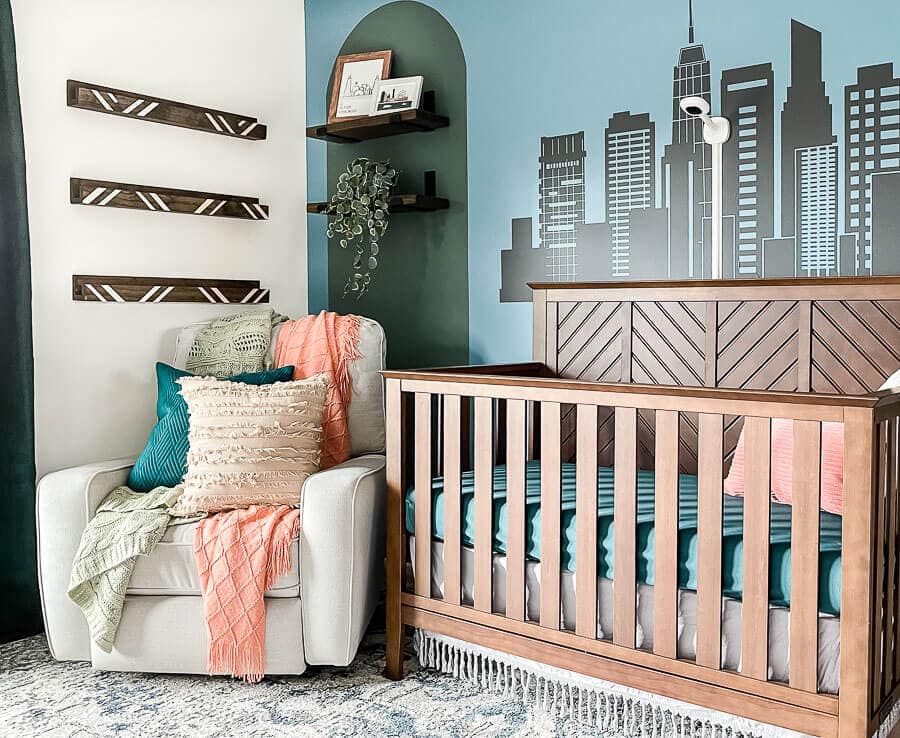 The steps below will outline the basic ideas you'll need to consider when creating your home decorating plan.
For a more thorough, hands-on workbook, definitely snag the Decorator's Playbook.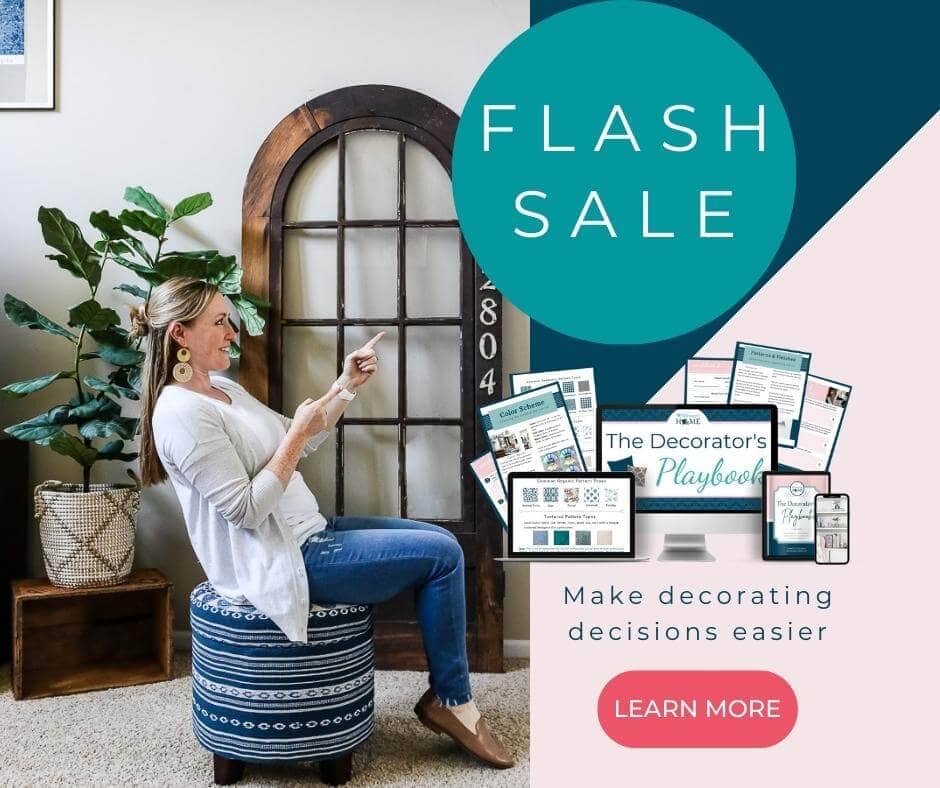 Let me walk you through the stages of creating your own home decorating plan.
1. Empty your Mind
Step one follows more of my prioritizing process, but you'll want to complete a walk through of your home.
Grab a sheet of paper or your phone and walk every room while considering the answers to the following…
How do I want this room to feel?
How do I want this room to function?
What needs to be decluttered/organized?
What tasks must happen to make this a reality?
Once you've compiled this information, you want to look for common themes.
Do you have a common feel you want throughout?
Is your list of functionality needs extensive?
Are there a ton of areas you need to declutter or organize?
The process of emptying your mind as it relates to the rooms in your home is a great way to get all that mind-clutter out and on paper (or my preference… Trello).
Once you consider the various rooms and look for commonalities, you want to think about your home as a whole…
How do you want your home to feel when you walk in the door?
How do you want your guests to feel when they walk in?
If you were throwing a party, what vibes would you want to be giving off?
Focusing on the feels and functions of your home as a whole and in each individual room will give you a little more insight into how you want your home to work for you instead of against you.
Further reading on all 'dem feels can be found here: How to Identify your Homes Feels and Functions
2. Choose your Color Scheme
Color can be a tricky thing, but there are some fun ways to get inside your own head to discover exactly what types of colors will work best to fit your vibe.
Here is a quick overview.
Consider your whole home color scheme by answering the following…
What colors make you happy?
What colors do you love to wear?
What colors are you drawn to when searching Pinterest for ideas?
Do you prefer monochromatic, analogous, complementary or split complementary color palettes?
Are their color undertones in your fixed elements you need to consider?
You can also find some more helpful color guidance in my how to create a whole home color scheme post as well as my post on everything you need to know about color (before picking paint colors).
Once you've identified your color preferences, you'll want to narrow down your one main color (mine is navy), your one neutral color (I prefer greige), and 2-5 accent colors (I switch it up by season, but I like blush in the summer, deep green in the winter, hints of yellow in the fall, and shades of blue in the spring).
The decorator's playbook will have worksheets ready to help walk you through picking these colors.
And keep in mind, this doesn't mean you are stuck with these colors for life in every room without ever being able to express yourself.
This is merely a starting point that helps keep you in a space that allows the colors you love to also enhance your home decorating vibes.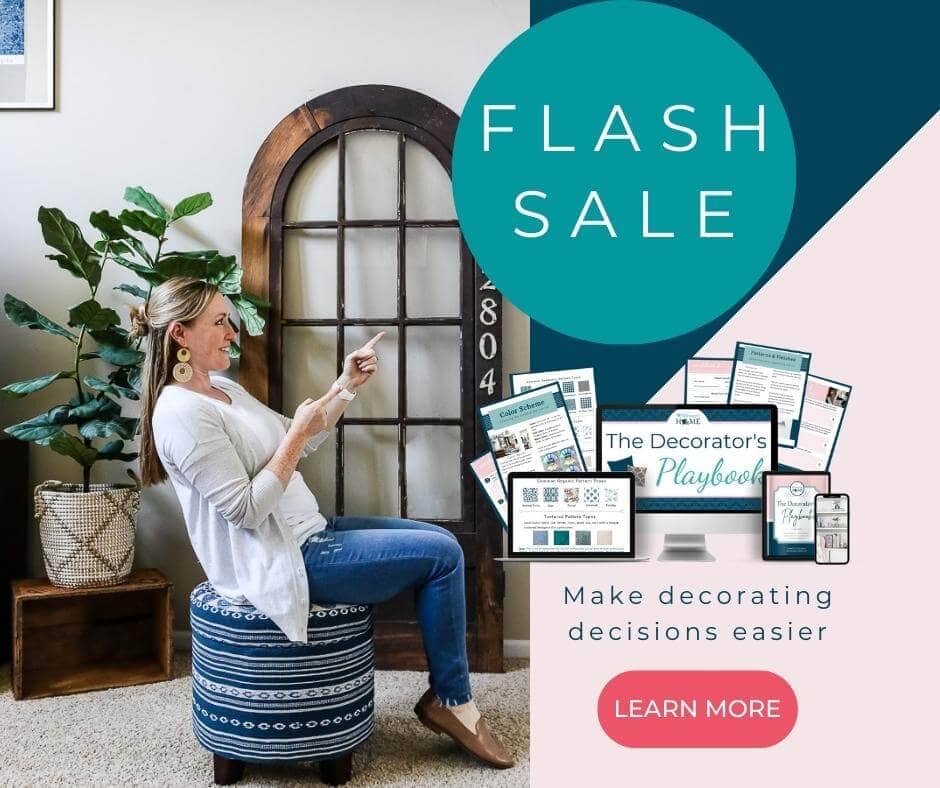 3. Pick your Pairings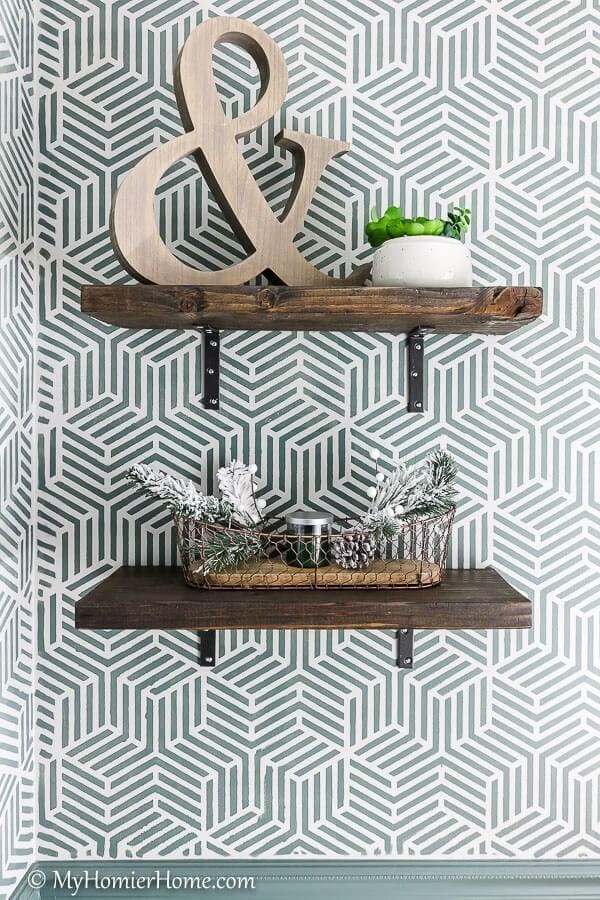 The last layer of the grand scheme of things in your home decorating plan is to hone in on your accent preferences.
First off, you'll want to pick your patterns.
Majority of home decorating patterns will fit within one of these three categories…
In the Decorator's Playbook, I have ample examples of each.
The page I've included in the playbook is actually the same thing I bring with to client appointments to help them determine their preferences.
I also have a go-to formula for mixing patterns that I discuss in terms of throw pillows, but another helpful worksheet is included in the Decorator's Playbook to help with executing this idea too.
The next layer of determining your accent preferences is to narrow down your finishes.
Finishes include the various metals you find on your door knobs, light fixtures, hinges, cabinet pulls, etc.
Some examples are…
Chrome
Brass
Oil-rubbed Bronze
Matte Black
Brushed Nickel
Brushed Gold
I'm currently putting together a quick reference post on how to mix metals, but the Decorator's Playbook has another great worksheet in the workbook to walk you through this process, too.
The last step of picking your pairings is to determine your ideal wood tones.
Now there are sooo many different stains and types of wood out there, but what I'm talking about is more of the tone of wood.
For instance, do you prefer deep brown, cherry, weathered gray, or blonde wood tones?
Narrowing in on your preferences for wood tones will help you stay consistent in your home decor.
Much like all the preference pairings I discussed above, there is a way to mix wood tones that I discuss in the Decorator's Playbook.
So don't feel like choosing these preferences is limiting your creativity.
It is merely narrowing your focus to help you make better, more cohesive decorating decisions throughout your home.
You'll notice that in this entire home decorating plan post, I have not talked about defining a style.
This is on purpose.
Determining your home decorating style is nice and all, but I find it wedges you into a corner before you're really ready.
The very first and most important step is truly creating your home decorating plan.
Later this year, I'm going to share with you my take on defining your home decorating style, but for now this is a great place to get clear and focused on how to get started creating your own homier home.
Don't forget to snag your Decorator's Playbook at my ultimate low price before the sale ends!
Talk soon!