Reader's Favorite Top Ten Posts of 2020
Are you curious what readers loved this year? The top ten posts of 2020 are so good and some might surprise you. Let's take a look.
Now that we have 2020 behind us, it feels like a great time reflect on some fun things. These reader favorites just so happen to be my favorite projects, too! The crazy part is many of these I completed years ago, but they have stood the test of time! Here is the top ten countdown…
Disclaimer: This post does include affiliate links for your convenience. This is at NO additional cost to you but earns me a small commission. To read more, check out our disclosure policy. As an Amazon associate, I earn from qualifying purchases.
Number 10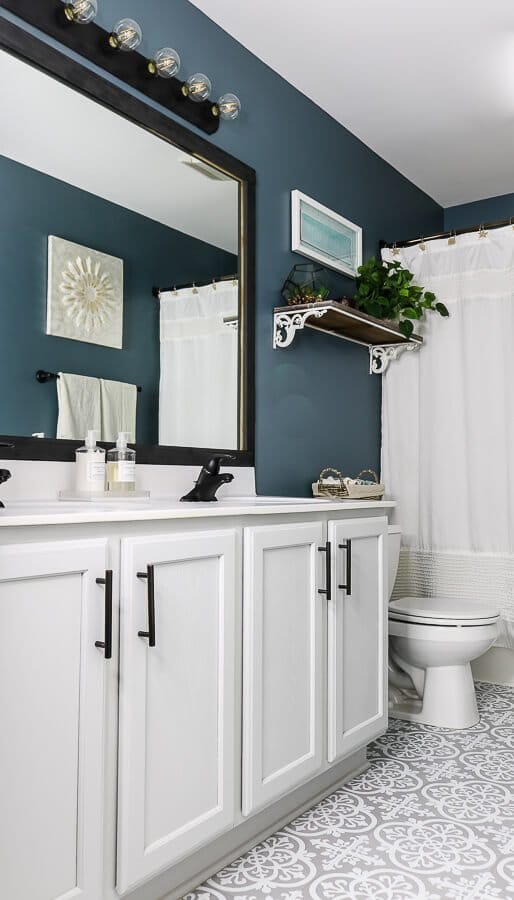 BLUE, GRAY, & WHITE GUEST BATHROOM REVEAL
In at number 10… the $100 Guest Bathroom Reveal!
Have we had enough of this $100 bathroom makeover? Me either!
I'll be doing a "how's it holding up" post in March when we hit the 6 month mark, but I will tell you that the counters and floor are doing amazing – especially since we've been using it as a mini-steam room for our cold-ridden girl that last few days.
If you are new here, you have to check out the before photos of this beauty in the bathroom reveal.

(click on any of the images to shop the products)
Number 9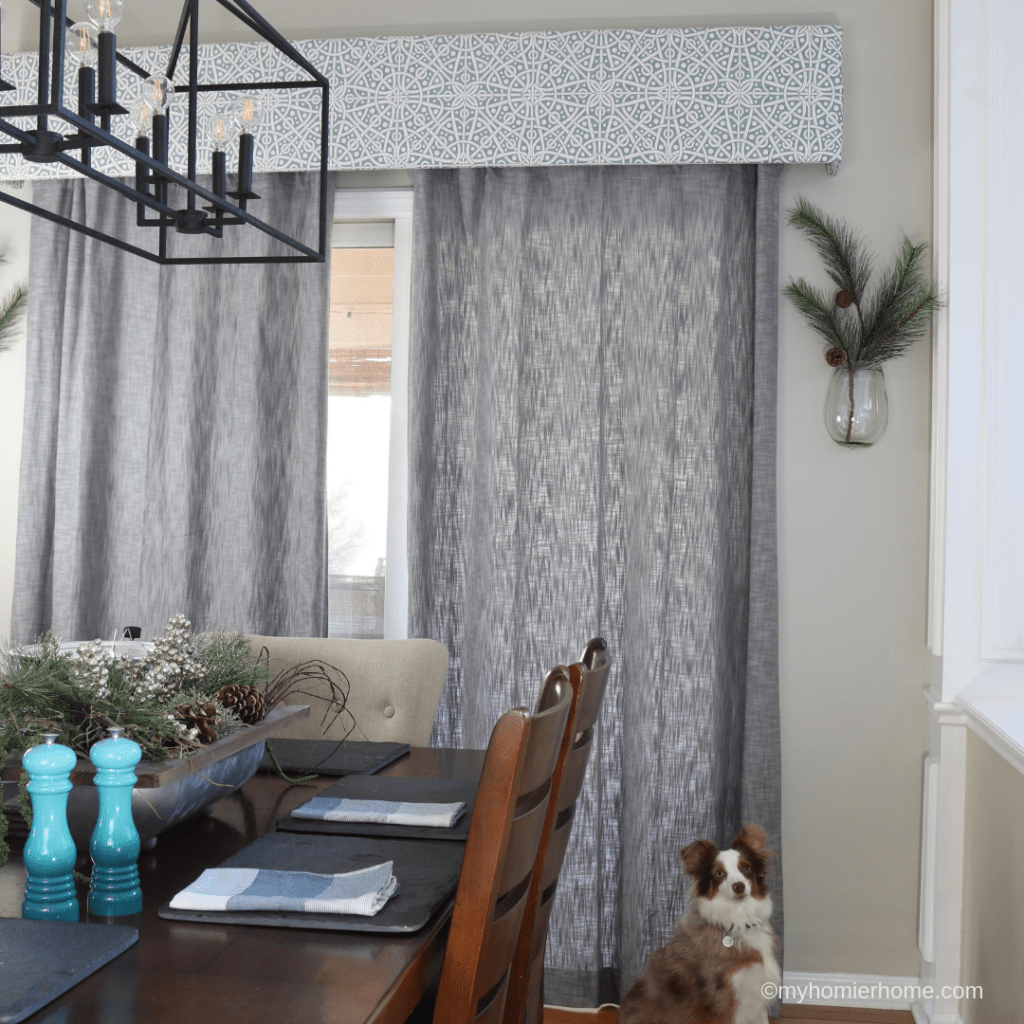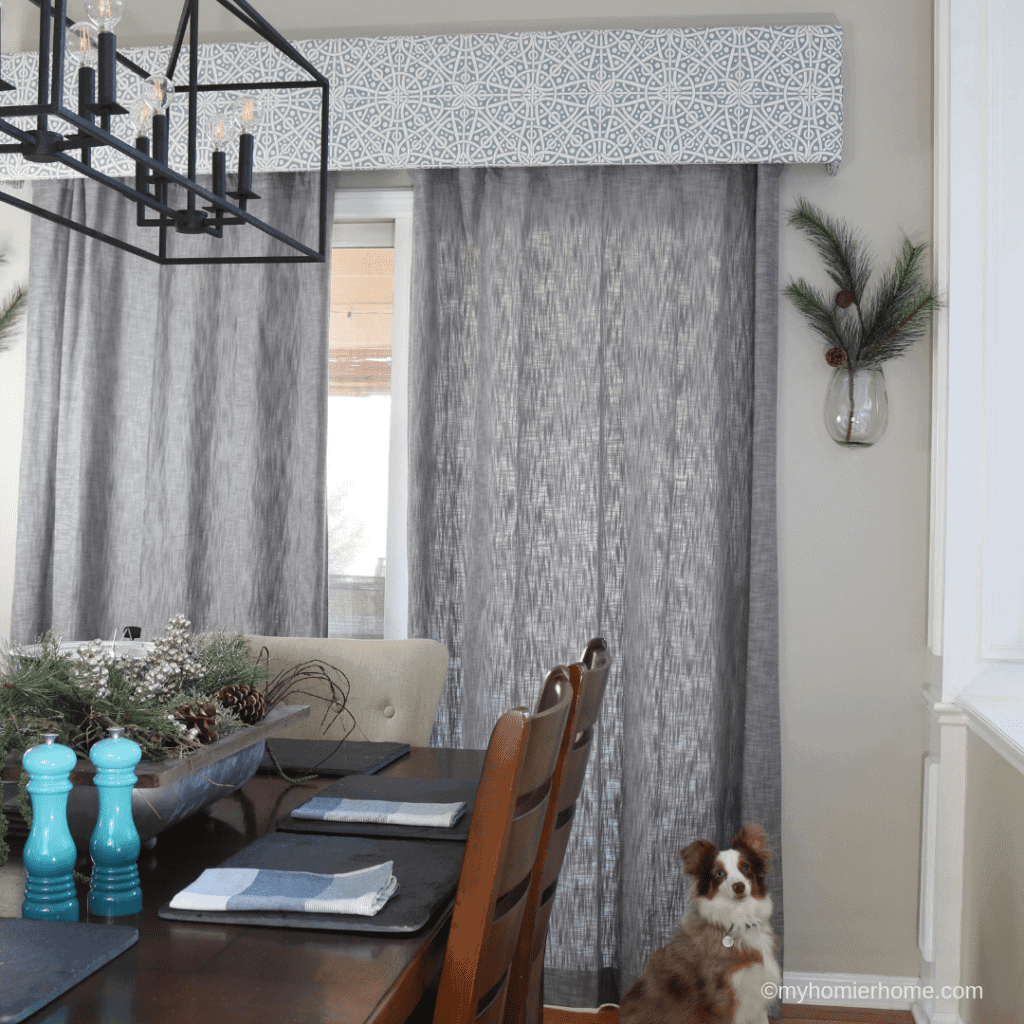 HOW TO MAKE YOUR OWN DIY CORNICE BOX
Coming in at the number 9 spot… DIY Cornice Box Tutorial!
You can read the full tutorial in the original post, but let me tell you this was one of the cheapest and easiest DIY's that has made my kitchen feel like a designer did it.
It's just enough pattern without being overpowering and helps the window and door feel "finished."
And it's puppy approved lol.

(click on any of the images to shop the products)
Number 8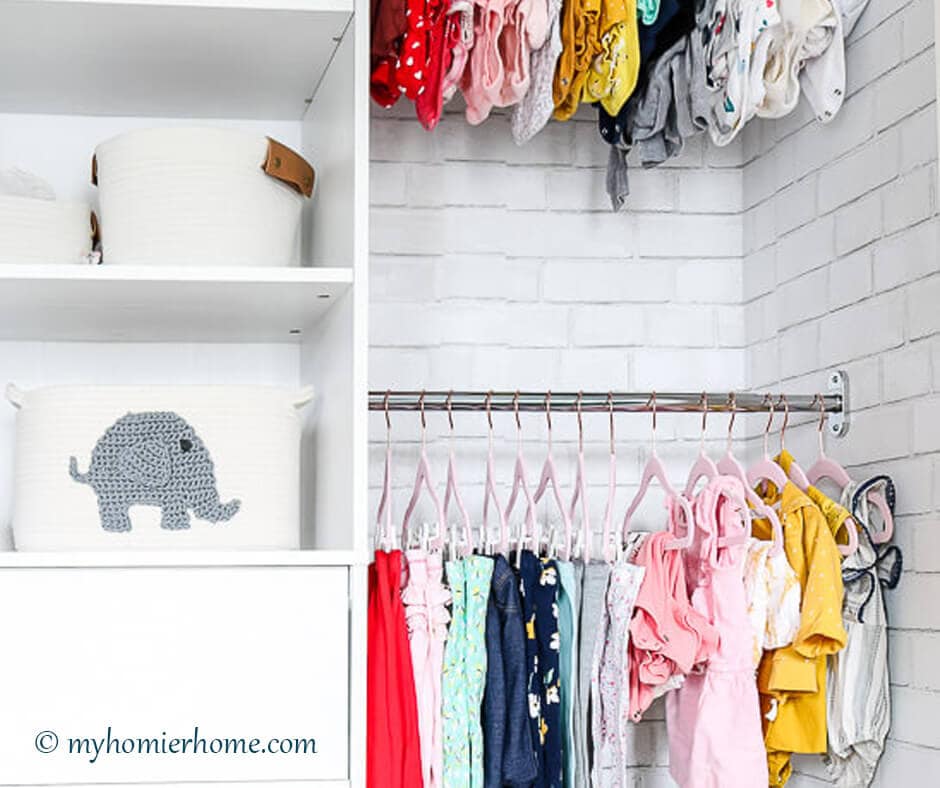 HOW TO HANG PEEL AND STICK WALLPAPER
The number 8 spot is reserved for my 'How to Hang Peel and Stick Wallpaper' tutorial.
Another super easy, but highly impactful DIY upgrade.
It definitely isn't perfect, but the tips in the original post is what keeps readers coming back.
We are still so in love with the nursery and this open closet large in part to the peel and stick wallpaper addition.

(click on any of the images to shop the products)
Number 7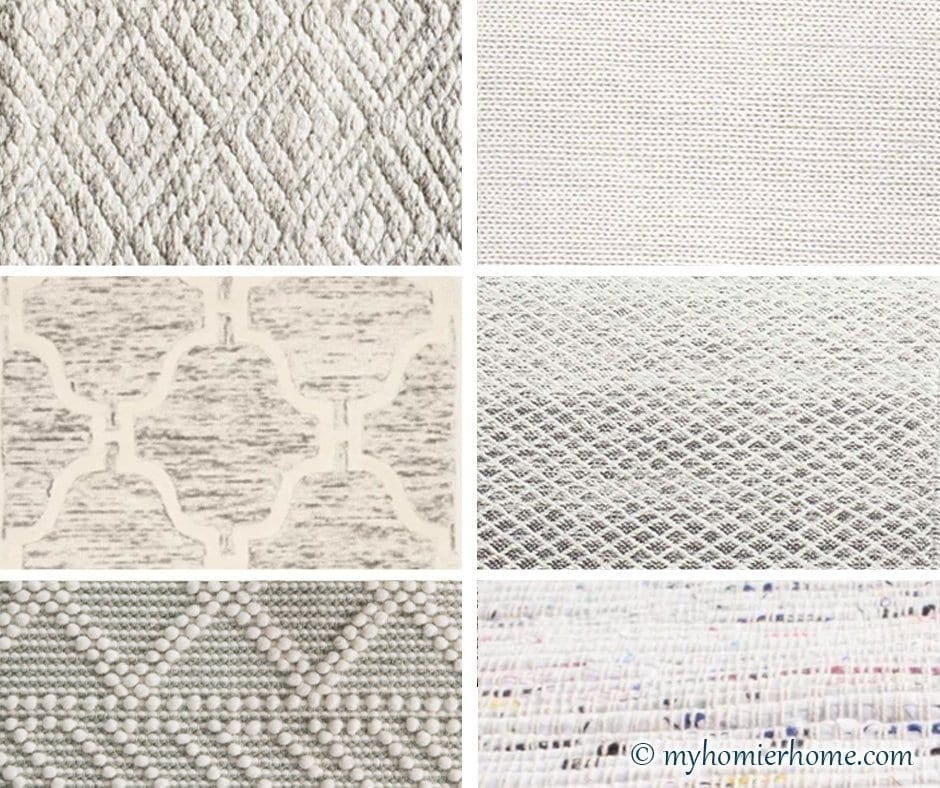 NEUTRAL NURSERY RUGS: MY FAVORITES & WHAT TO LOOK FOR
Number 7 is one of my favorite round ups: My Favorite Neutral Nursery Rugs & What to Look For.
I love this post so much because when I was shopping for rugs for the nursery, I had no idea there were certain fabrics and types you couldn't use in a baby's room.
I did a ton of research and summed it all up in this post, which is probably why it takes the 7th spot on our countdown!

(click on any of the images to shop the products)
Number 6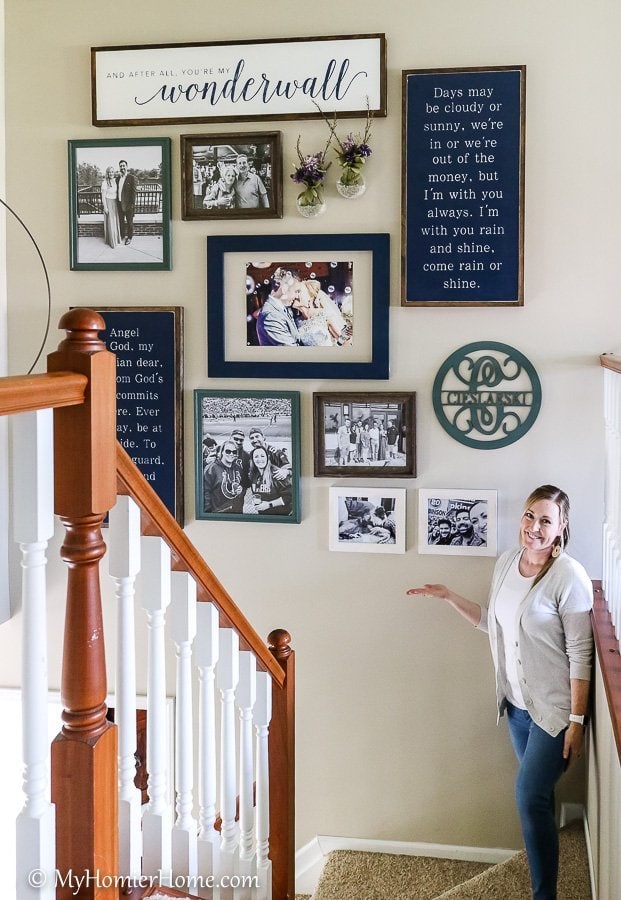 7 STEPS TO CREATING THE PERFECT GALLERY WALL
Landing at number 6… My most favorite collection in our whole house, the perfectly balanced, with math calculations that fill my soul, 7 Steps to Creating the Perfect Gallery Wall.
I walk past this beauty every day and smile.
I'm guessing this is a reader favorite because I broke down some complex math into doable steps to help you create a gallery wall on any wall of your home.
It even has a video component!

(click on any of the images to shop the products)
Number 5
HOW TO SPRAY PAINT BATHROOM COUNTERTOPS
Ooooo… We're stepping into the top 5!
Talk about your high impact, low cost DIYs, the How to Spray Paint Bathroom Countertops post is a major hit because it cost me less than $7 with tax to completely transform my yellowed, 90s counter into a bright white masterpiece.
Other than having to run the bathroom fans for hours and some of the prep work to make sure I didn't spray the walls, this project was super easy, too!

(click on any of the images to shop the products)
Number 4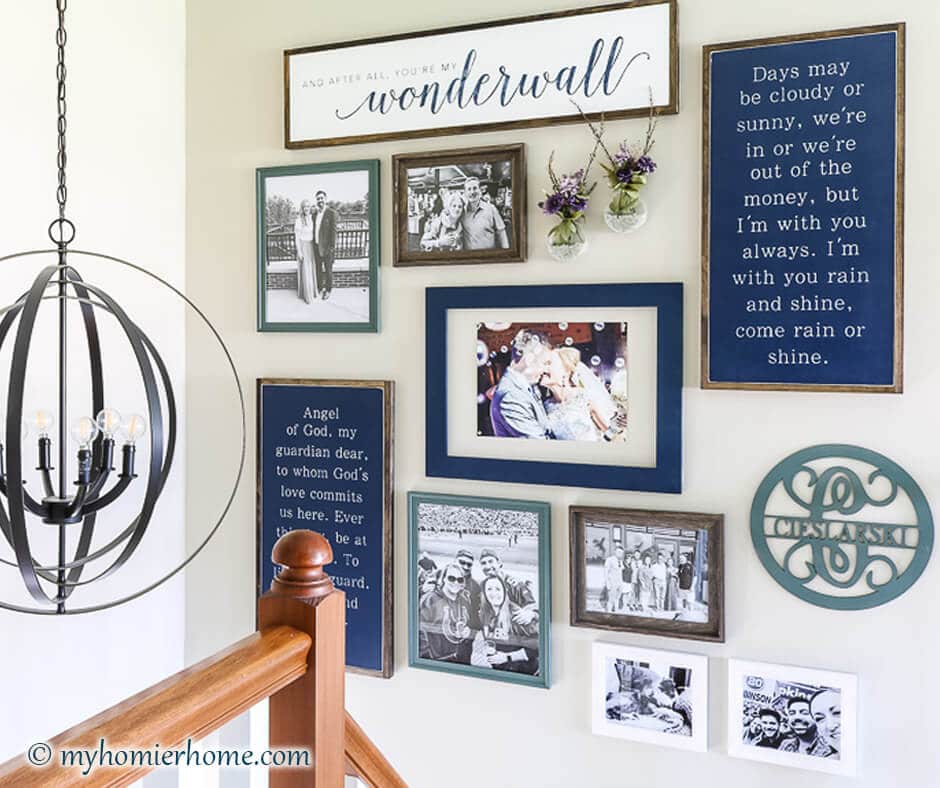 HOW TO HANG A GALLERY WALL ON STAIRS
Does this look familiar?
In at the number 4 spot, is the second half of my gallery wall tutorial, How to Hang a Gallery Wall on Stairs.
All the tips and tricks to make this process easier are jam-packed in this post, including another video of how we did it.
I love posts that allow me to share the do's, the don't's and the wish I would haves.

(click on any of the images to shop the products)
Number 3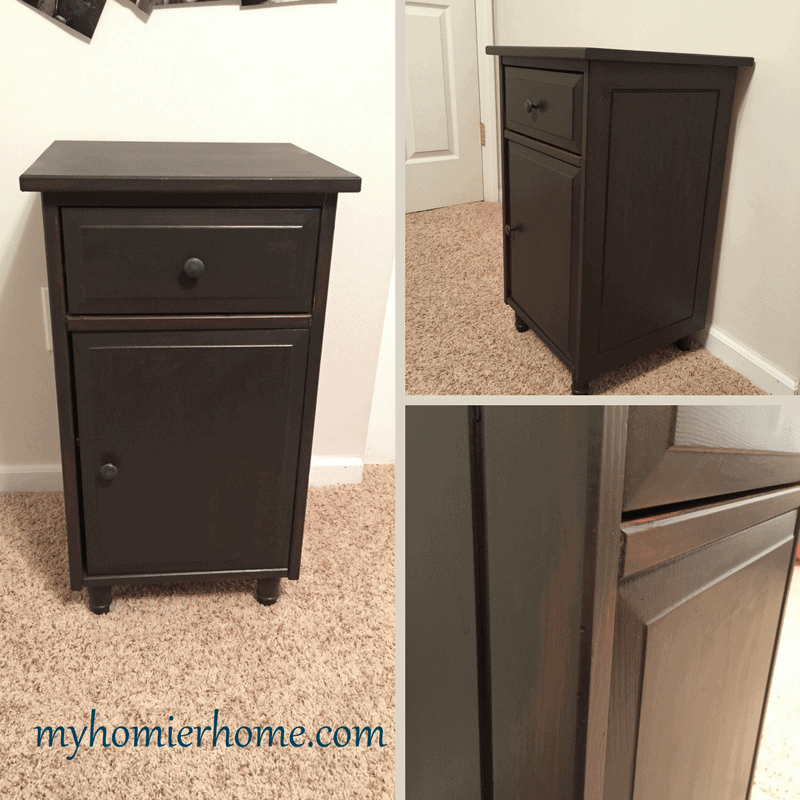 PAINTING IKEA FURNITURE: DO'S & DON'T'S
In at number 3 is this oldie, but a goodie, The Do's and Don't's for Painting IKEA Furniture.
Not many people know this, but before My Homier Home, I had my first real blog called, Positively Bliss.
One of my first post-worthy projects ever was this painting IKEA furniture post.
In fact, I was going to let it sail into the unknown when someone emailed me looking for it after I switched blog names.
So, I rewrote it and here we are, years later, and it's still getting love!

(click on any of the images to shop the products)
Number 2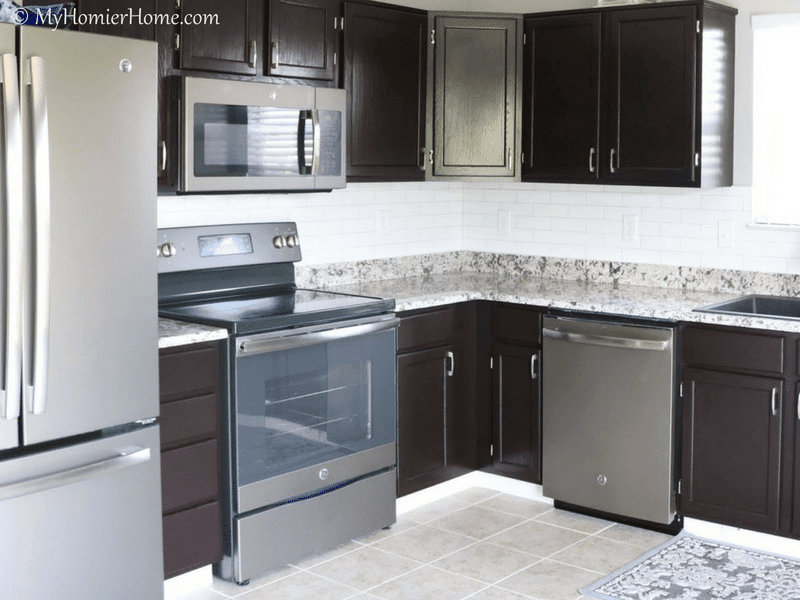 HOW TO PAINT CABINETS WITH JAVA GEL STAIN
Another oldie, but a goodie… one of my first ever client consulting projects!
Coming in at number 2 is the ever popular How to Paint Cabinets with Java Gel Stain.
You have to go see what her kitchen looked like before.
She did such a great job executing the plan that I had to write a post on how she did it.
Definitely a worthy read.

(click on any of the images to shop the products)
Number 1
Drum roll please….
Taking the number 1 spot is the ever relevant, How to Organize Kitchen Cabinets.
I can totally see why this is a reader favorite because it takes your every day and helps make it function better!
I will say that my cabinets are still highly functioning and I have only made minor changes to some of the cabinets, such as rearranging where the glasses go (they know all go below the mugs you see in the picture above) to make room for baby bottles and other baby items lol.
Other than that, this post is exactly what I would do again and again to organize and keep organized my kitchen cabinets.

(click on any of the images to shop the products)
Which post is your favorite?
Want to look back even further? Check out the best posts of 2019 here.