How to Paint the Bathroom Vanity with a Paint Sprayer
Painting your bathroom vanity with a paint sprayer will save you so much time and energy. Here are all my tips!
It's week 4 of the $100 room challenge! This past week, I tackled painting the vanity, but be sure to catch up on my spray painting adventures in the last couple weeks (I spray painted the countertop AND the faucets!)
I don't know about you, but I do not like painting. I always make a giant mess and can never get the perfection I want as quickly as I want.
After using the Wagner Spray Tech Flexio paint sprayer, I am completely transformed.
Not only did this only take me an hour to paint two coats including wait time, but it was so easy to use and clean.
Using a paint sprayer is my new favorite thing, so let me walk you through exactly what you need to know before diving in to painting your vanity with a paint sprayer.
Disclaimer: This post does include affiliate links for your convenience. This is at NO additional cost to you but earns me a small commission. To read more, check out our disclosure policy.
Prep your vanity
First things first, remove the vanity cabinet doors.
Then, grab the Krud Kutter to do some degreasing.
Our house is a little over 20 years old, so giving this vanity a once over with some Krud Kutter made good sense.
Take a few minutes to thoroughly clean and wipe down the cabinet doors and the vanity itself before anything else so you can be sure there isn't any residual grossness.
After you're done cleaning, grab the 120 grit sandpaper and start roughing up the whole vanity.
Then, wipe it down with a tacky cloth and grab your painter's pyramid/tripods to set up your cabinet doors.

Prep your room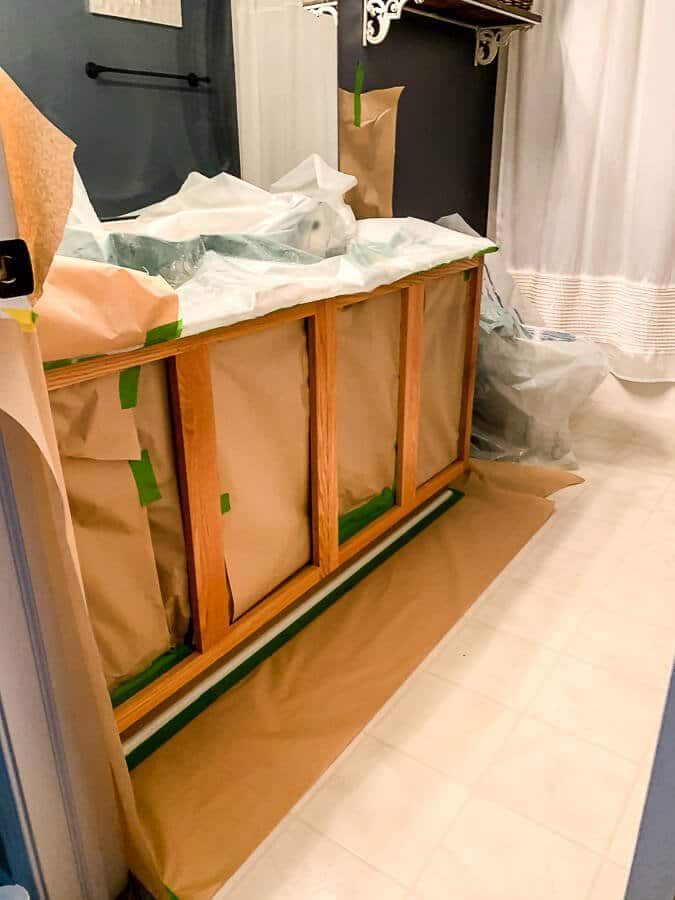 It is of the utmost importance that you cover everything. Like everything… cover the toilet, floor, the wall surrounding, etc.
Basically, if you don't want to spray it, cover it. The Flexio 3000 sprayer has an adjustable air speed, which is helpful to lower when inside so it doesn't overly spray.
But, just in case you're a bit absent-minded like myself, you'll want things covered up. (I may or may not have checked my watch and sprayed the mirror… good times.)

Practice with your sprayer before starting your project
Take time to get used to your sprayer and practice adjusting the settings, so you know what to expect before diving into your project.
They recommend this in the instructions, so if you follow the instructions, you're good.
Spray the cabinet doors
Once you feel comfortable with the settings, get to sprayin!
I used the rotating horizontal and vertical spray piece in the front of the sprayer to correspond with what way I was spraying as I went through.
Double check the setting works with the thickness of your paint before you spray the actual pieces.

Spray the vanity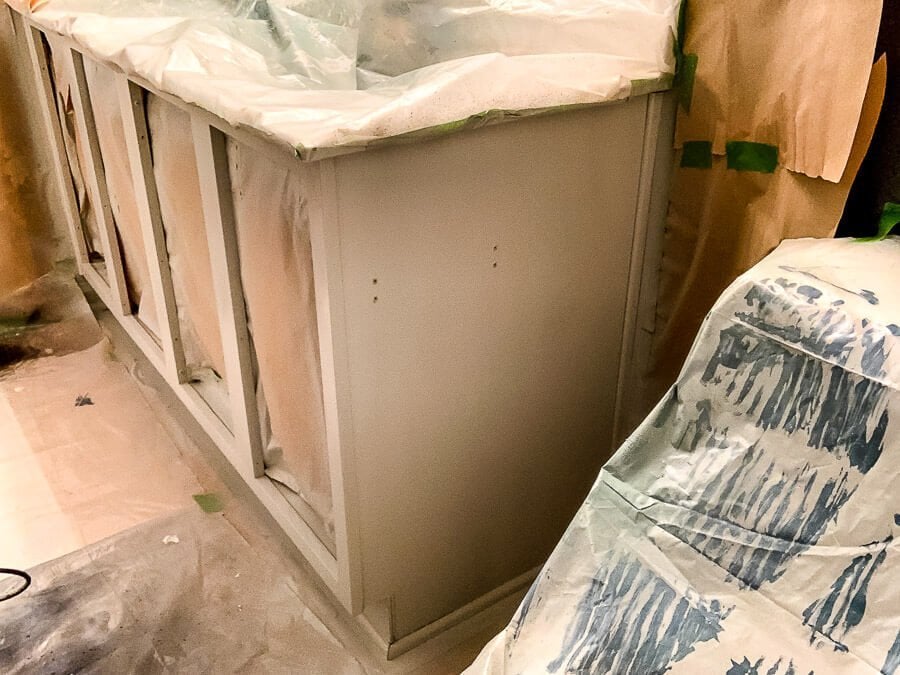 Follow the same guidelines and make adjustments as you get used to the sprayer.
I would definitely recommend spraying the cabinets outside of the room first to get used to the sprayer.
Then, I would go in to spray the vanity after that.
Let dry
Depending on what kind of paint you are using, dry times will vary.
I was using latex, water-based paint, so everything seemed to dry pretty quick.
I waited about an hour between coats and ended up applying 2 coats (only one on the inside of the cabinets, but that's a personal preference).
Also, it's a good idea to remove the paper and tape an hour after your last coat, so that it doesn't dry and get stuck.

Reattach cabinet doors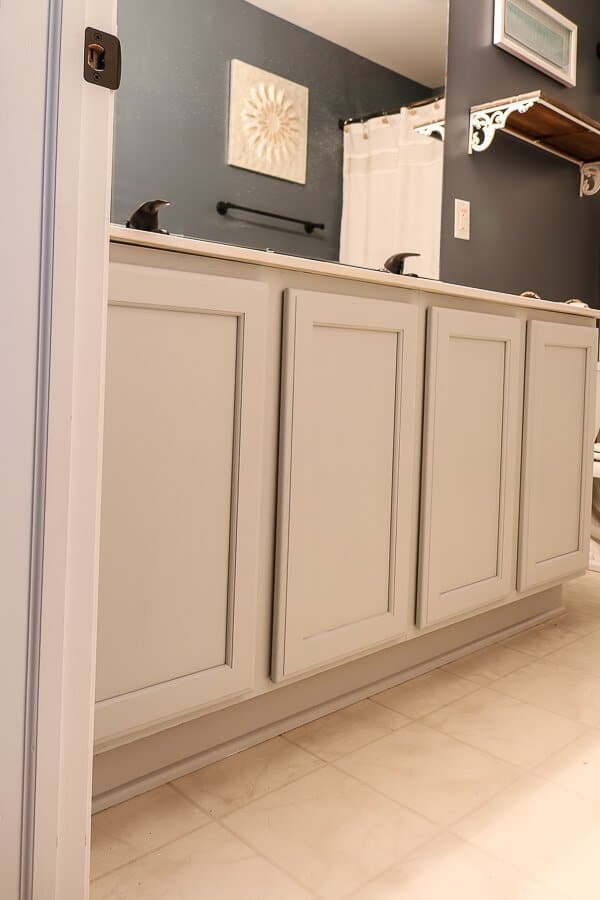 I would give it at least 24 hours to set before reattaching the door depending on what kind of paint you used.
I also plan to wait a little longer to add the pulls to the cabinet doors just to make sure everything is cured.
Next week is the big reveal, so here is what I have left to finish…
Paint the vanity

Build and hang the mirror frame

Decorate/Hang Shelves
While you wait for next week's big reveal (UPDATE: Check out the guest bathroom reveal here), go check out all the other participants in the $100 room challenge (links below).
Catch ya later!