8 Reasons to Grab a Buddy & Start a Project
In case I haven't said it before, I love projects! Good for the mind, body, and soul in my opinion.
Many times when I am out shopping, I have a hard time finding exactly what I want for the perfect feeling in my space.
If I do find it,  often I have trouble justifying spending the money when it isn't exactly perfect. Therefore, if I can make it, I will. And at this point, I call my dad.
While you are reading this post, consider all friends, family members, or even your significant other to join you in a project. The benefits of the experience in making things together are long-lasting and fun!
Project: Pallet Headboard
Since headboards are so expensive to buy already made, I have been wanting to make one for our guest room since we moved in. I think headboard's really complete a room and switch that feeling from thrown together to classy.
My brother works at a warehouse, so I figured pallet's would work the best to keep the cost down. There are so many tutorials out there to follow on how to make a pallet headboard, but the one we followed is here.
For about 3-ish hours, my dad and I bonded. Here are some reasons why you should follow our lead.
1. Purpose for Getting Together
Not that my dad and I need reasons to hang out, but now that I live out-of-state, it's hard to just pop over and kick it.
With our busy schedules, sometimes we need a purposeful reason to make the drive worthwhile. My dad is very handy with tools and spent his time growing up building decks with his uncle.
My grandpa was a big woodworker, too, and passed down a lot of knowledge to my dad over the years. He's built some really cool home bars as well.
Currently, my brother and sister have no interest in woodworking, but I'm eager to gain the knowledge my dad has stowed away.
With the new house, there are so many fun projects I want to do and my dad has the tools to teach me the ropes. It's a win win.
2. Something to Talk About
If you know any Irish families or have spent any time with mine, you know that we are passionate, strong-willed types.
We have crazy unconditional love for each other, but we also tend to throw ourselves full force into any and all things, including disagreements.
Being the oldest of three, I usually have a strong opinion about my siblings' progress which tends to be different from my parents' view.
Being that my siblings are college age, there are many things to worry about, in my opinion, so I constantly find myself arguing.
My dad and I get along very well, but sometimes we don't have enough to talk about that isn't my siblings. When we started building the headboard, it's like all the stress went out the window.
Coupled with the fact that I was excited to learn and my dad was excited to teach me, our focus became more about the fun project allowing stories to be told that I've never heard before about my dad growing up.
3. Working Through Challenges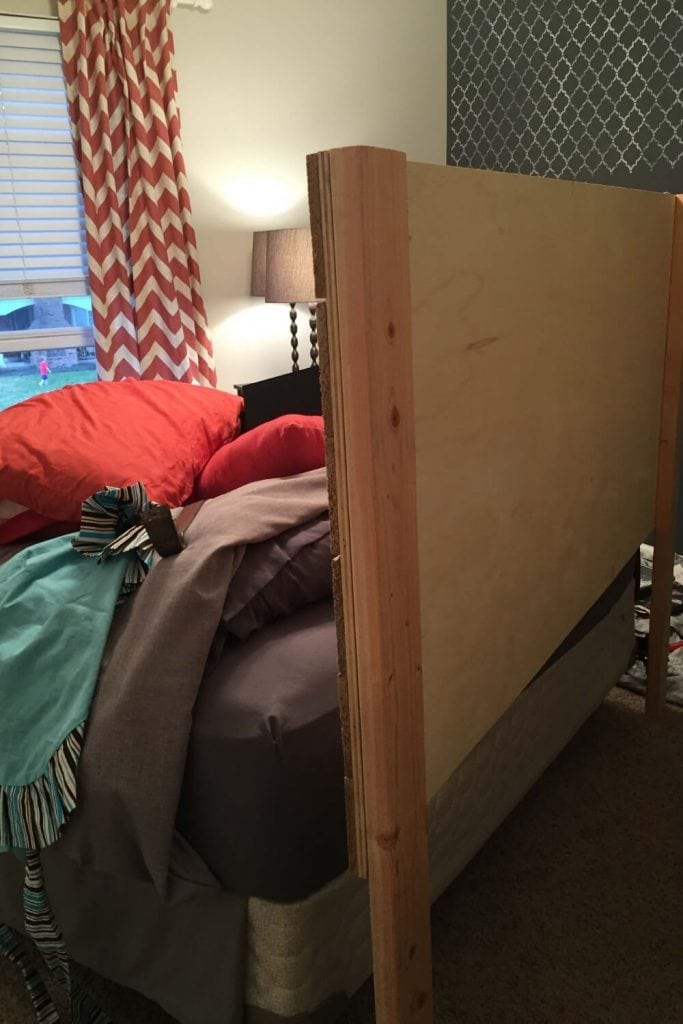 The nice part about this headboard project is that it was not super involved.
It had its challenges, like trying to get the holes to line up with the bed frame, but I made it clear to my dad when we started the project that if we messed up or didn't finish, it was no big deal because most of the wood we had was free.
I think it helped to pick a project that was somewhat simple allowing for more of an adventure than anything.
We were able to take the stress out of it, so when challenges arose throughout the assembly, we could strategize and still make it fun.
It was the first time, in a long time, that my dad and I did a project together in which he didn't feel the need to swear (huge bonus).
In an Irish family when that happens, you know you're doing something right.
4. Learning from Each Other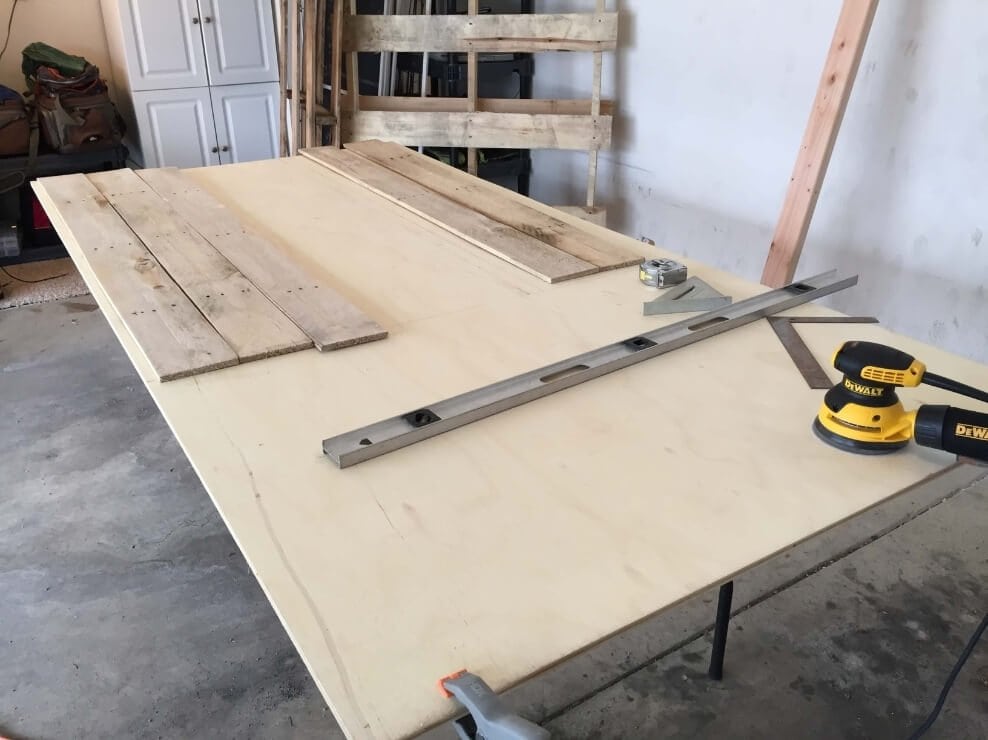 I think sometimes when we are going about our every day grind we forget how fun it is to learn from others. 
My dad has all kinds of cool tips and tricks I would never know about if we didn't start this project together.
Not only did I learn woodworking, but I learned about his favorite songs growing up and his experiences working with his uncle. It was awesome to just hang out and have stories come up naturally.
5. Shenanigans Possible and 6. Quality Time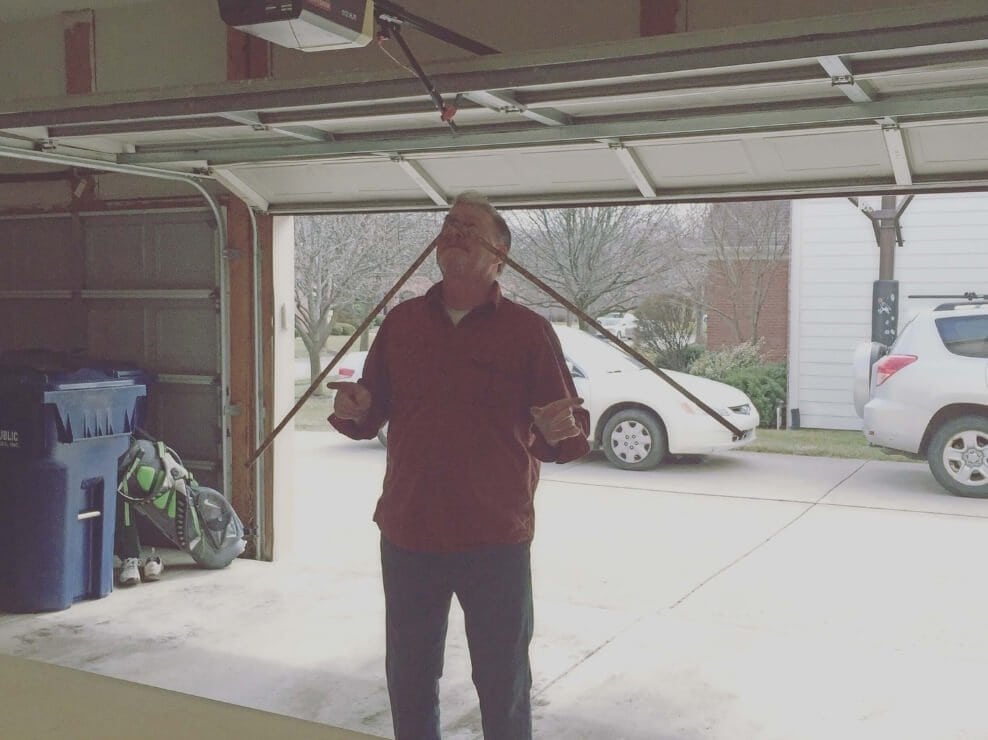 As with any project, you need music. Where there is music, there is usually dancing where I come from.
We were rocking out to the oldies for this project.
I haven't heard some of those songs since I was kid riding along in the car with my dad.
My dad is pretty funny on a normal day, but with the music and the lack of stress, we were thoroughly enjoying ourselves. 
The actual quality of the time spent on this project was worth its weight in gold.
Can you balance an old school measuring tape on the bridge of your nose?
7. Feelings of Accomplishment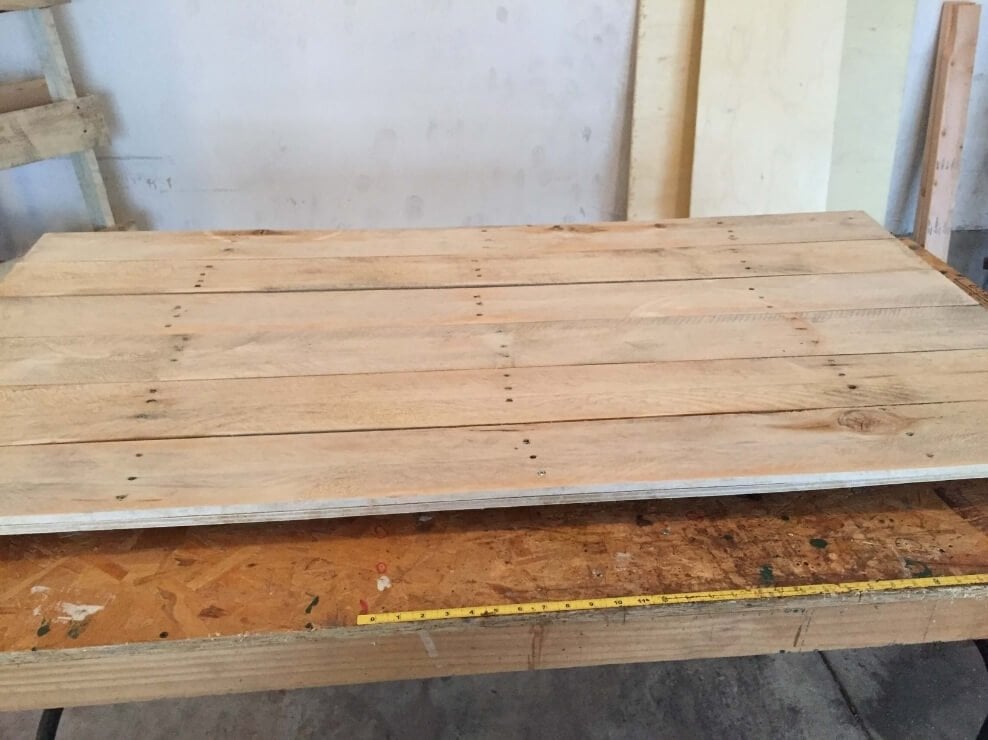 Like I said earlier, when we started this project, our expectations were low. We didn't really know what we were doing, but we were going to give it a go.
It just so happened the pallet boards we picked up were the exact length we needed across, too.
Even though, we did have to make a second trip to Home Depot, when the headboard took shape, we felt very proud of ourselves.
High fives all around!
8. Memories
The best part of the whole experience was creating this memory.
Being that this is a piece of furniture in my home, every time I look at it or pass that room, I think about how much fun we had building it.
So don't delay!
Grab a buddy, pick a project, and hang out in your garage creating something.
You'll be glad you did!