Guest Bathroom Mood Board + Befores [$100 Room Challenge]
Looking for bathroom inspiration? Today I'm sharing my guest bathroom mood board and before photos to show you how I plan to turn our dated guest bathroom into a $100 rustic and elegant room.
Oh hey, guest bathroom. I didn't see you there!
It has been a minute since I have even cared about this room since we haven't had guests in over 5 months!
However, we are now using this bathroom more often for bath time.
Because this room is not on my top priority list, but could use some TLC, I've chosen to try to tackle this for the $100 Room Challenge! Wait till you see what I've got in store!
Disclaimer: This post does include affiliate links for your convenience. This is at NO additional cost to you but earns me a small commission. To read more, check out our disclosure policy. As an Amazon associate, I earn from qualifying purchases.
About the $100 Room Challenge
Before we dive in, let me fill you in on what the $100 Room Challenge is. (If you want to read all the details from the originator, check out Erin's post here)
In short, this challenge is for both bloggers and literally anyone else!
How's it work? Complete one room for $100. It's that easy… or is it?
From my experience with the last time I participated in the $100 room challenge with my powder room, you can definitely do it.
Does it take some elbow grease and ingenuity?
Oh ya!
But with a good plan and some creativity, you can make so much progress throughout your home and really get it to be so much better than what you have now.
I mean look at my transformation from the last round…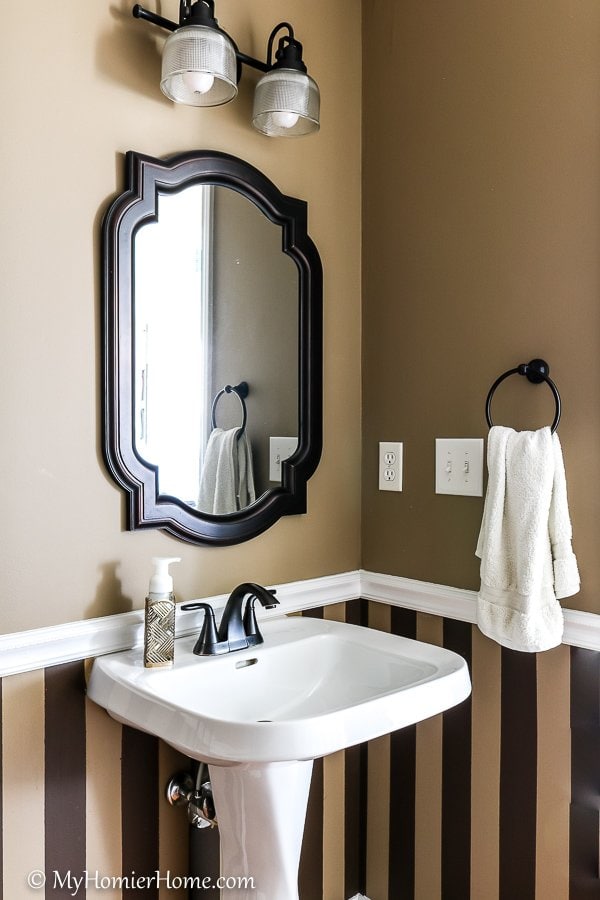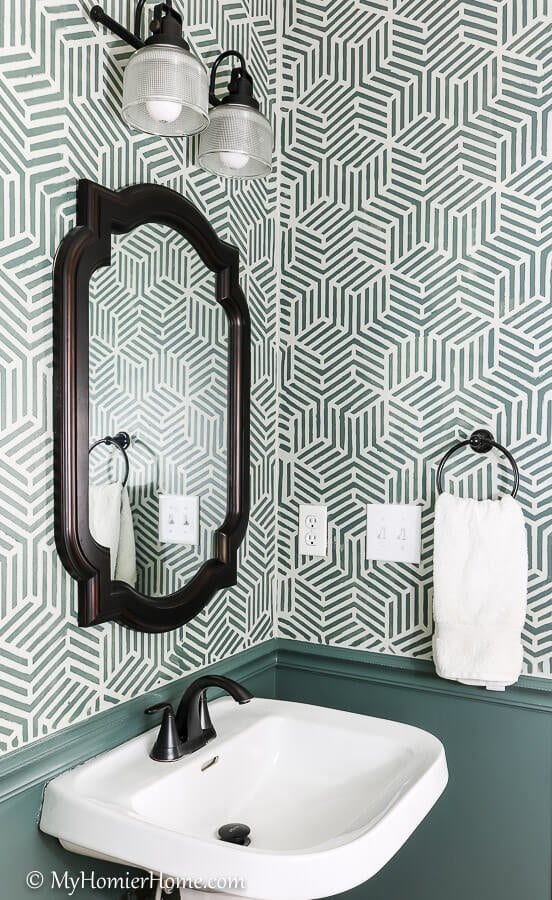 Find the details on how I did this here: $100 Room Challenge | Small Bathroom Room (Week 1)
Before Photos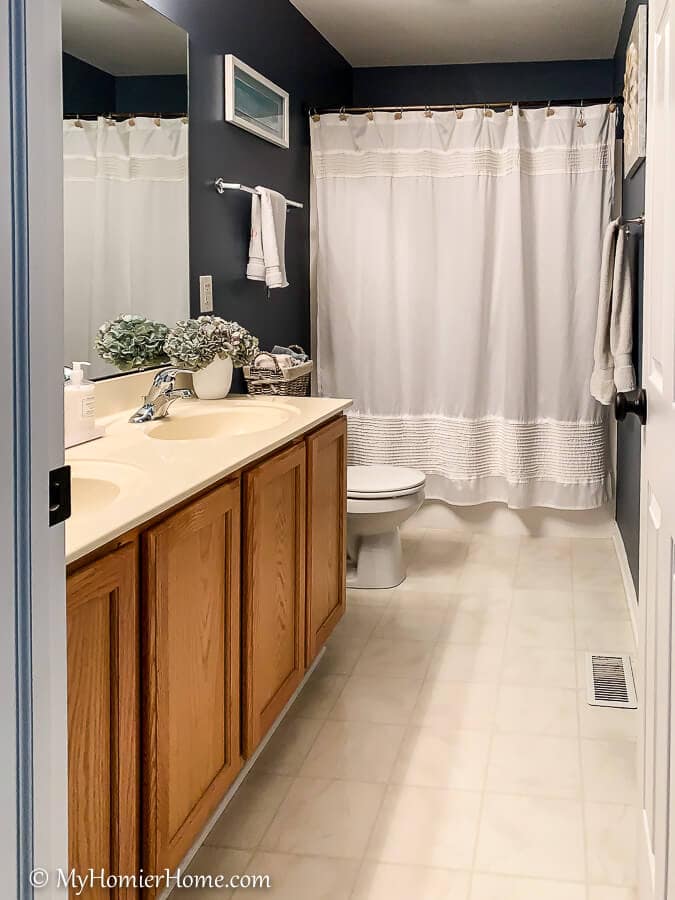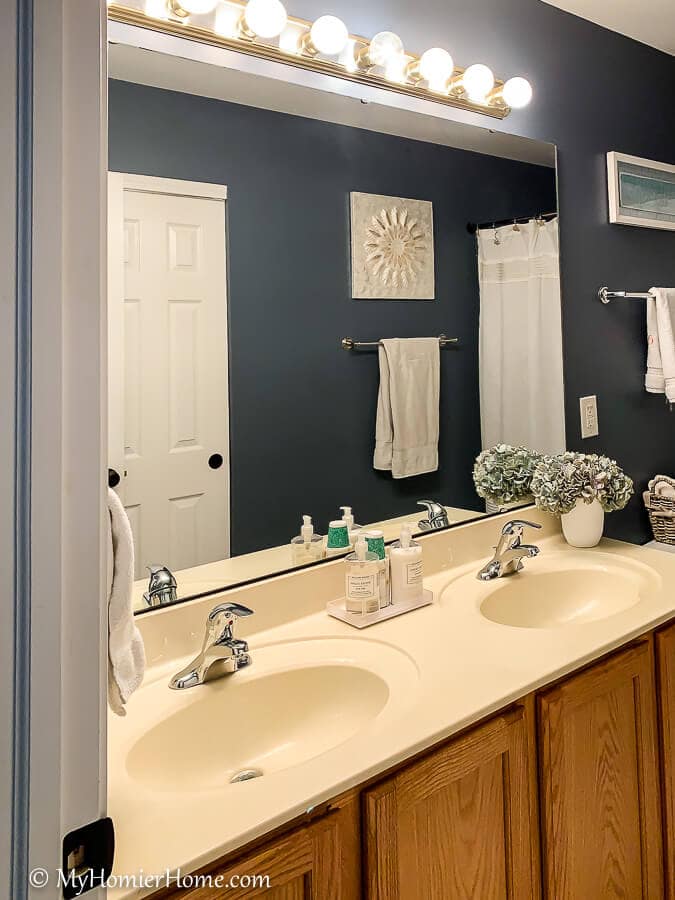 Hollywood vanity lights anyone?
Yuck! Can we please call the 90s and ask them what's up with this? I need an answer.
Practically speaking, I guess they give good lighting, but man are they hideous!!
Who's idea was this?
Oh wait… Let's play a game of 'I Spy'… I spy a builder-grade's dream vanity… Oooo, and linoleum flooring!
Ugh… Where's the character? The feels? The vibes? 
Talk about basics.
Alright, enough jibber-jabber (remember this toy you used to shake and he made weird noises? ha!)…
So how the heck am I going to revamp this space for $100?
Well, I'm glad you asked. Here's my plan…

Mood Board and The Plan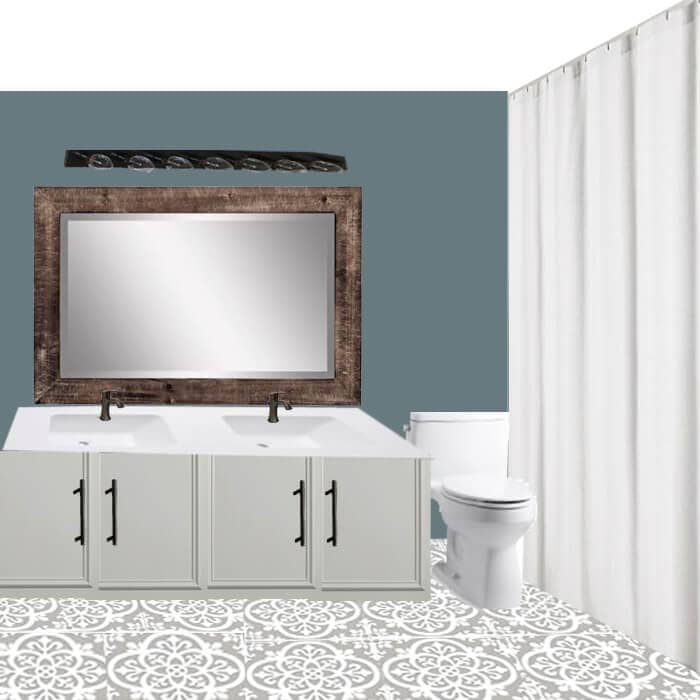 Sooo…. it took me awhile to come up with this plan because I found a way to get everything I wanted for under $200, but this is the $100 room challenge people!
Not the $200 room challenge (lol <– Does anyone still lol? #oldschool)
This is where that creativity and ingenuity comes in to play.
Here's what I'm thinking…
The To-Do List + The Details
UPDATE: This bathroom makeover is now complete. Each of the list items below is linked to the project I completed. You're going to love the end result!
I do plan to add some decor from things I already have, like a couple shelves that have been kicking around and maybe some faux plants I have tucked away, but that'll be my last addition and I don't plan to spend any money on decor.
What's Next?
Alright! Now that you know my plan and you've seen the before photos, you are exactly where I am in this project (ha!).
While you wait for next week's update, go check out all the other participants in the $100 room challenge (links below).
Then, mark your calendar for next Wednesday for my next update on how the progress of this project is going with the big reveal happening Wednesday, September 30th.
Oh boy! I'm nervous, but the good kind! Talk soon!
UPDATE: The reveal is live… check out each of the week's projects for this bathroom makeover below: