5 Easy DIY Home Projects for Beginners on a Budget
Who doesn't love a DIY home project that is easy to complete and stays under budget? Today, I'm sharing with you my favorite DIY projects from My Homier Home that you can accomplish this year in your home.
What's your home goal this year? Is it to create a homier home that's personalized to you and your family with some DIY home projects?
Well, gee golly there buddy, this the perfect inspiration and motivation you need. Each of the projects listed below have been completed by me, one amateur DIYer, and have made such a huge impact on the way I feel about these rooms.
We'll start in the kitchen and work our way around to the bathrooms, closets, and a fun ceiling addition. Come along!
Disclaimer: This post does include affiliate links for your convenience. This is at NO additional cost to you but earns me a small commission. To read more, check out our disclosure policy. As an Amazon associate, I earn from qualifying purchases.
The Perfect DIY for Over the Kitchen Windows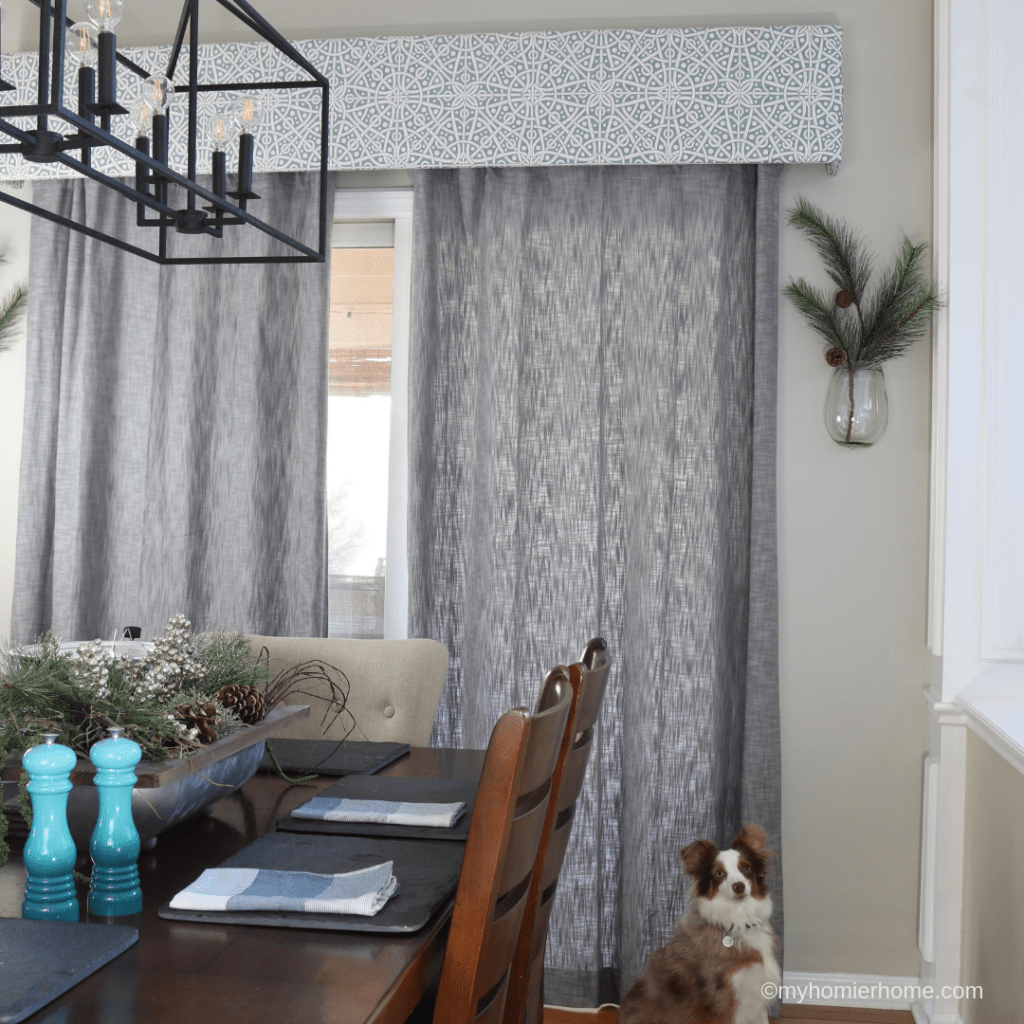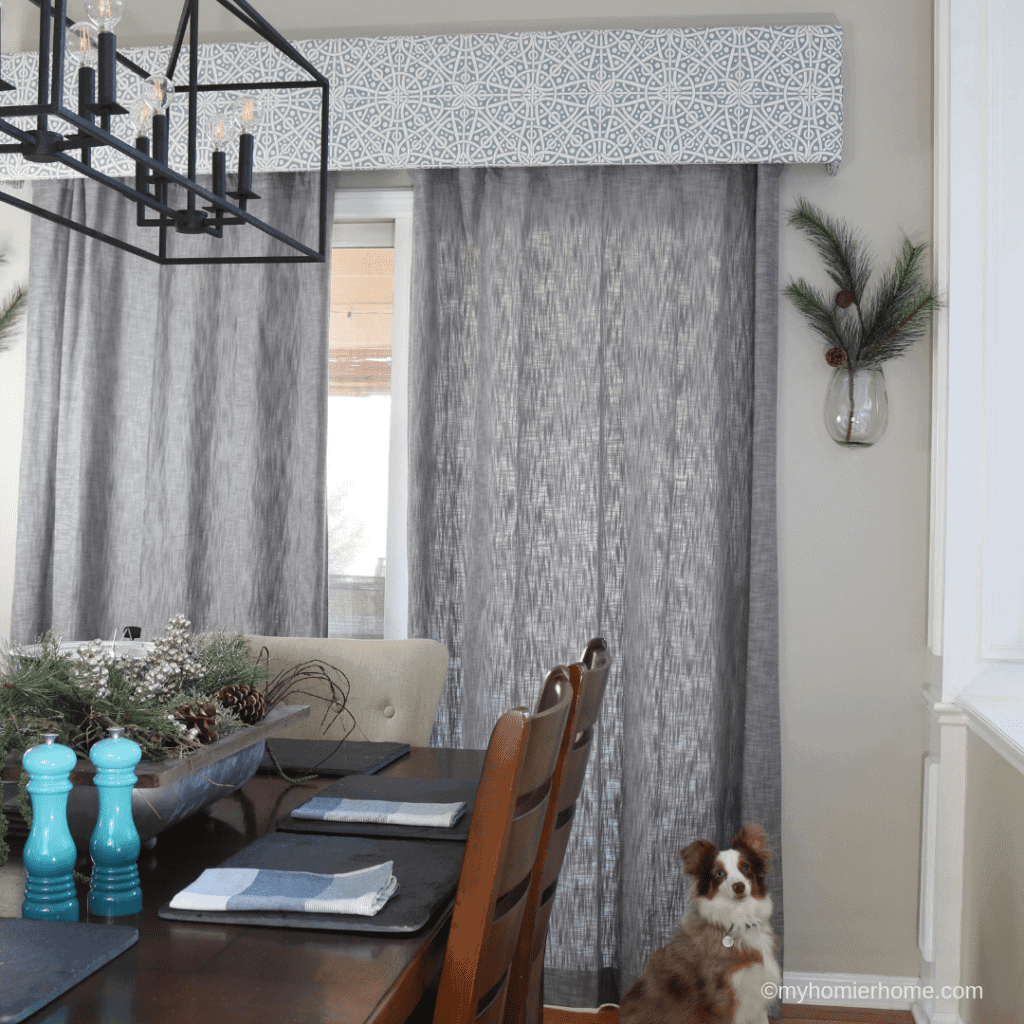 It's been a couple of years now and I am still in love with our DIY cornice boxes. You'll have to see the drab before photo to really get the true impact of this DIY home project.
Did you know that professionally made cornice boxes cost crazy amounts of money? Like upwards of $600 for one! My dad and I made two of these beauts for under $60… total!
The impact and the bang for your buck gives this DIY project 5 stars. Read the full tutorial here.

(click on any of the images to shop the products)
An Open Closet Must-Have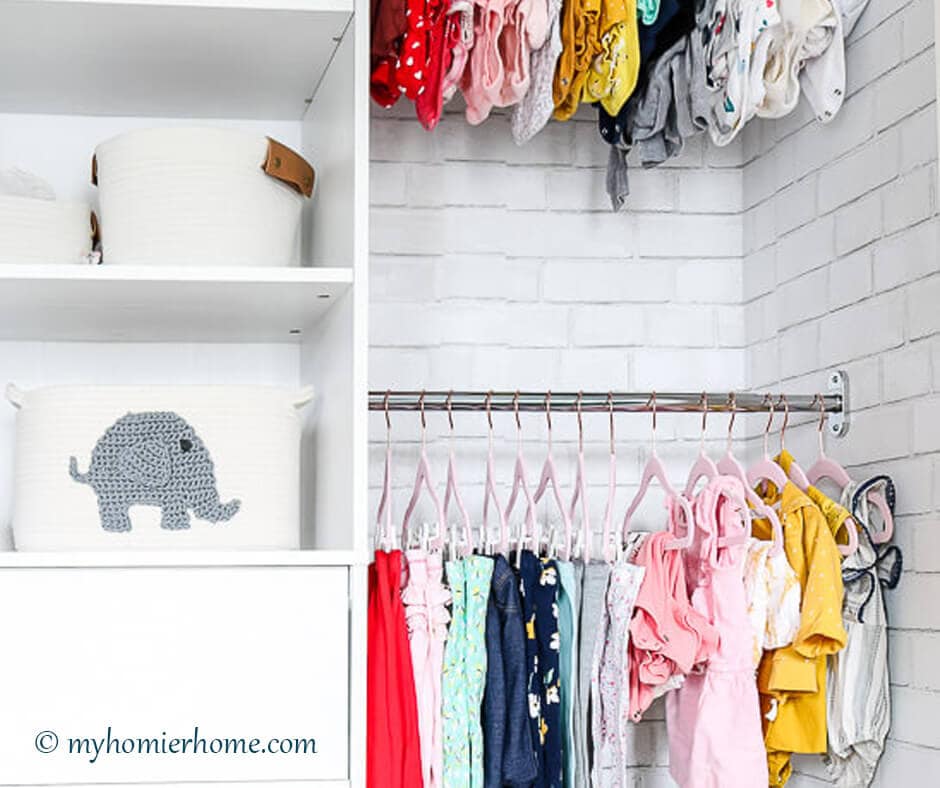 When we found out we were finally pregnant after years of trying, loss, and mayhem, I couldn't wait to create the perfect nursery.
The room we chose for the nursery was absolutely perfect, but the sliding closet doors were restricting. After I bought this closet organization system, I realized I wouldn't be able to access the middle area of it with the way the doors were setup.
So… bye-bye doors!
The only problem with that was there were about 87,000 holes in the wall from the closet system I had taken out.
Peel and stick wallpaper to the rescue! Read all my tips on what to do and not to do with this DIY home project.

(click on any of the images to shop the products)
A Budget-Friendly Statement Ceiling Idea
It was probably just about a year that I overhauled my home office before the pandemic forced all to embrace the work-from-home.
Great timing because every time I walk in here, this ceiling draws my eye up and I just love how such a small addition can make a huge impact.
And other than holding the piece above our heads to nail it to the ceiling, this was one of the easiest DIY home projects I've ever done… and super cheap!
Check out the full tutorial here.

(click on any of the images to shop the products)
Small Bathroom Upgrade for Big Impact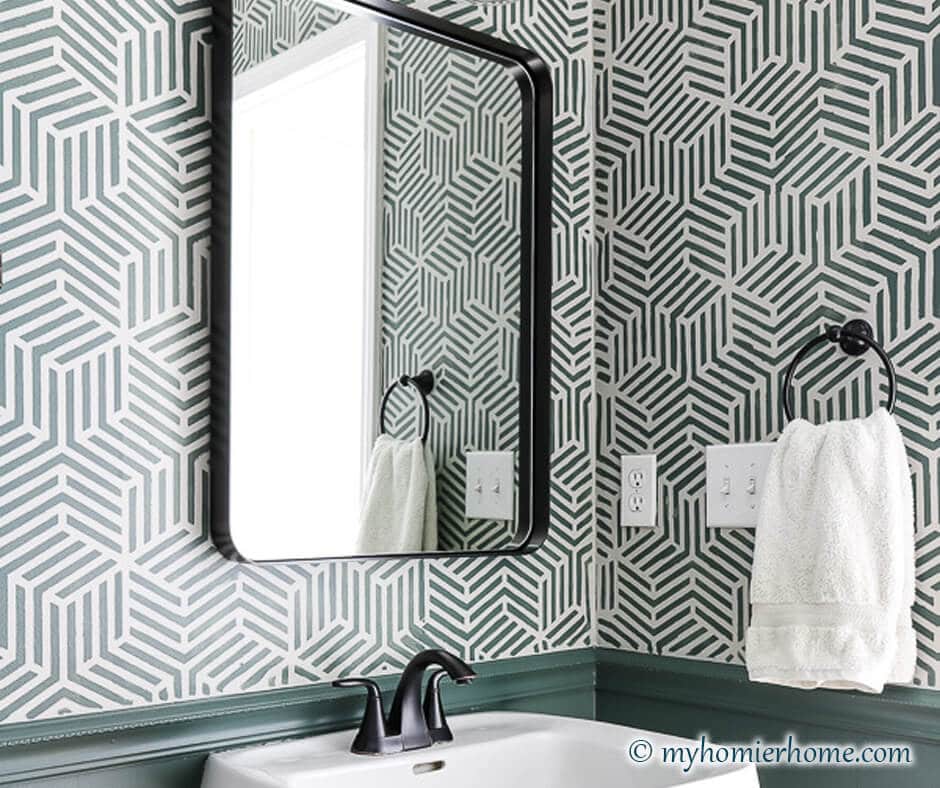 Are you noticing a theme?
B-U-D-G-E-T F-R-I-E-N-D-L-Y 😂
I spent my early days of decorating convincing myself money was no object… that the price of a room didn't matter if it made it beautiful and gave me the vibes I was after.
*Reality Check*
Turns out money runs out (or you start to get told no lol).
But, it's all for the best because apparently my creative vibes really shine when I'm restricted to a budget. This $100 bathroom project showcases that for sure.
And I know you're thinking… Wow, how did she do this wallpaper for under $100?
I didn't… it's a stencil!!
You can check out all the do-as-I-say-not-as-I-do DIY home project tips for using a bathroom wall stencil here.

(click on any of the images to shop the products)
The Best Bathroom Countertop Hack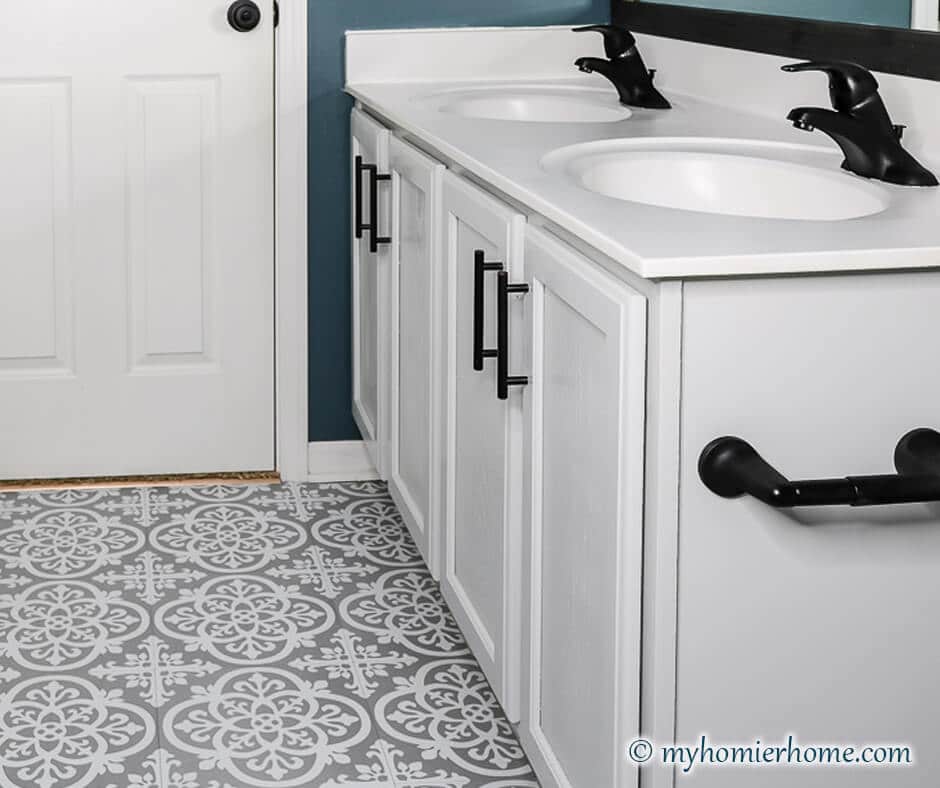 Now, for my ULTIMATE FAVORITE DIY home project eeevvvveeerrrrr…
All of this you see here is pure paint… the faucets, the vanity, and the countertops! Ok, maybe not everything because the floor is peel-and-stick and the pulls are not painted, but everything else!
Best part about this particular photo is that everything you see cost me less than $100. You have to see what the before photo looked like… talk about your builder-grade yuck.
If you're dealing with lack-luster countertops, this project is an absolute MUST! Such a huge transformation for literally $5. Read the full tutorial and watch the video of me making magic lol.

(click on any of the images to shop the products)
Hopefully these budget-friendly DIY home projects help inspire you to take action!
I'm a firm believer your home is one of the most overlooked support systems you can have in your day to day life. Make it work for you!