8 Reasons I Decorate My Home + How to Find Your Why
Understanding why you decorate is the cornerstone to having clarity and direction on your decorating and home decisions. Here's how!
Why do you decorate your home?
Decorating home means so many things to so many people.
To me, surrounding myself with beauty, coziness, and clarity is what I crave both physically, mentally, and emotionally.
When I began this journey of Pursuing a Homier Home, I felt like everything was unfinished.
Blank walls made me angry and a lack of a story in my decor made me feel empty. Even though our basic furniture was comforting, it wasn't that feeling of being enveloped in a cozy paradise.
I knew it could be better and I knew I could do better in getting these feels.
Because I was having so much trouble, guilt was beginning to sink in.
I was guilty having people over, constantly apologizing for my half done house, and guilty for not being able to provide the feels I knew my family needed, even if they didn't know it themselves.
With all these negative emotions coming up every time I settled in to relax or enjoy quality time with friends and family, I knew something had to change.
It was time to figure out what to do.
In this series, I'll take you through exactly what I did in the order I did it to truly make a change in how I was approaching creating a homier home.
If you missed step 1, you can find 6 questions to help you define your homier home here.
Today, we're talking about step 2… how to find your why.
8 Reasons I Decorate My Home
After realizing I didn't know what I considered to be a homier home, I defined it for myself – that was step 1.
Then, I went a step further.
With my terrible memory, I needed to write myself a note that said, "Christin, you are on this journey for a reason."
And, I will tell you, I am very glad that I did.
For the many times I was stuck on a decorating decision, I would reread my why statements along with my definition of what I was trying to achieve.
Instantly, I would have just enough clarity to make a more confident decision.
Finding your why is a powerful tool, so for inspiration, here are my 8 reasons I decorate my home.
1. Surround myself with things that bring my family and I joy.
Did you know your surroundings can either positively or negatively affect your mood?
In addition to your mood, even your health can be impacted by your surroundings.
If you start googling surroundings and stress, you will find a gazillion articles referencing how important it is, for all aspects of your life, to reduce stress by analyzing your surroundings.
In this case, creating aesthetically pleasing surroundings is not a superficial act.
As I've said in previous posts, blank walls make me anxious. They make me feel uninspired and as if my surroundings are lifeless.
This feeling of emptiness was setting my mood for the day, the week, and even the month.
By simply assessing what would bring me joy, my blank wall became a reminder of the joy in my life.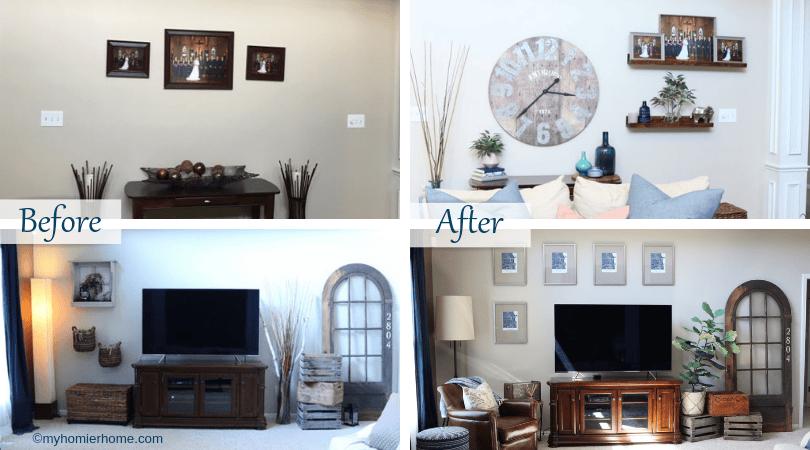 2. Provide functionality for our daily lives.
Back when I was a kid, you could never find a pair of scissors. Ever.
Every other day, someone would be yelling, "WHO TOOK THE SCISSORS?"
It was frustrating and highly annoying… especially when you really needed them.
Our biggest problem, other than not having more than one pair of scissors, was our family system was not functioning properly.
Were the scissors supposed to be in the junk drawer? In the bathroom drawer? In the office?
We all had a different idea of where they should be housed and it began to affect our daily lives.
As you read in my definition from step 1, allowing beauty to meet function is one of my main drivers that defines my homier home.
The ability for everyone in my home to know exactly where to go to retrieve something is truly important to me.
Creating working systems to provide functionality will always be at the forefront of my mind when making decorating decisions because I know from experience, if it doesn't function, frustration and chaos ensue.
3. Bring clarity to my mind.
When I see clutter, my mind feels cluttered.
I can't focus because my eyes cannot rest. I'm sure I'm not alone here.
Some things are bigger triggers than others.
For me, it's the kitchen sink and the mail.
The mess ends up nagging at the back of my mind cluttering up my thoughts subconsciously until the issue is resolved.
When I have good systems in place, clarity is my reward.
This applies to the actual decor that I choose, too.
I would not call myself a minimalist by any means, but when I first began this decorating journey, I tried on a lot of decor hats.
One of those hats was the 'fill the space with lots of stuff' hat.
As always, I lived in these various hats for awhile to see how it made me feel.
This particular one made me feel restless.
It was just too much to take in which, in turn, made my mind feel cluttered.
Therefore, when I begin a room makeover, I remind myself to make room for my eyes and mind to rest.
4. Tell the story of our family.
Those of you that know me personally know I love a good story.
I also thoroughly enjoy getting to know others.
When you meet new friends and you invite those friends into your home, you have a unique opportunity to let them in on who you are, what you stand for, and where you come from.
Allowing a glimpse into our story is a point of pride for me because I am proud of our story and how we got to be where we are today.
And, it makes for great opportunities to tell some wonderfully, laughable tails about how we grew up together.
The joy in telling our story is definitely part of my why, so if it does not contribute to enhancing the story of our home and lives, I do not bring it in.
The maps above our television here are all the places the hubs and I have lived together.
Fun fact: We have never lived more than 10 miles from each other, even when we were little kids and didn't know each other yet.
These maps allow us to bring in our unique story.
5. Utilize the creative outlet.
Every since I was young, I wanted to create.
I created floor plans, paintings, mini-crafts, and who-knows-what type of stuff all throughout my childhood.
Since then, I have taken all kinds of classes, such as woodworking, sewing, and photography, too, because I want to be able to make something I cannot find.
I also want the flexibility to bring authenticity in to our home.
I have an entire room dedicated to my craft room supplies, too, as you can see below.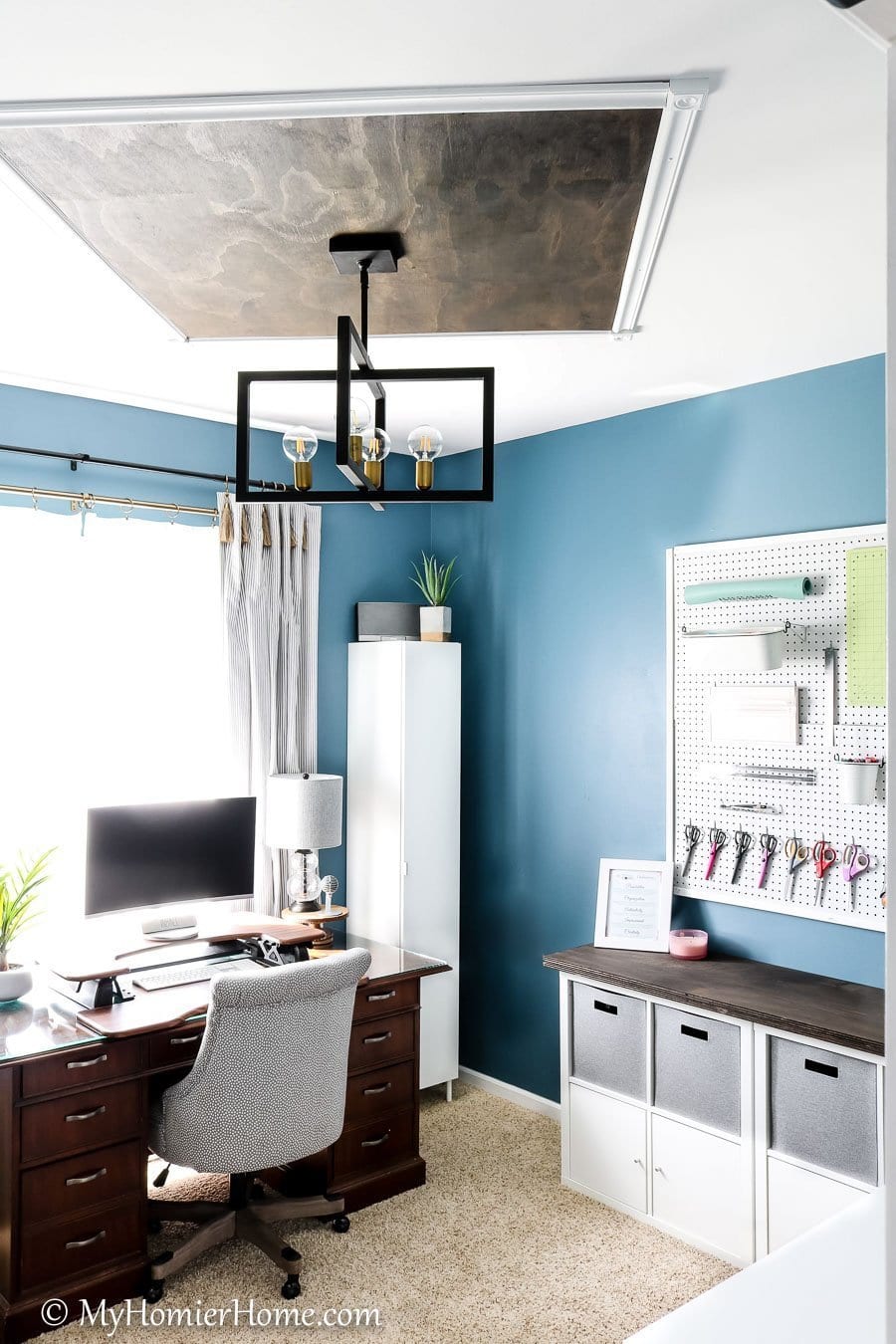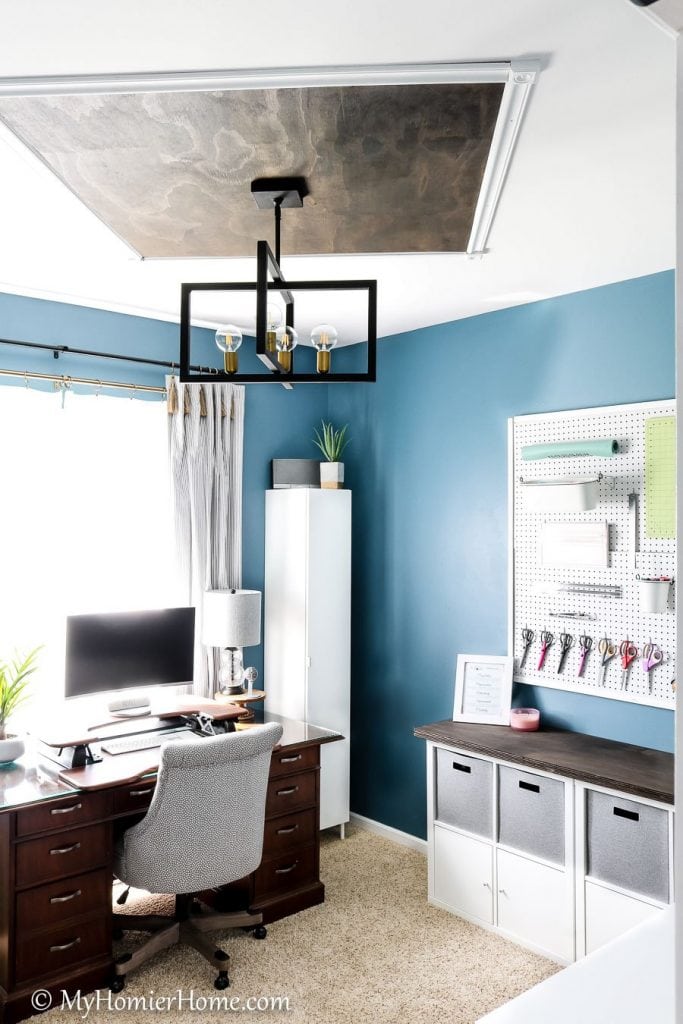 What I have found, though, is decorating gives me an upper level type of creative feel.
Each home has its own challenges, but they also have their own uniqueness.
Putting my creative stamp on the problem areas of our home is truly fun for me and there is no telling what I may come up with, which I love.
This type of creative outlet makes me dig deeper and really hone my skills to make our home fit our personalities.
To me, it is the grown up version of my floor plan creations.
6. Express myself.
Similarly to the creative outlet, decorating gives me a chance to truly express myself.
You can tell a lot about a person through their decor and I want those who enter to get a glimpse into who I am.
I like to be a little unexpected and put together, but fun and light-hearted at the same time.
I want people to see that I care a great deal for my friends and family and how much we love our little fur baby and our human baby lol.
When I see something just goofy enough that could put a smile on someone's face, I'm buying it.
When I decorate, I'm also careful to not give off vibes that don't express me or my family.
For instance, I am not a stuffy or perfectionist person, so making my decor too regal or too perfect is not part of my plan.
When we buy furniture, we make sure it is livable, super cozy, and beautiful because we want people to feel that they can sit on it and use it.
If it is too perfect or too regal, it can become less functional and that does not give off the vibes we want.
7. Provide a welcoming space to gather with friends and loved ones.
In addition to carefully choosing inviting furniture, I try to include pieces that give me that welcome home feel because that is exactly what I want my guests to feel when they enter.
For overnight guests, I want them to feel like they can spread out and get comfortable while they stay (a checklist for this can be found in the DIY & Decor Library, too!).
The hubs and I thoroughly enjoy hosting because it brings us so much joy to be able to give everyone a place to be together and relax.
When decorating the various rooms in our home, I like to take a second to consider if the items I'm putting in that space give a welcoming vibe and provide the functionality necessary to serve our guests.
Our guest room has pictures of all our friends and family on the walls along with our wifi password and some other useful items that provide our guests with a just-like-home comfort.
8. Bring peace to my mind, body, & soul.
When all is said and done, a decorated home to my specifications that fits those pieces listed above brings me peace.
When I walk through my home, or at least the first floor, I feel comfort and I do see where the beauty meets function.
I feel as if I can relax and truly enjoy the space.
The peace this brings me allows me to focus my efforts on other things, like quality time and creating memories.
When my home feels decorated to my definition, my mind is at peace, my body no longer tenses up at the site of undone areas, and my soul is open to let in what really matters.
Because I have experienced this peace firsthand, I know this is one of the reasons I want to continue to move through the rooms in my home.
The reward for me is a place of peace for the parts of me that matter most: mind, body, and soul.
How to Find Your Why
Understanding why you decorate is the cornerstone to having clarity and direction on your home decorating decisions.
For some, decorating may seem materialistic and/or superficial, but at the heart of the matter, decorating is a way to improve the place you spend your most time.
Because your surroundings affect your mood and every day life, focusing your decisions on your personal why will bring you the peace and clarity you seek in your life.
Don't forget, before finding your why, consider your definition from step 1, but also what drives you personally to continue to work and rework the rooms in your home even when the proverbially shiznit hits the fan.
The guided worksheet for step 2 in laying the foundation on your way to pursuing a homier home will help walk you through exactly how to find your why.
I provided guiding questions to help you determine your why and help you find direction in your home.
The best part?
You also get access to the entire My Homier Home digital DIY & Decorating Library, including the guiding worksheet from step 1.
Let's make your home work for you and your family today. Learn more here.