Cozy & Rustic Living Room Refresh | ORC Week 2
Welcome back! Week 2, ekk!!!
This past week I have been running, running, running.
I was on Spring Break for part of the time and it snowed, rained, or was just plain cold almost every day.
But, the good news is it allowed me to stay in the house and not feel guilty about it, so I got a little more done than I thought I would. 
The most productive thing I did this week was meet with one of the designers at West Elm.
They offer this service for free!! It's so cool. I wanted to bounce my ideas around and make sure I had a cohesive vision. 
After sharing my space with the designer (shout out Kirsten!!), I felt a million times better about my living room vision.
We had great conversation combing through my ideas and, with her expertise, I was able to hone in on the types of things I should be bringing into the living room.
One of the best ideas ever and I would highly recommend it.
After finding some clarity from Kirsten, I hung a couple pieces of art, patched a few nail holes, and even did the touch-up paint.
I also finally got around to painting the white, eye-sore of a plug on our mantel the same color as the wall (this is why I love the One Room Challenge…
I have been staring at that eye-sore since we moved in 3 years ago and now it's done! Whew who!).
Last week, I shared with you the many phases of my living room leading up to now (check it out here).
So, this week, I thought I would share the many phases of the mantel because I may have finally landed on something… may being the operative word… you'll have to let me know what you think in the comments at the end of this post. 
It just goes to show that you have to play and fix and move and try again and again in order to get a feel for what you like.
The top left is the oldest version, then it goes like you would read, left to right.
The bottom right is the most current before what I just finished.
So, here is what I think I landed on for good…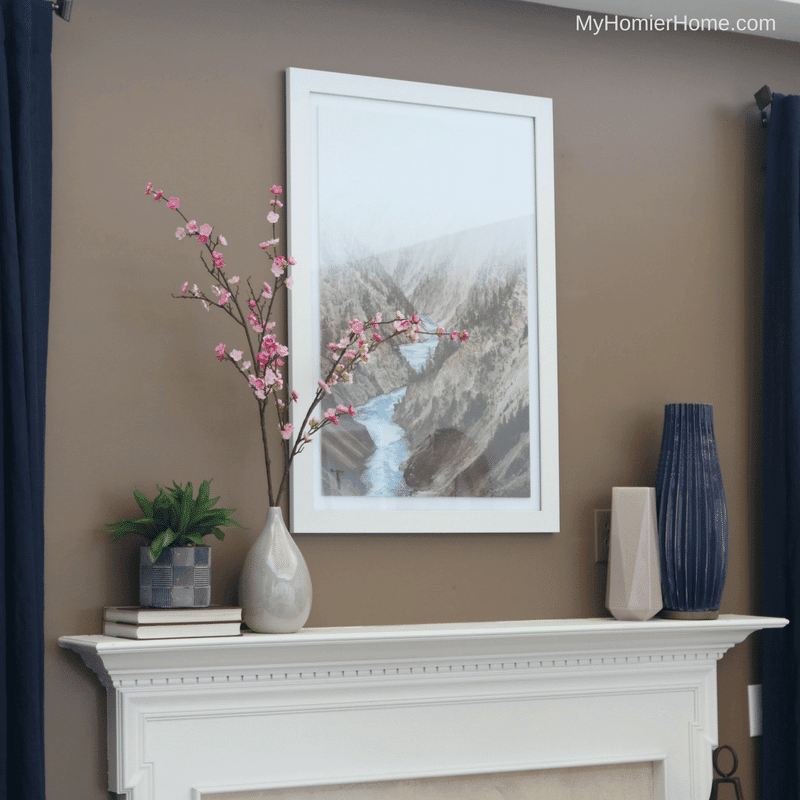 What do you think?? Notice this is a totally different focal piece! The clock will still be in play in this room, but it is going to go on the wall I originally had this one behind the couch.
I really like the white frame on the dark background. I was going for more of a clean, and simple look.   
Prior to landing on this, I kept trying to add, and add, and add, but I think the cluttered look was too much for my tiny mantel. You can see that the depth of the mantel is super shallow.
Truly, if I had the dollaz, I would tear this whole thing out and start fresh with all new fireplace schematics, but sadly that's not in the cards just yet.
Comment below and give me your feedback, if you will.
I also knocked out a few more odds and ends on this list that you'll see crossed off in the to-do list below:
Order leather chair from Pottery Barn that I've been eyeing

Style tray next to where the chair will go

Hang floating shelves on side wall (Ordered shelves – waiting for them to ship)

Style shelves on side wall

Change out birch sticks for greenery (I ordered the greenery tree from World Market)

Create gallery wall of some sort around TV

Find patterned throw pillows

(Thanks Kirsten!)

Find cozy throw blankets

(Thanks Kirsten!)

Find an area rug to bring the cozy area together (Thanks Kirsten!)

Find tall "reading" lamps for the two corners or sconce lighting

Find a console table lamp?

Move existing floor lighting up to the ledge

Appropriately hang the focal clock

Hang the valley picture

Possibly find peel and stick backsplash for around the fireplace

Find patterned fabric to cover books

Find good way to organize decor magazines

Style the mantel

Style the hearth

Style the end tables

Style the console table

Style the coffee table

Miscellaneous perfecting
For next week, I'm hoping to get going on the gallery wall above the TV. However, we have to go back to Chicago for a wedding this weekend, so I won't have my usual home decor bender time on Saturday.
Not to fear, I plan to fit as much as I can in on Sunday when we return. We will see how it goes after a three-hour drive.
The 6-week gap is closing in! Gotta get it done! 
Don't forget to check out the other FANTABULOUS bloggers participating in the challenge right here and here! Everyone is doing such amazing things! #inspiration
Be sure to follow along until the last week where I'll give you the full reveal as long as everything goes to plan and a detailed source list (aww yeah!).